Arrabbiata Beans inspired by the pasta, also known as "angry pasta." Traditionally a spicy dish that gets its heat from the garlic and red pepper flakes. Makes this simple yet delicious dish as mild or spicy as you want! This recipe uses beans in place of pasta for a pantry friendly meal. Great on its own, or add in some sauteed vegetables or meat of choice.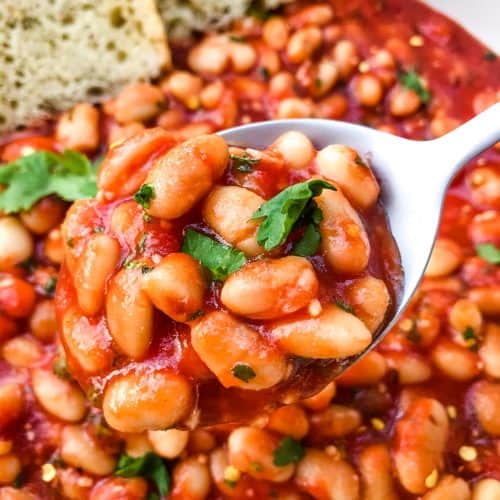 Arrabbiata Beans (Spicy Italian Beans) is a twist on the classic Italian pasta recipe. Beans are used in place of pasta for a protein packed meal.
This post contains affiliate links.
One of my favorite simple Italian recipes is Arrabbiata pasta. I fell in love with it when I was lucky enough to study abroad in college in Italy. I never heard of it before being there, but quickly looked for it on the menu at many restaurants. Something that I love about great Italian food is that the flavors are so simple yet SO good because it focuses on a few quality ingredients that are balanced well.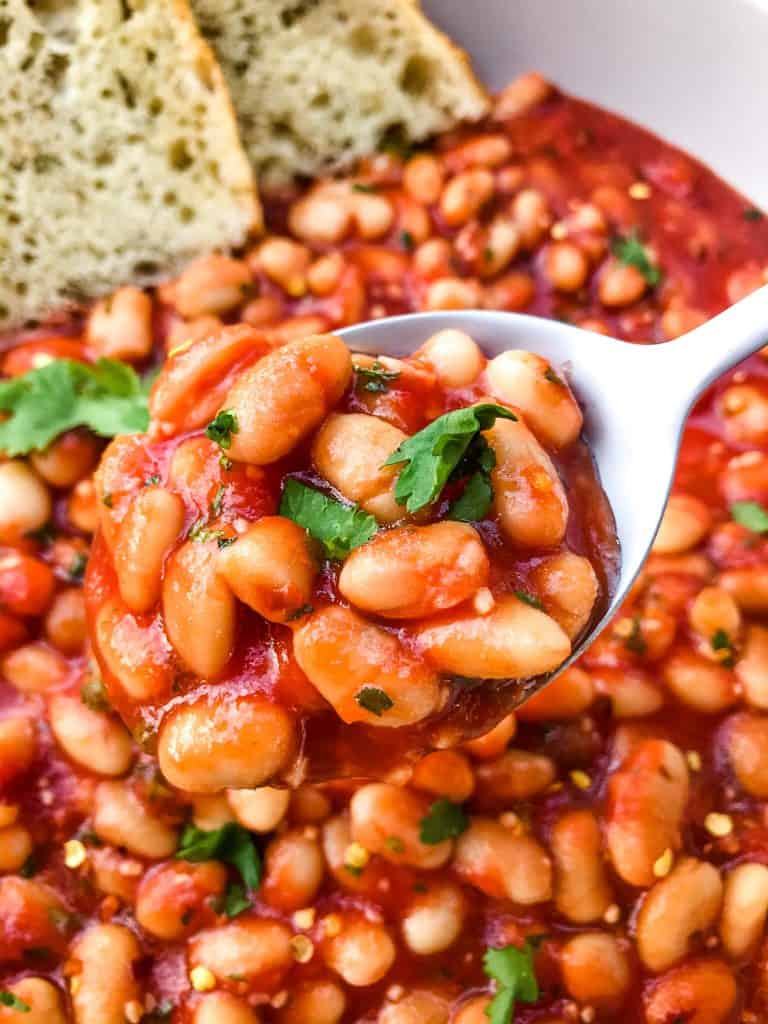 Arrabbiata means "angry" in reference to the spiciness of the dish. Typically there is enough heat to qualify it as at least a "medium" heat level, but this recipe starts off in the mild territory, and then you can make it as spicy, or not, as you want. The strength of the spice is also dependent on the garlic you use and how old your red pepper flakes are.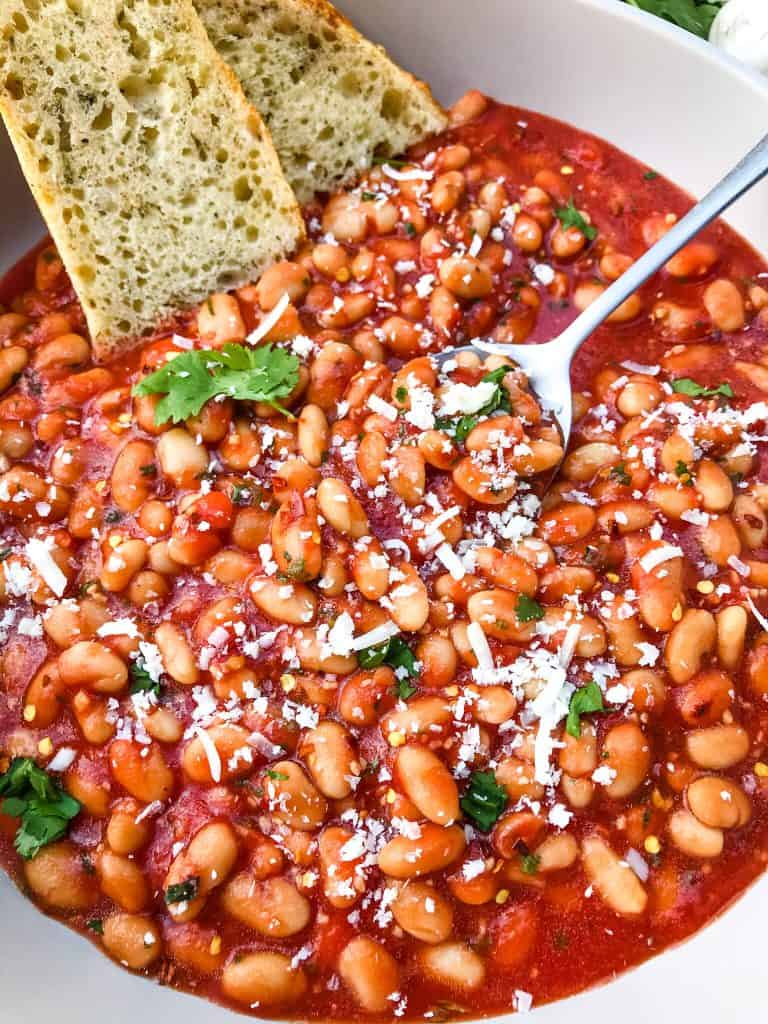 This spicy beans recipe was inspired by friends that were talking about their adventures in eating different kinds of beans and recipes that used beans as the focus with traditional sauces. They are also big fans of the classic Arrabbiata Pasta (a very popular recipe on this site), so I knew I had to make a mash up of the two ideas.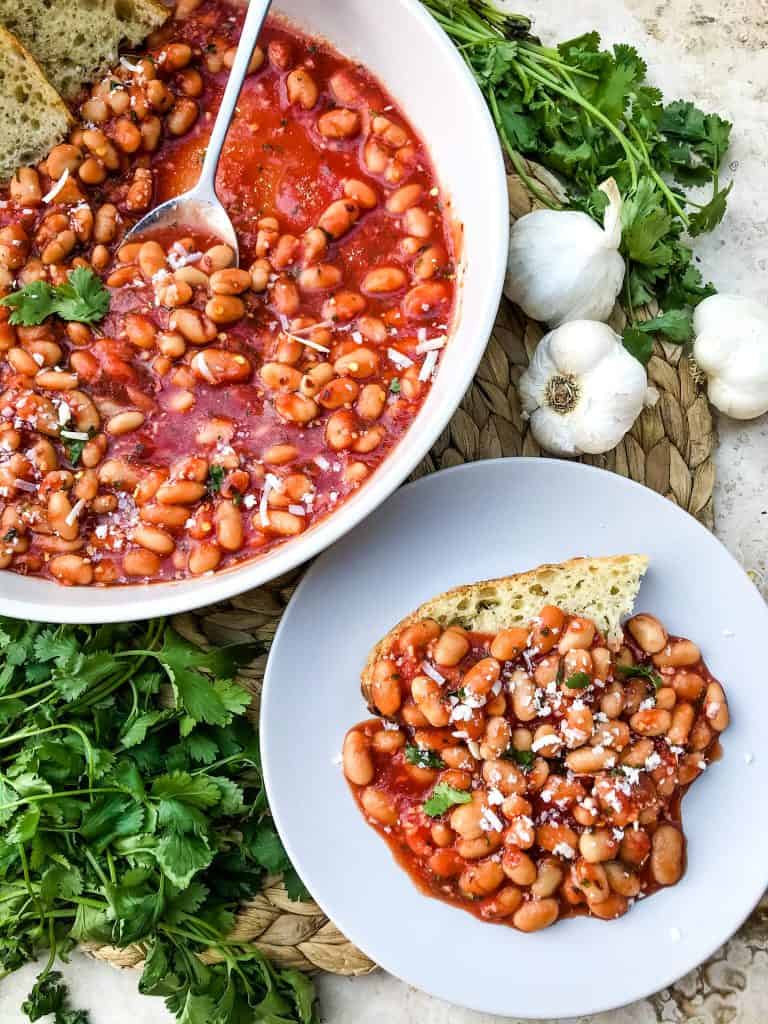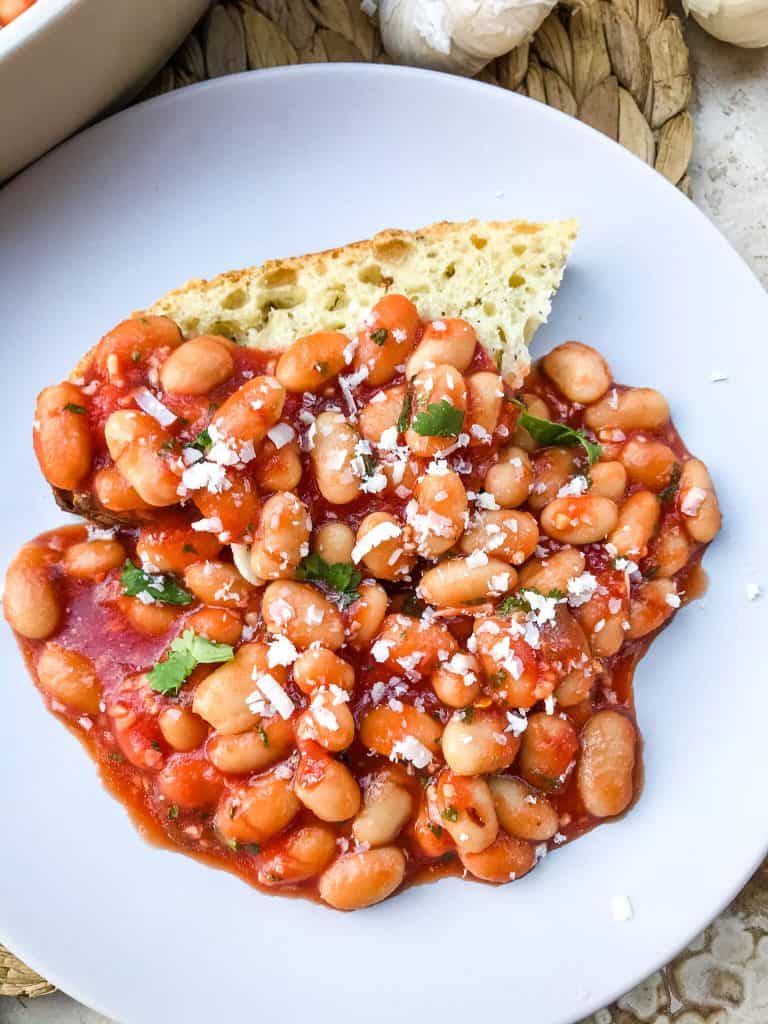 These Arrabbiata Beans (Spicy Italian Beans) are hearty enough to stand on their own as a simple, cheap meal. They also would work well as a side dish. Just serve up the beans with some bread like our Rustic No Knead Rosemary Bread, or add any mix ins like your favorite vegetables or meats. The beans on their own are vegan and gluten free which makes them a great base recipe for many dietary needs.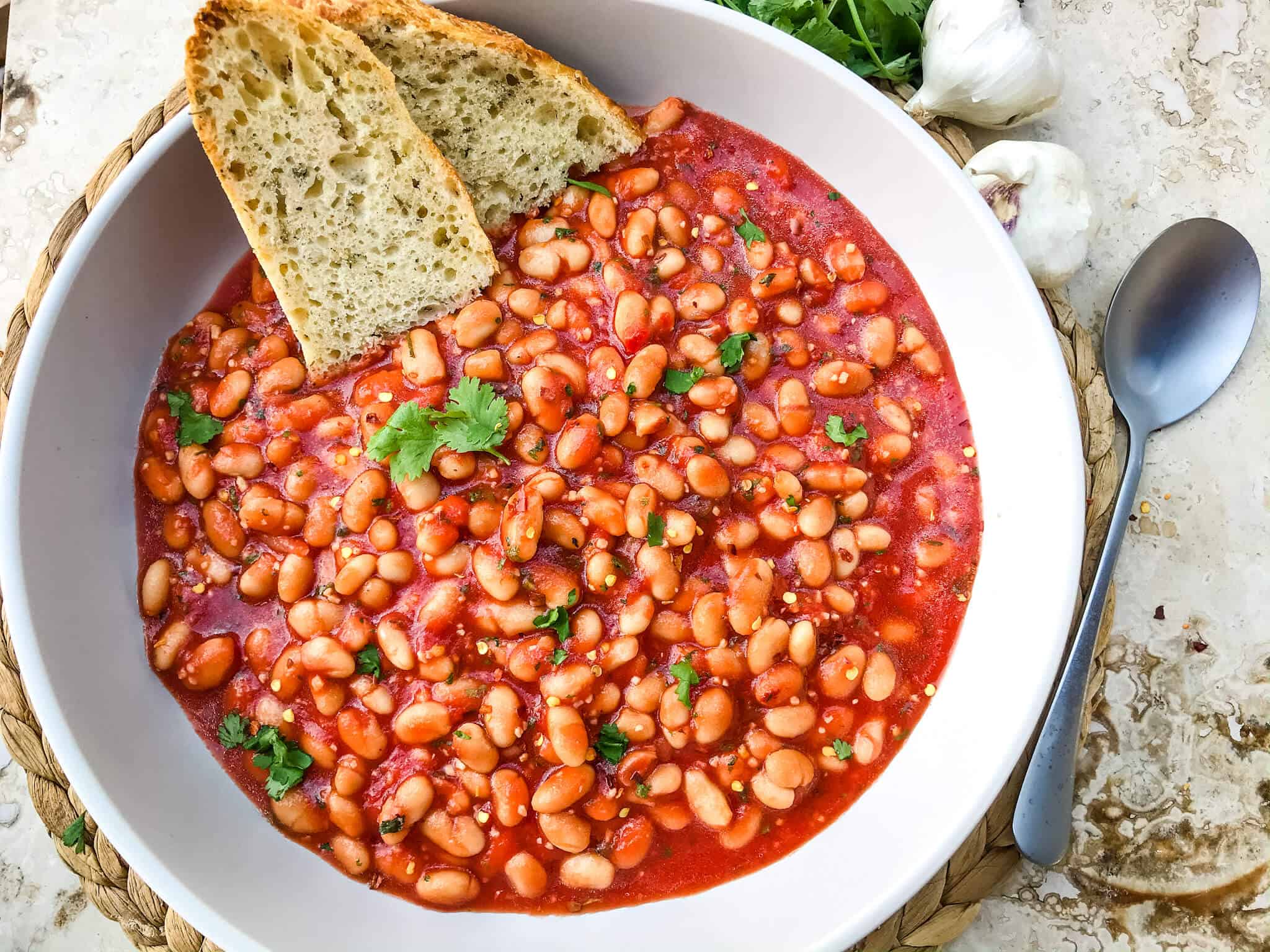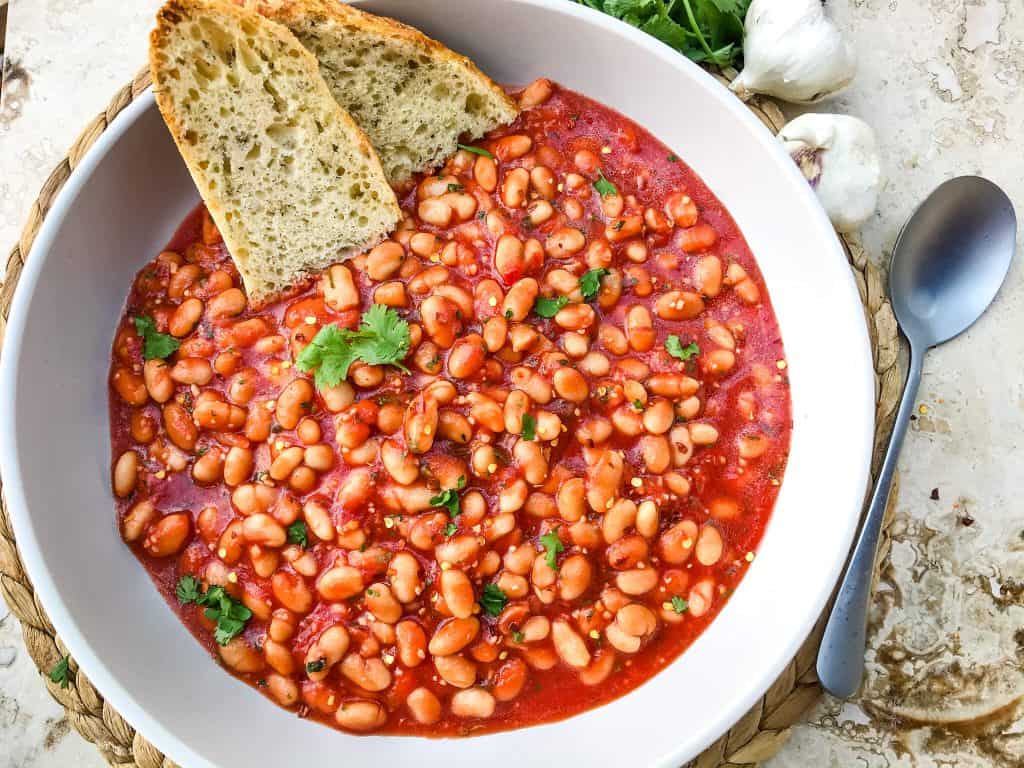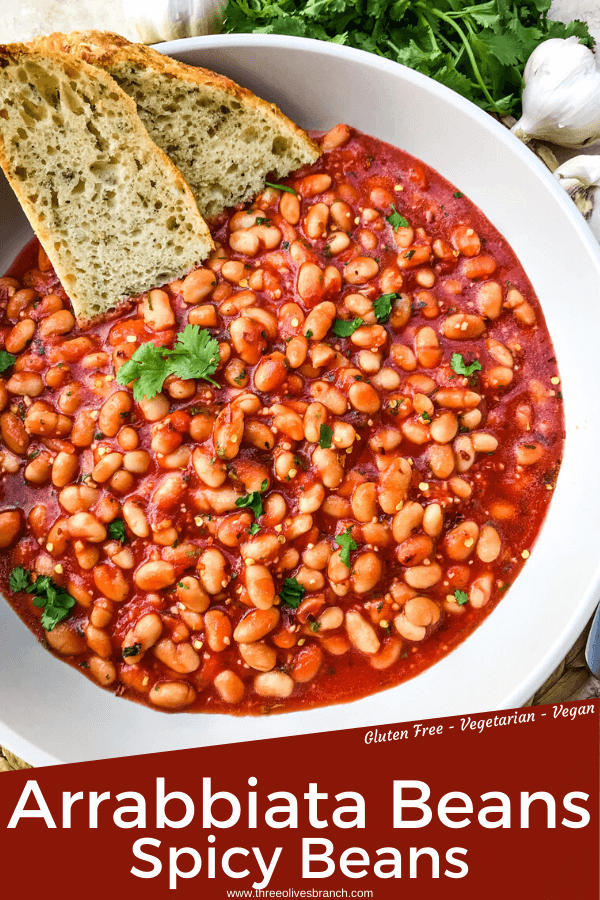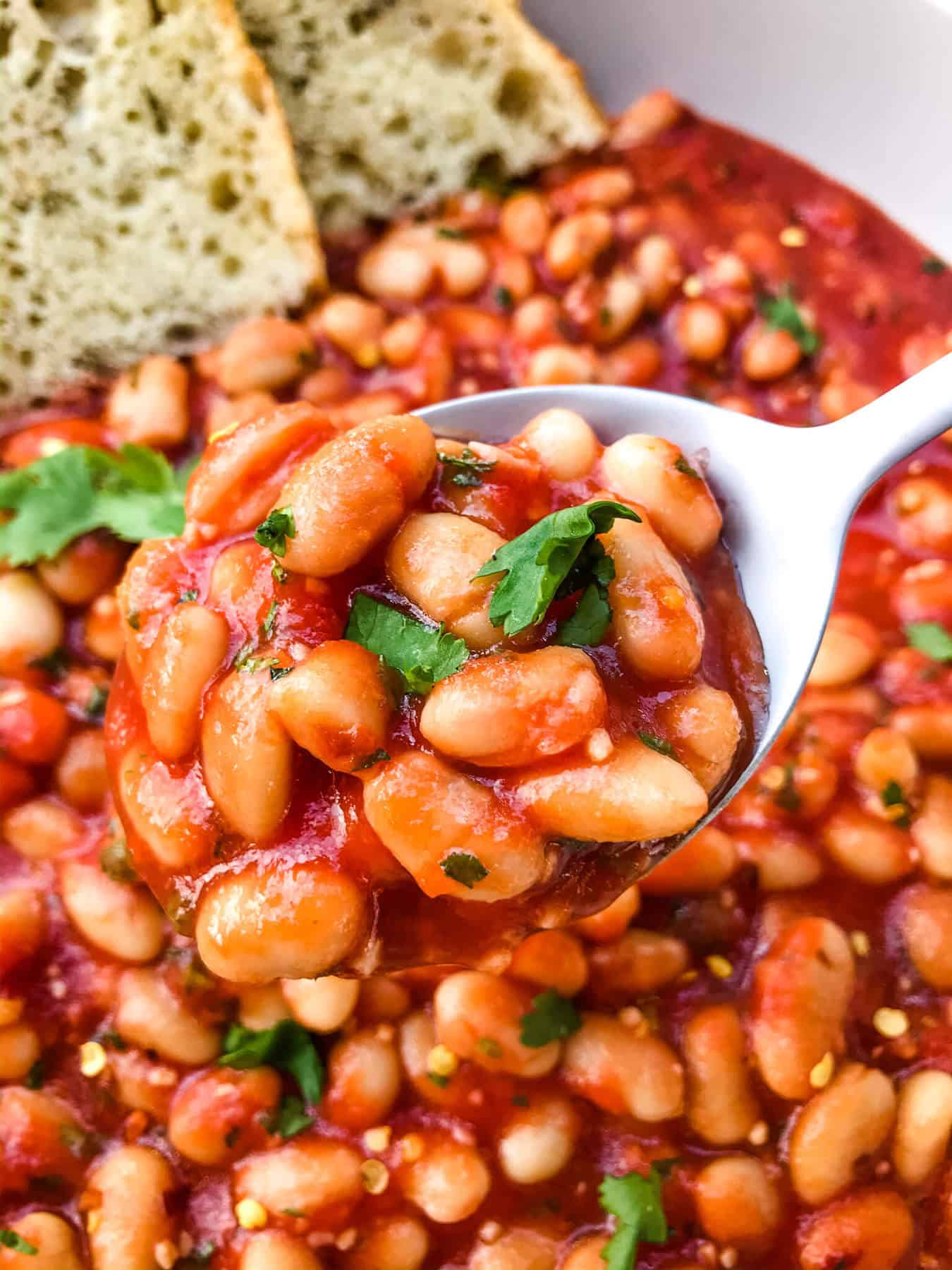 Instructions
Heat oil in a medium pot over medium heat.

Add garlic, red pepper flakes, and a pinch of salt. Saute until garlic starts to brown, approximately 2-3 minutes.

Add tomato sauce and 1/2 cup of water. Stir and reduce heat to low.

Simmer sauce for at least 10 minutes.

When ready to serve, drain the beans and mix the beans into the sauce. Let heat for a few minutes to warm the beans. Add parsley to the sauce. Stir to combine and top with Parmesan cheese if desired. Season to taste with salt, red pepper, and Parmesan.
Notes
Use this recipe as a side dish or main course. Great on its own, with mix ins, or with bread.
The intensity of heat will vary based upon the garlic and red pepper flakes that you use.
The pasta is traditionally served with Parmesan cheese on top.
I love to add some sauteed vegetables to the beans, or you can add chicken, shrimp, or sausage for meat eaters.
Nutrition
Calories:

355

kcal

|

Carbohydrates:

59

g

|

Protein:

19

g

|

Fat:

7

g

|

Saturated Fat:

1

g

|

Sodium:

916

mg

|

Potassium:

1417

mg

|

Fiber:

14

g

|

Sugar:

7

g

|

Vitamin A:

915

IU

|

Vitamin C:

18

mg

|

Calcium:

167

mg

|

Iron:

6

mg

By