This Chocolate Bourbon Pecan Pie is a twist on a classic Thanksgiving recipe. A delicious dessert pie that can be made in advance for a holiday meal.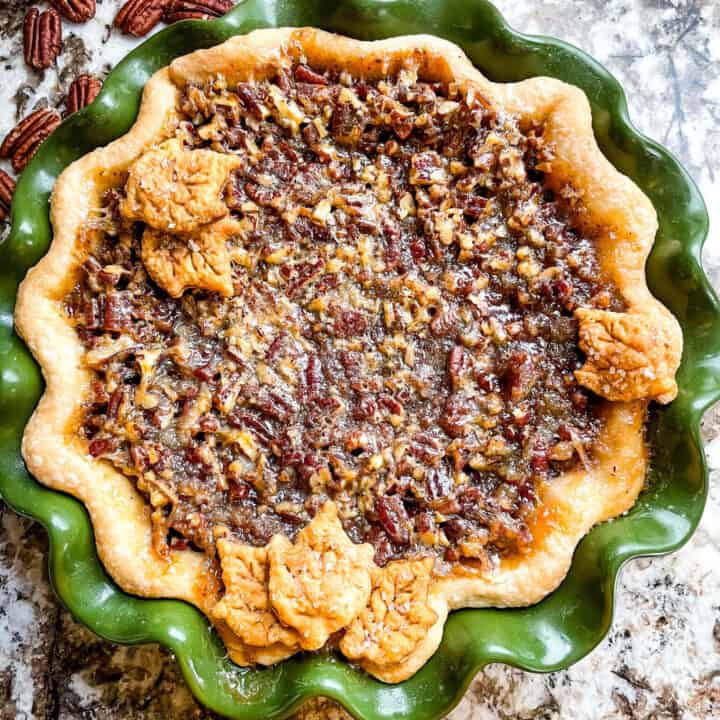 This Chocolate Bourbon Pecan Pie is an amazing twist on the classic!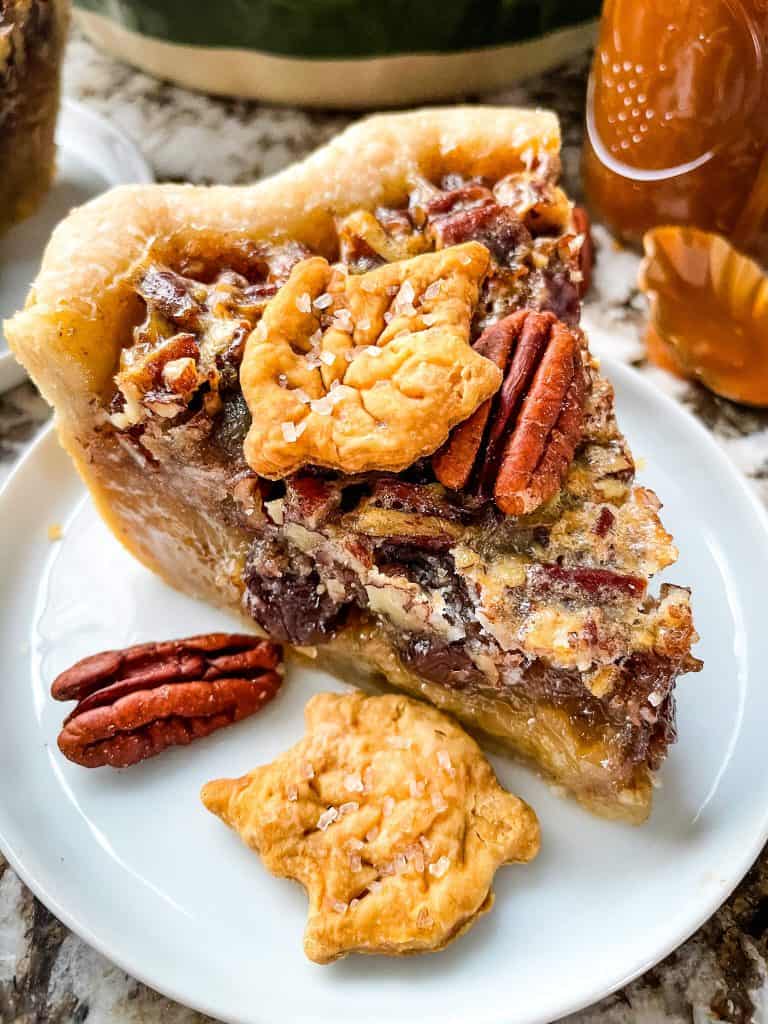 Why You Will Love This Recipe
I am a HUGE pecan pie fan. I just love them.
And Bourbon Chocolate Pecan Pie just sounded like a dream!
Chocolate Bourbon Pecan Pie is a delightful twist on the classic pecan pie, adding the rich flavors of chocolate and a hint of bourbon to the traditional recipe.
I was worried that both flavors would be too much, or that one of them might overpower the others, but I found all three flavors to work great together.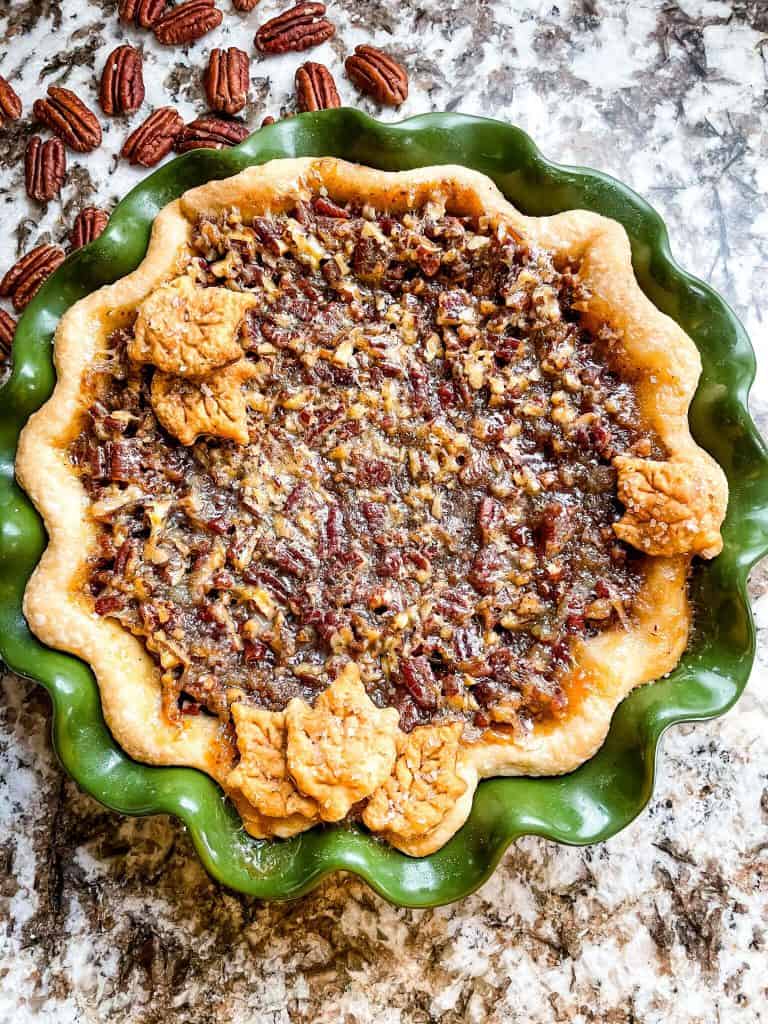 The holidays are all about baking in our family and a recipe for pecan pie always surfaces. Especially in the fall.
I always make my pie crusts from scratch. And my Easy Pie Crust (Food Processor) is perfect for this Chocolate Bourbon Pecan Pie.
You can also check out my Perfect Pie Crust Tips to set yourself up for success!
And finally, you NEED to make this Salted Caramel Whiskey Sauce to just pour allllllllll over the Bourbon Chocolate Pecan Pie. You will not regret it.
I can't stop talking about it.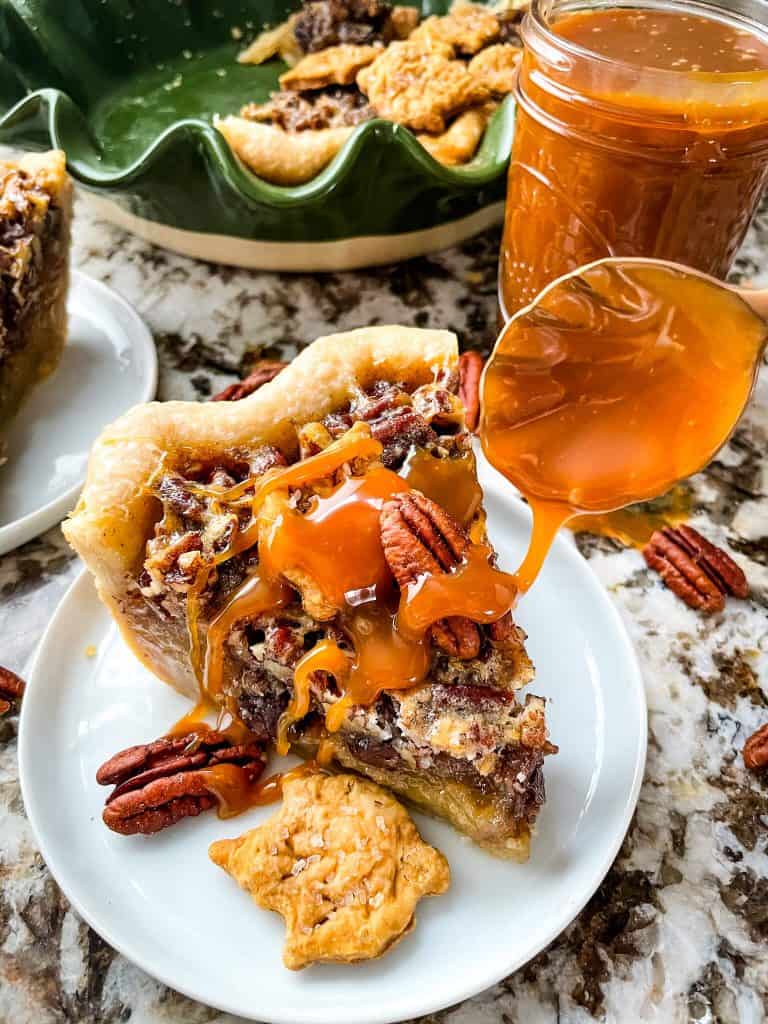 Ingredients
What is the filling in pecan pie made of? You can find full quantities and recipe information in the recipe card below. Here are the ingredients you need for this homemade pie:
Pecans
Sugar
Light Corn Syrup
Eggs
Unsalted Butter
Pie Crust – I like to use my homemade easy food processor pie crust, but you can use whatever you prefer!
Bourbon
Vanilla Extract
Salt
Why does pecan pie need corn syrup?
This syrup is important in giving you the consistency you need and helping to hold the filling together.
With the sugar content and stickiness, when baked it gets thicker and gives you the consistency you are used to without it leaking everywhere.
What can you use instead of corn syrup in pecan pie?
Other types of syrups such as maple syrup or even honey could work, but I would research more about this before substituting it. I have not attempted a substitution and cannot speak to whether you use the same ratio and get the same consistency.
Can I substitute walnuts for pecans in pecan pie?
Yes, you can use walnuts instead if needed.
The walnuts will have a more subtle flavor and are not quite as sweet, but otherwise will work for a substitute.
Adding Bourbon and Chocolate
The additions of bourbon and chocolate just take this pie over the top!
You can use any bourbon for pecan pie that you like. You can also use whiskey in place of bourbon. Whatever you have on hand or prefer. I don't bother with anything expensive – just something lower tier is fine.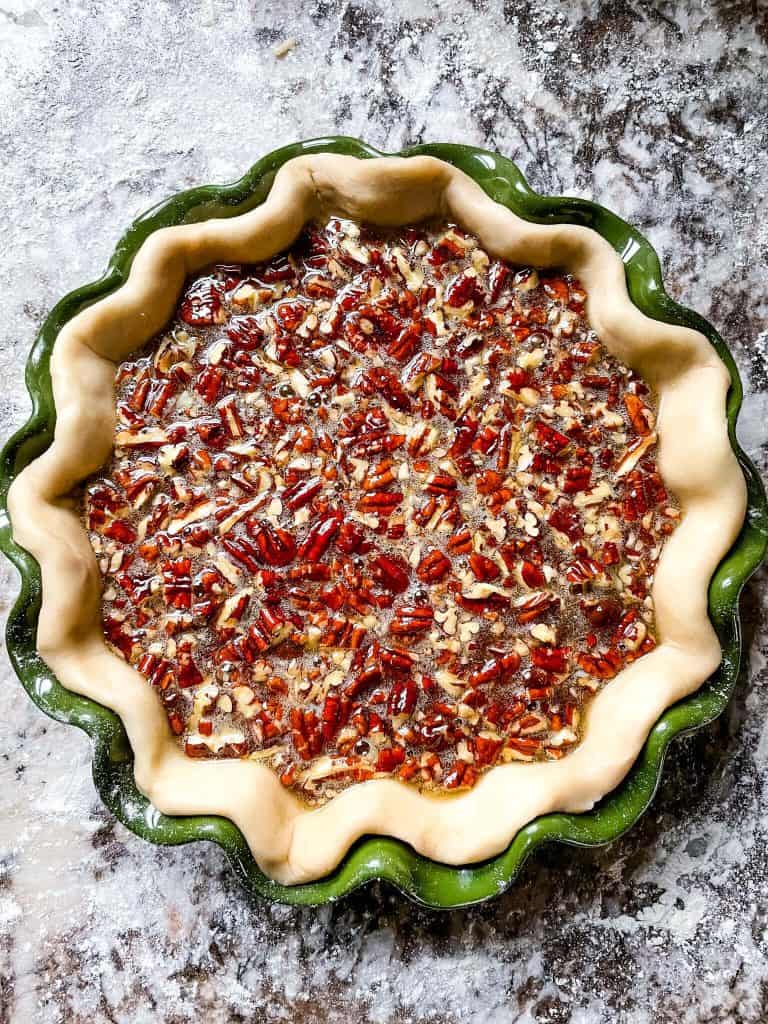 For chocolate, I love to use dark chocolate chips because I am a dark chocolate fan. Either dark or milk will work here.
And I keep the chocolate chips at 3/4 cup. You can go up to a full cup of chocolate, however I think it starts to overpower the other flavors.
The chocolate melts and gets gooey, but stays in the little pockets without spreading through the pie.
So you will hit delicious, rich pockets of chocolate as you eat!
Want to go light on the chocolate? Reduce the chocolate chips to 1/2 cup or even less if preferred.
Can you substitute whiskey for bourbon in pecan pie?
Yes!
The fermentation process is the main difference of the two but they bring similar flavors and both would be great in this recipe.
Can I leave bourbon out of pecan pie?
Yes, you can completely omit it if desired.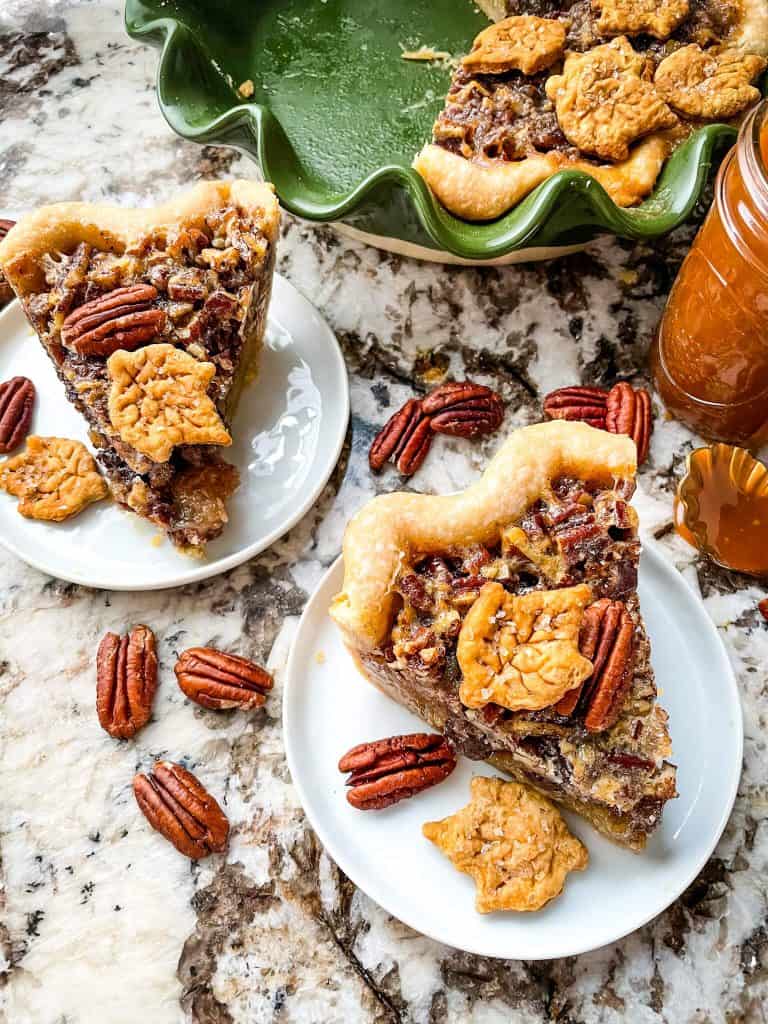 Kim's Tips
I like to take the extra pie crust scraps and use pie crust cookie cutters to make some little decorations on top.
In this case, leaves and acorns look great!
Make sure to toast the pecans for added depth of flavor. It makes a difference in a recipe like this!
And I like to chop up the pecans instead of leaving them whole. Yes, the whole pecans look great, but I like the texture of the chopped pecans more.
Can You Overcook Pecan Pie?
One of the most important parts of cooking a pecan pie recipe, or most pies, is to not overcook it.
One time years ago I overcooked a pecan pie and the sugars start to get hard and sticky. Not good.
You want to pull the pie out when you can press gently on the middle of the pie and it does not feel like there is a water pool under it.
Some jiggle is just fine, but you want it to mainly hold its volume like gelatin or a cheesecake.
A toothpick inserted into the middle will come out clean, like a cake.
FAQs
How long does pecan pie last?
Pecan pie will last 3 to 4 days and therefore are perfect to make in advance!
What does bourbon pecan pie taste like?
The bourbon flavors balance the sweetness a little and bring more of a richness to the pie with deeper flavors.
The bourbon is subtle.
Does bourbon pecan pie have alcohol?
Yes, bourbon is added to the pie filling.
Most of the alcohol burns off in the cooking process so it will leave you with the flavor but very minimal alcohol content. Technically, alcohol never completely burns off but there is barely any left.
Should a pecan pie be refrigerated?
Can pecan pie sit out at room temperature? Technically you do not want to leave it out and would want to refrigerate the pie since it has a good amount of egg in it.
Why is store bought pecan pie not refrigerated? Store bought pies normally have preservatives in them that make them shelf stable and safe to leave out at room temperature.
Why does a pecan pie not set?
This is because either your oven runs cold (not as hot as it says it is) or it is not cooked quite long enough.
How much bourbon is in bourbon pecan pie?
This recipe uses 1/4 cup bourbon.
Which bourbon is best for pecan pie?
There is no need to use any expensive bourbon for a pecan pie. Use what you have on hand or something that is budget friendly.
What can I substitute for bourbon in pecan pie?
Whiskey or brandy are great substitutes for bourbon.
How much pecan do you need for a pie?
This recipe uses 1 cup of nuts. If you want to decorate the top at all with nuts, that would be in addition to the cup for the filling.
Should pecan pie be jiggly after baking?
There should be a slight juggle in the middle, similar to a cheesecake or gelatin. It should not move like liquid.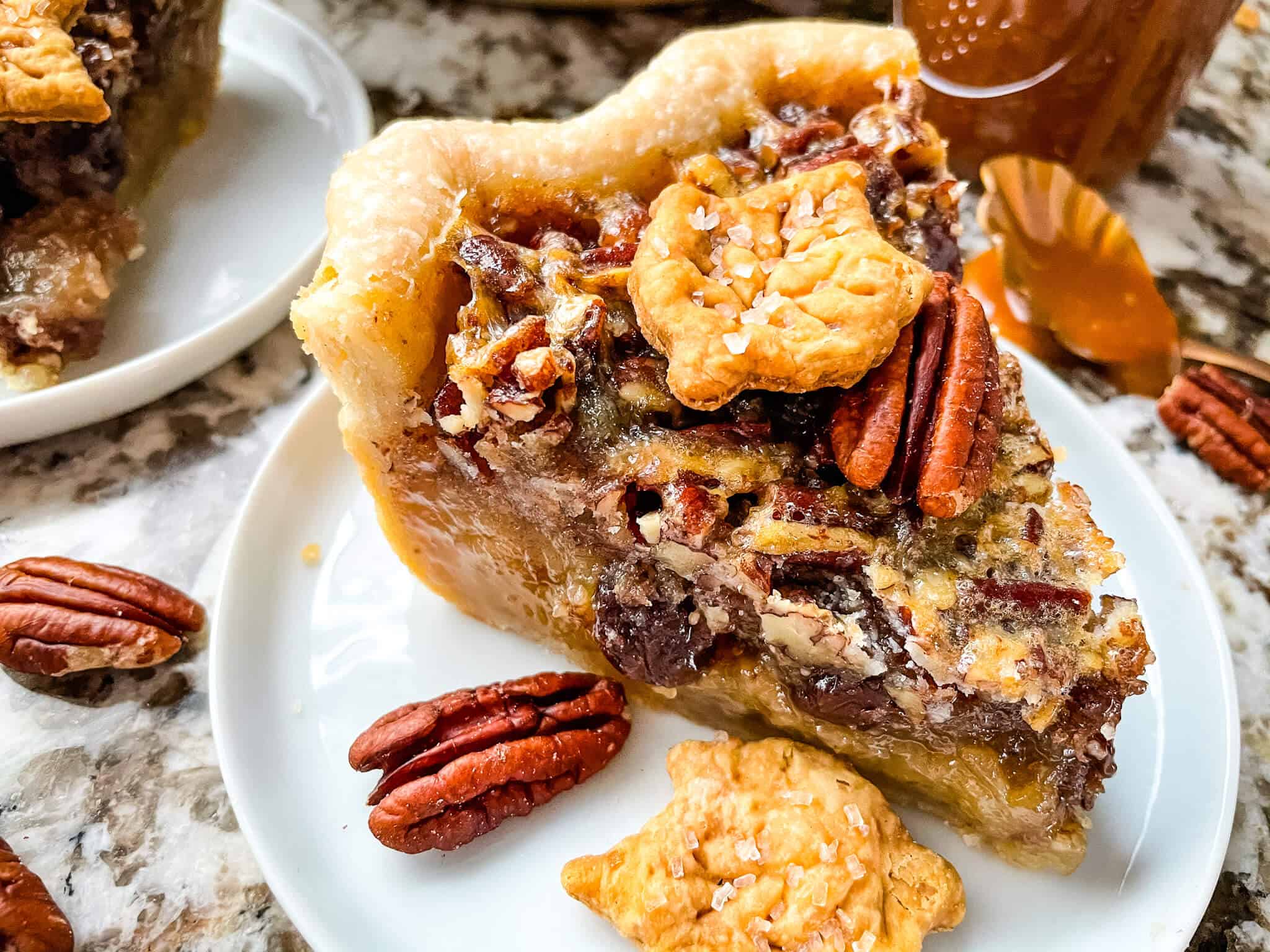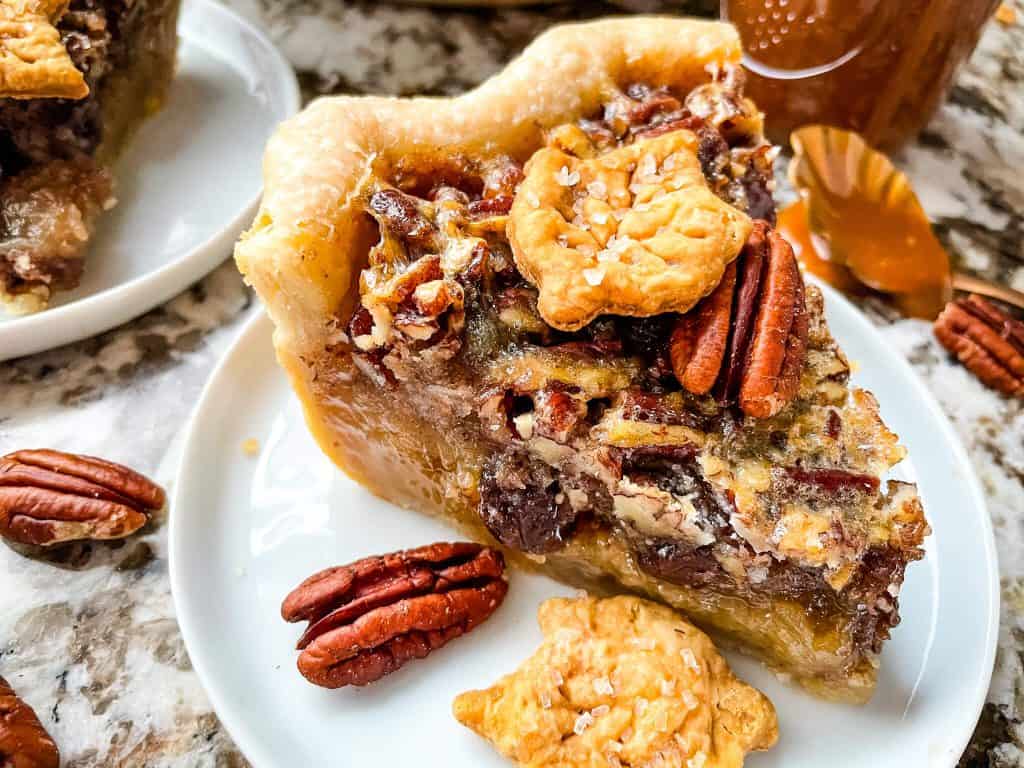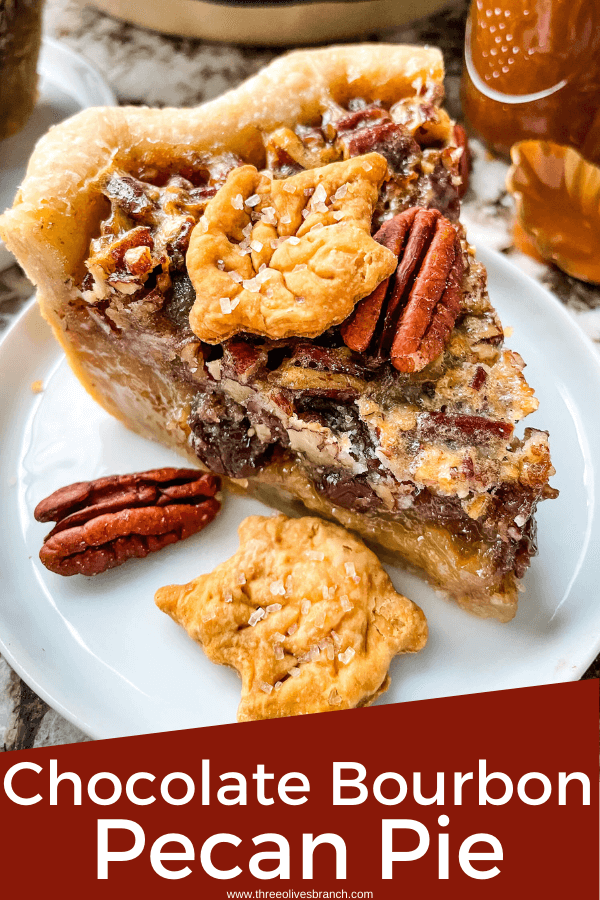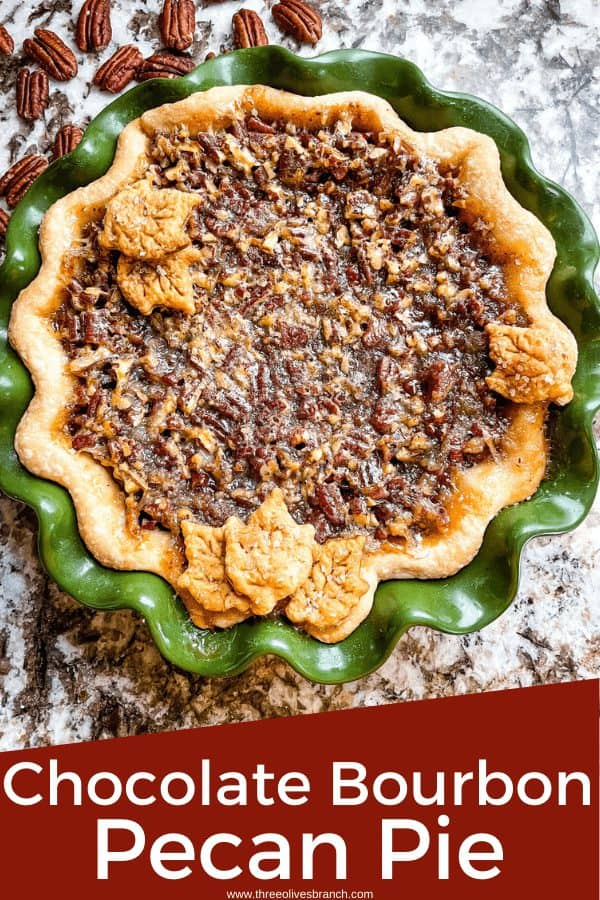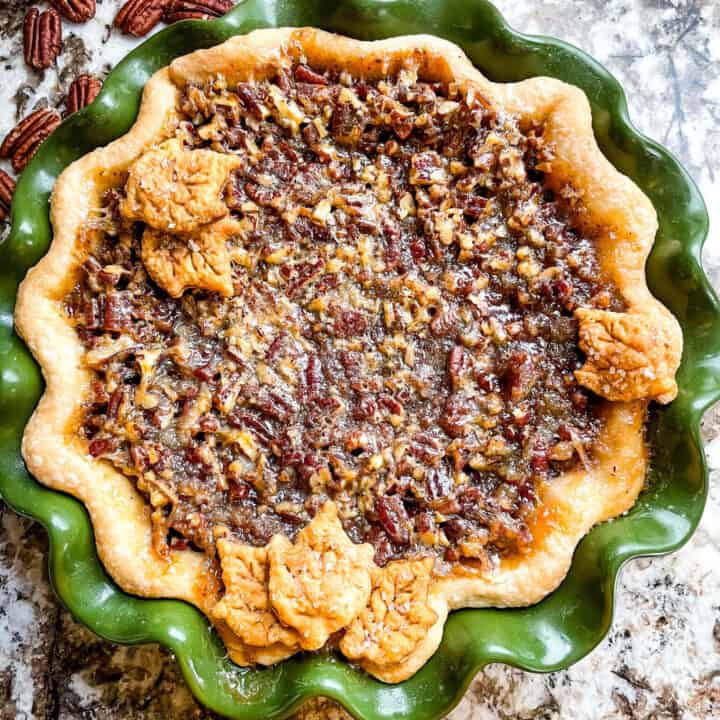 Chocolate Bourbon Pecan Pie
This Chocolate Bourbon Pecan Pie is a twist on a classic Thanksgiving recipe. A delicious dessert pie that can be made in advance for a holiday meal.
Print
Pin
Rate
Instructions
Toast the pecans in a skillet over medium heat until just fragrant, approximately 3-5 minutes. Remove from the hot pan and set aside.

Have your pie crust ready to go in the dish you will be baking in.

In a small pot, combine the sugar, corn syrup, and butter.

Heat over medium heat, stirring frequently, until it is melted and the sugar has dissolved. Remove from heat and set aside.

In a large bowl, whisk together the eggs, bourbon, vanilla, and salt.

When the sugar mixture has cooled slightly, slowly pour it into the bowl while whisking until combined.

Chop the pecans. Add them to the filling along with the chocolate chips. Stir to combine.

Pour the filling into the pie crust shell.

Bake for approximately 50 minutes. If the crust is browning too quickly, cover the crust edges with foil. The pie is done when you press on the middle and it feels like gelatin with a soft wiggle, but not like there is a pool of water underneath.

Serve warm or at room temperature with ice cream, whipped cream, or our Salted Whiskey Caramel Sauce.
Notes
I have found that store bought pie crusts tend to be much shorter than when you make your own. If you use store bought, you will likely have leftover filling.
This pie tastes amazing with our Salted Whiskey Caramel Sauce! 
Make your own easy food processor pie crust for this recipe.
Nutrition
Serving:
1
slice
|
Calories:
641
kcal
|
Carbohydrates:
82
g
|
Protein:
7
g
|
Fat:
32
g
|
Saturated Fat:
13
g
|
Cholesterol:
126
mg
|
Sodium:
335
mg
|
Potassium:
106
mg
|
Fiber:
2
g
|
Sugar:
69
g
|
Vitamin A:
534
IU
|
Vitamin C:
1
mg
|
Calcium:
55
mg
|
Iron:
2
mg
More Pie Recipes
Pie Recipes
Everything related to pie including crust recipes, tips, and pie fillings!

Get tips for making the perfect pie crust!

By