Halloween Pizza Potato Skins are a delicious spooky savory Halloween recipe. A great holiday snack, lunch, or dinner meal that is gluten free and vegetarian. Perfect for Halloween party food.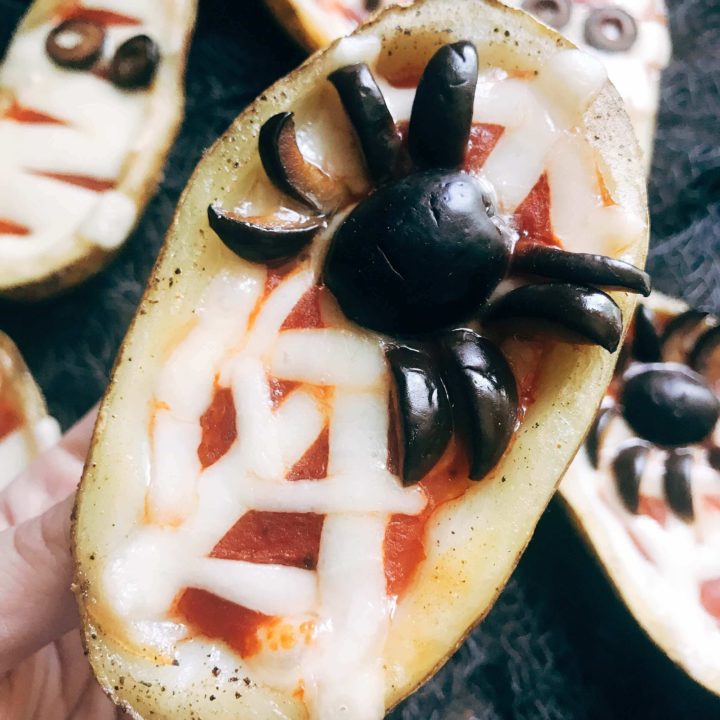 Halloween Pizza Potato Skins are a fun recipe for the holiday. Three different Halloween designs of a mummy, ghost, and spider web for this creative and popular fall holiday. Gluten free and vegetarian.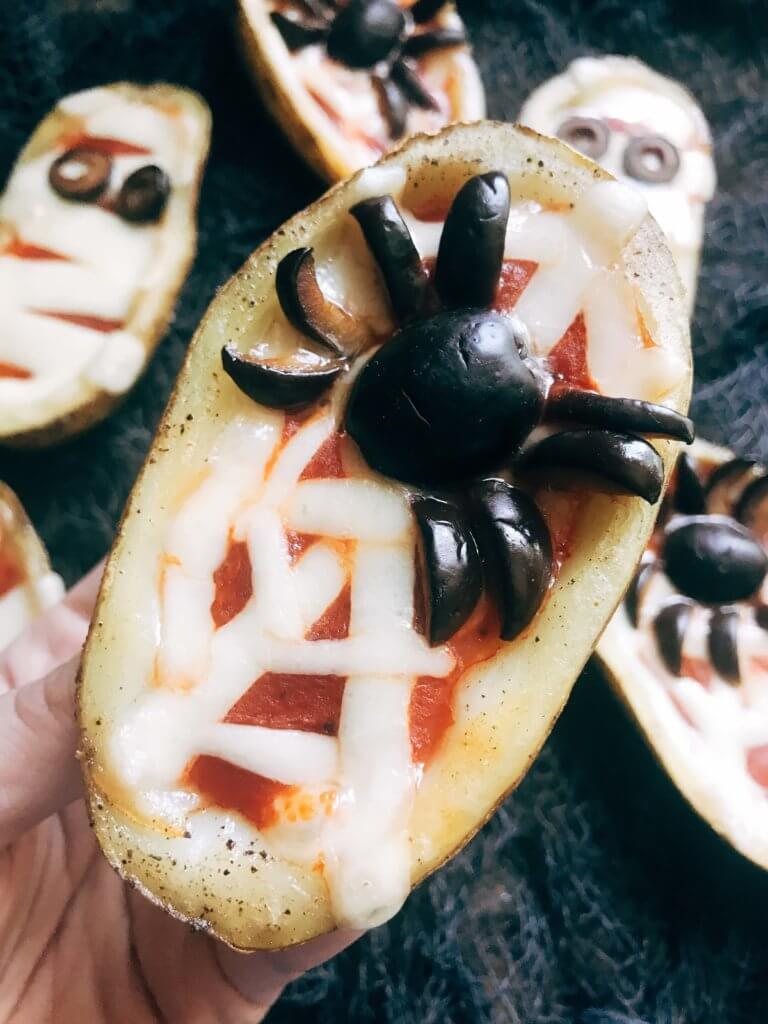 This post contains affiliate links.
Halloween is my favorite overall holiday because it is focused on fun and creativity! Plus, it is in fall, my favorite season.
Making creative Halloween recipes tend to lead toward sweets and desserts. These Halloween Pizza Potato Skins are a fun, savory treat for Halloween!
I could not pick a favorite of these three designs, so make the one you love the most or all of them!
The ghosts are the fastest and easiest, and the spider webs are the most complex, with the mummy in between. All three are fun and festive!
Customize this Halloween Pizza Recipe by adding different ingredients, which you can always hide on the bottom so they do not affect the design, or serve them on the side with some extra sauce for dipping.  
Make a lot of them for a main course, or serve them up as an appetizer.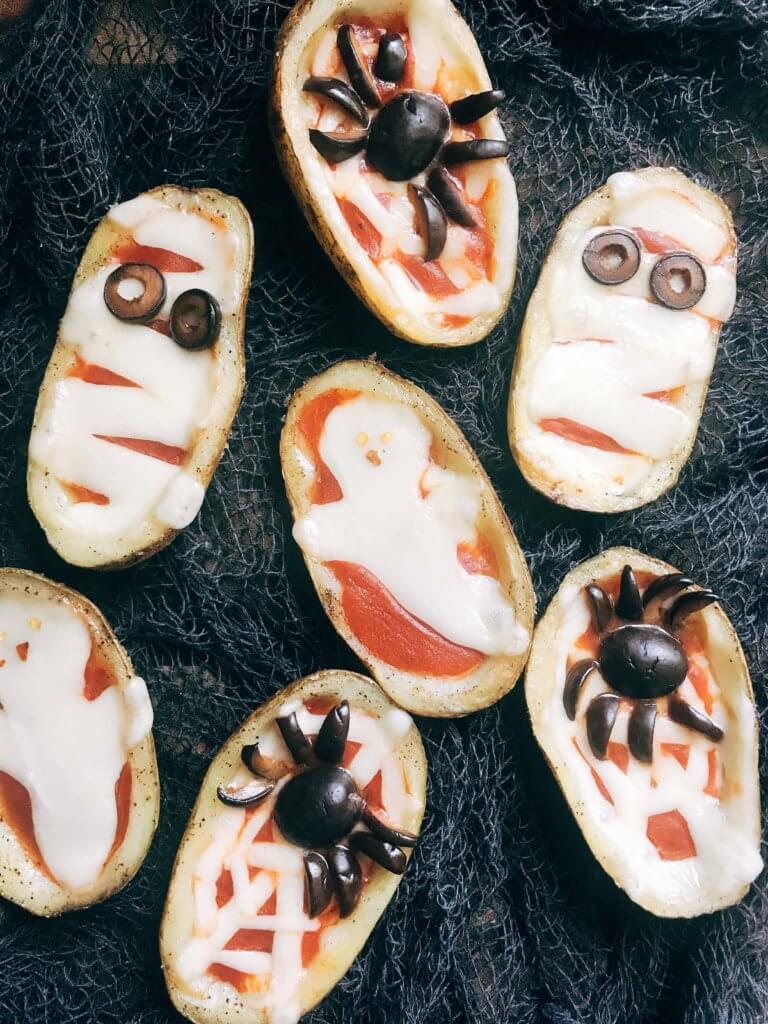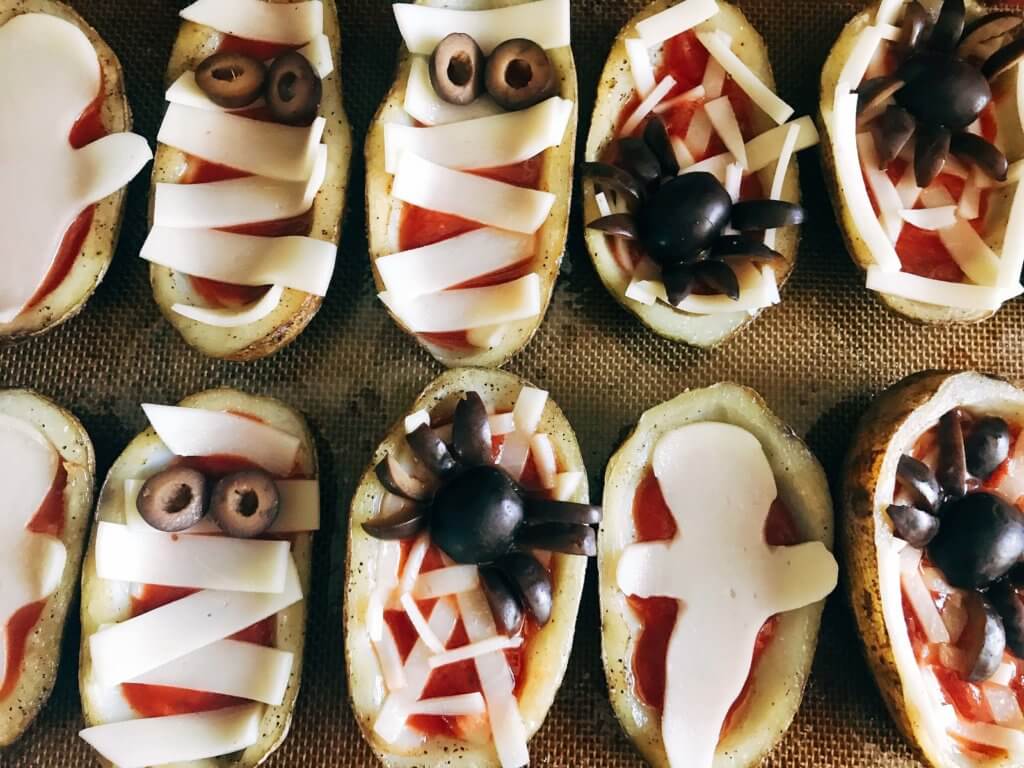 Homemade Potato Skin Shells
I have a post that outlines how you can make homemade potato skin shells.
It is my favorite technique as I found using baked potatoes were just too soft and difficult to work with. Plus my technique above is so much faster! The topping possibilities are endless!
Now that I have a recipe for perfect potato skins, it is somewhat dangerous because they are so good!
Make the potato skin shells in advance for a quick and easy assembly! I like to throw them in a container and refrigerate them for when I am ready to finish them off. That way you can have these Halloween Pizza Potato Skins ready to go in no time!
You can also find empty, ready to go potato skin shells in the freezer section of your grocery store with the french fries.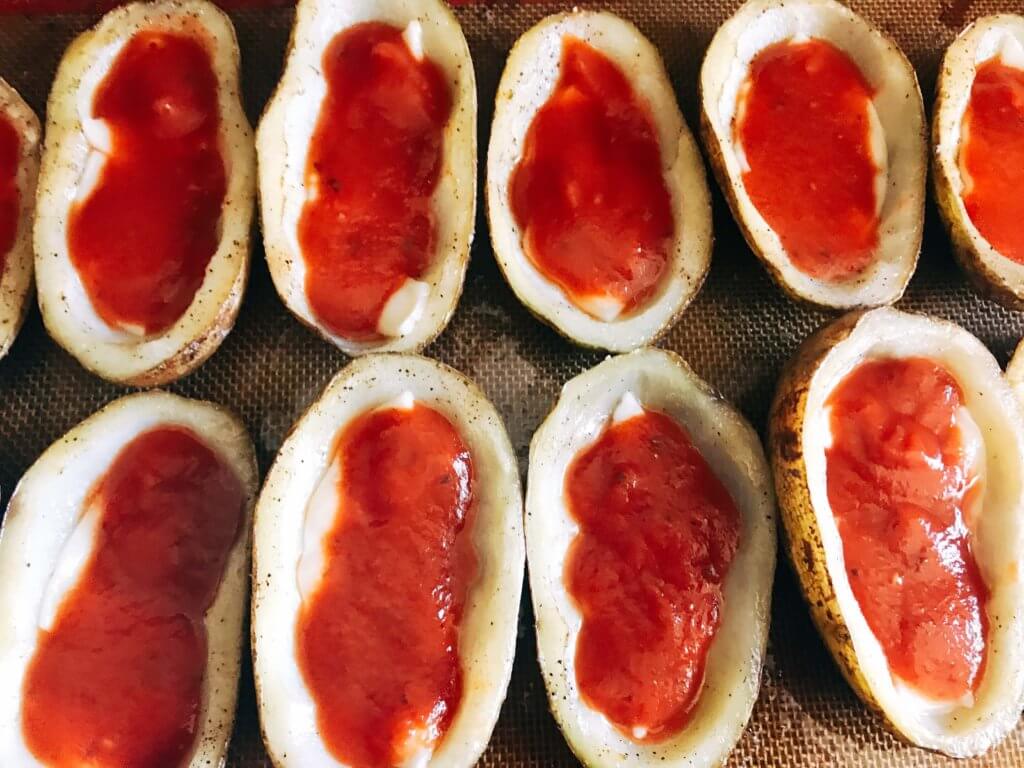 Instructions Summary for Halloween Pizza Recipe
To make the Halloween Pizzas, first make sure that you have your potato skin shells ready to go.  
Then fill each one with some of the provolone cheese scraps (from the edges of after you cut the ghosts, or just use extra cheese slices).
Top with some pizza sauce of choice (my go-to is my Red Wine and Oregano Pizza Sauce – so good!).
Follow these instructions below for each type of potato skin. The ingredients and steps are for 4 of each type, but just increase the amounts to make more of any!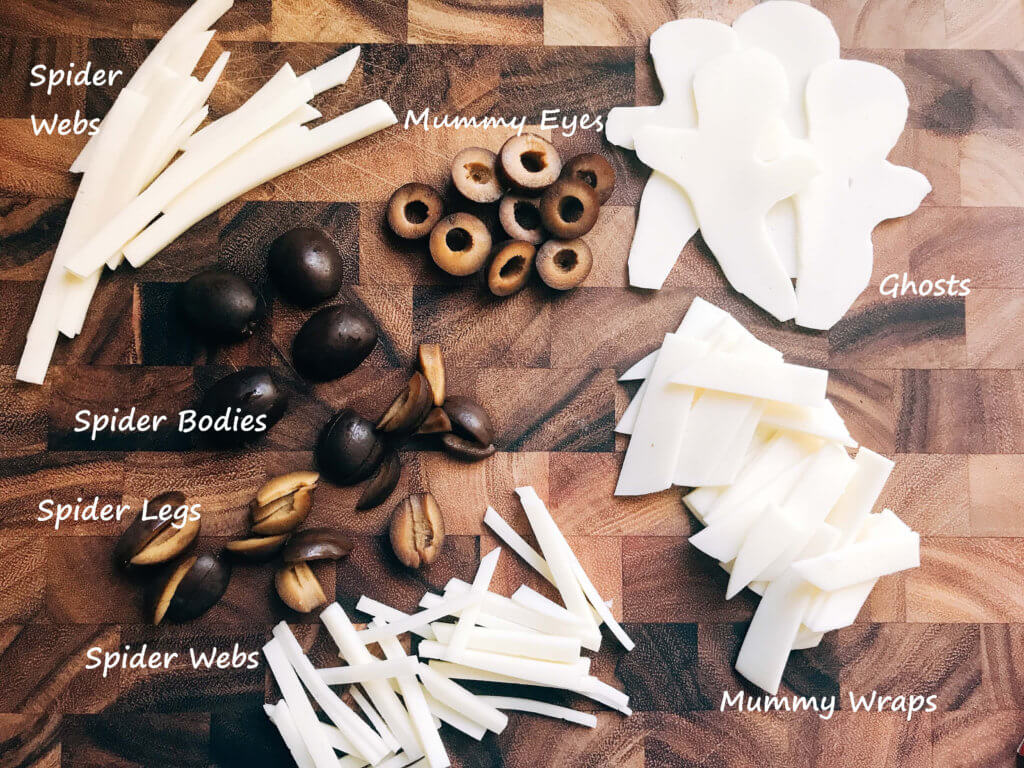 Ghost Pizza
To make the ghosts, take a slice of the provolone cheese and cut a ghost shape using the tip of a knife. You can also use a cookie cutter.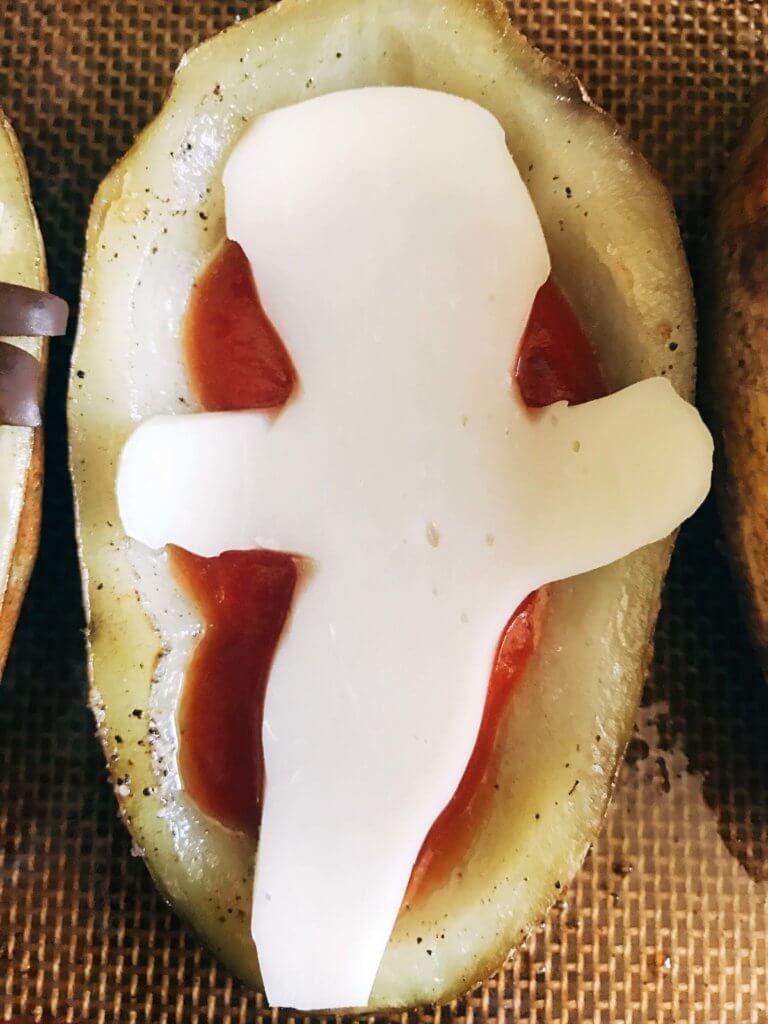 Mummy
To make a mummy potato skin, stack two slices of the provolone (enough for 4 mummies), cut in half across the shorter width, and stack them all together.
Then slice the cheese into 1/2″ strips. Place the strips as crooked stripes all up and down the potato.
For the eyes, take three olives (enough for 4 mummies) and slice the olives to make three circles or rings. Place two of the olive rings on top as the eyes.
You can also use the small pepperoni instead of olives for eyes.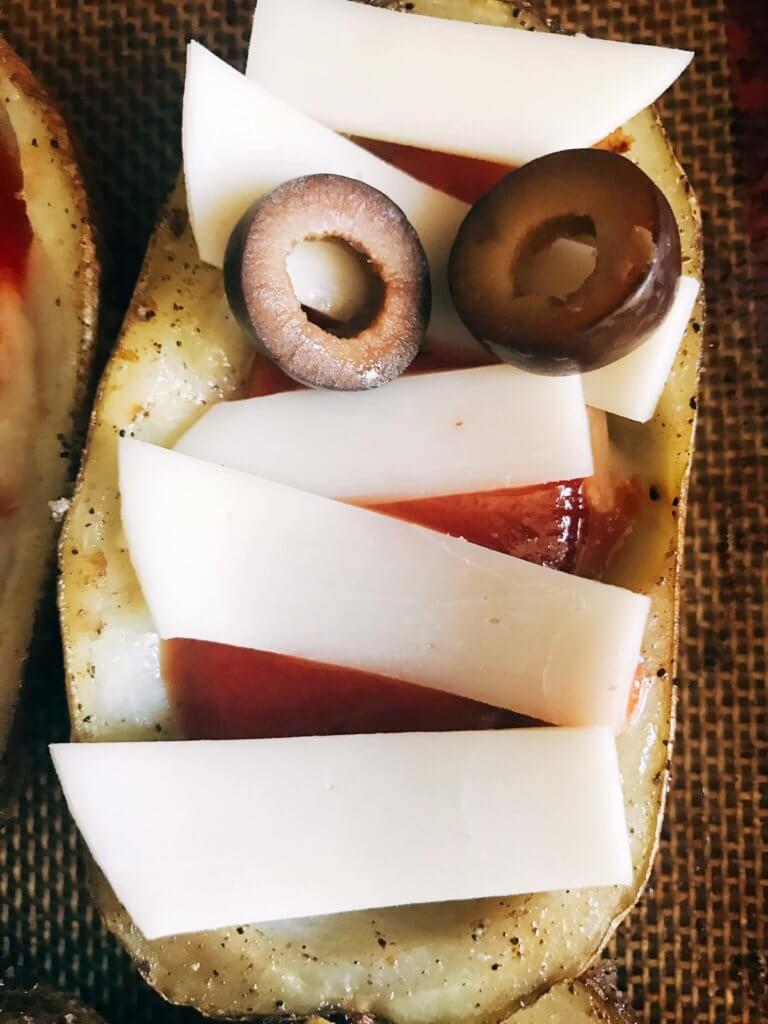 Spiders
This is the more complicated one in that it takes a little more time. Use two slices of cheese, cut in half, and stack. Cut the cheese into approximately 1/4″ wide strips.
Use the longer pieces to make the original "x" or snowflake pattern on the potato skin.
Then use smaller pieces, and tear them as needed, to make lines connecting the longer pieces and making circles around the web base. I made two circles: one near the center and one near the outside.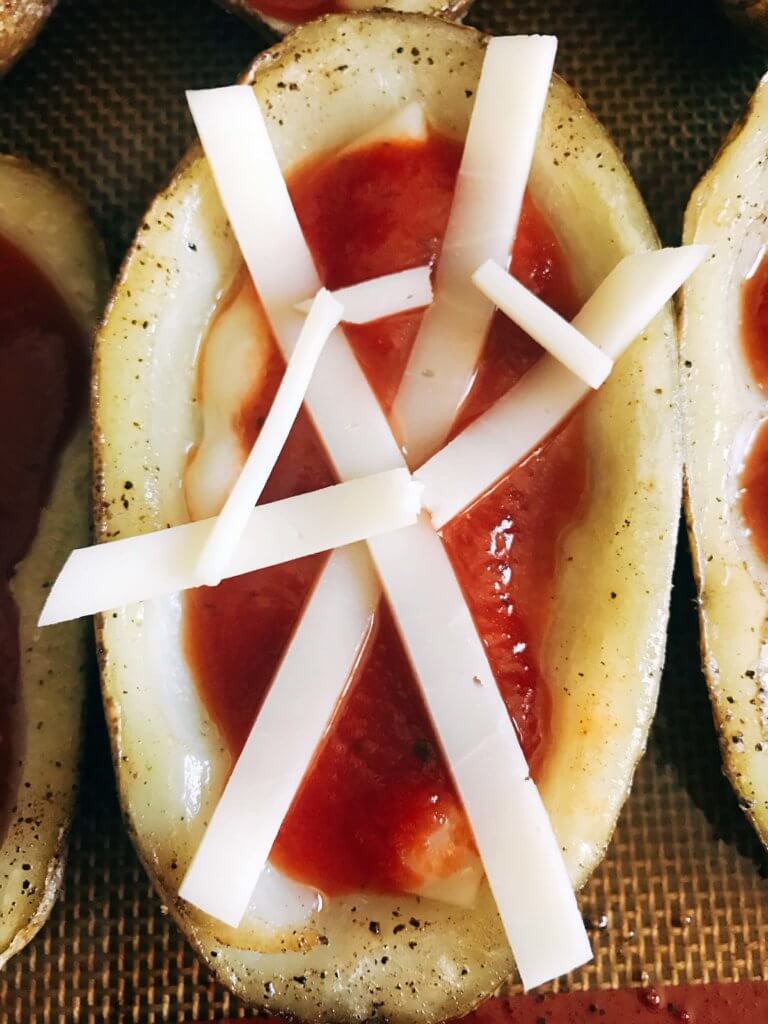 Then make the spiders by cutting two olives in half lengthwise for the bodies.
Take 4 more olives, cut them in half lengthwise, and then cut each half into four thin strips for the legs. This is enough for 4 spider skins.
Place the spider body wherever you like (great for areas that do not look ideal!) and then place the eight legs around it.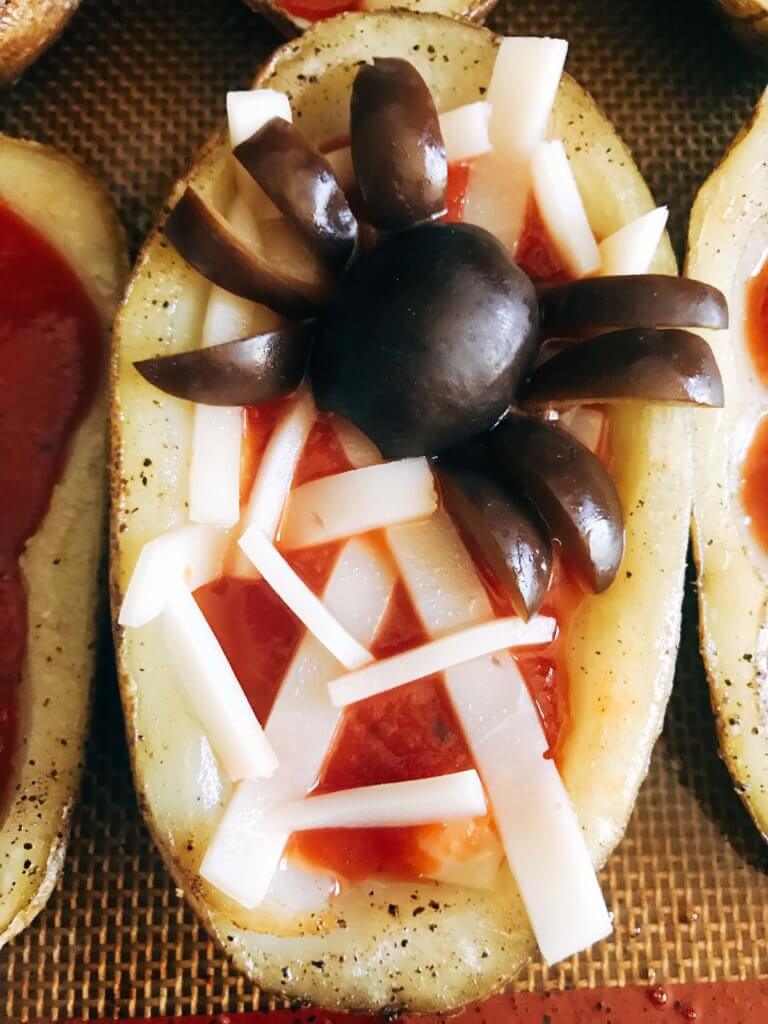 Find our collection of potato skin recipes here!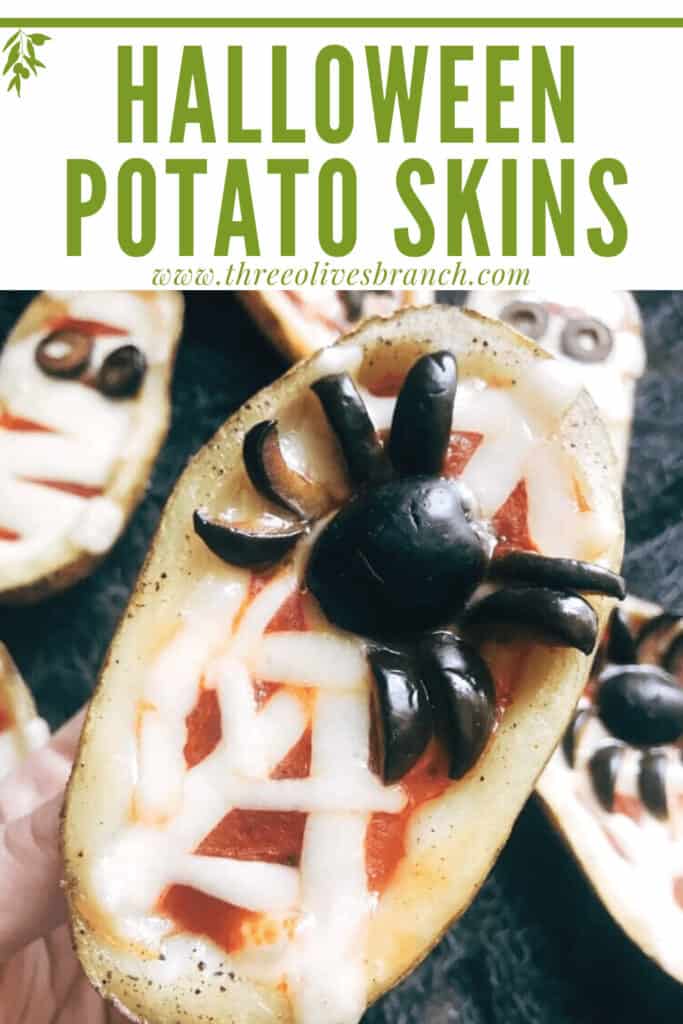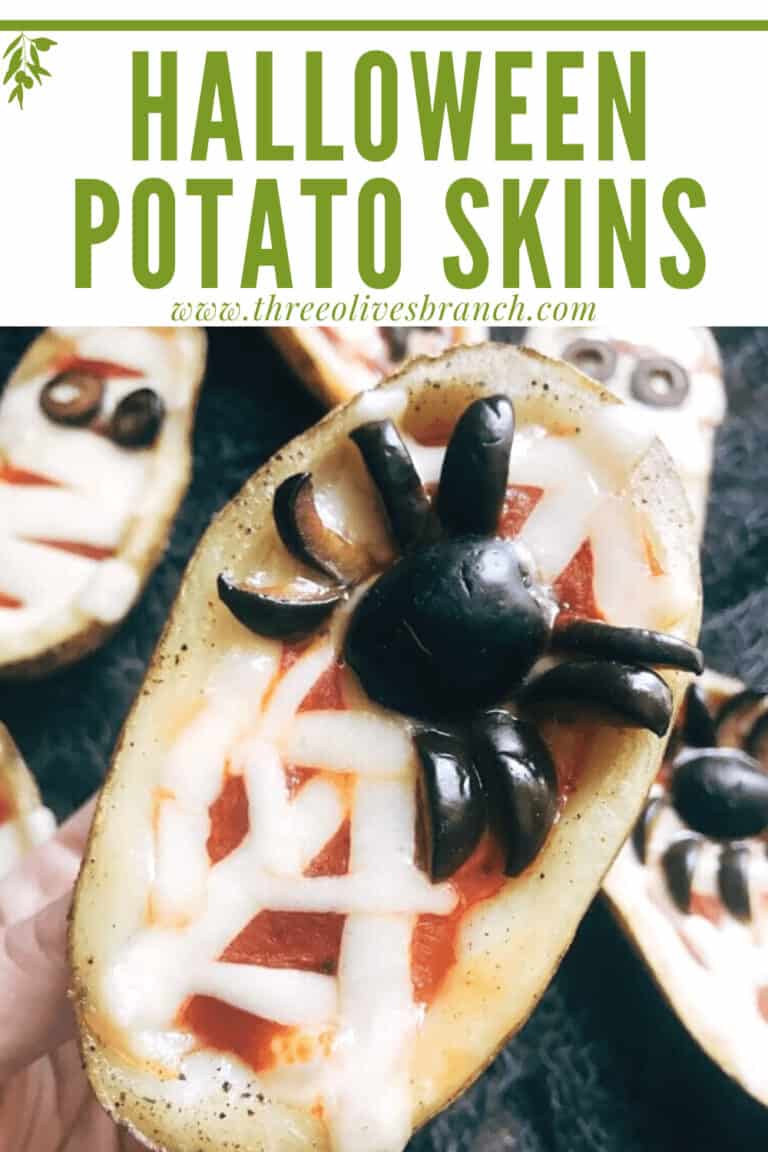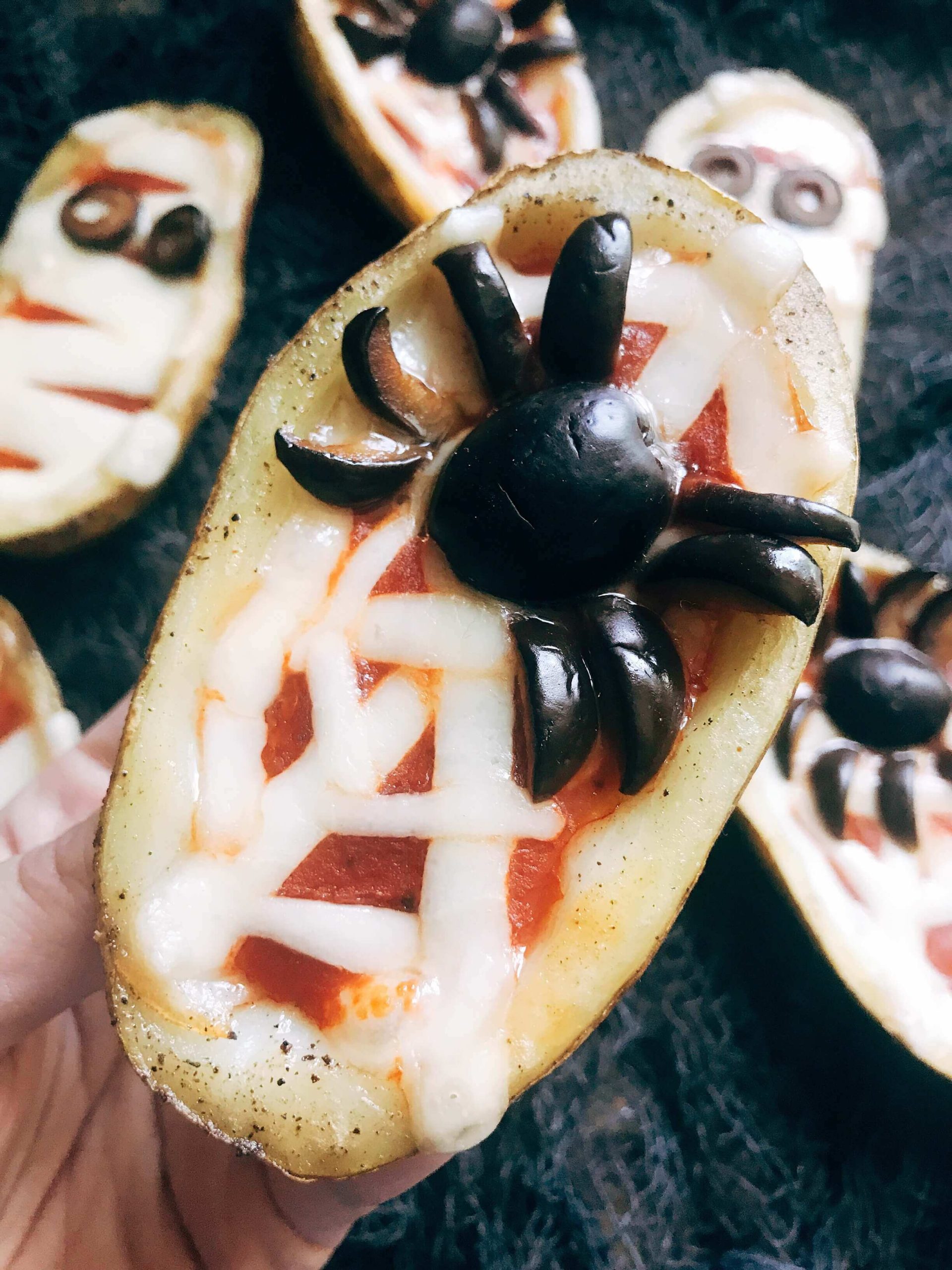 Servings:
12
potato skins
Instructions
Prepare your potato skin shells if not done already. See link for recipe and instructions in notes below. (If they are not already cooked or prepped, this will add to overall cook time).

Cut your olives.

For four spider web potato skins: cut two olives in half lengthwise. These are the bodies. Set aside. Cut another four olives to make the legs. First cut them in half lengthwise, then cut each half into four strips. You will have 8 "legs" per olive total, and eight legs for each body. Set aside. For four mummies: Cut three olives into thirds crosswise so you get three rings or circles per olive. This will give you nine rings (one extra). Set aside.

Cut your cheese.

For the four mummies: stack two slices of provolone. Cut them in half and stack. Cut the cheese on the short side (versus the longer way) into 1/2" strips. Set aside. For the four spider webs: stack two slices of provolone. Cut the cheese slices into 1/4" strips, some a touch wider and some a touch thinner to give you variety. Set aside. For the four ghosts: freehand cut a ghost shape with a knife in each slice. Set aside the scraps for use later. Alternatively, you can also use a ghost cookie cutter.

Line the empty potato skin shells on a baking sheet. Tear the leftover cheese scraps from the ghosts and place the pieces in the bottom of each shell.

Spoon 1/2 to 1 Tablespoon of the pizza sauce into each potato skin shell. You may need more or less depending on the exact size of the potato. It does not have to be full to the top.

Ghosts: Place the cheese ghosts in the potato skin shells.

Mummies: Place the thicker cheese strips in an alternating zig zag pattern up the entire length of the potato skin. The cheese should lay horizontally on a vertical potato skin (see picture) instead of the opposite.

Place two of the olive rings on each potato skin for the eyes. If the end pieces of olives are not sitting flat, carefully trim the rounded side off.

Spiders: Using the thinner cheese strips, lay longer cheese pieces into an "x" with one or two additional pieces crossing over, like a snowflake (see picture). Then use thinner cheese strips to connect the long pieces in a circle around the center of the web. I made two rings (see picture).

Tear the cheese as needed to get your desired lengths. Once the cheese is in place, put a halved olive down for the spider body. Then add the olive strips on each side to give the spider their eight legs (see picture).

Bake the potato skins in the oven until the cheese is melted, approximately 12 minutes. The cheese will not completely liquefy and will hold its shape, so you are looking for it to simply melt at the edges (see picture).

Optional: Make a face for the ghosts using pieces of ground red pepper flakes once they are out of the oven.

Serve immediately with additional pizza sauce if desired.
Notes
Learn how to make your own potato skin shells here!  They can be made in advance and stored in the refrigerator.  The longer baking time is to account for making the potato skin shells themselves if you have not done so already.
The exact amount of cheese and sauce that you will need will vary with the exact size and depth of each potato skin.  I prefer to use provolone because it does not melt and lose its shape as much as mozzarella.
Our Red Wine and Oregano Pizza Sauce is perfect for these potato skins, but feel free to use any sauce you love.
This is for four ghosts, four mummies, and four spider webs.  Simply adjust as needed to make only one or two of these patterns by multiply the materials needed for that pattern.
You can also use small pepperoni instead of olives for eyes or cut up any other veggies to the right size.
Nutrition
Serving:
1
potato skin
|
Calories:
86
kcal
|
Carbohydrates:
3
g
|
Protein:
5
g
|
Fat:
6
g
|
Saturated Fat:
4
g
|
Polyunsaturated Fat:
1
g
|
Monounsaturated Fat:
2
g
|
Cholesterol:
13
mg
|
Sodium:
297
mg
|
Potassium:
115
mg
|
Fiber:
1
g
|
Sugar:
1
g
|
Vitamin A:
244
IU
|
Vitamin C:
2
mg
|
Calcium:
148
mg
Halloween Recipes
Celebrate Halloween with these fun holiday recipes!

By