Red Skin Mashed Potatoes make a perfect side dish! This easy recipe idea is made with just 6 simple ingredients and minimal prep. Gluten free versatile carb great for a holiday meal.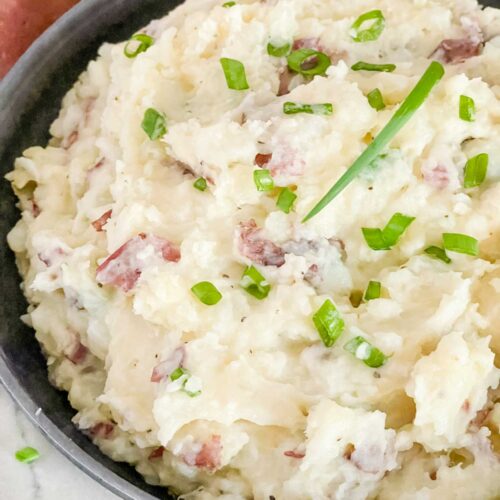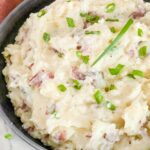 These homemade Red Skin Mashed Potatoes are a great side dish recipe for any dinner idea! Made with just a few simple ingredients.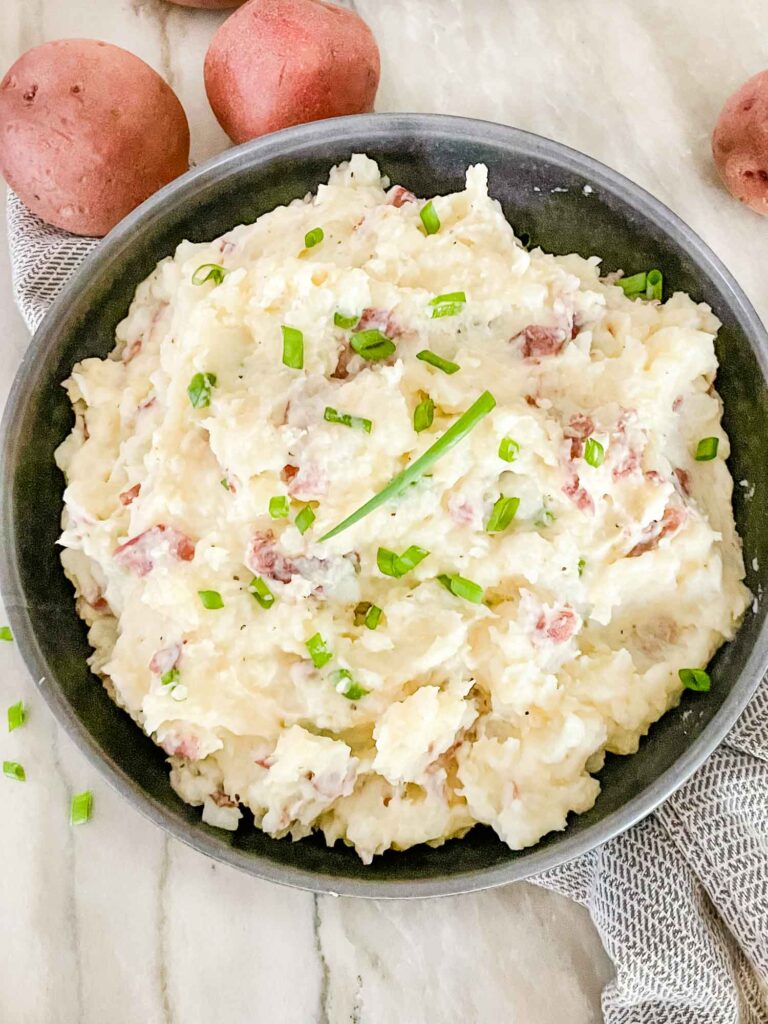 Why You Will Love This Recipe
Making mashed potatoes with red skin is a great way to lend flavor to a simple and easy side dish recipe.
The skin of a red potato is thinner and more delicate than a russet potato, which makes the texture inside the mashed potatoes more subtle and pleasing as well.
Red potatoes cook relatively quickly without being cut up first which means this is a faster potato side dish with less effort!
Ingredients
These are the ingredients you need to make red skinned mashed potatoes:
Red Potatoes
Whole Milk
Butter
Salt
Black Pepper
Green Onions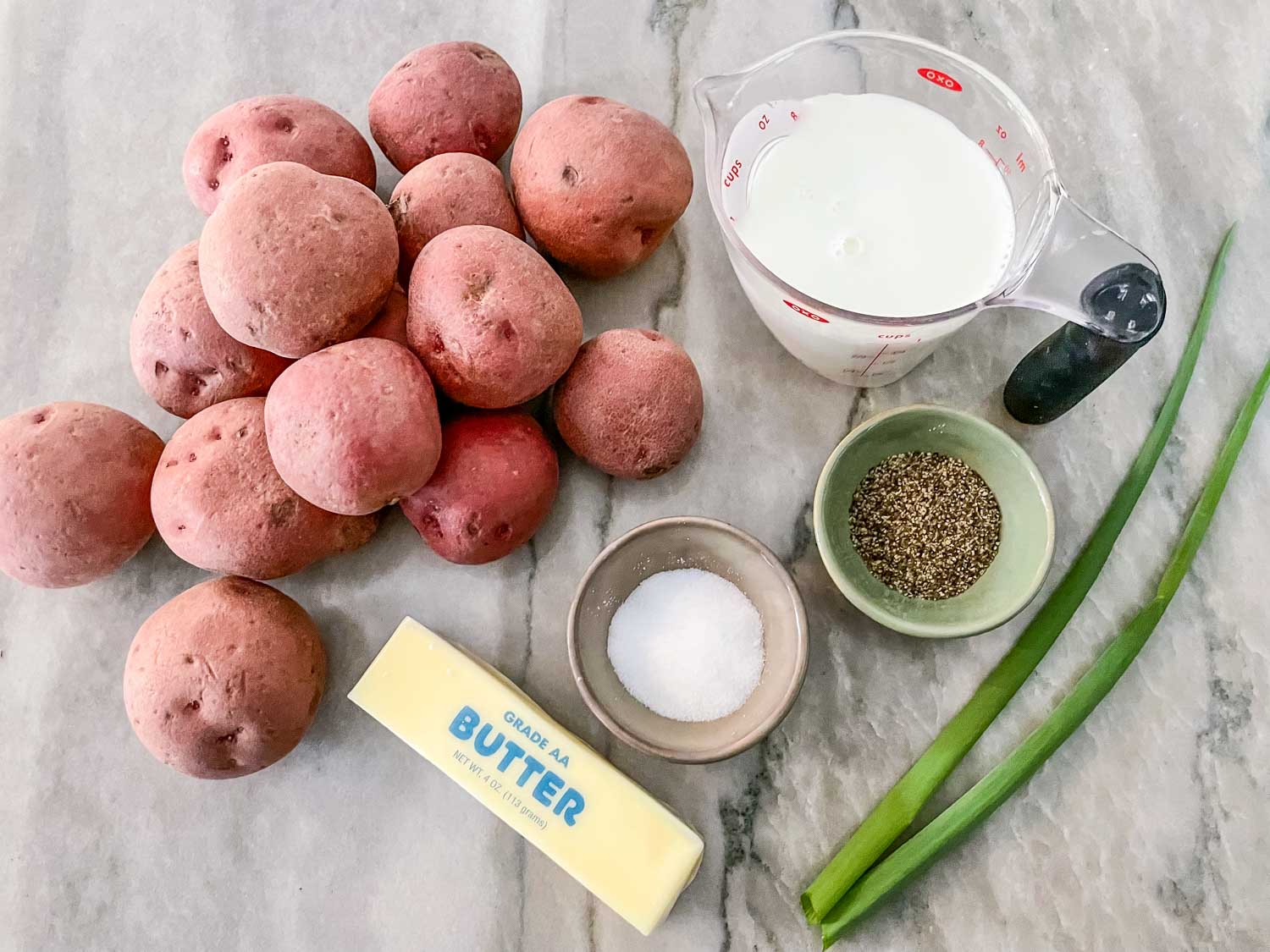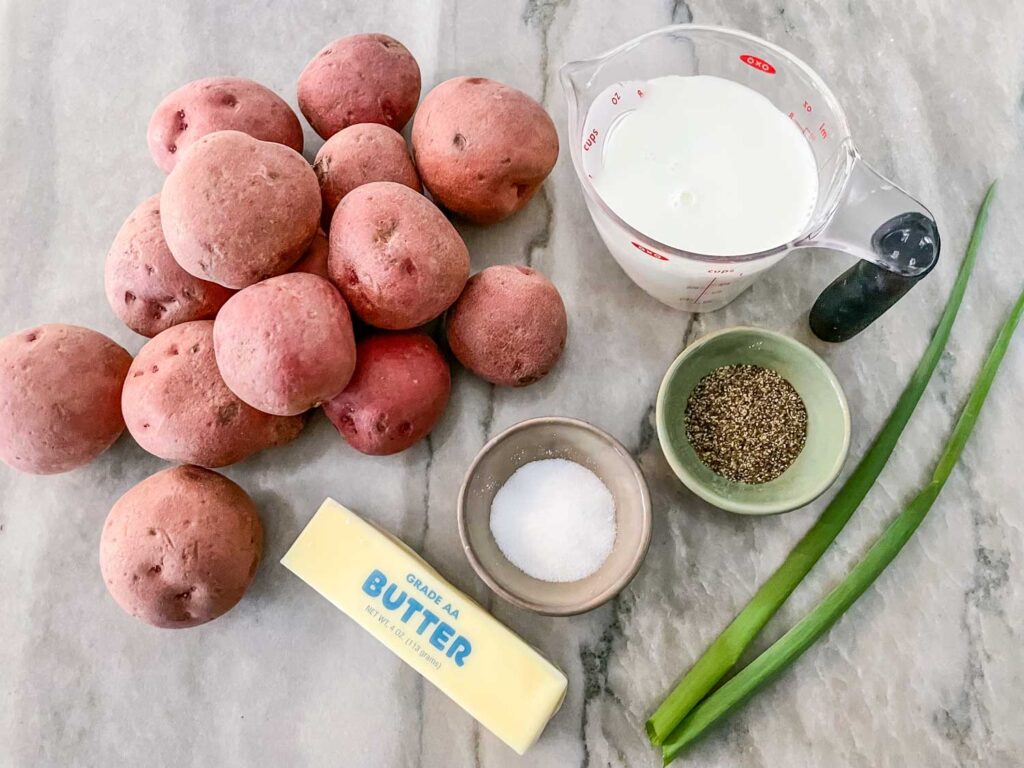 Equipment
This is the equipment you need for the recipe:
Large Pot
Potato Masher
Strainer
Measuring Cups
Instruction Overview
Heat a large pot of water over high heat.
When boiling, add the red potatoes, whole, to the water.
Cook on medium high until fork tender to the middle of the potatoes, about 25 minutes.
Drain the potatoes and return the empty pot back to the hot stove over medium high heat.
Add the milk and butter and heat until the milk is warm through.
It does not matter if the butter is melted or not!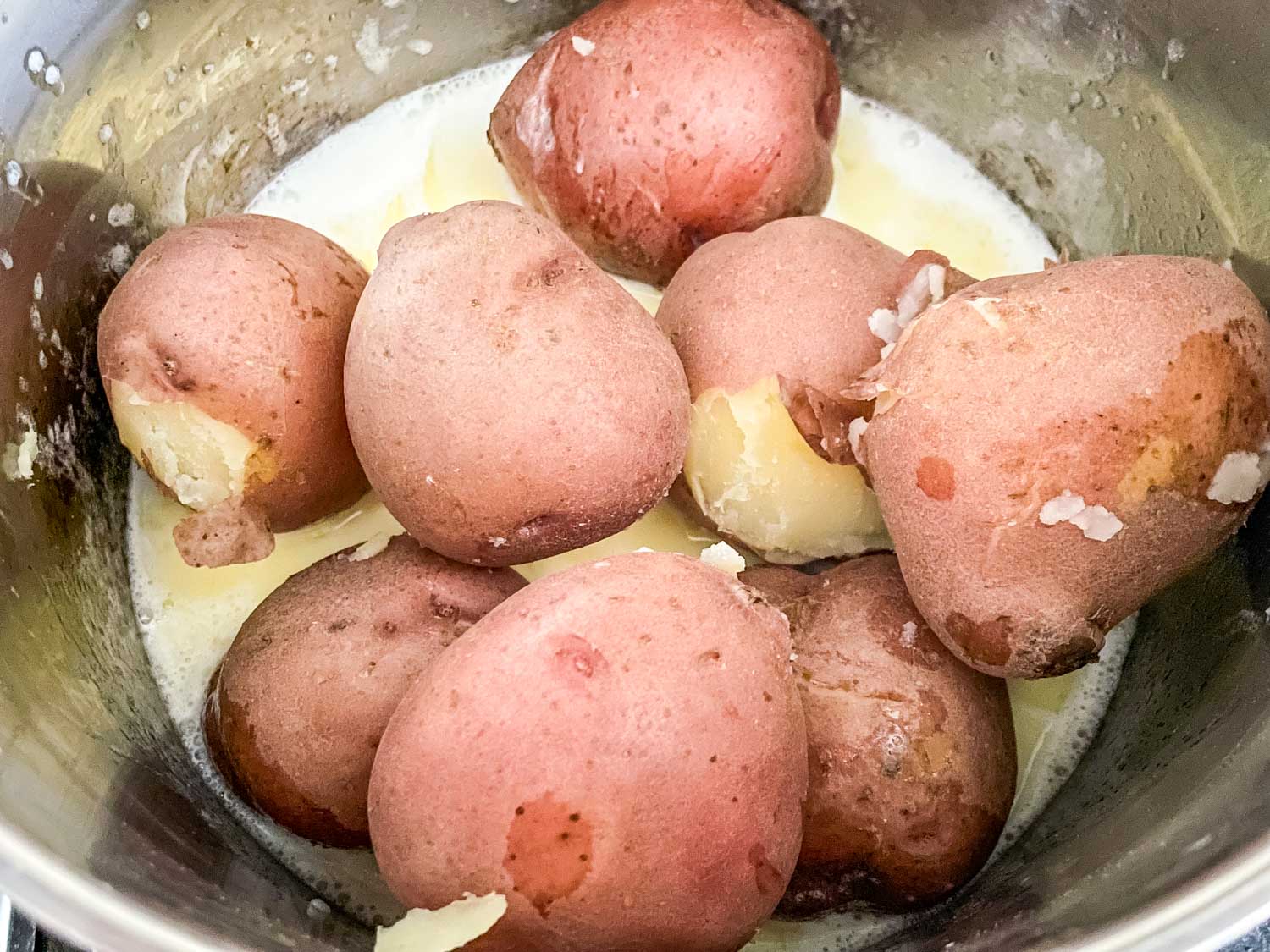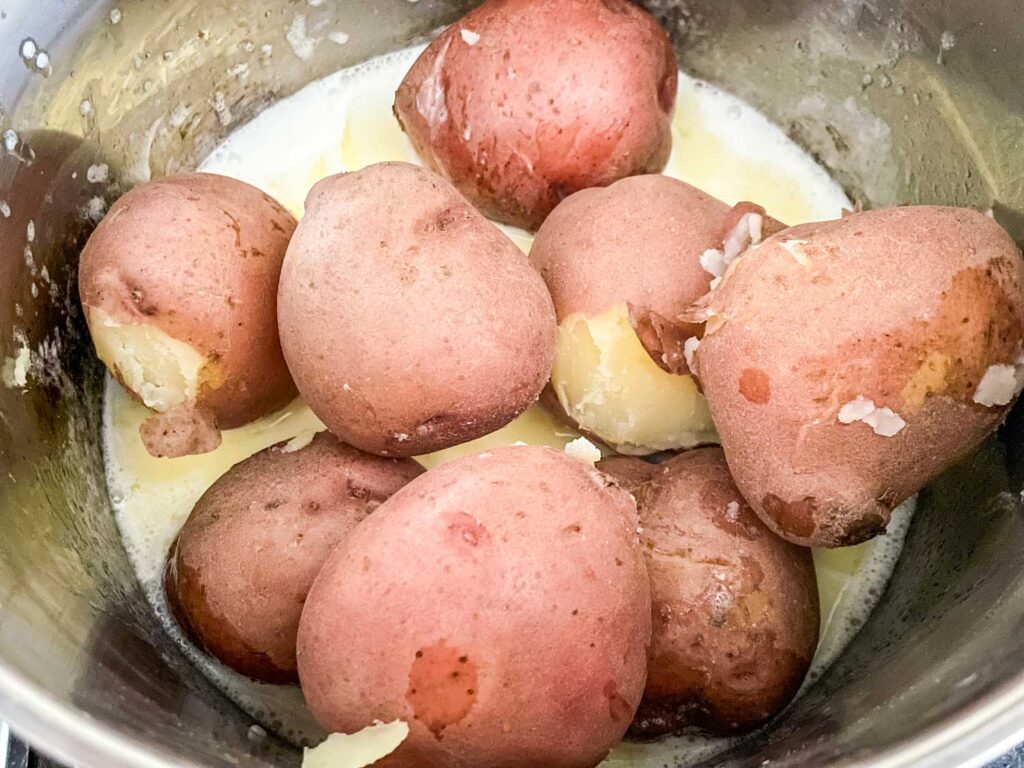 Add the potatoes back in and mash to your desired consistency.
Add salt, black pepper, and the green onions. Mix to combine and season to taste as desired.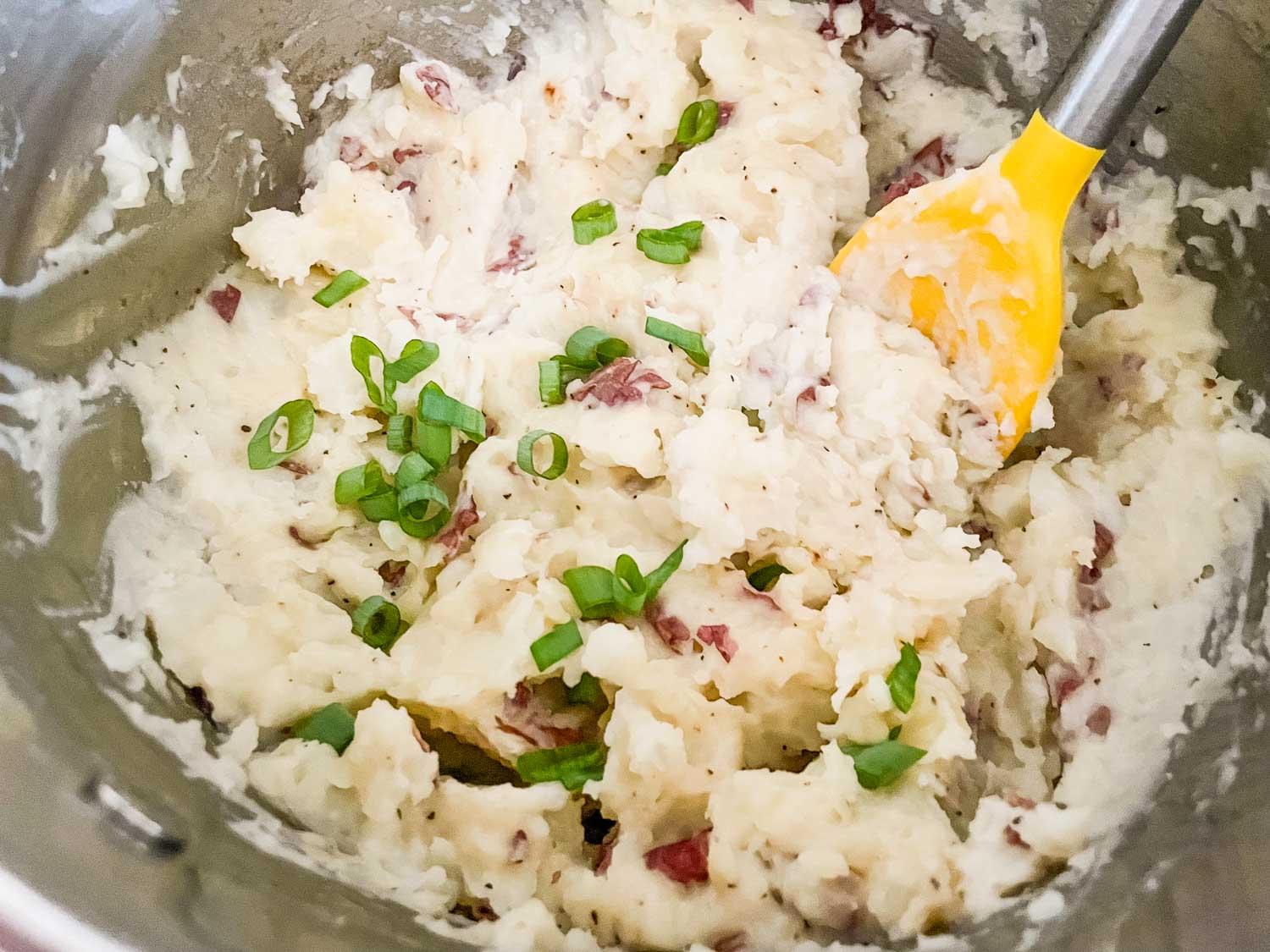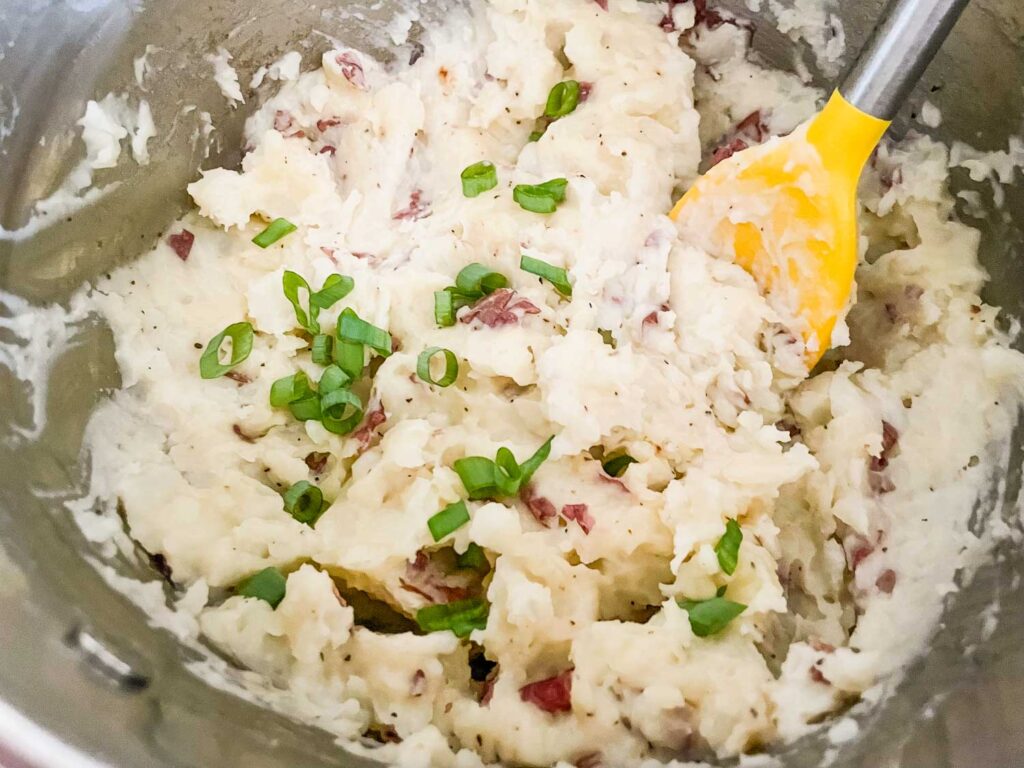 Modifications and Substitutions
Whole milk is best as it is thicker than others (skim, 2%, etc). You can use a different milk but may need to add a little more butter to get the same creaminess and richness.
Kim's Tips
leaving whole means less water absorption
cut for less boil time, but time added for cutting
If using unsalted butter, start with 1 teaspoon of salt instead.
You will need to cook for more or less time based on the size of your potatoes.
If your potatoes vary greatly in size, cut larger ones to be the approximate size of the smaller potatoes.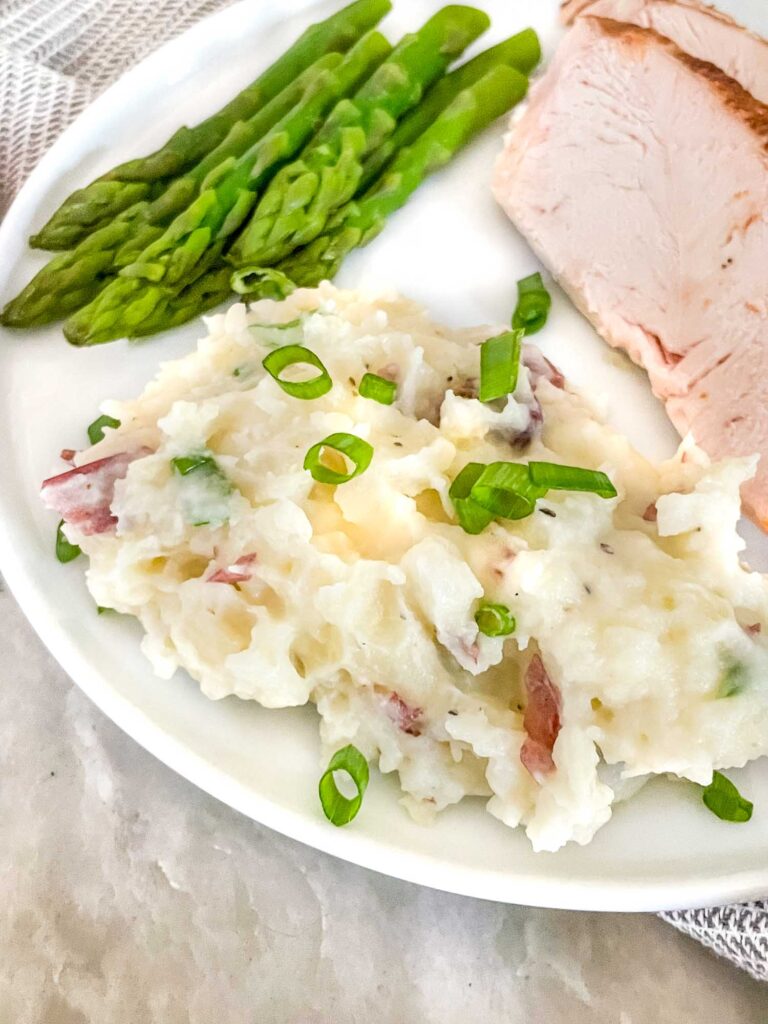 FAQs
Are red potatoes better for mashed potatoes?
This comes down to preference. Red potatoes are waxy, which means they have less starch and more moisture.
Because of this, they make a great creamy mashed potato.
Why do you add milk to mashed potatoes?
Milk adds moisture and creaminess.
Do you cut potatoes before boiling for mashed?
It is not necessary! The red potatoes will cook relatively quickly without being cut, reducing prep time.
What is the trick to good mashed potatoes?
Boiling the potatoes whole with the skin on means less water will get into the potatoes.
And do not be afraid to add flavor! You might need more milk, butter, and/or salt and pepper than you might think to make them perfect.
How do I remove lumps from mashed potatoes?
To remove lumps, you can keep mashing the potatoes and the lumps will continuously get smaller. Or you can put them in a stand mixer and whip with the whisk attachment.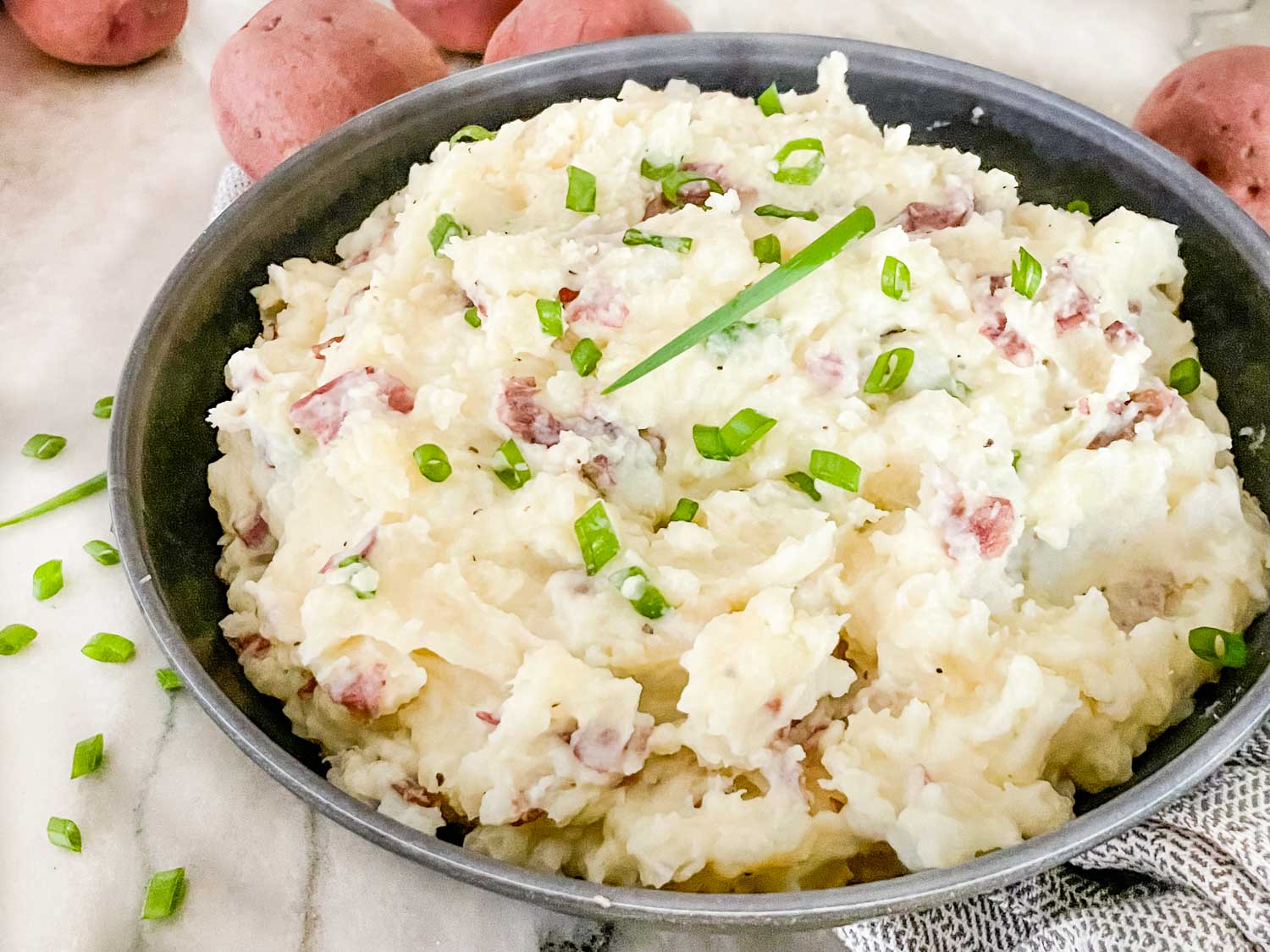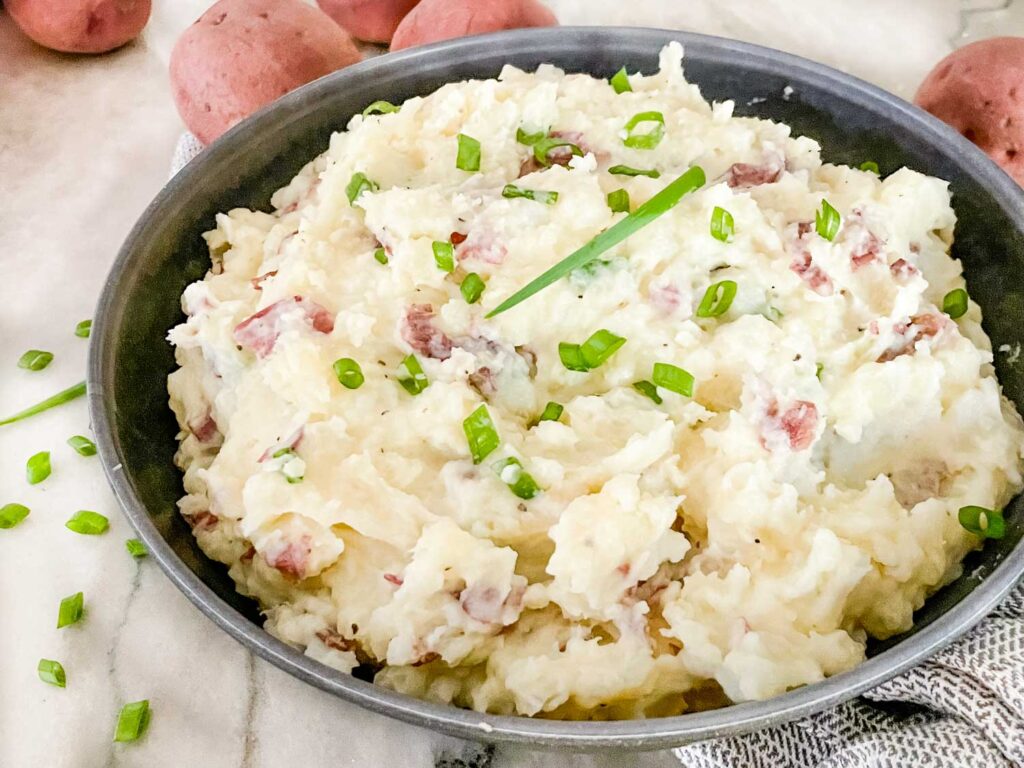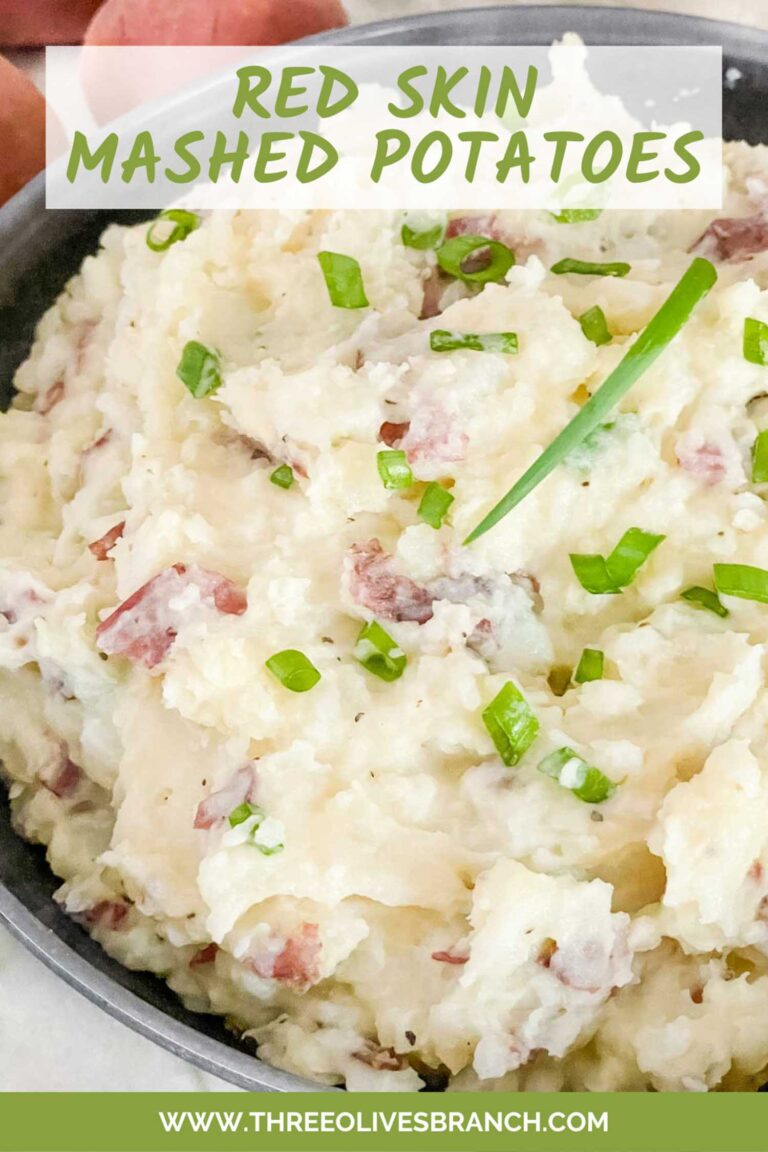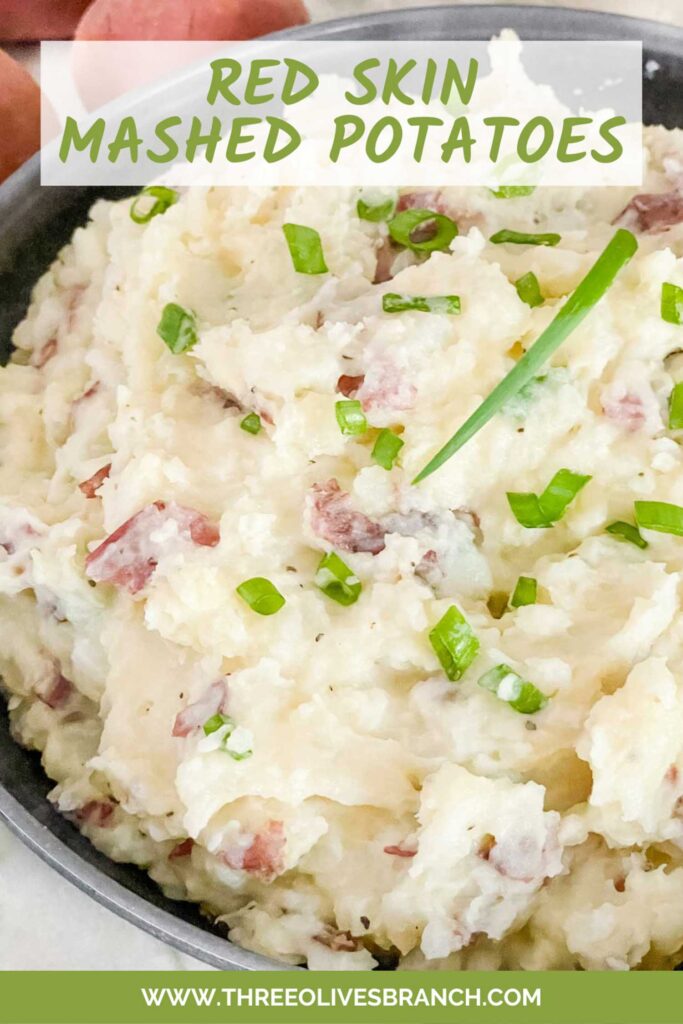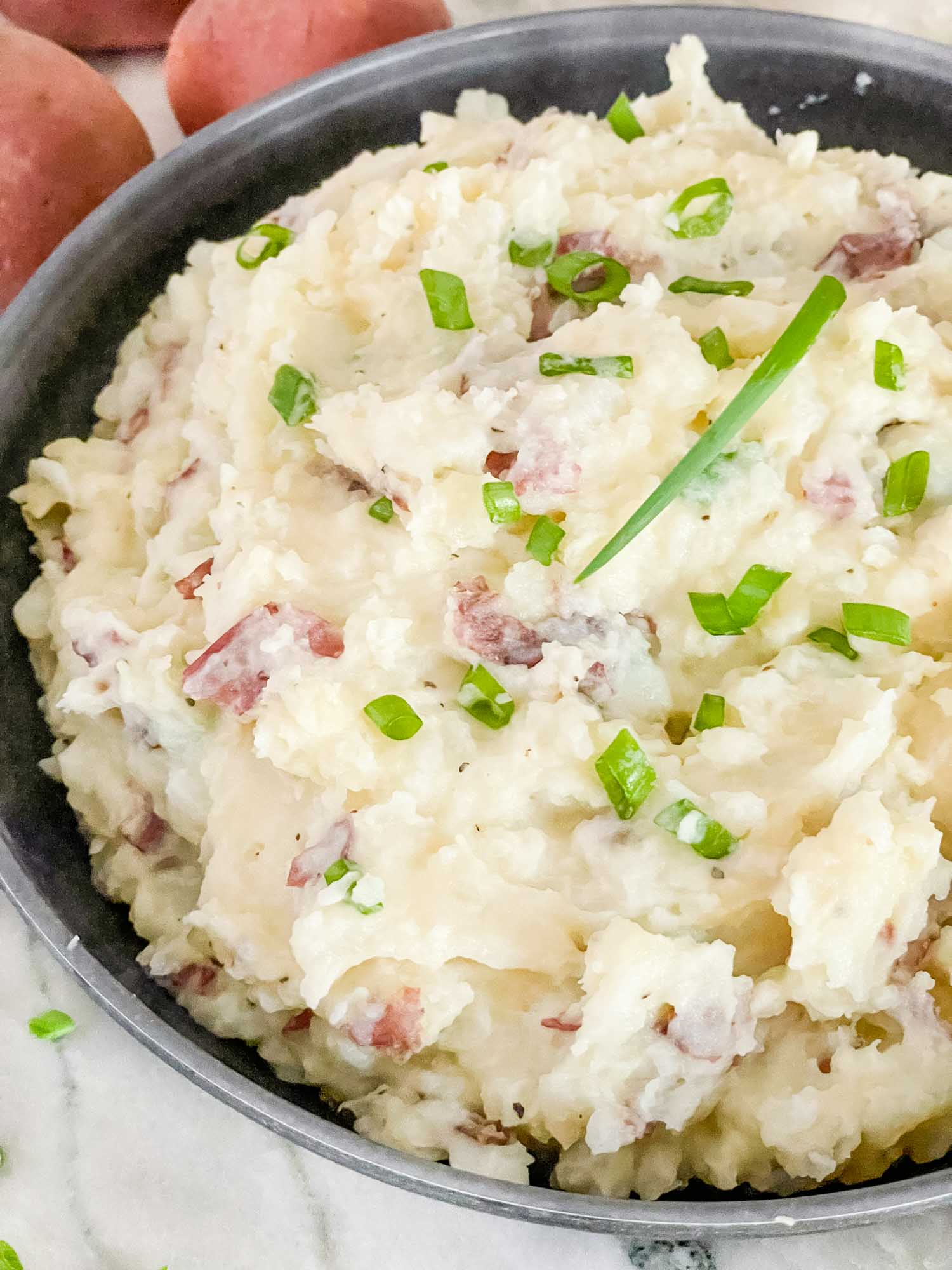 Instructions
Heat a large pot of water over high heat until boiling.

Add the potatoes and cook at medium high.

Boil until fork tender in the middle of the potatoes, about 25 minutes.

Drain in a colander and return empty pot to stove.

Add the milk and butter to the empty pot and let cook over medium high heat until the milk is warm (butter can be melted or not, it is fine).

¼ pound butter,

1 cup whole milk

Add the potatoes back to the pot and turn off the heat.

Mash with a potato masher to your desired consistency.

Add the green onions, ½ teaspoon salt and ½ teaspoon black pepper. Stir. Add more salt and pepper as desired. (Start with 1 teaspoon salt if using unsalted butter).

2 green onions,

black pepper,

salt
Notes
No need to cut the potatoes before boiling!
Nutrition
Serving:
1
serving
|
Calories:
196
kcal
|
Carbohydrates:
39
g
|
Protein:
6
g
|
Fat:
2
g
|
Saturated Fat:
1
g
|
Polyunsaturated Fat:
0.2
g
|
Monounsaturated Fat:
0.4
g
|
Cholesterol:
7
mg
|
Sodium:
77
mg
|
Potassium:
1129
mg
|
Fiber:
4
g
|
Sugar:
6
g
|
Vitamin A:
153
IU
|
Vitamin C:
20
mg
|
Calcium:
97
mg
|
Iron:
2
mg
More Potato Recipes
By