Salsa Chile de Arbol is a fresh and easy tomato salsa made with arbol peppers. Roasted and ready in just minutes for a fresh and delicious restaurant style salsa. Vegan, keto low carb, gluten free dip for Mexican food and Cinco de Mayo or game day.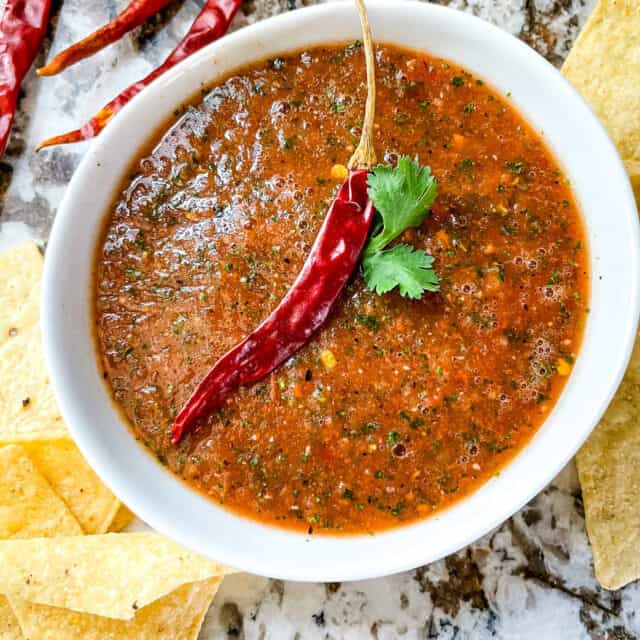 Salsa Chile de Arbol is a fast, easy, and fresh tomato salsa. Perfect as a dip or condiment to your favorite Mexican recipes!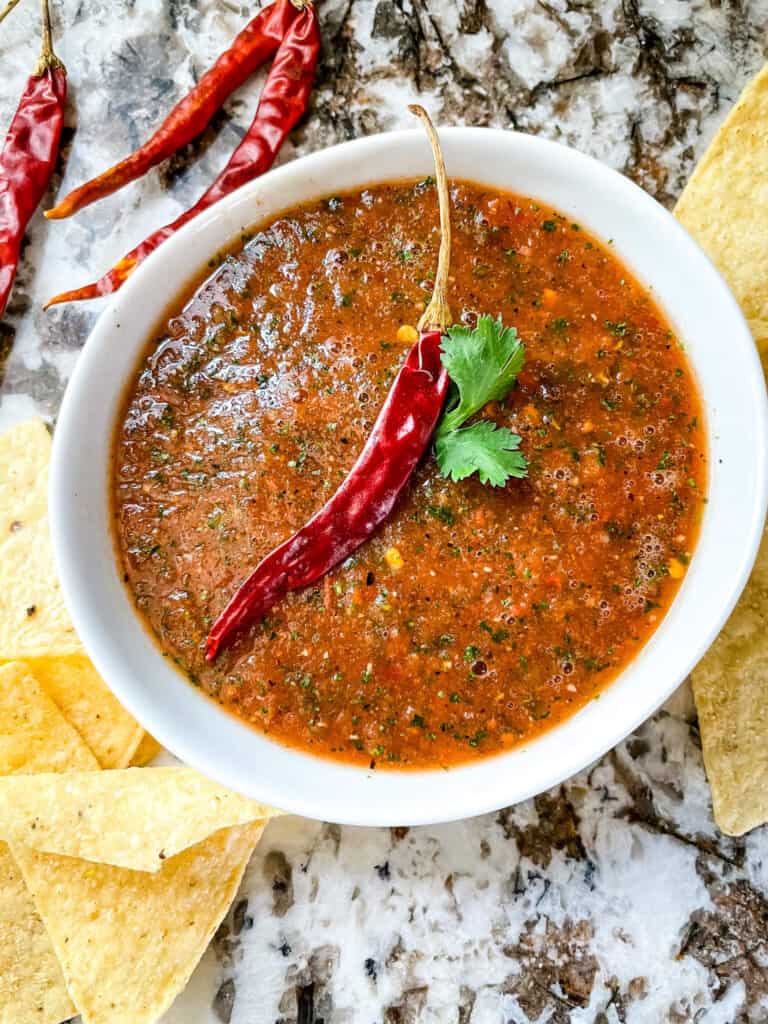 Chile de Arbol Salsa is named for the peppers it uses. What I love most about this recipe is how incredibly fast and easy it is to make with a ton of flavor!
When I served this up the first time, it was raved about! Which is hard to do, since my Pico de Gallo is a fan favorite.
You can use this fresh salsa as a topping for your favorite Mexican foods like burritos, tacos, and enchiladas. And of course, as a chip dip!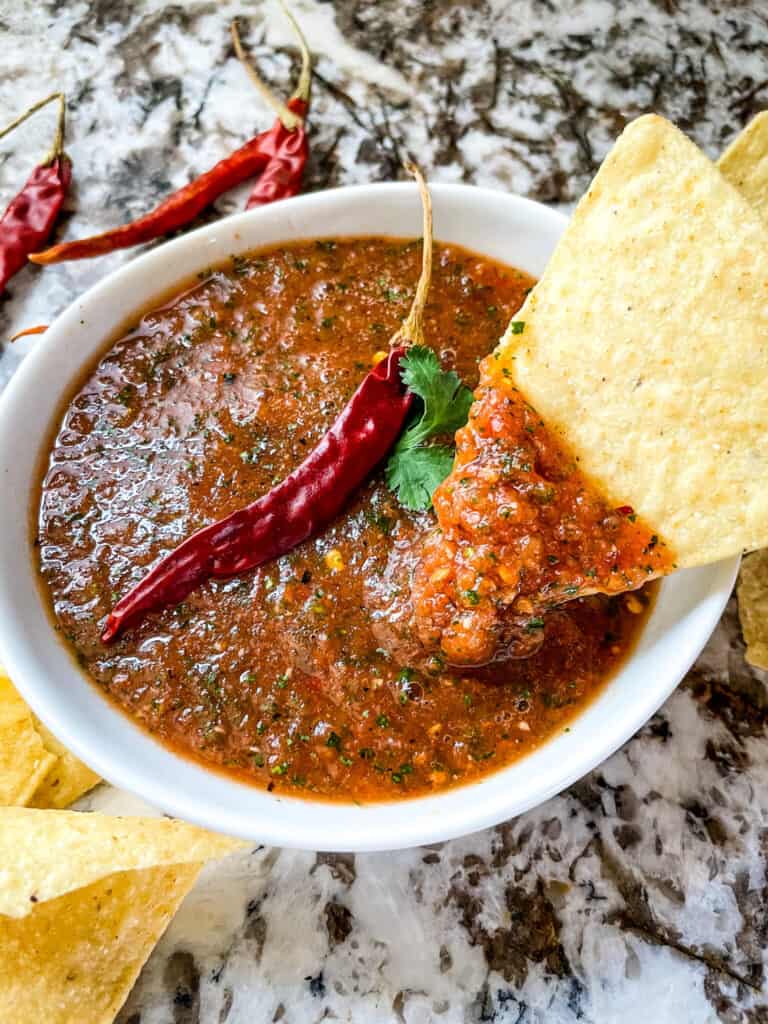 Roasting Tomatoes and Onion
Yes, I know roasting the tomatoes and onion is another step, but it is SO worth it!
I am all for shortcuts like canned tomatoes where it makes sense, but using fresh vegetables and roasting them makes a big difference in this fresh tomato salsa!
You can taste the freshness of using fresh tomatoes as well as the charred bits from the roasting.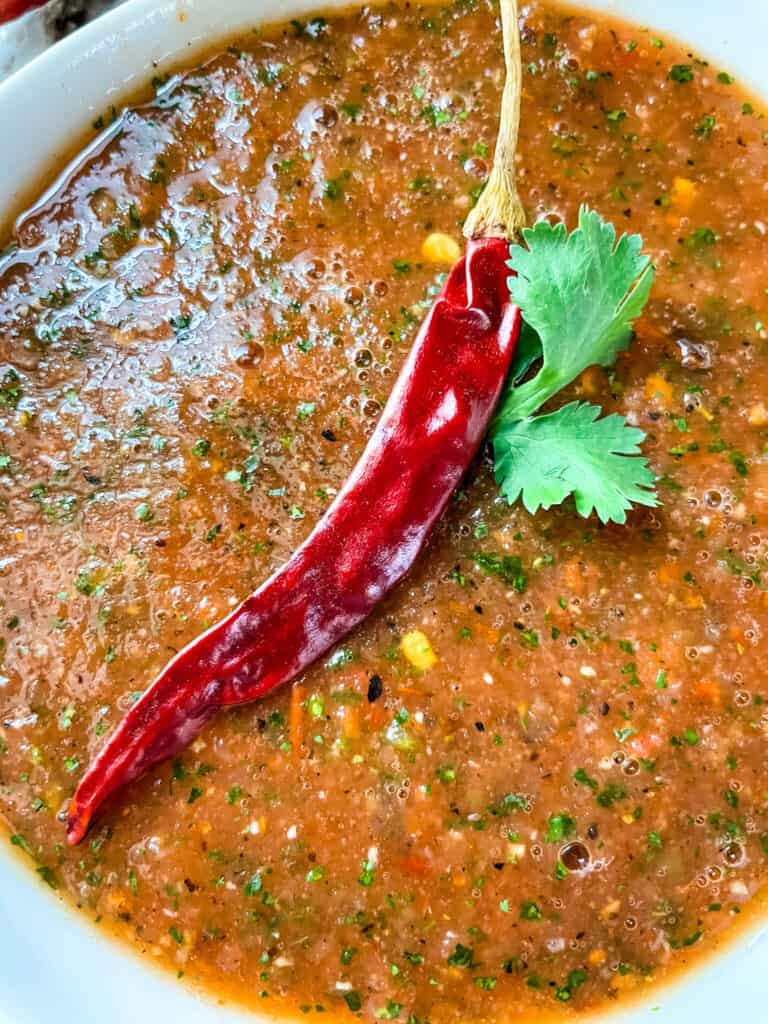 What is Chile de Arbol?
Chile de Arbol is a popular pepper to use in Mexican recipes.
It is long, thin, and red. You can find them fresh, dried and ground. I use the whole, dried peppers in this recipe.
The heat level of this pepper is 2 to 4 times hotter than a jalapeno, similar to a serrano, but not as hot as cayenne.
If concerned about the heat, soak the four peppers but only blend two into the salsa at first. Then add one or two more if desired to taste.
I found that for my peppers, it gave a nice hint of heat at the end but was not overly spicy. Friends that prefer mild to medium salsa were able to eat it without any heat issues.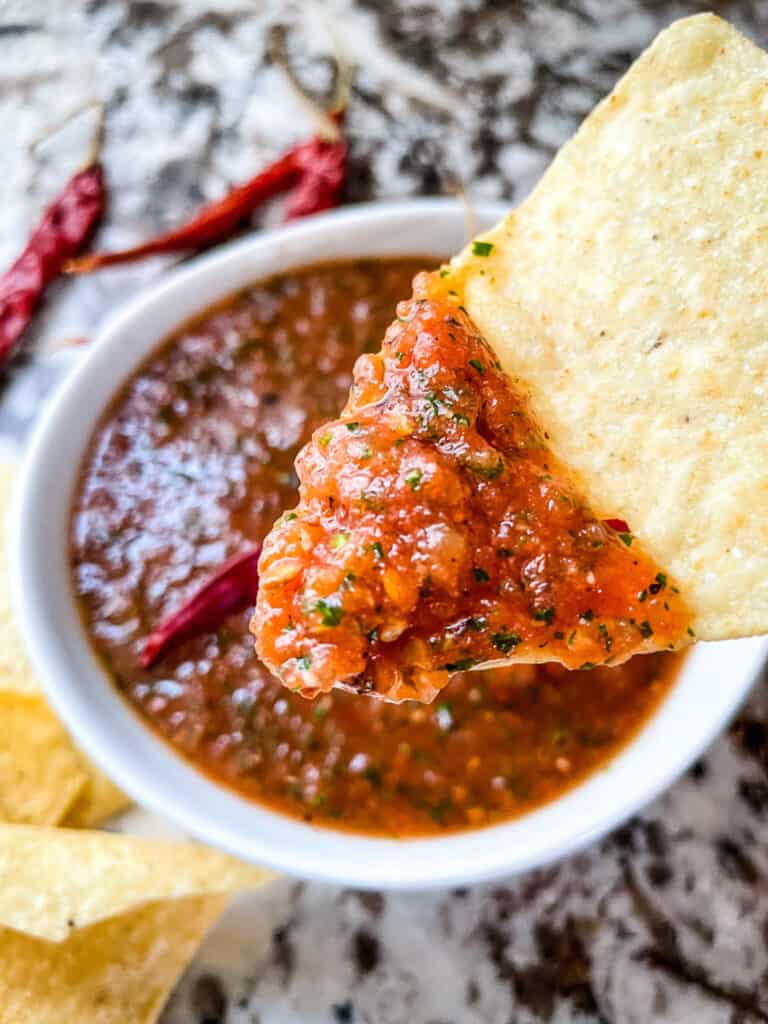 Blending the Salsa
You can blend this Salsa Chile de Arbol as much or little as you want.
I personally prefer for it to be rather well blended so it is similar to what you see in restaurants.
If you want to leave it chunky, consider blending the peppers with the liquid first before adding the rest of the ingredients so that you do not have isolated spots of hot pepper chunks.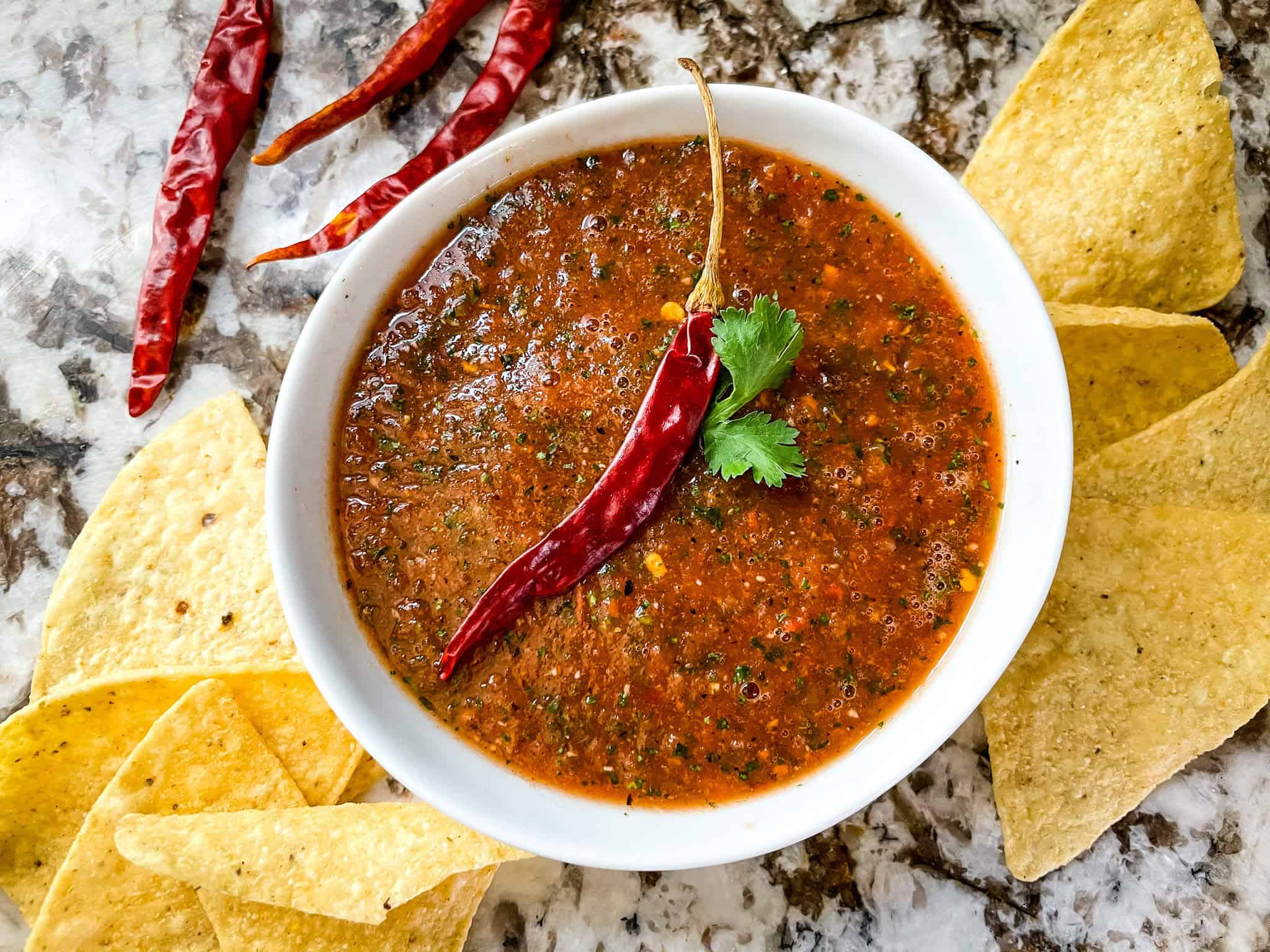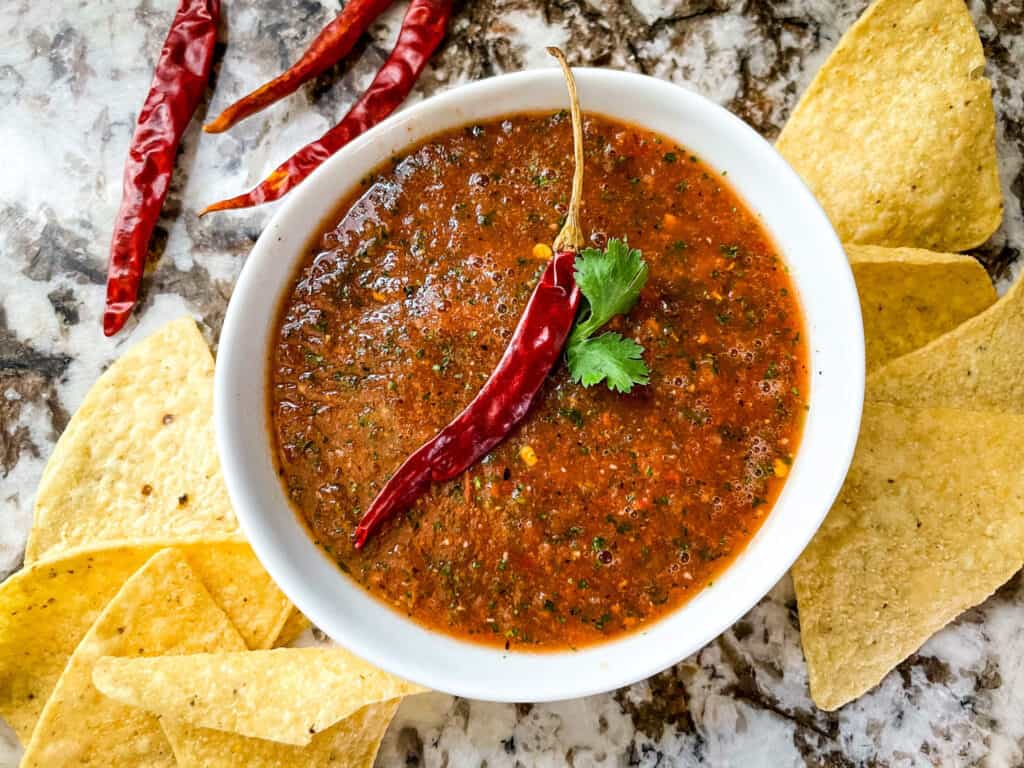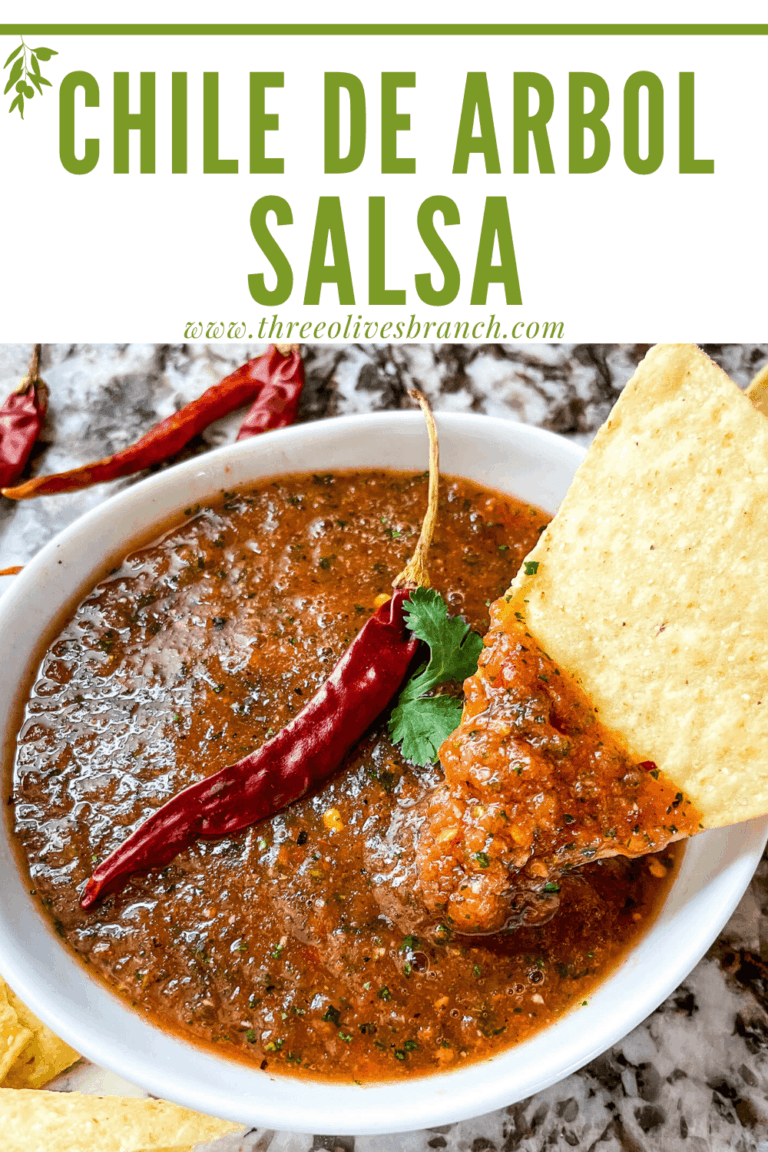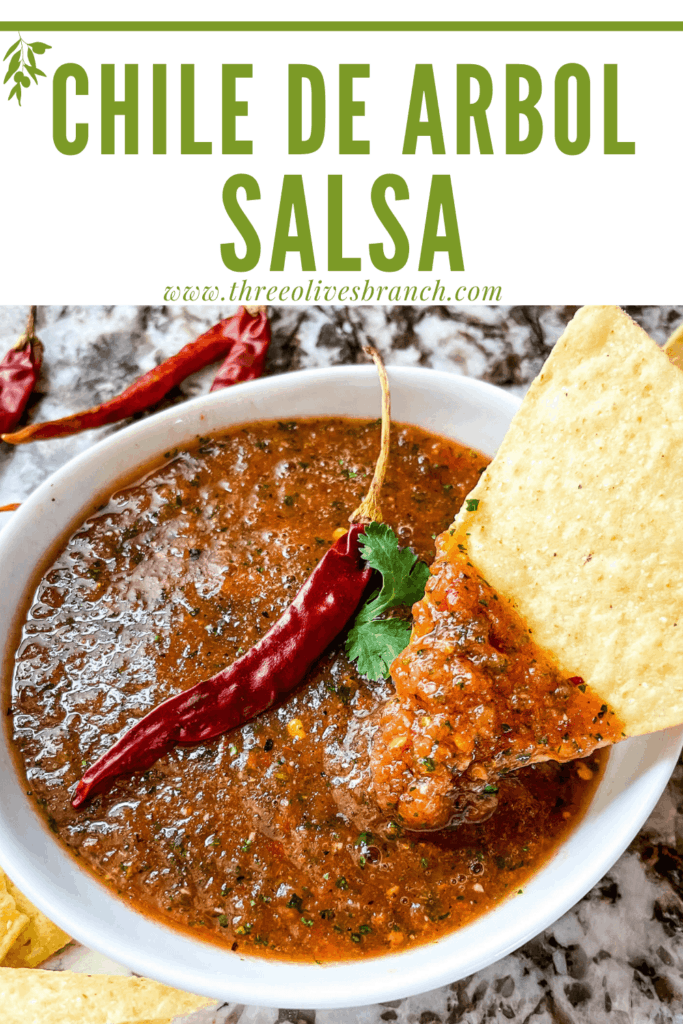 Instructions
Toast the peppers in a small pot until fragrant, approximately 2 minutes. Add 1/2 cup water and bring to a boil. Remove from heat and let soak 15 minutes.

Meanwhile, heat a grill pan over high heat. Grill the tomatoes and onion wedges until charred in all sides, approximately 5-8 minutes.

Remove the top stems from the peppers by pulling on them and discard. Add the tomatoes, onion, peppers, the pepper liquid, garlic, cilantro, oregano, salt, and juice of 1/2 lime into a blender or food processor. Blend until combined to your desired smoothness. Season to taste.

Serve as a dip or topping with Mexican food. Can be served immediately, or chill until ready.
Notes
These peppers are approximately as hot as serrano. If concerned about heat, only blend 2 peppers at first and add additional peppers if desired.
For a hotter salsa, use more than 4 peppers.
4 peppers is a medium heat range.
Nutrition
Serving:

1

cup

|

Calories:

73

kcal

|

Carbohydrates:

17

g

|

Protein:

3

g

|

Fat:

1

g

|

Saturated Fat:

1

g

|

Sodium:

1183

mg

|

Potassium:

682

mg

|

Fiber:

5

g

|

Sugar:

8

g

|

Vitamin A:

2585

IU

|

Vitamin C:

42

mg

|

Calcium:

68

mg

|

Iron:

1

mg

By