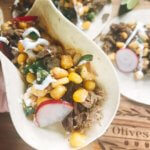 Print Recipe
Pork Carnitas Mexican Street Corn Tacos
Fast and simple, these tacos are packed full of flavor and primed for leftovers!
Mexican Street Corn Salsa
Preheat oven to 350F.

Cut the pieces of pork into chunks no larger than 2" cubed.

Spread out the pieces of pork in a baking dish so that they are not touching. Cover with tin foil. Bake until 150F inside (cooked through), approximately 20-25 minutes. (The smaller the pieces, the faster it will cook).

While the pork is baking, make the Mexican Street Corn Salsa. Combine the salsa ingredients in a small bowl. Season to taste with additional salt, lime, chili powder, and jalapeno. Refrigerate until ready to use.

When the pork is done, shred using a stand mixer or two forks. Mix in a little of the drippings from the baking dish for moisture if desired.

Layer each taco with the carnitas, Mexican Street Corn salsa, and any other toppings desired. Serve warm.