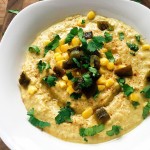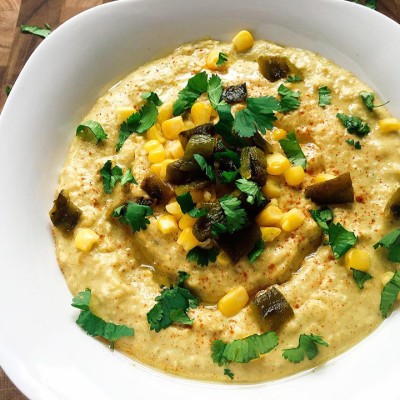 Print Recipe
Roasted Poblano Sweet Corn Hummus
This is for a mild spice level. Add additional chiles, hot sauce, or cayenne pepper for more of a kick.
Put garlic cloves with the skin still on in a nonstick skillet and heat over medium low heat. Roasting the garlic will take approximately 40 minutes. Rotate the cloves every 10-15 minutes so that they are roasted on all sides. Set aside to cool.

When garlic is cool enough to handle, peel the skins off the cloves.

Roast the pepper by placing at the top rack position in the oven on broil setting. Leave the oven door cracked open and roast until the skin starts to blacken. Flip the pepper over and repeat on the other side. When done, place the pepper in a plastic bag or in a tupperware, sealed, so that the steam helps remove the pepper skin. When cool, peel the pepper, remove the skin, and roughly chop.

Put 1/2 cup corn in the food processor, reserving the other 1/2 cup for later. Add the garbanzo beans, tahini, garlic, lime juice, salt, cumin, olive oil, and chiles to food processor. Put the lid on and process until you reach your desired consistency, approximately 10-15 seconds. If the mixture is too thick, add water 1 Tbsp at a time and process briefly to combine. Taste and adjust seasoning to your liking.

When complete, mix in the rest of the corn and use a spatula to put the hummus in a bowl. Top with additional chiles, paprika, or queso fresco if desired. Refrigerate for one hour and serve chilled with pita bread, tortilla chips, or assorted vegetables.