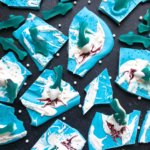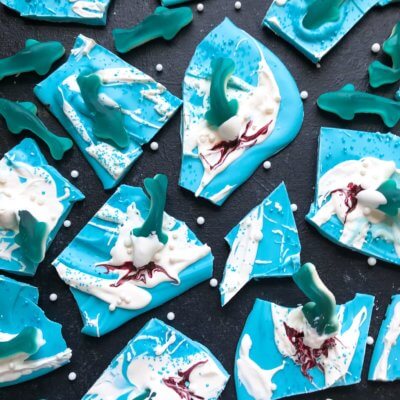 Print Recipe
Shark Week Shark Bark
A quick and simple treat to celebrate shark week or ocean themed parties!
Put all of the light blue candy melts in a microwave safe bowl. Melt as per package directions.

As soon as the blue candy melts are melted and ready, get the white candy melts going.

Spread out the blue candy melts across a silicone baking mat. Immediately add the blue sprinkles.

Start pushing sharks into the blue candy melts. I like to stick some in somewhat vertically so they look like they are diving into or out of the water.

When you white candy melts are ready, spoon some around where the sharks are entering/exiting the water and around the blue candy melts to make the wave effects.

Add white sprinkles to the white candy areas as desired. To make the blood in the water, dip a toothpick into red food gel (gel is much thicker than food coloring and the best option here). Swirl the toothpick through the candy until you get your desired effect in each area.

To prop up a shark while the candy melt is drying so that it is sticking out of the water, break toothpicks and stick a toothpick half into the bottom side of the shark and into the bark. Remove when dried and the candy is holding up the shark on its own.

Continue decorating as desired. Reheat your bowl of white candy melts if necessary as per package directions.

When done, let all of the candy cool and harden. Break into bark pieces.
I love using silicone baking mats because they reduce waste and make for easy clean up! Get some here!
You can get gummy sharks at a local store (I found mine at Sprouts where they keep the pre-packaged bulk items) or you can buy them online here.  There are two different sizes, aim for the small ones (around 2 inches long) as the large ones are the size of your palm!  Use as many or few sharks as you wish!