A quick and simple treat to celebrate shark week or ocean themed parties!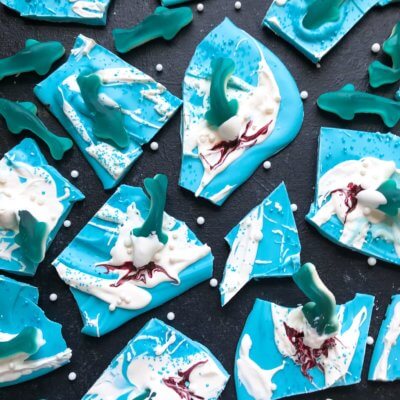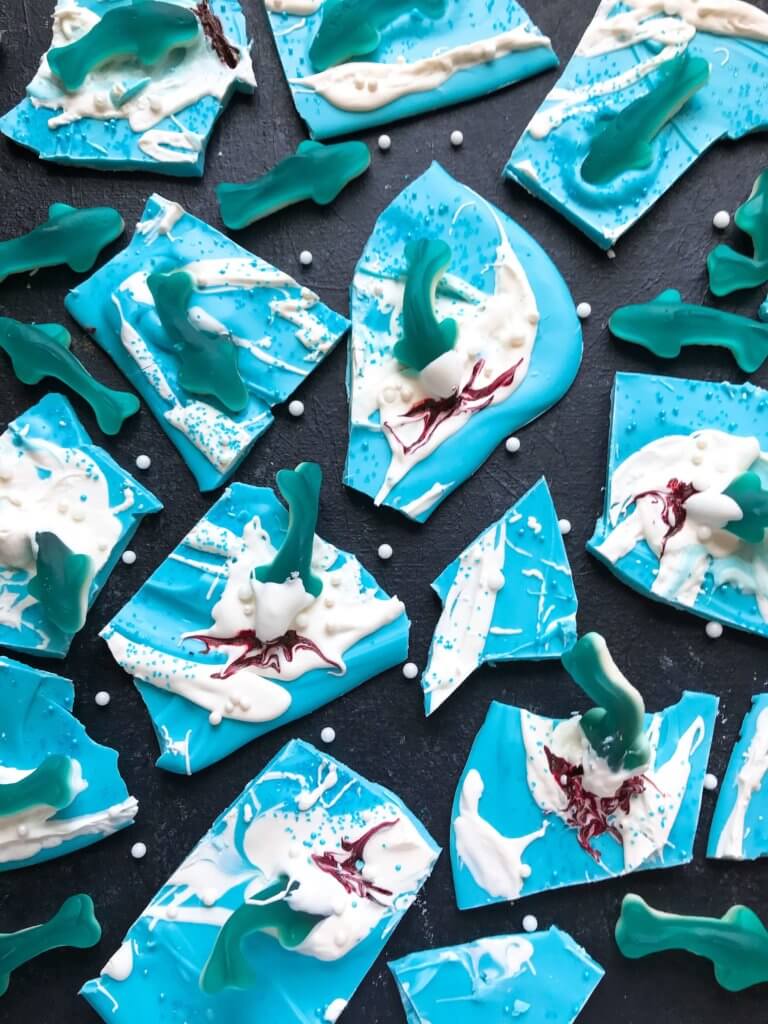 This Shark Week Shark Bark is fast and simple to make, perfect for shark week or an ocean themed party!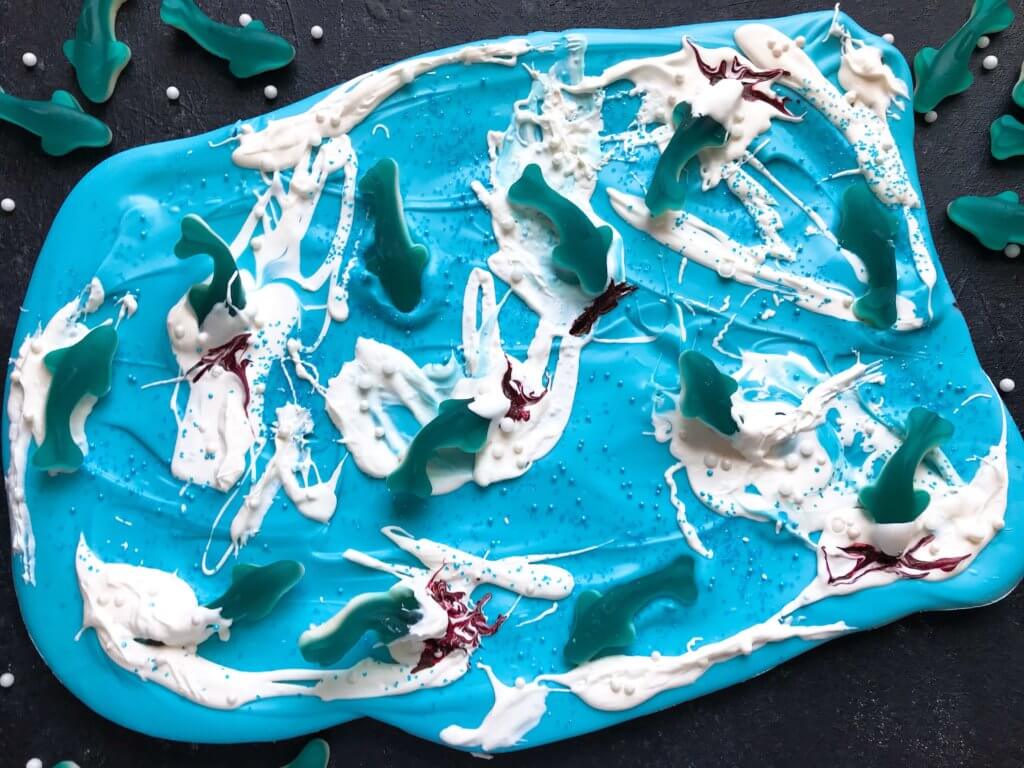 This post contains affiliate links.
Shark Week is just around the corner and this Shark Week Shark Bark is a great way to celebrate!  It is also perfect for an ocean or shark themed party.  I was never really into sharks growing up, although I always did love ocean things, but making this bark made me so happy!  It is just so cute between the swirled ocean water, sprinkles, gummy sharks, and even the blood pools from the shark attacks.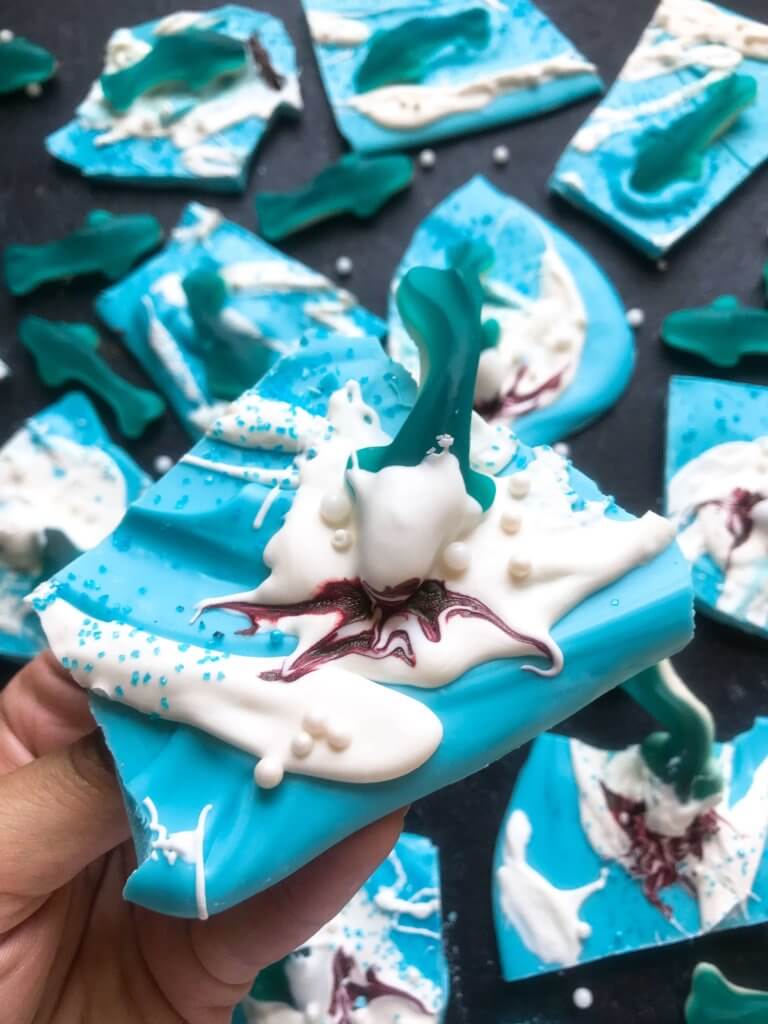 This Shark Week Shark Bark is ADORABLE!  I seriously cannot handle it, I was gushing over how cute it looks the entire time I was taking pictures and writing this up!  I took so many more pictures than normal and if I could have, I would have loaded ALL OF THEM here.  And making it into a shark attack scene just put it over the top!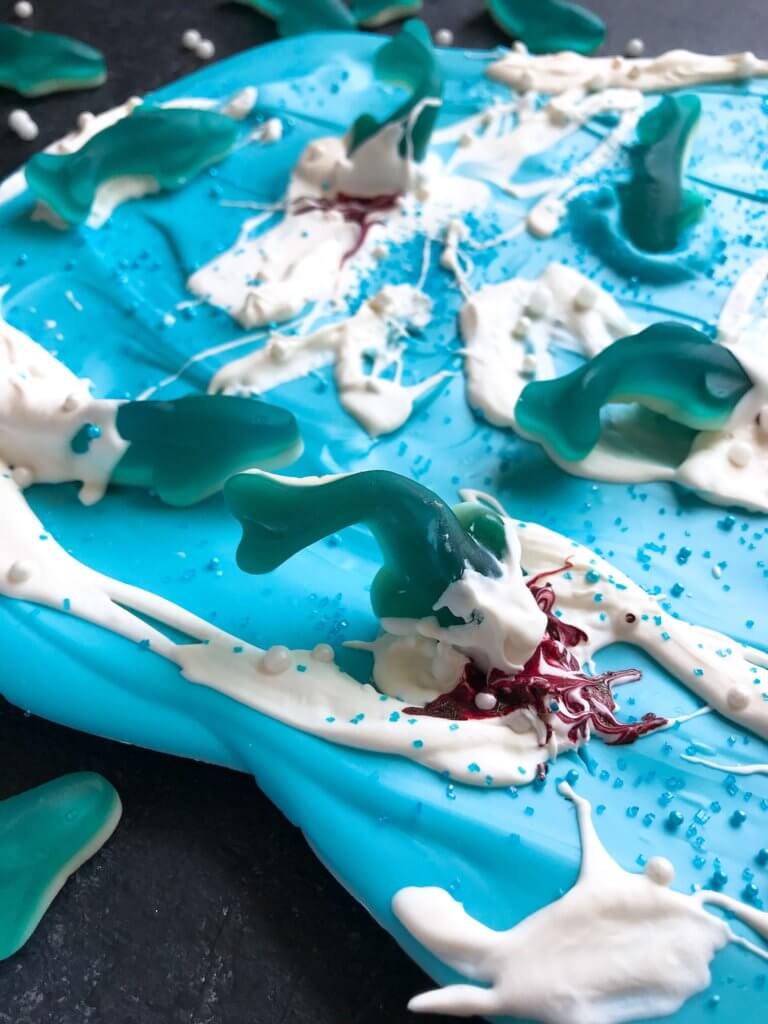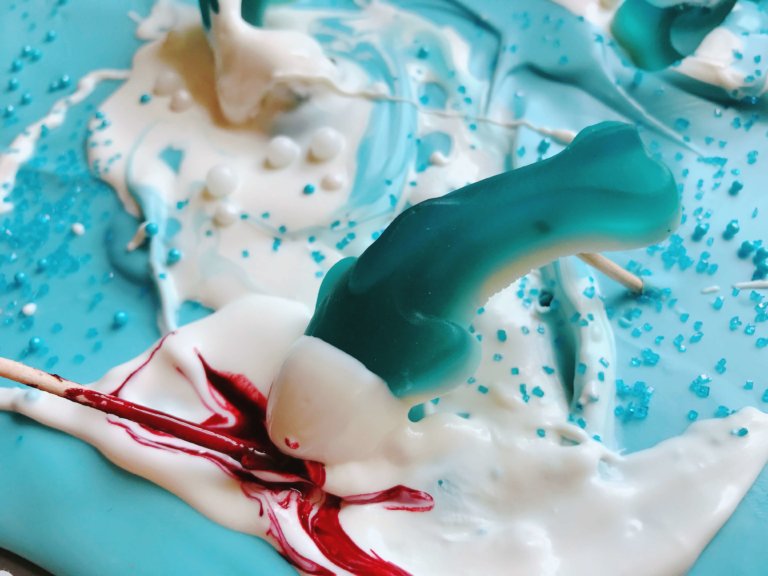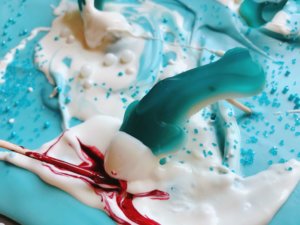 To make the gluten free (GF) bark, melt blue candy melts as per package directions until completely melted.  Pour it out onto a silicone baking mat and add the blue sprinkles immediately.  Also get your white candy melts going in the microwave immediately, especially if you want the swirling effect.  Start to push some of the sharks in, especially those that you want sticking out of the water, before the blue candy melts harden.  To keep them propped up, use some cut up toothpicks with one end stuck in the shark tail (or whatever is out of the water) and the other end in the water to keep it in place.  Once the melts harden, you can easily remove the toothpicks.
When the white candy melts are ready, add the white waves to the blue.  Swirl with the blue if you want and put white around where the sharks are diving in and out of the water.  Add your white sprinkles to the white wave section that you make.  As you are adding everything, use red food gel on a toothpick and drag it through the melted white candy around the mouths of sharks for the shark attack look.  Keep adding sharks, waves, blood, and sprinkles as you wish!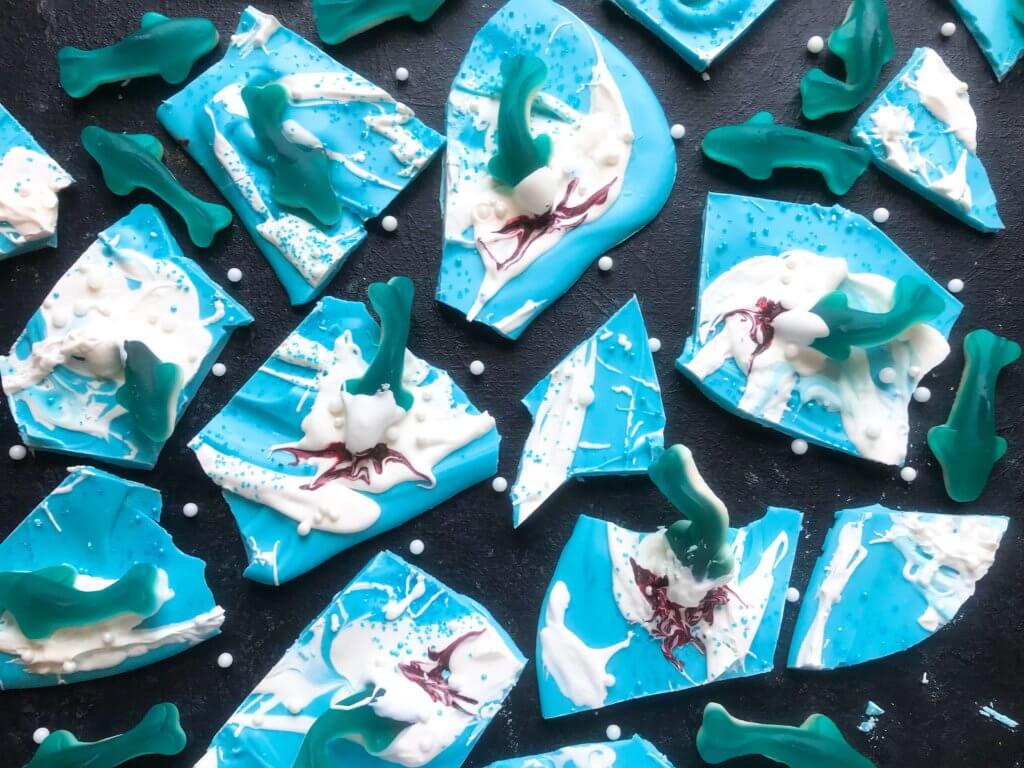 I got my gummy sharks at a local grocery store that has a lot of bulk bin products.  You can also get them online here.  Note that there are two different sizes of gummy sharks.  The small sharks are best for this as they are around two inches long.  Use any blue, white, and clear sprinkles that you like.  I found some great options at my local Michael's in small packages for just a dollar, or you can also check baking stores or online.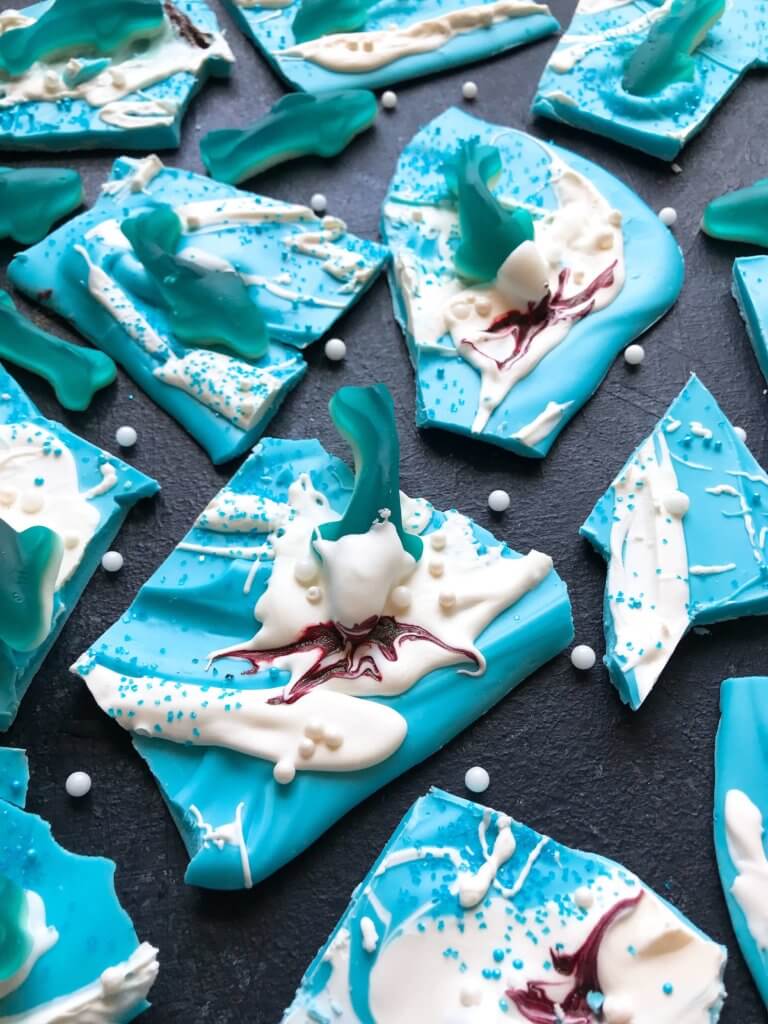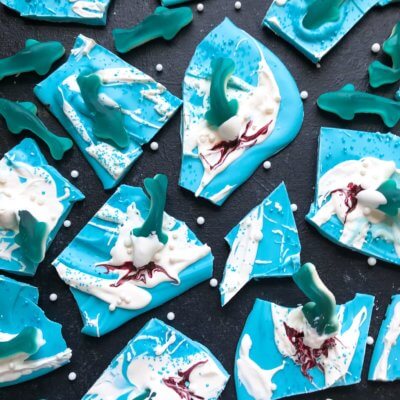 Shark Week Shark Bark
A quick and simple treat to celebrate shark week or ocean themed parties!
Print
Pin
Rate
Instructions
Put all of the light blue candy melts in a microwave safe bowl. Melt as per package directions.

As soon as the blue candy melts are melted and ready, get the white candy melts going.

Spread out the blue candy melts across a silicone baking mat. Immediately add the blue sprinkles.

Start pushing sharks into the blue candy melts. I like to stick some in somewhat vertically so they look like they are diving into or out of the water.

When you white candy melts are ready, spoon some around where the sharks are entering/exiting the water and around the blue candy melts to make the wave effects.

Add white sprinkles to the white candy areas as desired. To make the blood in the water, dip a toothpick into red food gel (gel is much thicker than food coloring and the best option here). Swirl the toothpick through the candy until you get your desired effect in each area.

To prop up a shark while the candy melt is drying so that it is sticking out of the water, break toothpicks and stick a toothpick half into the bottom side of the shark and into the bark. Remove when dried and the candy is holding up the shark on its own.

Continue decorating as desired. Reheat your bowl of white candy melts if necessary as per package directions.

When done, let all of the candy cool and harden. Break into bark pieces.
Notes
I love using silicone baking mats because they reduce waste and make for easy clean up! Get some here! You can get gummy sharks at a local store (I found mine at Sprouts where they keep the pre-packaged bulk items) or you can buy them online here.  There are two different sizes, aim for the small ones (around 2 inches long) as the large ones are the size of your palm!  Use as many or few sharks as you wish!

By