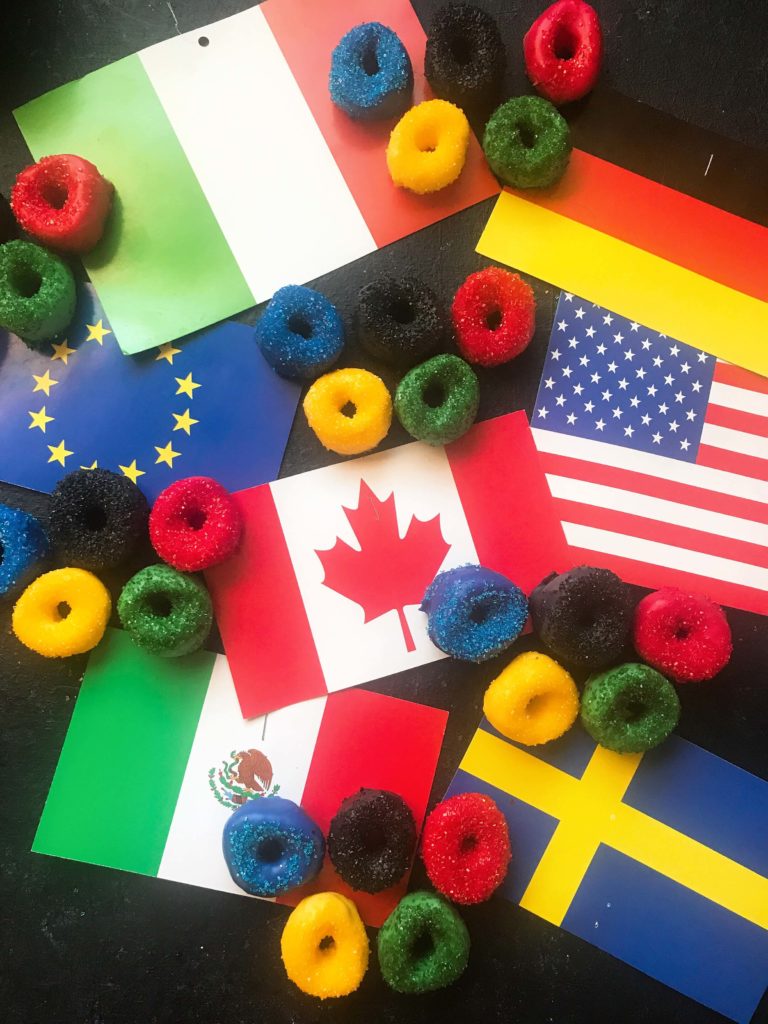 Celebrate the 2018 Olympics with these festive Candy Coated Olympic Ring Marshmallows!  Candy melts and colored sugar sprinkles in Olympic ring colors make these marshmallows the perfect dessert or sweet treat for your Olympic watch party.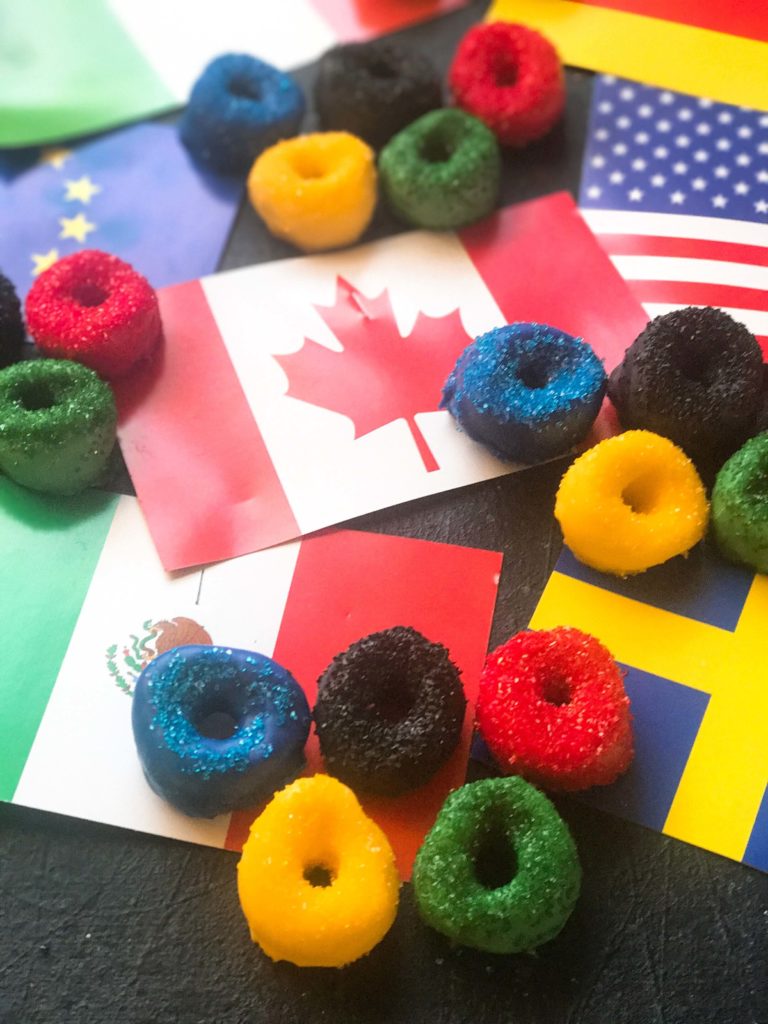 This post contains affiliate links.
The 2018 Winter Olympics are coming up soon!  I love to watch the Olympics and find myself watching so many different events that I would normally not pay attention to.  I love rooting on my favorite countries and also rooting for the underdogs and countries that face greater difficulties in getting to the Olympics at all.  The television is pretty much constantly set to Olympics coverage throughout that entire time of year in our house.  For the winter games, I love to watch ice skating, snowboarding, and speed skating, but I will literally watch anything that is on.  These Candy Coated Olympic Ring Marshmallows are a perfect treat to eat while watching the games whether at a party or at home!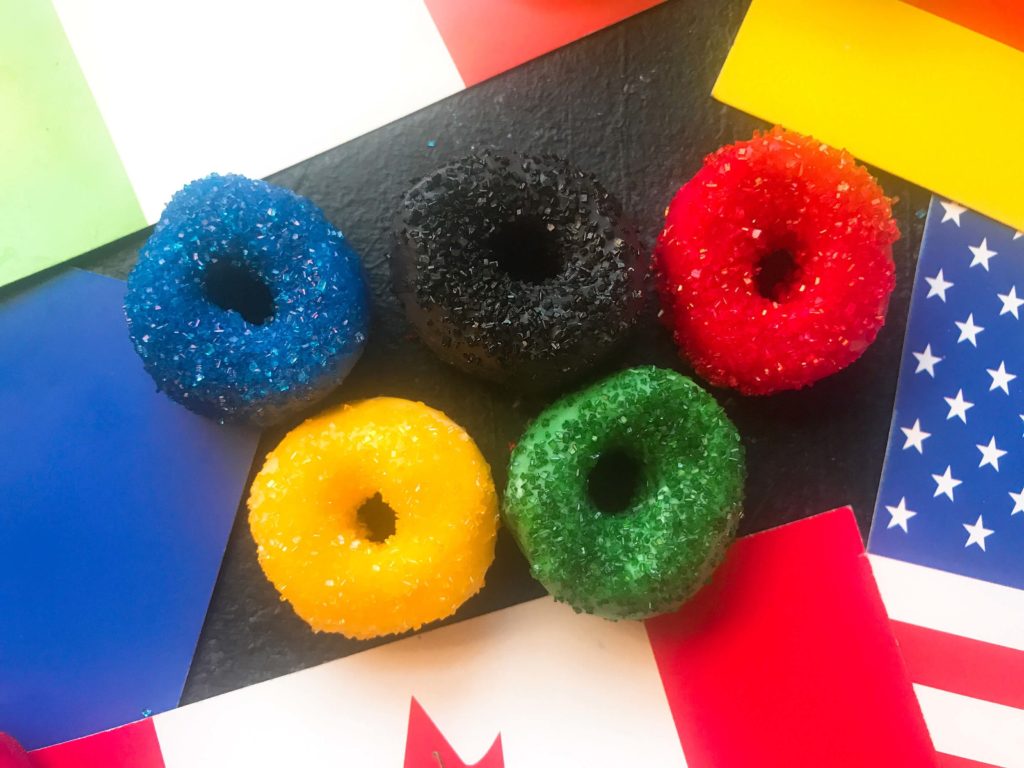 These Candy Coated Olympic Ring Marshmallows take a little time to make since there are so many pieces, but the results are so cute!  I love how bright and bold the colors are, and how much they look like the Olympic rings.  It is also a great activity for the kids if you want to assign a color to each person.  Focus on one color at a time so that the candy does not harden too frequently on you, and be sure to apply sprinkles as you go before the marshmallow is dry!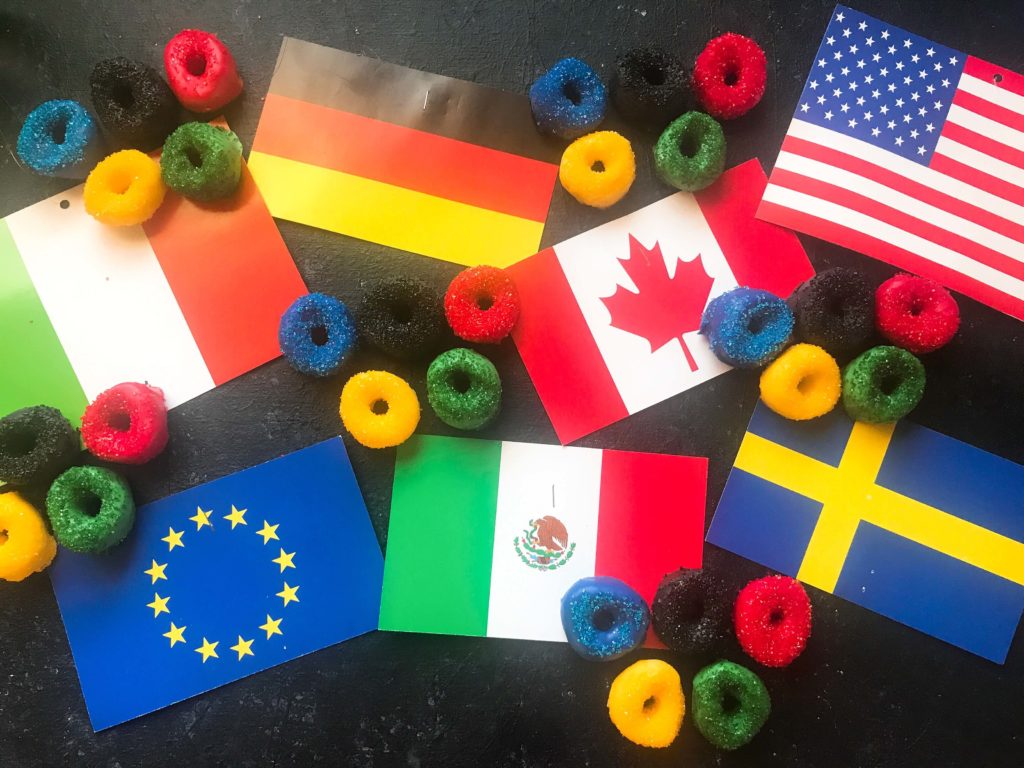 These Candy Coated Olympic Ring Marshmallows will definitely be making at least one appearance while I'm watching the Olympics this year, especially for the opening ceremony.  Which winter Olympic sports do you love to watch?
Looking for more Olympic treats?  Find our Korean Olympic Ring Deviled Eggs here!
13

large

marshmallows

12

pieces

red candy melts

12

pieces

yellow candy melts

12

pieces

green candy melts

12

pieces

black candy melts

12

pieces

blue candy melts

red sugar sprinkles

yellow sugar sprinkles

green sugar sprinkles

black sugar sprinkles

blue sugar sprinkles
Servings:
marshmallow rings
Cut each marshmallow in half around the middle (short way) to make two round marshmallow pieces.

Using a piping tip approximately 1/2 inch wide, firmly press the narrow tip end into each marshmallow half to cut out the middle section of the marshmallow, making a ring. (You can also use any other tool you have to punch out a hole in the center, such as a spoon handle or a knife).

Make the candy coated marshmallows one color at a time. Place the red candy melts in a small bowl and microwave as per package directions. Stir until melted.

Use your hand to adjust the shape of the ring if needed to make it more circular. Place the marshmallow ring on a fork. Use a spoon and spoon the red candy melt over the marshmallow until it is completely covered. Tap the fork against the edge of the bowl to remove the extra candy melt.

Place the candy coated ring on parchment paper by pushing the marshmallow off the fork with the spoon. Sprinkle with the red sprinkles immediately (before the candy hardens).

Repeat with the remaining red candy melt, approximately 5 or 6 rings. When all of the red marshmallows are complete, move the dried marshmallows to a plate or separate area. Pour the extra sugar that fell on the parchment paper back into the sugar bottle. Clean off any remaining red candy or sprinkles from the parchment before starting your next color (or use a new piece).

Repeat the entire process with the black, yellow, green, and blue candy melts and sugars.

Arrange the candy marshmallows into the Olympic rings for serving (blue, yellow, black, green, red).
It takes approximately 10 minutes to complete each color with 5 or 6 rings.
Click on the ingredient names for links to candy melts and sprinkles.
The "pieces" of candy melts refers to how many disks you use from the bag.  Not a lot is needed of each color to make one batch of these Olympic rings.  You may need additional pieces depending on the exact size of your marshmallows and how much candy melt you leave on each marshmallow.
Olympic ring color order is blue, yellow, black, green, red.