Classic spinach artichoke dip flavors slathered in a tortilla, rolled, and cut into rounds for a quick and simple party finger food.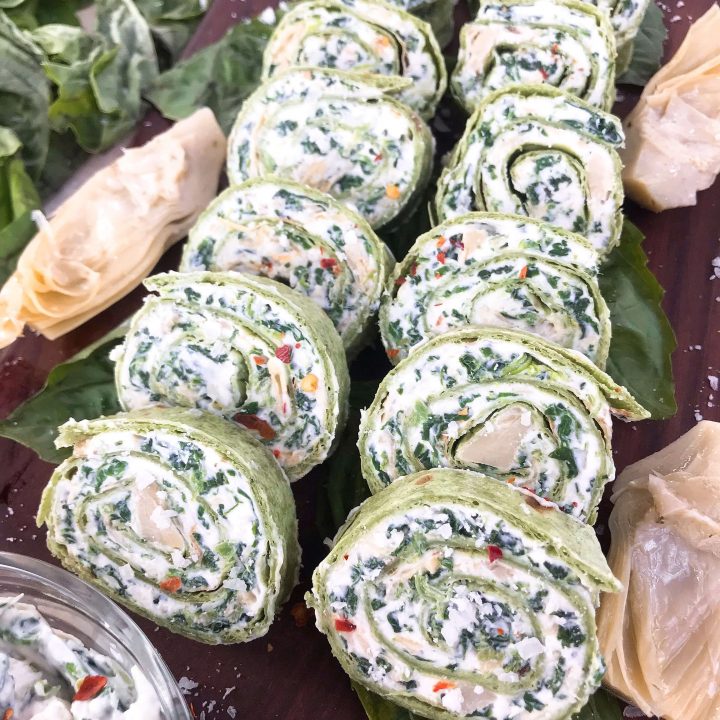 Spinach Artichoke Dip Pinwheels are a quick and simple appetizer recipe ready in just 20 minutes!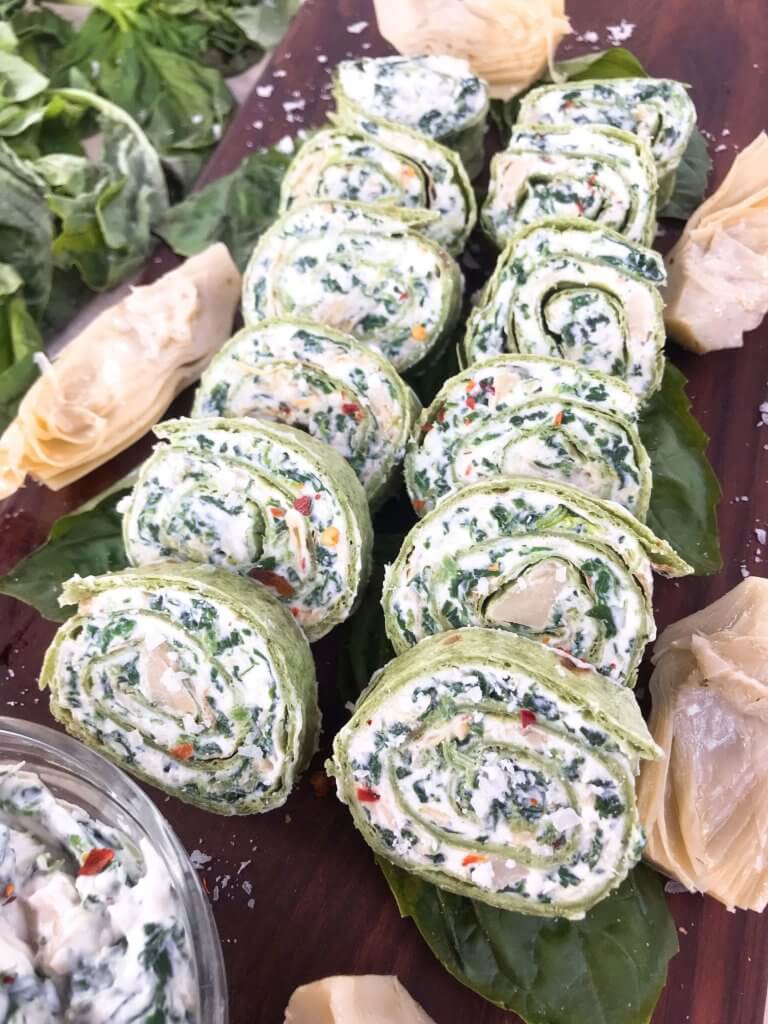 Why You Will Love This Recipe
I have found an amazing spinach artichoke dip recipe and have made quite the mini collection of spinach and artichoke recipes. All inspired by the dip with some tweaks here and there.
These Spinach Artichoke Dip Pinwheels highlight those classic dip flavors in a fun finger food. 
I love making these for game day or entertaining.  These have also been incredibly popular with all of you!
There are some classic flavors that are popular with most people, and spinach artichoke is definitely one of those! Anytime I see a spinach artichoke dip or recipe, everyone seems to get so excited!
By using these familiar flavors, and in a recipe that is so well balanced, you will have a hit!
When I made these the first time for some friends that came over, they were completely inhaled!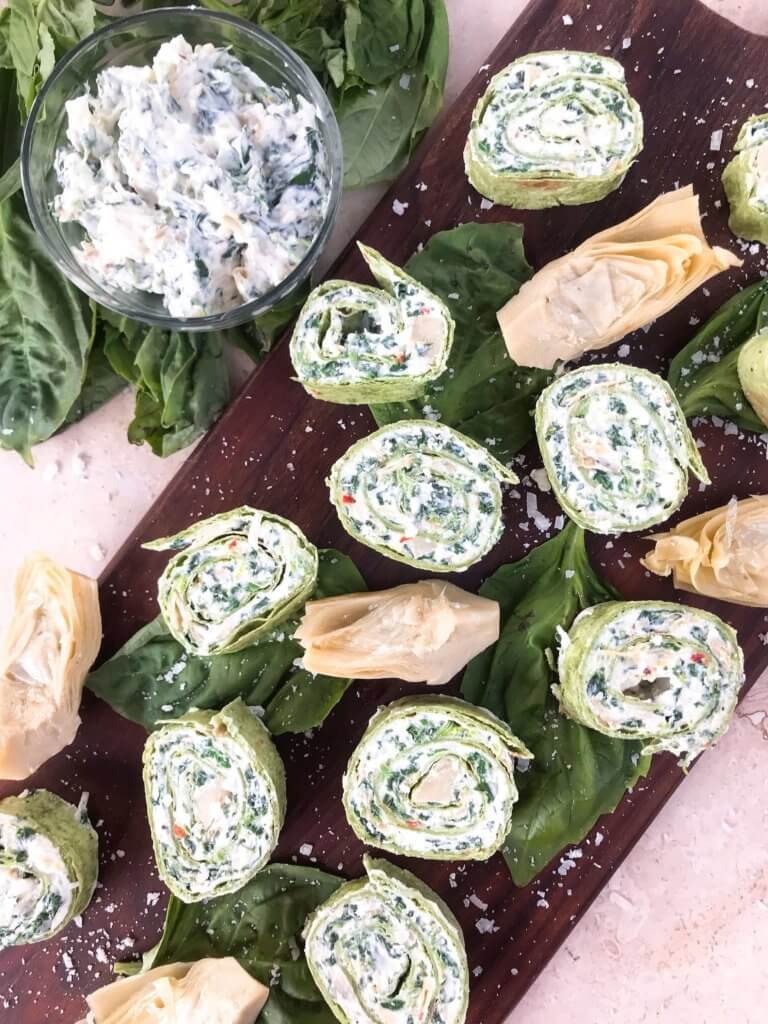 Ingredients Needed
This is what you need to make this pinwheel appetizer:
Tortillas
Cream Cheese
Spinach (fresh or frozen)
Artichoke Hearts
Sour Cream (or plain Greek yogurt)
Parmesan Cheese
Red Pepper Flakes
Garlic Powder
Salt
If you can find them, I love to use spinach tortilla wraps for this recipe to enhance the flavors! Sometimes the flavors are only in the "wrap" versions of tortillas, which as really just larger and thinner than the burrito tortillas.
Instruction Overview
To make the Spinach Artichoke Dip Pinwheels, simply mix the ingredients together and spread them over the flour tortillas. Roll the tortillas up tightly and freeze for 10 minutes.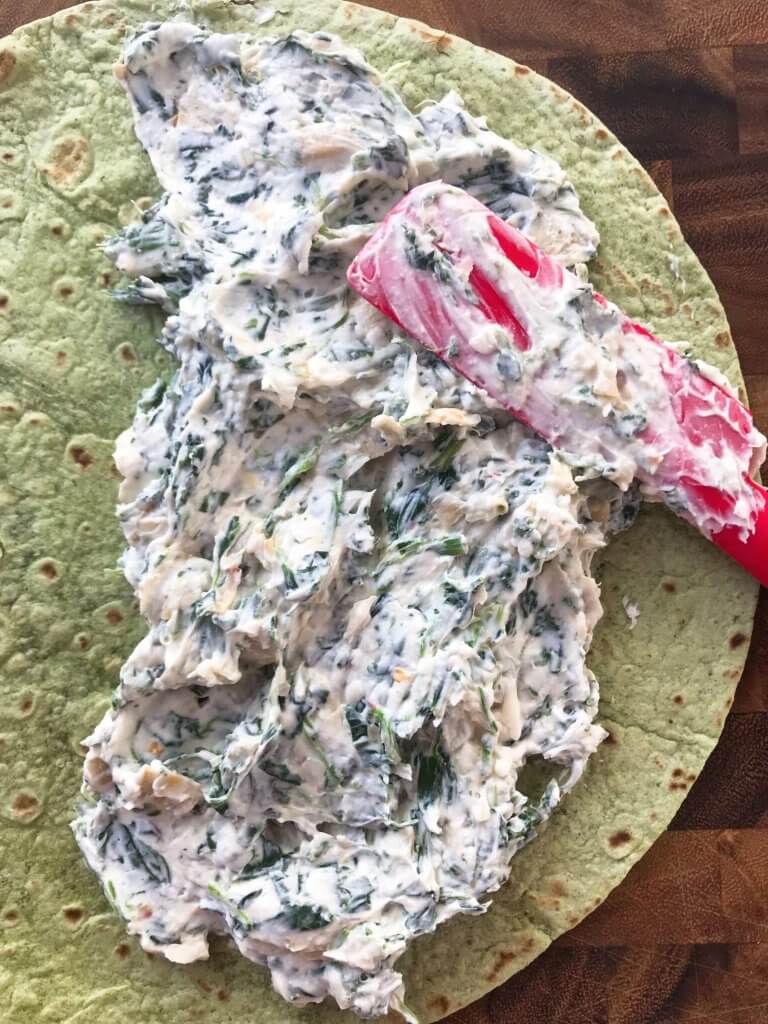 This freezing step makes them easier to slice and keeps the slices sharp and clean. Alternatively, you can refrigerate them far in advance to set up and be ready to go when needed. Then slice and serve immediately.

I am definitely a sauce person which goes for creamy things like these Spinach Artichoke Dip Pinwheels as well.  So I like a good layer of the cream cheese dip mixture on the tortillas. 
If you prefer less dip, the mixture will go further and could easily cover 4 large flour tortillas, which also means twice the number of pieces!
I only had one person ever say they wanted less filling, so when in doubt, go big and with a thick layer!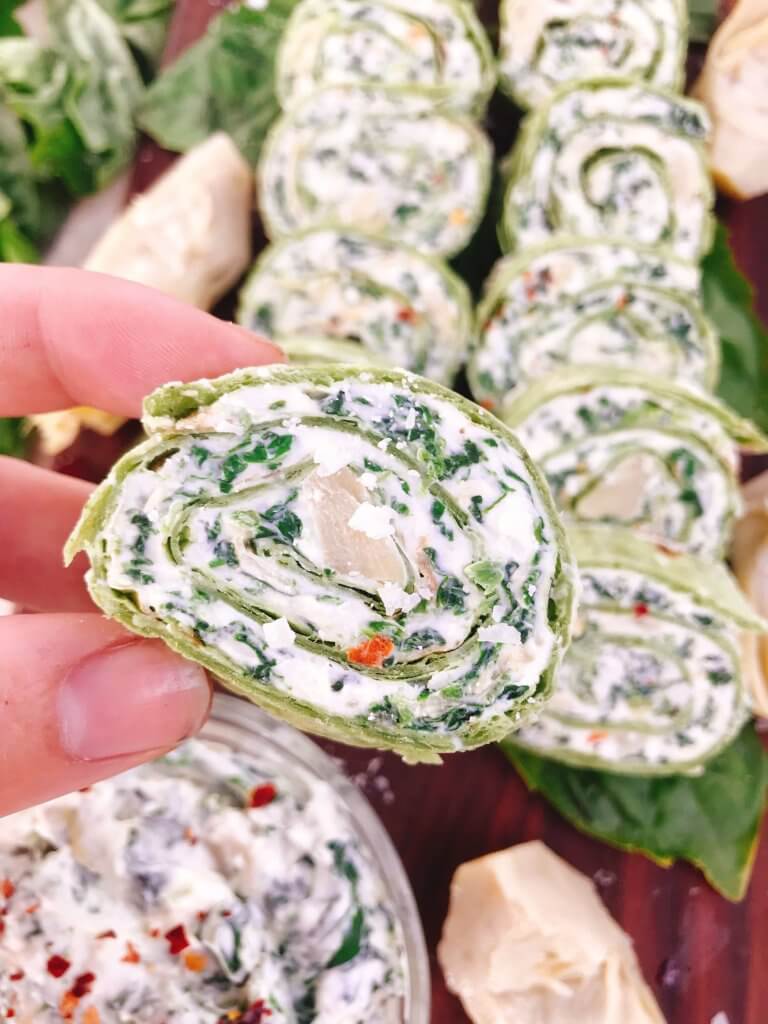 Modifications and Substitutions
If you want more heat, add more red pepper flakes.
You can use any size flour tortilla, but you will get a better yield from larger tortillas as there is less waste from the ends.
Do not bother spreading the filling mixture to the ends (left and right side) of the roll up as they will just be cut off! Although they do make great snacks!
Kim's Tips
Chilling is key! It makes it SO much easier to cut them!
Use a spinach flavored tortilla if you want the green tortilla color!
Make sure to drain the spinach and artichoke hearts if they are frozen and/or in an oil as the extra moisture leads to a soggy roll up!
FAQs
What is pinwheel sandwich made of?
This pinwheel is made with tortillas, cream cheese, artichoke hearts, spinach, sour cream, parmesan cheese, red pepper flakes, garlic powder, and salt.
The key component is the tortilla that fillings are wrapped inside of to make the pinwheel shape.
Can I make cold pinwheels the day before?
Yes!
These roll ups hold very well when made in advance.
You can slice them in advance, or leave them in logs and slice when ready to serve.
Why are my pinwheels soggy?
This happens if there is too much liquid in the filling and/or if they are made far in advance.
This recipe uses a thick filling so they will not be soggy if used within 48 hours.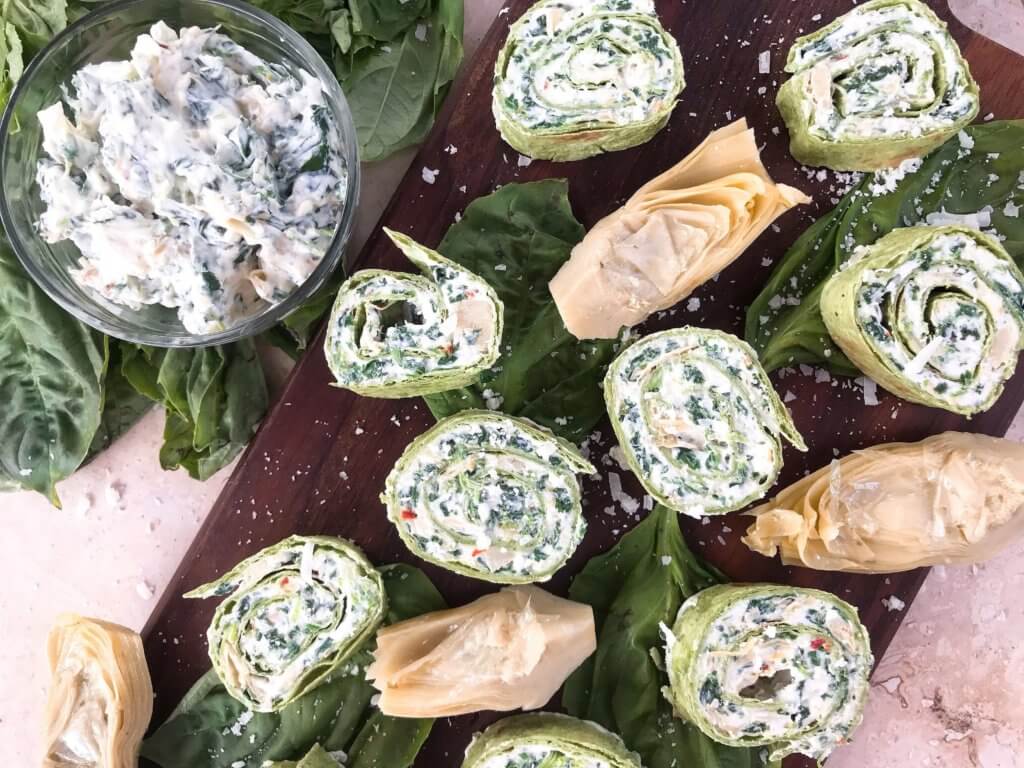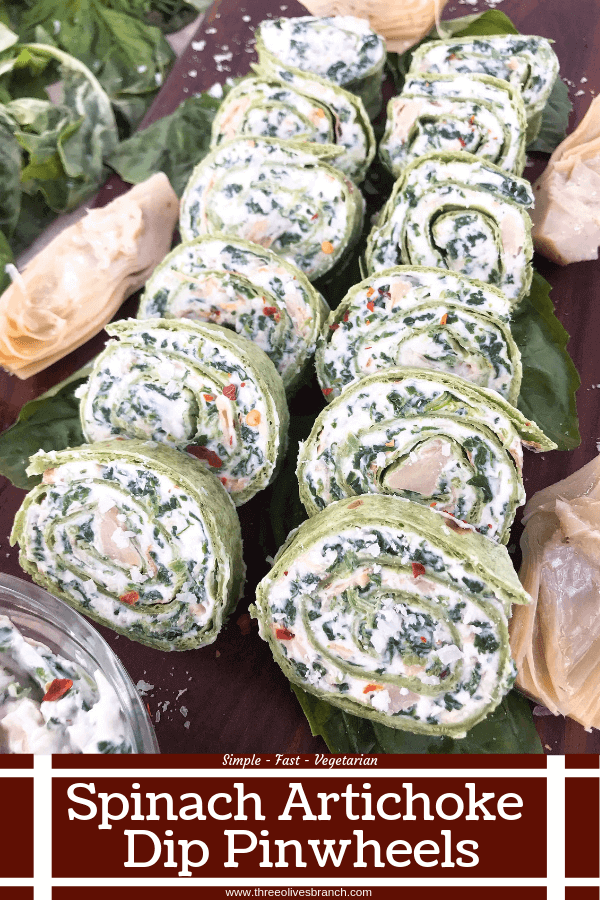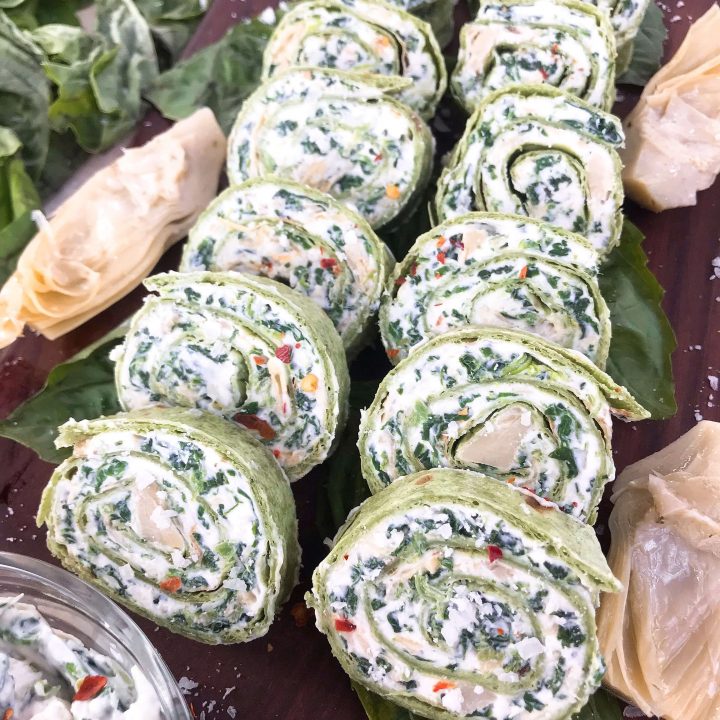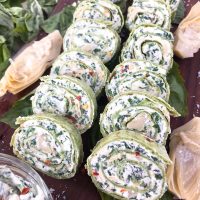 Spinach Artichoke Dip Pinwheels Recipe
Classic spinach artichoke dip flavors slathered in a tortilla, rolled, and cut into rounds for a quick and simple party finger food.
Print
Pin
Rate
Instructions
Mix all of the ingredients except the tortillas together in a small bowl.

8 ounces cream cheese,

1 cup frozen chopped spinach,

1/2 cup artichoke hearts,

1/4 cup sour cream,

1/2 teaspoon red pepper flakes,

1/4 teaspoon garlic powder,

1/4 teaspoon salt,

1/4 cup freshly grated Parmesan cheese

Spread the mixture evenly over the flour tortillas. Make the dip layer as thick or thin as you would like (I like a thick layer shown in the pictures which used two tortillas).

Roll up the tortilla rather tightly.

Place the rolled tortillas in the freezer for approximately 10 minutes. This helps solidify the dip, making them easier to cut and also cut more cleanly.

Cut the tortilla logs into 1/2 inch thick slices. Serve immediately.
Notes
I like a thick layer of filling as shown in the pictures.  If you prefer a thinner filling ratio, you will need more tortillas and will get more pieces as well.
To make ahead, roll the tortillas up and place the logs in the refrigerator.  Move them to the freezer (if the cream cheese mixture is really soft) and proceed from step 4 when ready to serve.
Nutrition
Serving:
1
piece
|
Calories:
63
kcal
|
Carbohydrates:
4
g
|
Protein:
2
g
|
Fat:
5
g
|
Saturated Fat:
2
g
|
Cholesterol:
13
mg
|
Sodium:
128
mg
|
Potassium:
47
mg
|
Fiber:
1
g
|
Sugar:
1
g
|
Vitamin A:
967
IU
|
Vitamin C:
1
mg
|
Calcium:
38
mg
|
Iron:
1
mg
More Pinwheel Recipes
Pinwheel Roll Up Recipes
Some of our popular pinwheel, or roll up, recipes! Perfect for parties, entertaining, snacks, and lunch!

By