Lasagna al Pesto (Pesto Lasagna) is a cheesy homemade Italian lasagna recipe. Made with three cheeses, pasta, and a creamy bechamel basil pesto sauce. A comfort food perfect for cold weather and winter. Vegetarian.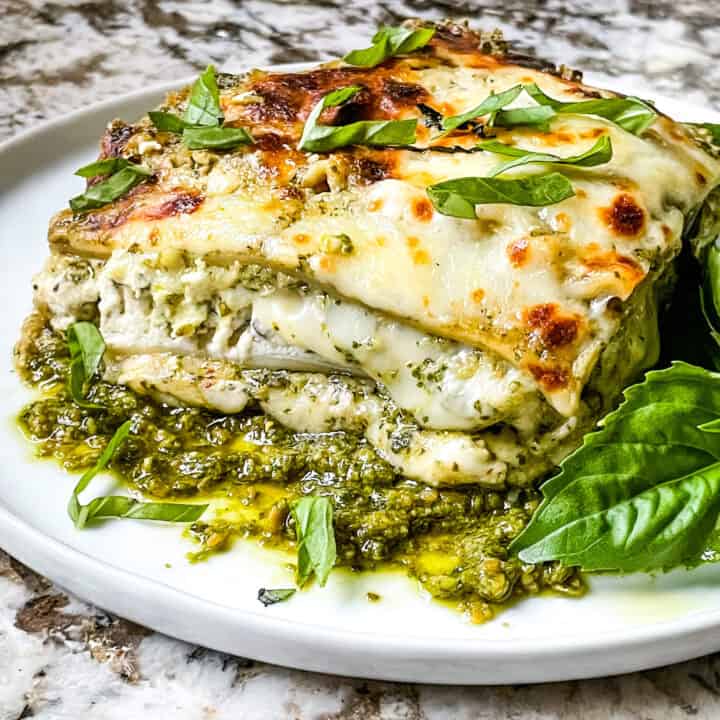 Lasagna al Pesto is a creamy pesto lasagna made with three cheeses. Featuring a creamy white sauce with basil pesto.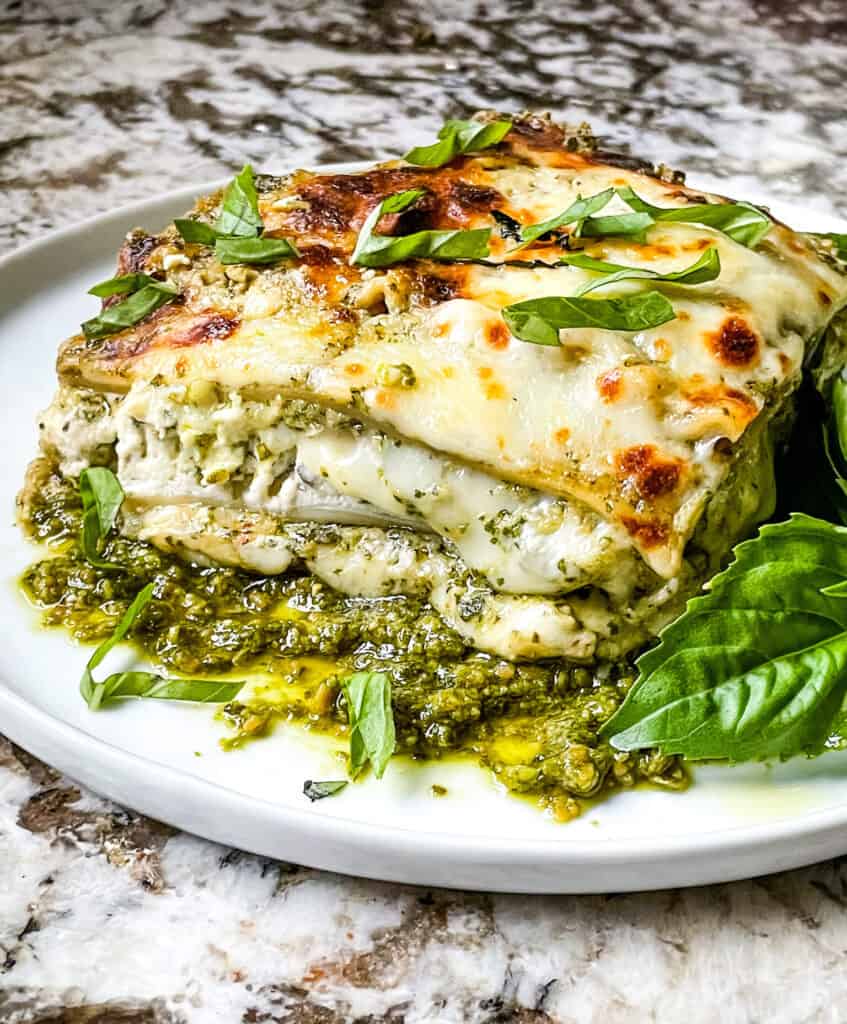 Lasagna al Pesto
Homemade lasagna is a labor of love.
Something about this Italian comfort food is extra special.
I love a good tomato sauce, but I am also a lover of all things basil pesto. I use it in a lot of different recipes, including Pesto Caprese Penne Pasta which is one of our most popular recipes of all time!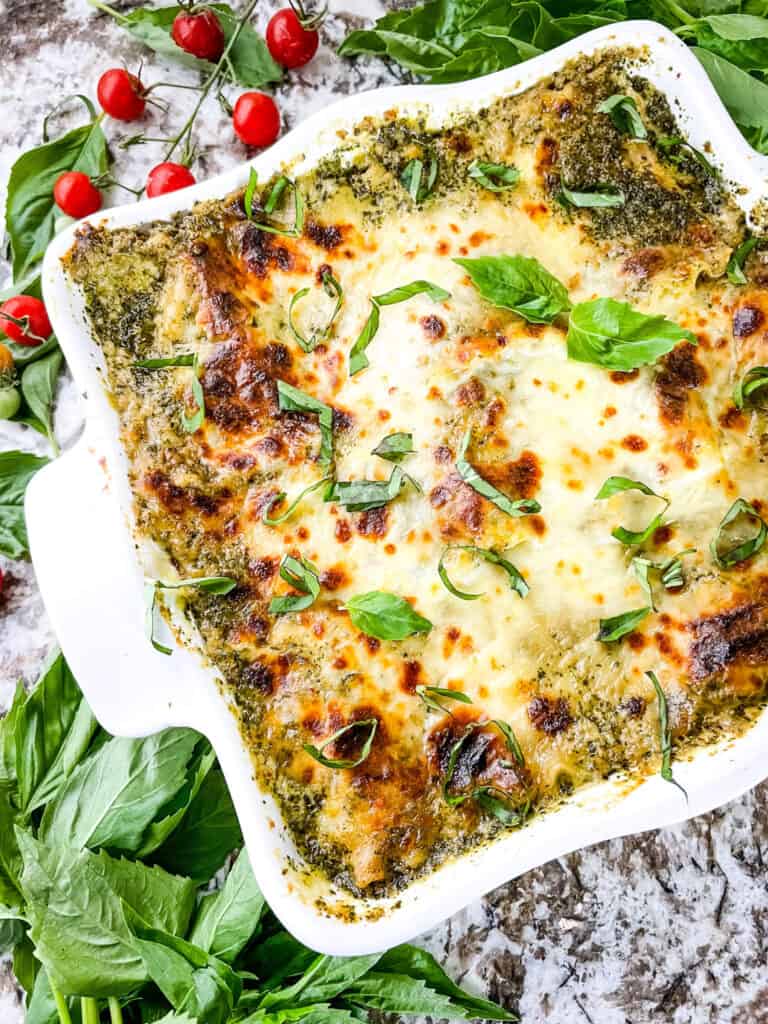 What is the correct order to layer lasagna?
I do not know if there is one "real" way to do it, but my layering method is for good reason!
Always put sauce on the bottom so the bottom noodles do not burn and stick to the pan.
Then for layering I do noodle, ricotta mixture, other cheeses, sauce, and repeat.
It is SO difficult to try and spread out ricotta over a sauce, and the sauce gets moved in an uneven way.
And with the sauce on top of the cheese, it almost seeps in a little.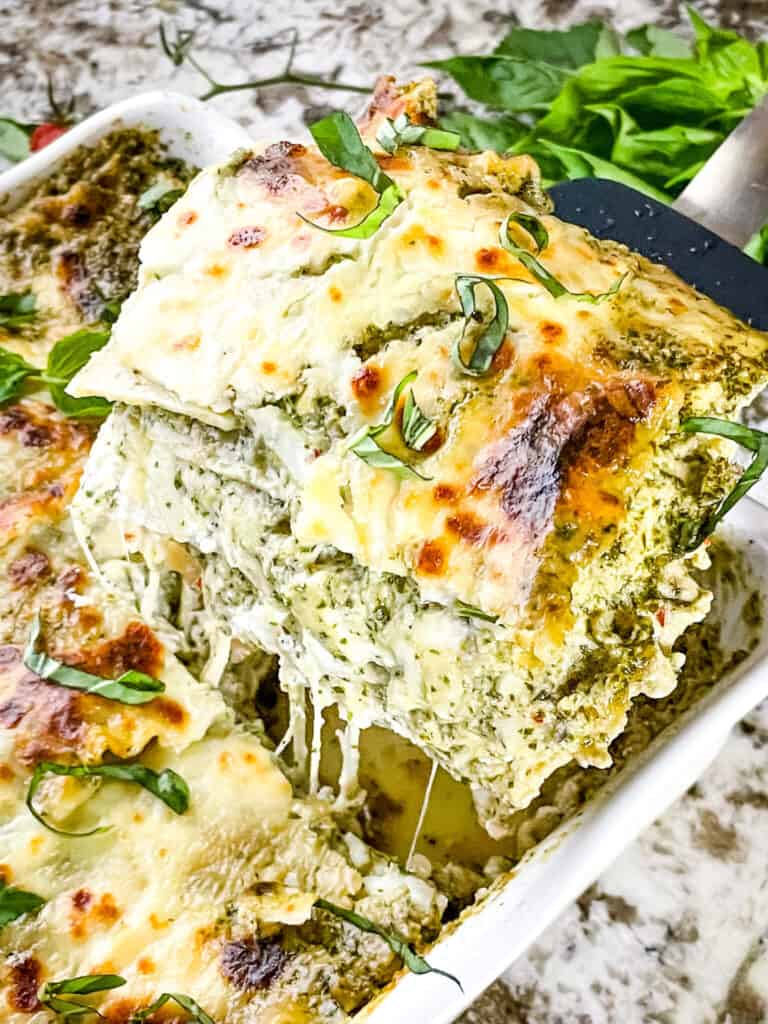 Why do you put eggs in lasagna?
The egg in the ricotta cheese mixture adds moisture and also helps bind everything together – both in the cheese mixture as well as cheese to noodles.
Make sure you beat the egg well and it will disappear into the cheeses.
How many layers should lasagna have?
Most chefs say lasagna should have at least three layers. Make it as tall as you want, if your baking dish can accommodate, but know it will also increase your cooking time.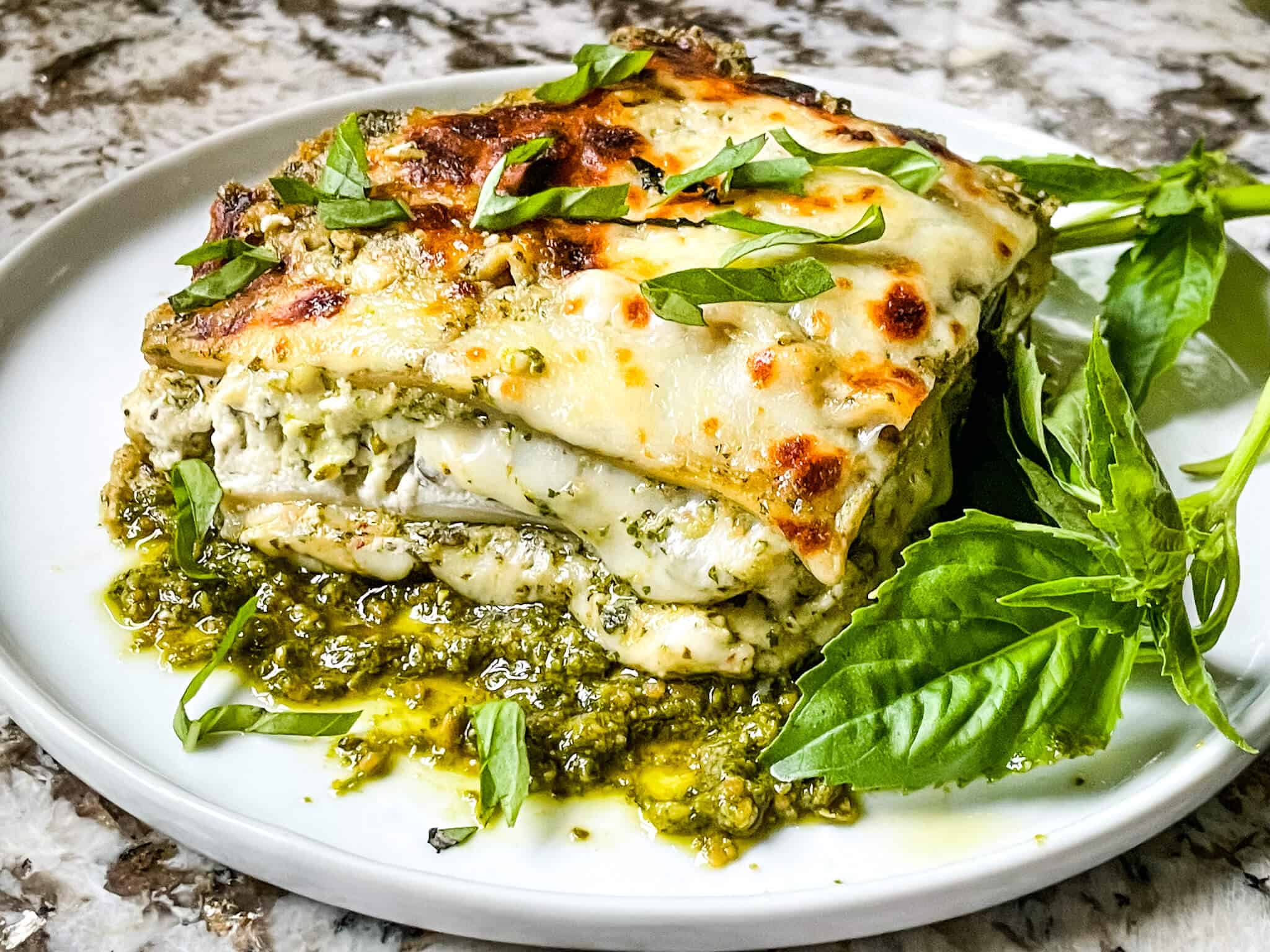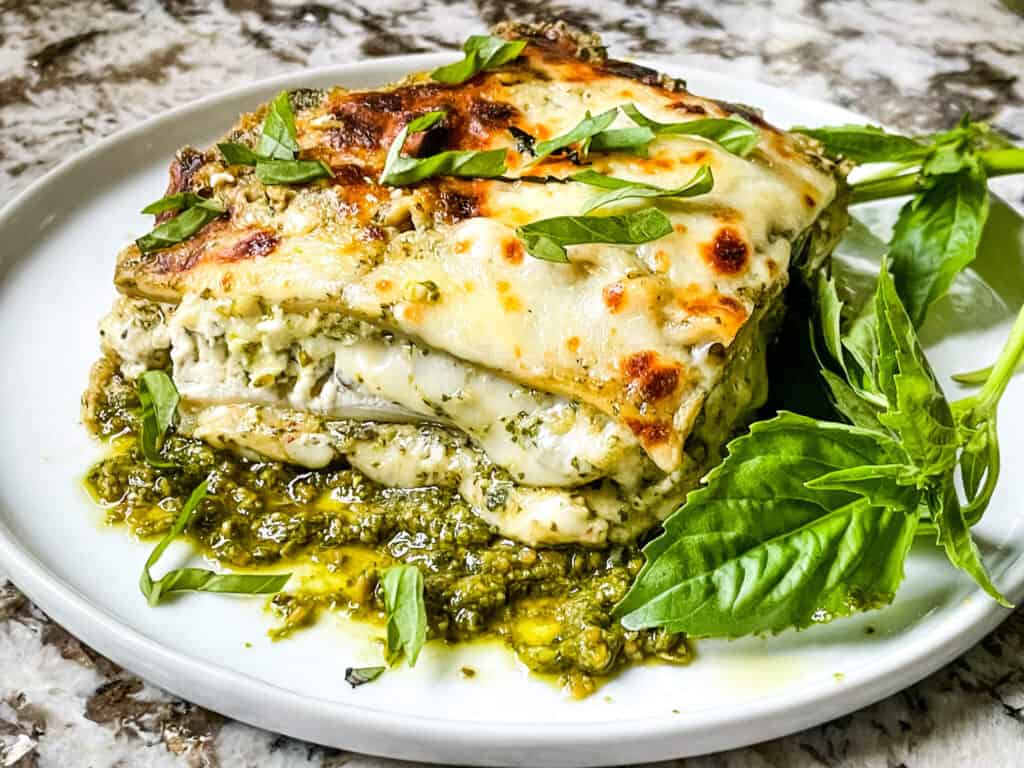 Instruction Overview
There are several steps to making this Lasagne al Pesto, and many of them can be made in advance.
First, you need to make a basil pesto. You can also use a store bought version, but I prefer homemade because it is SO fast and easy to do.
Next, a béchamel sauce to add the pesto to. Béchamel is a simple, white sauce and the perfect pairing for this lasagna. Using just pesto without a sauce would make the lasagna very dry. And a lot of the best lasagnas out there have a béchamel, even if they also have a tomato sauce!
Then mix the pesto into the bechamel.
Make the cheese mixture by combining the ricotta with the rest of the mixture ingredients. I like to leave some mozzarella and Parmesan separate, but you could mix them all together if you want.
And of course, you need to cook your noodles. Leave them very al dente and not too soft since they will cook a little more when assembled.
All of these pieces can be made in advance and ready to go! Or even assemble the entire thing and chill before baking.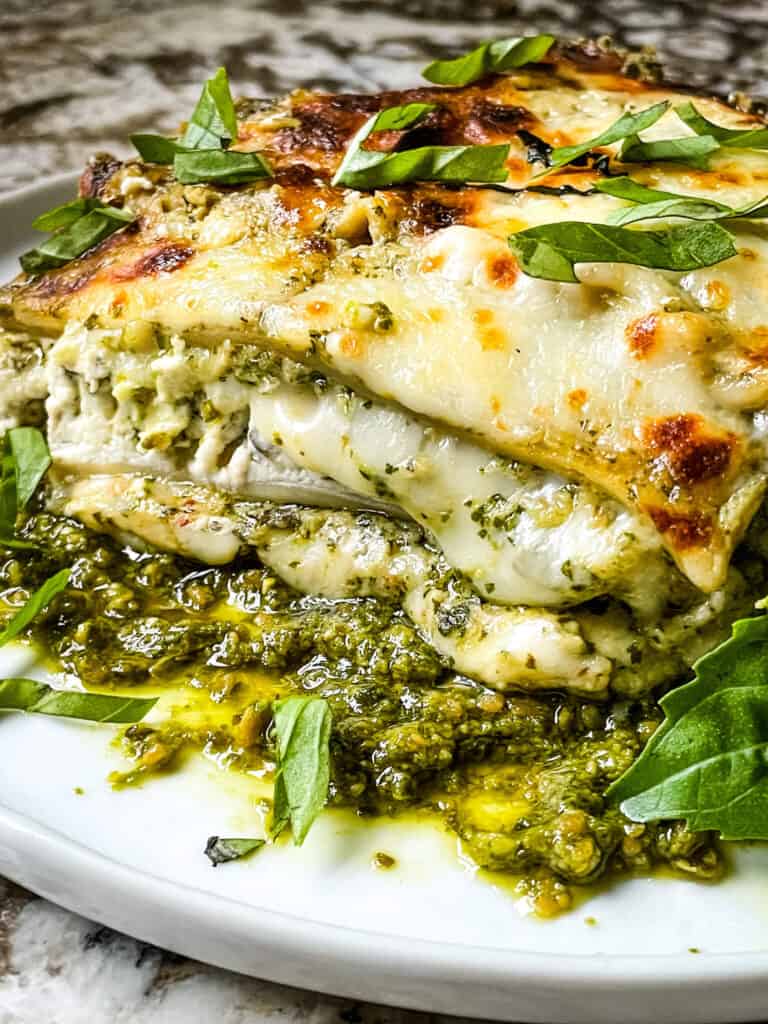 To assemble, follow my preferred method of layering (see above).
Put some sauce on the bottom of the dish to prevent the bottom noodles from burning and sticking.
Then layer noodle, ricotta, cheeses, sauce, and repeat.
Putting the ricotta straight on the noodles is much easier than spreading it out over sauce!
Top off the final noodle layer with the remaining sauce and more cheese.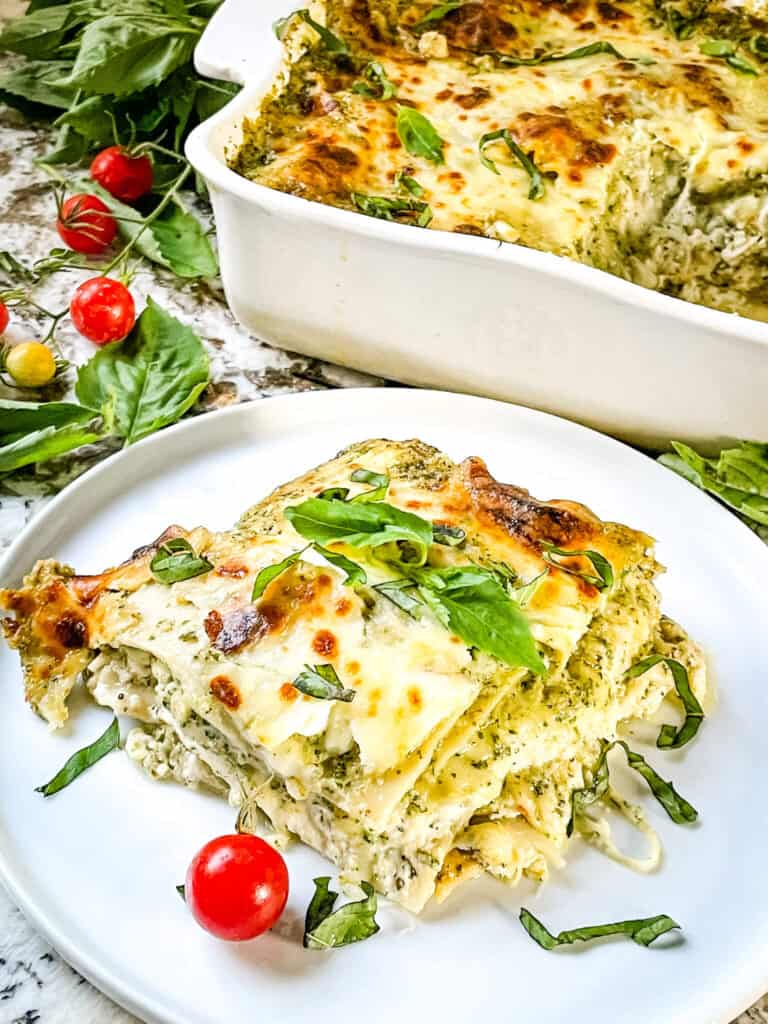 Do you cover lasagna when you bake it?
Yes, you should, at least for half of the baking time. Without being covered, the moisture evaporates, making the lasagna dryer. This can also lead to a top that is overly crunchy.
Leave the cover on until 30 minutes are left in cooking time and then remove it. This way, the top can still brown.
If it is done cooking but the top is not as dark as you want it, flip your oven to broil and in just a few second you will see your cheese starting to turn a golden brown.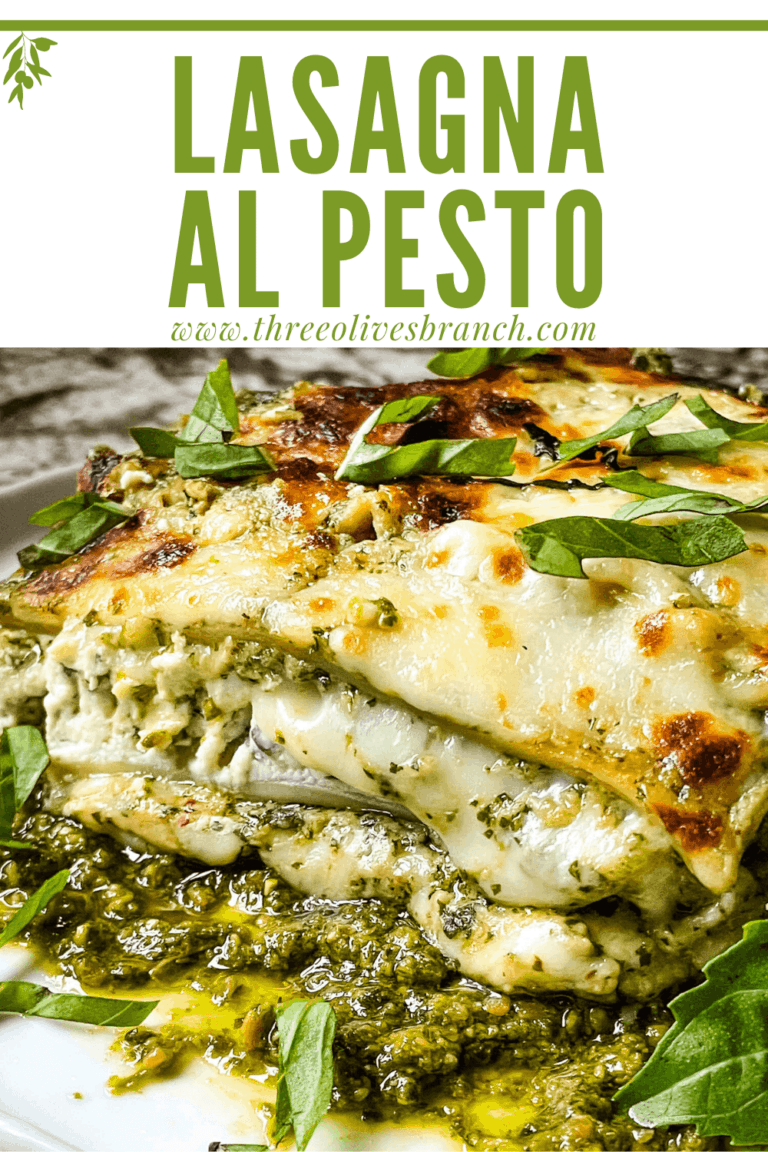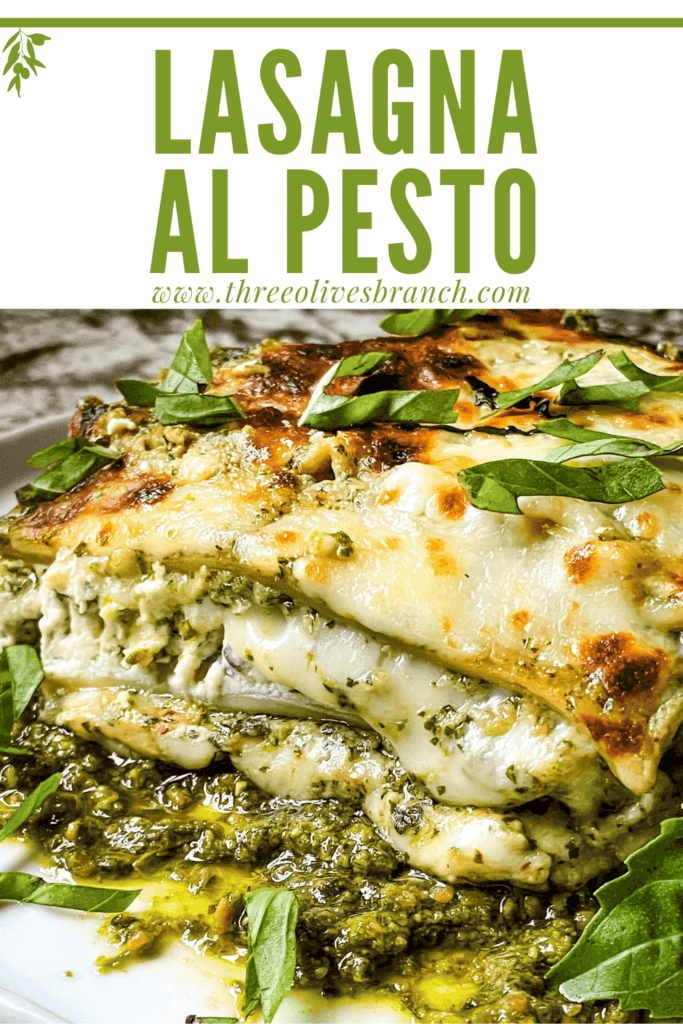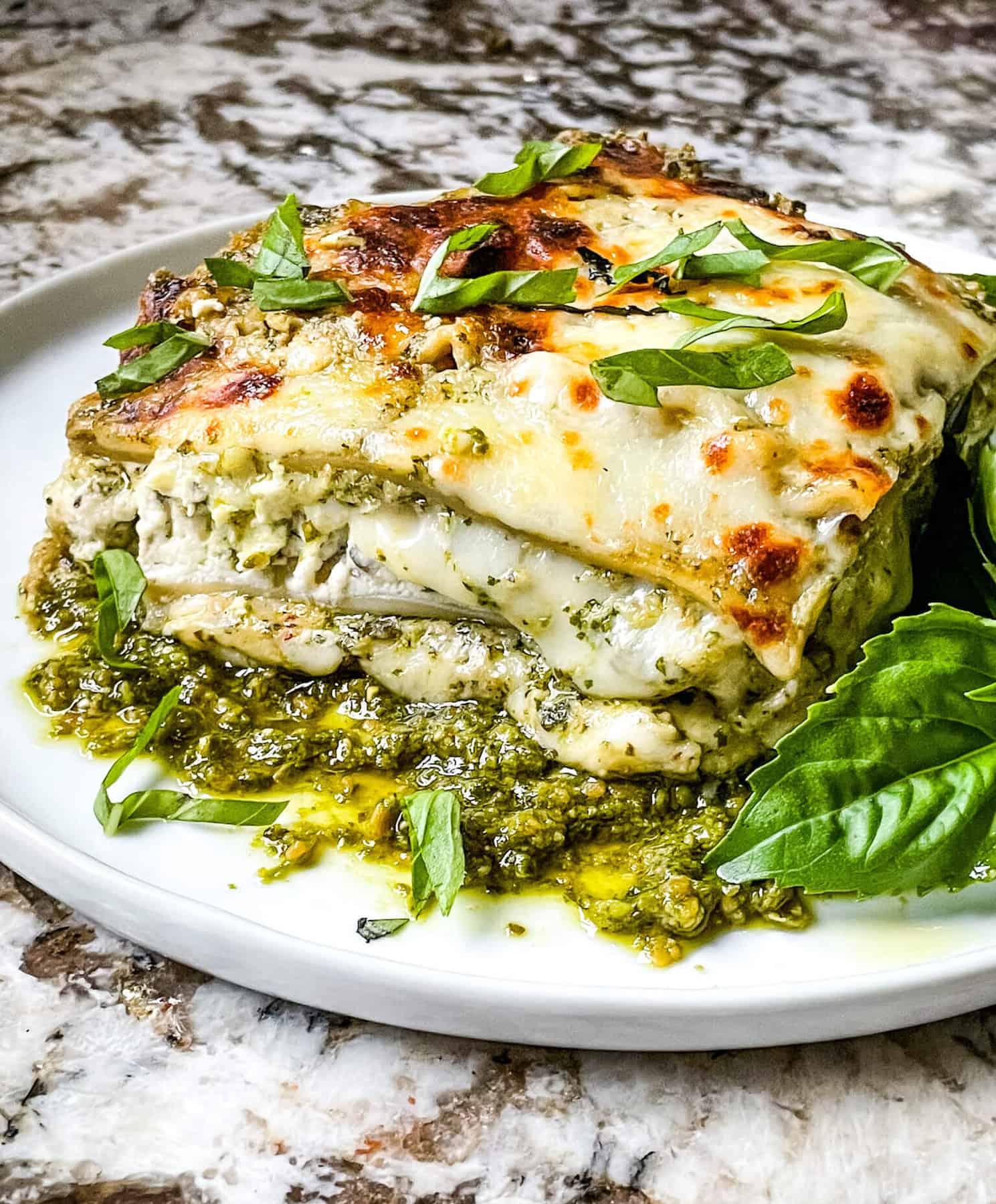 Instructions
Prepare the Noodles
Cook the noodles in a large pot of water as per package direction. When al dente (still firm but not crunchy and not too soft), drain and toss with a little olive oil to help prevent sticking. Set aside.
Make the Pesto Béchamel Sauce
Make your basil pesto, if not done already.

In a medium or large pot (same pot of the noodles is great), melt the butter over medium heat. When melted, add the flour and stir to combine. Cook 30-60 seconds.

Whisk in the milk, salt, and black pepper. Cook on a simmer, stirring occasionally, until the sauce slightly thickens, approximately 7-10 minutes.

Remove the sauce from the heat. Add the pesto and stir to combine. Season to taste with salt and black pepper.
Prepare Cheese Mixture
In a medium bowl, combine all of the cheese mixture ingredients. Season to taste with salt, basil, and pepper.
Assembly
When ready to cook, preheat oven to 375°F.

Spread ½ cup of the pesto sauce across the bottom of a 9 by 9 baking dish.

Cut the lasagna noodles in half to turn each one into shorter strips. Lay three strips across the bottom of the dish, slightly overlapping.

Dollop 1 cup of the cheese mixture over the noodles and gently spread across the noodles.

Sprinkle 1 cup of shredded mozzarella on top of the cheese mixture, followed by 2 Tablespoons of Parmesan.

Scoop and gently spread 1 cup of the pesto sauce across the cheeses.

Repeat another layer of noodles, cheese mixture, mozzarella, Parmesan, and pesto sauce. You should be out of the ricotta cheese mixture at this time.

Prepare the top layer by laying out the third layer of noodles. Top with the remaining pesto sauce, approximately 1.5 cups (unless you want to save some for serving).

Sprinkle with the remaining 1 cup of mozzarella and 2 Tablespoons of Parmesan.

Cover with tin foil or a lid and bake for approximately 50 minutes. The edges of the dish should be bubbling and the top cheese melted. Remove the lid/foil and finish baking 10-15 minutes or until the top is lightly browned. (Want a darker top? Remove the cover earlier or turn on the broiler for a few minutes).

Remove from oven and let sit 15 minutes before cutting and serving.
Notes
Use any sized baking dish, but something smaller like an 8×8 or 9×9 square dish is best to get the tall layers.
Easily double the recipe if desired in a 9×13 dish.
This recipe is decently cheesy! If you want to go light on the cheese, cut cheese portions in half.
Nutrition
Serving:

1

serving

|

Calories:

816

kcal

|

Carbohydrates:

35

g

|

Protein:

36

g

|

Fat:

59

g

|

Saturated Fat:

25

g

|

Polyunsaturated Fat:

2

g

|

Monounsaturated Fat:

10

g

|

Trans Fat:

1

g

|

Cholesterol:

153

mg

|

Sodium:

1656

mg

|

Potassium:

376

mg

|

Fiber:

2

g

|

Sugar:

10

g

|

Vitamin A:

2457

IU

|

Vitamin C:

1

mg

|

Calcium:

805

mg

|

Iron:

2

mg

By