Make Almond Joy Fudge in just minutes! This microwave fudge is chocolate filled with coconut and almonds like the candy bar. Fast and easy, a great gluten free gift for the holidays. #holidayfudge #fudgerecipes #almondjoy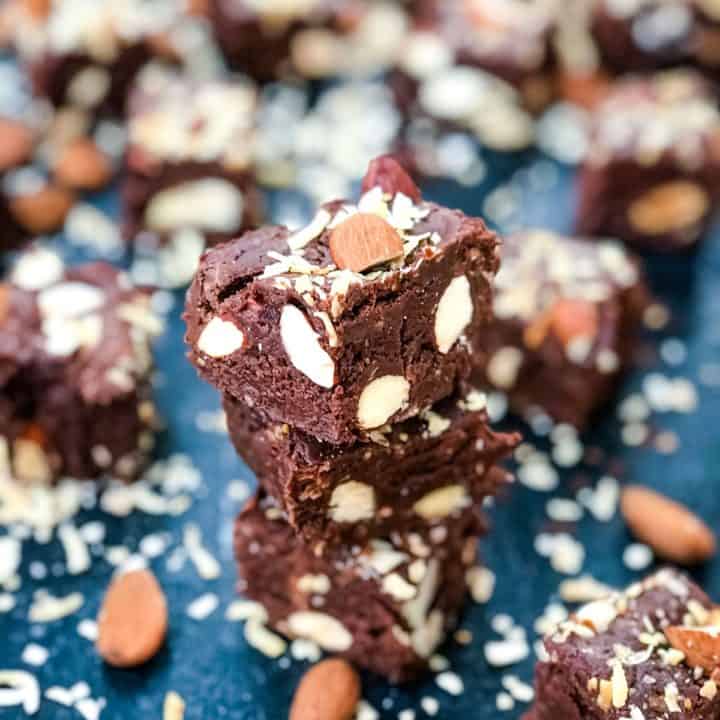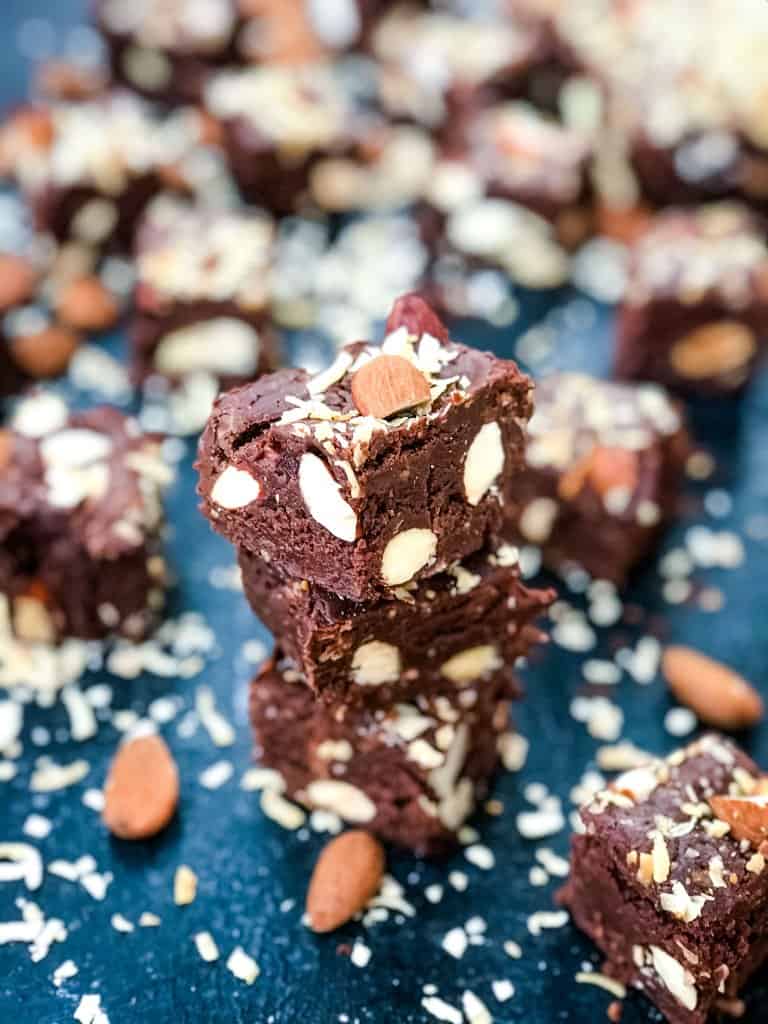 Almond Joy Fudge is made in just minutes in the microwave! Chocolate is mixed with almonds and coconut just like the famous candy for a simple dessert recipe.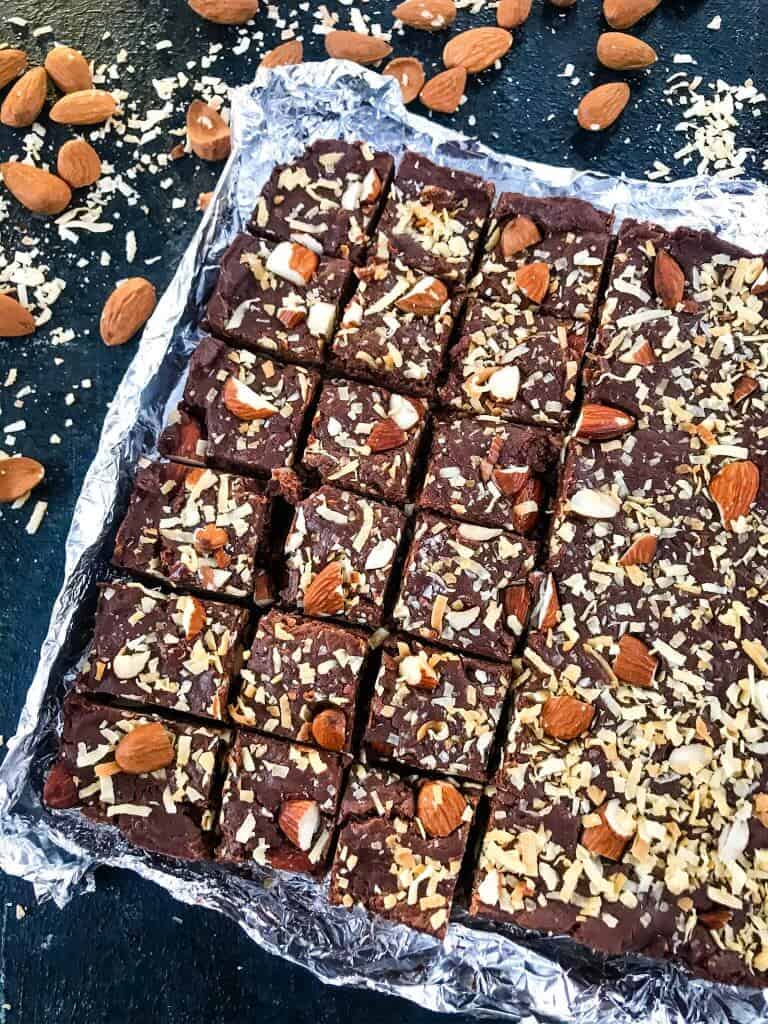 This post contains affiliate links.
It took me a while to appreciate coconut and chocolate. I used to eat Samoas but that was it in the coconut department. This Almond Joy Fudge is a celebration of the flavors of the candy bar in a simple and easy microwave fudge. Simply increase either the coconut or almond if you want it weighted more toward that flavor, and use almond extract or coconut extract for an extra punch (if you like the extract flavors). This fudge is definitely more chocolate forward, and not a solid brick of coconut like the candy bar, but the ratio you use is up to you!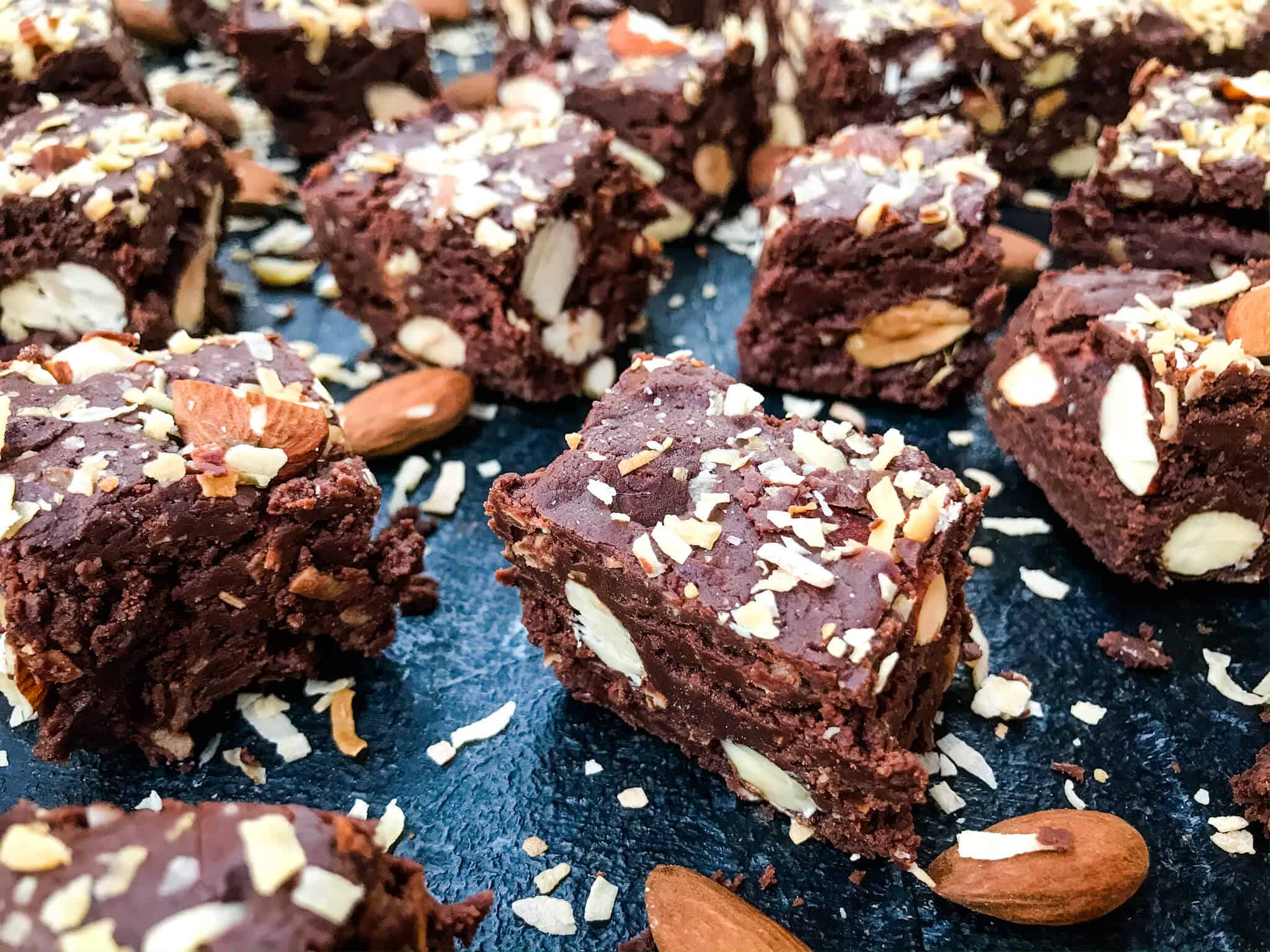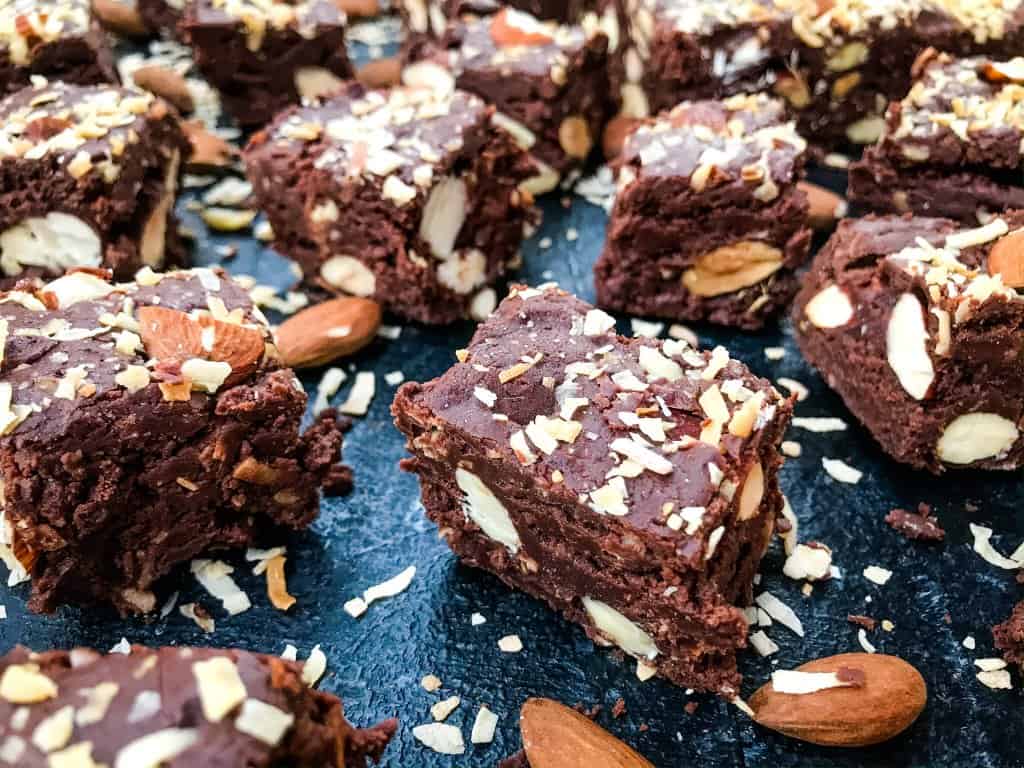 I love making fudge for the holidays and cookie swaps because (1) they are SO fast and (2) they are no-bake! Some fudge requires heating sugars on the stove and trying to reach specific temperatures, but I find microwave fudge is just as delicious and MUCH simpler. Just heat ingredients for a short time in the microwave and you are ready. Microwave fudge is so incredibly simple and easy! Get more of our fudge recipes here!
I like to toast both the almonds and coconut to bring out a depth of flavor of those ingredients. The toasting is completely optional, but I recommend it since it does not take too long. This fudge is a perfect gift for the holidays or party entertaining, and a little goes a long way!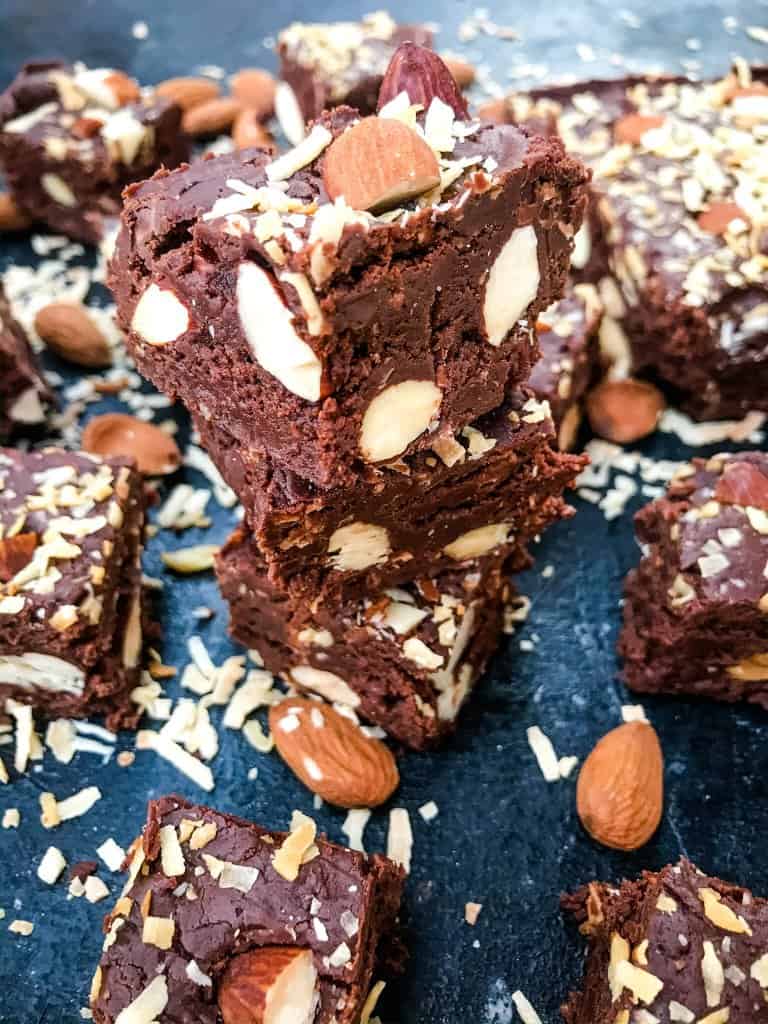 Making the fudge takes just a few minutes of heating, and then let it sit to harden. I cut this batch into 36 small pieces, because it is SO rich, but you can go larger or even smaller if desired!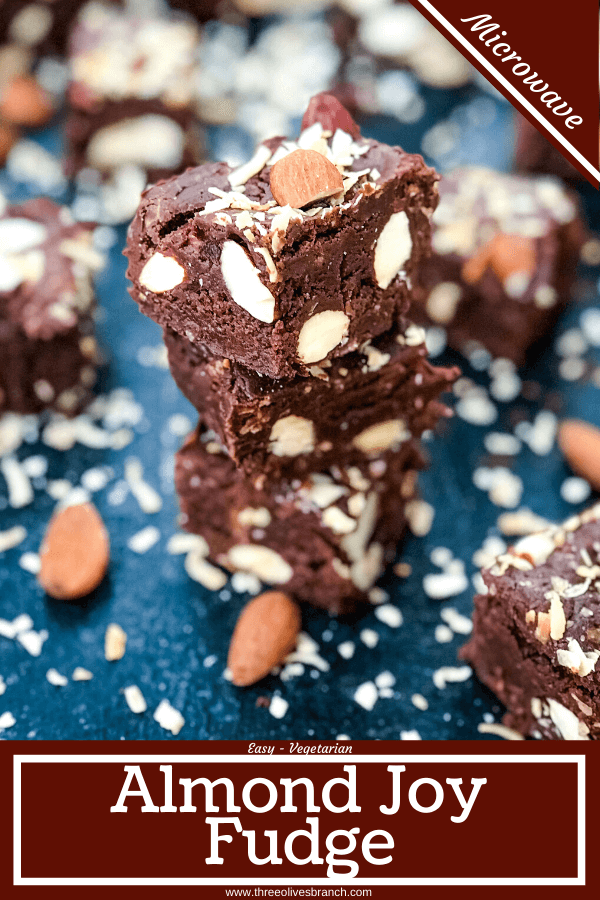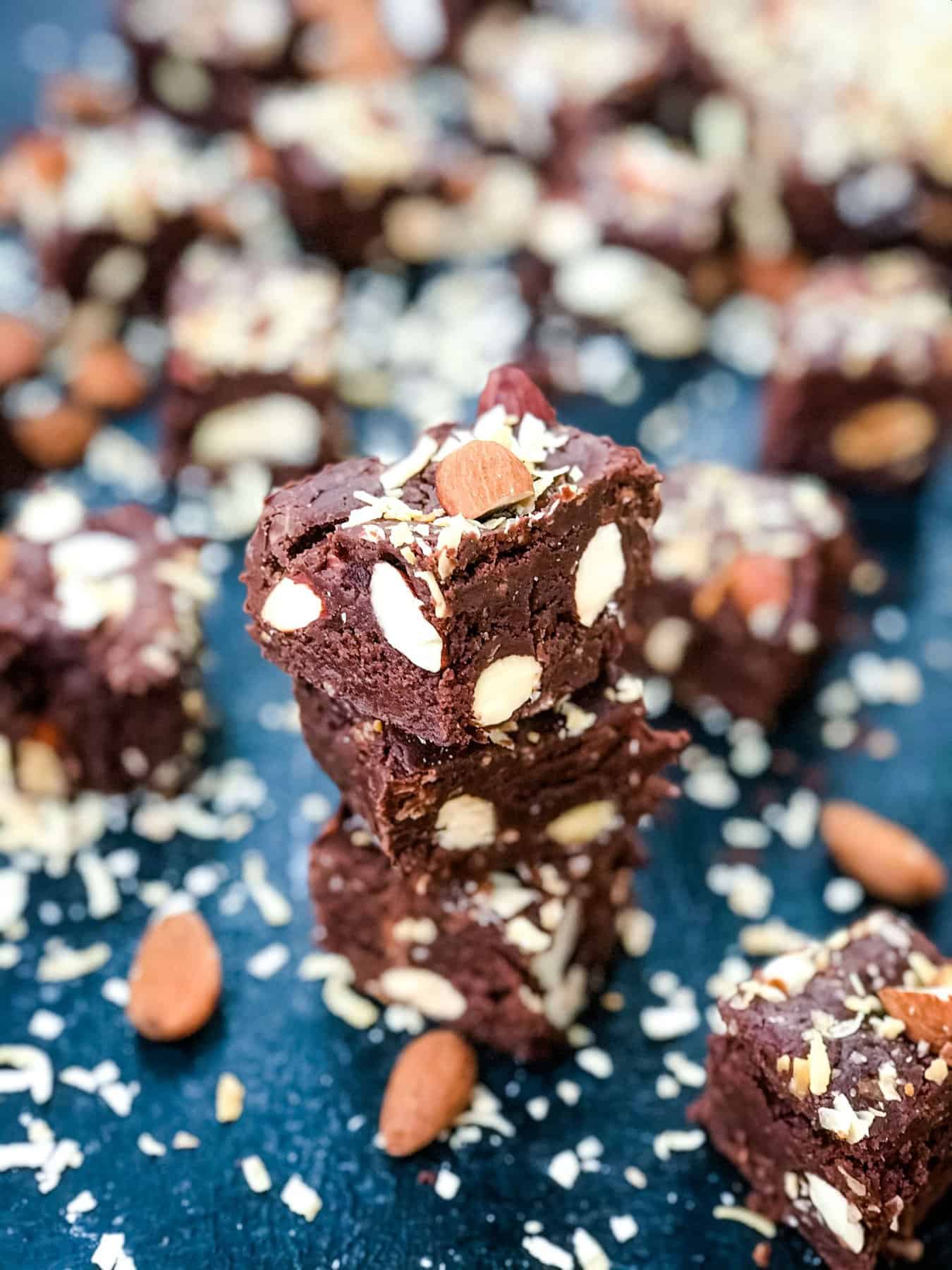 Instructions
Optional: Toast the almonds by laying them in a baking sheet or cake pan and cooking at 350F for approximately 5 minutes, when you can start to smell them.

Optional: Toast the coconut by laying in a thin layer across a baking sheet or cake pan and cooking at 350F until a light brown, approximately 5 minutes.

Line a 9 by 9 inch baking dish with tin foil. Press the foil against the edges and into the corners.

Place the chocolate chips and the sweetened condensed milk in a medium microwaveable bowl. Heat in the microwave for 30 seconds at 50% power. Remove and stir.

Repeat the heating and stirring process until the chocolate is fully melted.

Add 1 cup of the almonds (save the rest for topping), 1 cup of shredded coconut (save the rest for topping), vanilla, almond or coconut extract (if using), and salt. Stir to combine.

Pour the chocolate mixture into the lined baking dish. Use a spatula or spoon to press it into the corners and level it out. Top with the remaining almonds and coconut.

Let cool at room temperature or in the refrigerator until hardened.

Cut into quarters, and then cut each quarter into a three by three grid to get 36 pieces. Or cut into your desired sizes. The fudge can be kept at room temperature or in the refrigerator, in an airtight container or bag, for up to 5 days.
Notes
If the chocolate starts to seize and get grainy and difficult to stir, add a little olive or vegetable oil and mix. The oil should loosen it up again. Add just a little at a time, around 1/2 teaspoon, as needed.
You can also use a larger baking dish to get thinner fudge pieces.
You can use any cut or style of almonds (whole, sliced, etc) but it will change how large of a chunk you find in the fudge.
Nutrition
Calories:

175

kcal

|

Carbohydrates:

22

g

|

Protein:

3

g

|

Fat:

9

g

|

Saturated Fat:

5

g

|

Cholesterol:

7

mg

|

Sodium:

43

mg

|

Potassium:

86

mg

|

Fiber:

1

g

|

Sugar:

19

g

|

Vitamin A:

72

IU

|

Vitamin C:

1

mg

|

Calcium:

67

mg

|

Iron:

1

mg

By