Apricot Brie Crescent Rolls are a cheese crescent roll recipe filled with apricot jam, dried apricots, and brie cheese. Fast and easy sweet bread recipe. #crescentrolls #cheesycrescentrolls #driedapricots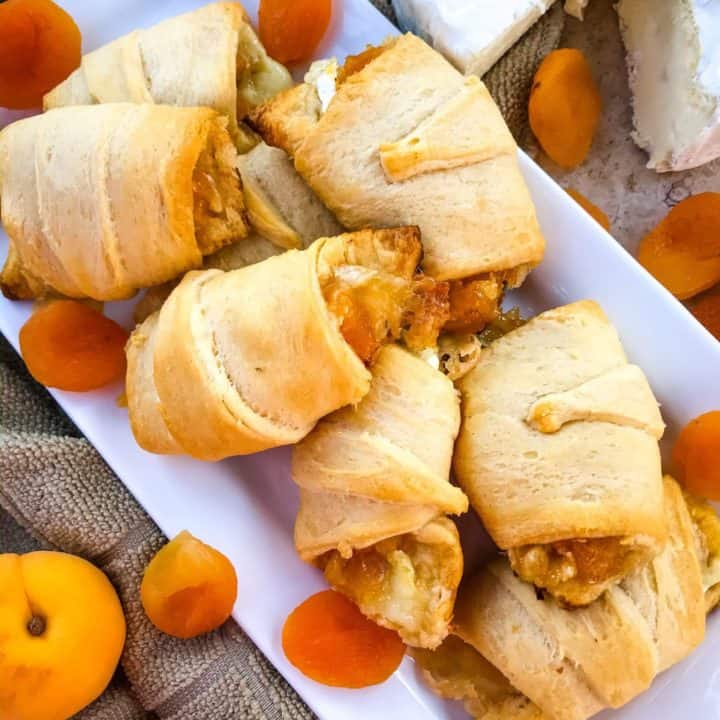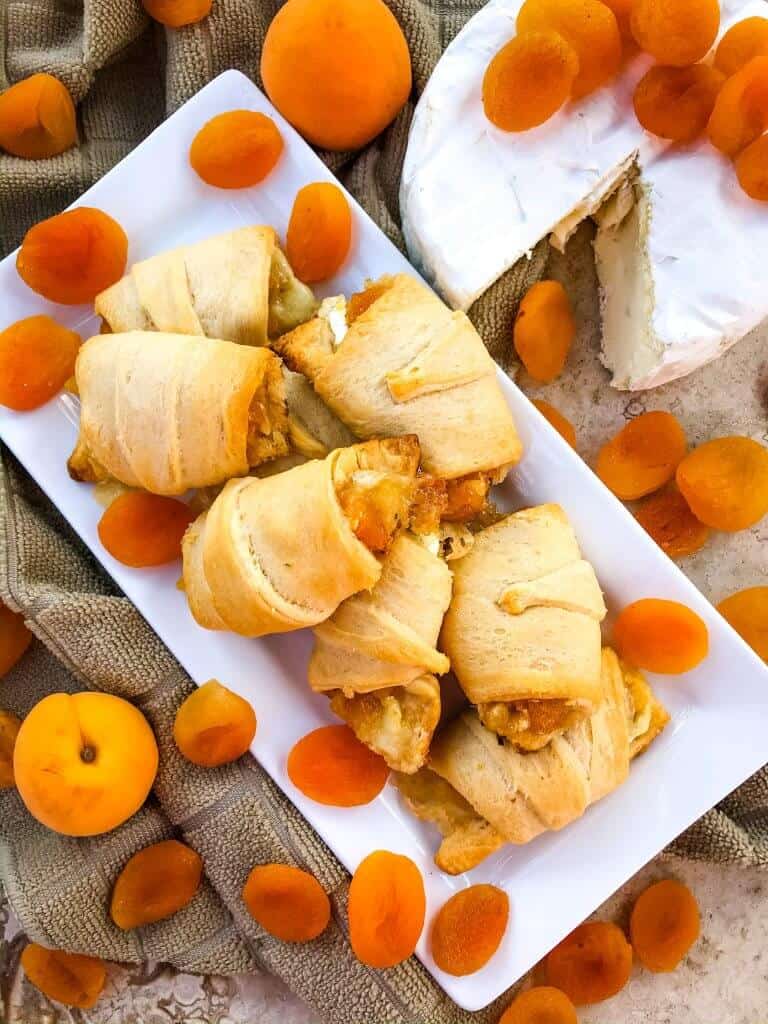 These Apricot Brie Crescent Rolls are filled with sweet apricot jam, dried apricots, and brie cheese for a yummy side bread roll or appetizer.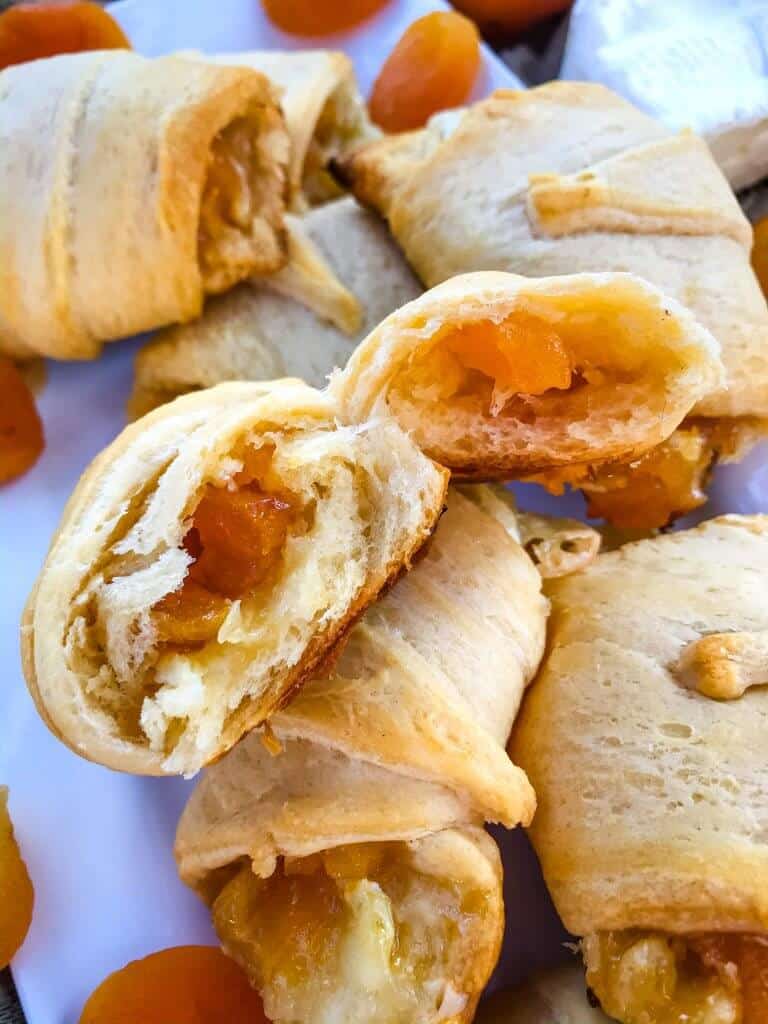 This post contains affiliate links.
Apricots remind me of my grandparents. They always had a bowl of them in their kitchen, and their sweet scent always filled the house. And they always had dried apricots around that they would snack on. These Apricot Brie Crescent Rolls are a sweet and savory bread roll option inspired by my grandparents.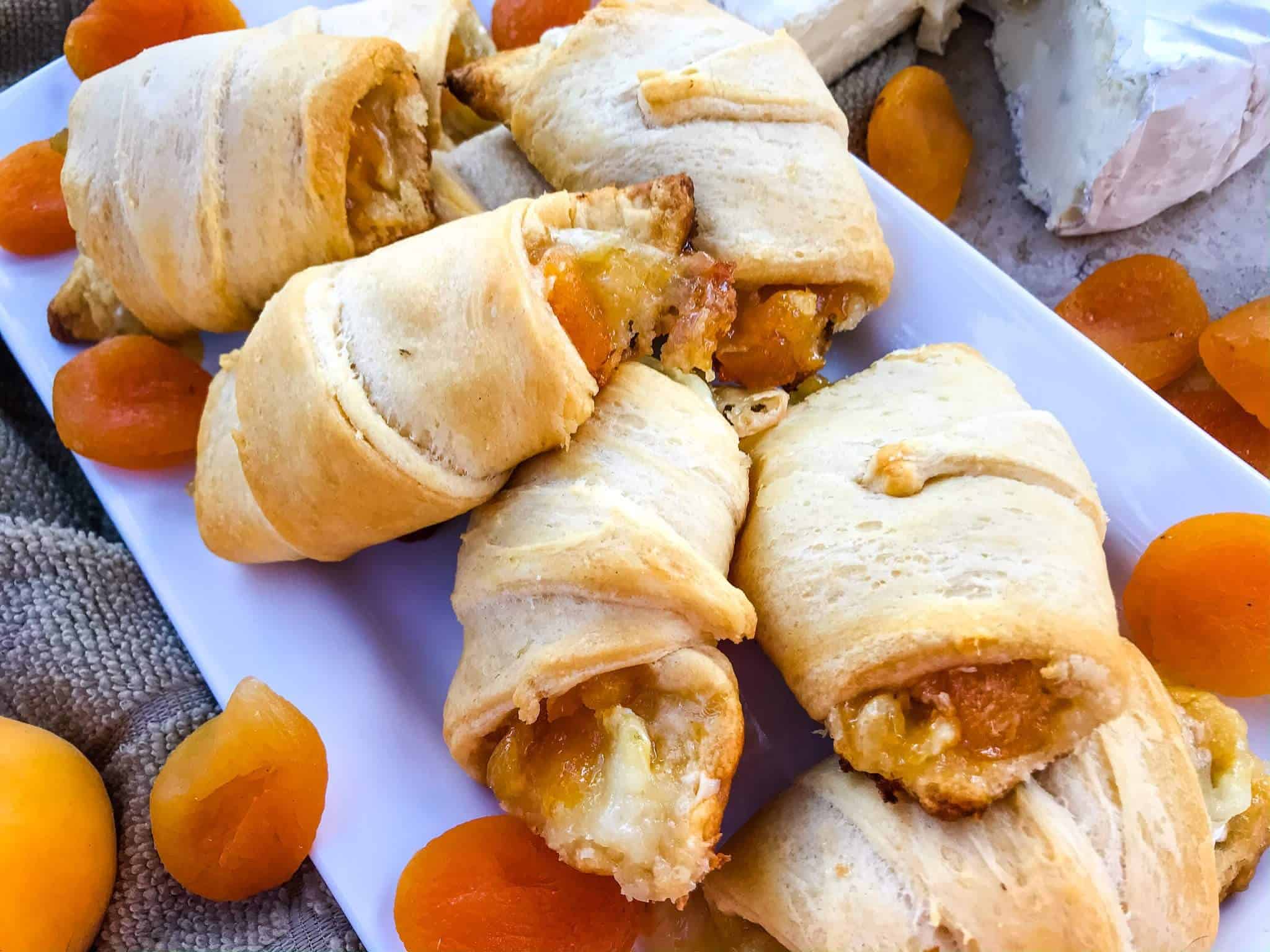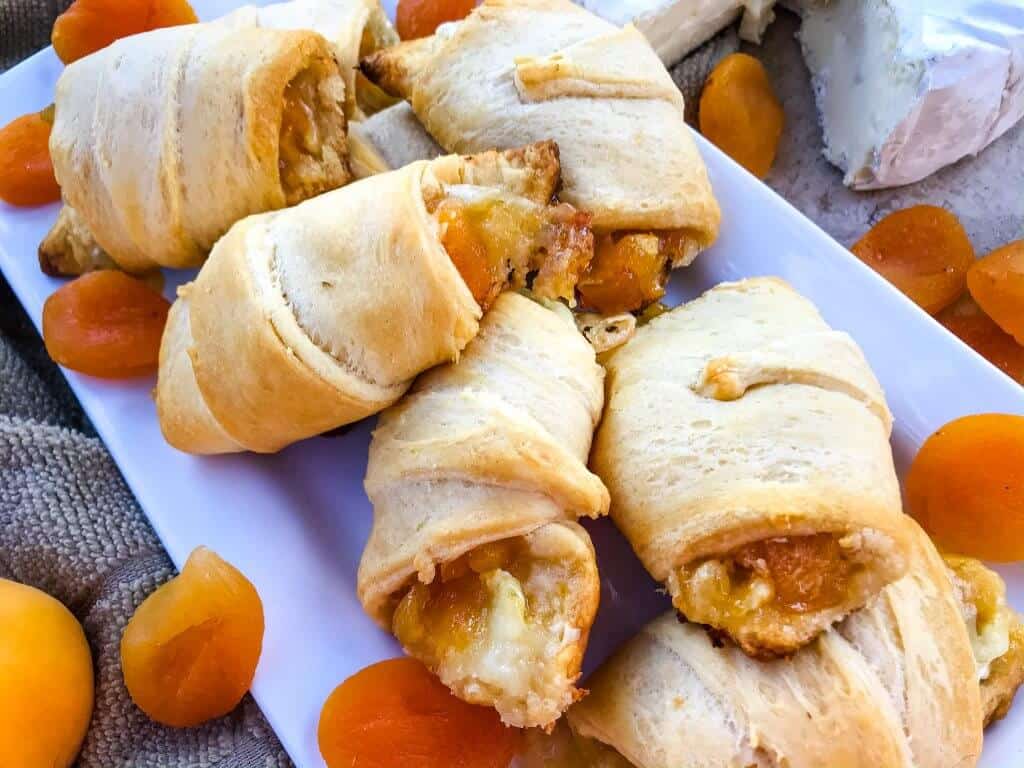 These cheesy crescent rolls get some moisture from the apricot jam and texture from the chopped, dried apricots which is why I used both ingredients here. Even with the brie cheese they are a little on the sweet side, but so delicious! I made these for a game day party and they were one of the most popular things I made!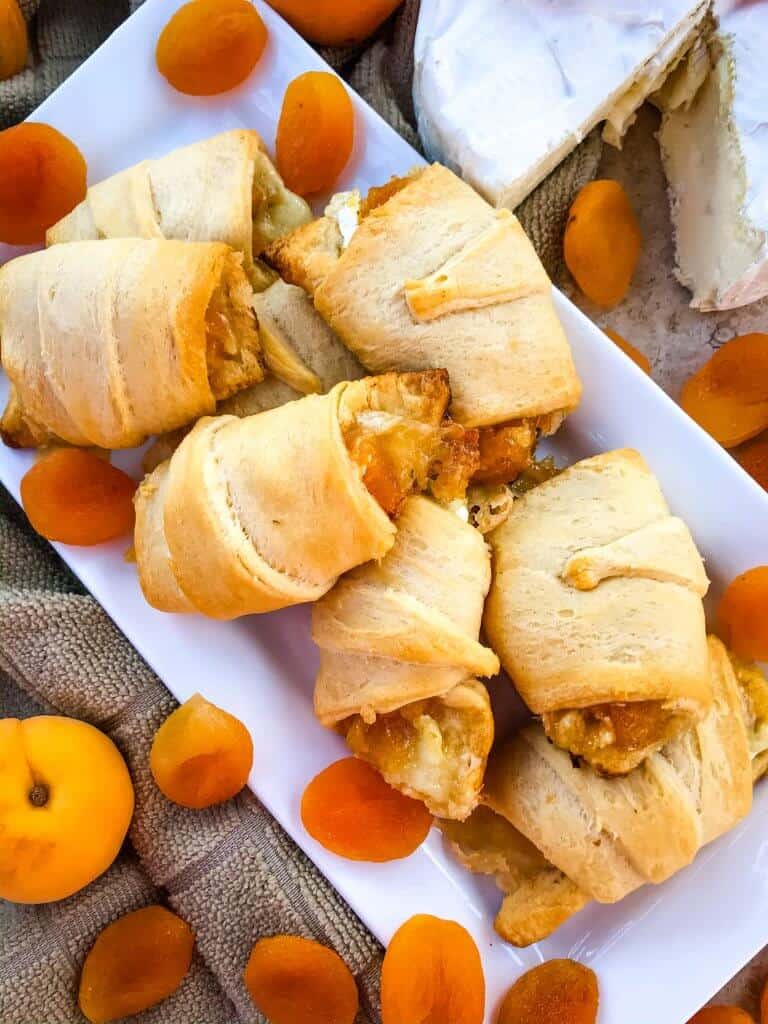 It only takes a couple easy steps to make these rolls. First cut brie into thin strips of approximately 1/2 ounce each. Place it at the top wide end of the roll and scoop 1 teaspoon of apricot jam on top, plus one dried apricot chopped. Then roll up like normal (although they will be wider and flatter than "normal") and bake according to package directions. That is it! Keep a gap between the fillings and the edge of the dough to help prevent it from oozing out, but some ooze is inevitable. Just eyeball the 1/2 ounce of brie if you do not have a scale based on the weight of your brie and dividing it out. Each piece would be approximately 1/8 inch thick, 2 1/2 inches wide, and 1 inch tall.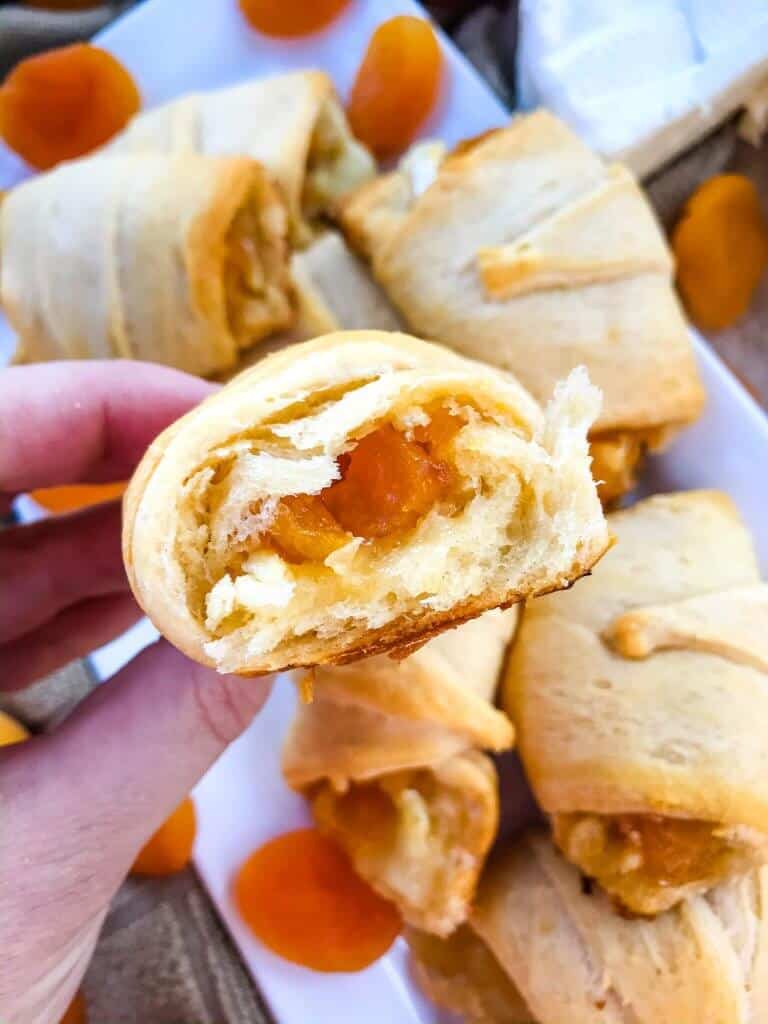 These cheese crescent rolls are best served warm so the brie is gooey. If made in advance, simply reheat gently in a warm oven. Find more stuffed crescent roll recipes here!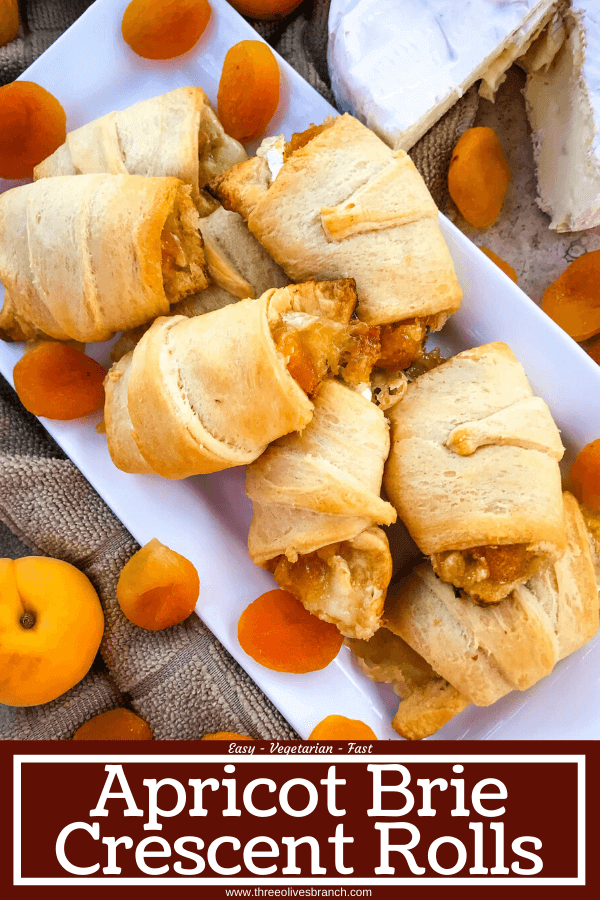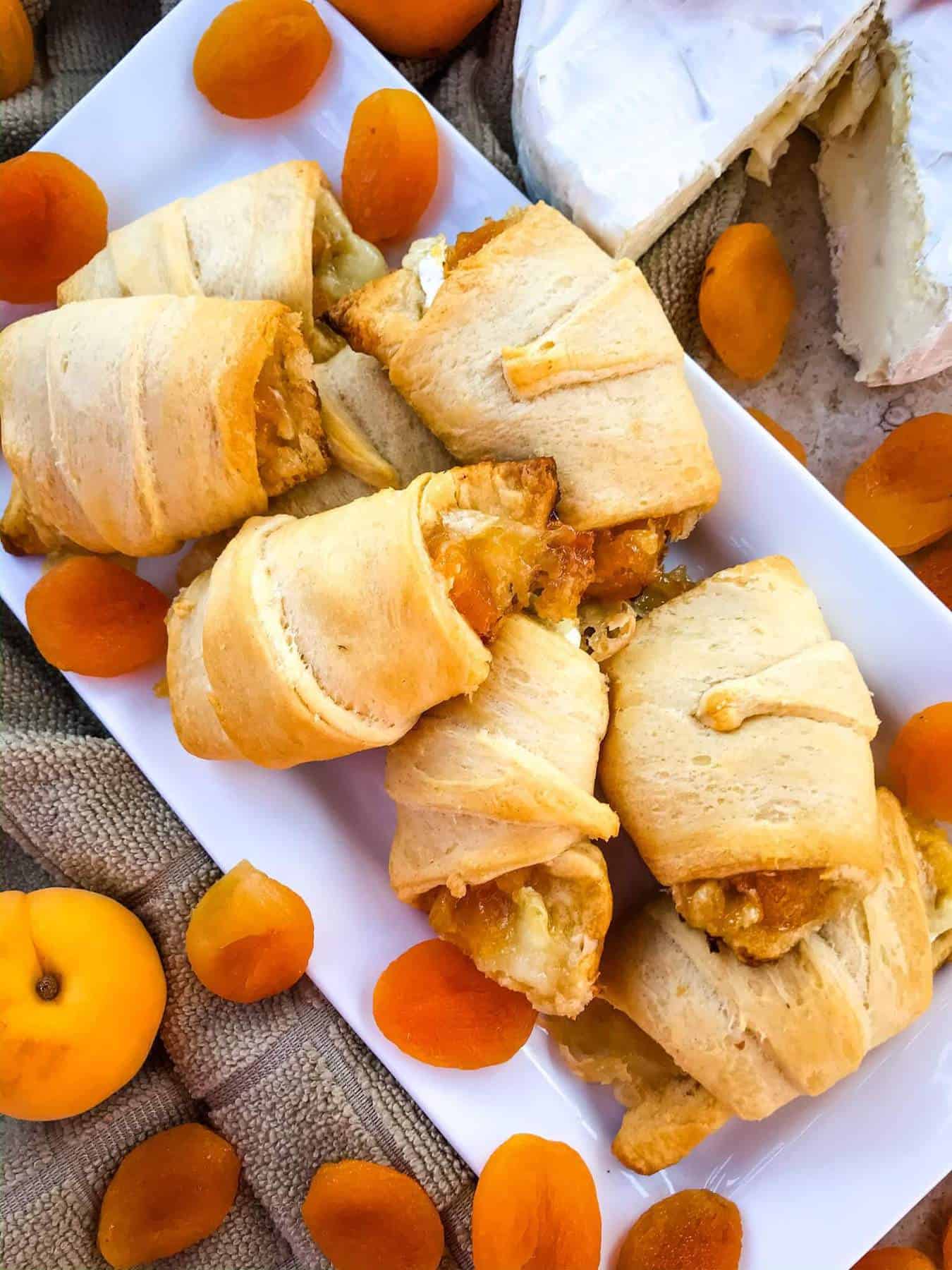 Instructions
Preheat oven as per package directions.

Prepare a baking sheet with a silicone baking mat or parchment paper. It will get messy and this makes for easy clean up.

Unroll the dough. Cut the cheese into 1/2 ounce pieces at approximately 2.5 inches long, 1 inch tall, and 1/8 inch thick.

For each roll, place the cheese at the wide end, leaving space around the edge. Add 1 teaspoon of jam on top of the brie, and add 1 chopped, dried apricot on top of the jam.

Roll up the dough and place on the baking sheet.

Repeat with the remaining rolls.

Bake according to package directions until the rolls are a light golden brown. There will be some cheese and jam oozing out of the rolls, but it should not be too much. If it is too much, use a knife or spatula and push it back into the center of the roll.
Nutrition
Calories:

184

kcal

|

Carbohydrates:

21

g

|

Protein:

4

g

|

Fat:

10

g

|

Saturated Fat:

5

g

|

Cholesterol:

14

mg

|

Sodium:

313

mg

|

Potassium:

121

mg

|

Fiber:

1

g

|

Sugar:

11

g

|

Vitamin A:

389

IU

|

Vitamin C:

1

mg

|

Calcium:

32

mg

|

Iron:

1

mg

By