Bacon Jalapeno Popper Cheese Dip is a simple appetizer recipe. Fast and easy, three cheeses are mixed with bacon and peppers for a football game time snack or a party food. Gluten free and low carb Keto. #cheesedip #gamedayrecipes #jalapenopopper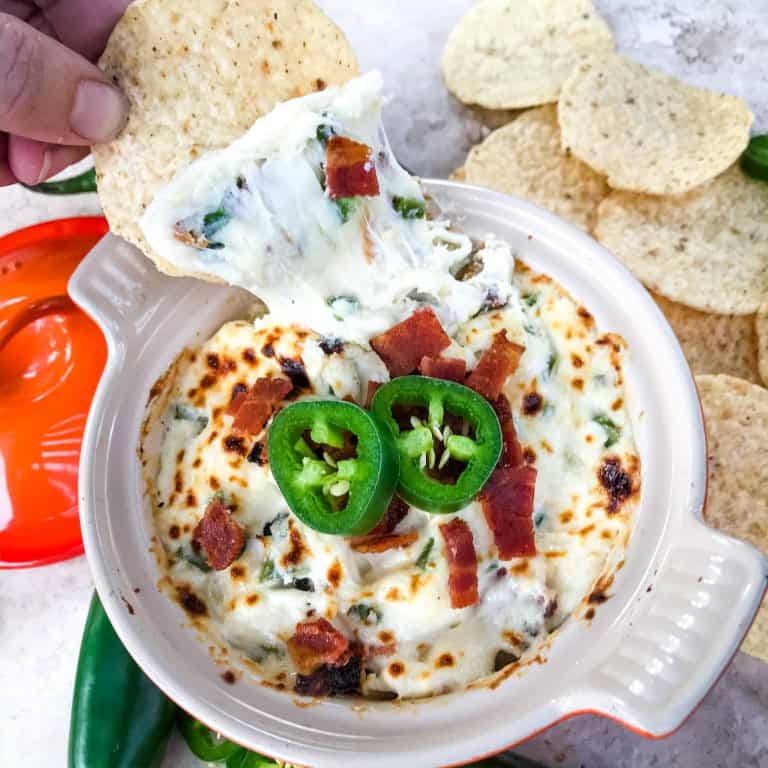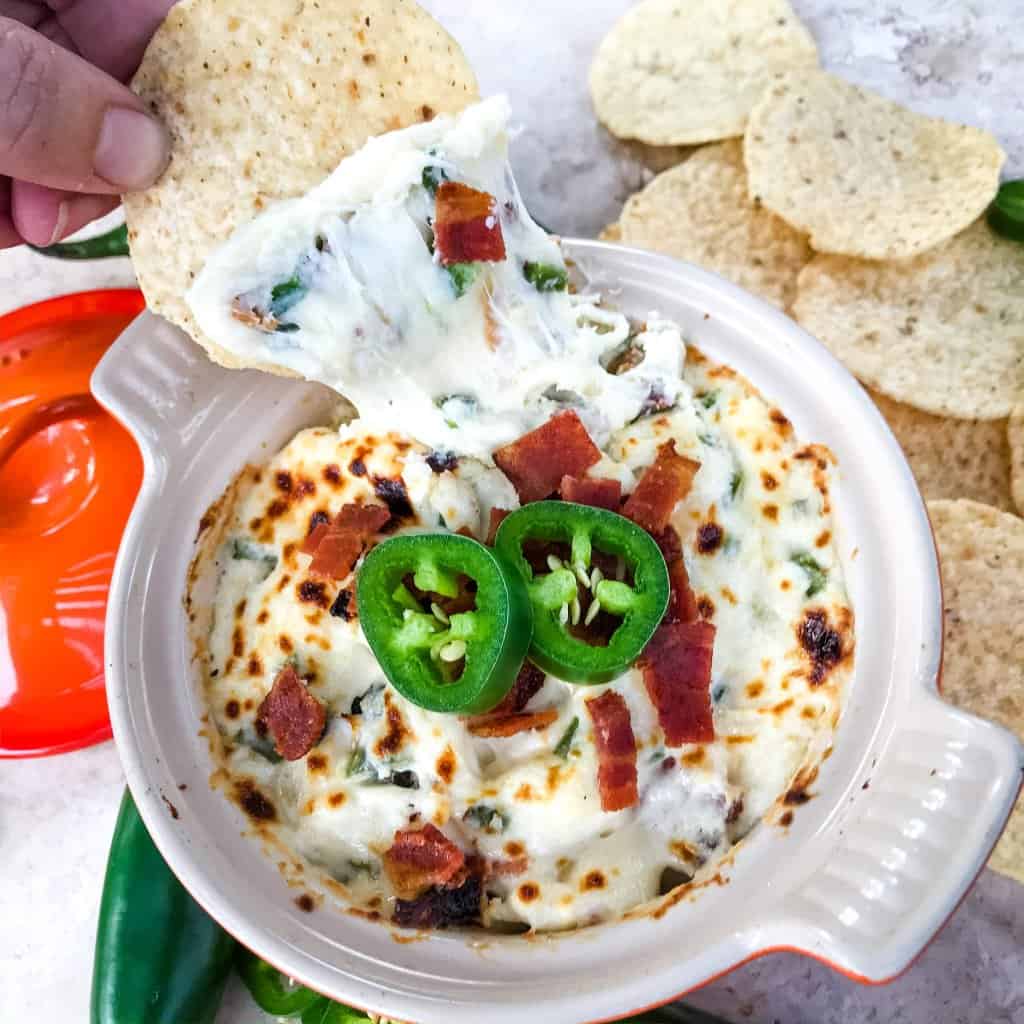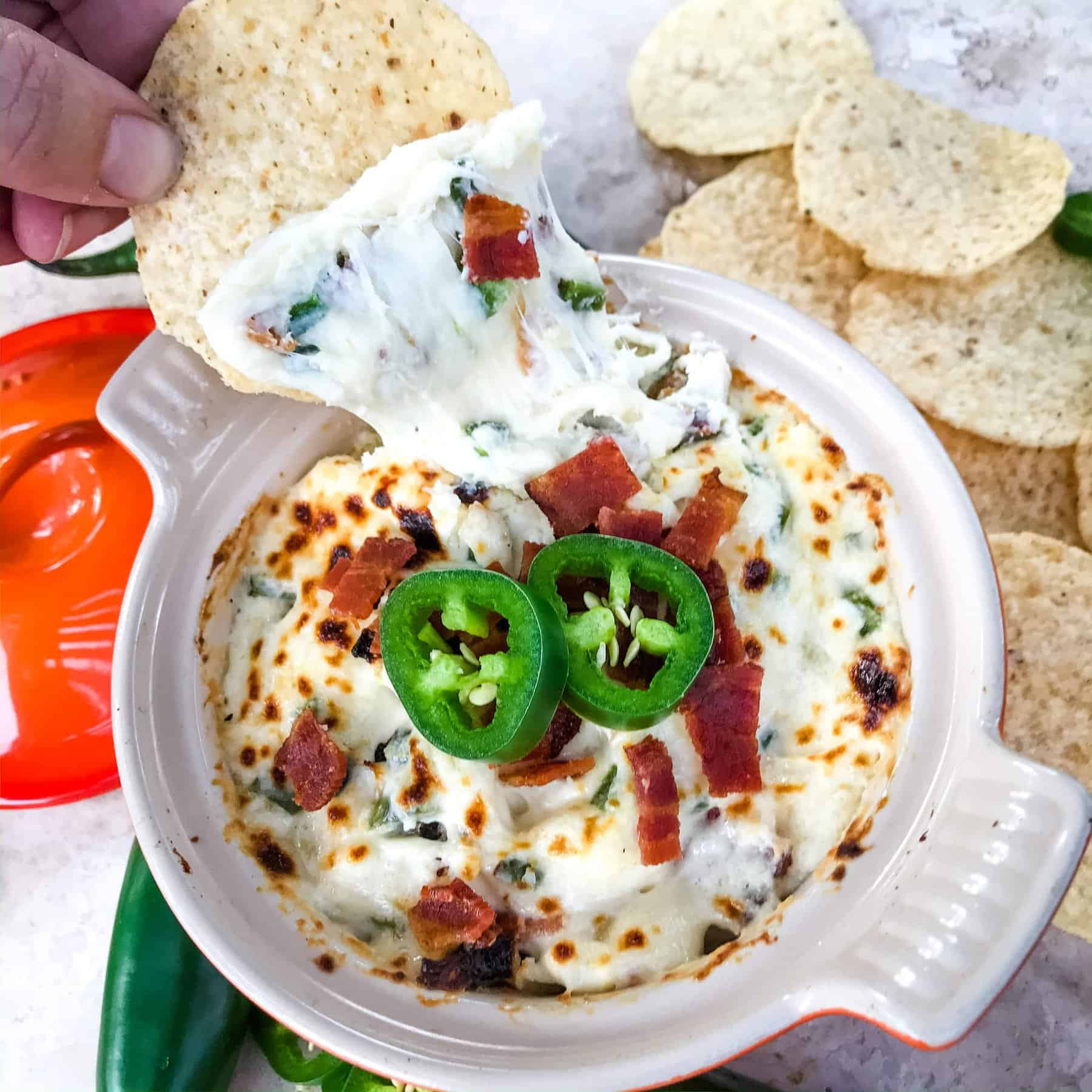 This simple Bacon Jalapeno Popper Cheese Dip is filled with three cheeses, jalapeno peppers, and bacon! A great easy appetizer for game day and entertaining.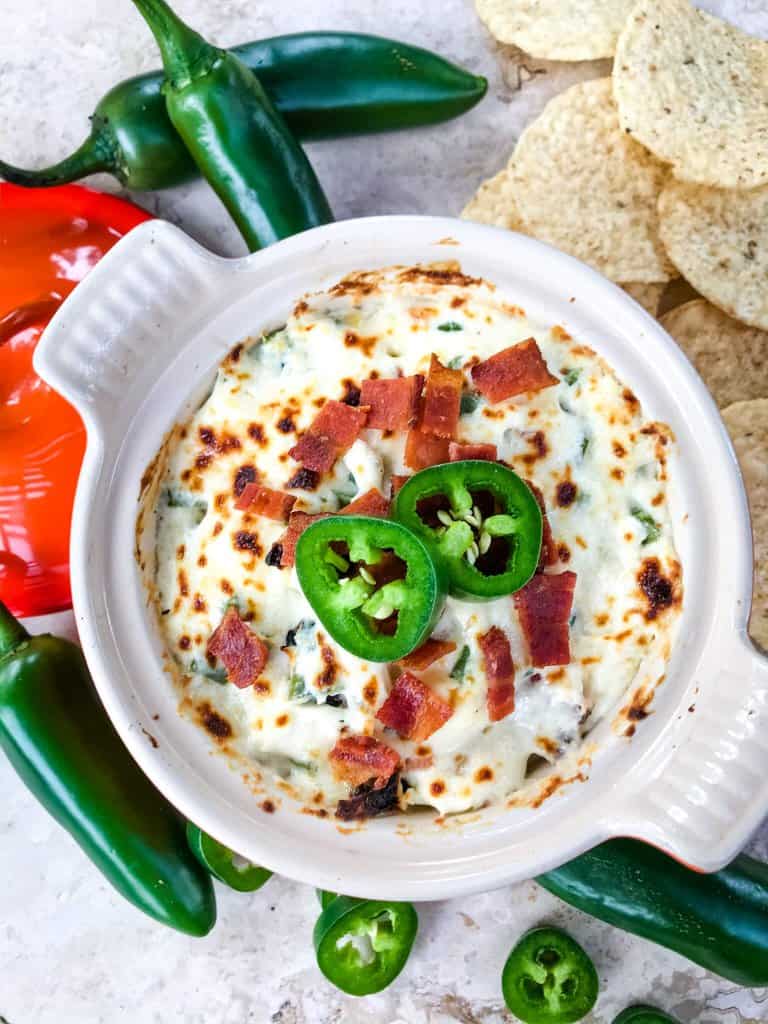 This post contains affiliate links.
I love a good cheese dip, and am known for making them when hosting people! If I do not make a cheese dip with certain people, they revolt, because it is just SO good! This Bacon Jalapeno Popper Cheese Dip has all the flavors of a jalapeno popper with a punch of bacon. You can find more cheese dip recipes here!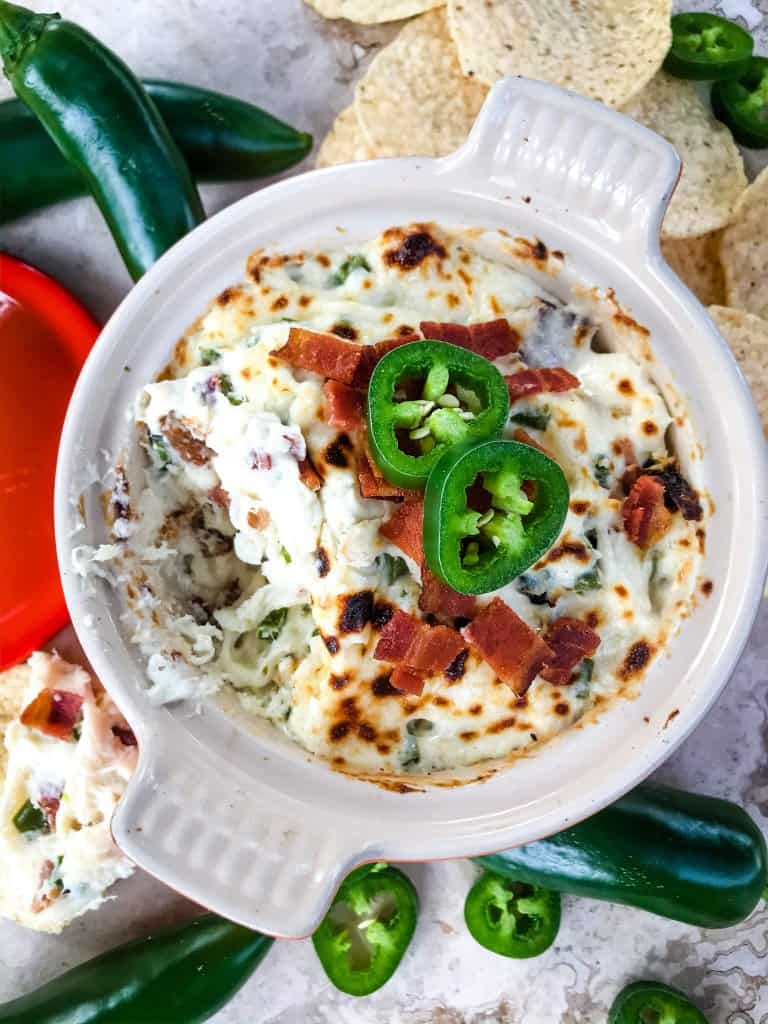 This appetizer is a great balance between the pepper heat, cheese, and bacon flavors. It is more of a milder heat level, so to make it spicy either add more hot sauce or more jalapenos, or switch out the peppers for spicier serranos! Of course, the exact heat level of each pepper does vary. Whenever I grow jalapenos in a pot, they get SO spicy every year! I add the bacon fat because it lends an extra bacon flavor throughout the entire dip, instead of just the bacon chunks. Just save it from the pan when you cook the bacon. But if you don't have any bacon fat, you can just skip it.
This cheese dip recipe is very fast and simple to make. Just mix everything together and heat until it is gooey! There are three different cheeses: cream cheese, cheddar, and mozzarella. The mozzarella is what gives it the great stretchy and stringy cheese pull! I put some of the mozzarella on top to help it brown up and get some crunchy bits. You can also make it in the microwave which is much faster, but you lose the crunchy cheese bits.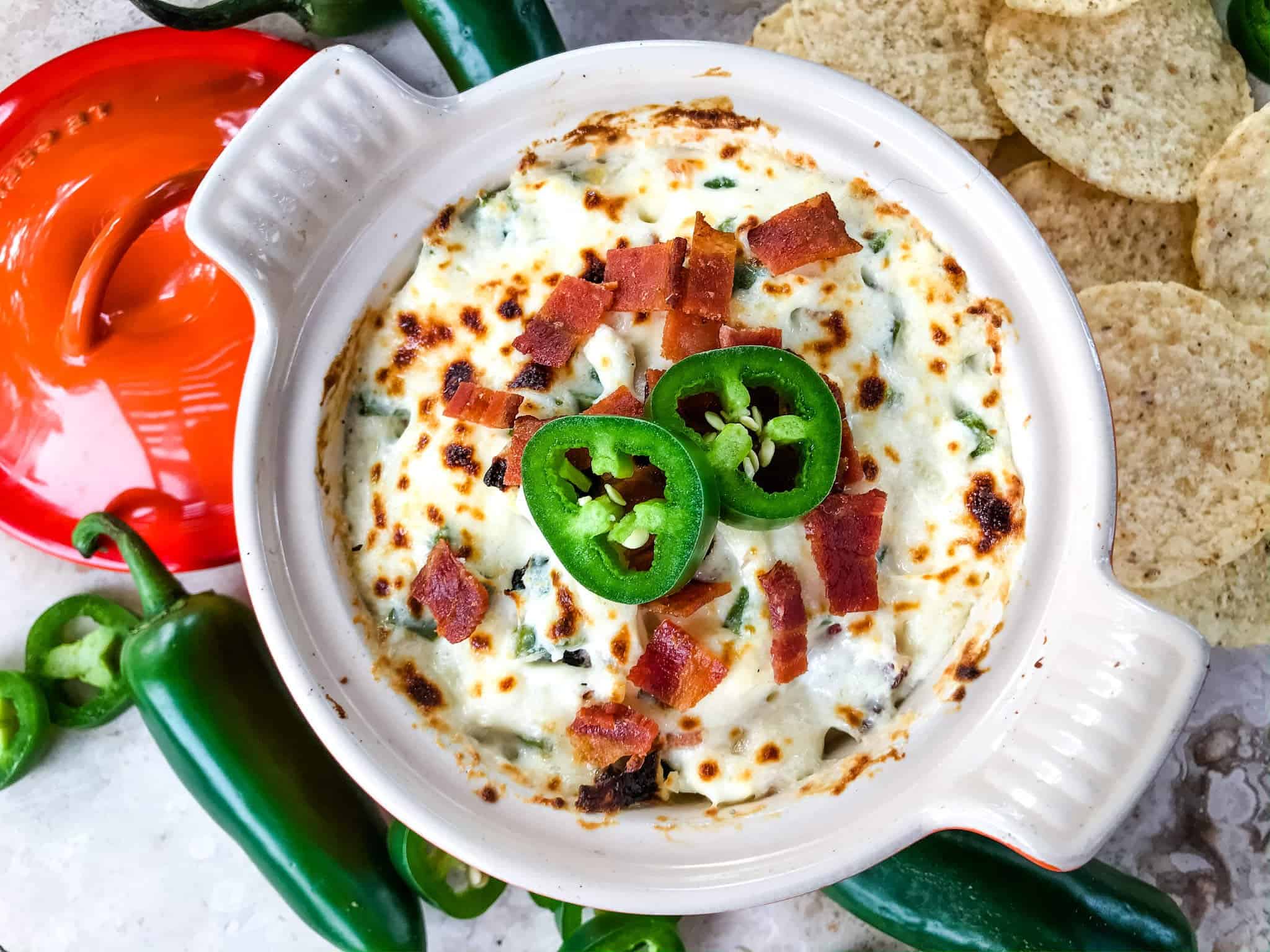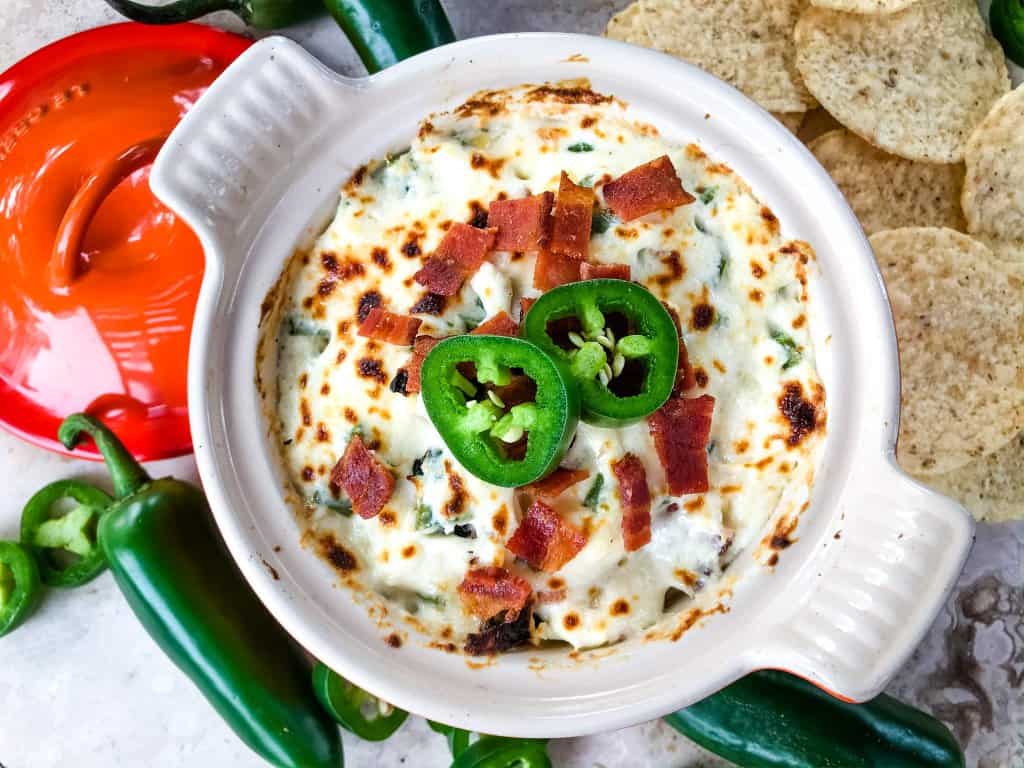 Chips are the easiest dunker for the Bacon Jalapeno Popper Cheese Dip, but crostini or vegetables also work.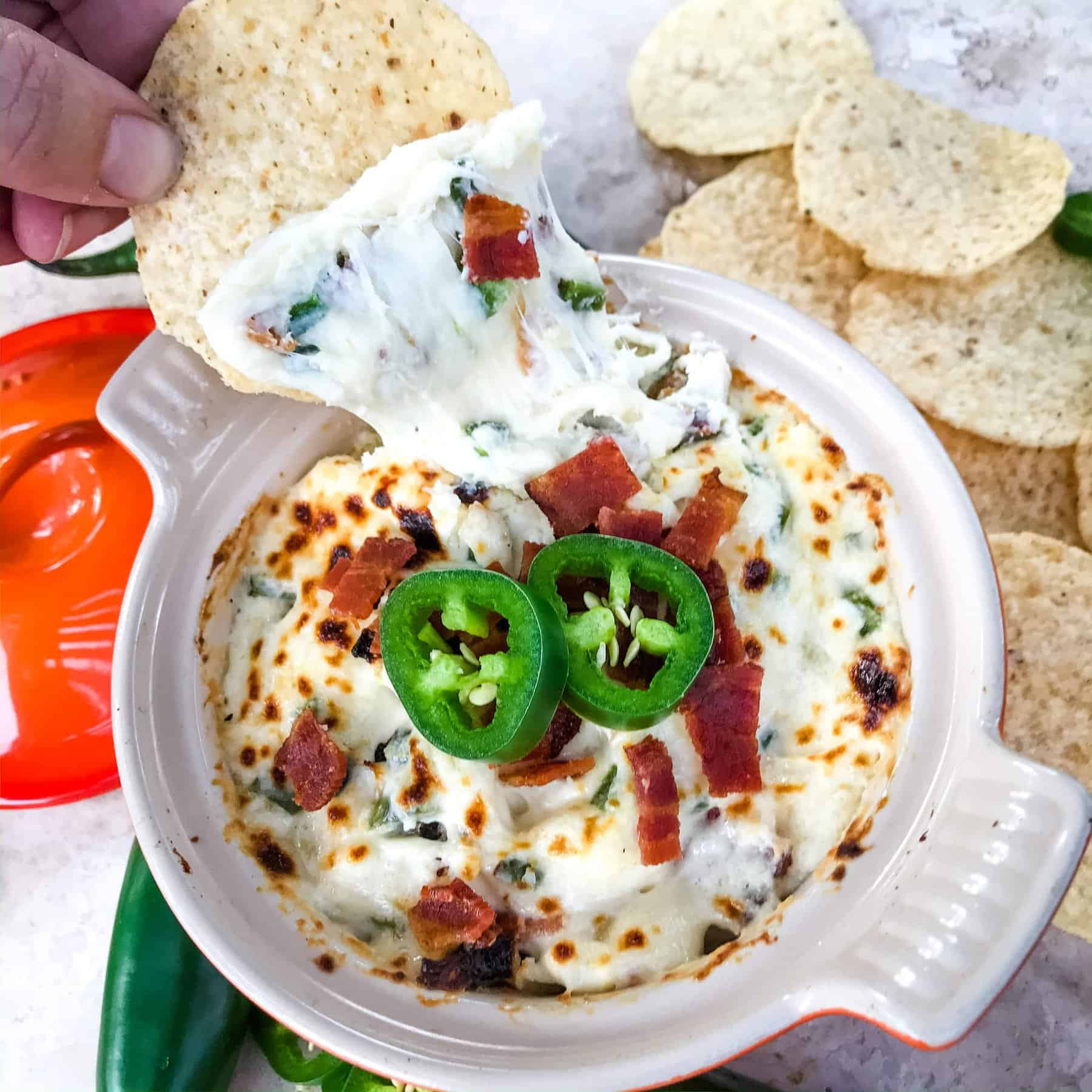 Instructions
Preheat oven to 350F.

Cook the bacon if not cooked already. Save 1 Tablespoon of the bacon fat if choosing to use. Chop the bacon.

Dice the jalapenos. Remove the seeds and white ribs if you want a milder heat. Keep them in for more spice.

Combine all of the cheese dip ingredients in an oven safe dish for serving. You do not need to mix them up yet.

Bake the cheese dip until the cheese is melted, stirring occasionally. If you want a crispy cheese top, after everything is melted and mixed, add a layer of mozzarella across the top and cook until browned. Pop under the broiler if needed for a few seconds.

Garnish with additional bacon and jalapeno if desired. Serve immediately with dunkers like chips or crostini.
Notes
Crostini are a great dunker for this cheese dip.  Get the recipe here!
The bacon fat enhances the bacon flavor.  Save the fat from cooking the bacon to use.  But it can be skipped altogether if desired.
Hot pepper heat level varies with each pepper.  
Nutrition
Calories:

761

kcal

|

Carbohydrates:

13

g

|

Protein:

28

g

|

Fat:

68

g

|

Saturated Fat:

39

g

|

Cholesterol:

214

mg

|

Sodium:

1462

mg

|

Potassium:

463

mg

|

Fiber:

1

g

|

Sugar:

9

g

|

Vitamin A:

2979

IU

|

Vitamin C:

18

mg

|

Calcium:

650

mg

|

Iron:

1

mg

By