A light balsamic chicken on top of fresh and bright pasta with tomatoes and basil.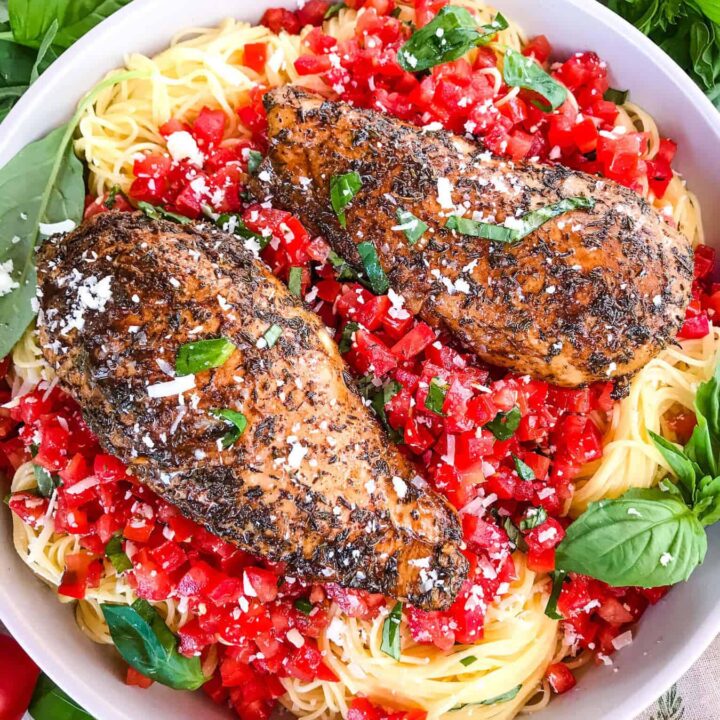 Balsamic Chicken Bruschetta Pasta is a perfect light Italian dinner recipe. A simple fresh tomato pasta is topped with a light balsamic chicken.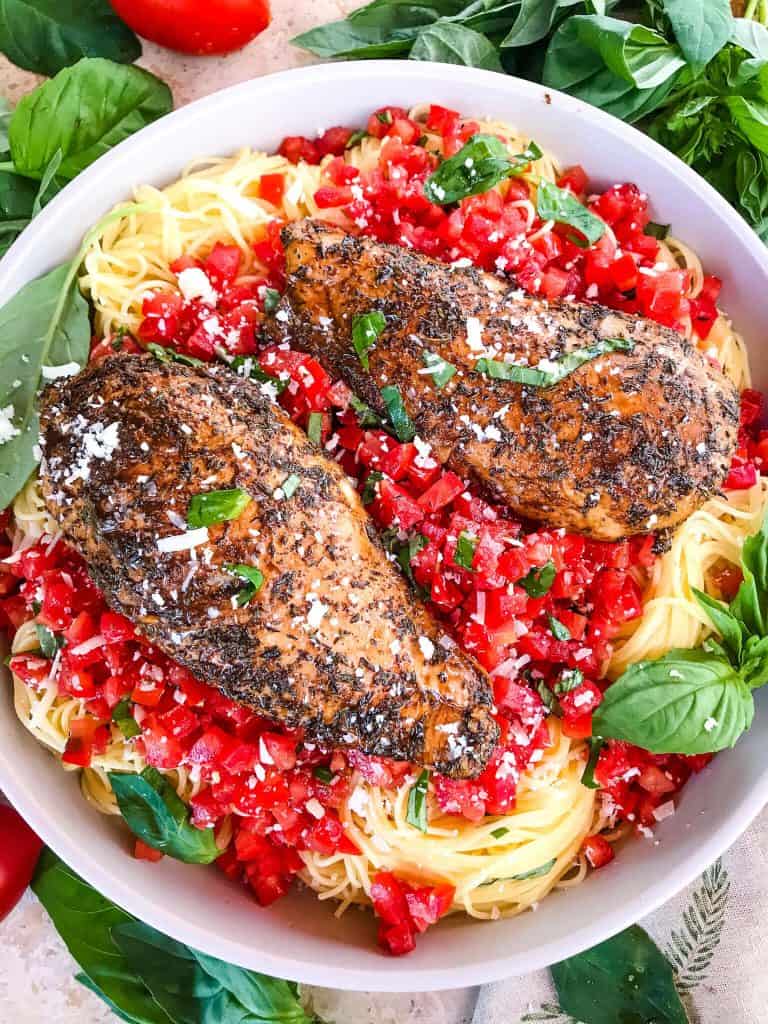 This post contains affiliate links.
This recipe takes me back to when I lived in Italy for college because it is full of simple, fresh flavors that pair just perfectly together. The best thing about Italian recipes is that they are normally quick, easy, and with minimal ingredients, but so perfectly balanced and cooked that they quickly become favorites. Italian is my favorite food type, and you can find more Italian recipes here!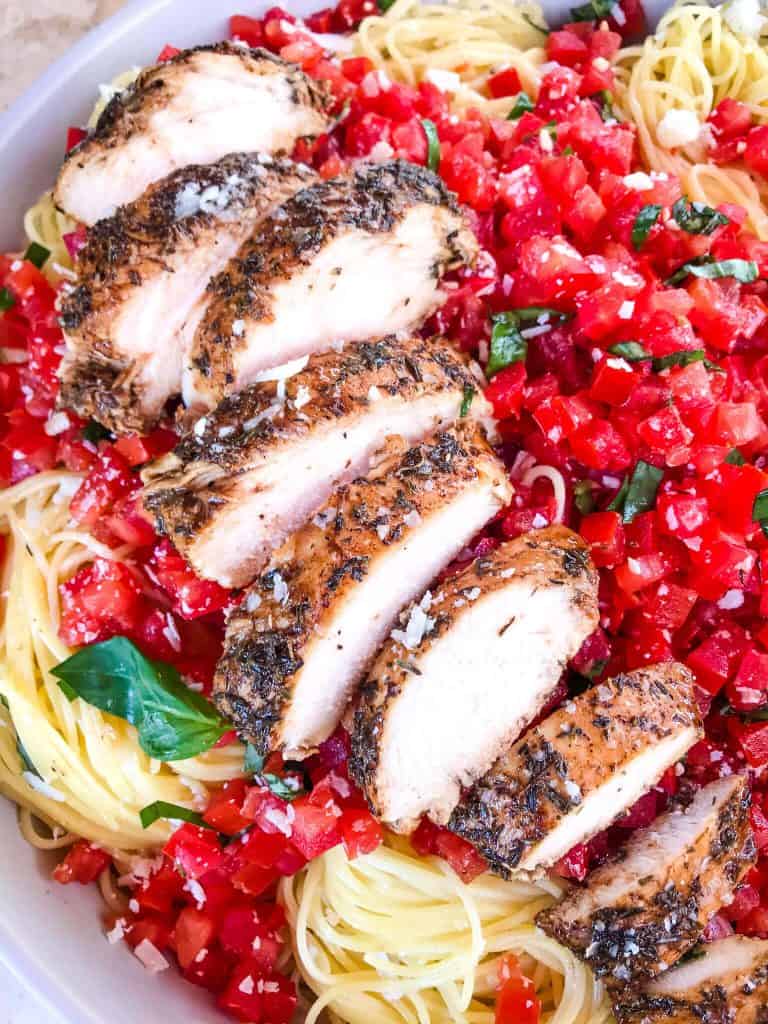 This Balsamic Chicken Bruschetta Pasta just screams "fresh" and "summer" to me. The entire dish is filling but at the same time full of bright and light flavors. And if you are able to grab tomatoes in peak season, or fresh out of your garden, you will be in heaven! This is definitely one of those recipes when the quality of the tomato matters because it is so prominent in the meal.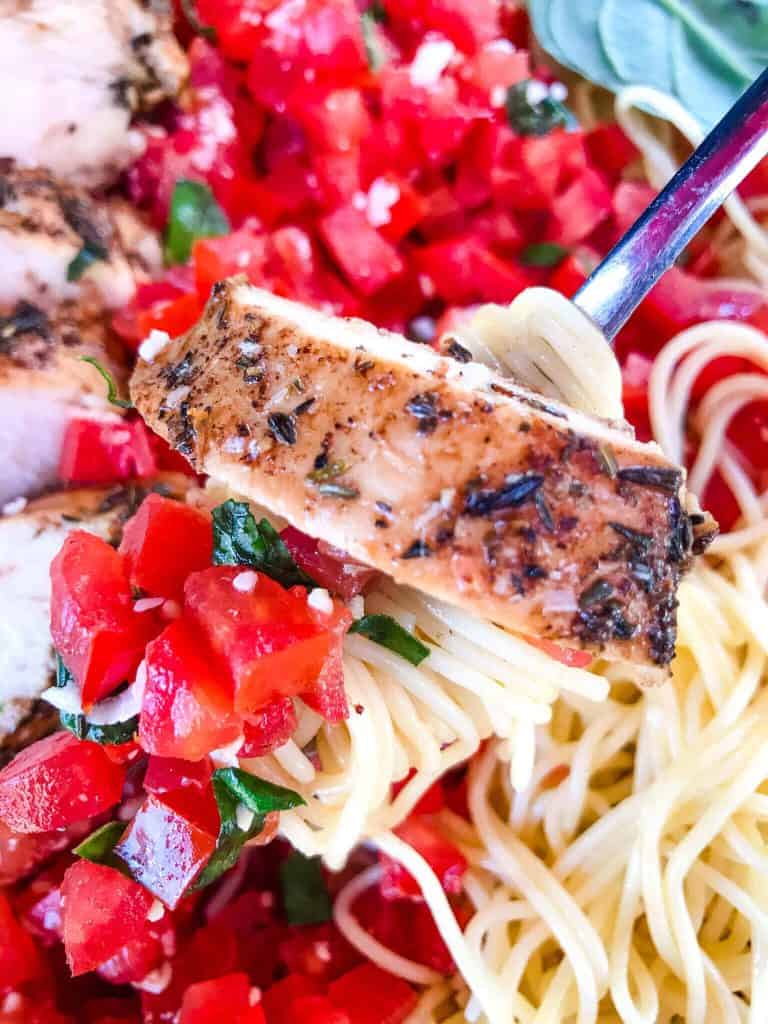 Balsamic Chicken recipes are normally full of sugar and/or honey which makes them a little heavy. I skipped those sugar ingredients and stuck with a strong, flavorful marinade instead. This balsamic chicken is great either baked or grilled. I like to use the extra marinade as a sauce for the pasta and/or chicken, just make sure you cook it either in the oven or on the stove since it was in contact with raw chicken.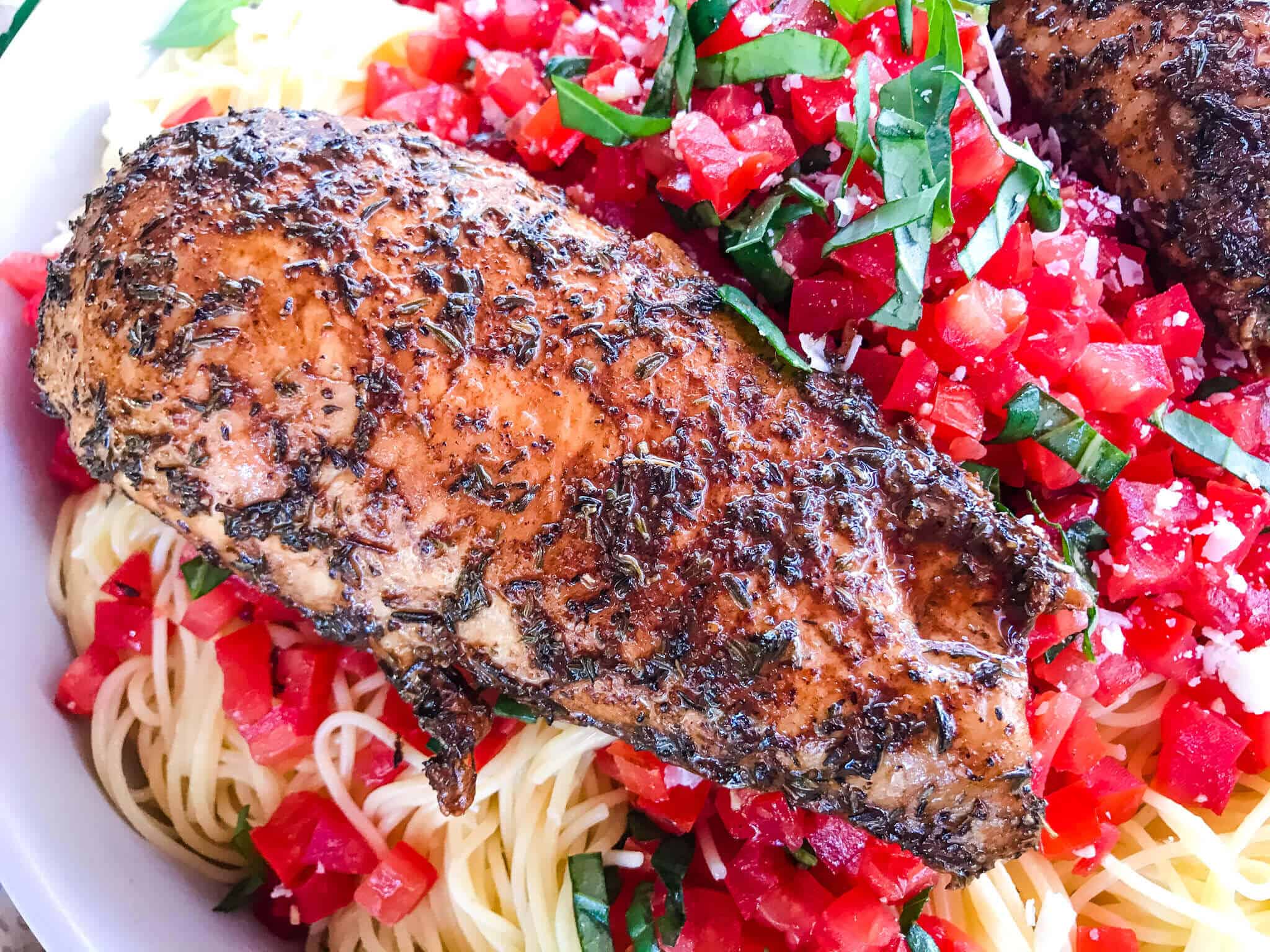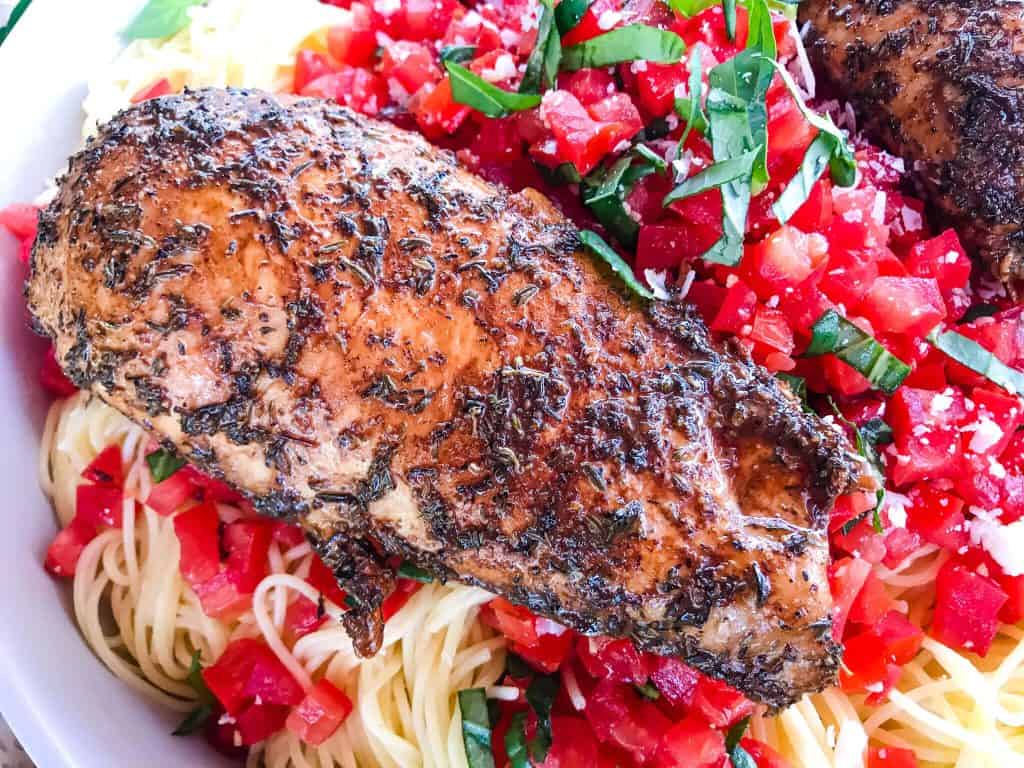 The fresh tomato pasta is full of fresh tomatoes and fresh basil with not much else. Chopping the tomatoes for this recipe can definitely take a while. And I like to keep them on the smaller side. To make the tomato prep not as tedious, use one of my FAVORITE tricks like a chopper like this one!
Either serve the chicken on the side, or cut it into slices and serve on top of the pasta. But regardless of how I serve it, I love to top it off with some more fresh basil and Parmesan cheese.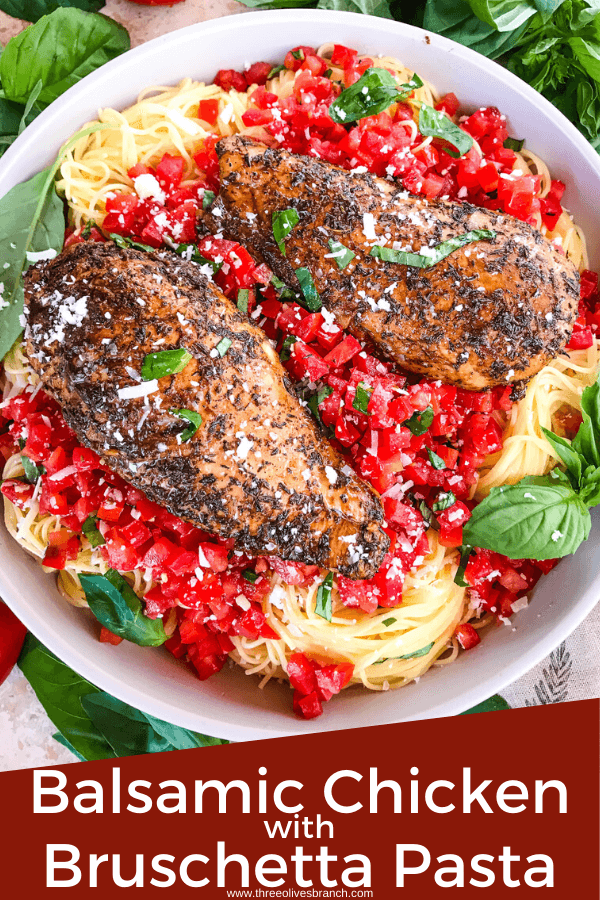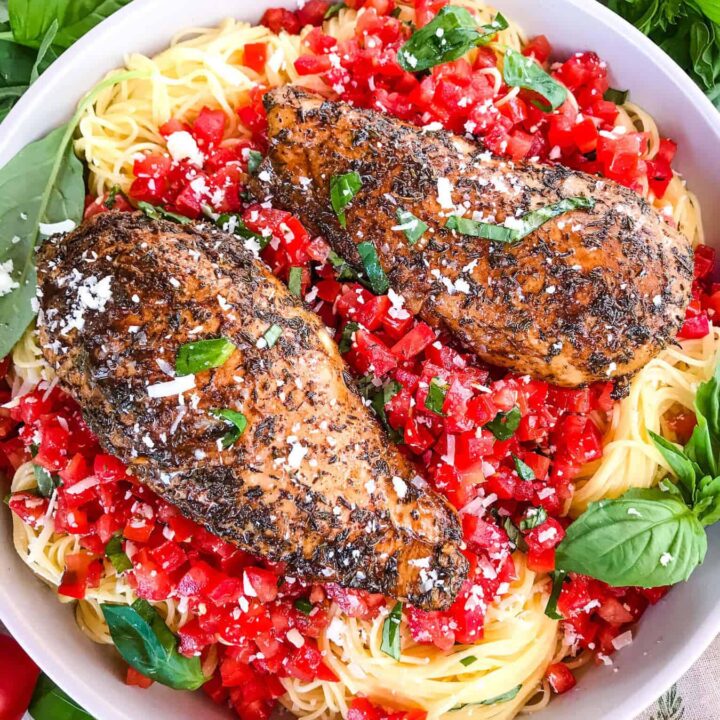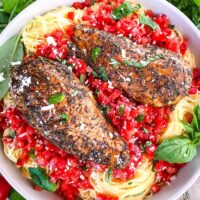 Balsamic Chicken Bruschetta Pasta
A light balsamic chicken on top of fresh and bright pasta with tomatoes and basil.
Print
Pin
Rate
Ingredients
Bruschetta Pasta
1

pound

angel hair pasta

(capellini, thin spaghetti)

2

pounds

roma tomatoes

1/3

cup

fresh basil leaves

(approximately 15 leaves)

1

Tablespoon

balsamic vinegar

1

Tablespoon

olive oil

2

garlic cloves

minced

1/2

teaspoon

salt
Instructions
Make the chicken marinade by mixing together the oil, balsamic, juice of 1 lemon, thyme, garlic powder, salt, and black pepper. This can be done in a baking dish.

Add the chicken. Let the chicken marinade 30 minutes, up to 2 hours, rotating at least once in the marinade.

Preheat oven to 350F. You can bake the chicken in the same dish that you marinaded the chicken in. Leave the marinade in the dish. Bake until the chicken is fully cooked through, approximately 20-30 minutes.

While the chicken is baking, cook the pasta in a large pot of salted, boiling water as per package directions until al dente. Drain and set aside.

While the pasta is cooking, make the bruschetta mixture. Finely dice the tomatoes, discarding the seeds and insides. (I like to use a chopping tool to make this go much faster! See note).

Combine the tomatoes with the balsamic, olive oil, garlic, and salt. Toss to combine and season to taste.

Once the pasta is drained, quickly heat the tomato bruschetta mixture in the same pot until just warm, approximately 3-5 minutes (or, you can leave it cold if desired). Do not cook too long as the goal is just to warm, not to break down the tomatoes. Remove from heat and stir in the basil.

When ready to serve, scoop the tomato mixture on top of the pasta. Serve alongside the balsamic chicken, or slice the chicken and place on top. Garnish with more fresh basil and Parmesan if desired. Serve.
Notes
The tomato bruschetta mixture can easily be made in advance.
It is very important to season your pasta as there is no thick sauce. Use salt in your pasta water, oil once drained, and/or lemon as desired.
I like roma tomatoes because they have a high outer tomato flesh to inner seed ratio, which means less of the tomato is thrown out. Cherry tomatoes or grape tomatoes also work well.
Tip: Use a chopper like this one to make chopping the tomatoes easier and MUCH faster! If you hand chop, this may take longer than 30 minutes.
I personally love to use EXTRA basil and balsamic. Adjust the ingredients and seasonings to your preference!
The leftover marinade, after cooking, can be used as a sauce.
Most balsamic chicken recipes use sugar or honey to make a thick, sticky sauce. This recipe keeps it lighter by omitting those ingredients. If you DO want a thick sticky sauce, add 2-4 Tablespoons of honey or brown sugar into the marinade.
The chicken is also great grilled!
Nutrition
Calories:

900

kcal

|

Carbohydrates:

100

g

|

Protein:

66

g

|

Fat:

25

g

|

Saturated Fat:

4

g

|

Cholesterol:

145

mg

|

Sodium:

1741

mg

|

Potassium:

1685

mg

|

Fiber:

7

g

|

Sugar:

13

g

|

Vitamin A:

2063

IU

|

Vitamin C:

49

mg

|

Calcium:

77

mg

|

Iron:

4

mg

By