Simple and fast, this fresh basil pesto recipe is ready in just minutes! Full of bright and fresh flavors, this pesto is a regular in the menu rotation. #pesto #Italian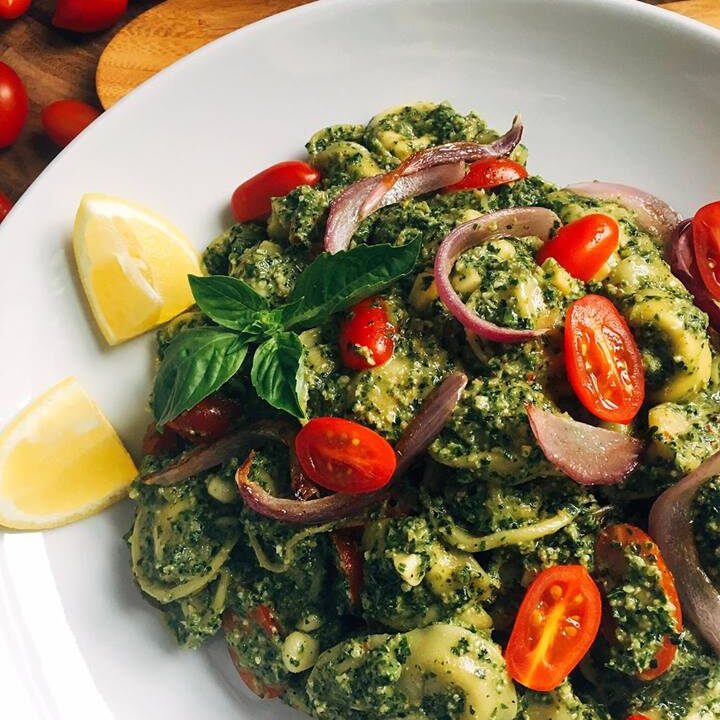 Basil pesto is one of the easiest and fastest things to make. Whenever I am tired or pinched for time, this is one of my go-to recipes. Fresh and bright flavors in just minutes! What could be better?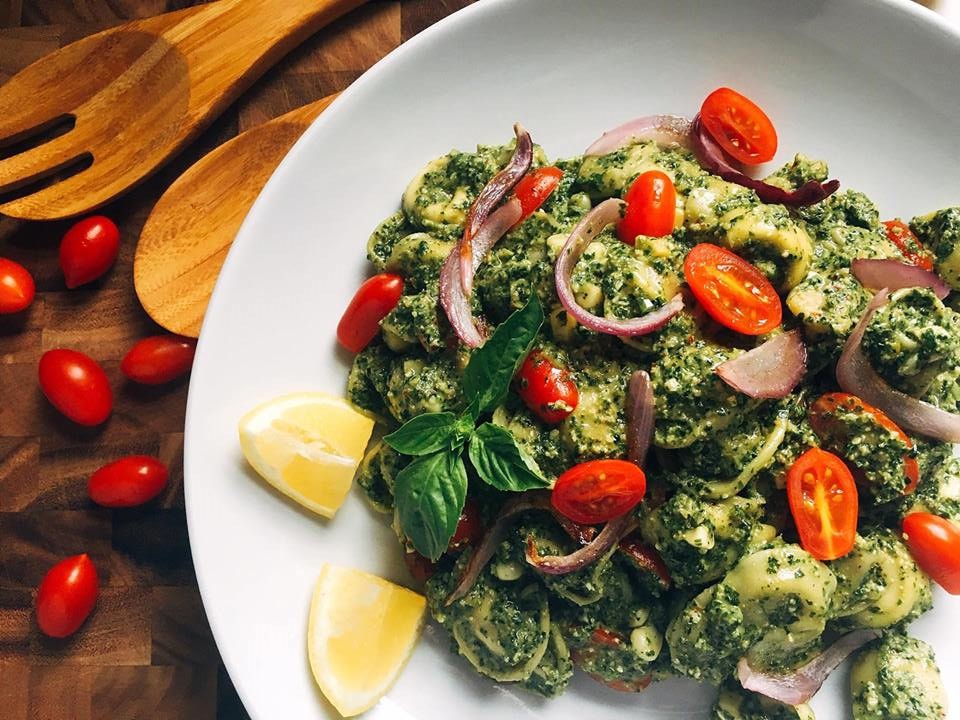 You can use this sauce in so many ways. Pasta, tortellini, as a dipper for bread, in risotto, sauce base for pizza, on a sandwich…
After studying abroad in Italy for college, I learned that not all of the foods that we consider to be Italian can be found in Italy. But this is something that I did come across here and there. Simple flavors make for the best Italian dishes, just like Basil Pesto.
This post contains affiliate links.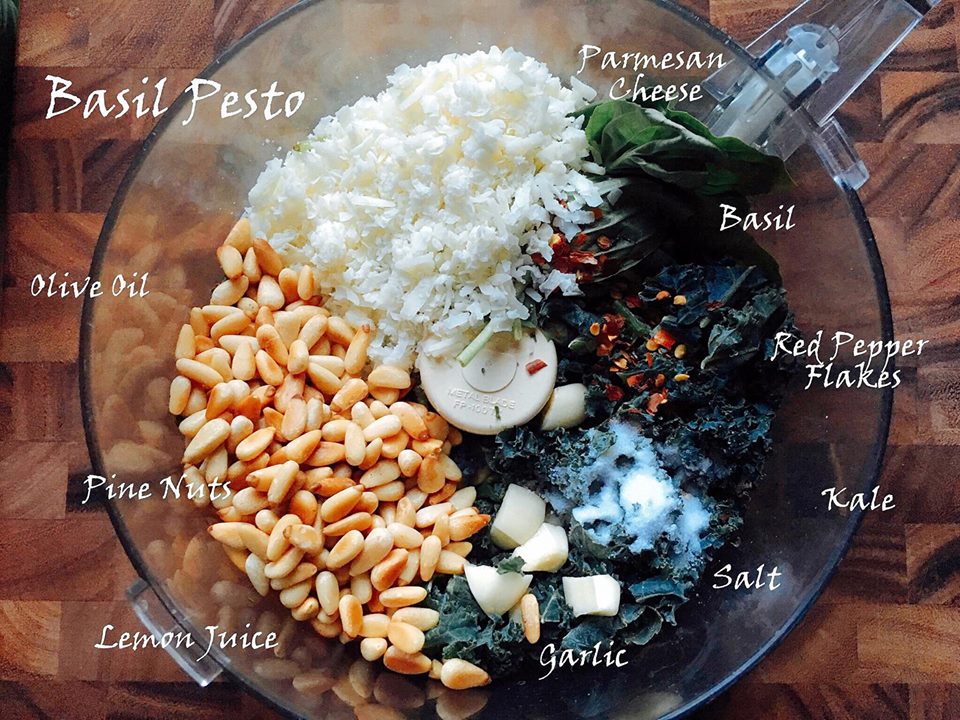 My food processor has this ready in seconds. Just throw all the ingredients in a food processor, blend, and you are good to go! If you do not have a food processor, you need one! I have two (yes, two) and I use them alllllll the time. They can do so many things: shredding, slicing, blending, etc. We buy brick cheese and it is shredded in seconds. This affiliate link is for a food processor very similar to the one that I have. I could not live without mine!
There are so many mix ins that you can use. I love asparagus, corn, red onion, and cherry tomatoes. My husband asks for this at least once a week, so I get creative with how I use the pesto and what I put in it to change things up. Meat lovers in the family? Add some Italian sausage coins or chicken strips.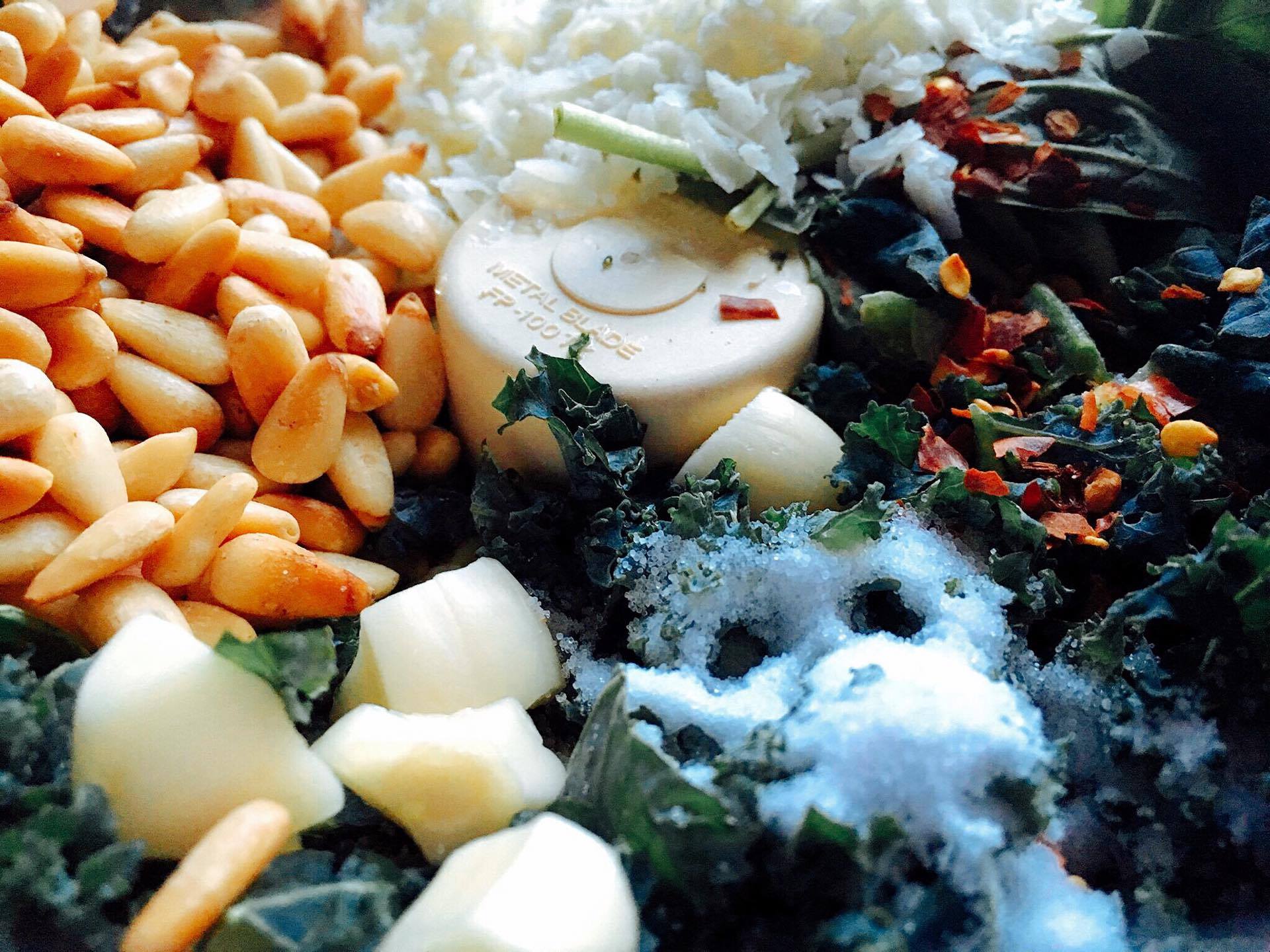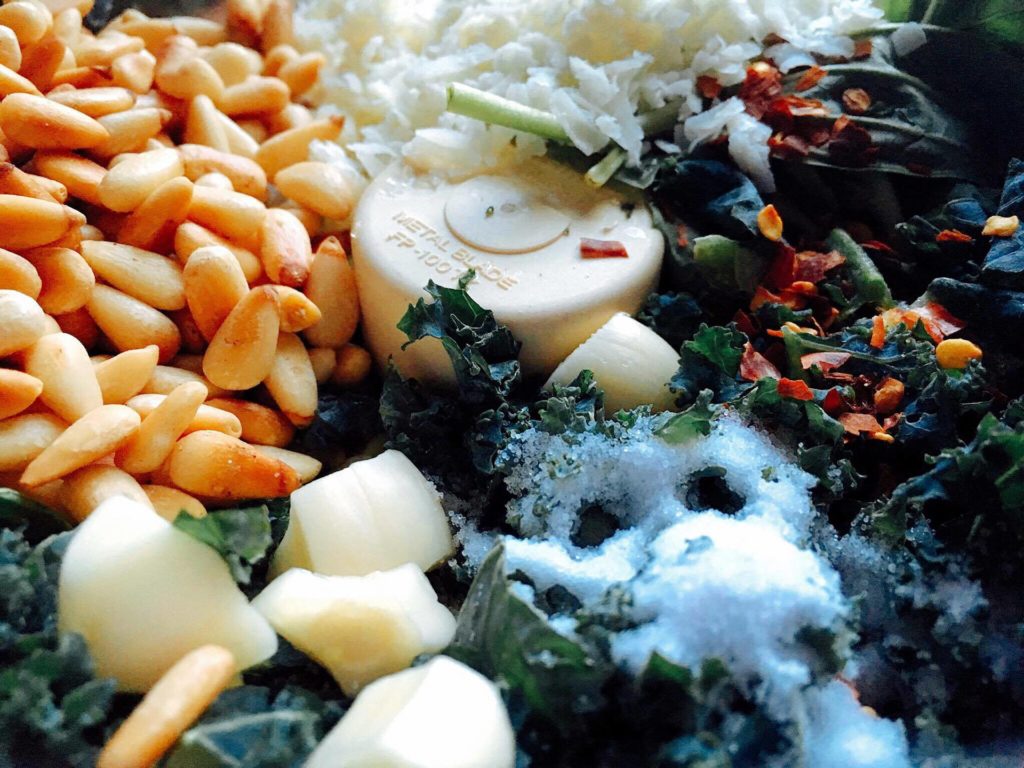 I like to leave my sauce a little chunky with a little texture. If you want it smoother, just process longer.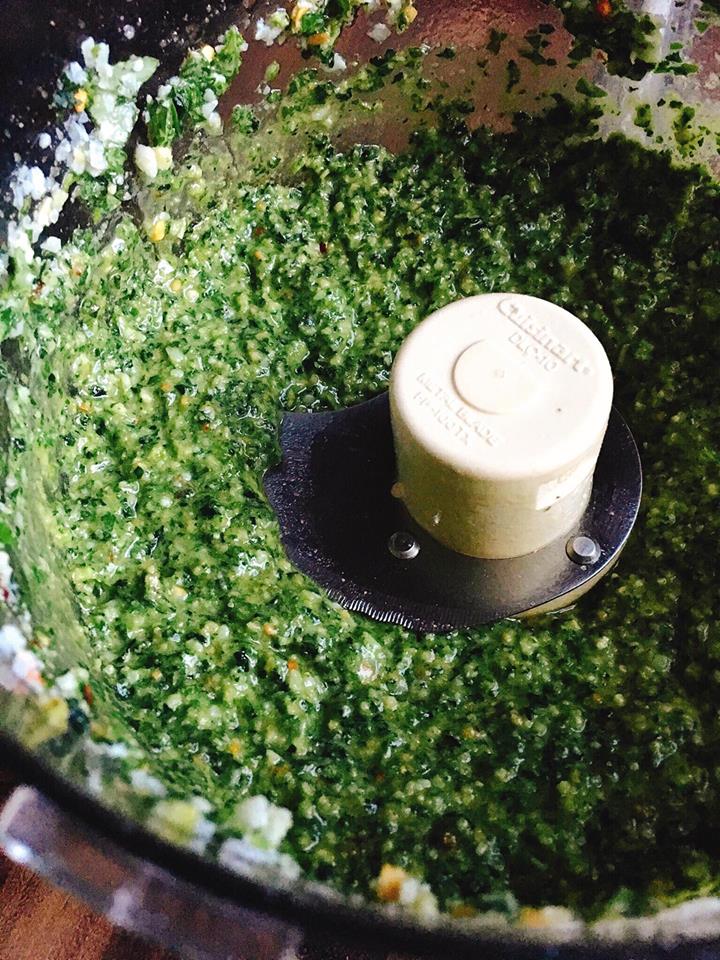 It also freezes well! Just mix and blend the basil pesto until it is in sauce form and then scoop into a freezer bag. The oil will help keep the basil green.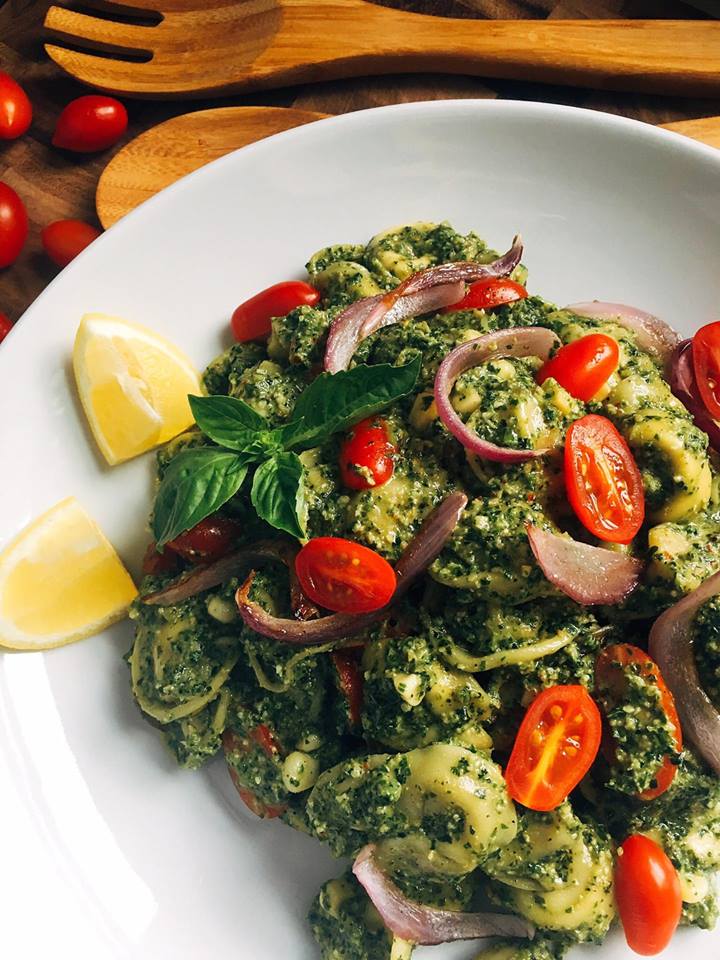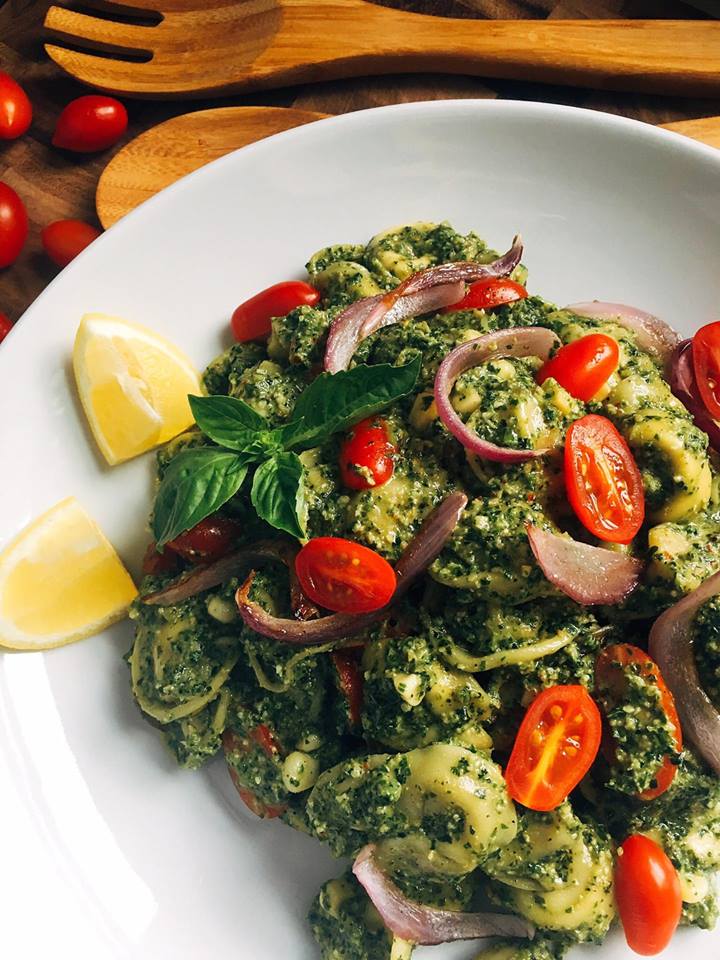 Instructions
Toast pine nuts in a saute pan over medium low heat until they start to turn a light brown. Stir occasionally for even toasting.

Start cooking pasta as per package directions.

If you are including any sauteed vegetables, start sauteing them now.

Meanwhile, add all other ingredients to food processor.

When nuts are toasted, add nuts to food processor. Turn on and blend until all ingredients are incorporated, approximately 20 seconds.

When pasta is done, drain and add back to pot. Add pesto sauce and any vegetables or add-ins. Stir to combine until evenly coated.
Notes
Serve this alongside homemade garlic bread!
The sauce will give you approximately 1 3/4 cups of pesto.
I often use walnuts in place of pine nuts and it tastes great!
To make a cream sauce: add 1/4 cup heavy cream or half and half to food processor after blending.  Briefly blend to incorporate.
Optional add-ins to pasta:
Diced tomatoes
Cherry tomatoes, halved
Sauteed red onion
Asparagus, 1" pieces
Sauteed zucchini
Corn
Sun dried tomatoes, chopped
Use vegetarian cheese for vegetarian version.
Nutrition
Calories:

767

kcal

|

Carbohydrates:

92

g

|

Protein:

23

g

|

Fat:

35

g

|

Saturated Fat:

6

g

|

Cholesterol:

11

mg

|

Sodium:

792

mg

|

Potassium:

534

mg

|

Fiber:

6

g

|

Sugar:

5

g

|

Vitamin A:

2042

IU

|

Vitamin C:

37

mg

|

Calcium:

218

mg

|

Iron:

4

mg

By