Beef Taco Tater Tot Casserole is a cheesy beef casserole seasoned like tacos with cheddar cheese and potato tater tots. Topped with all the taco toppings. An easy dinner idea for busy nights for the family. #beefcasserole #beeftacos #hamburgercasserole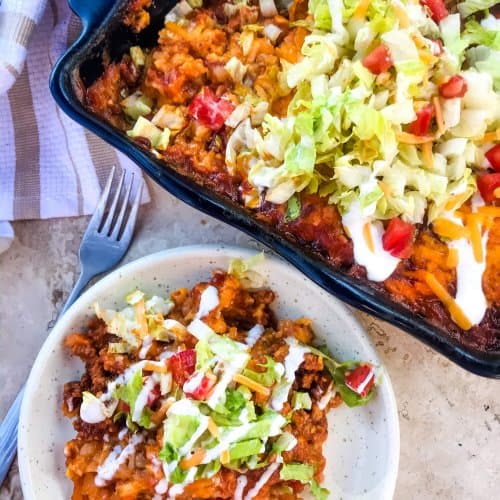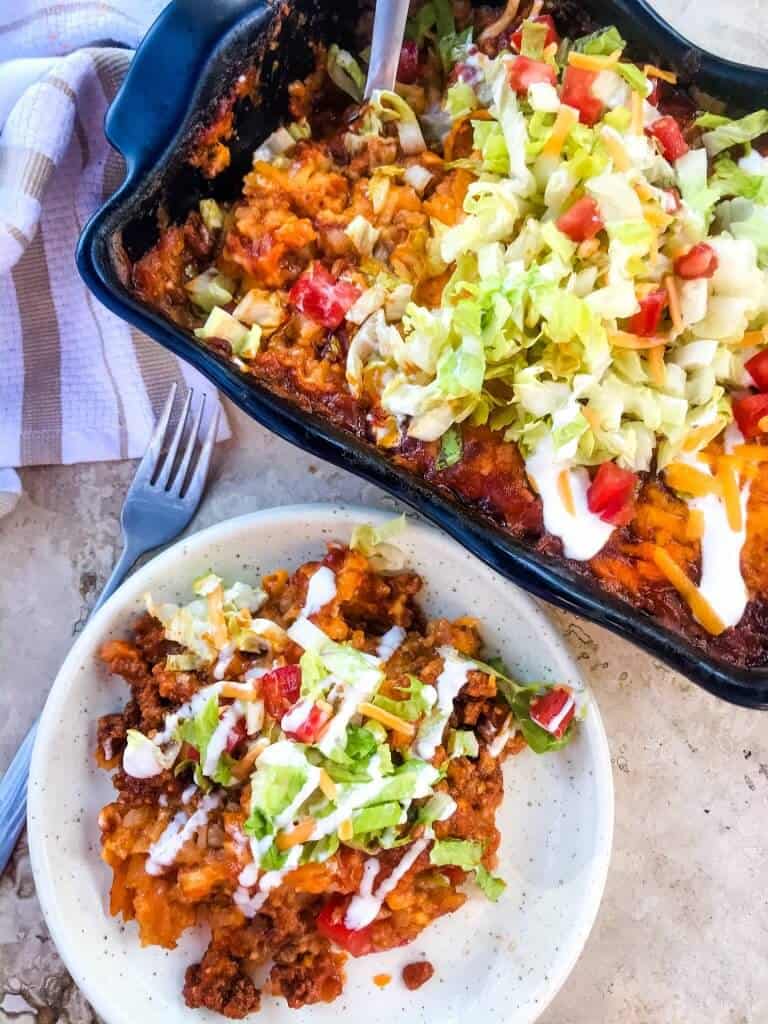 Beef Taco Tater Tot Casserole is a great meal idea for busy nights when you need to please the whole family! Taco beef is layered with cheese, tater tots, and topped with your favorite taco toppings!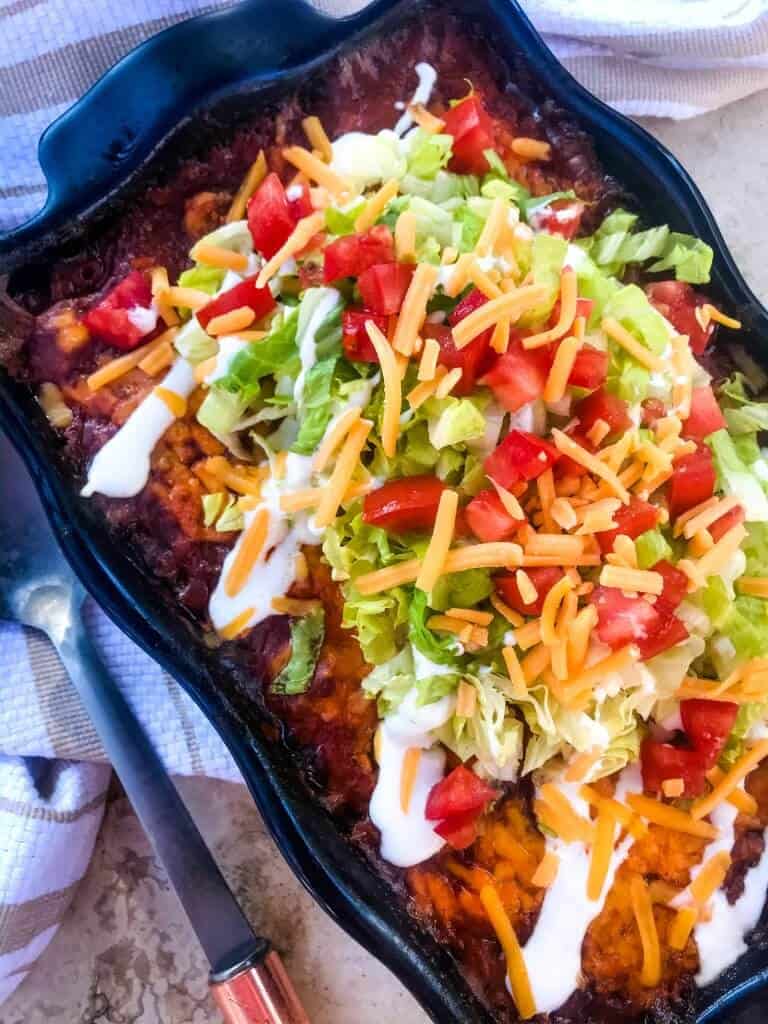 This post contains affiliate links.
Mexican food is a favorite around here, especially tacos! This cheesy beef casserole uses all the same great flavors in a fun dinner. I have been having fun with a lot of tater tot casserole recipes, but this one has been one of the favorites so far. You can find more tater tot casseroles here!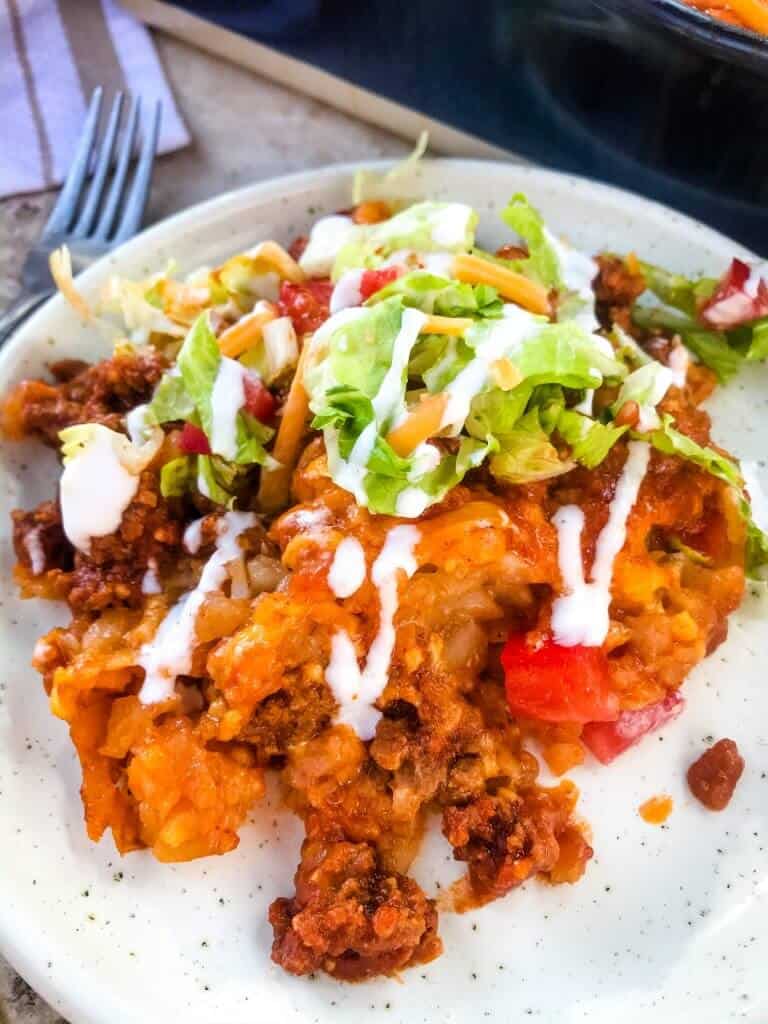 There is a trade off to make when determining how saucy you want the casserole to be. If you want it pretty saucey, you can increase the water by an additional 1/2 cup. The trade off is that the moisture absorbs into the tater tots and makes them fall apart more, and less likely to hold their tot structure. You can also easily make the Beef Taco Tater Tot Casserole in advance, but for the same reason as above, wait to add the tater tot layer until you are about to bake so they do not absorb all the sauce and fall apart too much. And then you can either pile up all the toppings on the casserole, or let everyone add their own! I love to use tomato, lettuce, sour cream, and olives.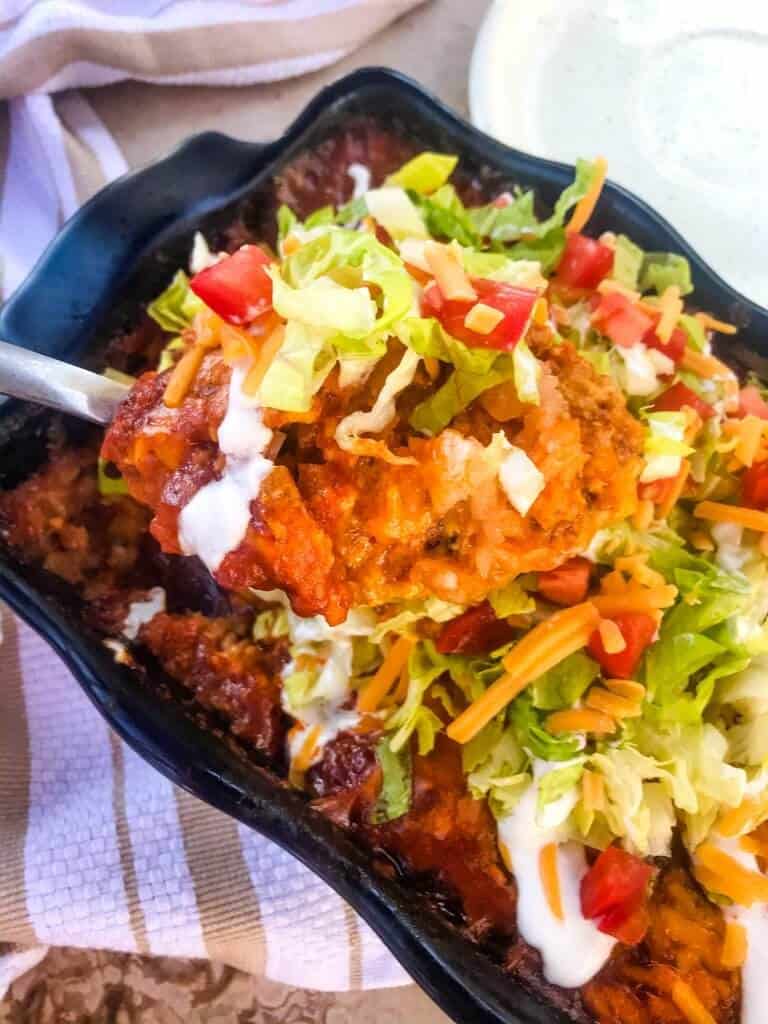 I also use a smaller baking dish that is approximately 6×9 inches instead of the larger, "typical" size. This is because the meat to tot ratio would be very different. You can use a larger dish and double up the beef part of the recipe to keep the ratio, or bake in any other smaller dishes like a square dish or loaf pans. Or just use a larger dish but don't pack the tots in as much.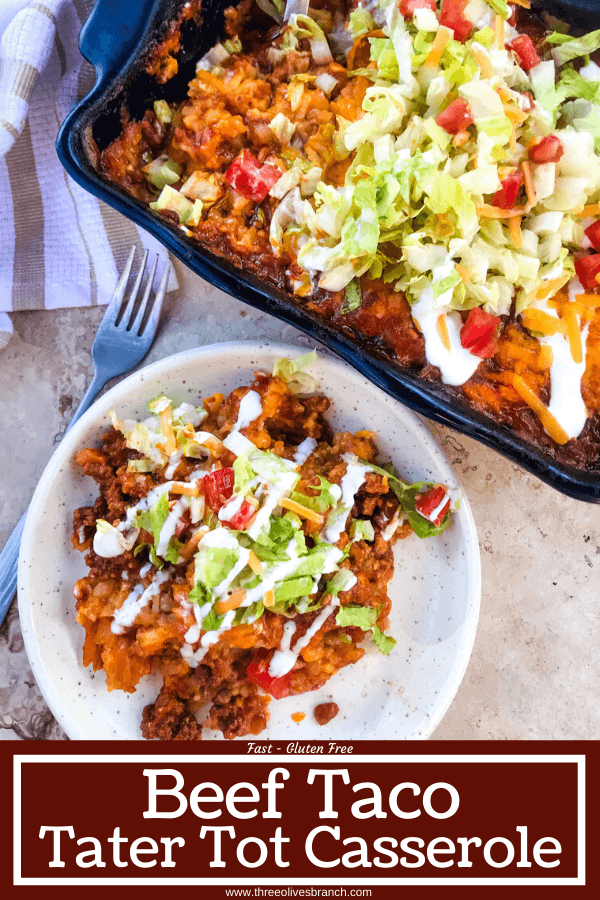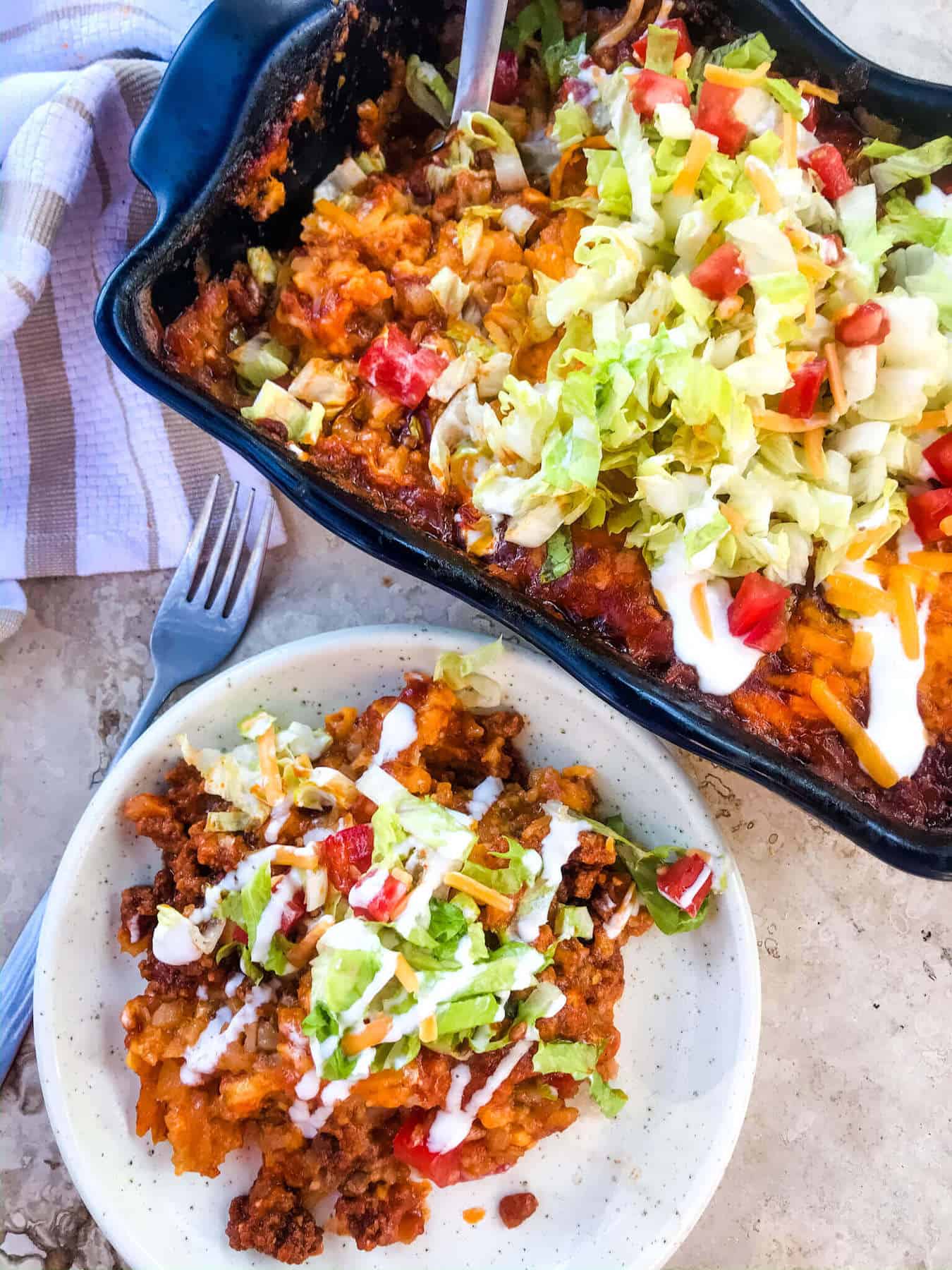 Instructions
Heat a large pot over medium heat.

Cook the ground beef until cooked through, approximately 7-10 minutes. Drain excess fat.

Add the garlic, onion powder, chili powder, cumin, oregano, and cayenne. Stir and cook until fragrant, approximately 1 minute.

Add the tomato sauce and water. Stir to combine. Simmer for 5 minutes for the flavors to combine.

Preheat the oven to 400F.

Pour the meat mixture into a 6x9 inch casserole dish (see note). Sprinkle one cup of cheddar cheese across the top of the meat.

Layer the tater tots in rows across the top, using approximately 1 pound of tater tots (1/2 standard bag). Sprinkle the remaining cheese across the top of the tater tots.

Bake the casserole until the tots are cooked through when inserting a fork and the cheese is melted, approximately 15 minutes.

Remove the casserole from the oven. Top with your favorite taco toppings like lettuce, tomatoes, sour cream, olives, and avocado. Serve immediately.
Notes
I found the smaller 6x9 inch baking dish was perfect for this recipe. A "normal" baking dish is much larger and would give you less meat for the same amount of tater tot coverage. Other options include doubling up the meat for a larger casserole, making more servings, or using any other smaller baking dish like loaf pans or square dishes.
If you want it saucier, add an additional 1/2 cup of water. This also tends to make the tater tots break down more and less likely to hold their shape due to the moisture.
I use onion powder to keep it more kid friendly, but you can easily use approximately 1/3 cup of diced onion instead of the powder.
Nutrition
Calories:

764

kcal

|

Carbohydrates:

39

g

|

Protein:

38

g

|

Fat:

52

g

|

Saturated Fat:

23

g

|

Cholesterol:

140

mg

|

Sodium:

1539

mg

|

Potassium:

1123

mg

|

Fiber:

5

g

|

Sugar:

6

g

|

Vitamin A:

2264

IU

|

Vitamin C:

17

mg

|

Calcium:

487

mg

|

Iron:

5

mg

By