Jalapeno Popper Crescent Rolls are a fun game day recipe! An easy and fast snack or appetizer with a cream cheese and pepper mixture inside a buttery croissant dough. Great for football and the Super Bowl or a party.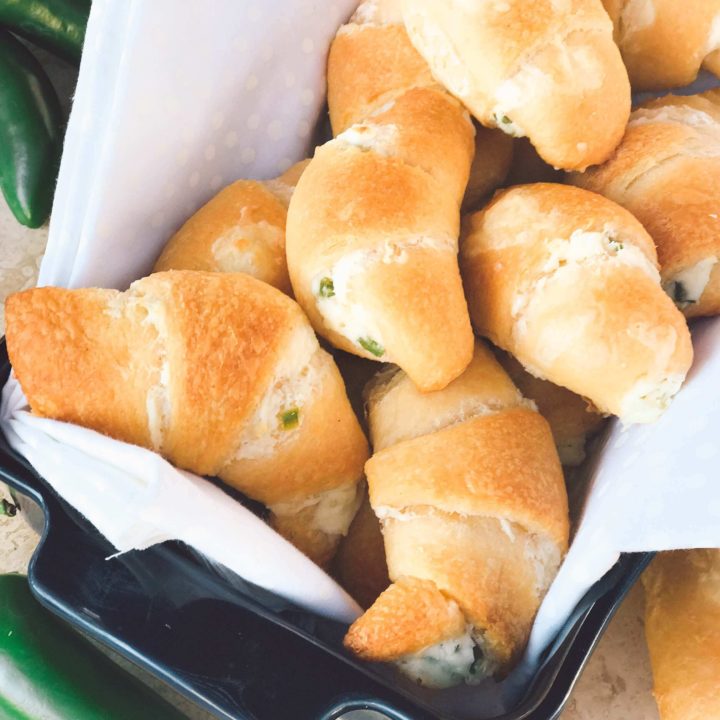 I am a fan of jalapeno poppers, so naturally I try to use the same flavors in new ways. These Jalapeno Popper Crescent Rolls do just that and are a perfect appetizer or snack, especially for game day.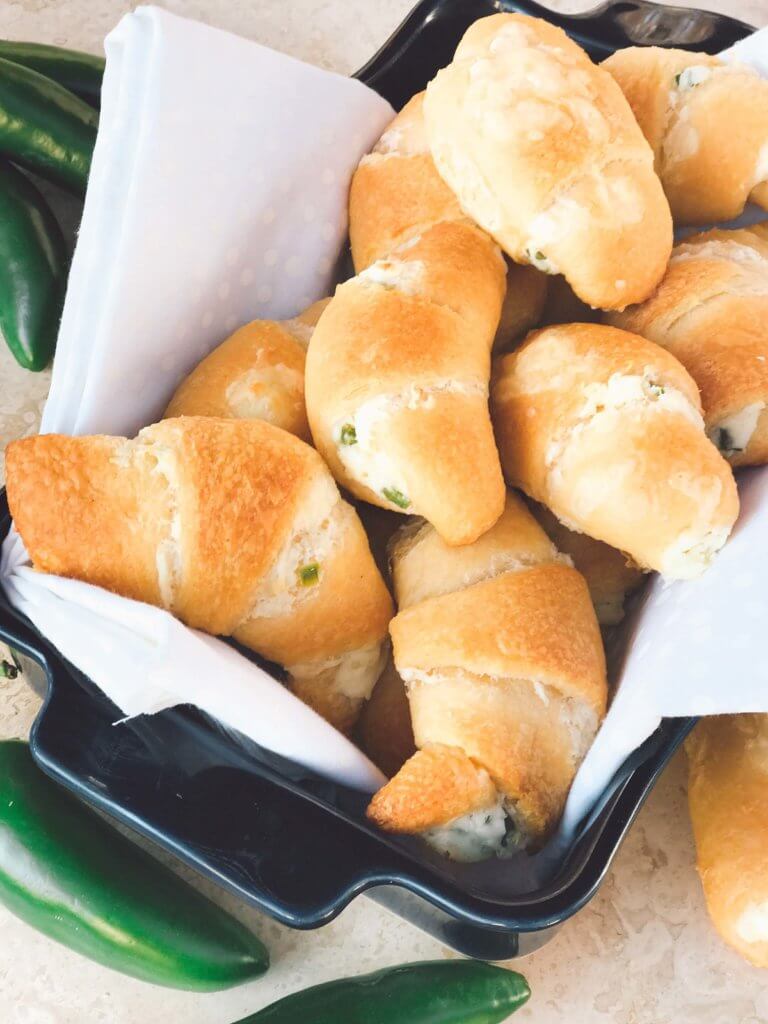 Why You Will Love This Recipe
Jalapeno popper recipes are pretty much required for game day around here. And while the classics are amazing, I love creating new recipes with the same flavors.
And this recipe has become one of the most popular on the site, so you all must be loving it as well!
These Cream Cheese Crescent Rolls are incredibly easy and fast to make. They are also a great option to take over to a party or sport event, like the Super Bowl, because they hold over well.
Buttery, cheesy, flaky, spicy goodness. Sign me up.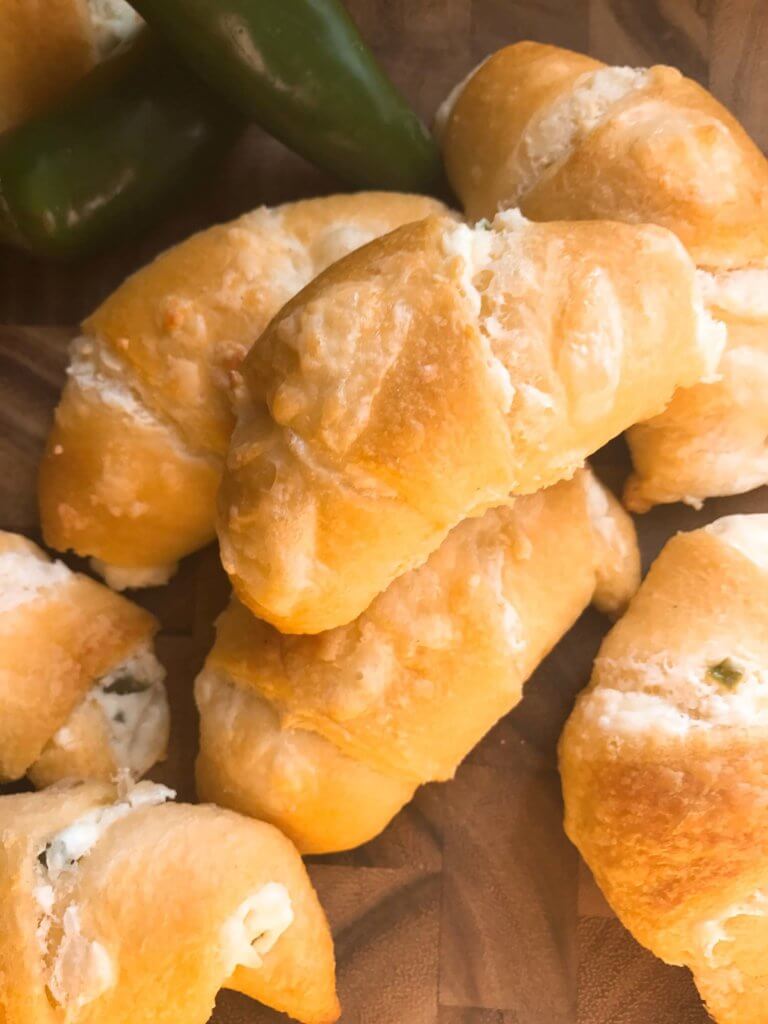 Ingredients Needed
To make these rolls, you will need:
Crescent Rolls
Cream Cheese
Jalapenos
Monterey Jack Cheese (or pepperjack)
Garlic Powder
Salt
Several people have also loved adding cooked, chopped bacon to the mix!
Equipment
To make these, you will need the following equipment items:
Baking Sheet
Silicone Baking Mats
Small Bowl
Spoon
Heat Level
Easily control the heat level by adding more jalapenos for a spicy snack. But each pepper's heat level is different, so the heat of the rolls will vary.
I have learned that any jalapenos I grow in a pot on my patio are crazy hot!
The heat of the peppers are balanced by the dairy and also a little sweetness from the crescent dough.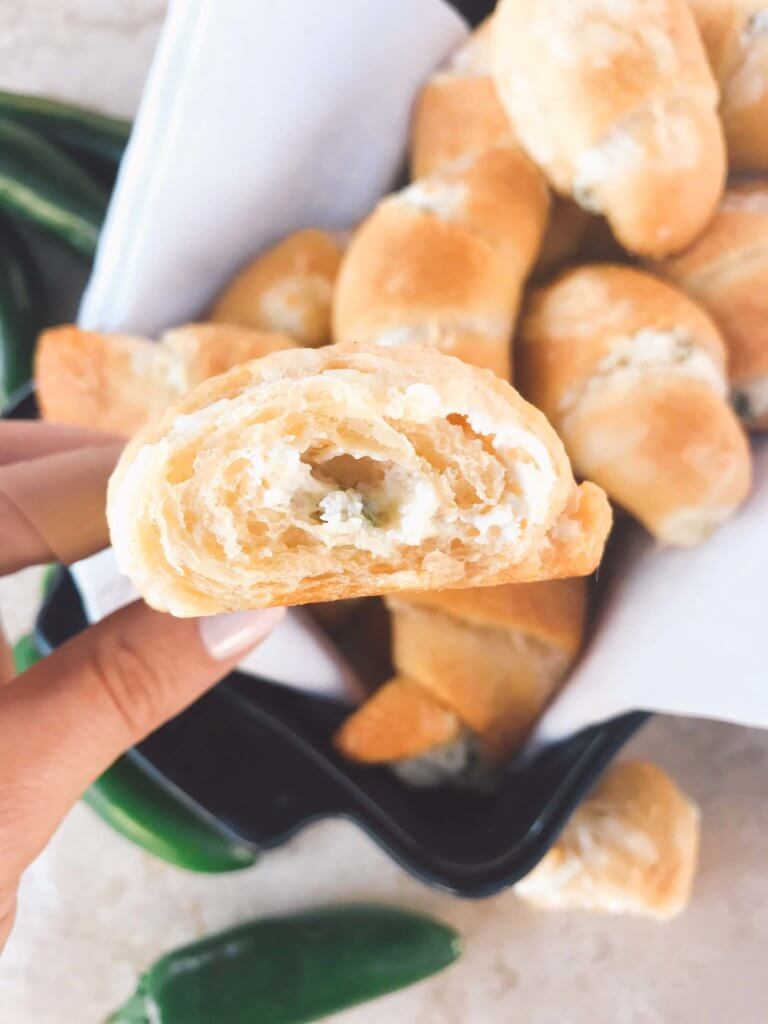 Instruction Overview
Mix up all of the filling ingredients together.
Roll out and separate the crescent dough pieces. Spread about a tablespoon of the cheese mixture across the dough, almost to the edges.
Roll up the dough like normal and place on a baking sheet. Top with a little more cheese if desired!
Bake as per package directions until golden brown.
Be prepared to make a lot of these, more than you think is necessary, because they just DISAPPEAR. And really quickly.
They are so addicting and full of so many amazing flavors, they are always a hit. Crescent roll recipes are just so easy and so popular!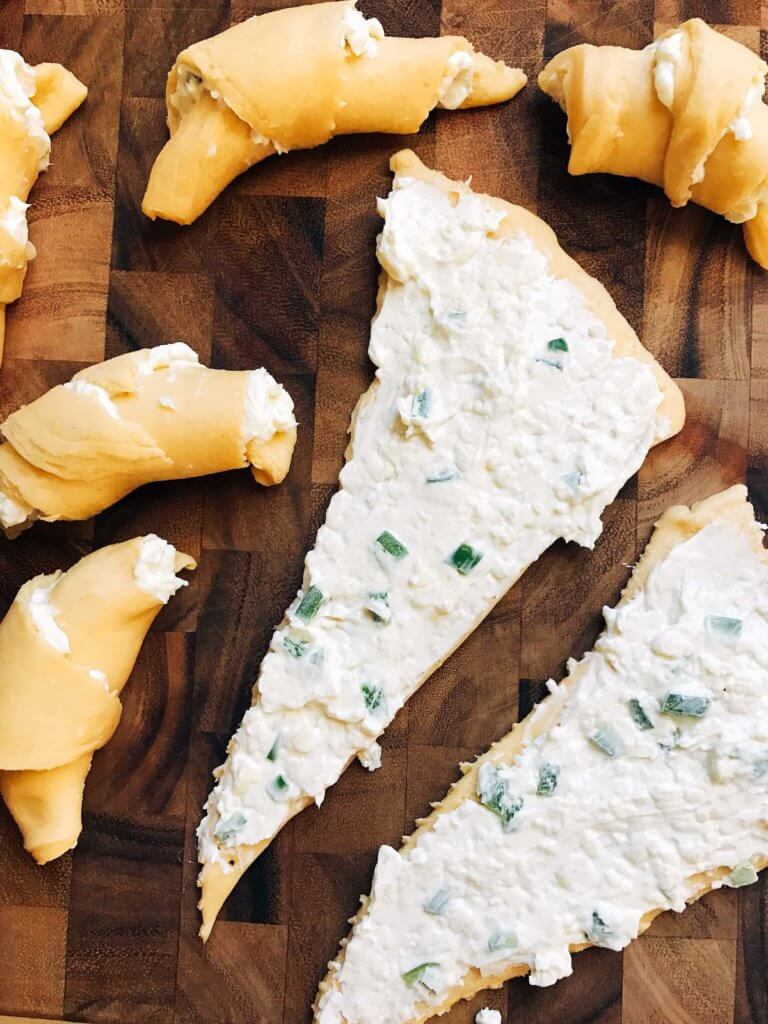 Kim's Tips
Anytime I bake something, I use my silicone baking mats.
They are a fantastic way to get a non-stick surface, they go in the dishwasher, and you won't go through as much tin foil or parchment paper, making them eco-friendly!
Follow this link to grab some silicone baking mats of your own if you do not have them already.
When I was a kid, I loved rolling up crescent rolls for dinner. These Jalapeno Popper Crescent Rolls are a great way to get your own kids in the kitchen! They can roll the dough, mix the filling, and even spread it out.
Make sure your cream cheese is at room temperature so that it spreads super easily! If it is cold, heat in the microwave for short periods of time, stirring each time, until it softens up.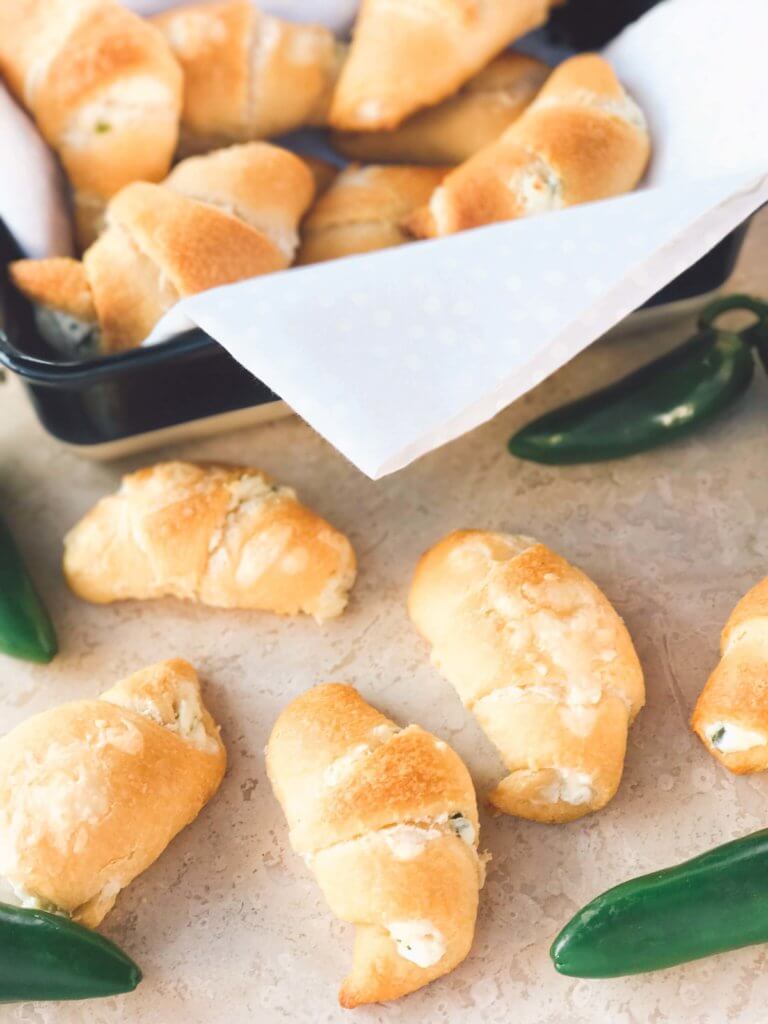 Cheese Flavor
I always have the temptation to completely load up the crescent rolls with a ton of cheese.
But by doing this, a lot of it oozes out which is a sad, sad thing.
If you love that toasted cheese flavor, cure your cheese fix by sprinkling some extra cheese on top of the rolls before baking!
Modifications and Substitutions
Adding bacon is a popular addition that many people have loved! Cook it, crumble or chop it, and add it to the cream cheese mixture before spreading.
This heat level is on the mild side. Make it as spicy as you want by using more peppers and/or hotter peppers like a serrano.
Monterey Jack cheese is great because it melts well and does not have an overpowering flavor. Other cheeses can be used such as Pepperjack (for a little more of the pepper kick) or even Mozzarella.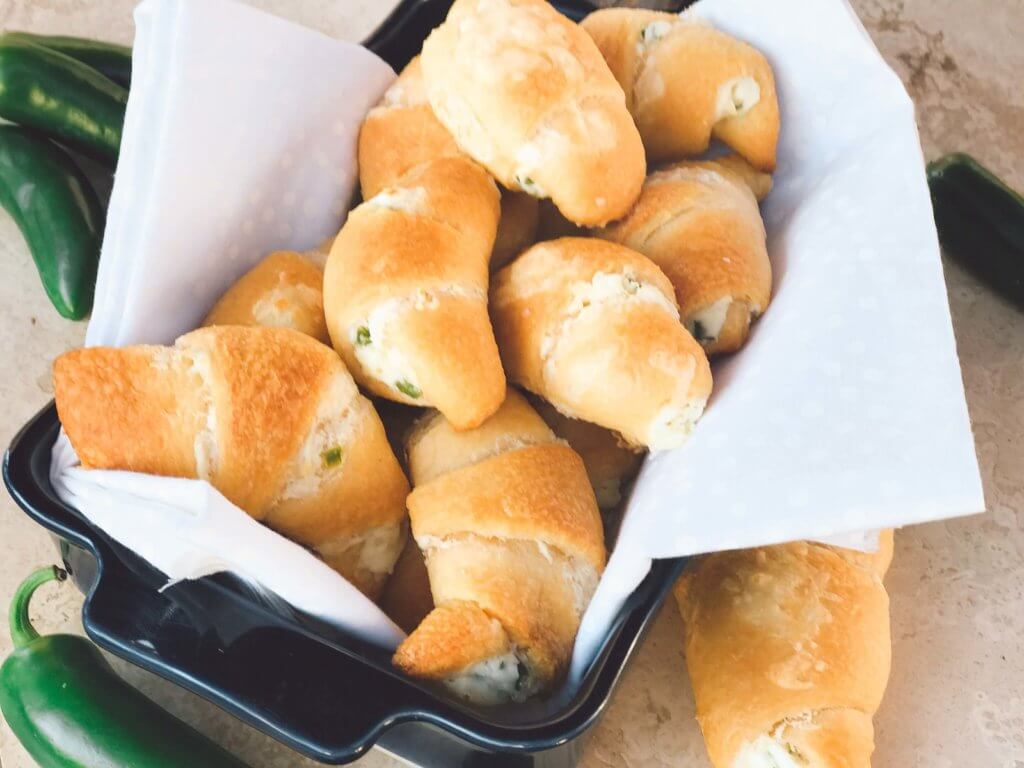 FAQs
Are these rolls spicy?
The recipe is set for a mild heat level. Adjust it as you wish! See the modifications section for more details on this.
Are red or green jalapeños hotter?
Typically red peppers are spicier as they were typically left on the plant longer, giving more time for the capsaicin (the element that gives the spicy heat) to develop.
But honestly, it is roulette with hot peppers. I have had some jalapenos that were SO hot!
Should I remove seeds from jalapeño?
I recommend removing the seeds and white ribs inside from the peppers to reduce some of the heat. They can be left in if you want it spicier.
Are jalapeños good for you?
Yes! They are full of nutrients and capsaicin, which is what makes them spicy, is incredibly good for you. It is an antioxidant and anti-inflammatory.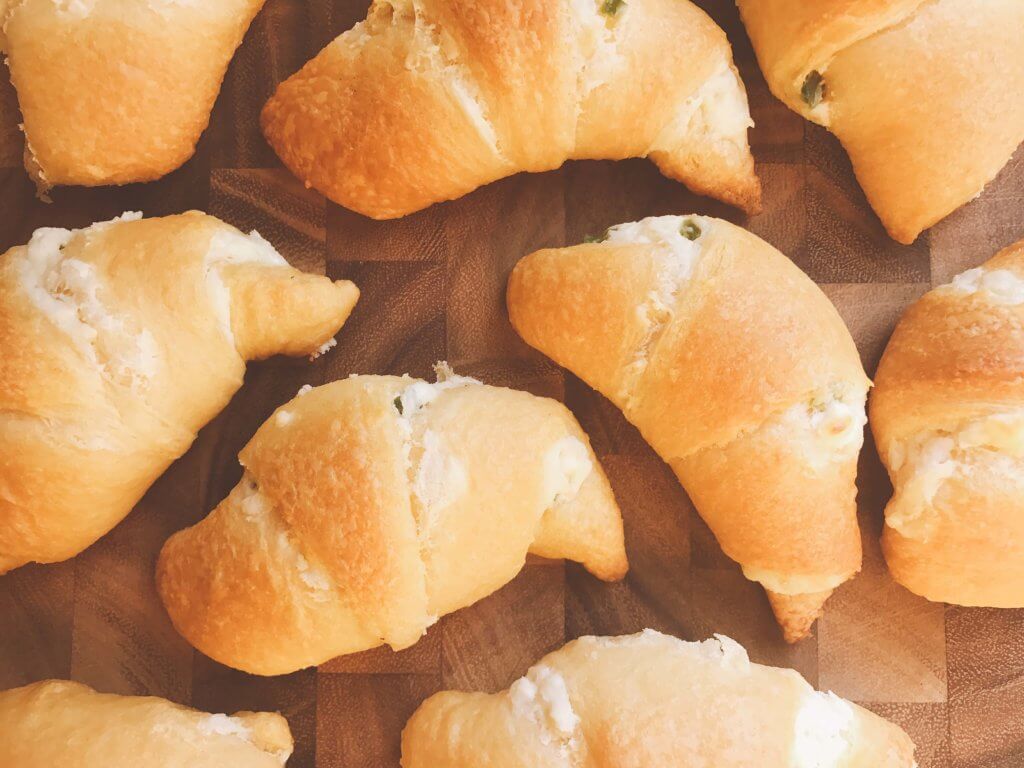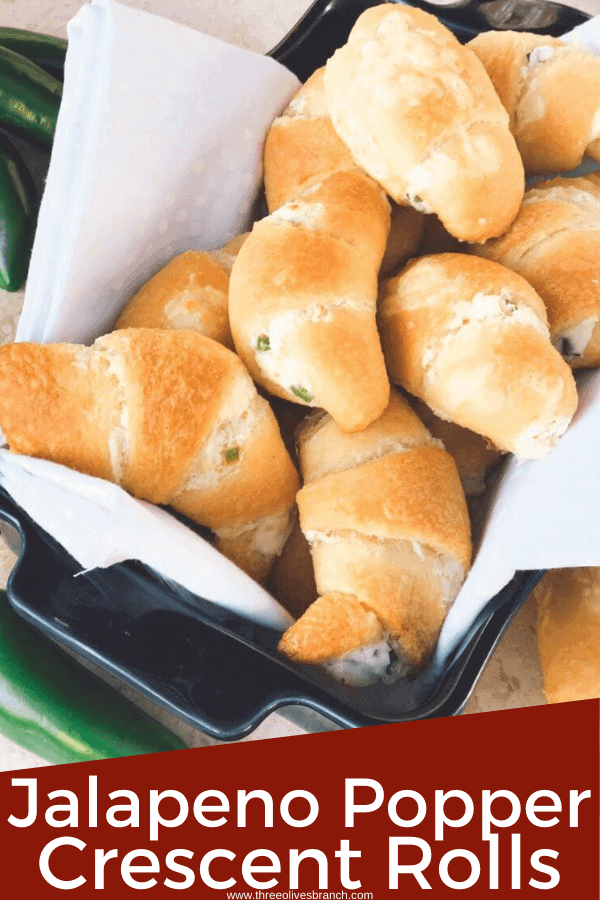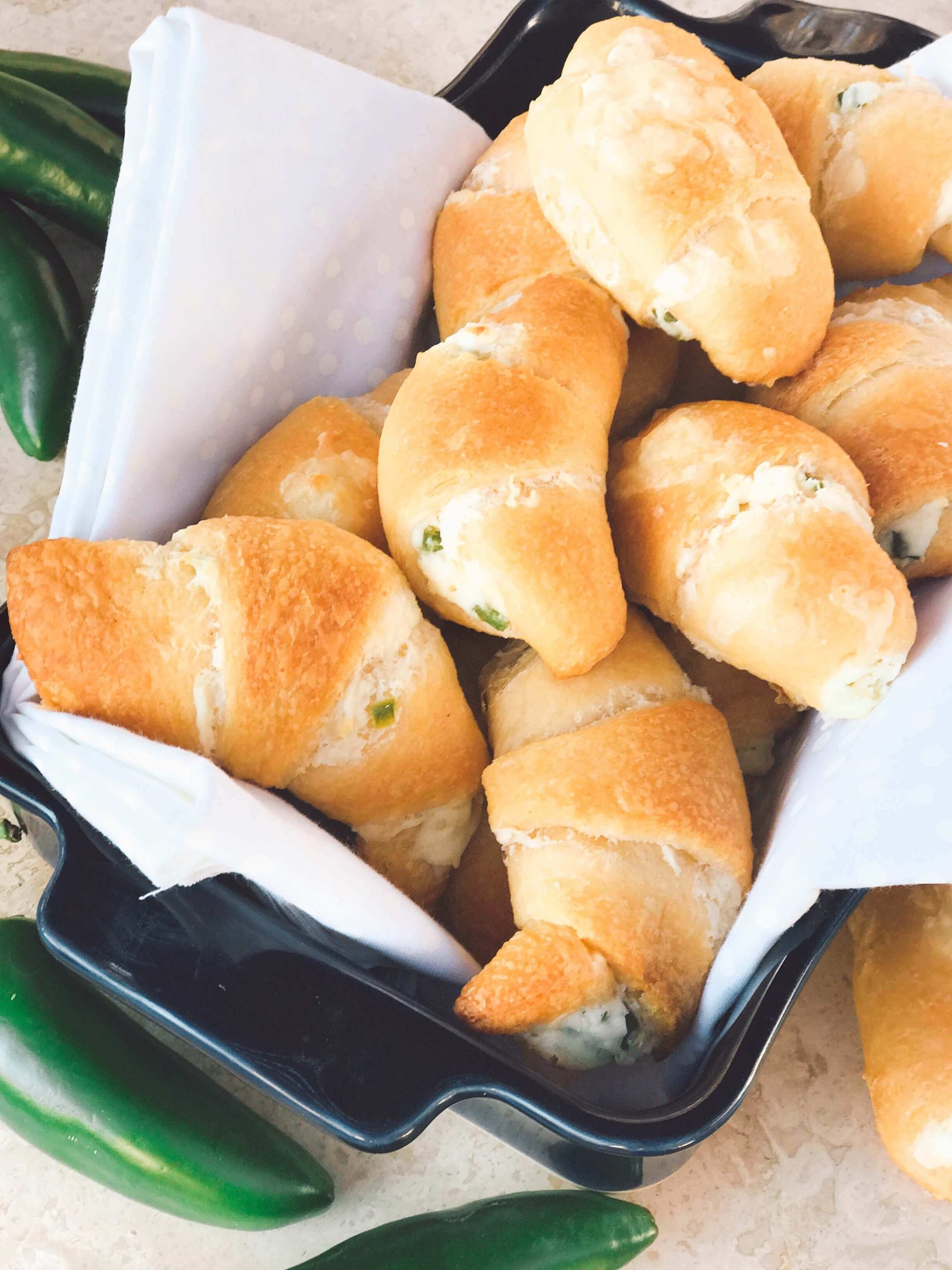 Instructions
In a small bowl, mix together the cream cheese, jalapeno, cheddar cheese, and garlic powder.

Preheat oven to the temperature listed on your dough packaging.

Line a baking sheet with a sil pad (see note) or parchment paper to prevent sticking.

Unroll the crescent rolls and lay out one piece on a plate. Take approximately 1 Tablespoon of the cheese mixture and spread it on the triangle.

Roll the dough from the large end to the pointed end as normal.

Place the rolls on the baking sheet, leaving a few inches between each one. If desired, sprinkle each roll with some additional cheese.

Bake according to package directions until a light golden brown. Best served warm.
Notes
This amount of cream cheese mixture tends to be perfect for two packages of crescent rolls.  The amount of cheese on each roll will vary slightly with the exact shape and size of each piece.
Grab some silicone baking sheet pads if you do not have some already, they are a fantastic way to keep baking sheets clean, keep food from sticking, and are eco friendly!
Use as many peppers as you would like to get your desired heat level!  Each pepper's heat will vary, but one pepper is good for mild heat in most cases.  Use 2, 3, or 4 for more heat!
Nutrition
Serving:
1
roll
|
Calories:
161
kcal
|
Carbohydrates:
12
g
|
Protein:
3
g
|
Fat:
12
g
|
Saturated Fat:
6
g
|
Cholesterol:
19
mg
|
Sodium:
323
mg
|
Potassium:
22
mg
|
Fiber:
1
g
|
Sugar:
3
g
|
Vitamin A:
227
IU
|
Vitamin C:
1
mg
|
Calcium:
40
mg
|
Iron:
1
mg
More Jalapeno Popper Recipes
Jalapeno Popper Recipes
Find more jalapeno popper inspired recipes below!

By