Birria de Res is a delicious traditional and authentic Mexican stew recipe. Makes great shredded beef using dried peppers. Use for dinner ideas like tacos, enchiladas, and more.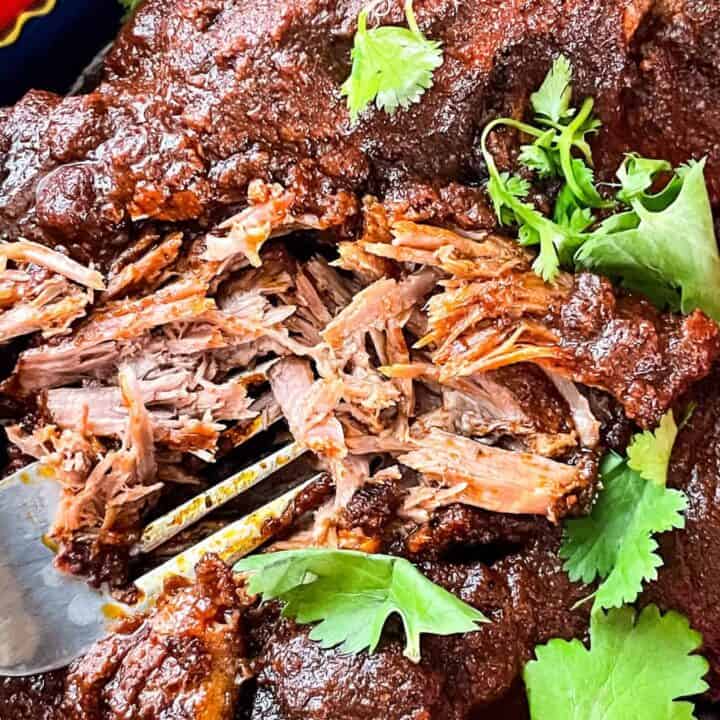 Birria de Res is a classic regional Mexican stew. Made with lots of flavorful peppers and spices, you will fall in love with this amazing recipe!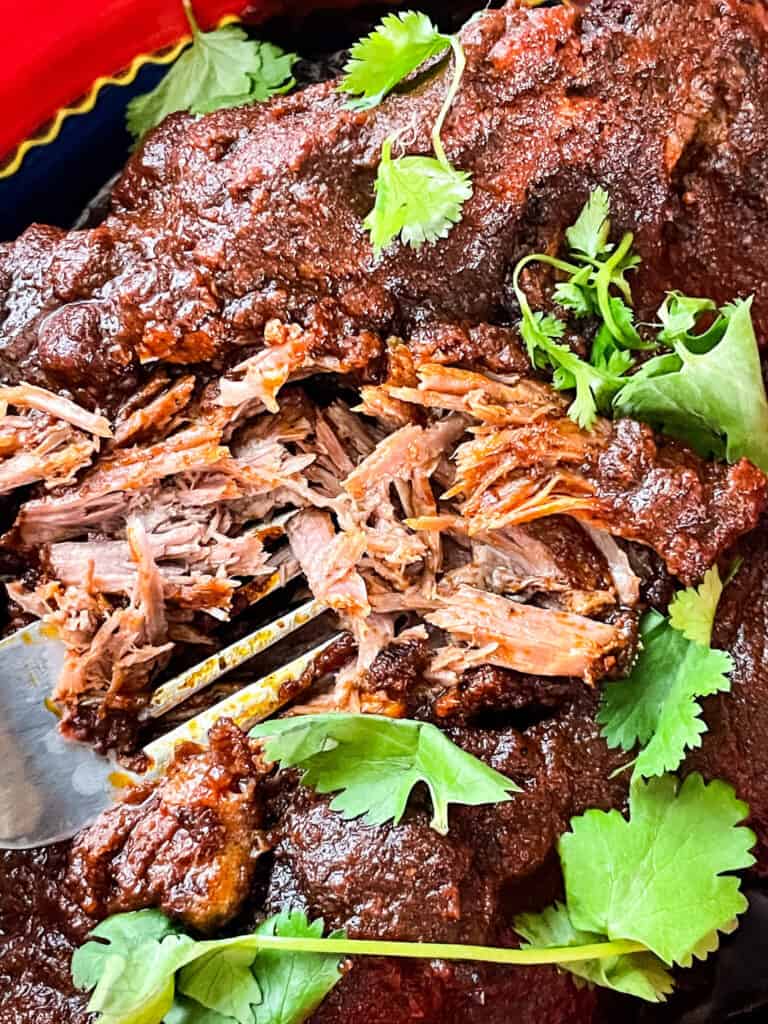 Best Birria Recipe
I have fallen in love with Birria de Res!
The sauce is just so good with all of the dried peppers, and the beef is versatile in so many ways!
This is the birria recipe for the classic Birria de Res itself, which you can do so much with. Eat it as a stew, shred it up for tacos, or try one of our birria recipes using the meat!
This is now our favorite Mexican shredded beef recipe in the family.
What is birria de res in English?
This would translate into beef birria.
Birria refers to the way it is cooked and named after where it originates from.
What does birria taste like?
This sauce is a combination of slightly spicy, deep flavors.
The dried peppers bring a subtle smoky flavor.
The sauce reminds me of a smoky enchilada sauce.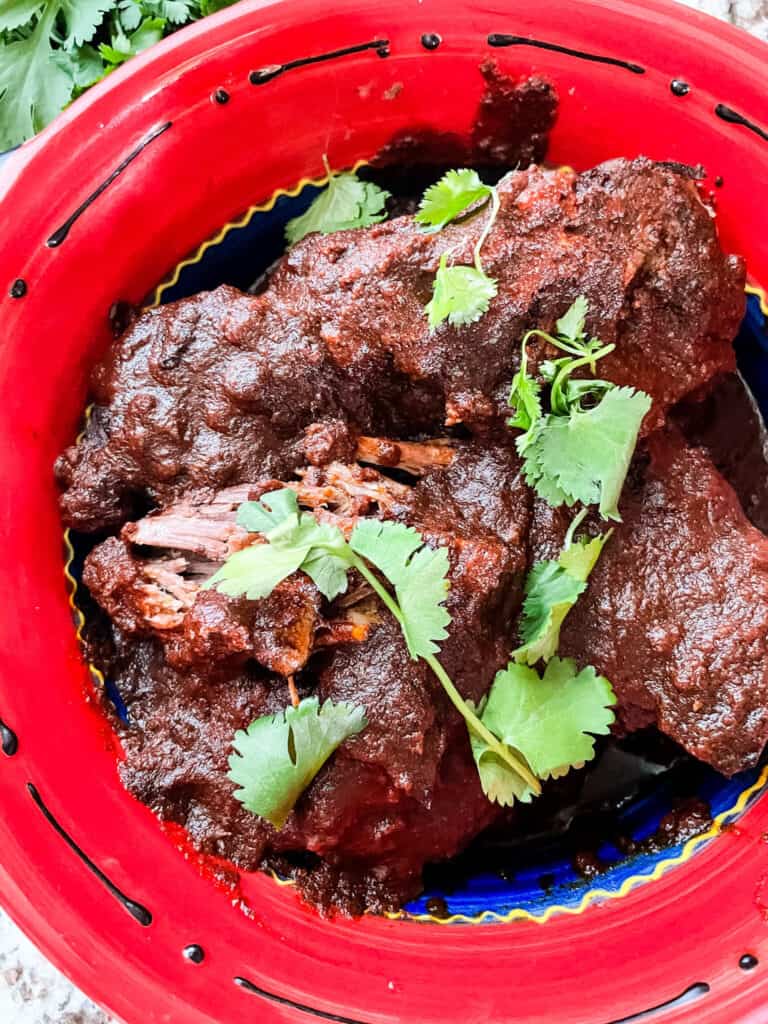 What is birria de res made of?
These are the ingredients you need to make this recipe:
Chuck Roast (Beef)
Roma Tomatoes
Dried Guajillo Peppers
Dried Ancho Peppers
Dried Chile de Arbol Peppers
White Vinegar
Garlic
Ground Cloves
Cinnamon
Cumin
Dried Thyme
Dried Oregano
Bay Leaves
Salt
Black Pepper
Where to Find the Peppers
These dried peppers are easy to find in the latin or hispanic section of your grocery store.
If you are having difficulty finding them, or for ease, they are readily available online. Here are links to chile de arbol peppers, ancho chile peppers, and guajillo chile peppers.
These peppers are all very common in Mexican cooking and you will be able to use them all in other fun recipes! One of my favorites is Salsa Chile de Arbol, which has become my new favorite!
Adjusting Heat Levels
This Birria de Rez recipe comes out to a solid medium heat level when it comes to spice.
In order to make it more spicy or more mild, first start with knowing how much heat each type of pepper brings.
Scoville units are how peppers are assessed and ranked in regards to spice. The higher the number, the hotter the pepper.
Scoville ranges from 0 for sweet peppers like bell peppers, to over 2 million for peppers like ghost peppers.
Remember, peppers have variation within each variety as well, so it is possible any of your peppers are a little hotter or milder naturally.
Heat Level of Peppers in Birria de Res
Ancho – 1,500 to 2,500 scoville units (dried poblano pepper)
Guajillo – 5,000 to 15,000 scoville units (dried mirasol pepper, similar heat to serrano and jalapeno)
Chile de Arbol – 30,000 to 50,000 scoville units (similar to 6 times one jalapeno pepper)
Based on these rankings, use more chile de arbol peppers if you want a hot sauce. And more ancho (less chile de arbol) for a milder sauce.
You might need to experiment a little to find the perfect heat for you. Try toasting and soaking up extra peppers in the direction you think you want to go, add peppers one at a time, and keep tasting as you go.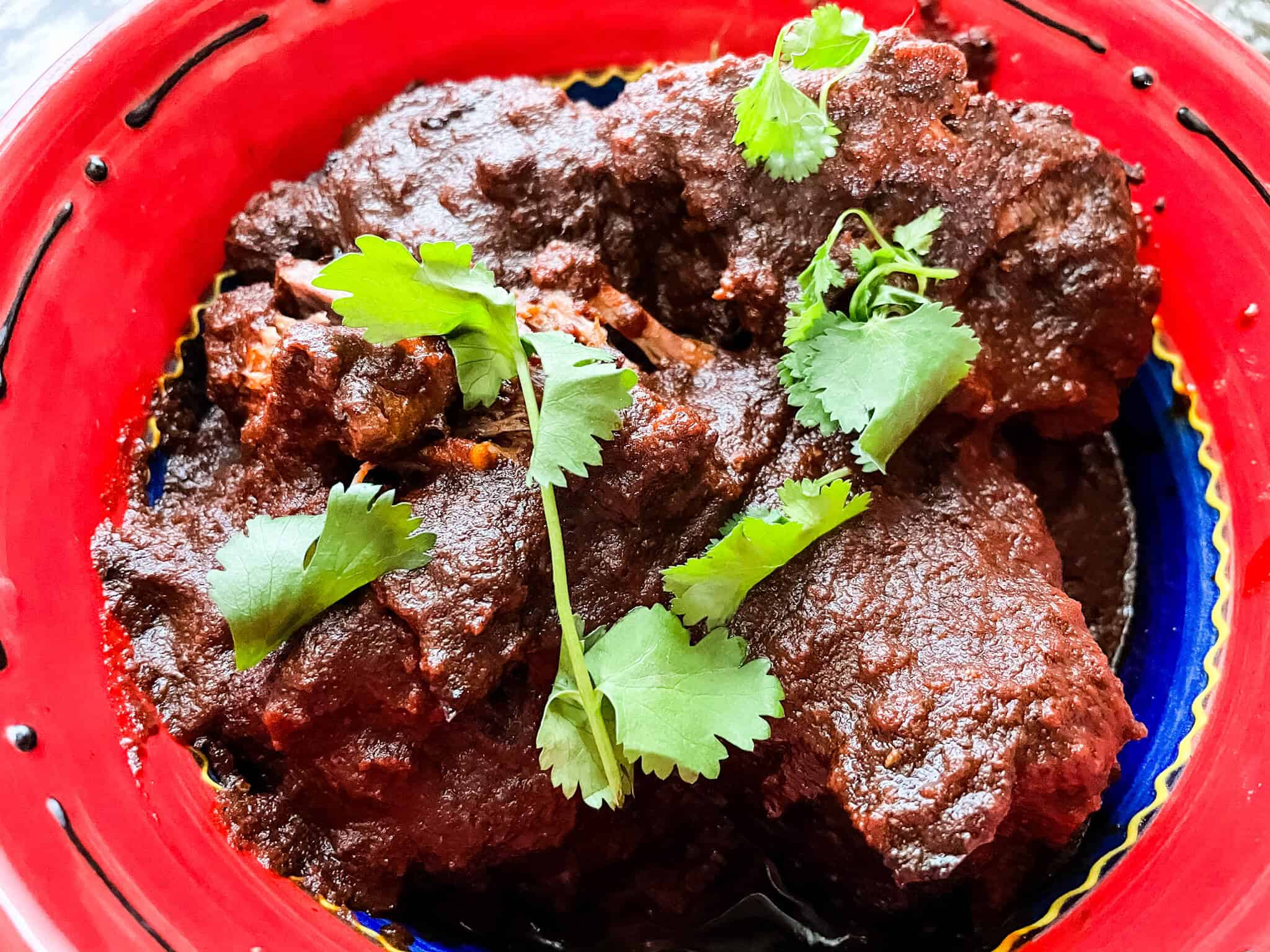 Instruction Overview – How to Make Birria de Res
There are a few extra steps in this Birria recipe that I believe are worth the few extra minutes.
Charring the tomatoes brings an amazing depth of flavor to the sauce and helps cut out any raw tomato flavor that might peek through.
Searing the beef also gives you great color which equals more flavor in addition to some texture on the meat.
It might be tempting to skip these steps, and technically you can, but I say they are worth it!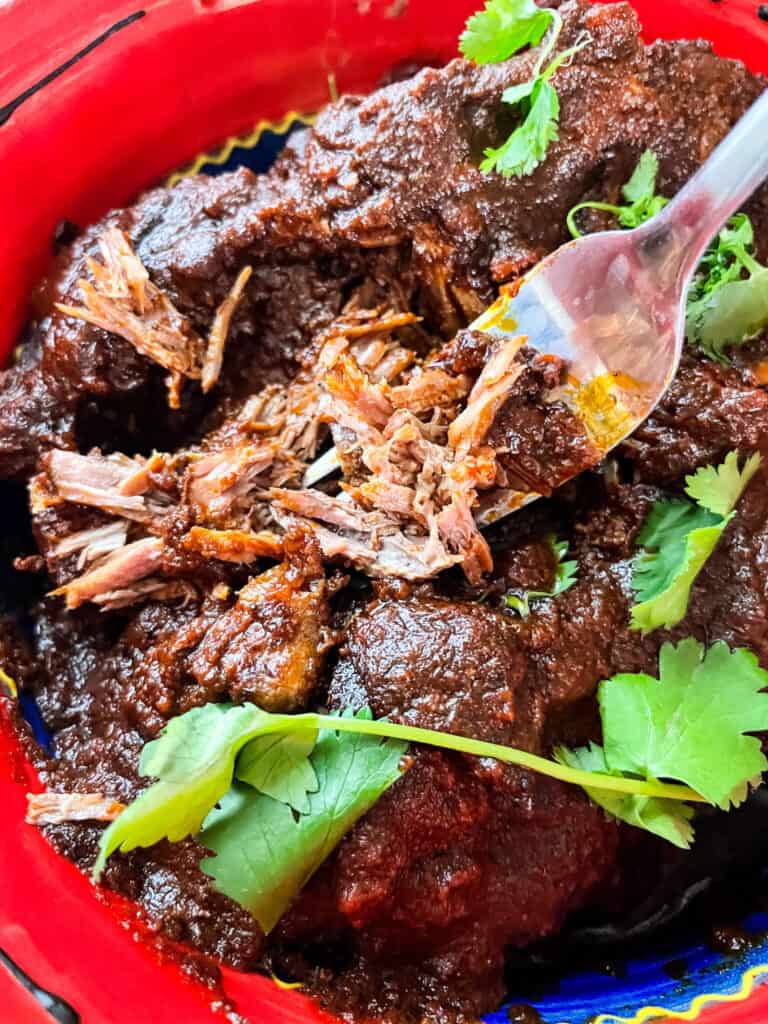 Serving and Using the Beef
I have you save the water that the peppers cooked in for a few reasons.
A popular way to serve up tacos is by dunking them in the consume.
It also can be added to the pepper mixture to thin out the sauce as desired.
And if you do want to eat this as a stew, the moisture definitely helps thin it out.
No matter how you enjoy the beef, you will love it!
Is birria de res barbacoa?
Not quite. Barbacoa is shredded beef, and birria is a variation of barbacoa. The barbacoa, or shredded beef, is cooked in a sauce. The sauce is what makes it birria de res.
You could use birria de res in place of barbacoa in many different recipes as desired like enchiladas or burritos.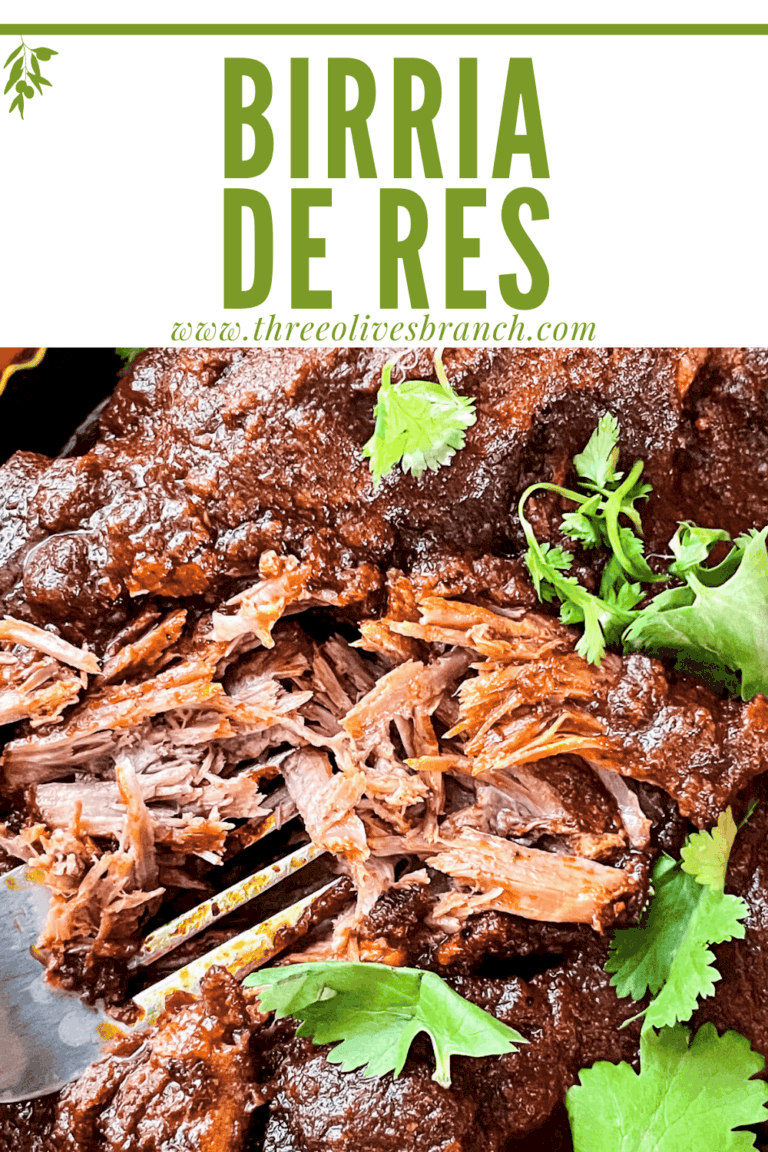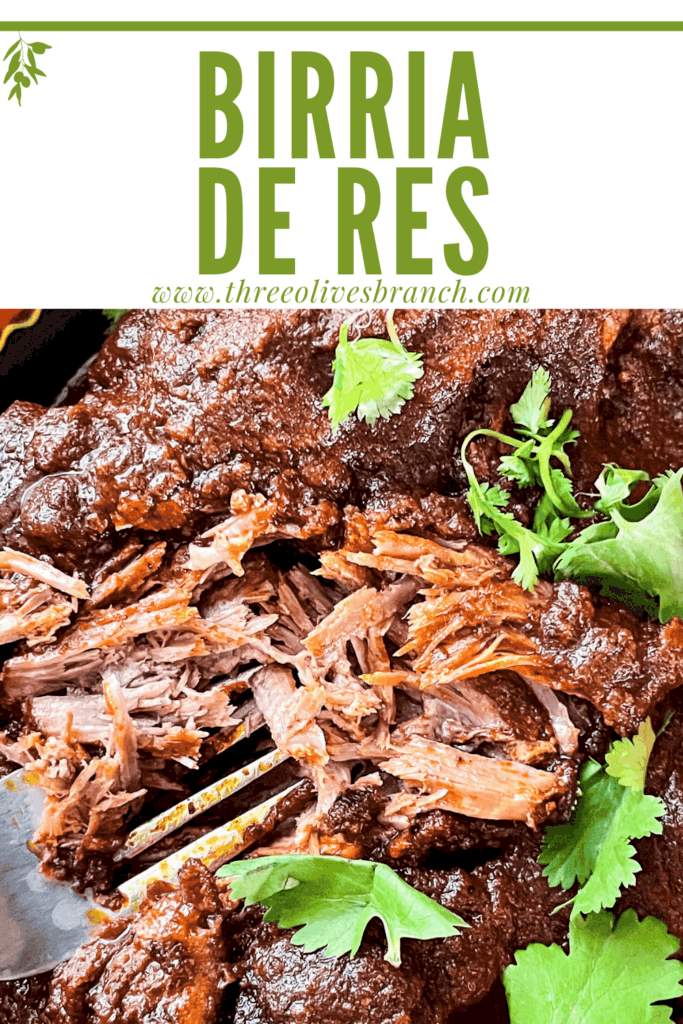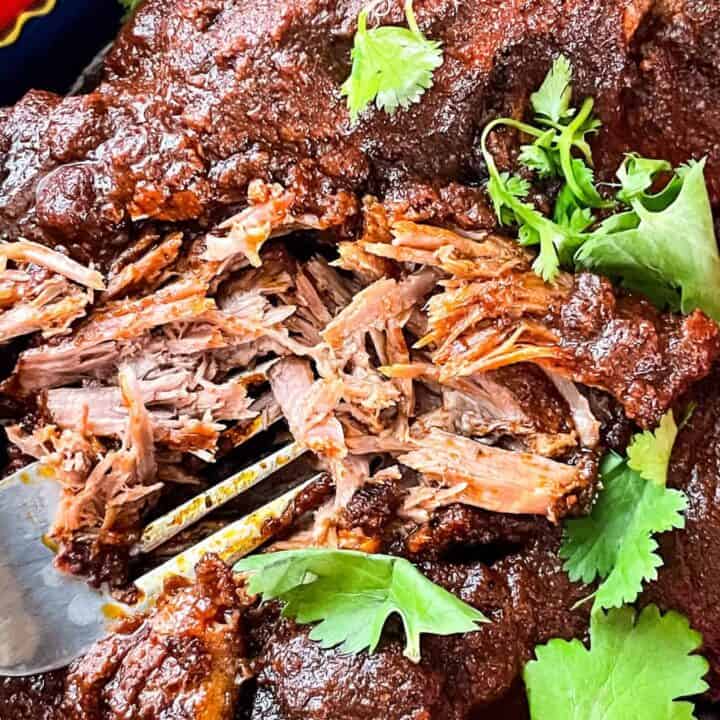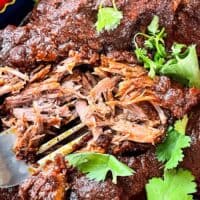 Birria de Res
Birria de Res is a delicious traditional and authentic Mexican stew recipe. Makes great shredded beef using dried peppers. Use for dinner ideas like tacos, enchiladas, and more.
Print
Pin
Rate
Instructions
Fill a pot with 4 cups of water and bring to a boil. Add all of the dried peppers and boil for 5 minutes. Remove from heat and let soak until soft, at least 15 minutes.

Heat a grill pan over high heat. Blister the tomatoes on all sides until they are starting to peel, approximately 5 minutes. Remove from heat and set aside. (You can also do this by broiling in oven, turning as needed.)

Dry the beef roast with paper towels and season all sides with salt and pepper.

Heat a Dutch oven pot on a stove over medium high heat.

When hot, add the meat and sear on all sides, approximately 10 minutes. Remove the pot from the heat, but leave the beef in the pot. We will be cooking in this later.

Make the sauce: put the tomatoes in a blender. Add all of the dried peppers (simply pull off their stems and discard stems before adding).

Add the vinegar, garlic, black pepper, clove, cinnamon, thyme, oregano, and ¼ teaspoon salt. Add 1/4 of the chile pepper water and blend until smooth. Do not discard the remaining chile pepper water, you will use it later.

Push the sauce through a fine mesh strainer using a spoon or spatula into the beef pot. Once strained, discard the pieces you removed that are in the strainer.

(Optional, if you want a smooth sauce. Otherwise you can skip this.)

Toss the beef in the sauce to coat. Add the bay leaves to the pot. Cover the pot and place in oven.

Cook for approximately 3 hours until the beef is falling apart.

Every 45 minutes while cooking, baste the beef by spooning sauce over the top of the roast. If desired, to crisp up the beef a little, remove the lid for the last 20-30 minutes of cooking.

Serve as desired. Use the remaining pepper water to thin out the beef sauce or serve on the side as consume for taco dunking, if desired. All remaining pepper water can be discarded when you have used what you need.
Notes
Use more ancho and less chile de arbol for a milder heat, and more chile de arbol for a hotter spice level.
Three pounds of roast will give you approximately 4 servings if eaten as a main course. If use for tacos, enchiladas, etc, you will get approximately 16 portions.
Ideas for use: tacos, enchiladas, quesadillas, burrito, or just as is!
Nutrition
Serving:

1

serving

|

Calories:

743

kcal

|

Carbohydrates:

28

g

|

Protein:

70

g

|

Fat:

41

g

|

Saturated Fat:

18

g

|

Trans Fat:

2

g

|

Cholesterol:

235

mg

|

Sodium:

310

mg

|

Potassium:

1806

mg

|

Fiber:

11

g

|

Sugar:

16

g

|

Vitamin A:

7658

IU

|

Vitamin C:

18

mg

|

Calcium:

90

mg

|

Iron:

9

mg

By