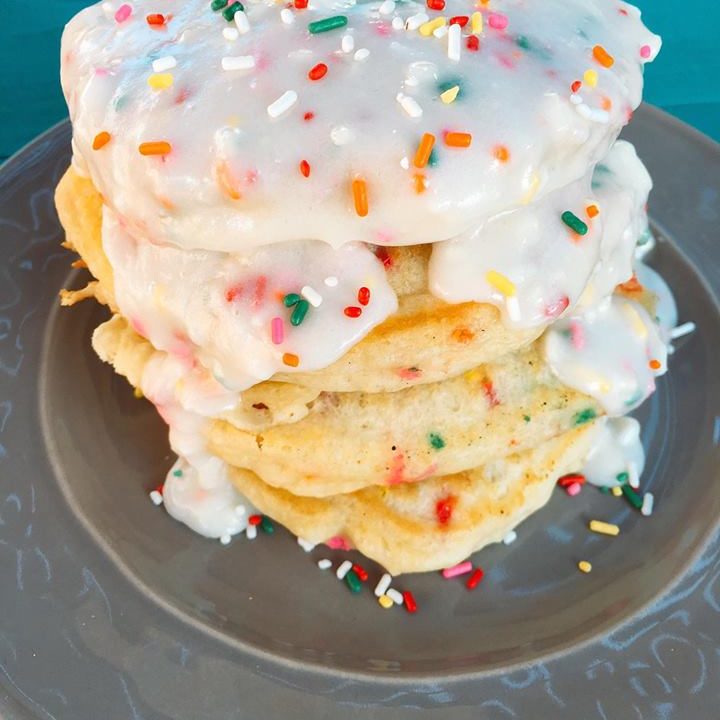 Our tradition is to make these Birthday Pancakes with Cream Cheese Glaze the morning of a birthday (hence the name).  The bright colors make them so much fun and who doesn't love a little dessert at breakfast time???  It is difficult to not make these year round, so they also get whipped up for various celebrations or "just because."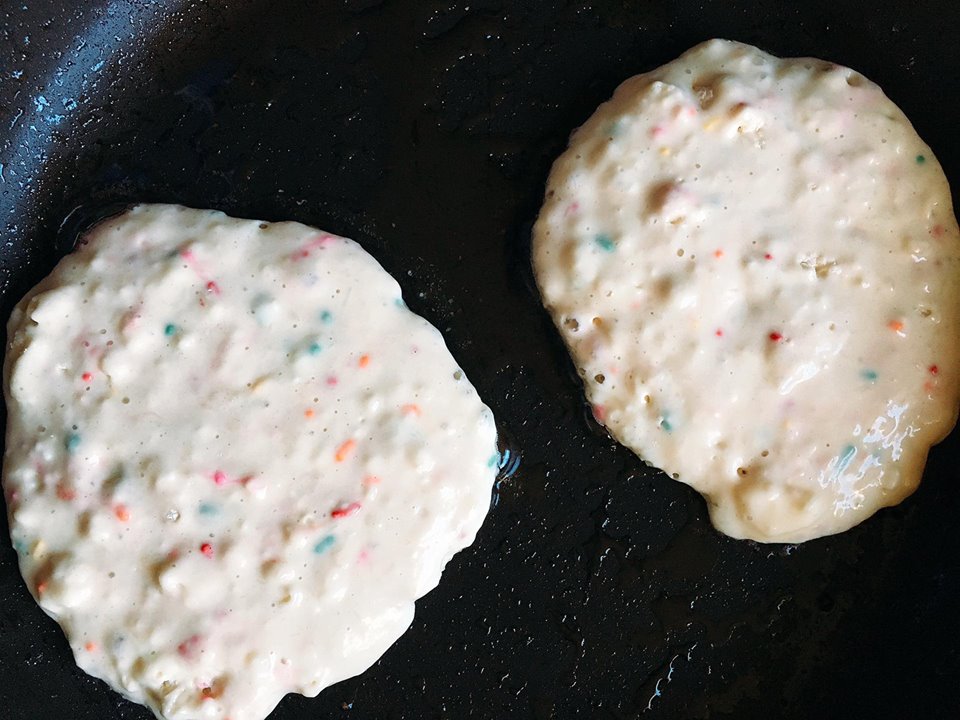 You can go with a traditional syrup if you wish, or even a dusting of powdered sugar.  But I love this glaze recipe (it is the same foundation as the glaze I use on my AMAZING and LIFE CHANGING cinnamon rolls!).  They are also great alongside some bacon, sausage, and eggs, but they tend to steal the spotlight so anything on the plate that is not a pancake, glaze, or sprinkle tends to be overlooked.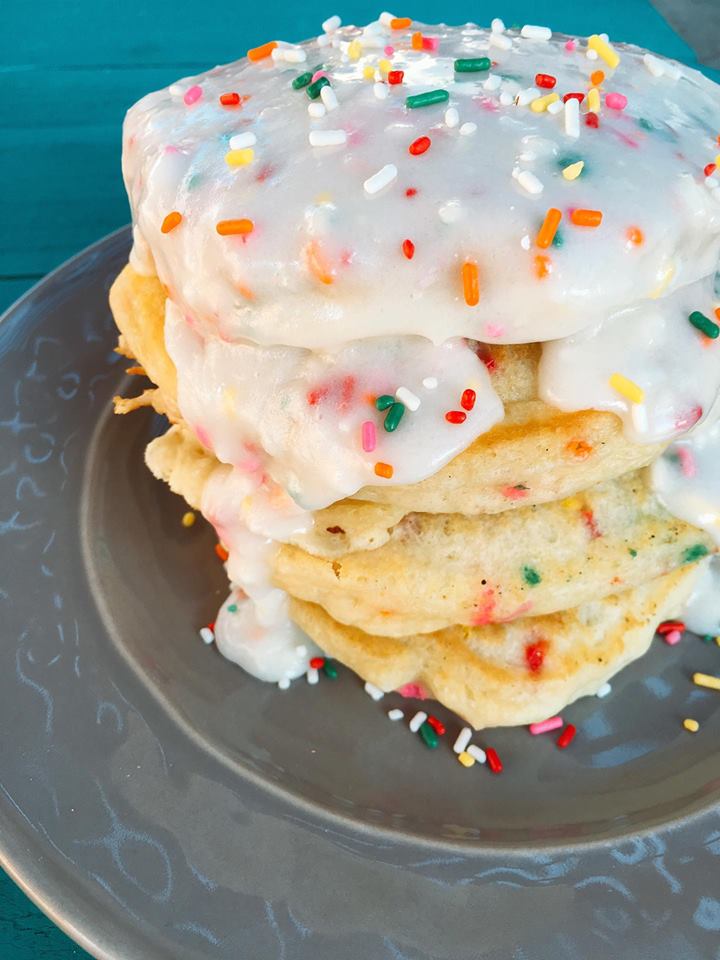 The long, multi-colored jimmie sprinkles are my favorites to use here because they are not too hard and will melt into the pancakes, making the polka-dotted pattern that you see.  They are also easy to bite into and do not have too much of a crunch.  You can find specific colors online which is great, so if someone loves purple, you could make these with just purple sprinkles.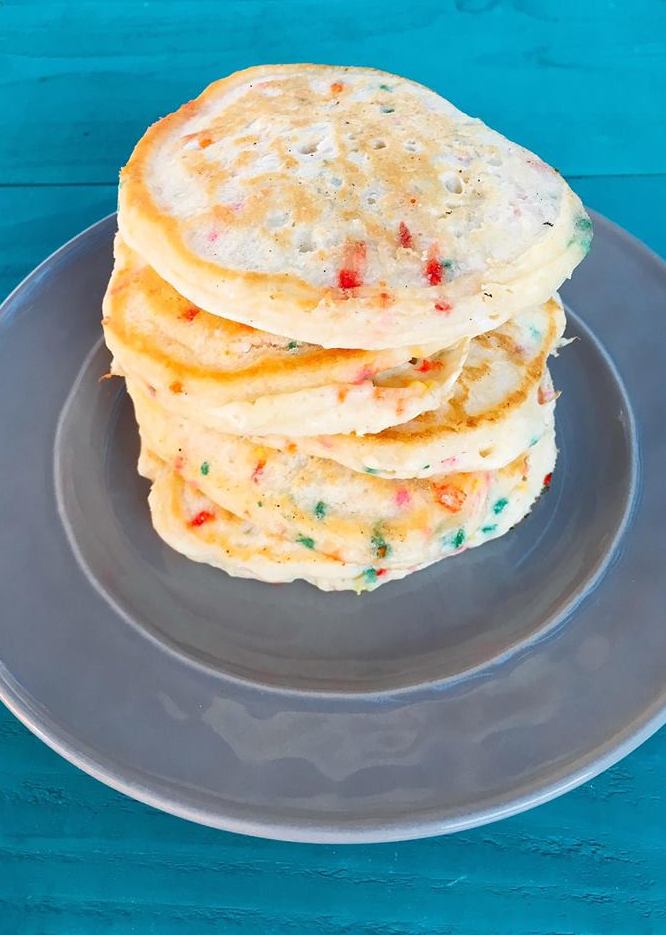 These Birthday Pancakes with Cream Cheese Glaze fluff up so well and look gorgeous!  Making pancakes from scratch are really not that difficult and does not require much more work than the boxed mixes.  Most of these ingredients you will likely have on hand anyway.  I often do not have buttermilk, but you can combine regular milk with lemon juice instead which I LOVE because I can never get through all of the buttermilk.  See the note in the recipe below on how to make this substitution.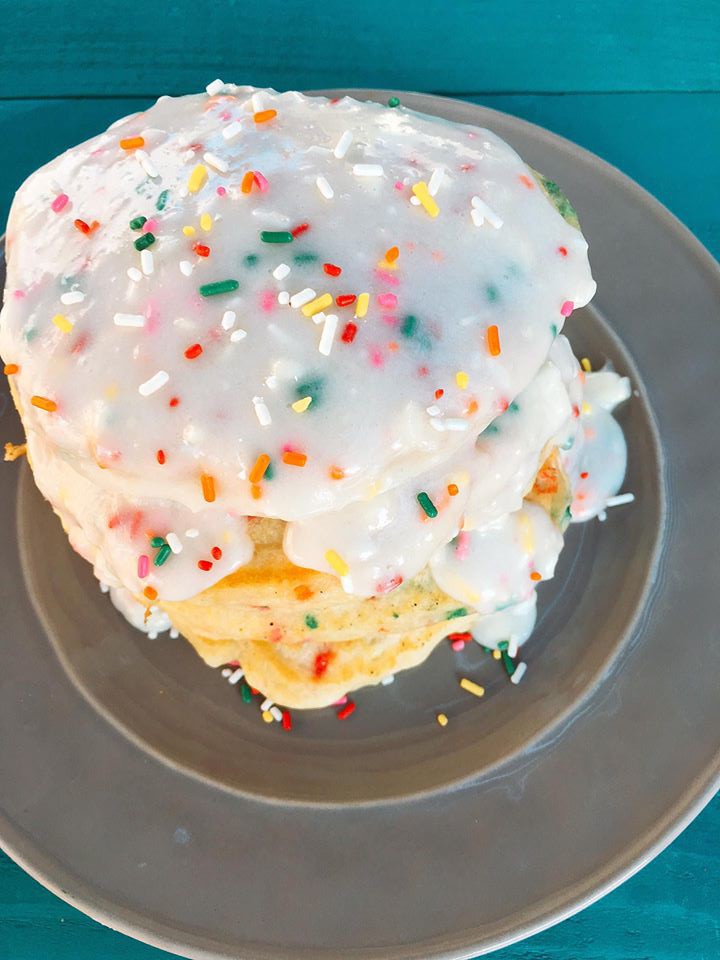 Adapted from the Pancakes recipe in America's Test Kitchen Family Cookbook.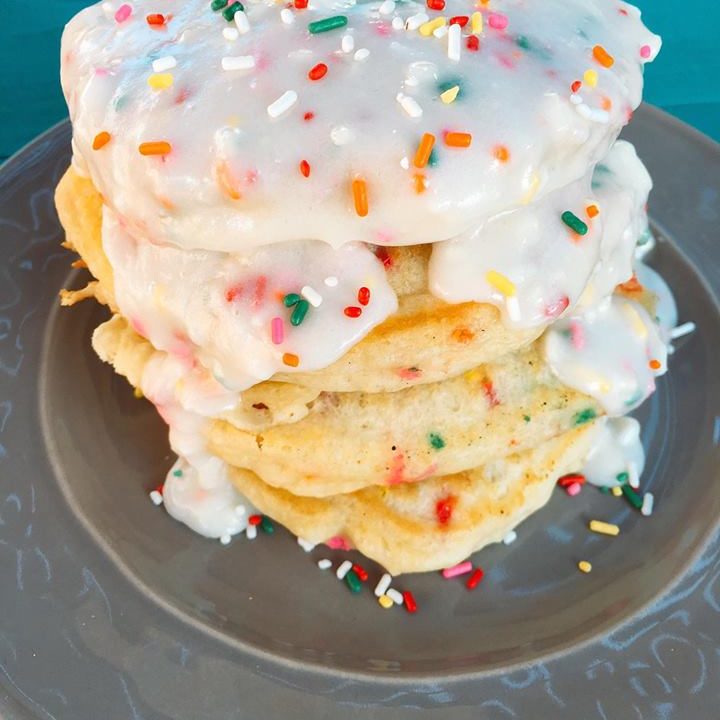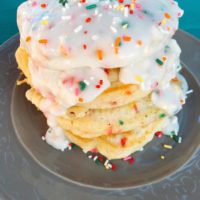 Instructions
Pancakes
Whisk together the flour, sugar, baking powder, baking soda, and salt in a large bowl.

In a small bowl, whisk together the egg, butter, and buttermilk.

Whisk the wet mixture into the dry mixture until just combined. You will still have a few lumps which is fine.

Heat a large skillet over medium heat for 5 minutes. Add a teaspoon of oil and wait until it is warm. Add batter to the skillet in 1/4 cup increments, with 2 or 3 pancakes going at a time so that the pan is not over crowded.

Cook the batter until bubbles start to form and the bottom is starting to turn brown, approximately 2-3 minutes. Flip and cook until the pancakes are cooked through, approximately 2 minutes more.

To keep the pancakes warm, you can put them on a wire cooling rack that is propped up on a cookie sheet in the oven on a warm setting (or 200F if you do not have a warm setting). The wire rack will keep them up off the flat surface and prevent them from getting soggy as the heat and moisture can escape.
Cream Cheese Glaze
While you are cooking the pancakes, whisk the cream cheese in the bottom of a stand mixer until smooth.

Add the milk and powdered sugar. Whisk on a slow speed so that the sugar stays in the bowl until incorporated. Remove the bowl from the stand mixer. Use a spatula to get the remaining sugar off of the sides and mixed into the glaze.

Add the sprinkles and stir in. Drizzle on top of the pancakes when ready.
Notes
If you want a lot of glaze, double the glaze portion of the recipe.

You can substitute the buttermilk by whisking 1 tablespoon of fresh lemon juice with 2 cups of milk and setting it aside to thicken.  I did this and it turned out well!  Do this first.

By