Black forest flavors of cherry, chocolate, and cream in a healthy yogurt popsicle.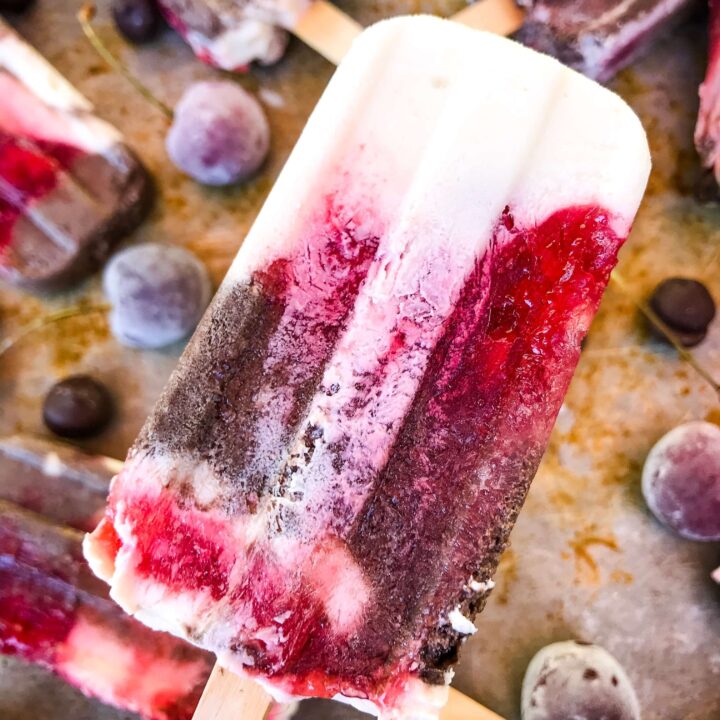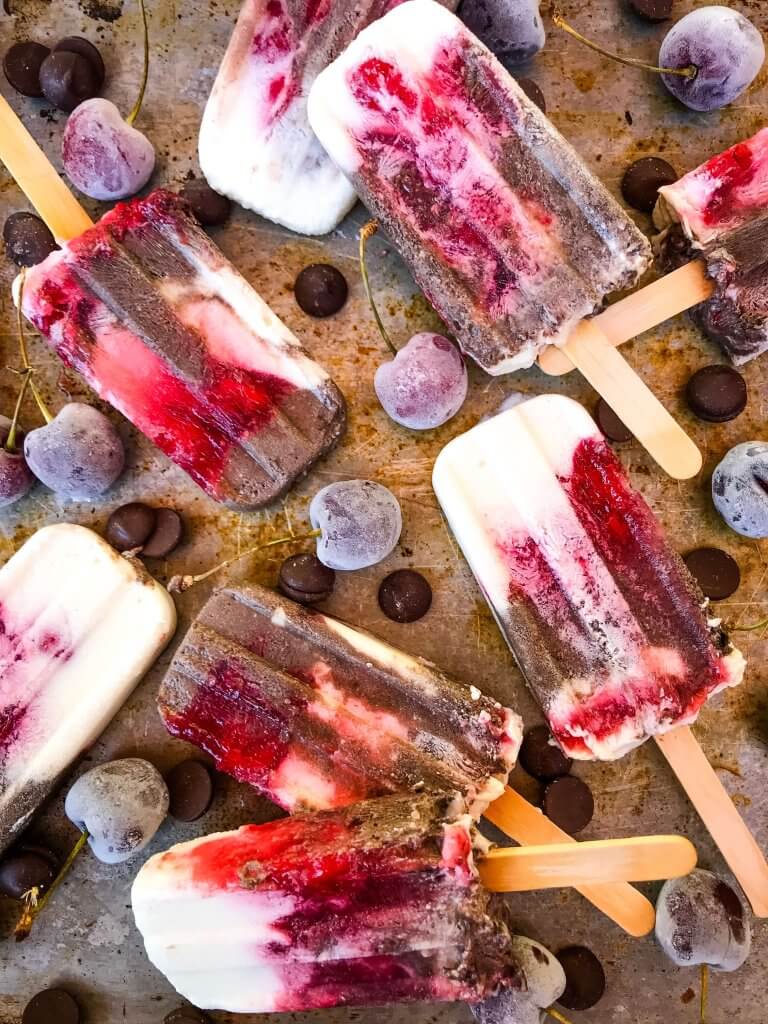 Black Forest Yogurt Popsicles are a simple summer dessert recipe. Greek yogurt, cocoa, and cherry pie filling are layered for a black forest treat.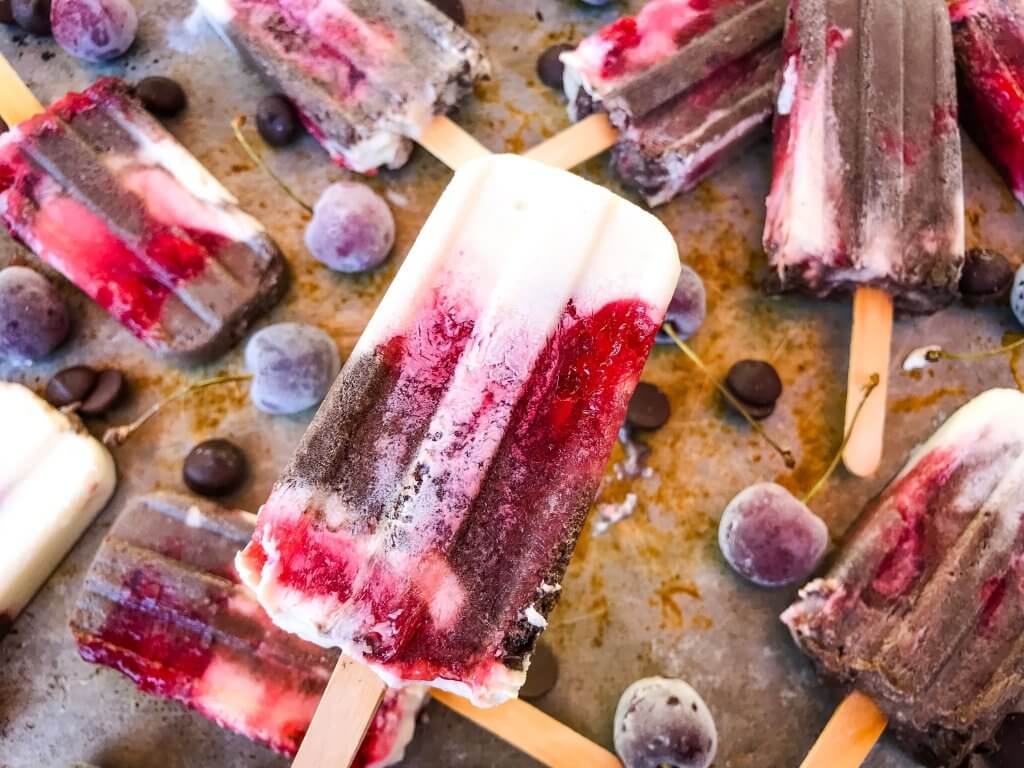 This post contains affiliate links.
Black forest desserts are typically in the form of a cake. They are defined by chocolate, cream or vanilla of some sort, and cherries. I have taken the inspiration of those same flavors and made a simple and quick popsicle recipe. Plus, these popsicles are made using Greek yogurt instead of ice cream so they have a healthy twist! Find more black forest recipes here!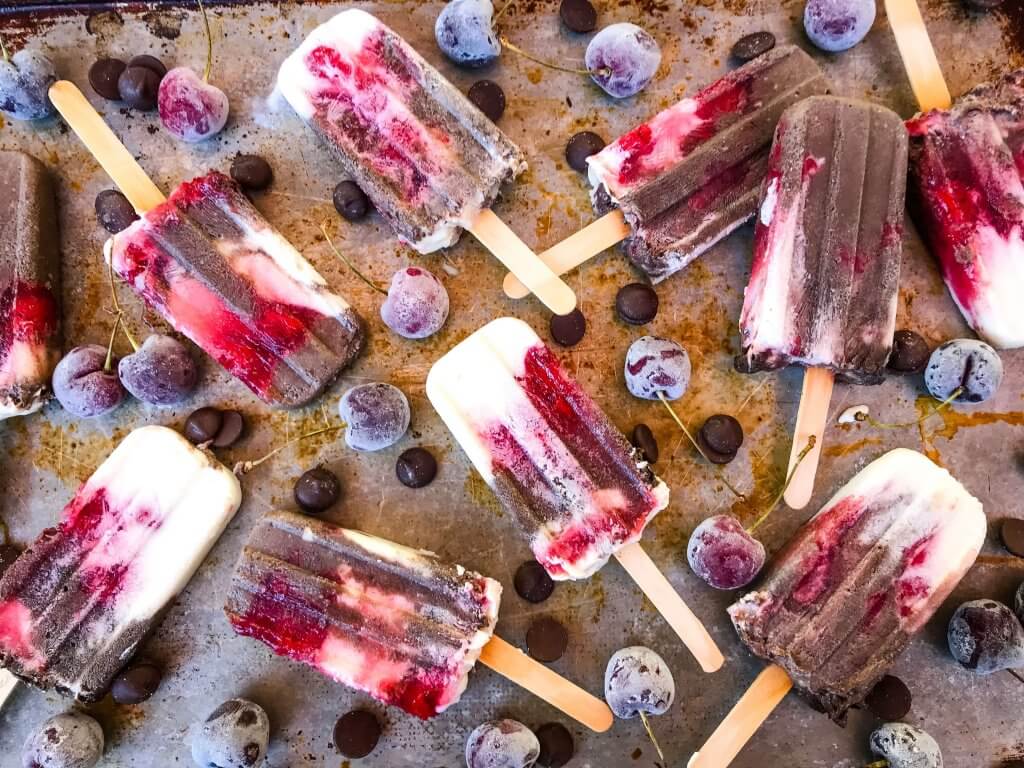 You can easily replace the honey with another sweetener like agave, or more vanilla, if desired. And you can add more or less to make it as sweet as you want. These Black Forest Yogurt Popsicles have just enough sweetness without being too much, so they still taste refreshing and not like sugar bombs. Find more of our popsicle recipes here!
I love this classic popsicle shape and look. Plus, no need to keep track of all those silicone sticks and pieces! You can find this classic popsicle mold here which makes 10 popsicles.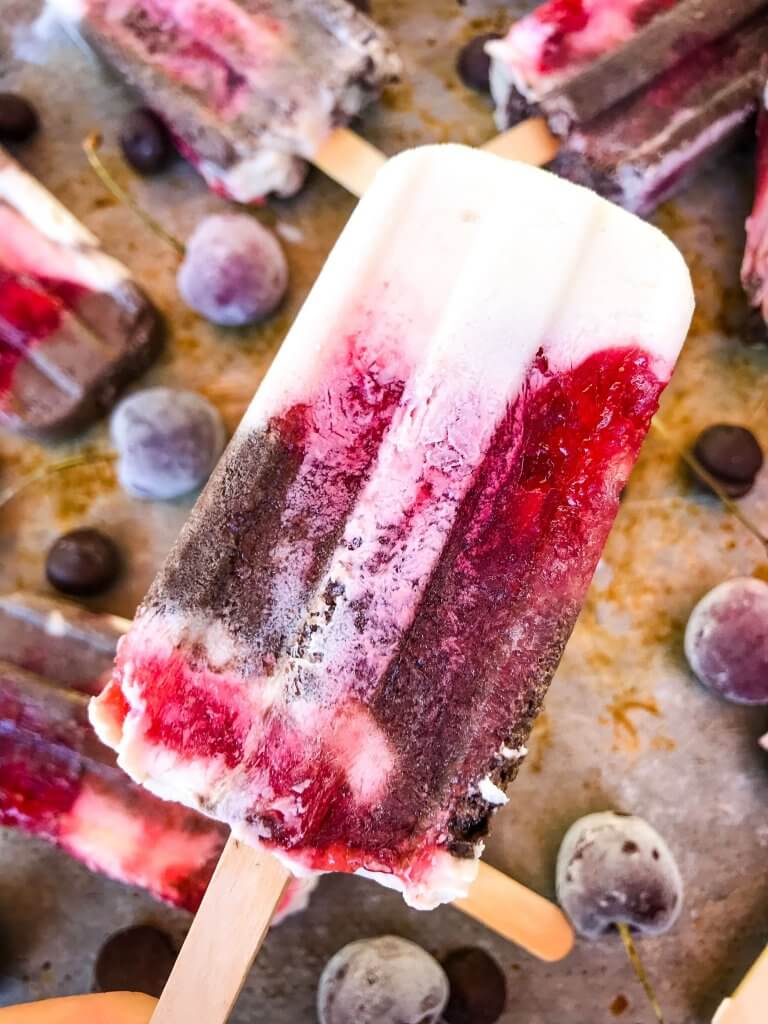 These Black Forest Yogurt Popsicles take just a few minutes to put together. Mix up the yogurt, vanilla, and honey. Split in half and add the cocoa powder to one bowl and stir. Then take turns layering the plain yogurt, cocoa yogurt, and cherry pie filling into each popsicle mold. Spoon just a little at a time for maximum layering! Insert the sticks and then let them freeze until solid, at least 4 hours.
Removing the popsicles can be a little tricky. Just run hot water over the outside of each popsicle mold, briefly, and wiggle the stick. Keep repeating this process until you can get them out of the mold. Don't use too much hot water at a time, or they might start melting!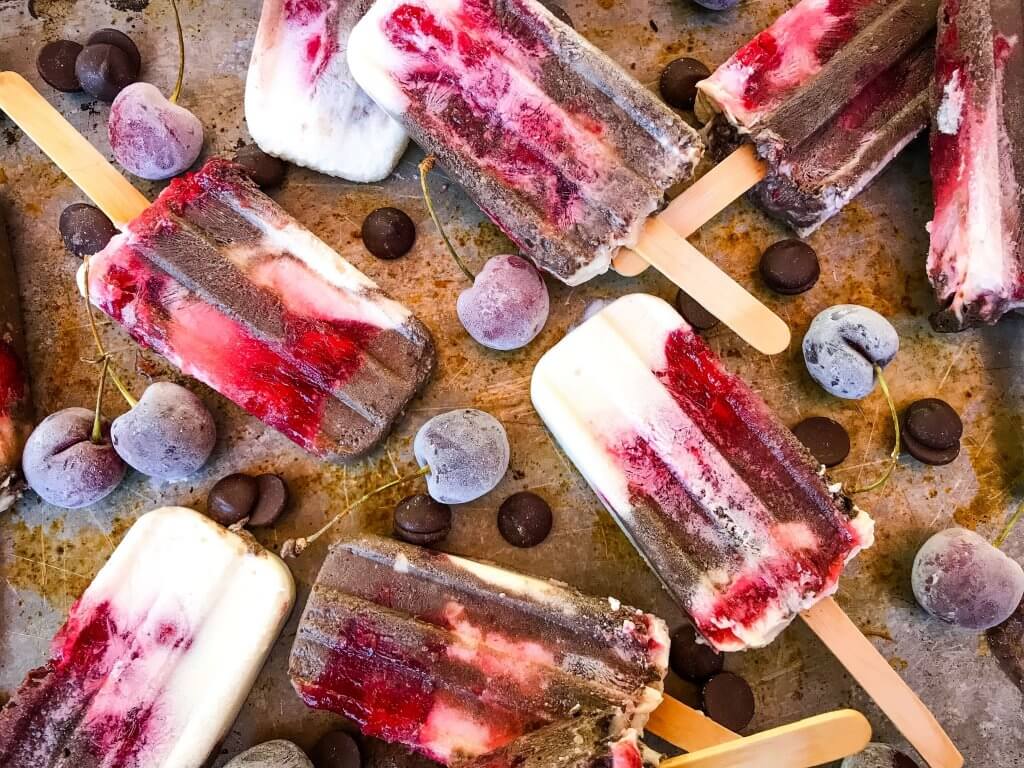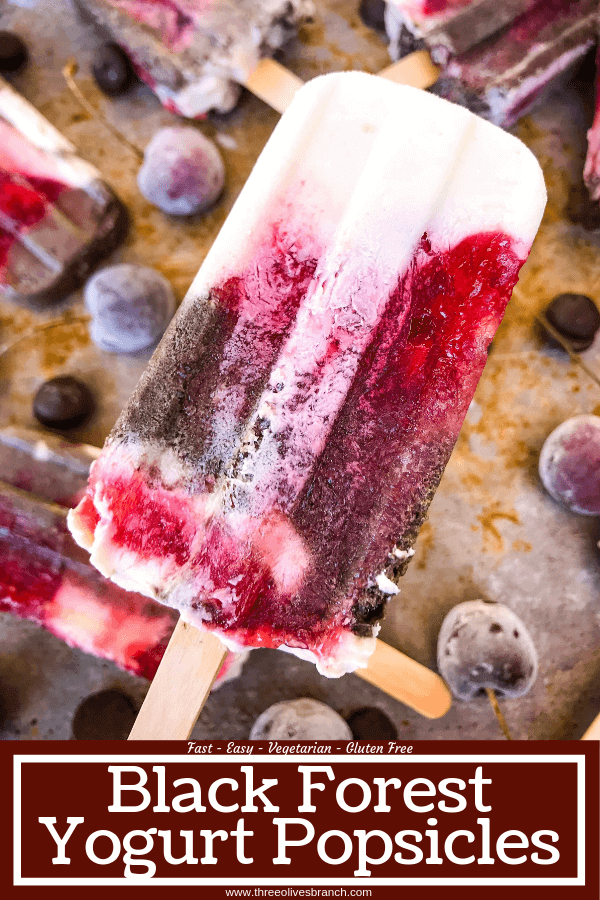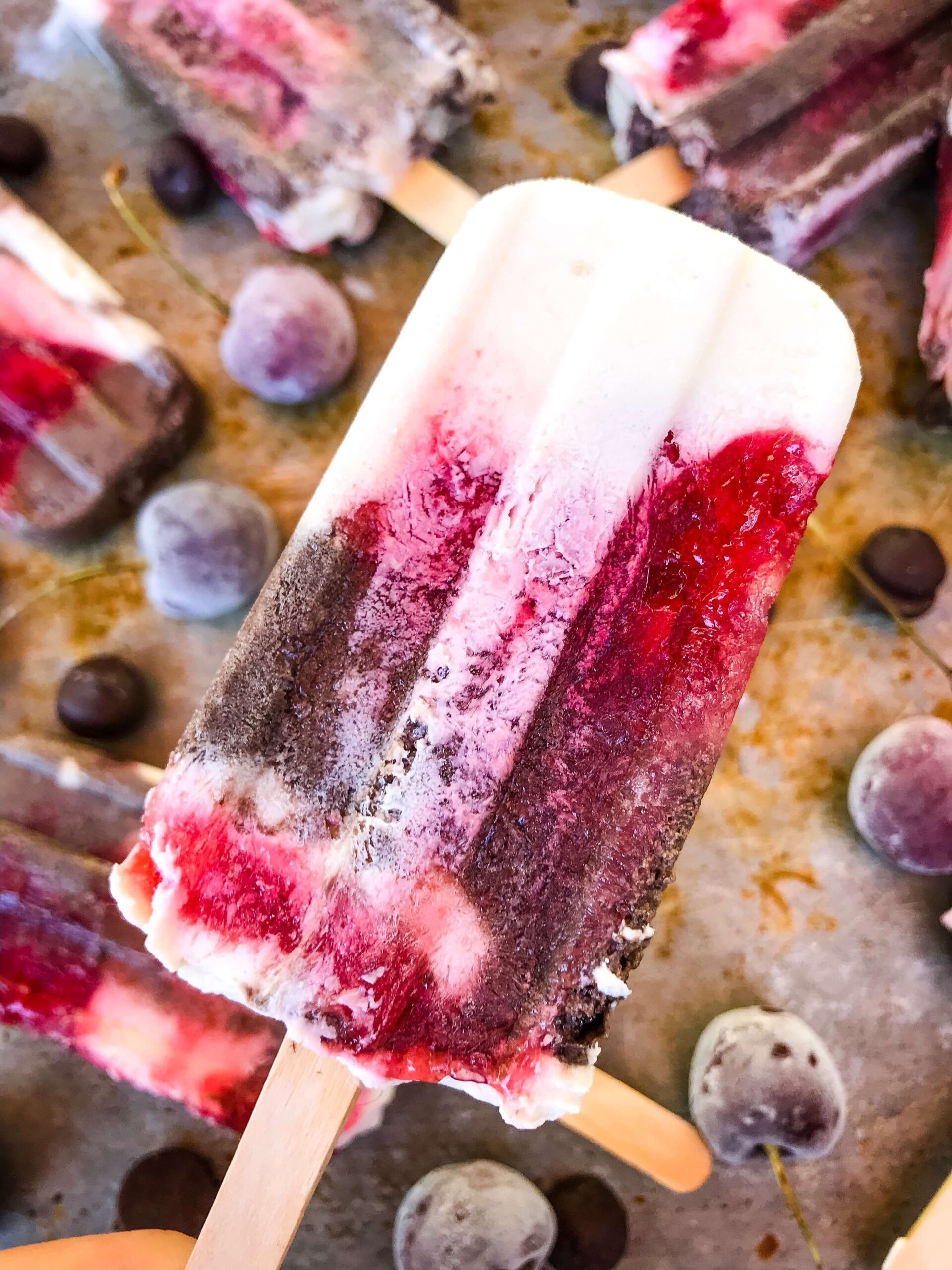 Ingredients
1 1/2

cups

plain Greek yogurt

(you can also use regular yogurt, or flavored yogurts that would compliment these popsicles like honey, vanilla, or cherry)

1

Tablespoon

vanilla extract

2

Tablespoons

honey

1

Tablespoon

cocoa powder

2/3

cup

cherry pie filling
Instructions
Combine the Greek yogurt, vanilla extract, and honey in a small bowl.

Put approximately half of the yogurt mixture into a second bowl. To one bowl, add the cocoa powder and mix to combine.

Flavor each yogurt to taste with additional cocoa, honey, or vanilla as desired.

Spoon the vanilla yogurt, cocoa yogurt, and cherry pie filling in alternating patterns into each popsicle mold. Only spoon in approximately 1-2 Tablespoons at a time to get many different layers throughout the popsicles. Tap the popsicle mold on the counter to help the ingredients settle and remove gaps if necessary.

Continue filling each mold until there is approximately 1/2 inch gap at the top.

Insert the popsicle sticks into the center of each mold. The thickness of the yogurt should make them easily stand up. (I do not use the lid of the mold because often times the popsicle sticks slant enough that it makes it difficult to remove).

Freeze the popsicles until completely set, at least 4 hours.

To remove from the mold, run hot water over the outside of the popsicle molds. Wiggle the sticks until you can pull the popsicles out. Only run under hot water briefly each time to prevent melting as much as possible.
Nutrition
Calories:

81

kcal

|

Carbohydrates:

16

g

|

Protein:

3

g

|

Fat:

1

g

|

Saturated Fat:

1

g

|

Cholesterol:

2

mg

|

Sodium:

18

mg

|

Potassium:

92

mg

|

Fiber:

1

g

|

Sugar:

5

g

|

Vitamin A:

81

IU

|

Vitamin C:

1

mg

|

Calcium:

37

mg

|

Iron:

1

mg

By