Bloody Mary Deviled Eggs are a fast and easy appetizer recipe for game day, party finger food, and entertaining. High in protein with the same flavors of a bloody mary, vegetarian. #deviledeggs #appetizerrecipes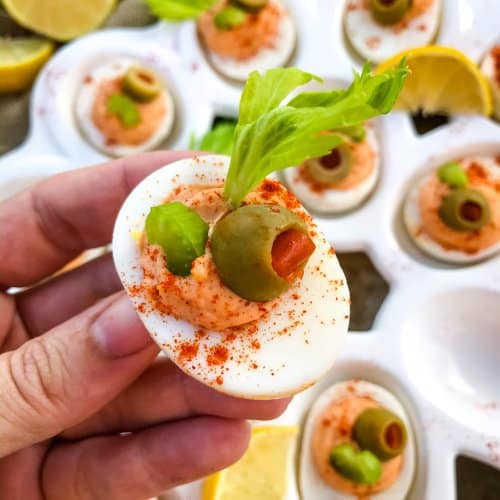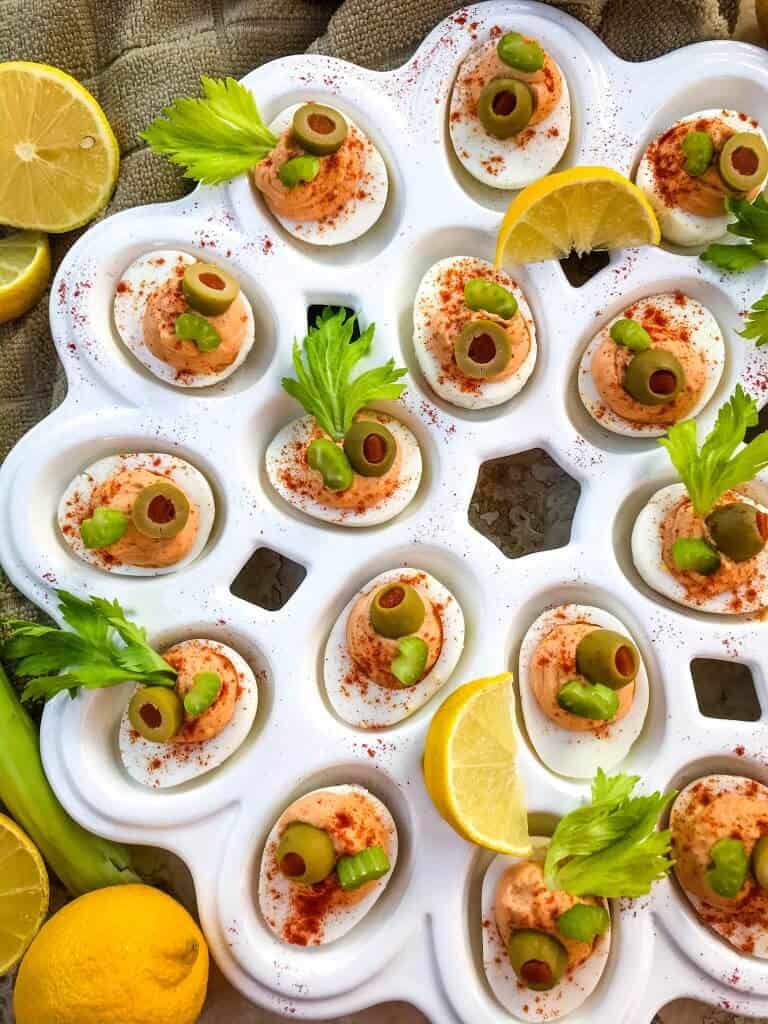 Is it brunch?! Is it game time?! Is it party time?! These Bloody Mary Deviled Eggs are a great appetizer recipe for any of the above! All the great flavors of a Bloody Mary drink in a deviled egg recipe.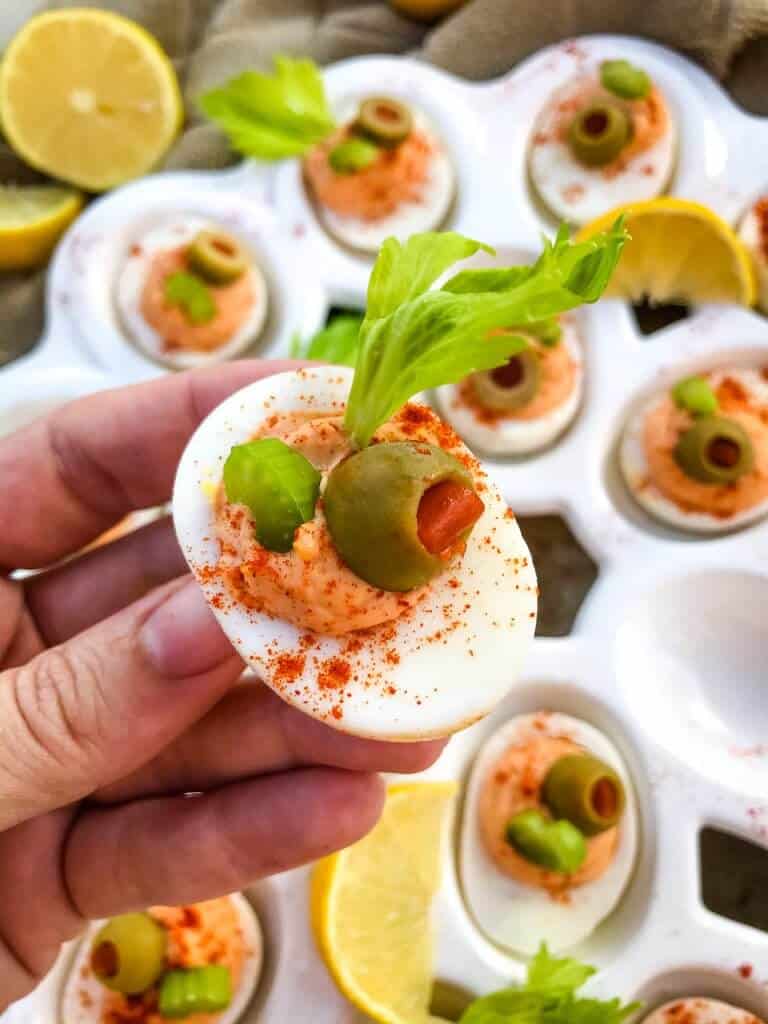 This post contains affiliate links.
I am not really sure how I got the inspiration for these Bloody Mary Deviled Eggs. But the fact that the drink has so many great flavors probably had something to do with it. People are pretty specific about how they like their Bloody Mary, so adjust the seasonings and flavors to your preference. This recipe is a great classic base to build from to make them perfectly your own! I made these eggs with tomato paste, Worcestershire sauce, celery salt, lemon juice, hot sauce, and garlic. I have become a lover of tomato paste in a tube for reasons just like this recipe when you need a little tomato umami flavor without wanting to open an entire can.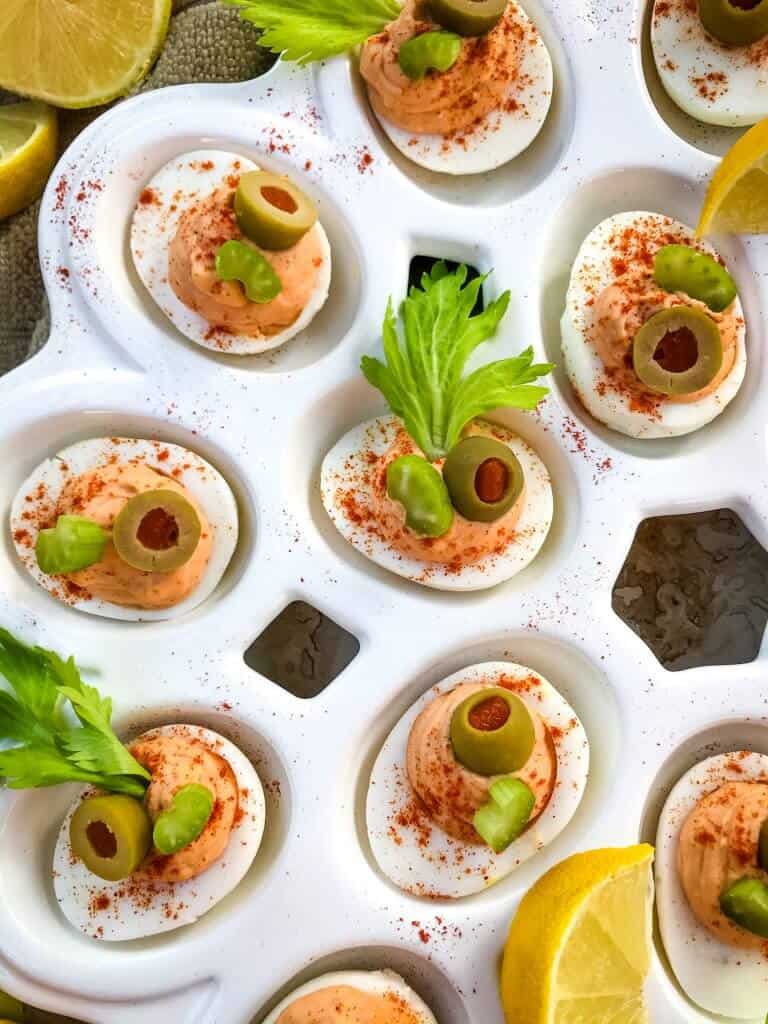 I just LOVE the garnish of the celery slices, celery leaves, and olive halves. Once I started adding those pieces to the finished deviled eggs, they just looked SO pretty! And such a tribute to the garnish that you get with the drink. If you have preference of other garnishes, you could use those instead for your eggs! There are so many options out there that I see like bacon and cocktail onions. Use any garnishes you like!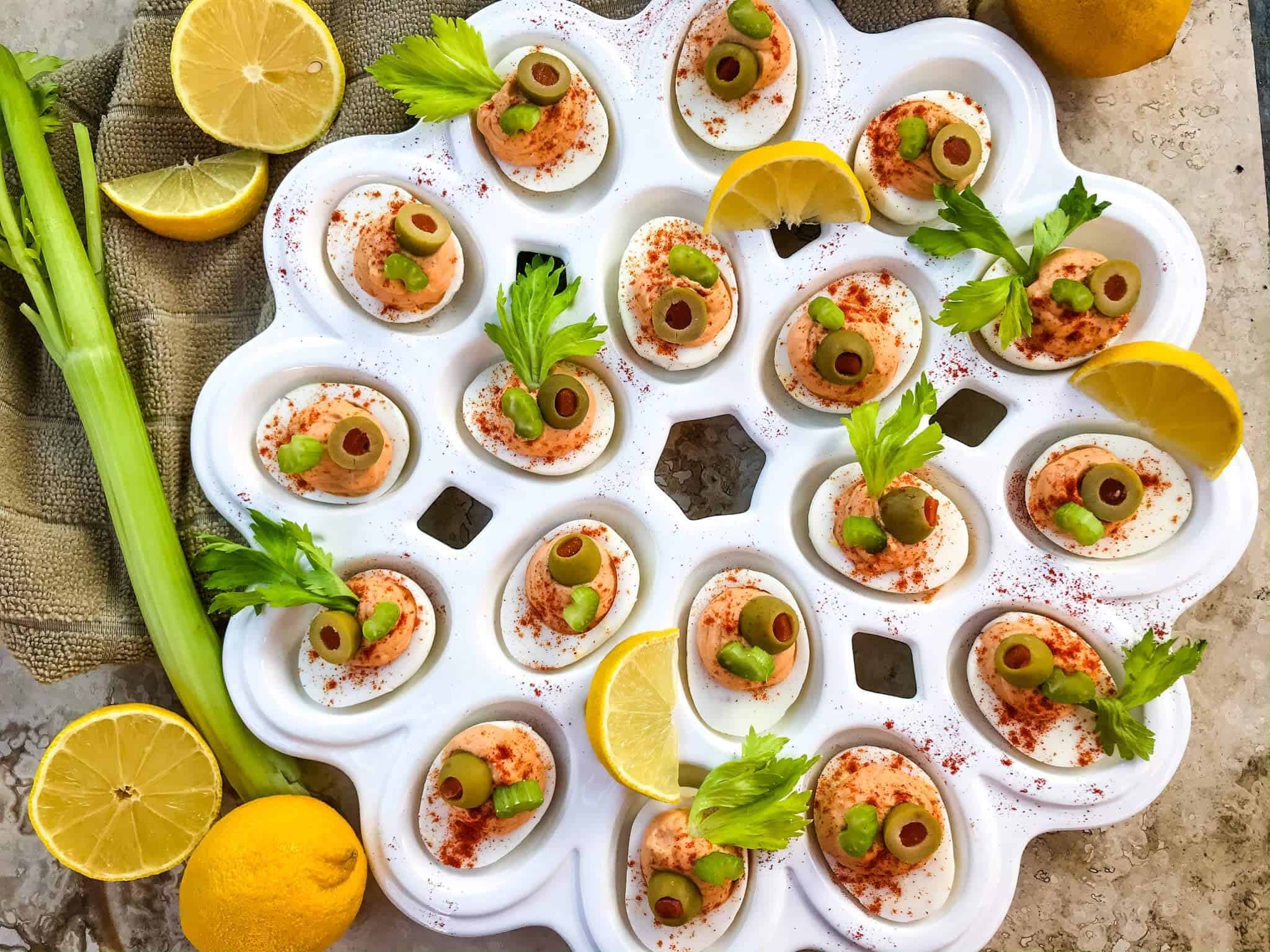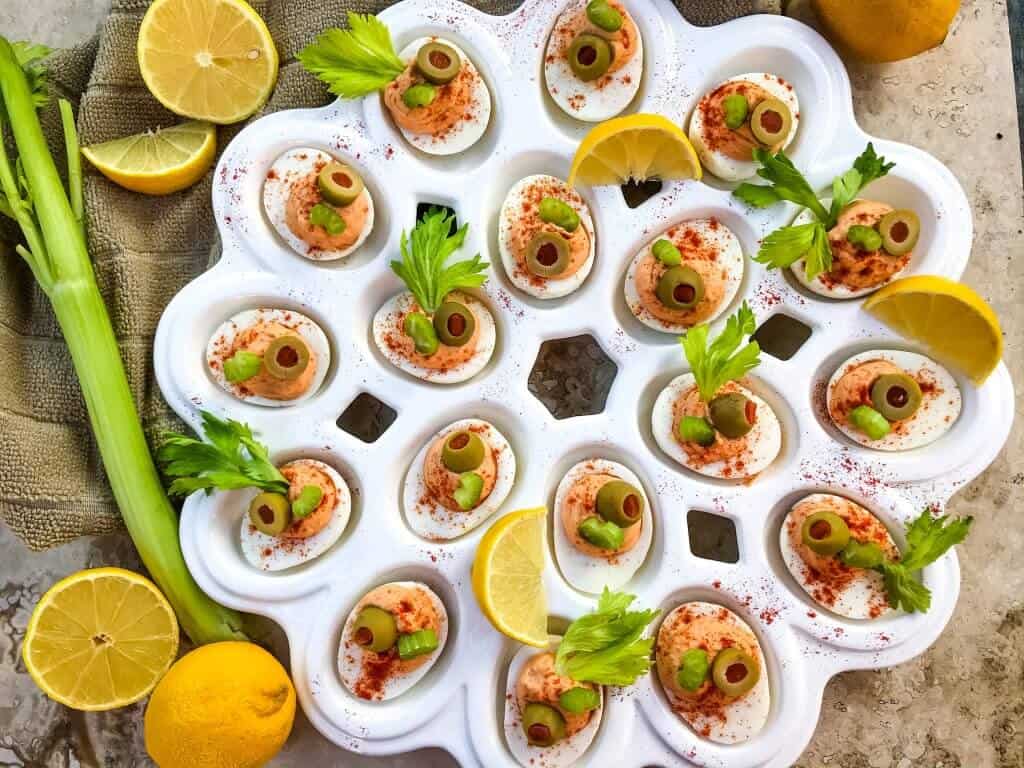 If you really want to be inspired by the cocktail, you could add a little vodka into the egg mixture. Find more deviled egg recipes here!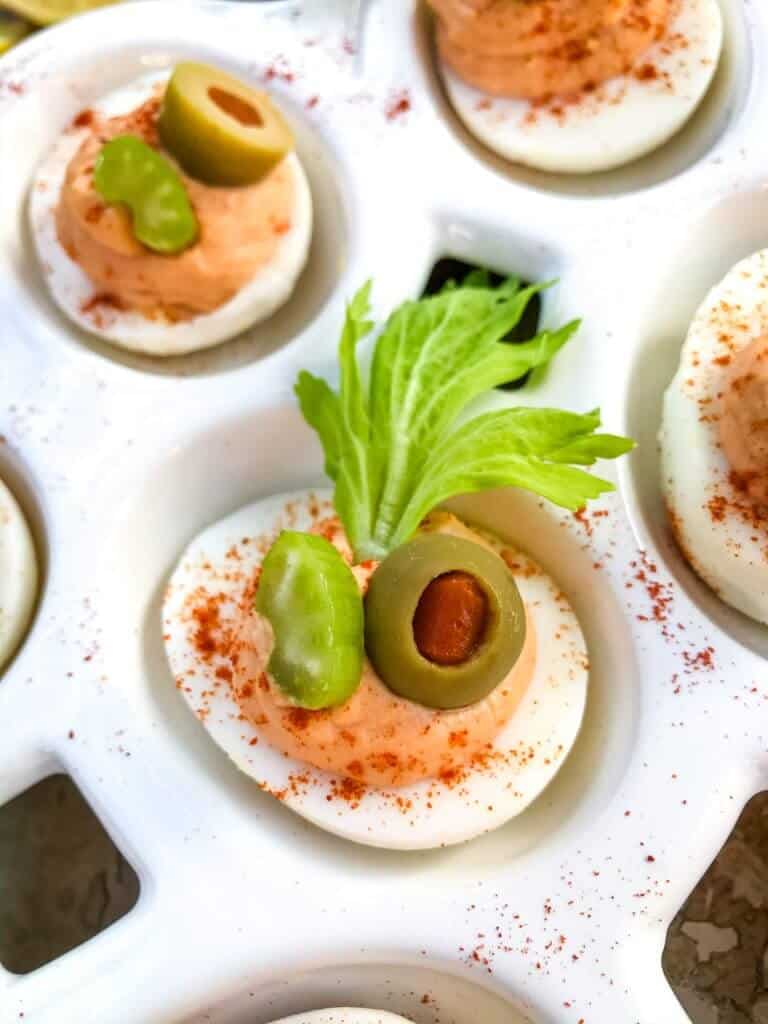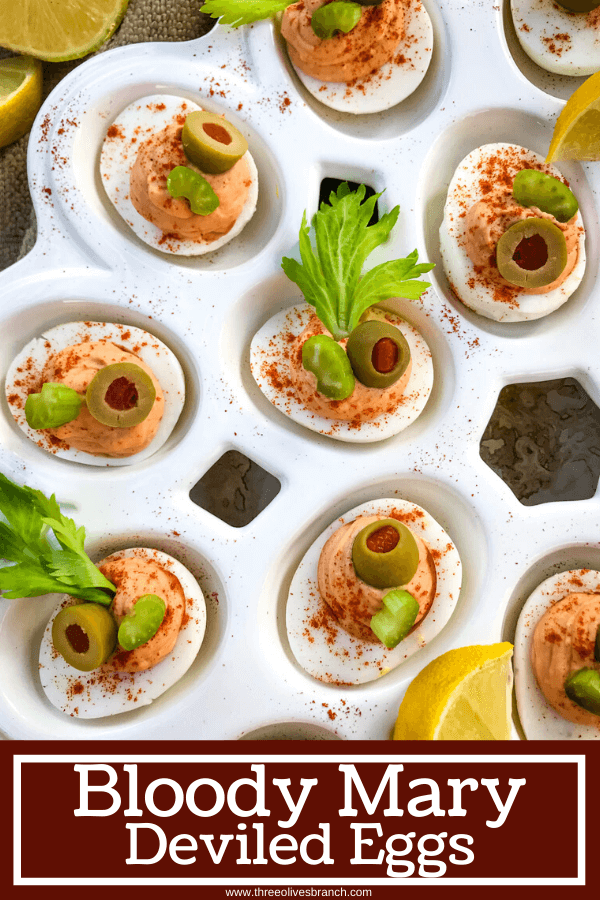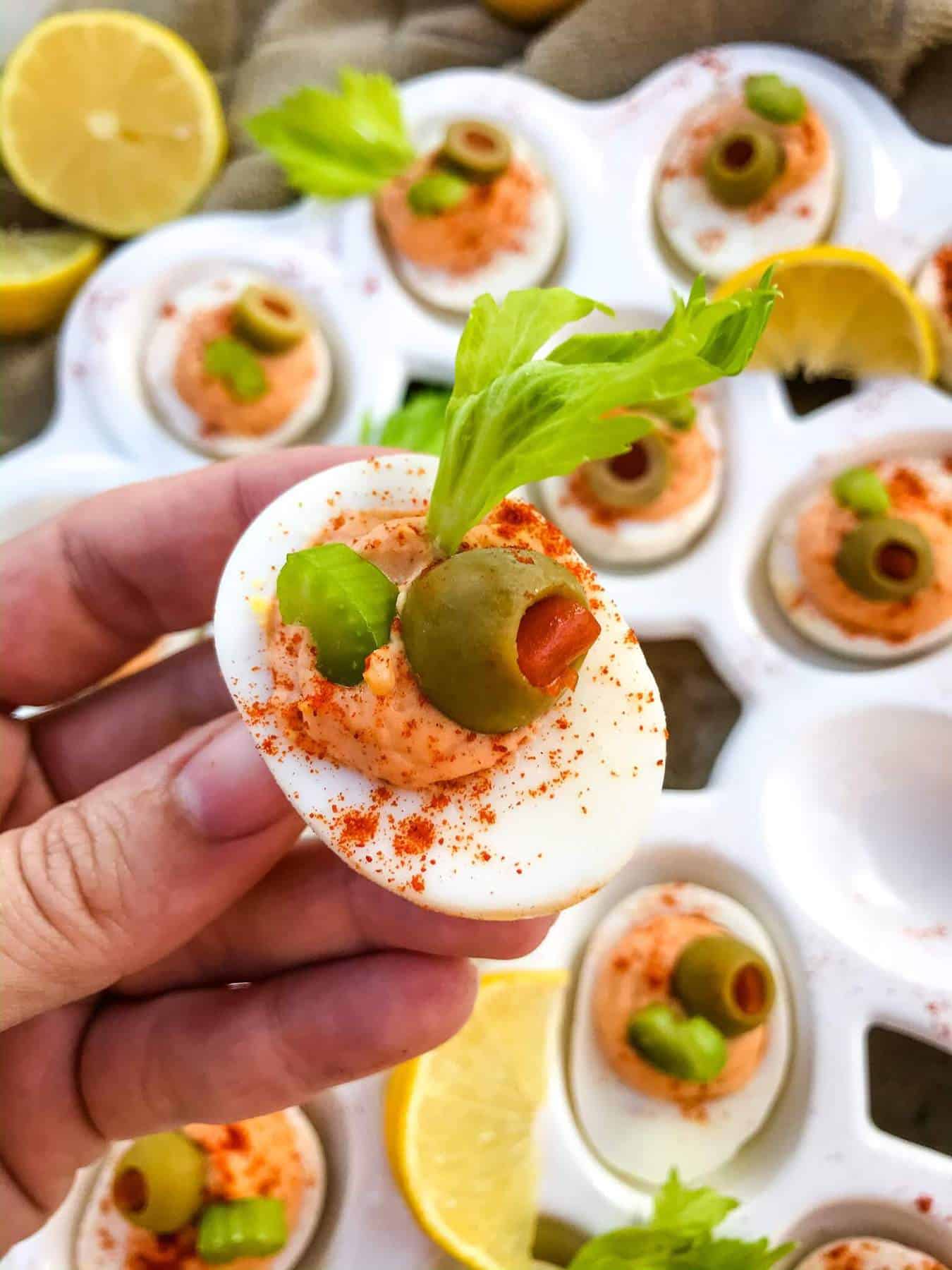 Instructions
Cook and peel your eggs if they are not already. Cut the hard boiled eggs in half lengthwise. Scoop the cooked yolks out and put in a small bowl. Set the whites aside.

Add the mayonnaise, tomato paste, celery salt, Worcestershire, garlic clove, and juice of 1/4 lemon to the yolk bowl. Mash the yolks to your desired consistency and mix all of the ingredients together. Add the hot sauce and salt to taste plus adjusting any other flavors. You can refrigerate the mixture and egg whites separately until ready to serve.

Scoop the mixture into each egg yolk half. Garnish with paprika and the celery leaves, celery slices, and olives if desired. Chill covered until ready to serve.
Nutrition
Calories:

72

kcal

|

Carbohydrates:

1

g

|

Protein:

3

g

|

Fat:

6

g

|

Saturated Fat:

1

g

|

Cholesterol:

95

mg

|

Sodium:

168

mg

|

Potassium:

42

mg

|

Fiber:

1

g

|

Sugar:

1

g

|

Vitamin A:

145

IU

|

Vitamin C:

1

mg

|

Calcium:

13

mg

|

Iron:

1

mg

By