Blow Job Shot made with Kahlua coffee liqueur, Bailey's Irish Cream alcohol, and whipped cream. A simple and easy mixed and layered shot recipe.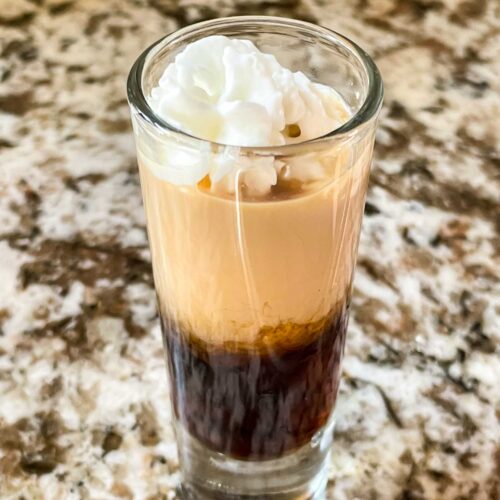 This simple and easy Blow Job Shot is a party favorite! A layered shot made with cream and coffee flavors.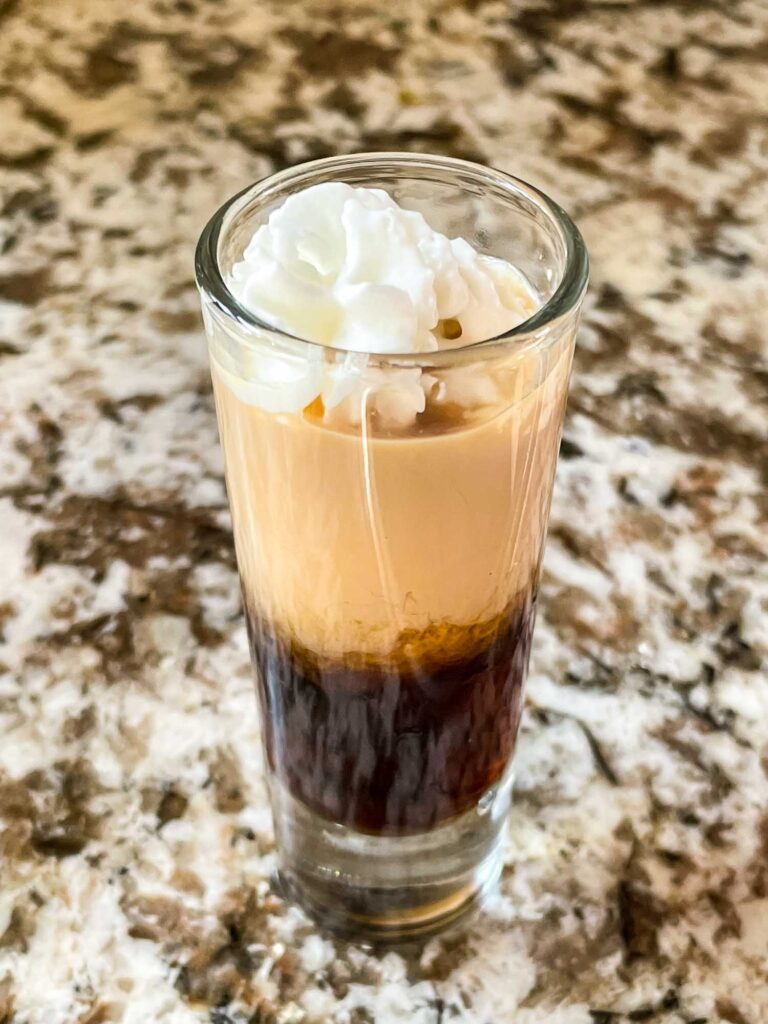 Mixed Shot Recipe
This Blow Job Shot recipe is a delicious flavor combination of coffee and cream!
As a fun layered shot where you can see the two different liquors, this drink is easy to make up for parties.
How Do You Drink Shots?
Typically you want to drink a shot quickly, all at once.
Tilt your head back and pour quickly toward the back of your throat.
How Do You Take a Shot Without Tasting It?
One trick is to breathe out just before and after drinking the shot.
A large part of our sense of taste is our smell, and when breathing out, since we are not inhaling, we are not smelling.
You can also try to pour the shot toward the back of your mouth where there are fewer taste buds.
But this Blow Job Shot is pretty tasty, so trying not to taste it is not as big of a deal as if it were a straight alcohol like vodka!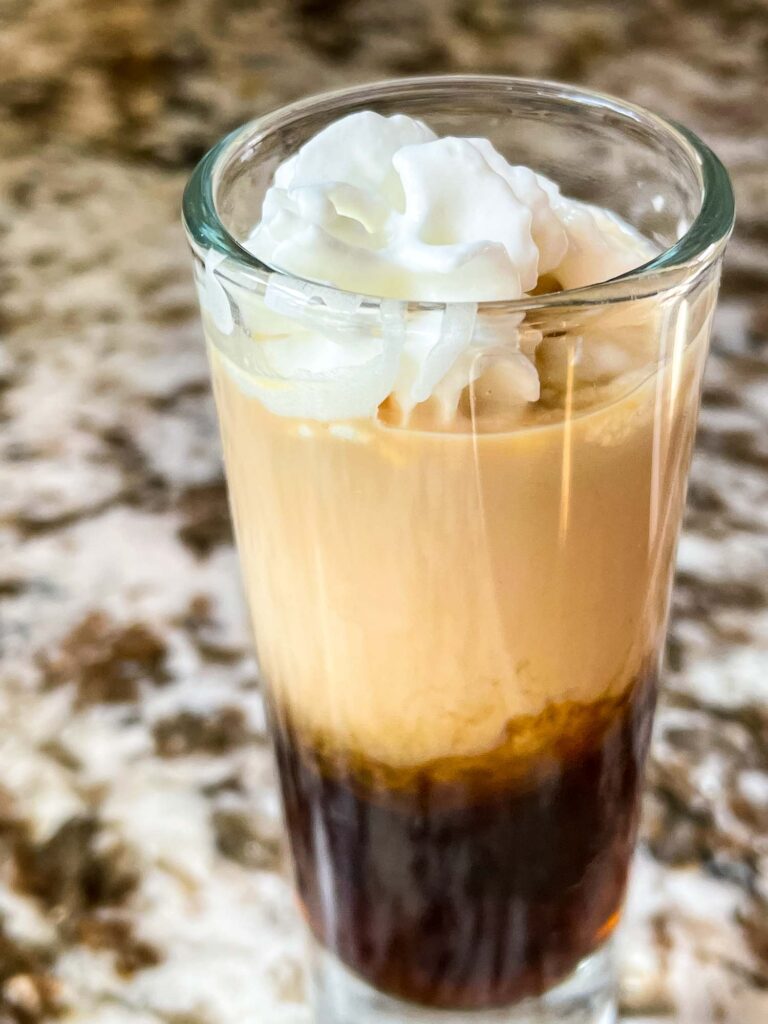 How Long Does a Shot Take to Kick In?
Effects can start being felt as soon as 5 or 10 minutes after drinking.
As your body continues to process the alcohol, the maximum effect is typically around an hour after.
Everyone's body processes alcohol at a different pace due to factors like body fat content, height, weight, etc. and will therefore adjust these numbers.
Why Do People Tap a Shot Glass on the Table First?
There is no one answer to this, but a few reasons.
Some do it as a sign of respect for the hosts or restaurant that you are visiting.
Some see it as a sign of respect for those that have passed and are not there to join in.
And some do it purely out of superstition for various reasons.
Why is it Called a Blow Job Shot?
The name comes primarily from the fact that it is topped with whip cream and has little to do with the other liquor ingredients.
By topping the shot with a big dollop of whipped cream, it is bound to get on your face.
I will just leave it at that.
What is in a Blow Job Shot?
Here is what you need for this shot recipe:
Coffee Liqueur (such as Kahlua)
Irish Cream Liqueur (such as Bailey's)
Whipped Cream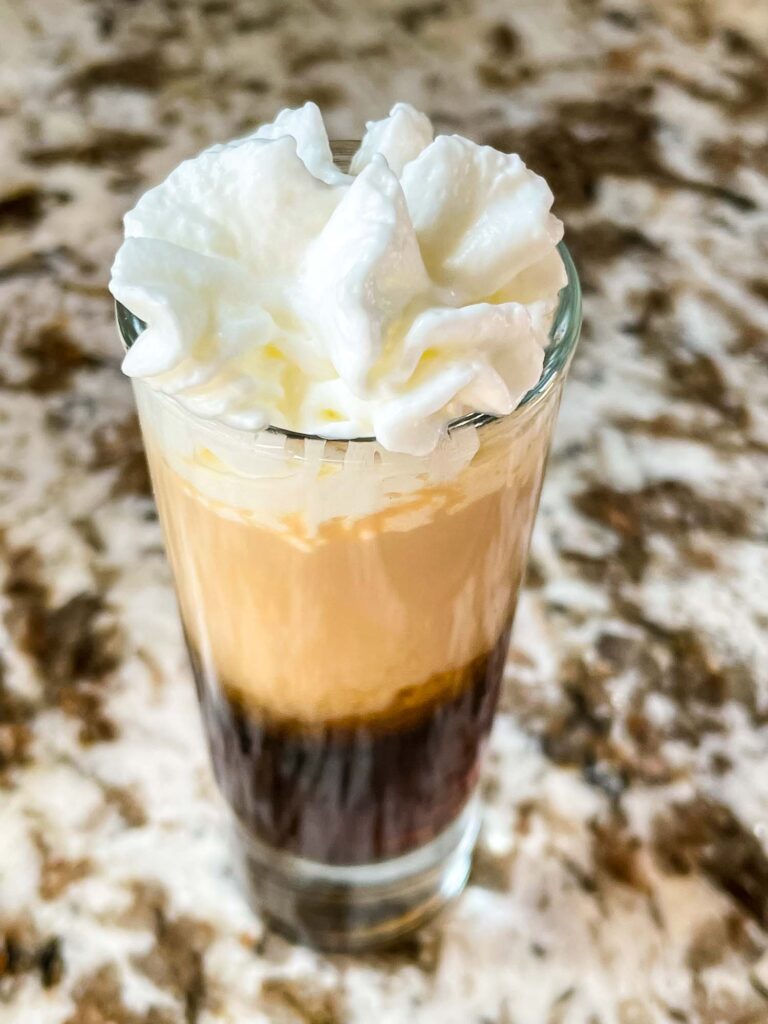 Blow Job Shot Variations
There are different variations out there of how to make this drink.
Some incorporate amaretto in addition to the coffee liqueur and Baileys. And some swap out one or the other for the amaretto.
You can try out variations by doing a third of each, and also swapping out, to see which one you like best!
How to Make a Blow Job Shot
First pour the Kahlua coffee liqueur into a shot glass about half way up.
Then pour the Bailey's Irish cream over the back of a spoon into the shot glass, filling up the second half. Using the back of a spoon helps keep them layered instead of mixing.
Top it off with a big dollop of whipped cream and serve!
How Do You Take a BJ shot?
This type of a shot is classically drank differently than a traditional shot.
You do not use your hands at all. Instead, you open your mouth and place it around the outside of the glass, close your lips on it, and lift your head, tilting back, to pour it into your mouth to drink.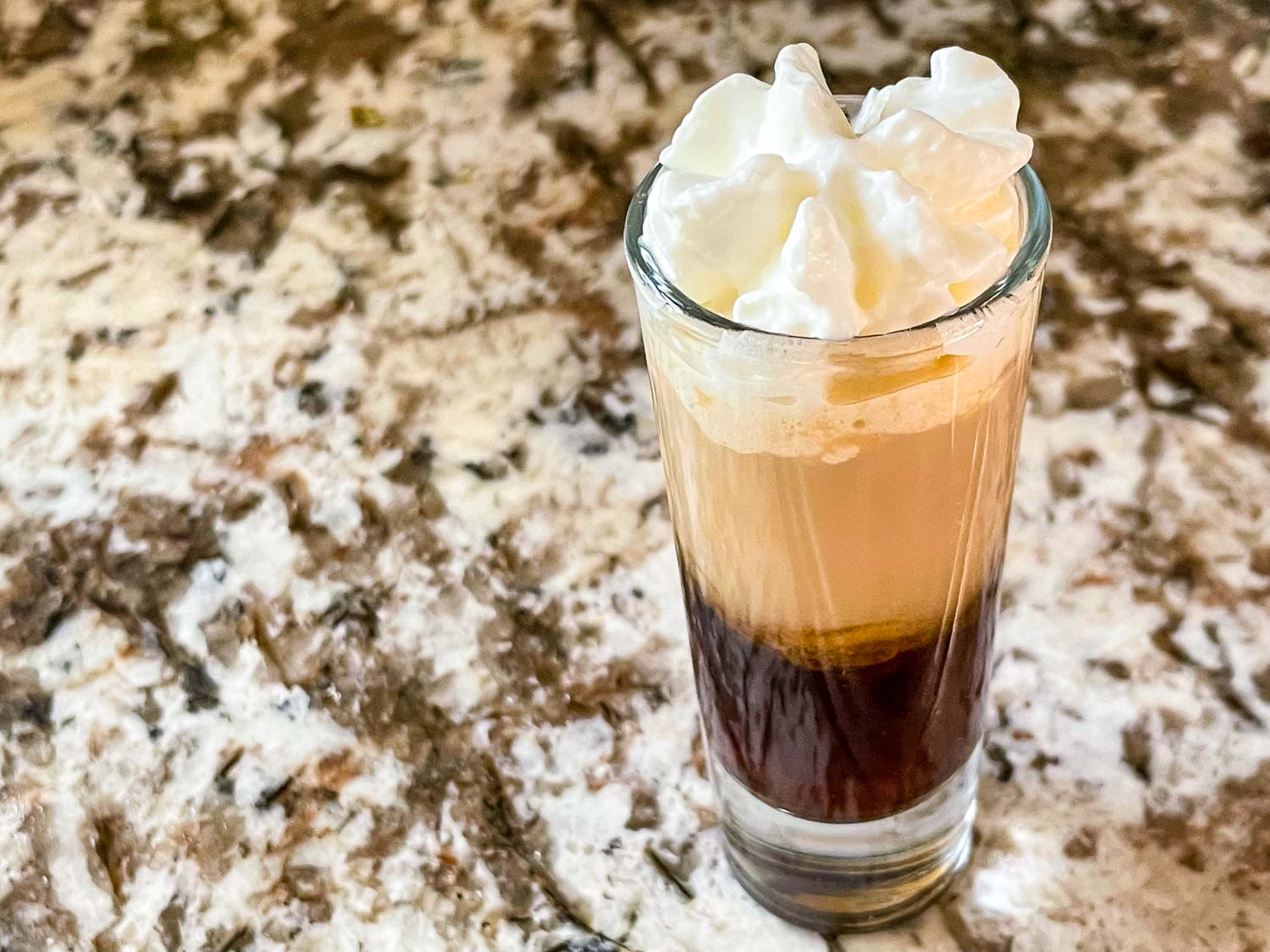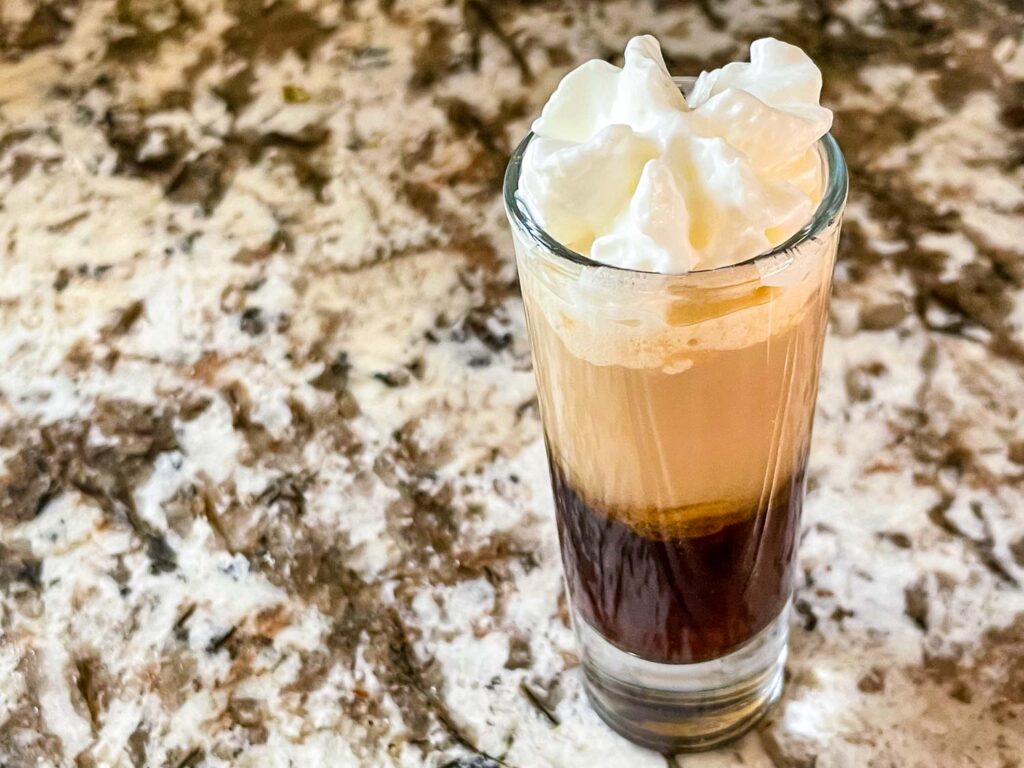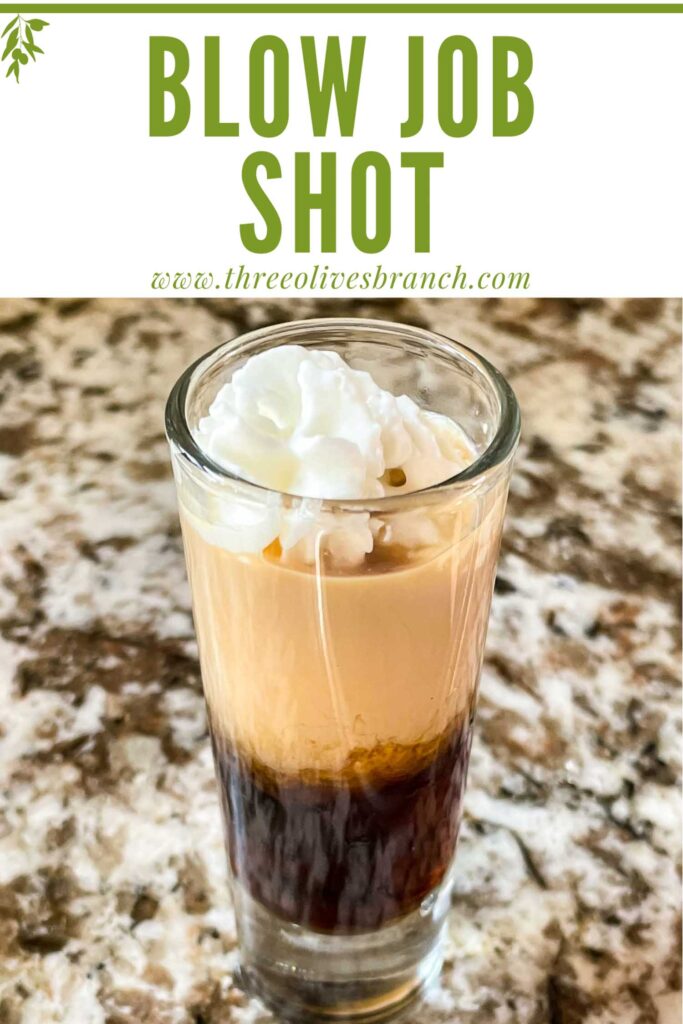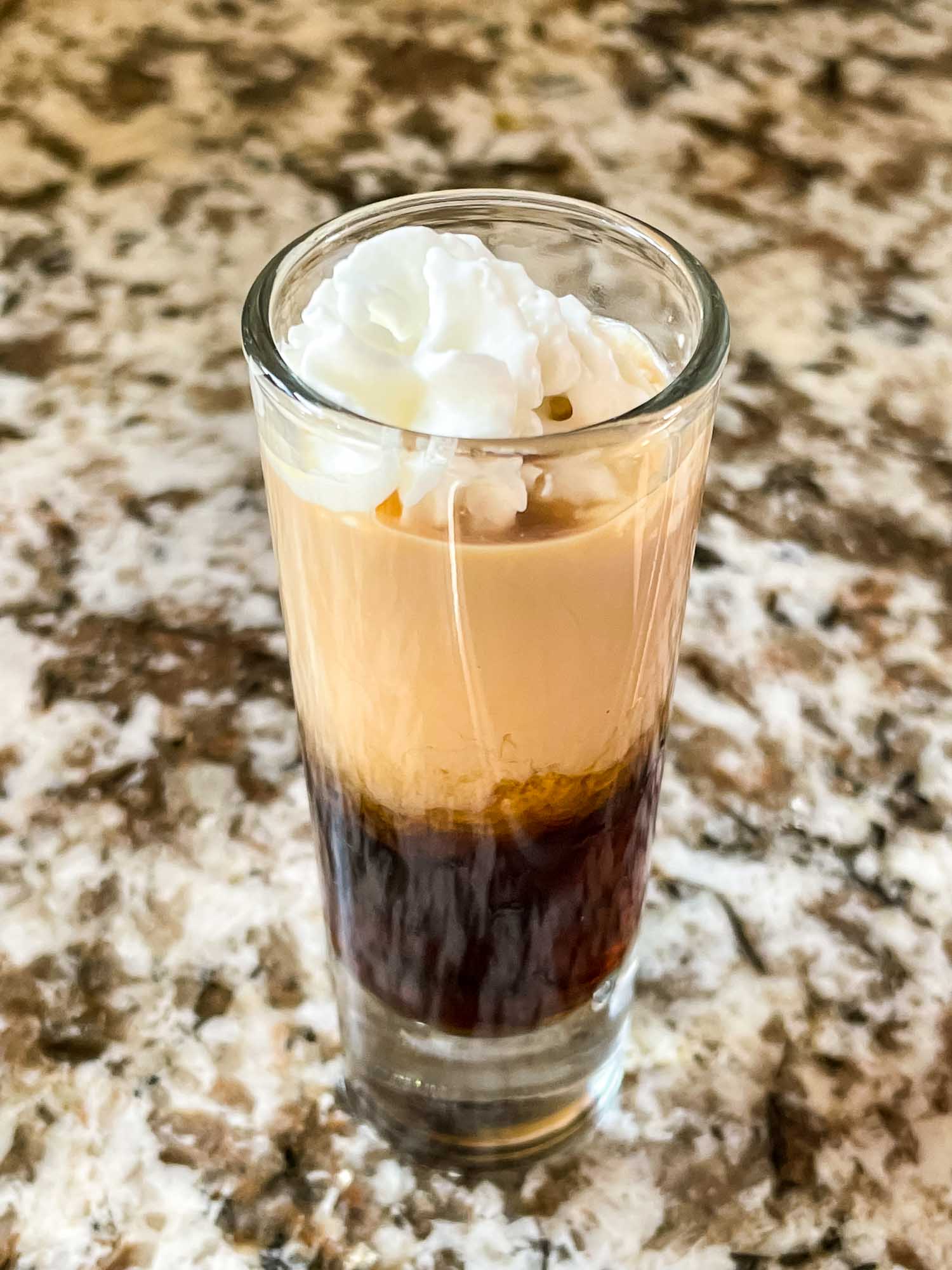 Ingredients
1

ounce

Kahlua

or another coffee liqueur

1

ounce

Bailey's

or another Irish Cream

dollop

whipped cream
Instructions
Pour the Kahlua coffee liqueur into a shot glass about half way up.

Pour the Bailey's Irish Cream over the back of a spoon into the shot glass. The spoon helps them layer and not go to the bottom.

Top with a big dollop of whipped cream. Serve.
Notes
Some Blow Job Shot recipes use Amaretto. You can swap out either liqueur for amaretto, or do a third of each if desired.
Pour more or less of each liqueur based on how big your shot glass is. Aim for 1/2 and 1/2.
Nutrition
Serving:

1

shot

|

Calories:

190

kcal

|

Carbohydrates:

20

g

|

Protein:

1

g

|

Fat:

4

g

|

Saturated Fat:

2

g

|

Polyunsaturated Fat:

0.03

g

|

Cholesterol:

0.01

mg

|

Sodium:

2

mg

|

Sugar:

19

g

By