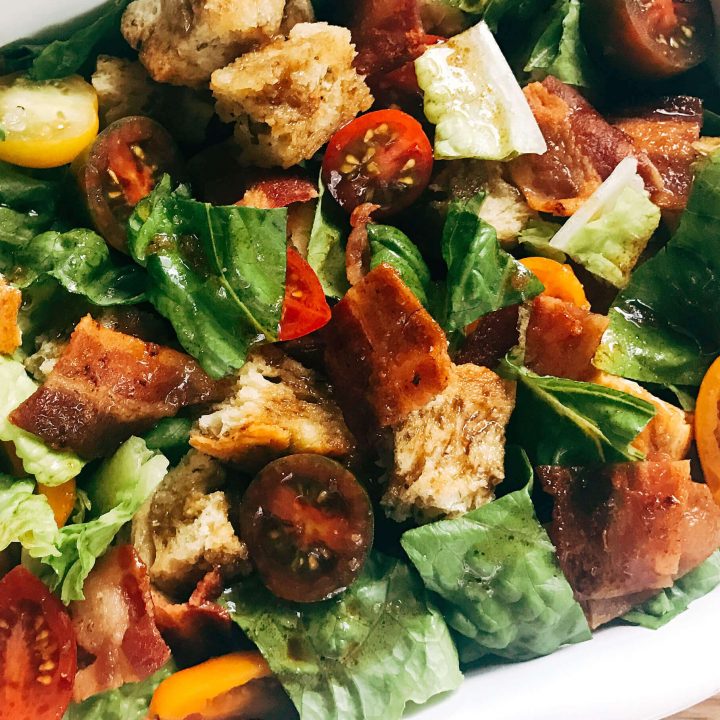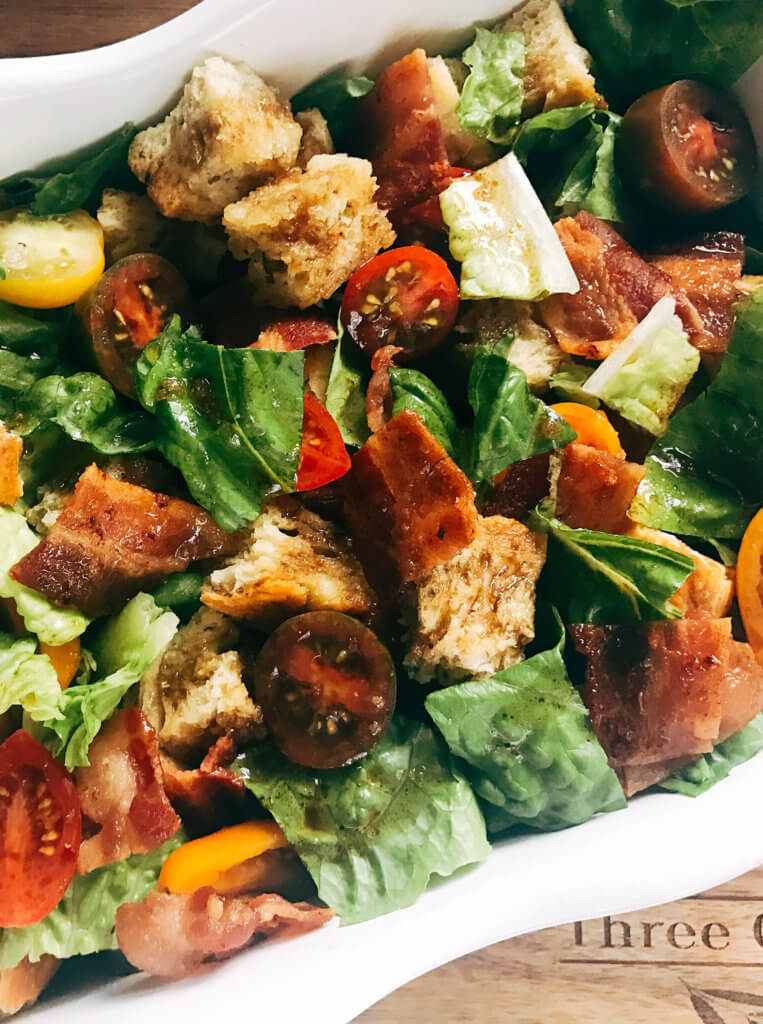 Side dishes are incredibly important to me at grill outs and BBQs, and this BLT Panzanella Salad is a perfect option to bring along to an event!  The salad is hearty yet full of fresh and bright flavors that are a great contrast to many of the heavier foods that you may typically eat when grilling.
Panzanella is a salad from Italy, specifically Tuscany, that is made with stale bread and tomatoes.  Essentially it is like what my husband's normal salads look like: a pile of croutons with a few veggies mixed in.  I am honestly surprised Panzanella is not more popular.
This post contains affiliate links.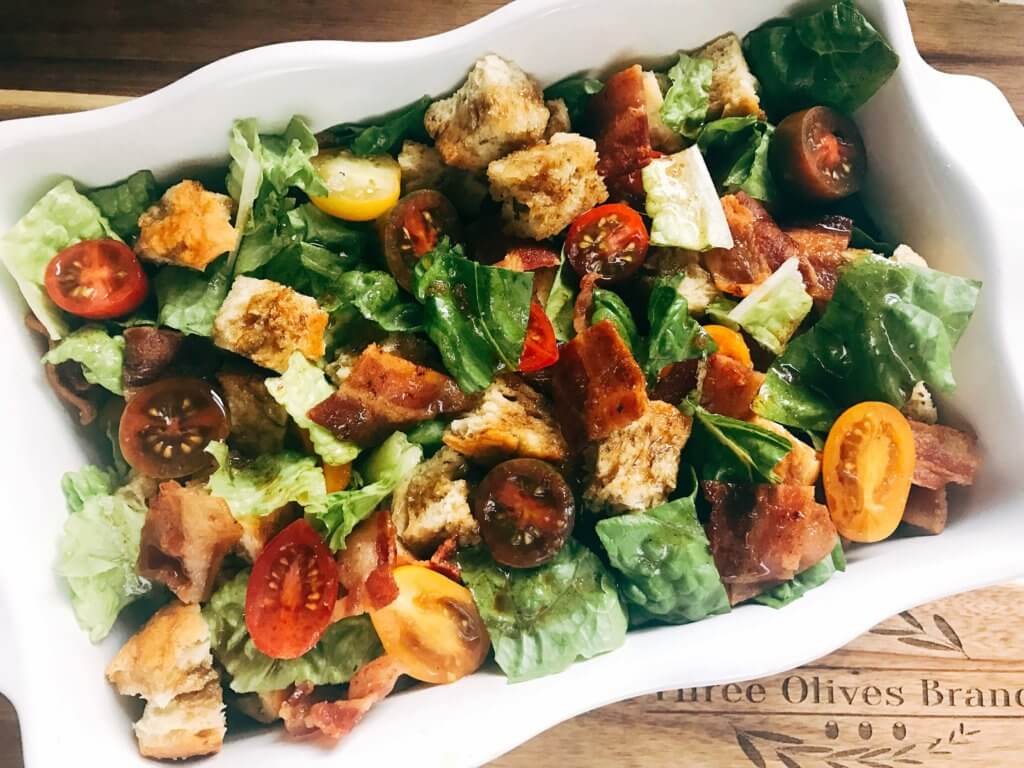 Even though it hails from Italy, when I was living there in college you did not see it too often in restaurants.  But when you did find one, it was normally very special!
This BLT Panzanella Salad is perfect as a side dish for a summer gathering like grilling or a BBQ.  It is fresh and bright while still holding some substance and goes with just about anything.  Keep it light with a vinaigrette like the one listed here made of olive oil and balsamic vinegar.  Or make it creamy with a ranch or Caesar dressing.
That dressing of choice soaking into the toasted bread croutons gives you that perfect texture.  Not soggy, but not rock hard either.  You know when you try to stab a crouton with a fork and it flies across the table?  Won't happen here because the dressing gives you enough room to grip that crouton.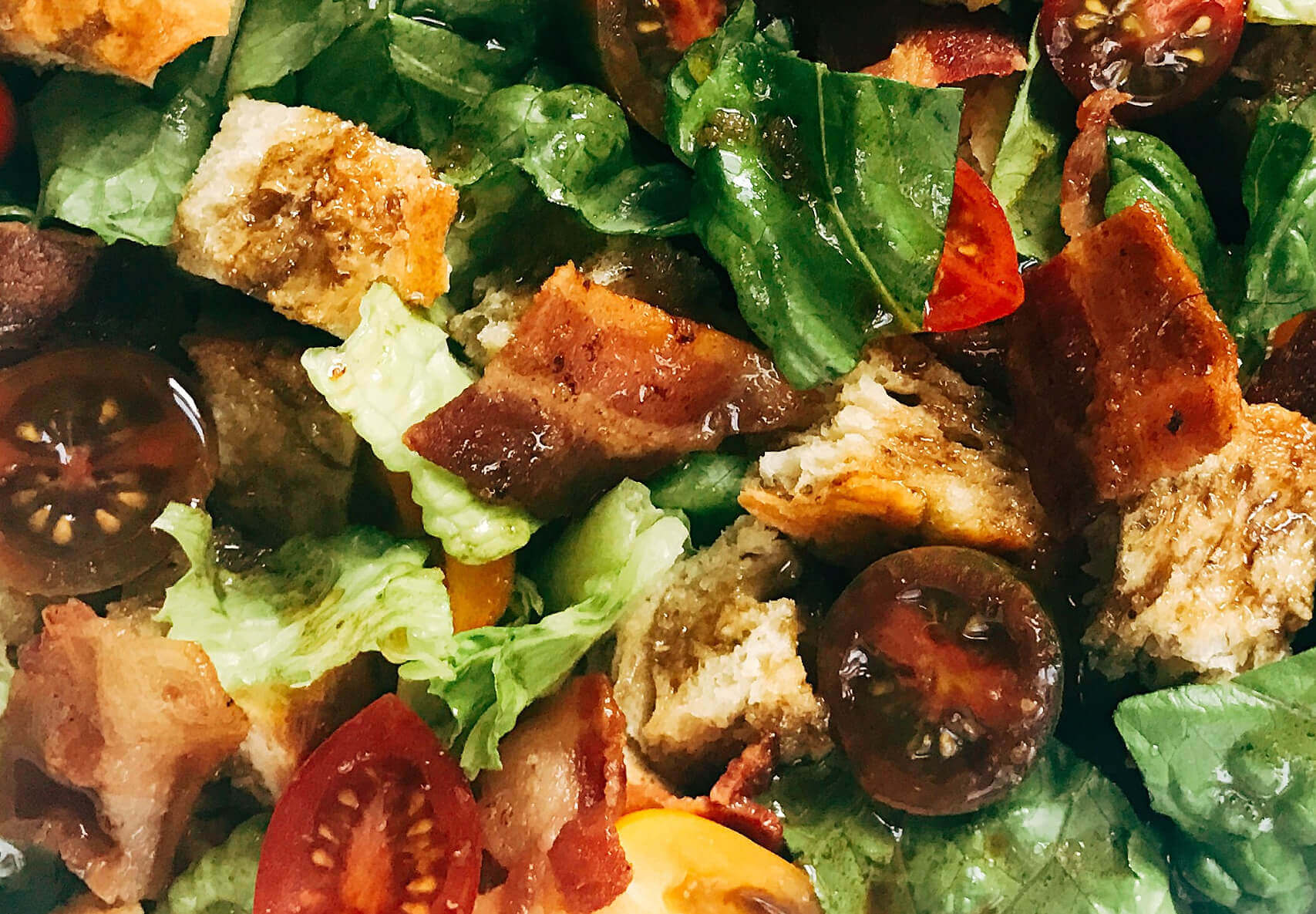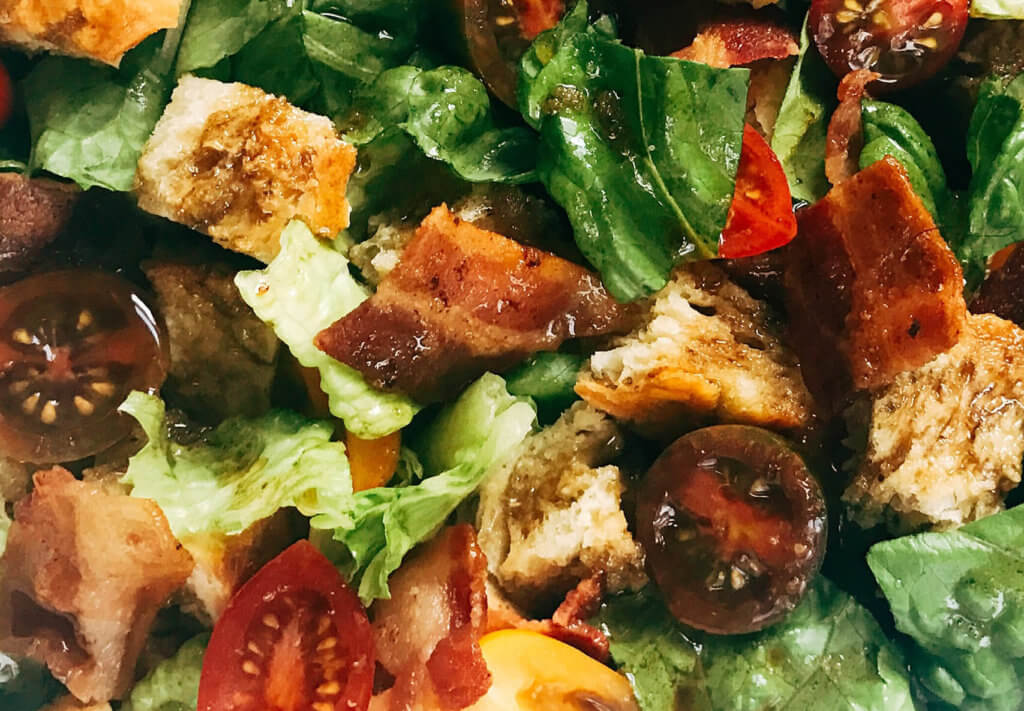 I love to combine different flavors and ideas together, and this BLT Panzanella Salad came to me because of my mom.  She LOVES BLT sandwiches, and so it was only natural to use a bread salad to incorporate those same flavors.  Any of your favorite sandwiches would work well as a panzanella, which one would you try first?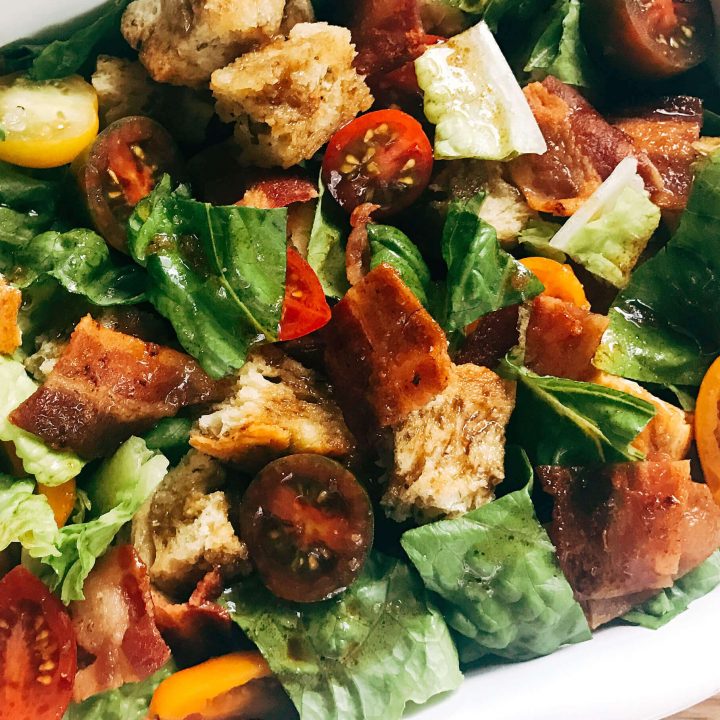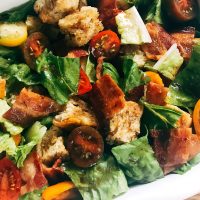 Ingredients
BLT Panzanella Salad
Instructions
Preheat oven to 300F.

Cut the bread into approximately 1" cubes and spread on a baking sheet. Drizzle the bread with olive oil and a little salt.

Bake the bread until the cubes are just crunchy but do not squish or bend. They should not be as hard as croutons. The time this takes will depend on how dry/dense your bread already is (for me it typically takes 20-30 minutes). When done, set aside to cool to room temperature.

While the bread is baking, prepare the mix-ins. Cook your bacon until it is crispy and cut into 1" pieces. Place the bacon in a large bowl.

Cut your tomatoes and lettuce into 1" chunks. Add the lettuce and tomato to the bowl with the bacon.

In a small bowl, prepare the dressing by combining all of the ingredients. Whisk together and salt to taste.

When the bread is done and cooled to room temperature, add the bread to the vegetables bowl and toss to combine. Add additional bacon, tomato, or lettuce if desired.

Pour the dressing over the salad and toss to coat. Let the dressing sit on the salad ideally for 30 minutes in the refrigerator before serving so that it starts to soak into the bread. It will not make the bread soggy.
Notes
Ideally you want to use a denser bread for this salad, something more rustic with less air. The weight of the bread will vary based on exactly which one you use, but you want to aim for 6 cups in volume regardless.

You can use any dressing that you like for this salad.  Something creamy like a ranch or Caesar would also be great!

By