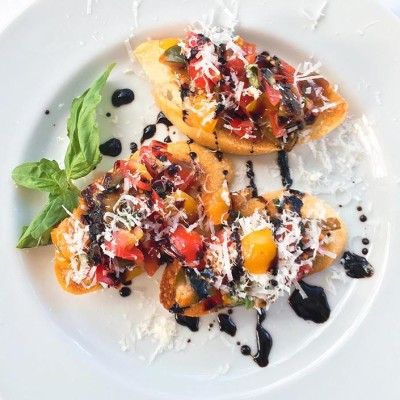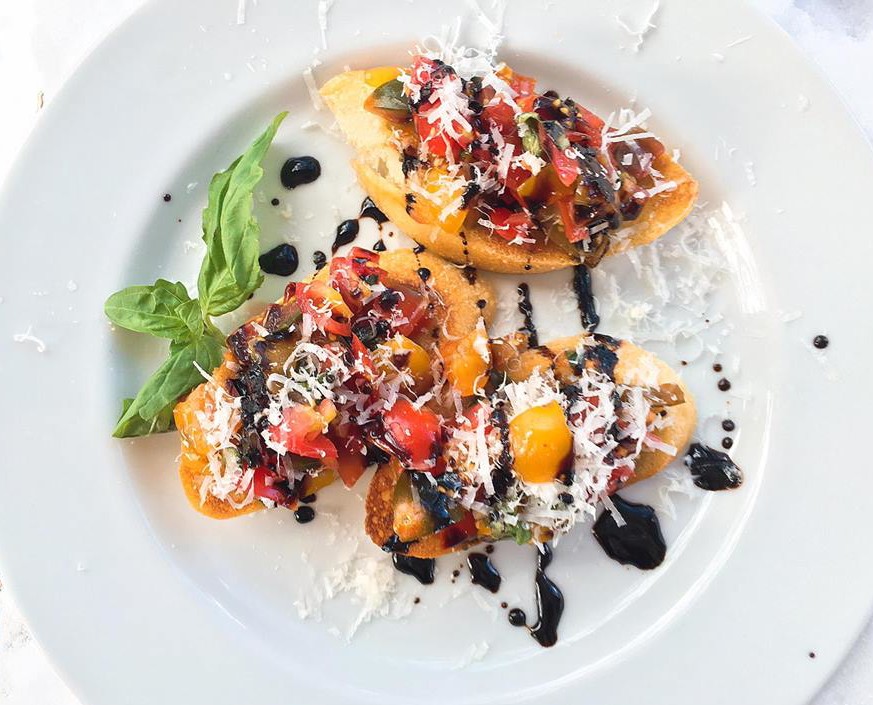 Some of the best foods are those that are fresh, simple, and light.  This Bruschetta with Garlic Crostini is a perfect example of how simple flavors can pack a powerful punch.
The base of this recipe is rather simple however there is a secret ingredient that not everyone knows about: BALSAMIC!!!
Balsamic adds a little oomph that is not particularly identifiable if you are not expecting it.  It just rounds out all the perfect little flavors in this dish and will make your bruschetta a crowd favorite!
I also LOVE to add some balsamic glaze on top at the end like you see in the pictures.  SO GOOD.  Learn how to make your own balsamic glaze in just 15 minutes here.
I love to use my chopper when I need to chop a lot of vegetables, and this is a perfect example.  The choppers can make the process so much faster and everything is a uniform cut.  Check out this spring loaded one or this motorized one that also has an immersion blender attachment and you will be saving yourself so much time in the kitchen!
This is definitely best served chilled.  The longer it sits, the salt will draw out more moisture from the tomatoes and it may get a little soupy.  I like to use that juice to help soften the hard bread so that it does not destroy my mouth.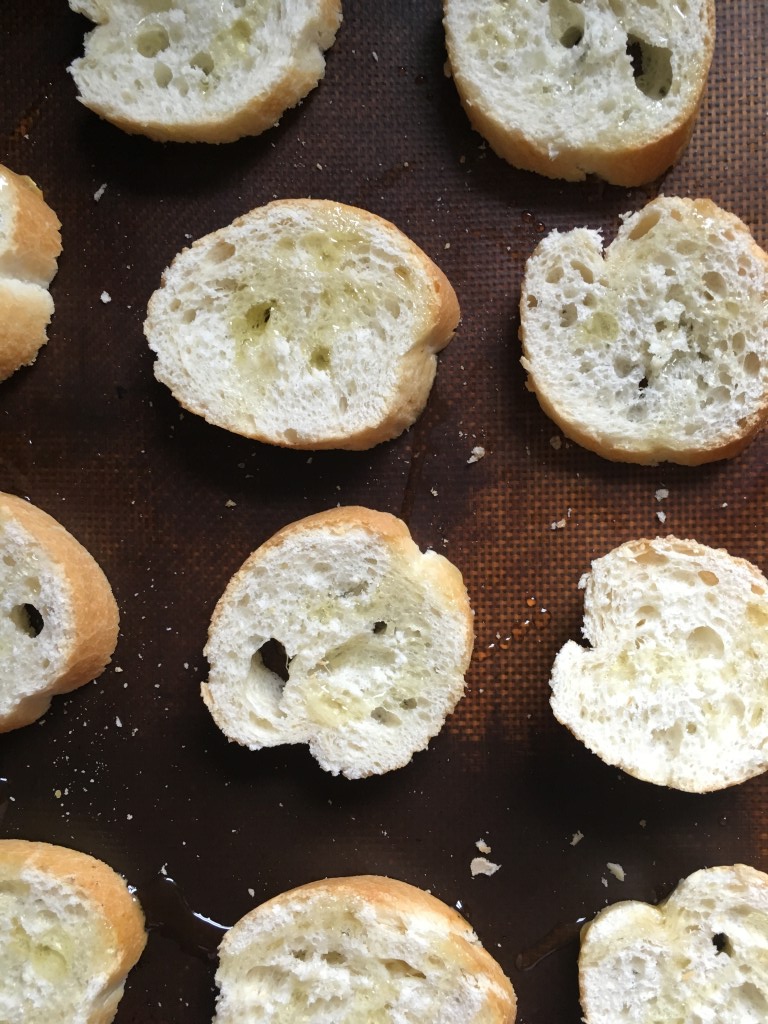 However, if you find there is too much liquid, you can easily drain some.  Just keep in mind you are losing some of the balsamic flavor that has not been absorbed!  I also love to sprinkle some fresh Parmesan cheese on top.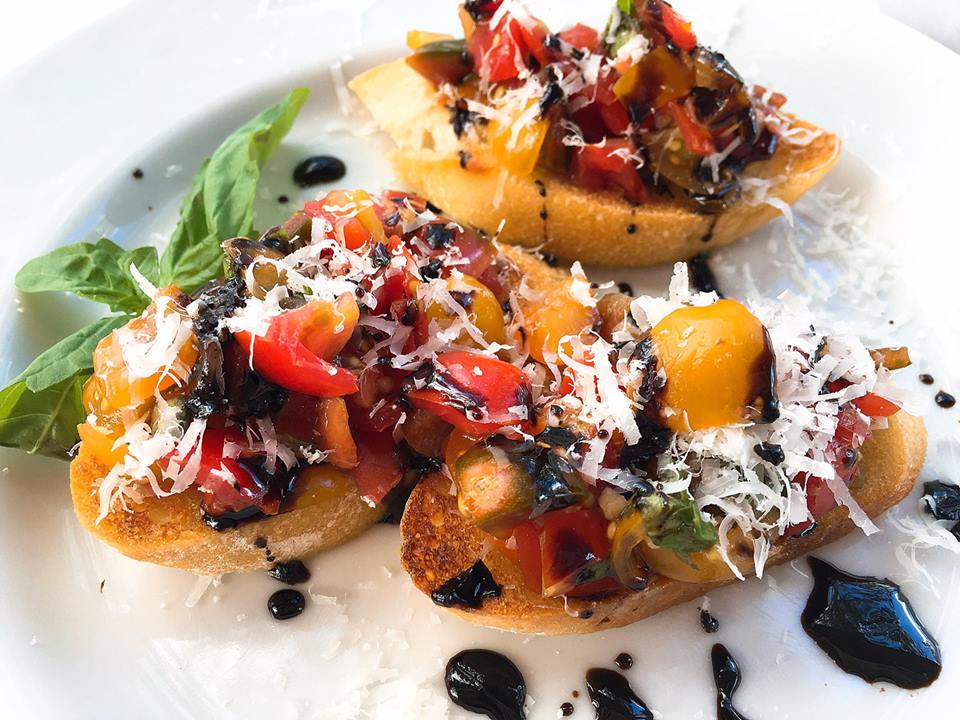 And if you happen to have any leftovers (doesn't happen often, so go ahead and make a big batch just to be sure!), you can use this to top off some grilled chicken or as a pasta sauce!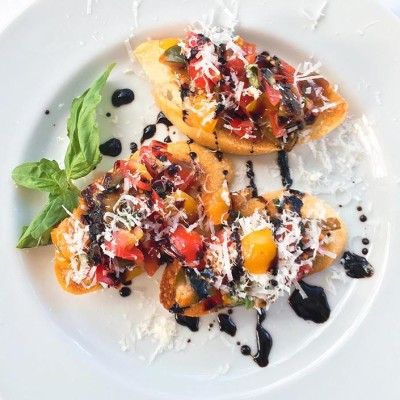 Instructions
Finely dice tomatoes and place in a bowl.

Cut basil either into thin ribbons (chiffonade) or small dice. Add to tomatoes.

To the bowl, add the balsamic, 1/2 Tbsp olive oil. salt, and 1 clove minced garlic. Stir to incorporate. Cover and chill for at least one hour.

When ready to serve, slice the baguette into 1/2 inch coins on the bias (at an angle). Lay them out on a cookie sheet and lightly drizzle with olive oil. Bake them at 300F. After 5 minutes, flip the crostini. Bake an additional 5 minutes, or until they just start to turn brown around the edges, and remove from the oven.

Let the bread cool slightly. Unpeel the whole garlic cloves and rub them against the toasted bread, flavoring each piece. Serve with the chilled tomato mixture.
By