This recipe is set up for a mild spice. Keep in mind that the exact sauce you use can change the heat level. Add more sauce for more of a kick!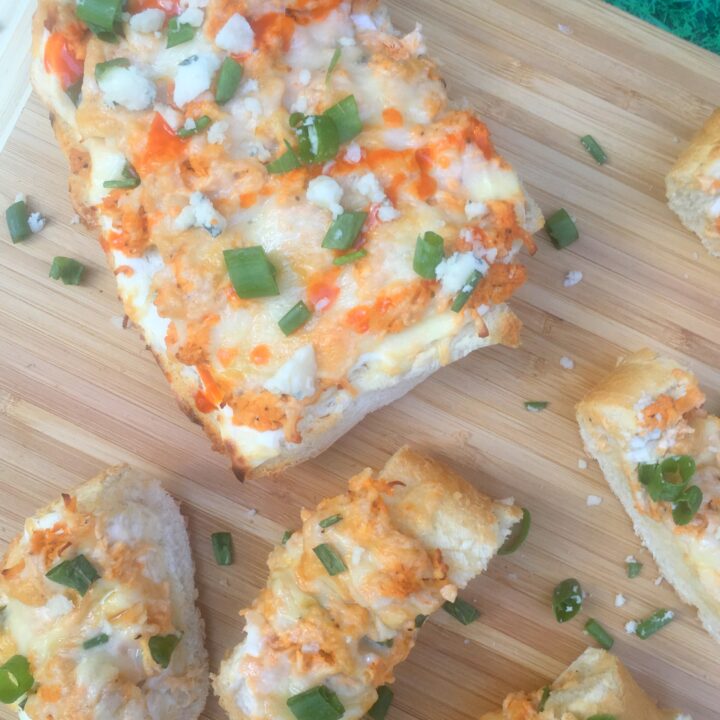 Buffalo wings are such a staple for the big game, but they can be messy!  This Buffalo Chicken Cheese Bread is a perfect snack for the big game that delivers all of the same flavors of buffalo wings in a cheesy and easy to eat way!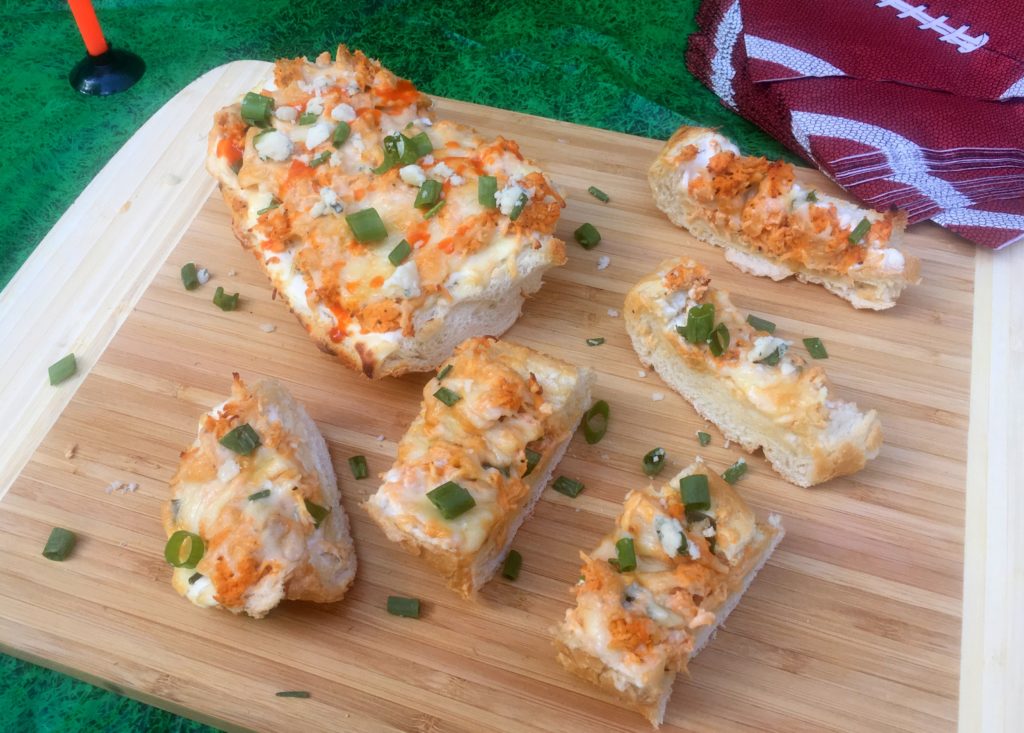 I made this Buffalo Chicken Cheese Bread for our Fantasy Football Draft Party (which you can read about here!).  I knew that there HAD to be bread involved because we have some serious bread lovers in the family.  Bread lovers as in people that need their own basket of bread at the restaurant!
Plus, my husband is also a serious cheese lover.  He piles cheese on anything and everything he can!  This seemed like the perfect way to please the masses and do something traditional, but in a new way.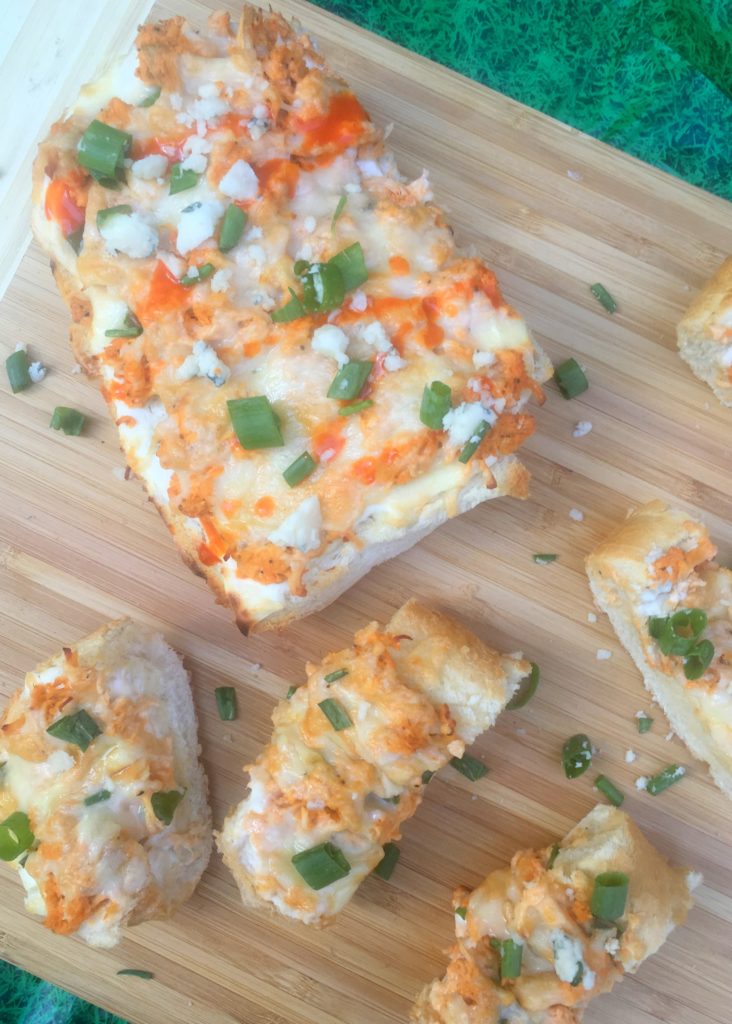 The quantities of all ingredients for this recipe will vary based on the size and shape of the bread, as well as your personal preference.  So use this as a starting point and change things as you go!  Personally, I LOVE blue cheese, so I add more.  Meat lovers?  Double up the chicken!  Add more buffalo sauce or hot sauce for some heat.  You can find the buffalo wing sauce that I use at this affiliate link, which I think has a great balance of flavor without being too hot.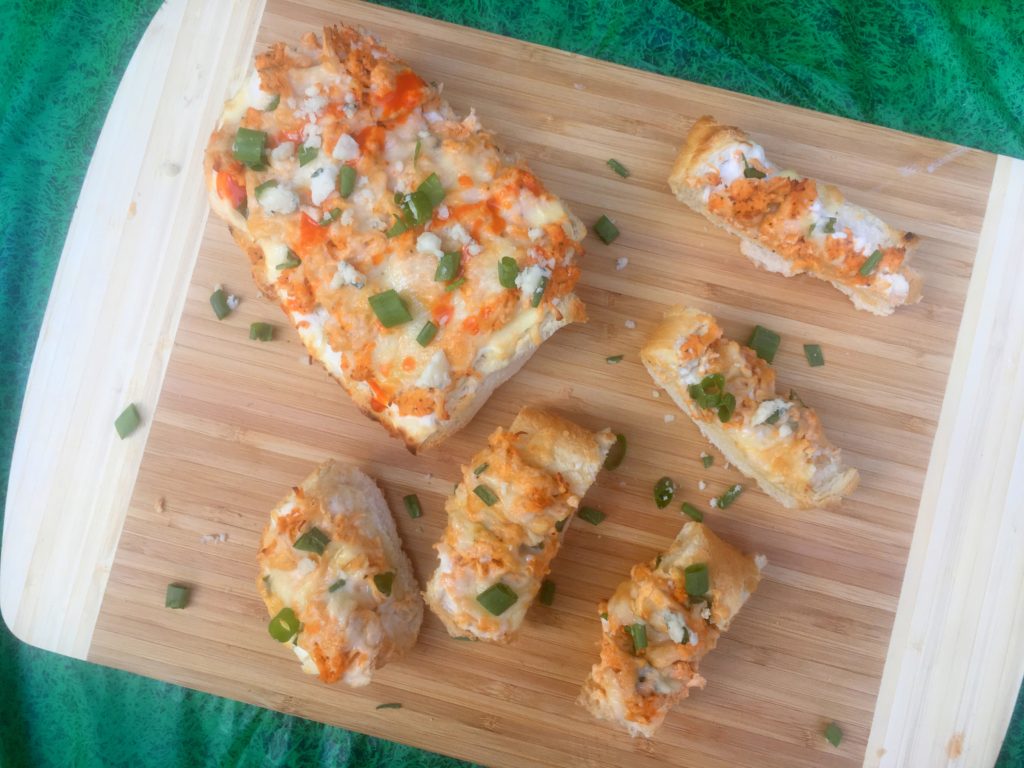 The draft party, as expected, was full of trash talking and rushing to make pics.  Having something easy to eat like this Buffalo Chicken Cheese Bread was perfect!  And no buffalo sauce covering computers and tablets.  This will definitely be making a regular appearance at our game day viewing parties!
What are your favorite things to eat for the big game?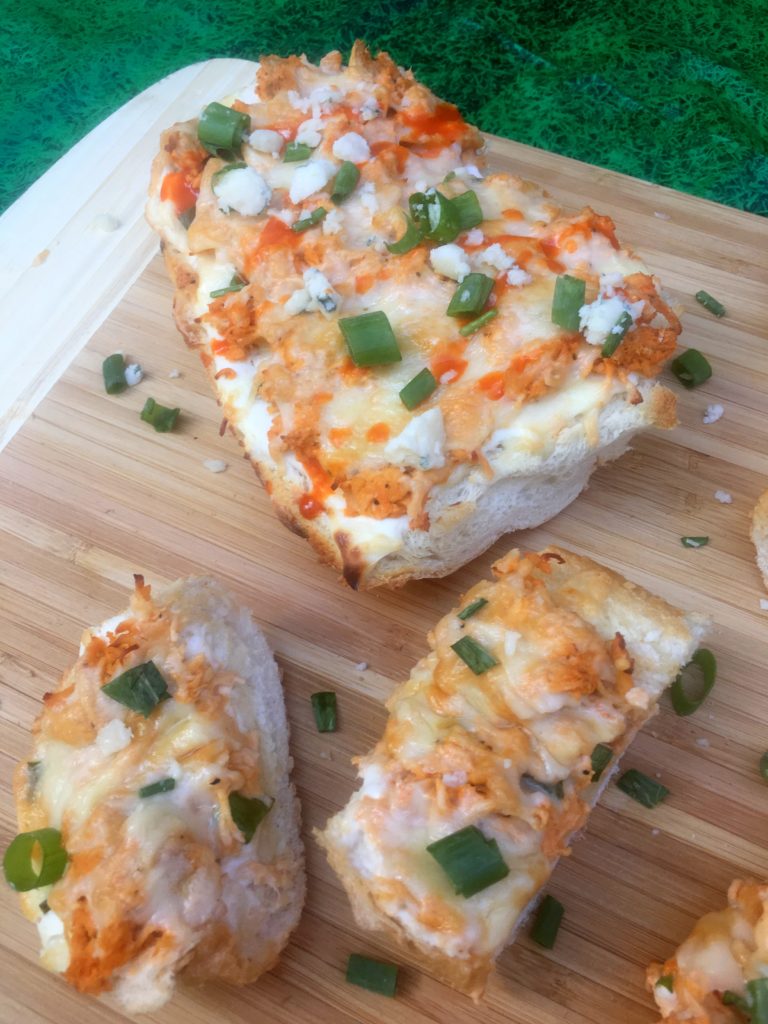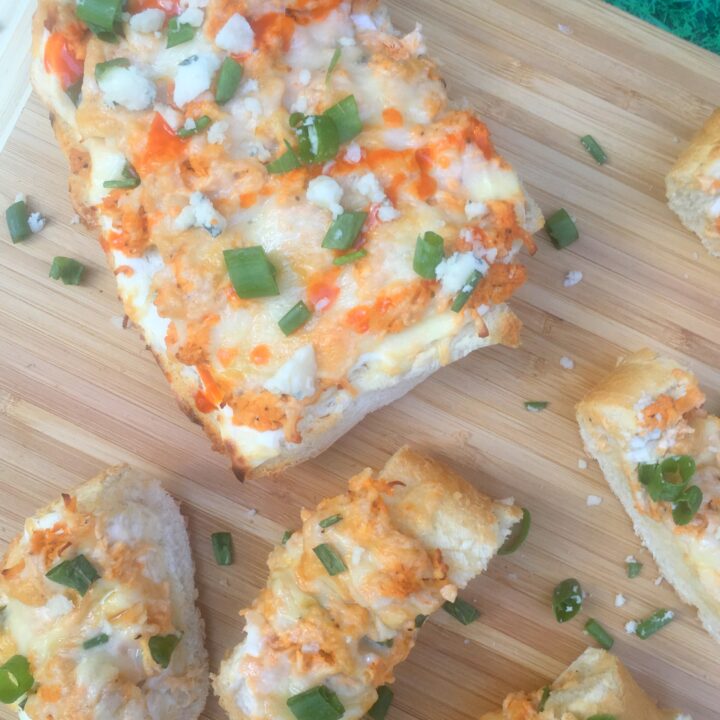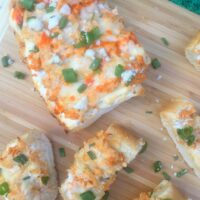 Buffalo Chicken Cheese Bread
This recipe is set up for a mild spice. Keep in mind that the exact sauce you use can change the heat level. Add more sauce for more of a kick!
Print
Pin
Rate
Instructions
*If you are not using pre-cooked or leftover chicken, get your chicken going first. Season with salt and pepper. Bake in the oven at 350F until fully cooked.

Slice your bread loaf open lengthwise and fully separate the two halves. Lay down bread on a baking sheet.

Preheat oven to 350F.

Make sure your chicken is either cubed or shredded. Place the chicken in a medium bowl. Mix in the buffalo wing sauce and blue cheese (if using). Set aside.

Mix together the softened cream cheese and garlic powder. Spread the cream cheese thinly over the two halves of bread. Depending on the exact size and shape of the bread, you may need to use a little more cream cheese to fully coat.

Spread out the chicken mixture over the cream cheese on both halves.

Sprinkle the monterey jack (or mozzarella) cheese over the chicken. If you want it extra cheesy, just use more cheese!

Place the bread in the oven on the middle rack. Bake for approximately 5-7 minutes until the top cheese is melted and starting to brown.

Remove bread from oven and let it rest 3-5 minutes so that the cheese does not all run off.

Top the bread with drizzles of buffalo wing sauce, sour cream, and the green onions as desired. Cut into strips approximately 2" wide. Serve immediately with blue cheese or ranch dipping sauces if desired.
Notes
This recipe is perfect for leftover chicken or rotisserie chicken!

This recipe is set up for a mild spice.  If you want it hotter, add more buffalo sauce or even hot sauce to the chicken.  This is an affiliate link to the wing sauce that I love to use!

Prep time will take longer if you do not have pre-cooked chicken ready to go.

By