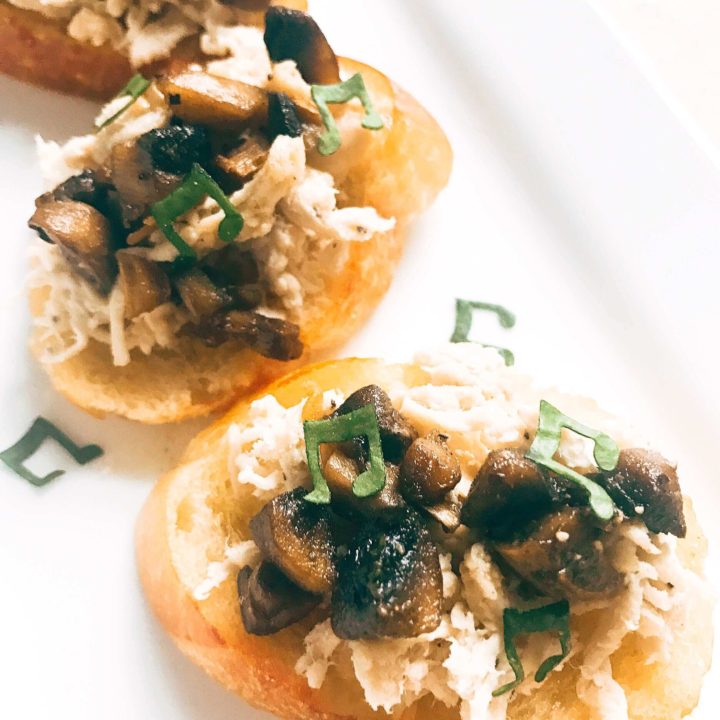 This shop has been compensated by Collective Bias, Inc. and its advertiser. All opinions are mine alone. The following content is intended for readers who are 21 or older. #Chardonnation #SpringWine #CollectiveBias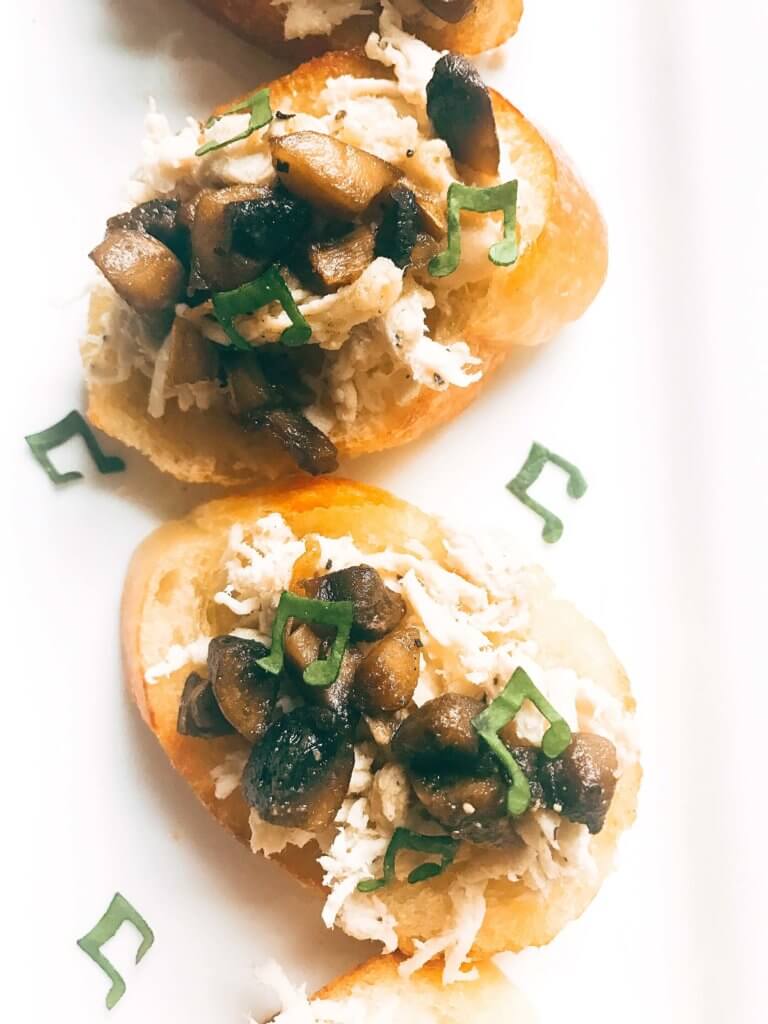 We love our wine around here and make somewhat frequent trips out to wine country.  And if you have checked out some of our other posts, you know that we also love hosting dinner parties!  So naturally wine pairing nights happen and this Buttered Chicken and Mushroom Crostini is perfect for wine pairing!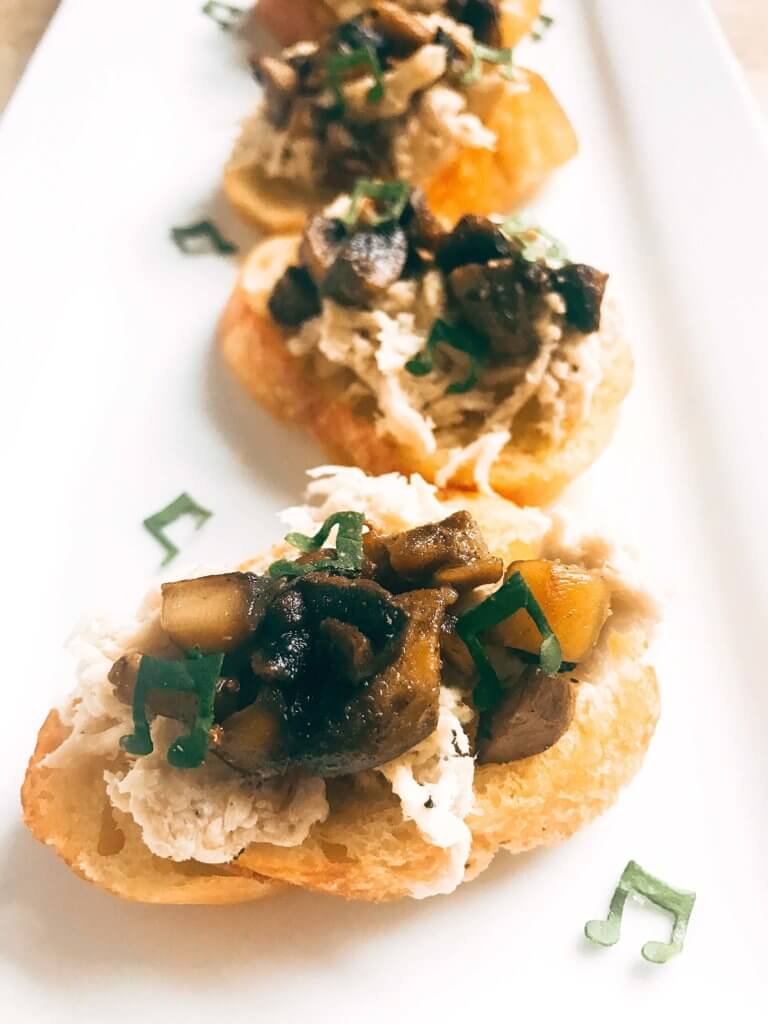 This Buttered Chicken and Mushroom Crostini is incredibly quick and easy to make.  With simple ingredients, you can get everything ready in advance for a fast appetizer or snack.
When we are pairing wines, we love using the same grape, and even the same brand, from different locations.  These new Notable wines new Notable wines were perfect to do just that!  One chardonnay is from California, and the other chardonnay from Australia.  I am a white wine lover so I was very excited about trying this out!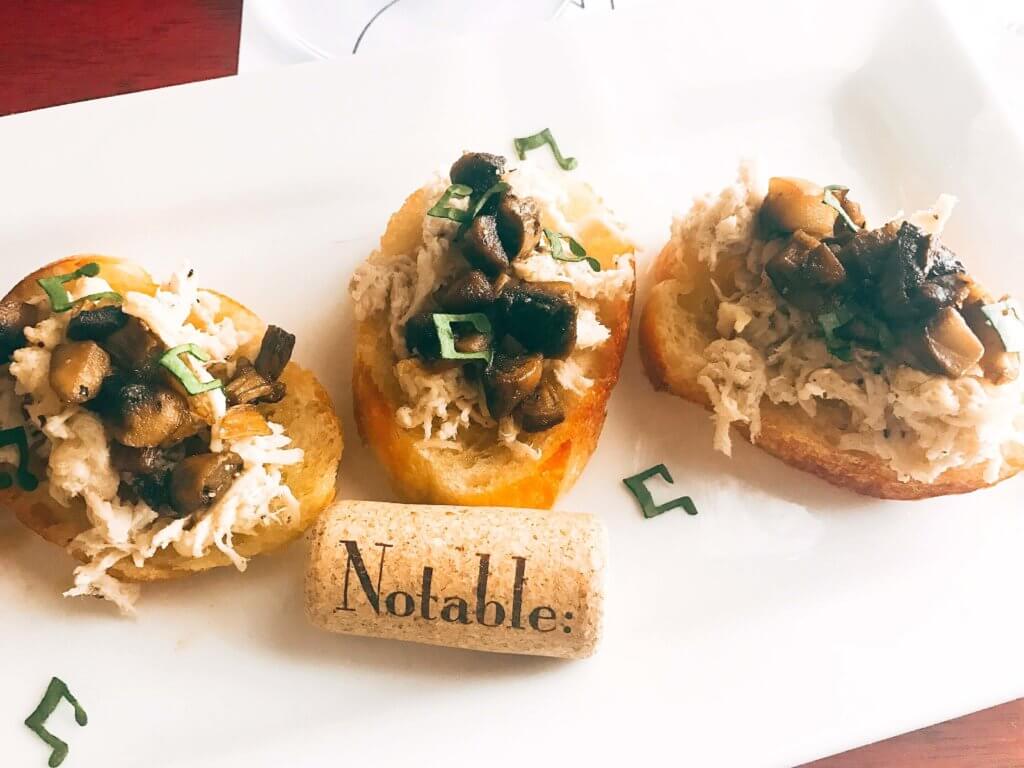 Notable is the first, and only, wine that has indications of the flavor profiles of each wine right on the front of the bottle, making it easier to understand what you are getting!  With wines varying in taste, location/region, and style, it can be difficult to know exactly what you are getting.  But these Notable labels elegantly showcase the taste to lead you toward what you want.  Just follow those flavor notes!  What you see is what you will taste.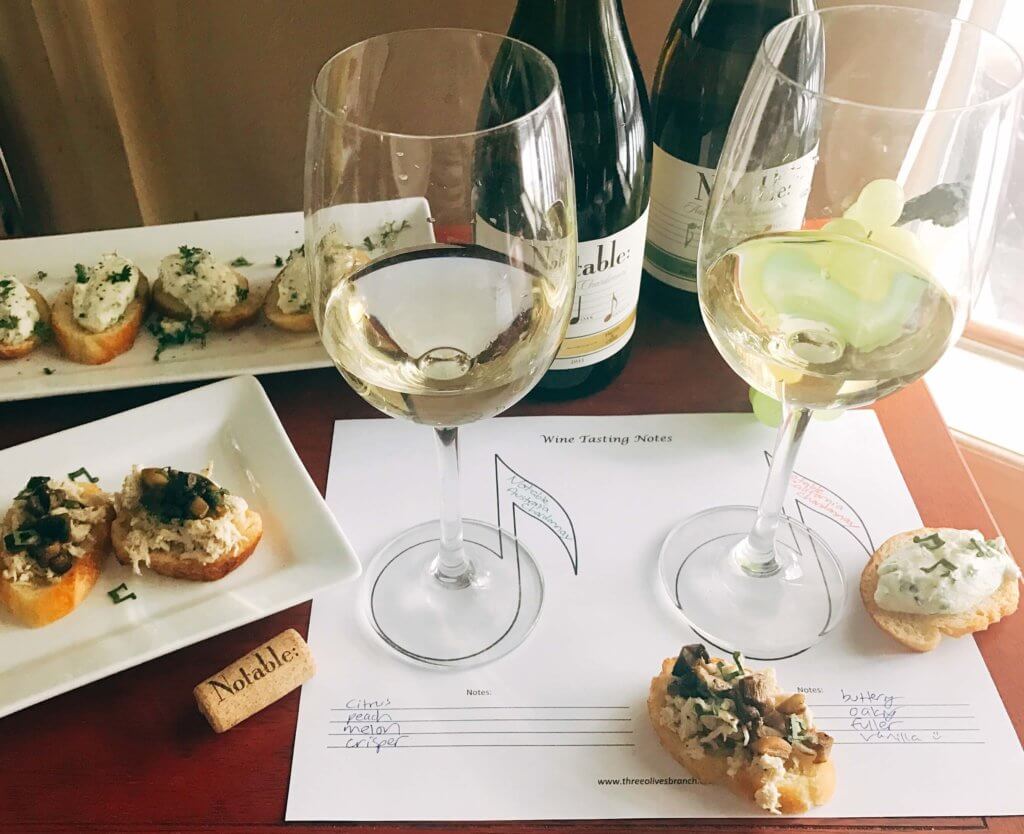 My personal favorite was the Notable: Australia Chardonnay.  Just like the label read, it was a crisper white with hints of citrus and melon.   The Notable: California Chardonnay was like a classic California chardonnay with heavier flavors of oak and butter.  When we paired these with the Buttered Chicken and Mushroom Crostini, it changed the wines!  Food pairings are so fun just for this reason.  The crostini made the Australia Chardonnay crisper with more of a citrus flavor, which I loved!  And the crostini with the California Chardonnay made the wine a little lighter and crisper than it was on its own.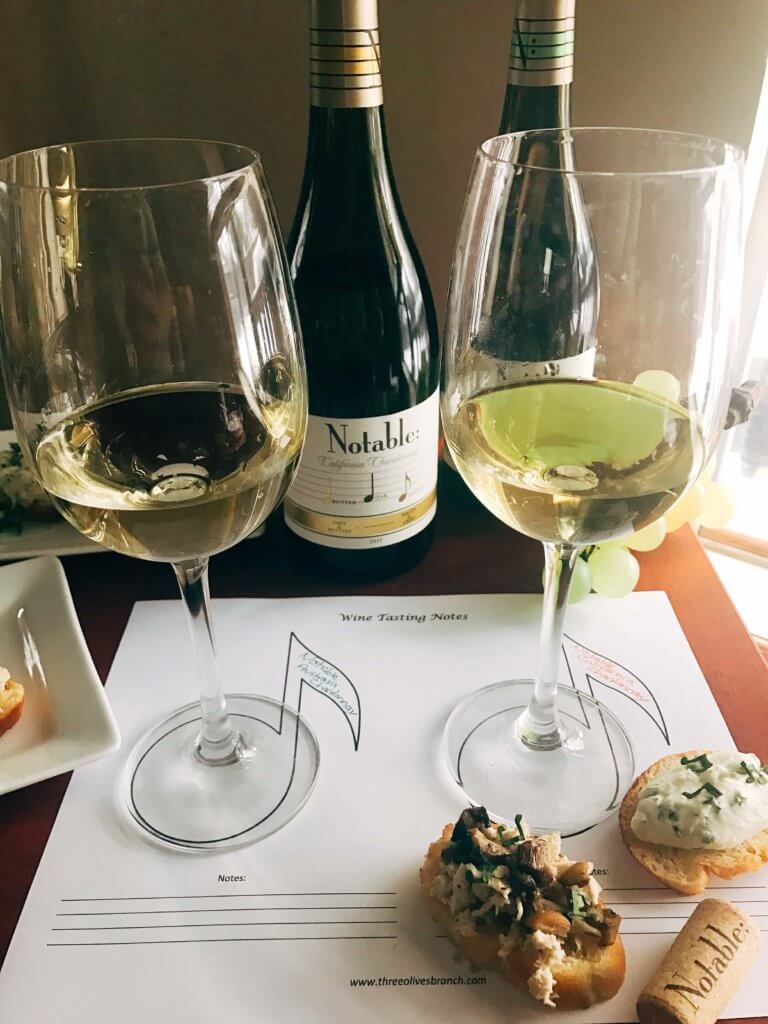 We made up these cute wine tasting sheets, using music notes as the wine glass placement, and let our guests write what they tasted and thought of the wines.  It is a fun way for your guests to try different wines and pairings.  You can grab a copy of our tasting sheet here!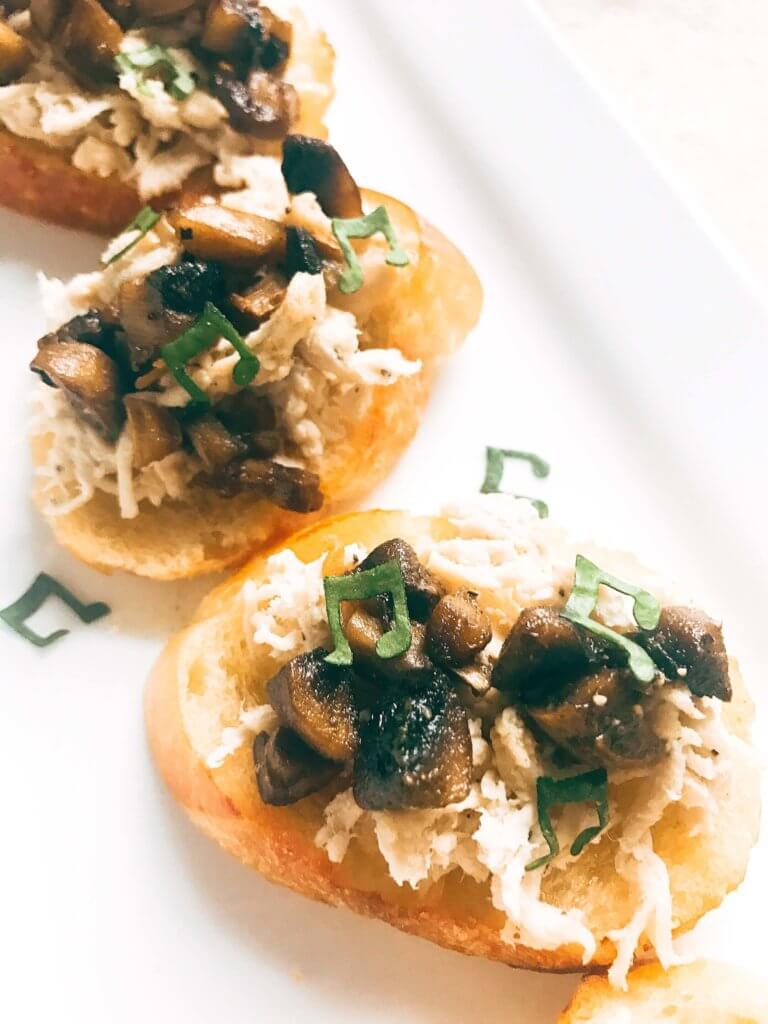 If you have never hosted a food and wine pairing, I encourage you to do so!  They are so much fun, you get to try a lot of great wines, and you learn something along the way!  It is perfect for dinner parties and casual get-togethers with your family and friends.  What are some of your favorite foods and wines to pair together?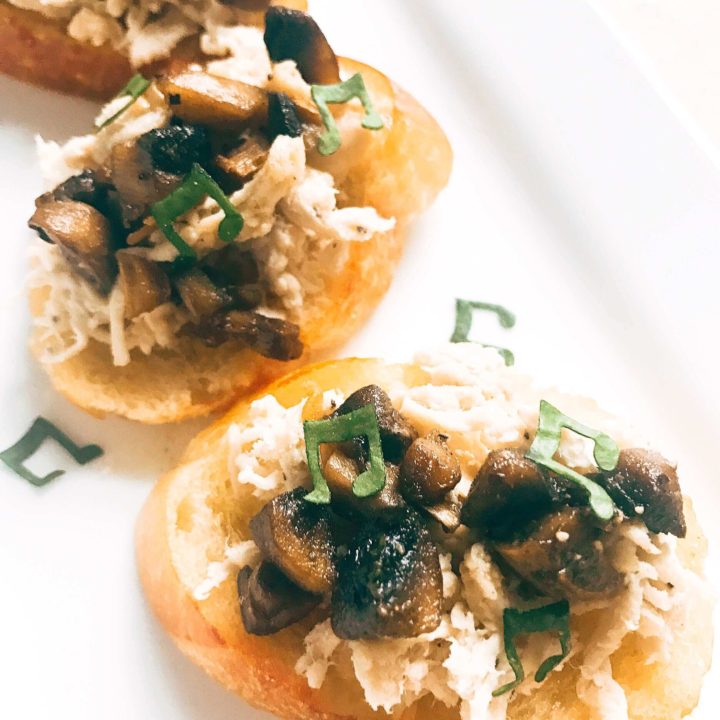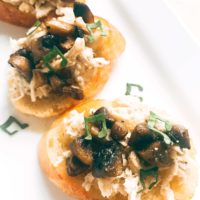 Instructions
Preheat oven to 350F.

Lay the baguette slices on a baking sheet either lined with parchment paper or on a silicone may. Drizzle with olive oil.

Bake the baguette slices until they are just starting to harden on top, approximately 5 minutes. Flip them over, drizzle lightly with olive oil, and bake until the second side is just starting to crisp up, approximately 3-5 more minutes.

Remove the baguette slices from the oven and set aside.

While the baguette slices are toasting: In a large nonstick skillet, melt the butter over medium heat. Add the mushrooms, sage, salt, and pepper and saute until the mushrooms are just cooked, approximately 5 minutes.

When you are ready to serve, place the crostini pieces on a serving platter or cutting board. Top each bread slice with 1-1.5 Tbsp of shredded chicken. Spoon some of the butter and mushrooms over each slice. Serve immediately.
Notes
Make the crostini and chicken in advance for an even faster crostini!

You may need more than one cup of chicken depending on how finely it is shredded, how big the crostini pieces are, and how much you want on each one!

By