Cajun Roasted Chickpeas are a simple and easy snack recipe. Vegetarian, vegan, gluten free, dairy free. Cajun spices flavor these crunchy garbanzo beans. Great for Mardi Gras, game day, appetizers, parties, and snacks. #roastedchickpeas #healthysnack #cajun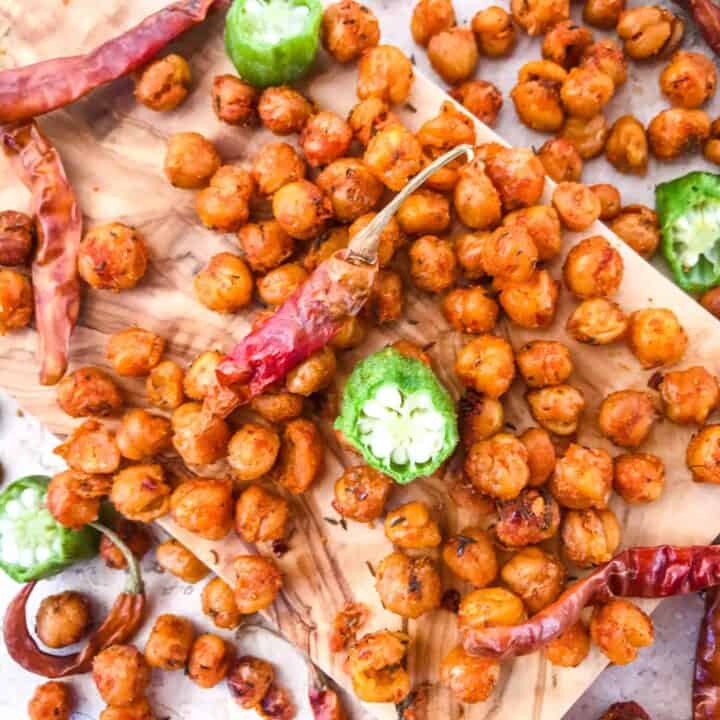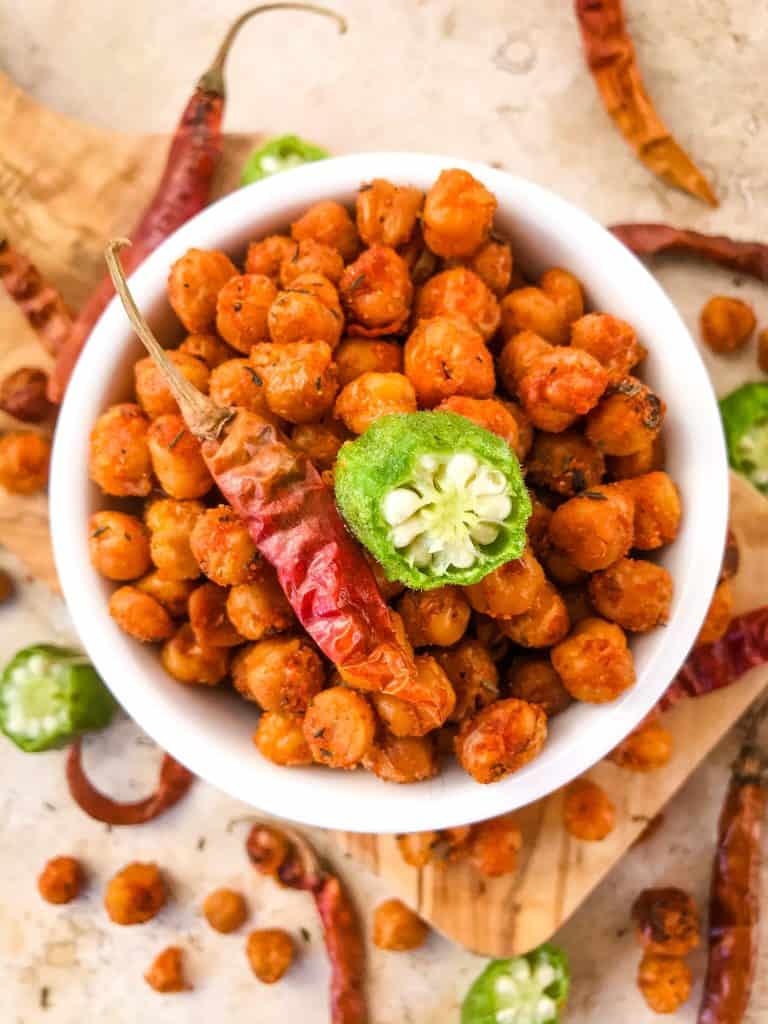 Cajun Roasted Chickpeas are a simple spicy snack recipe with a homemade seasoning blend.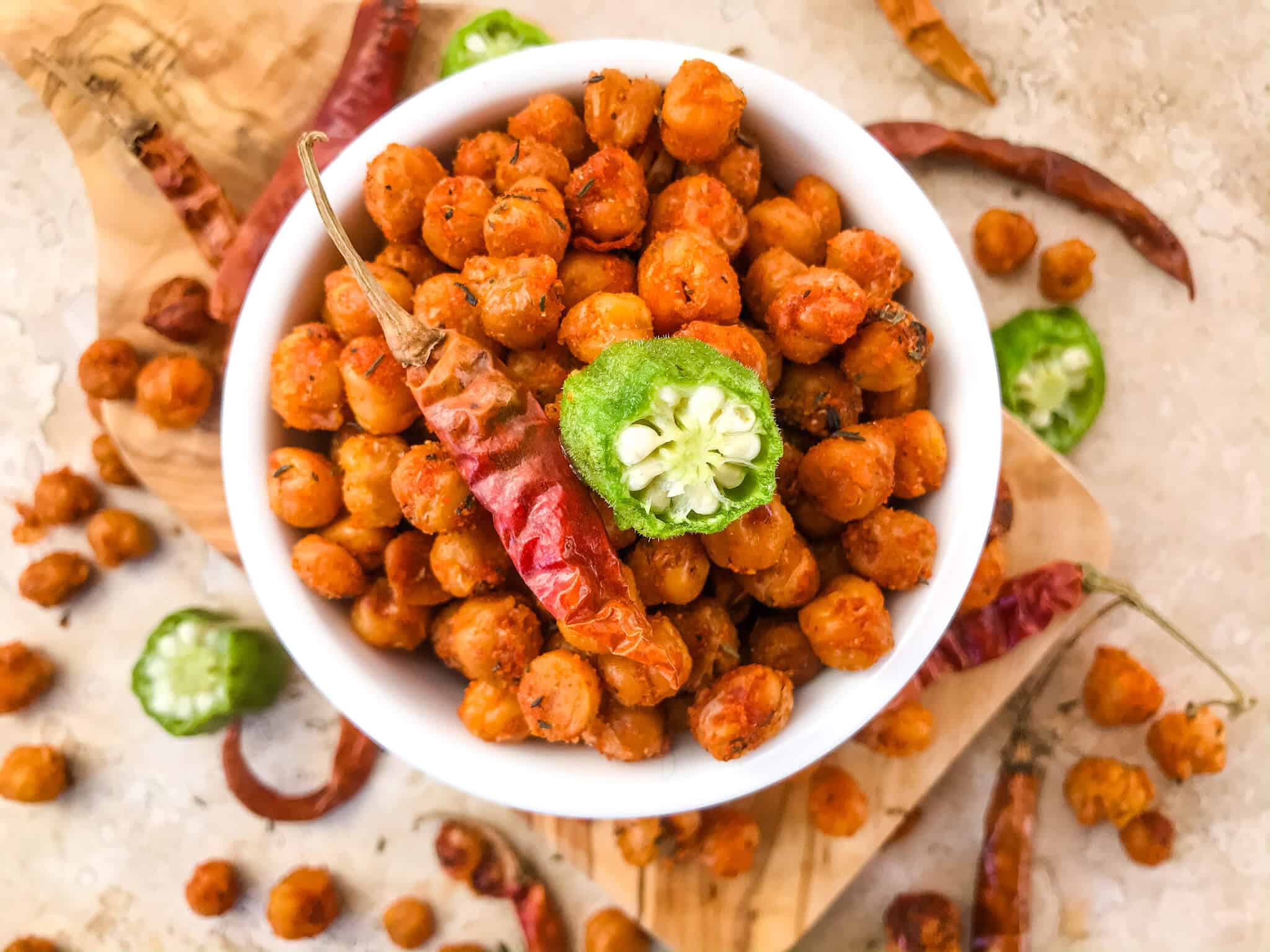 This post contains affiliate links.
Cajun Roasted Chickpeas are incredibly simple to make and a great entertaining recipe. I like to make them in advance and use them for a simple go-to appetizer for friends. This recipe has been one of the favorites so far because the flavor is so unique and bold. Cajun seasoning will not taste like gumbo, since gumbo has additional seasonings in it. But the spices and flavors will feel like you are in NOLA! Find more of our roasted chickpea recipes here!
Can I use dried chickpeas/garbanzo beans?
I have not personally tried these with dried beans, but yes, you can. However! You need to cook them first. Do NOT make these with still-dried beans, they will be incredibly hard. You will need to soak the dried beans overnight and cook them before proceeding with the instructions below.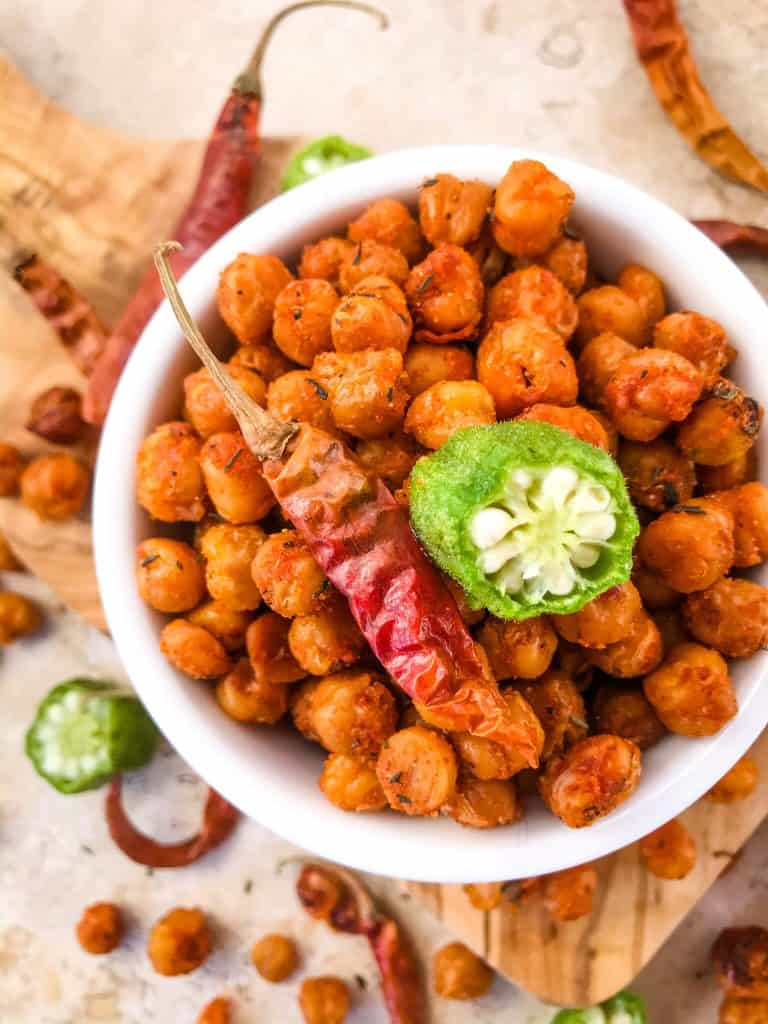 To make Cajun Roasted Chickpeas first rinse and dry the garbanzo beans. Toss them with some oil and salt, and then roast them in the oven at 400F to make them crunchy (just keep a close eye on them!). Let them hang out in the hot oven for 30 minutes to finish drying out. Toss them with the spices and some hot sauce so that the spice sticks, and that's it! Because they are dry, they store exceptionally well. Just make sure that they are completely cool before storing or else the trapped heat can soften them again.
If you have a Cajun seasoning blend in your cupboard, by all means you can use that instead of the herb mix.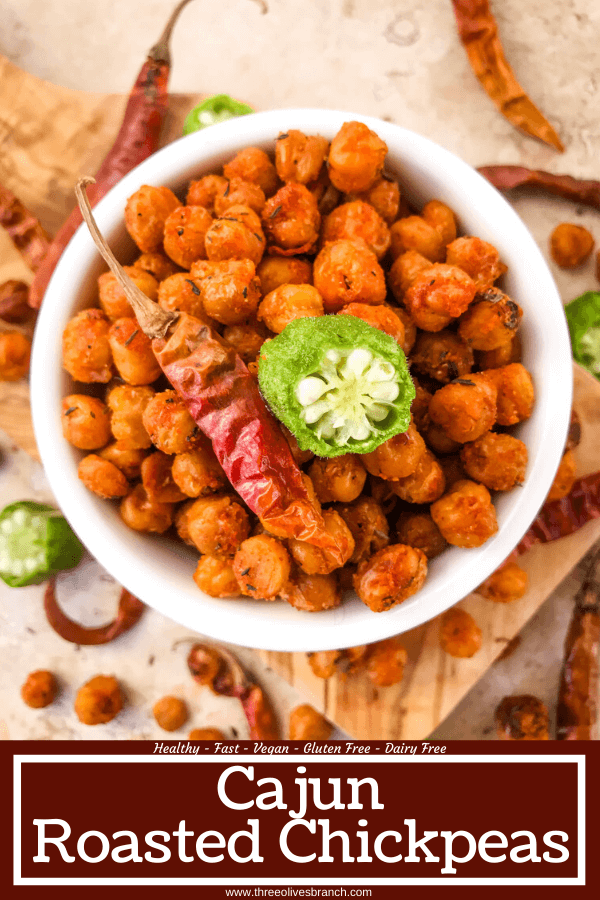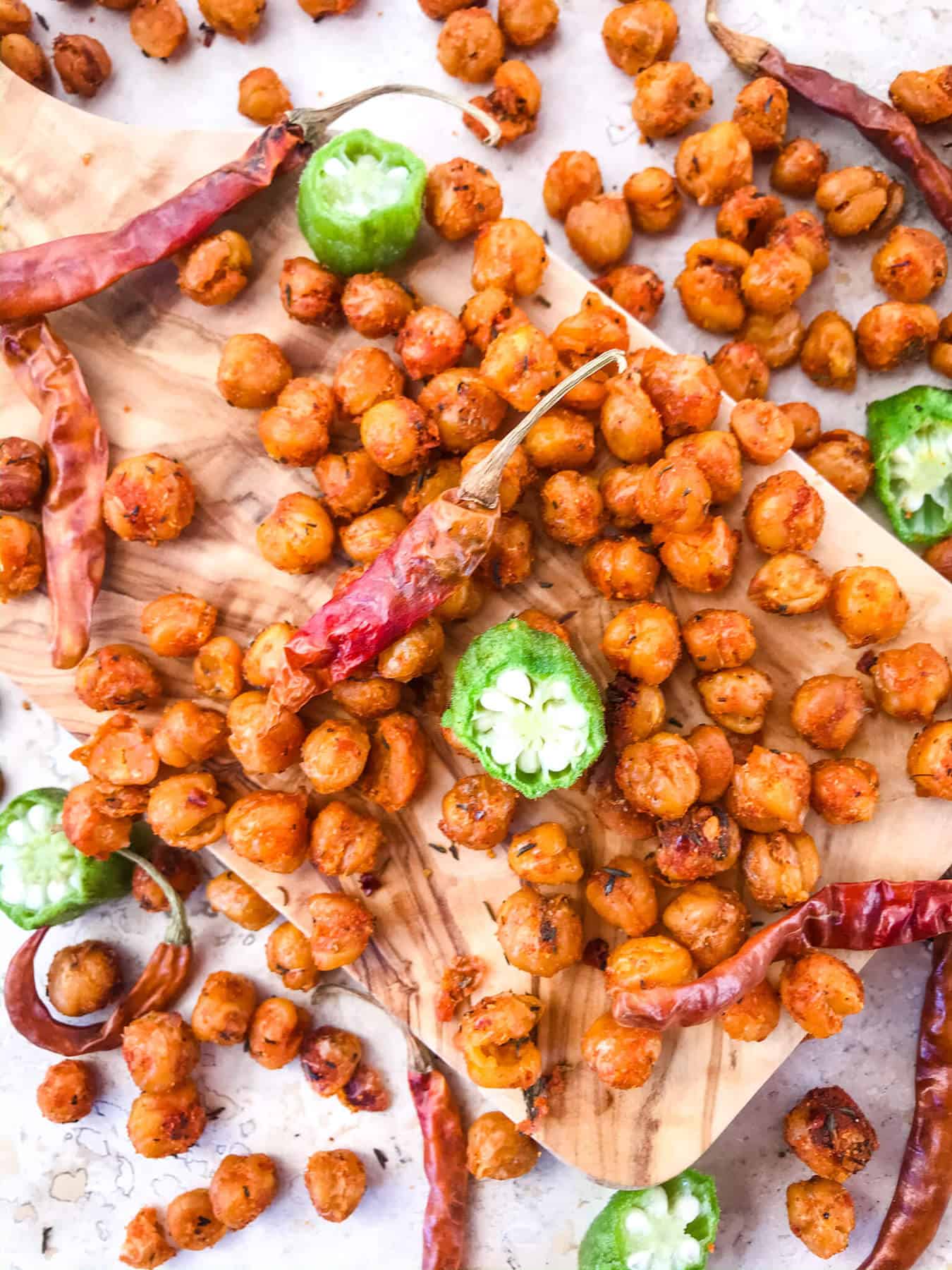 Instructions
Drain and rinse the chickpeas. Place them between two clean towels or paper towels and gently pat dry, removing as much moisture as you can. (If you want to remove the skins, press more firmly to peel many of them off. Leaving the skin on will provide a little extra crunch and fiber - this is a preference decision).

Toss the dried chickpeas with the oil and salt.

Spread the chickpeas out on a silicon baking mat lined baking sheet (or spray tin foil with cooking spray).

Bake for approximately 30 minutes until the beans are starting to take on a little color and get dry. Turn off the oven and leave the beans in the oven to continue drying out to your desired crunchiness, checking every 10-15 minutes. Be careful as the higher temperature can burn more easily, and turn the oven down to 350 if needed. (I like mine crunchy and leave them in for 30-40 minutes post-baking).

Put the cooked chickpeas in a small bowl. Add the hot sauce and toss to coat. Add the remaining spices and toss to coat again. Adjust seasoning to taste.
Notes
To make the chickpeas spicier, add more ground red pepper (cayenne).
To make them less spicy, replace the hot sauce with olive oil and use the red pepper flakes or substitute cayenne to taste.
Nutrition
Calories:

1667

kcal

|

Carbohydrates:

239

g

|

Protein:

77

g

|

Fat:

51

g

|

Saturated Fat:

25

g

|

Sodium:

1603

mg

|

Potassium:

2595

mg

|

Fiber:

67

g

|

Sugar:

42

g

|

Vitamin A:

2016

IU

|

Vitamin C:

21

mg

|

Calcium:

436

mg

|

Iron:

27

mg

By