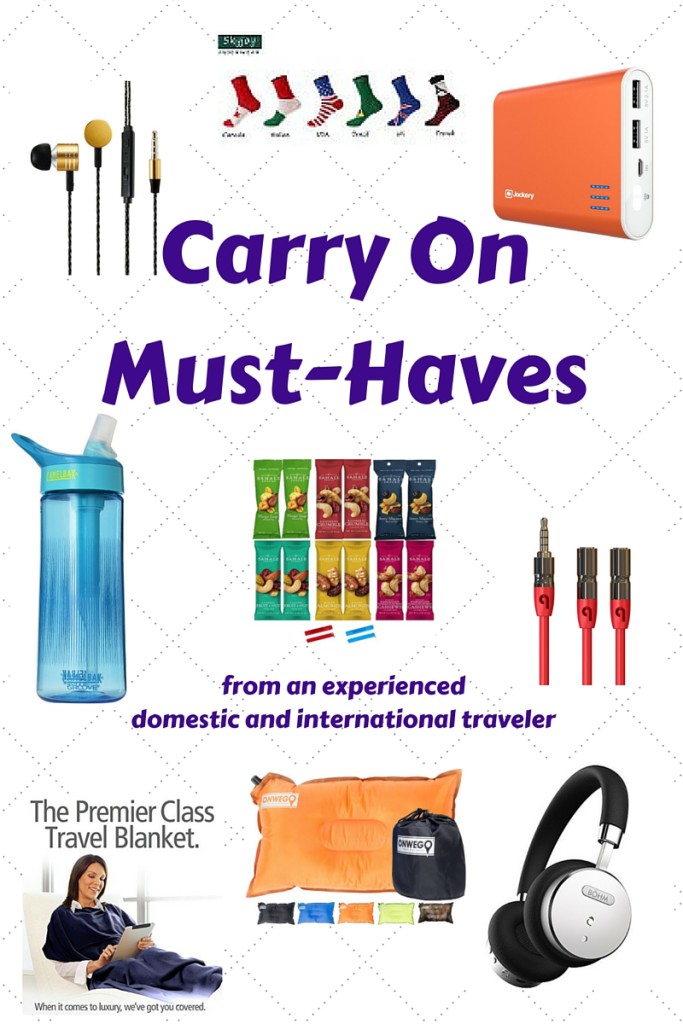 I have been on many, many domestic trips having a job that requires travel, and I have also been overseas many times as well.  I love to be organized and prepared as much as possible, so I have come up with a list of carry on must haves that I always reference for my trips.  Some of these are more applicable for longer or international flights, but the entire list is worth checking out no matter what!  This post contains affiliate links.
Most everything on this list is from Amazon, and for good reason.  I am in LOVE with Amazon Prime and the membership is completely worth it!  There is no minimum spend requirement to get free shipping on Prime eligible items, and you would be surprised how often I need to order something that does not hit their $35 minimum requirement.  Plus, you are not adding things to your cart just to get the free shipping, so I am pretty sure that it saves me money in the long run.  If you are not already a member of Prime, you can get a 30 day free trial of Prime by clicking here!
Looking to save even more money? One of my favorite tips and tricks for online shopping is using Ebates!  It partners with all of your favorite sites to earn you cash back on your purchases.  Companies include Target, Macy's, Wal-Mart, travel booking sites, and even Amazon (eligible departments rotate).  You can earn a $10 bonus if you sign up through my link here!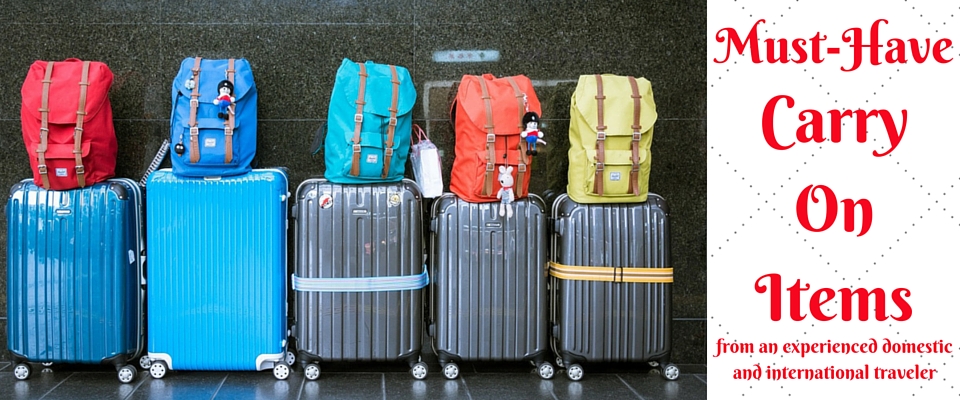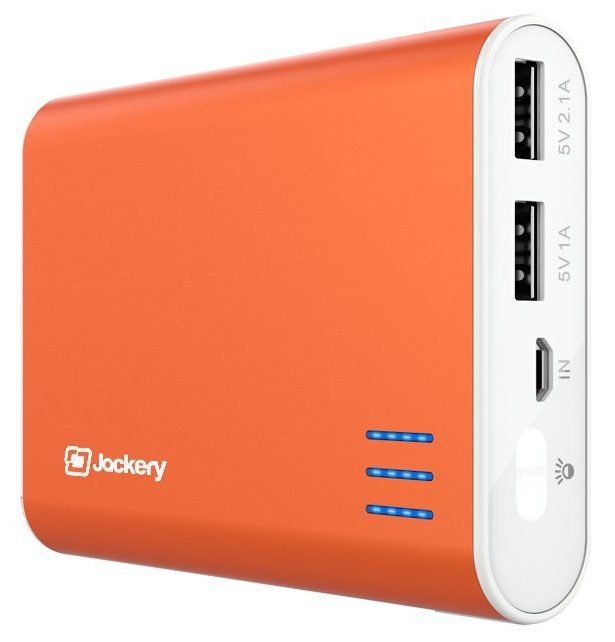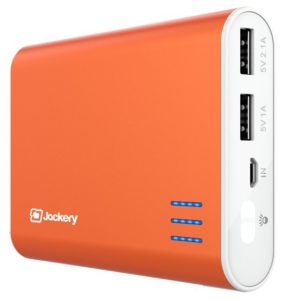 If you read nothing else on this list, make it this portable charger.  I swear by this thing.  I have bought it for so many people and I am constantly telling everyone how amazing it is.  It has saved me so many times.  My sister was in Ireland in the middle of nowhere and their GPS was about to die with no way to charge it.  Then she realized that the cord from this charger would fit into the GPS unit and they were saved!  No getting lost in the middle of nowhere!  To me, this is the most important in my list of carry on must haves.
Once you charge this unit, it lasts for what seems like forever.  It can charge my phone from empty to full in just a couple hours, it is so fast.  There are two USB ports so you can charge two things at once.  There is even a flashlight built in just in case you need a little light.  They do make smaller ones, but I think the size of this one is completely worth it because of how long the charge will last.  You need this thing.  Seriously.
A blanket and pillow are things that I typically do not find myself needing or craving unless I am on long flights, such as red eyes oversees.  They make the trip so much more comfortable and relaxing, especially if you are trying to get some shut eye in before you land.


This pillow I technically got for camping, but I LOVE it for traveling as well.  It is auto inflatable which means that you can fold it down extremely small so that it does not take up a lot of space (a necessity when traveling!) and is really quite comfortable, surprisingly!  It is also a decent size and very light weight.  I highly recommend it and it comes in multiple colors as well.


This blanket is just amazing.  I really never thought I would care so much about a travel blanket.  There are so many great things about it.  It fits like a poncho in a way where there is a hole that you stick your head in.  This helps keep the blanket around you and from falling off.  There are also POCKETS in the blanket itself!  So you can through your phone, etc. in the pockets and not have to worry about things flying around the cabin while having easy access to them.  The fabric is incredibly soft and the blanket is long.  It will fold back up into its bag which comes with a strap that you can attach to your suitcase.  Amazing.  Love it.
I used to not think these were not so important, but ooooooooh how I have learned!  I use them so much!  Listening to music (see below on how to get your music available in airplane mode!), hooked up to a laptop or tablet to watch movies and shows, and even if you just want to look like you are listening to something in order to get the person next to you to stop talking (I was shocked at how often people feel like making you their best friend while flying when I started traveling for work).


Most of the time I like to use a pair like these which are also easy to use on my phone for calls.  Lightweight, comfortable, they work well, and I love the colors so they are easy to find.  I do like Bluetooth headphones however I am always worried about the sync feature not working properly or at all, so I stick to my corded ones.


You can also go for the noise cancelling version if you want it to be very quiet and all noises blocked out, but they tend to be rather bulky and therefore a little inconvenient for travel.  But if you need silence, they are worth it!

I always take a water bottle with me when I travel so that I can always have access to clean water when I need it.  This includes on the plane.  Even though they come around with drinks, you never know when you will have a coughing fit or if you will be exceptionally thirsty without a flight attendant in sight.  I play it safe and just keep it on me at all times.
Obviously, it has to be empty when you go through security at the airport, but just fill it up at a water fountain before your flight and you will be good to go.  I love to use ones that have a built in filter so that any water you have access to can be cleaned.  This is also a great way to save money on water in your destination!
I have always been a fan of this brand of water bottle.  It comes in multiple colors which I am always a fan of!  It is easy to flip the straw up and down, it has a loop for easy attachment to bags or packs, and the filter is built into the straw.  Each filter lasts 3 months and you can also get replacement filters.

Yes, the airlines will be coming around with snacks and meals on those long flights, but I always have some food handy in case I get hungry.  Plus I am already taking some with me anyway to have handy when I am out exploring.  Gum is also a packing necessity for me.  Not only does it help with popping your ears as the pressure changes, but it helps keep your breath fresh as you travel.
Books
I love physical books, but they are not very convenient for travel due to their bulk and weight.  You can download the Kindle app to any device (such as smart phones, tablets, laptops, etc) and load books prior to takeoff.  I always have several titles ready to go so that no matter what I feel like reading, I have an option ready.
The Kindle Store has many free books available in addition to their paid books.  There is even a Kindle Unlimited program where you have unlimited reading and listening on any device.  Get access to a 30-day free trial of Kindle Unlimited here!  You can access their store on the website while logged into Amazon, which is synced to your Kindle app, and the purchases will automatically be sent to your Kindle app.  Just click on your library in the app to prompt the download and you are all set!
Laptop/Phone/Tablet
Most likely you are taking your laptop or tablet with you anyway, and of course you will have your phone, so technically these devices are already on your carry on must haves list.  Make sure they are charged and ready to go, and that you have those headphones handy.
Many airlines are starting to provide free access to movies and TV shows through their WiFi (no charge for access to these services!) on the flight.  So you have more control over your viewing options.  (Don't forget those headphones!  And if you have multiple people watching the same screen, use a headphone splitter to attach multiple headphone sets to the same jack).
Music Lists
Aside from reading, movies, and shows, I always like to have a playlist or two ready to go for a flight.  Spotify is my favorite music streaming service.  With a subscription, you can make a playlist available offline (!!!) which means that the songs essentially download to your phone and you can listen to them when you are on airplane mode as if you are connected to the internet.  Amazing!  Find instructions on how to make music available offline on their site or in their app.  I use music a lot because the quiet makes me tired, so having music to constantly play keeps me awake and made its way onto my list of carry on must haves.

It may seem obvious, but this is something I did not always thing about and would just get lucky that I was already wearing them.  If you are not wearing socks already, make sure you stash a pair in your carry on.  It can get cold on those planes, especially near your feet.  Better safe than sorry and socks do not take up much space, so no excuses!  You might as well make the socks fun, maybe themed toward your trip?  There are so many fun sock options so grab some to add a little spunk to your travels.
---
So those are the items that I had to include for my carry on must haves, especially for international flights.  Of course there will be other items that are specific to your needs.  Is there anything you always bring on the plane with you that you think we missed?

By