Cheddar Bacon Creamed Corn is a simple homemade creamed corn recipe perfect for a BBQ or Southern soul food meal. Corn is cooked with bacon, cheddar cheese, milk, and butter for a simple side dish. #creamedcorn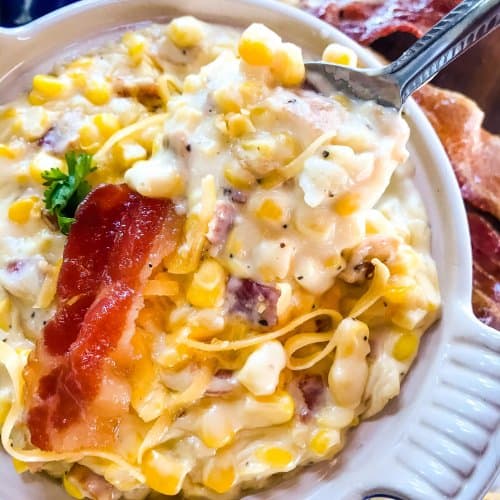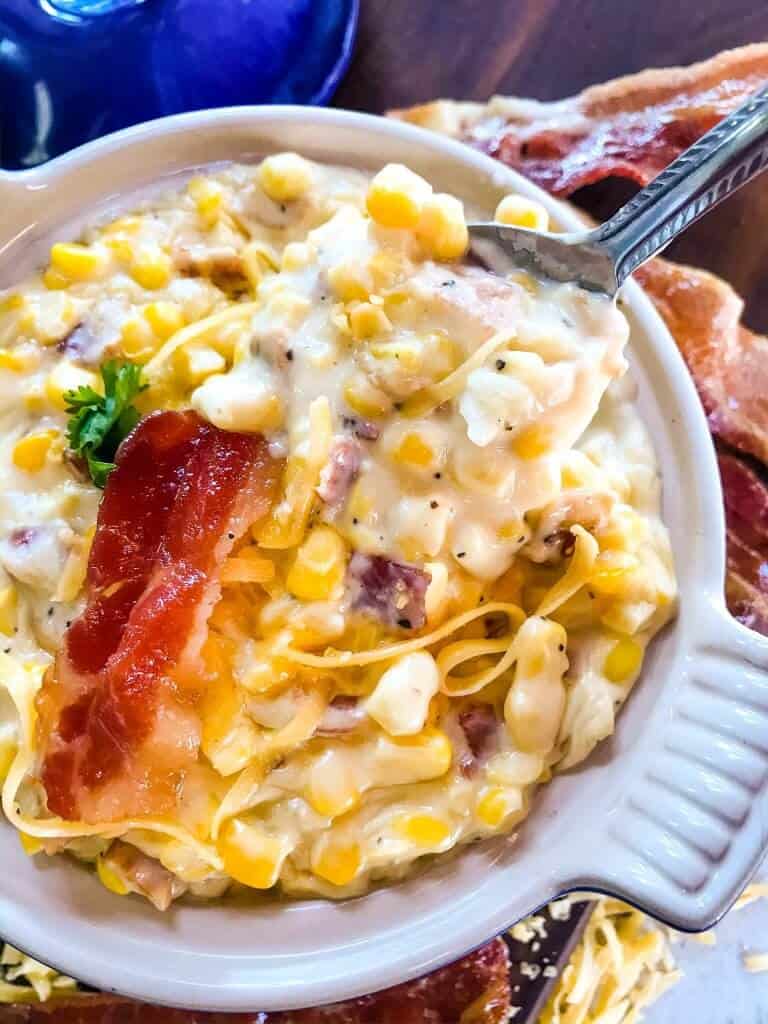 This Cheddar Bacon Creamed Corn is a fast and easy BBQ side dish.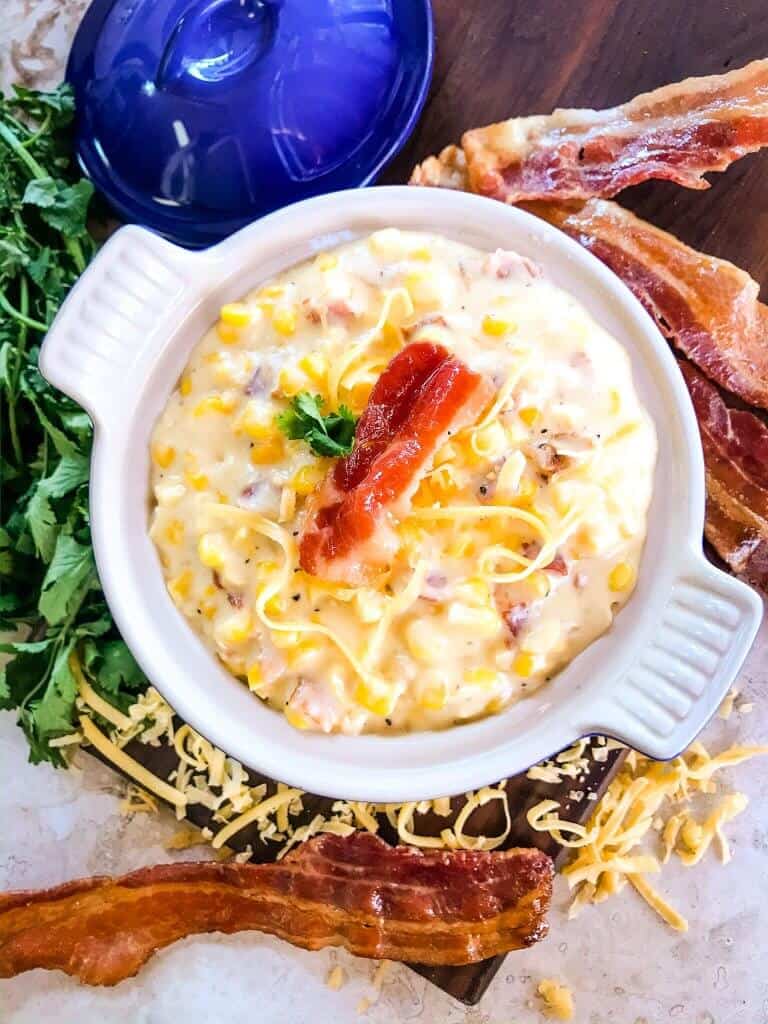 This post contains affiliate links.
American Southern food is full of soul and delicious flavors. And I think that side dishes are just as important as the main part of the meal. This Cheddar Bacon Creamed Corn is a perfect twist on a classic side dish full of cheese and bacon.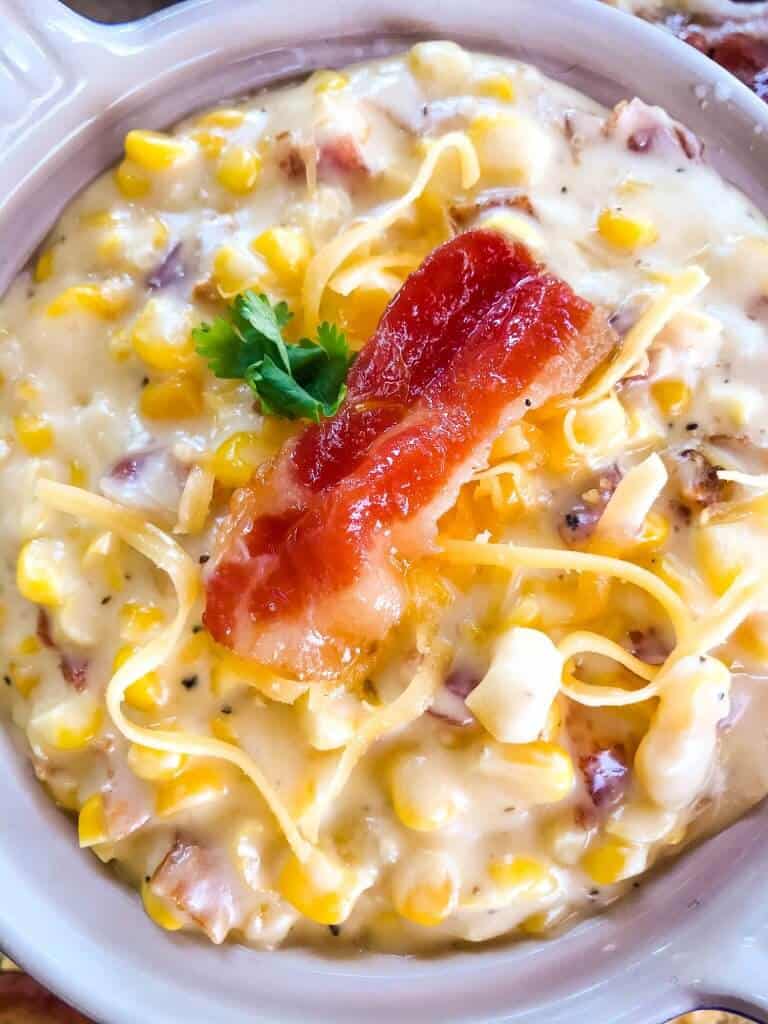 Creamed corn in general is something I have grown to love rather recently. And of course, as you know me, I like to combine new flavors together to make interesting dishes. So after finding a great base recipe for creamed corn came flavor ideas! Find more creamed corn recipes here!
I use a little of the bacon fat from cooking the bacon in this creamed corn recipe. I find that it adds a depth of bacon flavor throughout the corn. You can easily skip adding the fat, it just means the bacon flavor might be less obvious. I like to keep some bacon fat in a jar in my refrigerator so I always have some on hand just for reasons like this, especially in case I am cooking with bacon that was cooked in advance. If you do not have any bacon fat, you can use more bacon as preferred to make the flavor more prominent.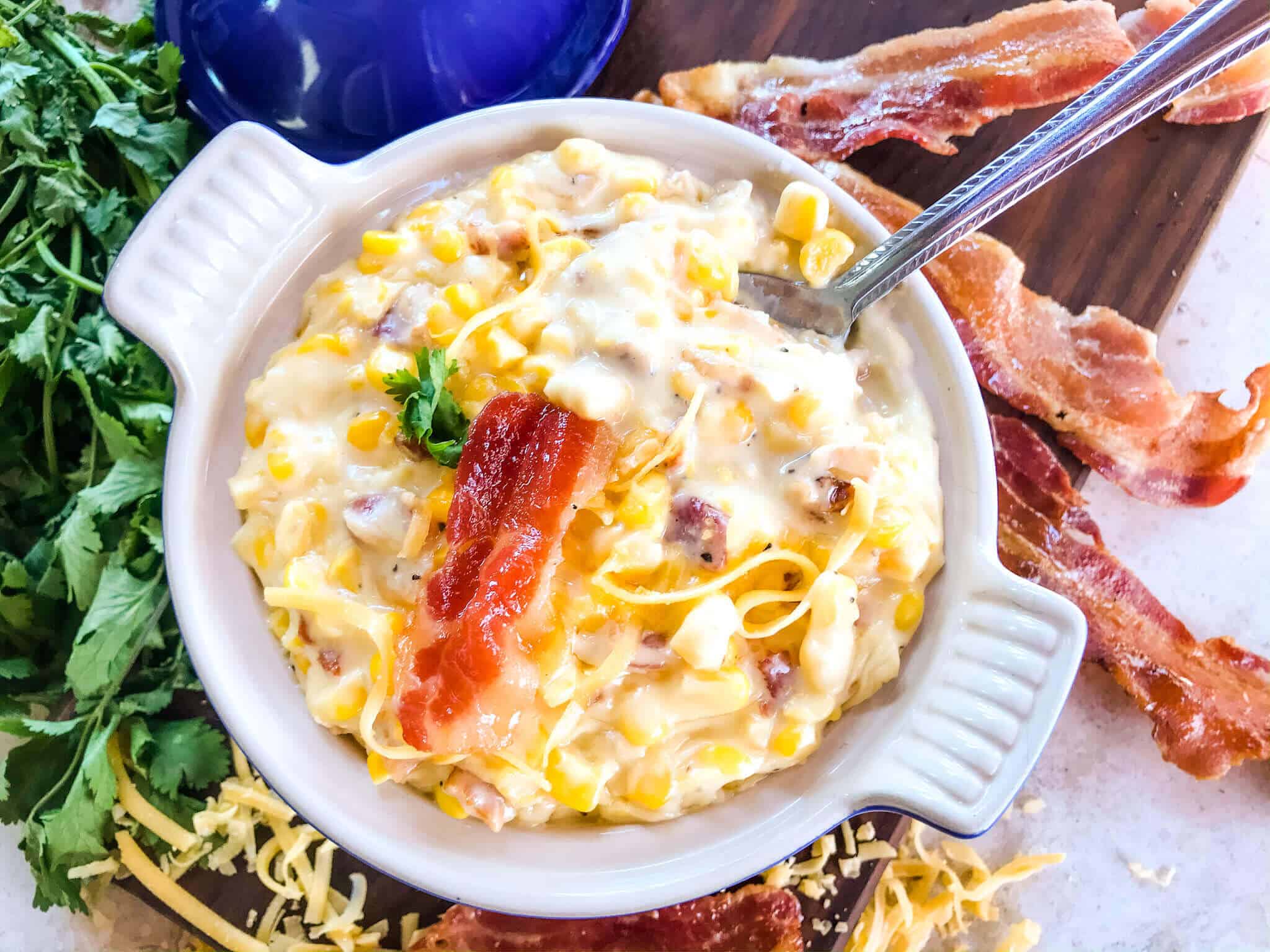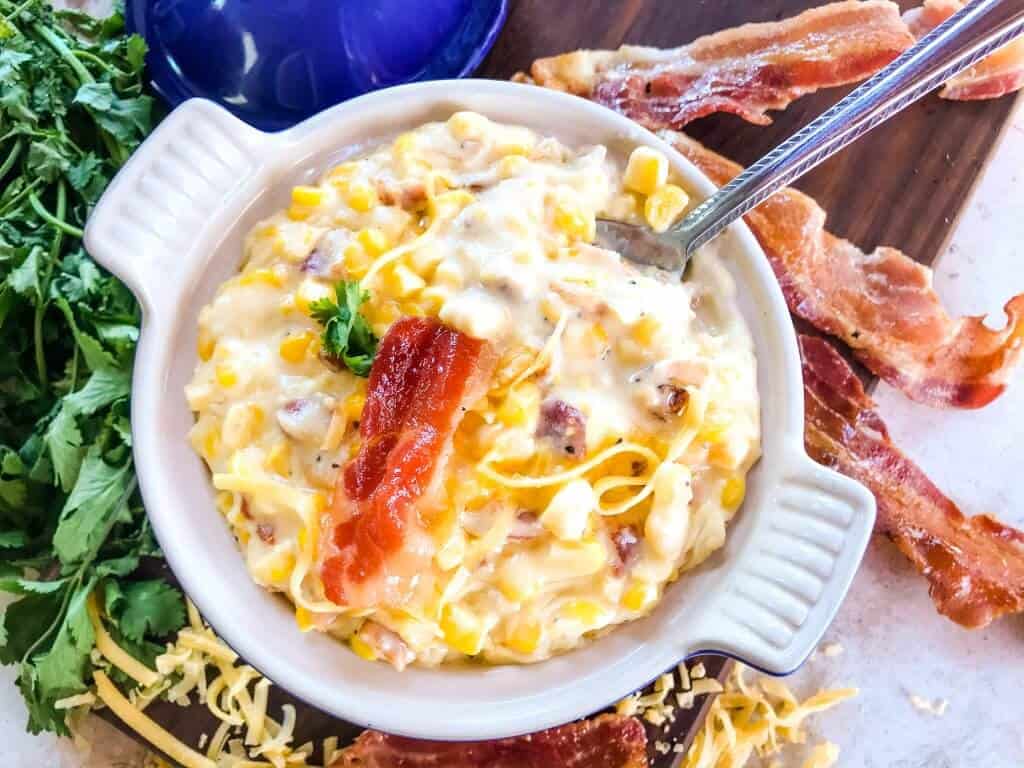 And of course, in this house, the more cheese the better. You could easily add more cheddar but I wanted to keep the focus on the corn flavor (since it is a corn dish and all). But follow your heart and add more cheese until it makes you happy! I love to serve up the creamed corn in a cute little dutch oven type cocotte dish.
This creamed corn recipe is gluten free as well! I will be bringing this corn recipe to all of the BBQs and cookouts this summer!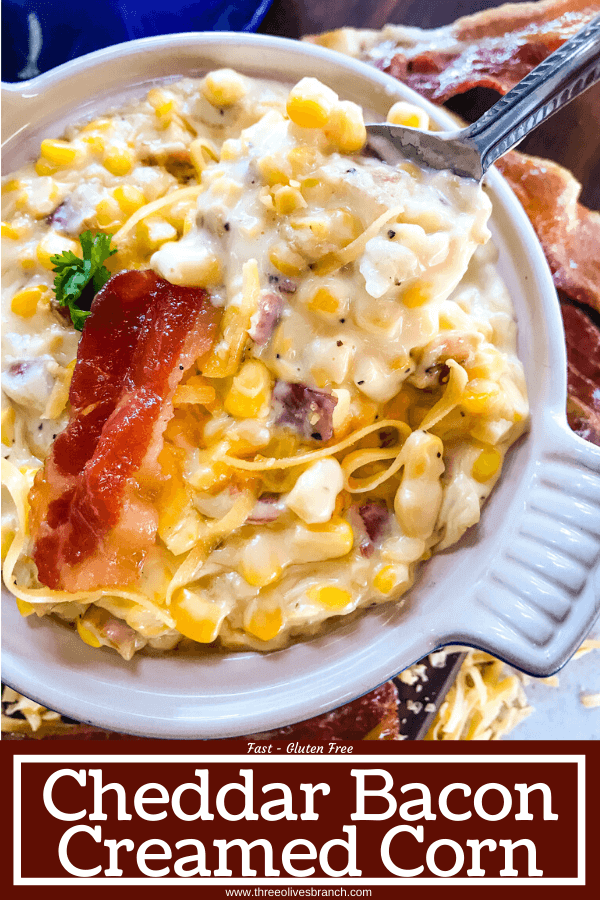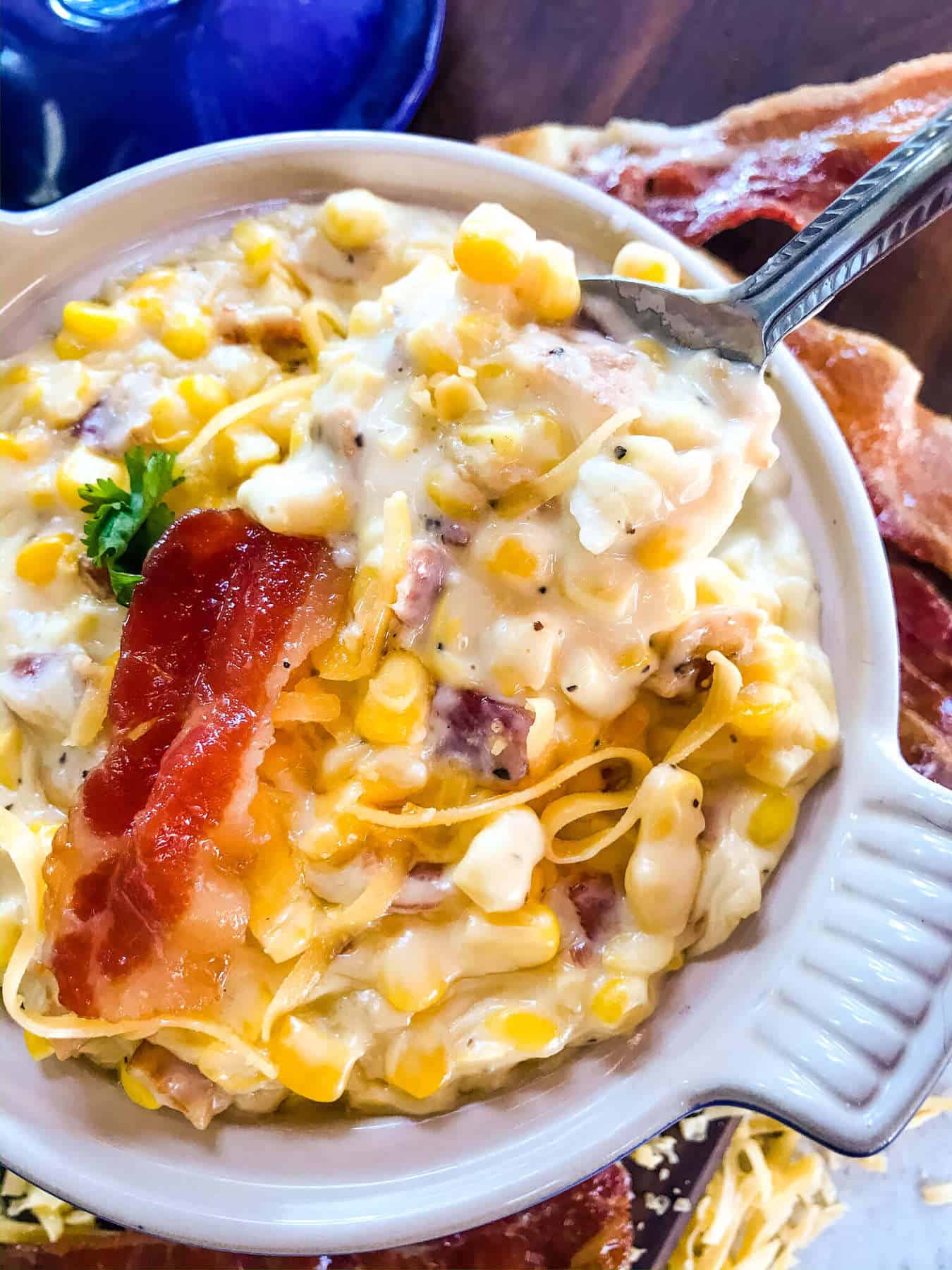 Instructions
Cook the bacon. Reserve 1 Tablespoon of bacon fat, if using. Set the cooked bacon aside.

In a medium saucepan over medium heat, combine the bacon fat, corn, heavy cream, butter, sugar, salt, black pepper, and ground red pepper.

In a small bowl, whisk the milk and cornstarch together. Pour into the corn mixture.

Stir and bring to a simmer over medium heat and cook until the sauce thickens, approximately 15 minutes.

Remove from heat. Chop and add the bacon and cheddar cheese. Stir to combine until the cheese is melted. Season to taste with salt, black pepper, and ground red pepper for spice. Serve warm.
Notes
To make the corn less saucy, reduce milk to 1/2 cup.
You can use a thinner milk such as 2% in place of whole milk, but use less as it is thinner.
The bacon fat is optional, but brings a great depth of bacon flavor to the corn.
Nutrition
Calories:

519

kcal

|

Carbohydrates:

28

g

|

Protein:

12

g

|

Fat:

41

g

|

Saturated Fat:

20

g

|

Cholesterol:

105

mg

|

Sodium:

969

mg

|

Potassium:

318

mg

|

Fiber:

2

g

|

Sugar:

9

g

|

Vitamin A:

923

IU

|

Vitamin C:

2

mg

|

Calcium:

146

mg

|

Iron:

1

mg

By