A simple homemade cornbread recipe. Cheddar Cheese Bacon Cornbread is filled with chopped pork bacon, shredded cheddar cheese, and corn kernels. Simple and easy bread to make for chili, soup, barbecue, or as a snack.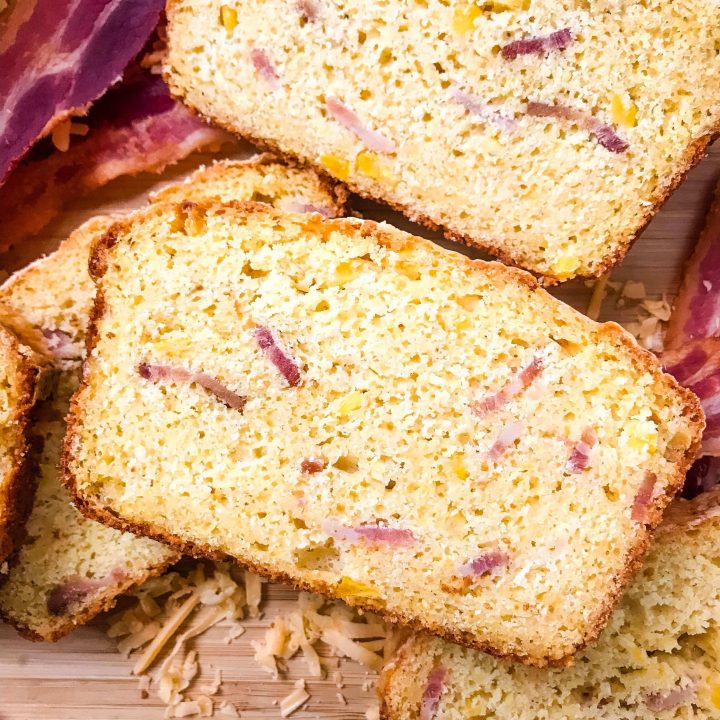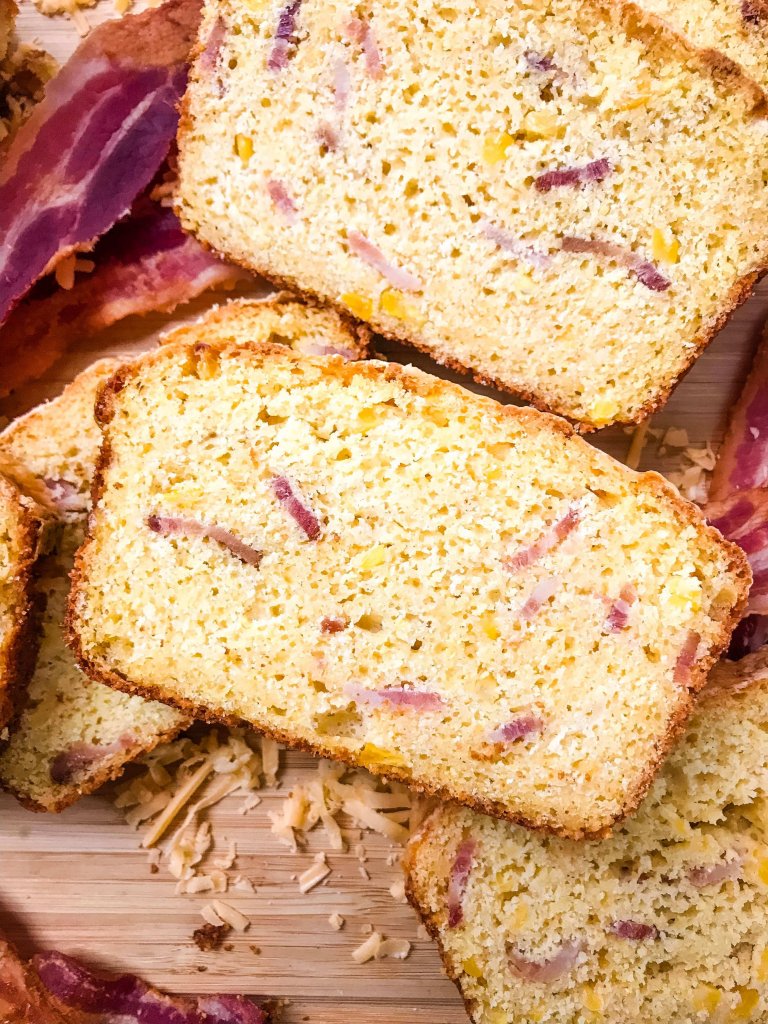 This Cheddar Cheese Bacon Cornbread is a simple cornbread recipe full of pork bacon, shredded cheddar cheese, and corn kernels.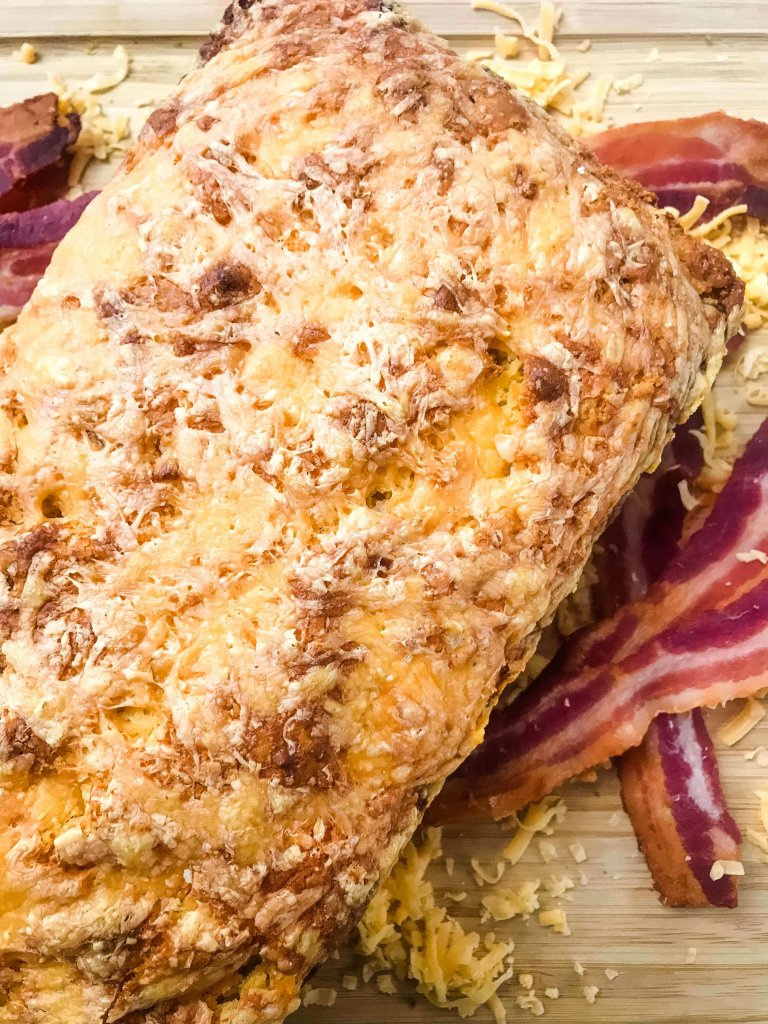 This post contains affiliate links.
I have always loved the taste of cornbread, but I am NOT a fan when it is dry. I love a cornbread with some moisture and texture to it. This Cheddar Cheese Bacon Cornbread is soft and the corn kernels and bacon give it some texture and crunch. Find more cornbread recipes here!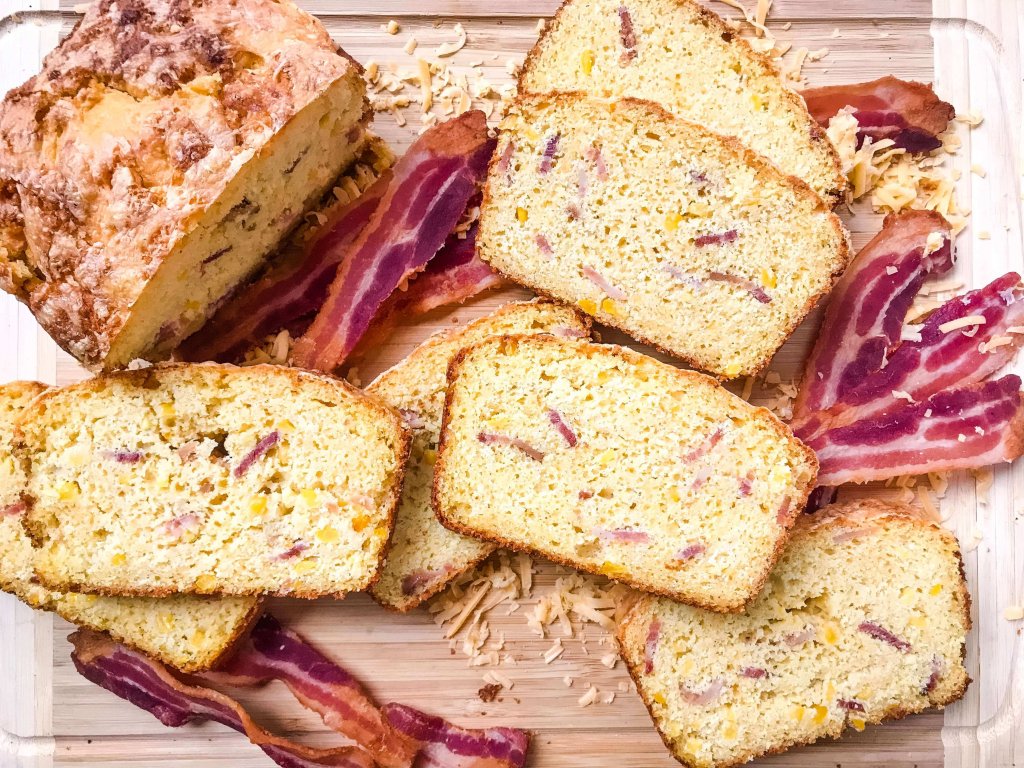 While you could easily eat this cornbread recipe by itself, it is also great with some chili or soup, or as a side to barbecue. Typically this gets eaten around here by itself, maybe warmed with a little butter, because it is just too good!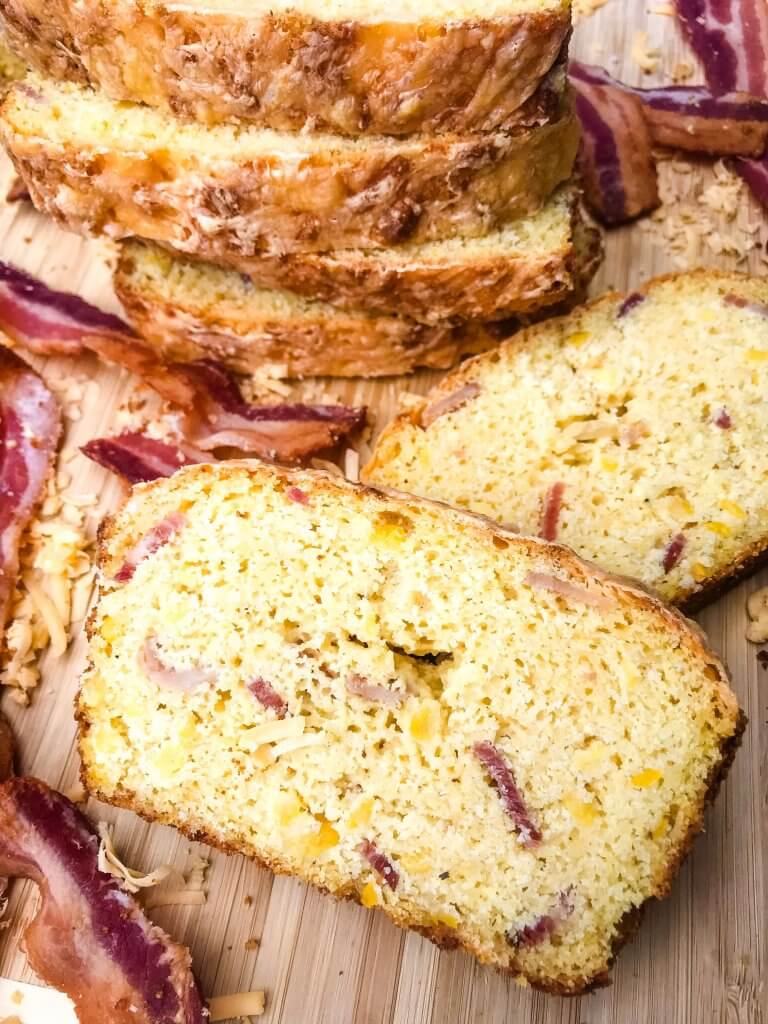 Making Cheddar Cheese Bacon Cornbread couldn't be any simpler. Just mix together your dry ingredients and wet ingredients, and then gently mix them together. Also add the chopped pork bacon, cheddar cheese, and corn kernels. Then bake until cooked through, approximately 40 minutes. You could also easily make little muffins or a flatter bread in a baking dish if preferred. Just adjust your cooking time and bake until the bread is cooked all the way through.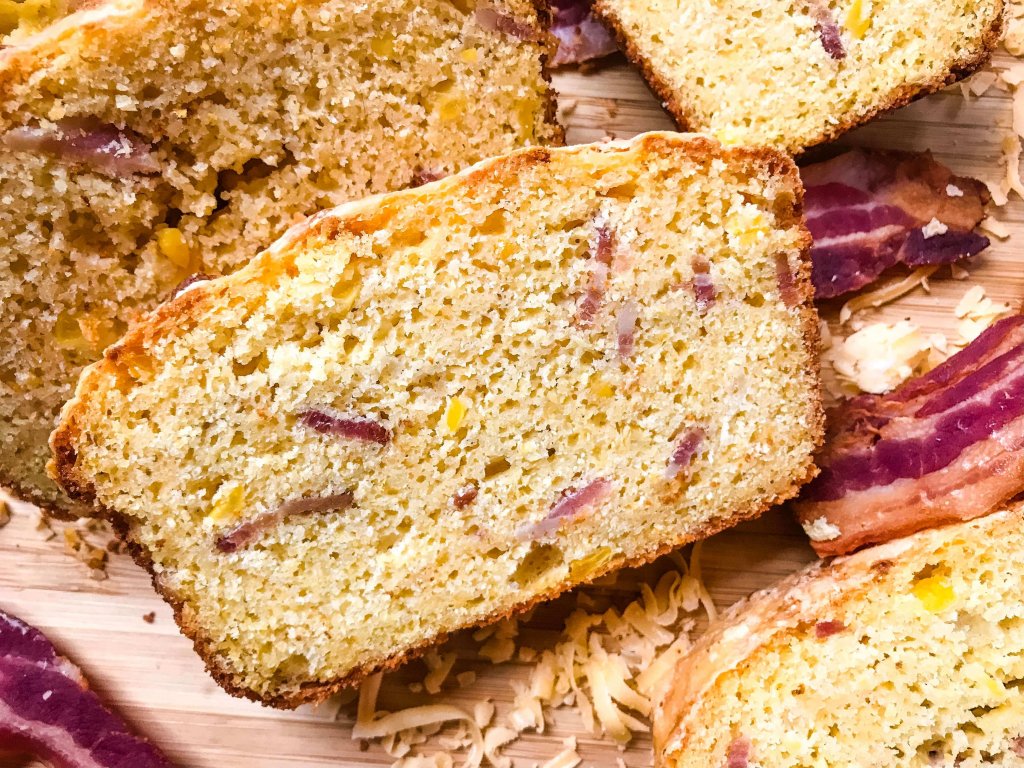 At first, I was worried that the bacon flavor would not be strong enough to notice it is in there. But oh how I was wrong, you can sure smell and taste it! I added a Tablespoon of bacon fat from cooking off the bacon into the bread mixture for a little extra flavor punch. But if you do not have the fat, no problem, just skip it. The bacon will still shine. Whenever I opened up the container I was storing the bread in, I would get a big wave of bacon smell. Perfect for the bacon lovers. So good!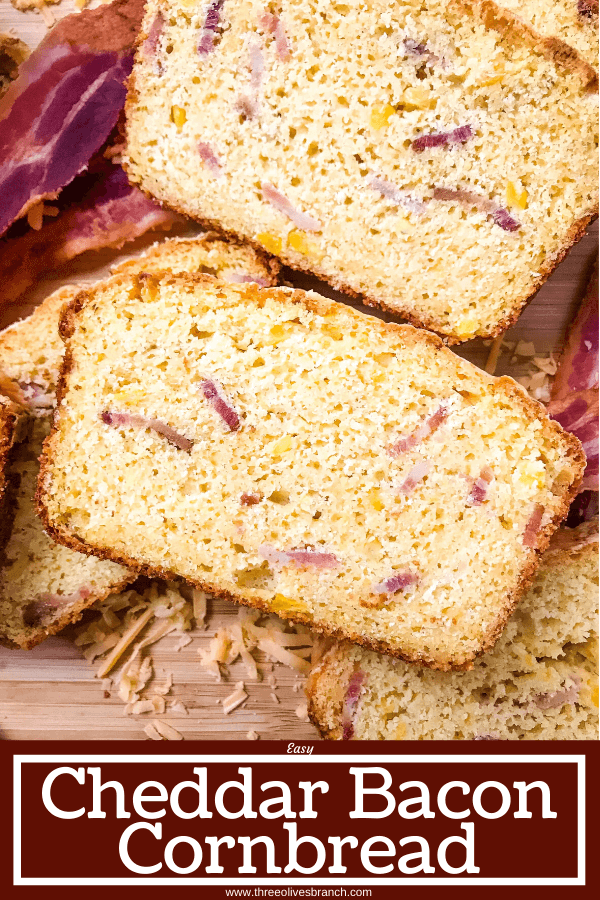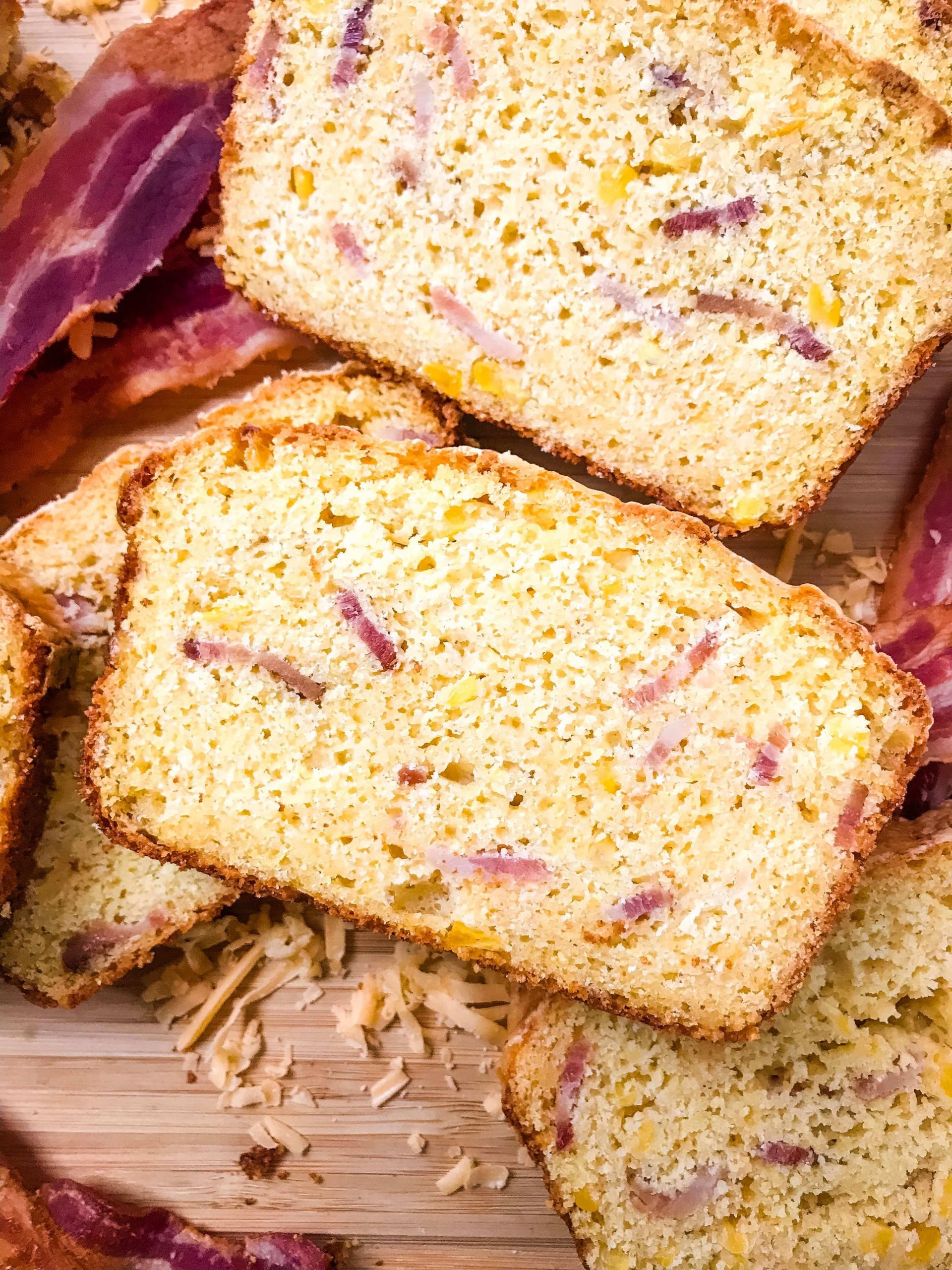 Instructions
If not cooked already, cook your bacon as per package directions. Chop and set aside.

Preheat the oven to 400F with the rack on the middle shelf. Coat your baking dish with nonstick spray. Set aside.

In a large bowl, whisk together the flour, cornmeal, baking powder, baking soda, ground red pepper, and salt.

In a medium bowl, whisk together the buttermilk, brown sugar, and eggs.

Fold the egg mixture gently into the flour mixture.

Add the butter, chopped bacon, corn kernels, and 1 cup of the cheddar. If you have and are wanting to use the bacon fat, also add it here. (The bacon fat will give it an extra bacon kick). Mix to just combine.

Pour the batter into the prepared dish and level the top. Sprinkle the remaining 1/2 cup of cheese on top.

Bake until cooked through and a toothpick inserted in the middle comes out clean (or with just crumbs), approximately 35-40 minutes.

Remove from the oven and let the bread cool in the pan for approximately 10 minutes. Then remove from the pan and finish cooking on a wire rack.
Notes
You could also make this in any shape or size baking dish, including as muffins, however your baking time will vary.  You will know it is done when a toothpick inserted in the center comes out clean or with crumbs.
If you do not have buttermilk on hand, simply add 1 Tablespoon of fresh lemon juice to 1 cup of milk and let it sit for 5 minutes.
Nutrition
Calories:

439

kcal

|

Carbohydrates:

33

g

|

Protein:

13

g

|

Fat:

28

g

|

Saturated Fat:

14

g

|

Cholesterol:

103

mg

|

Sodium:

535

mg

|

Potassium:

284

mg

|

Fiber:

2

g

|

Sugar:

4

g

|

Vitamin A:

587

IU

|

Vitamin C:

1

mg

|

Calcium:

199

mg

|

Iron:

2

mg

By