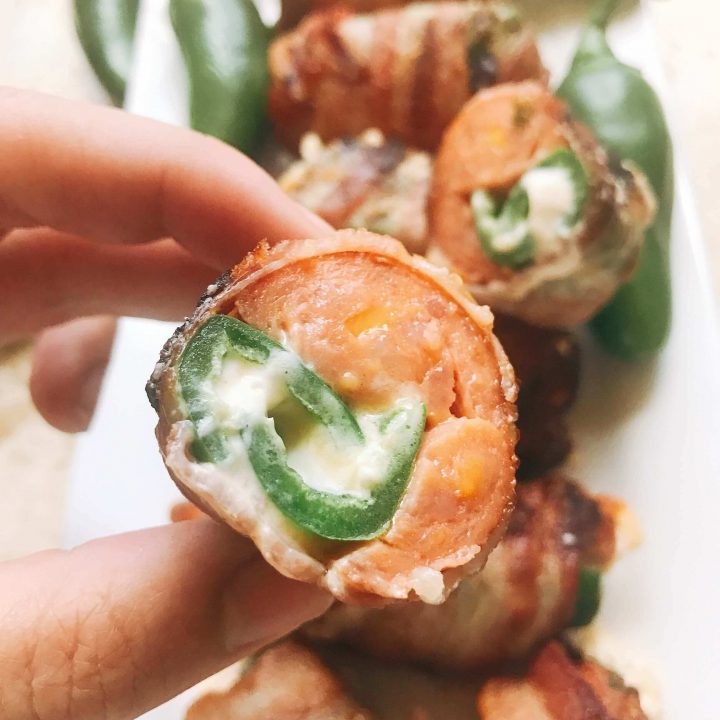 This shop has been compensated by Collective Bias, Inc. and its advertiser. All opinions are mine alone. #GiveLifeMoreFlavor #CollectiveBias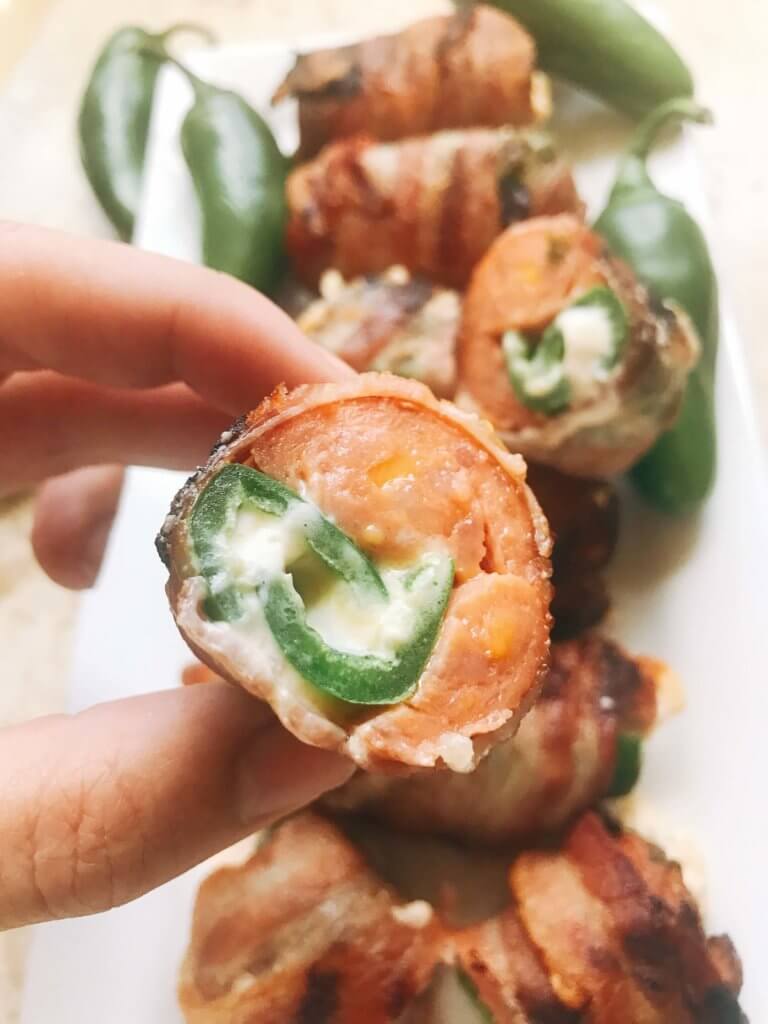 If you stop by here often you know that we love to host dinner parties and have friends and family over for great food and some quality time.  In the summer this means that we are grilling as much as we can!  I love to serve up unique and delicious foods for my guests and these Cheddar Jalapeño Smoked Sausage Bacon Bombs have been a hit!
I wanted to do something different with a jalapeno popper concept and combining this idea with bacon and Eckrich smoked sausage has been a perfect match.  I love to serve these Cheddar Jalapeño Smoked Sausage Bacon Bombs up as appetizers, but people love them so much that they can stand on their own as the main course as well.  The smoked sausage is wrapped in crispy bacon and filled with a cheesy, gooey jalapeño in the middle.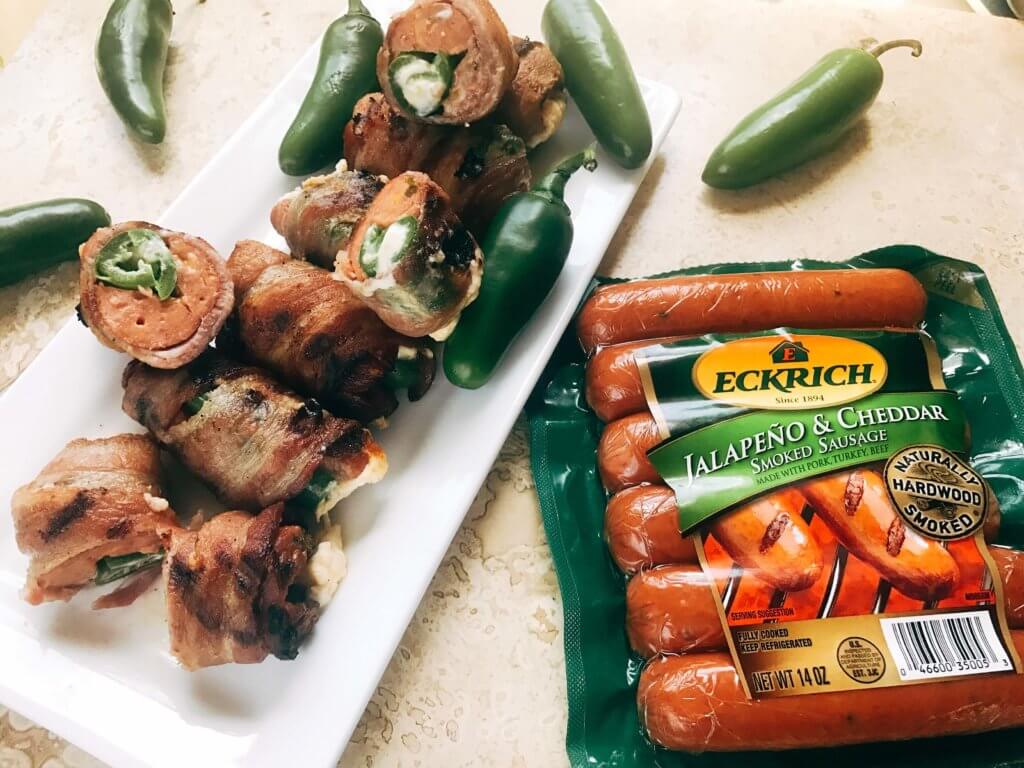 These Eckrich Jalapeño & Cheddar Smoked Sausage Links are packed full of so much cheddar and jalapeño which really lets the flavors shine!  Eckrich smoked sausages have been around for generations as a consistent and trusted brand with a variety of products.  Naturally Hardwood Smoked, the quality and taste of these smoked sausages appeals to the whole family at a great value.  Great flavors means less burden and pressure for a satisfying meal, allowing you and your family to get more flavor out of life!  Find more Eckrich recipe inspiration on their Pinterest page here!  You can grab these affordable smoked sausages at your local Safeway in the sausage and deli meat section.  A quick trip to the store to get everything you need and you will be enjoying these Cheddar Jalapeño Smoked Sausage Bacon Bombs in no time!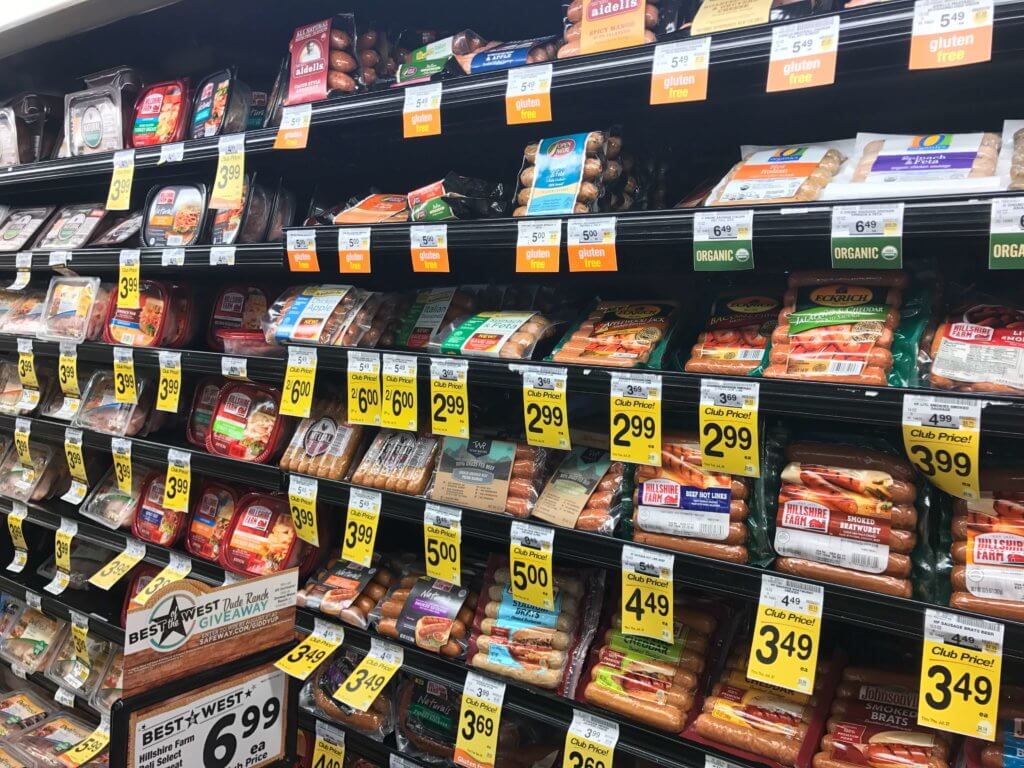 You only need a few ingredients to make these amazing Cheddar Jalapeno Smoked Sausage Bacon Bombs: Eckrich Jalapeño & Cheddar Smoked Sausage Links, cheddar cheese, cream cheese, garlic powder, jalapeños, and bacon.  That's it!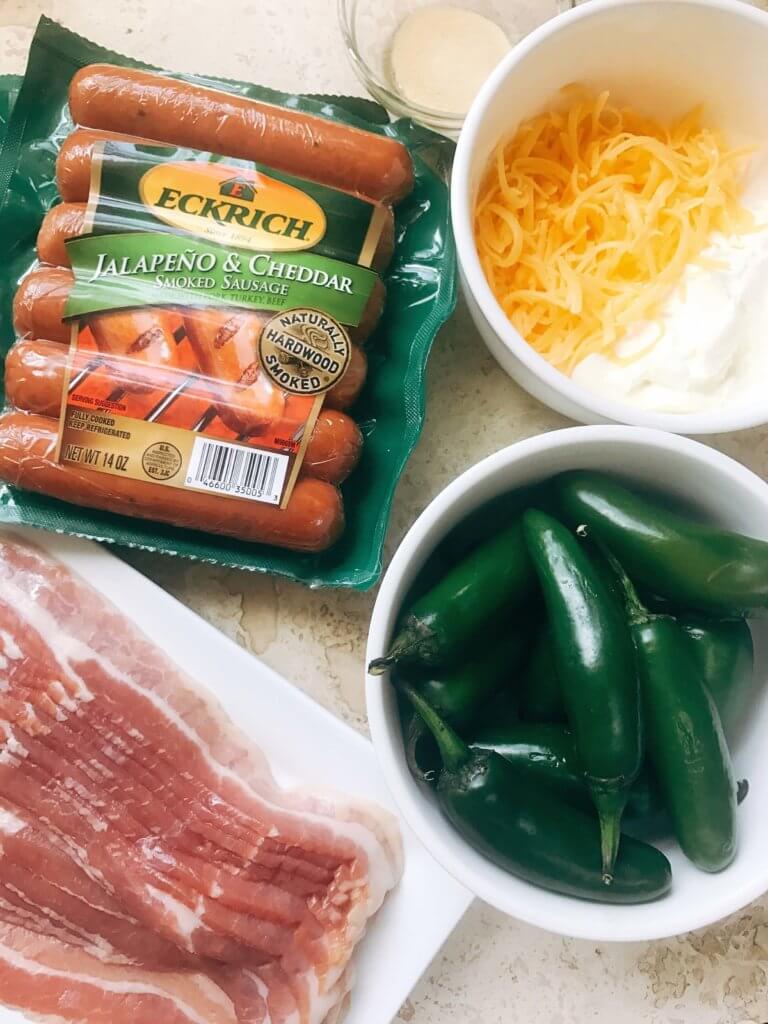 To make these Cheddar Jalapeño Smoked Sausage Bacon Bombs, start by mixing the cheese mixture ingredients together.  Then slice the tops off of the peppers, cut in half lengthwise, and scoop out the seeds and white ribs with a knife.  Keep them paired up so they fit together later!  Then pipe or spoon the cheese mixture along one pepper half and close with the second half.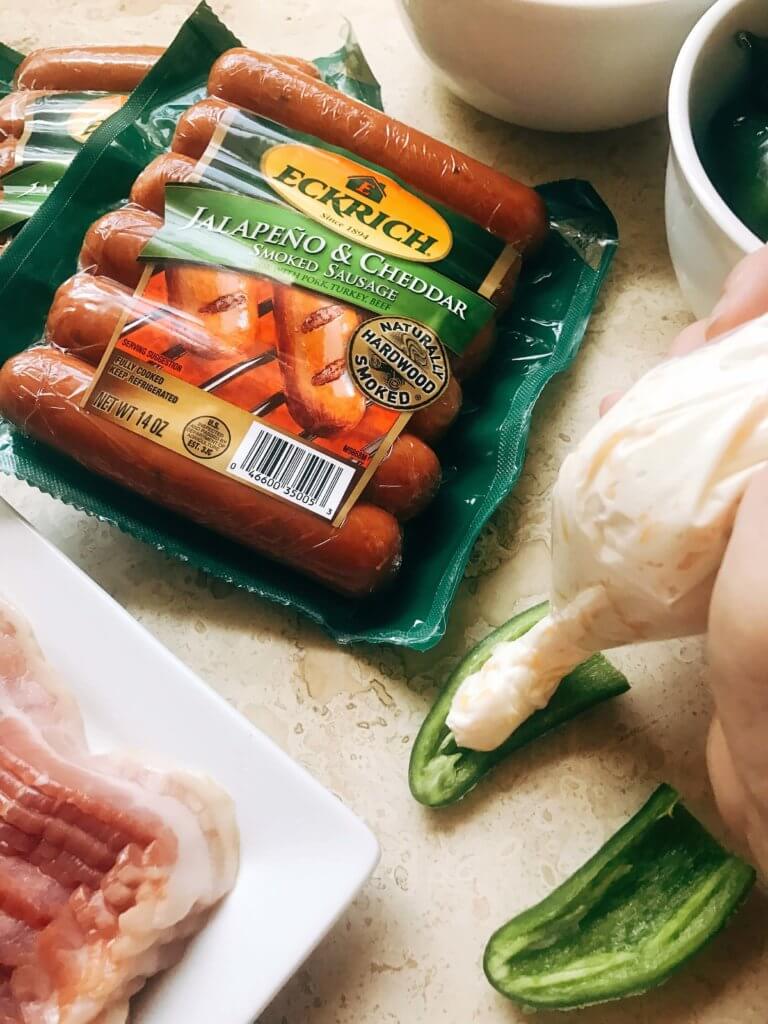 Cut the Eckrich Jalapeño & Cheddar Smoked Sausage Links in half, then slice lengthwise almost all the way through so that it opens like a hot dog bun.  Place the cheese stuffed pepper in the smoked sausage.  Roll the stuffed smoked sausage into a slice of bacon.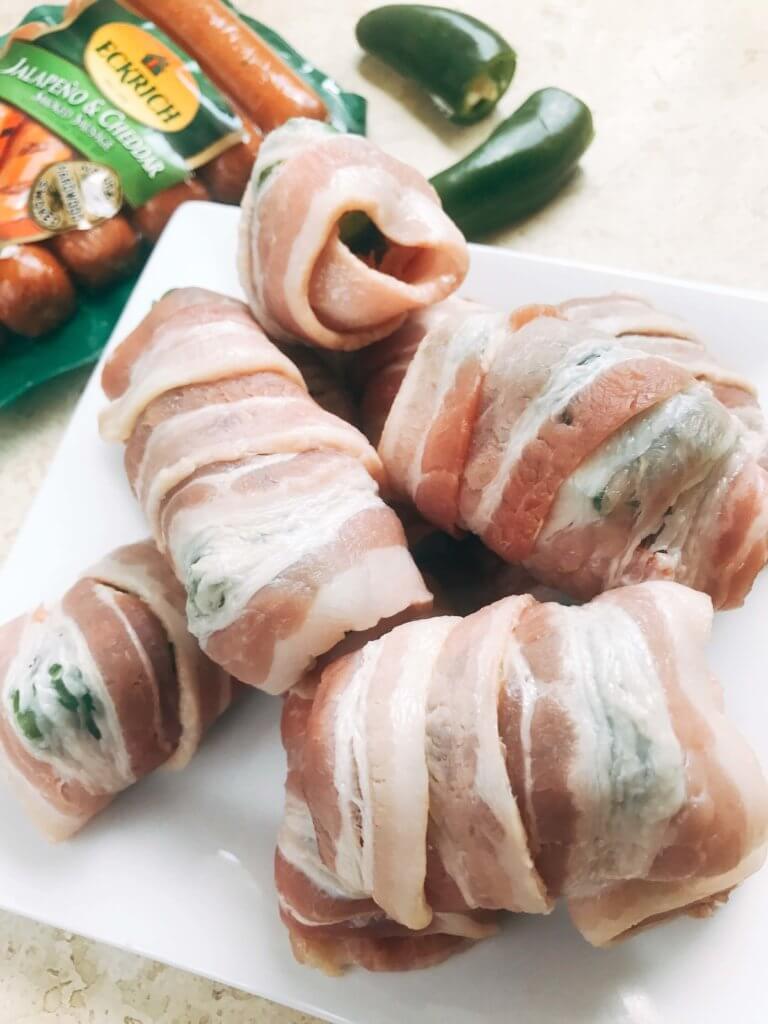 Then get grilling!  These take around 10 minutes per side on medium heat with my grill, but keep in mind that your grill will vary.  I use a tin foil tent to prop the Cheddar Jalapeño Smoked Sausage Bacon Bombs up on to help keep the cheese in the pepper.  Serve them immediately when they are done.  I like to serve them up with the extra cheese mixture and some sour cream.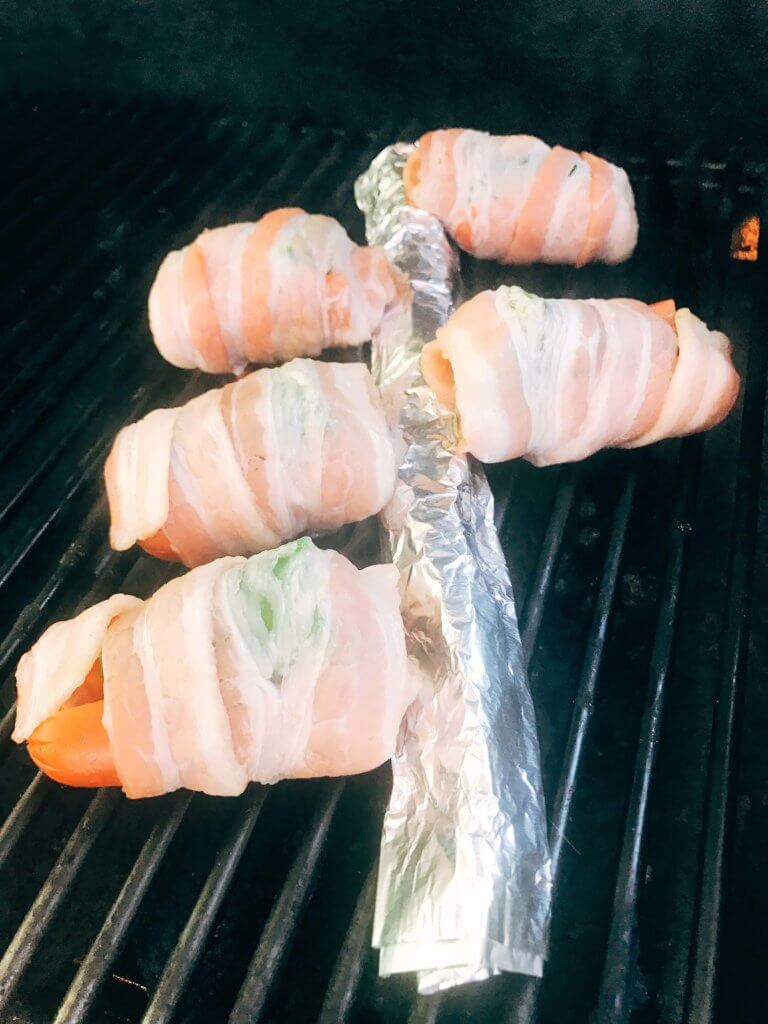 The Cheddar Jalapeño Smoked Sausage Bacon Bombs have been such a hit here that they are making regular appearances at our summer grill outs.  What are your favorite things to grill in the summer?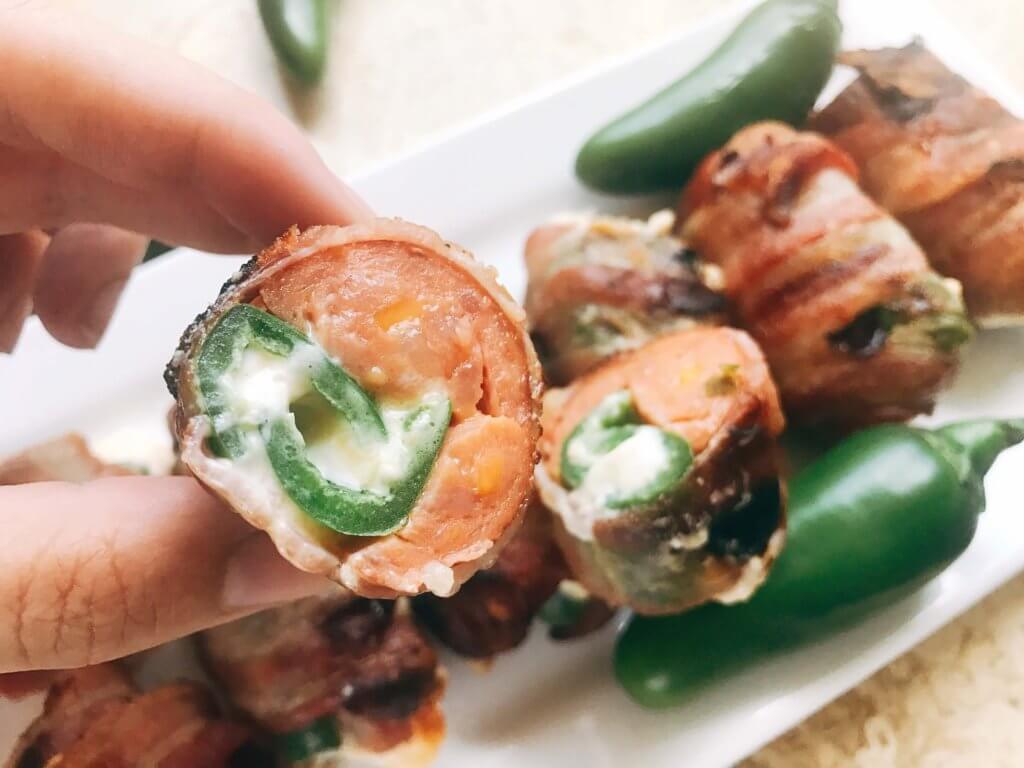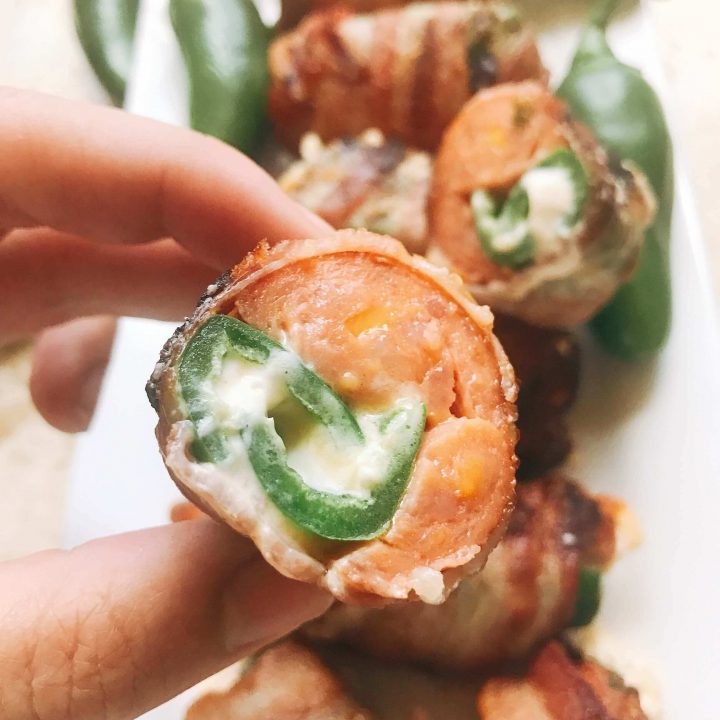 Ingredients
1

package

Smoked Sausage Links

(6 links)

12

jalapeno peppers

small and thin

8

oz

cream cheese

softened

1/2

cup

cheddar cheese

shredded

1/4

tsp

ground garlic powder

12

slices

bacon
Instructions
Make the cheese mixture by combining the cheddar, cream cheese, and garlic powder. Stir to combine and set aside.

Cut the tops off of the jalapenos. Cut them down in length if they are long until they are approximately ____ inches long. Slice them in half lengthwise and remove the seeds and white ribs with a knife. Keep them paired up (two halves from the same pepper together) and set them aside.

Put the cheese mixture in a resealable bag and cut off the tip in one bottom corner so that it is approximately as wide as the peppers. Squeeze the cheese mixture along the inner cavity of a pepper half, and place the second half on top. Do not overfill as it will all leak out later. (You can also use spoons however it will be more difficult).

Take the smoked sausage links and cut them in half so you have two ends. Then slice each half lengthwise so that it opens up like a hot dog bun. You want to slice most of the way down but not all the way through.

Place a pepper inside the sliced smoked sausage.

Lay out a slice of bacon and place the pepper at one end with the bacon at the edge of the smoked sausage with some of the bacon hanging over. Roll the smoked sausage into the bacon so that the bacon covers the smoked sausage. Secure the loose end with a toothpick if desired to keep it in place.

Preheat your grill to medium heat.

Place your smoked sausage bombs on the grill and cook for approximately 10 minutes per side. When the cheese is starting to melt out of the smoked sausage on the second flip, it should be ready. Keep an eye on your grill and adjust the heat if it is cooking too fast. You can prop up the smoked sausage bombs on a piece of long tin foil (see picture above) with the open pepper end facing up to help keep the cheese in if desired.

Serve warm with the leftover/additional cheese mixture or sour cream.
By