Potato skin shells filled with ground beef and cheese, plus all the fixings! Gluten free.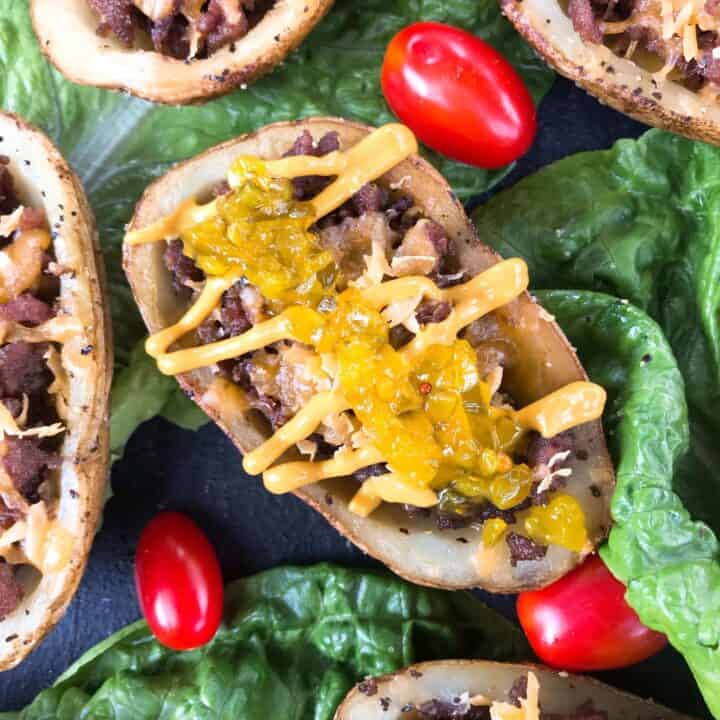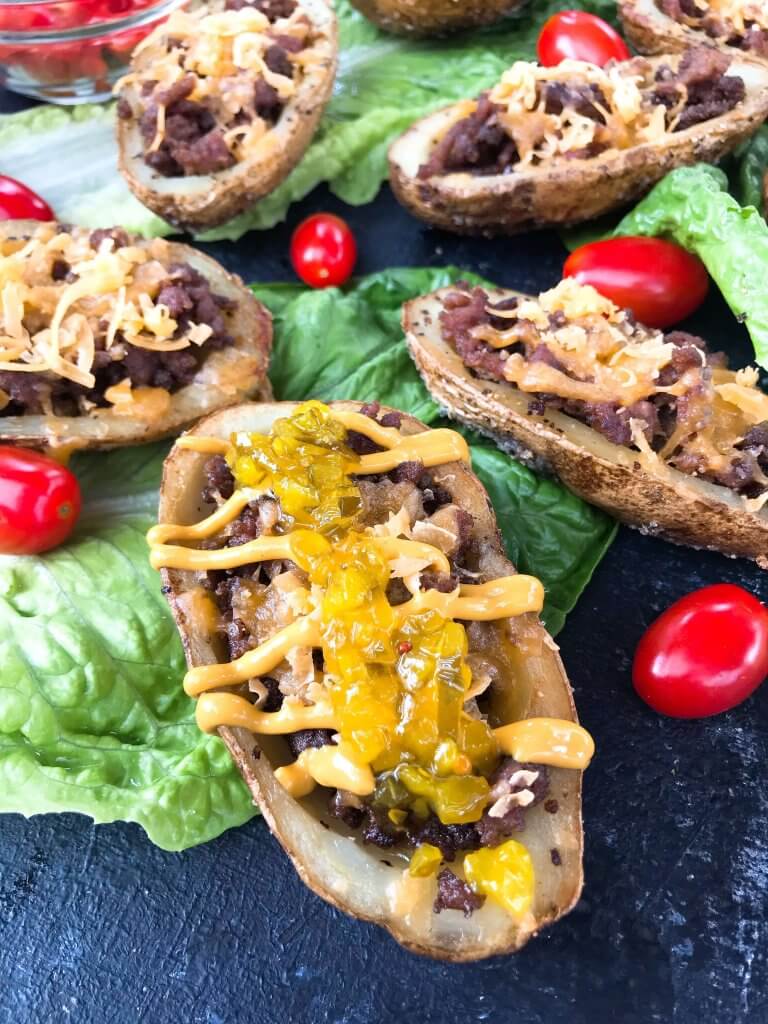 This Cheeseburger Potato Skin Bar is a fun hands-on party or entertaining appetizer station.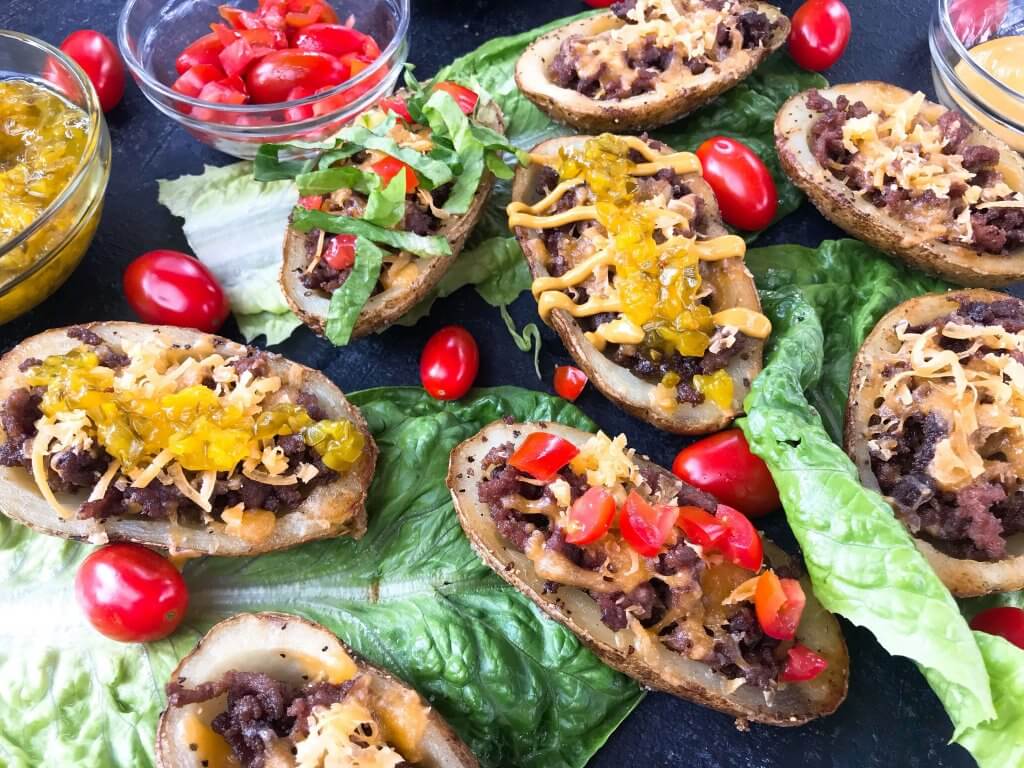 This post contains affiliate links.
I have been thinking about making a cheeseburger potato skin for a while now, but could never settle on the "right" toppings. Everyone has their own favorites, and there are so many options. So why choose?? This gluten free Cheeseburger Potato Skin Bar is a perfect way to solve that issue!
Potato skin shells are filled with ground beef (already cooked) and topped with cheese. Then lay them out on a party table spread with all the classic cheeseburger fixings and let your guests build their own! My personal favorite is onions, relish, and mustard. They are perfect for entertaining a large crowd since they are so easy to customize.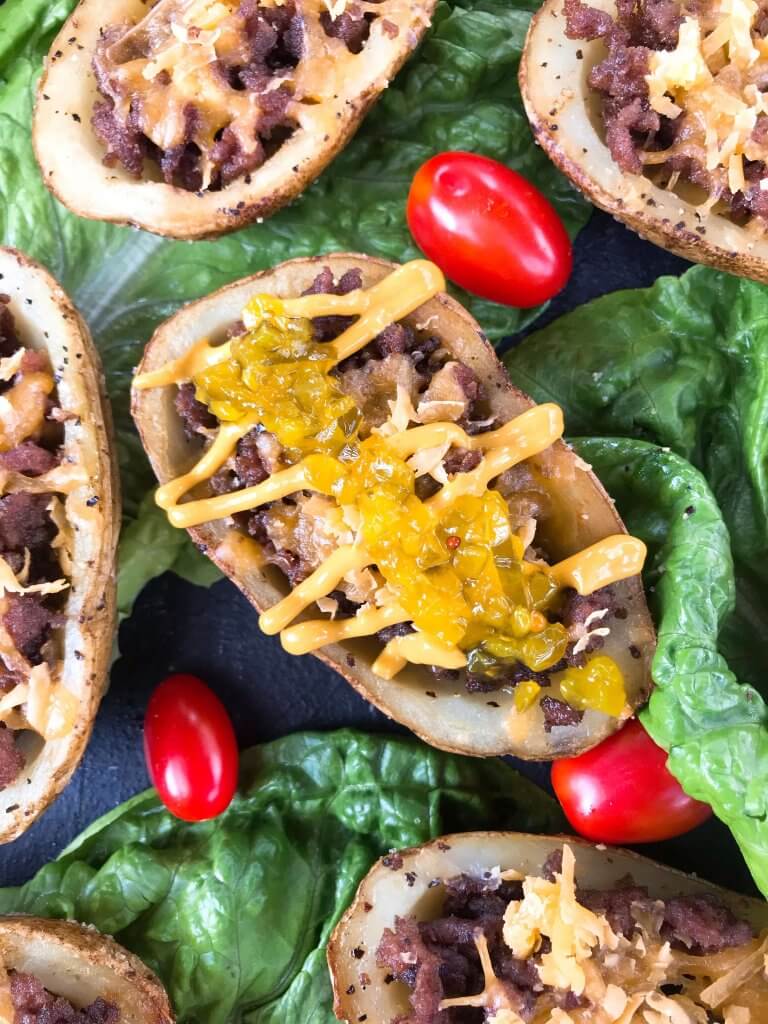 Learn how to make potato skin shells here! It is my favorite technique as I found using baked potatoes were just too soft and difficult to work with. Plus my technique above is so much faster! The topping possibilities are endless! Now that I have a recipe for perfect potato skins, it is somewhat dangerous because they are so good! The potato skin shells are great to make in advance. Just refrigerate until you are ready to load them up and bake. You can also now find potato skin shells in the freezer section of your grocery store with the french fries.
Have you tried any of our other potato skin recipes? They are one of my favorite things to make for parties, game day, and holidays. Find more potato skin recipes here!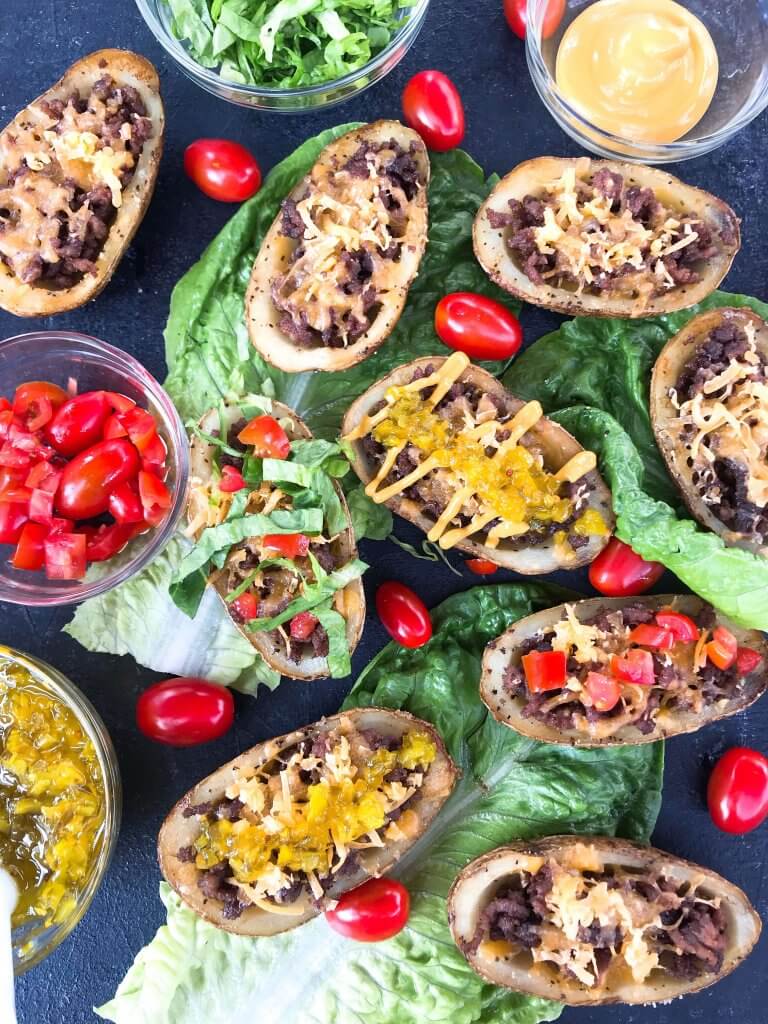 This Cheeseburger Potato Skin Bar is rather simple, but a hit at parties! People love being able to assemble their own snacks and the classic flavors are a delicious way to enjoy a cheeseburger in a new way.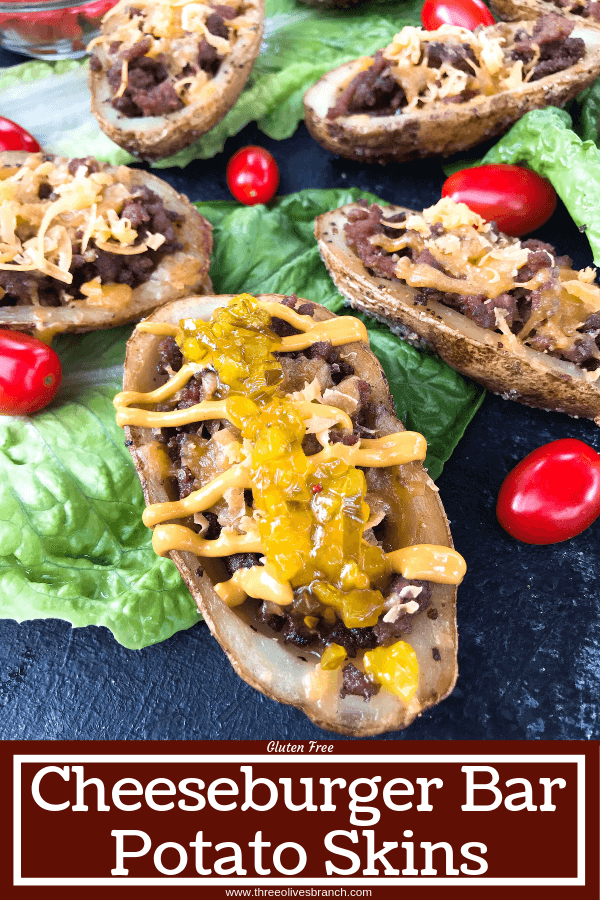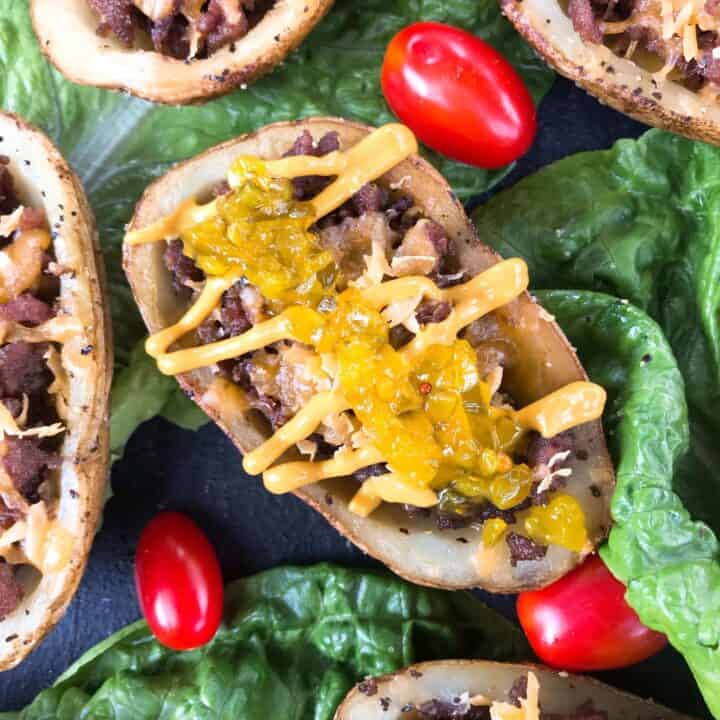 Cheeseburger Potato Skin Bar
Potato skin shells filled with ground beef and cheese, plus all the fixings! Gluten free.
Print
Pin
Rate
Servings:
12
potato skins
Instructions
Cook your potato skins if not done already (will add extra cook time). See notes for links to recipe for potato skin shells.

Cook the ground beef until just no longer pink. (It cooks a touch more in the oven later). Set aside.

Preheat oven to 350F.

Once your potato skins are prepared, place them skin side down on a lined large cookie sheet.

Fill each potato skin shell with the ground beef, as much as needed based on the size and shape of the skin. Then top each potato skin with as much cheese as desired (you may need more than 3/4 cup of cheese!).

Bake the potato skins in the oven just until the cheese is melted, approximately 5-7 minutes.

While the potato skins are baking, prepare all of the toppings and get them into little bowls or plates for the assembly station.

Serve immediately with all of the toppings on the side and let your guests build their own!
Notes
Learn how to make potato skin shells here! Find more potato skin recipes here!

Cooking time assumes that the potato skin shells are already done.  You can easily make the shells in advance, or use frozen ones from the french fry section of your grocery store.

You may need more or less beef and cheese based on exactly how large and deep the potatoes are, as well as how much you choose to fill them.

The amount that you need of each condiment will rely solely upon how popular each one is.

By