Fresh flavors of caprese and chicken are stuffed into these cheesy shells for a fun Italian night recipe!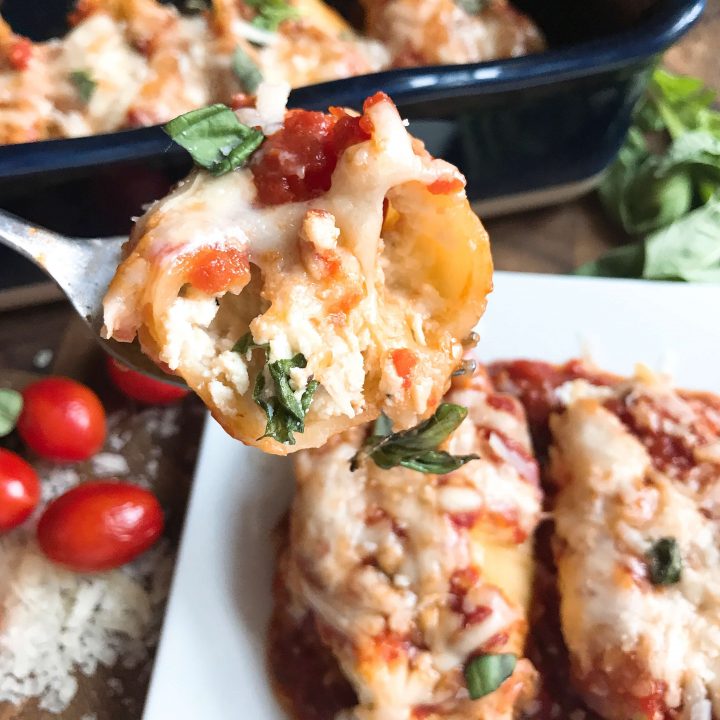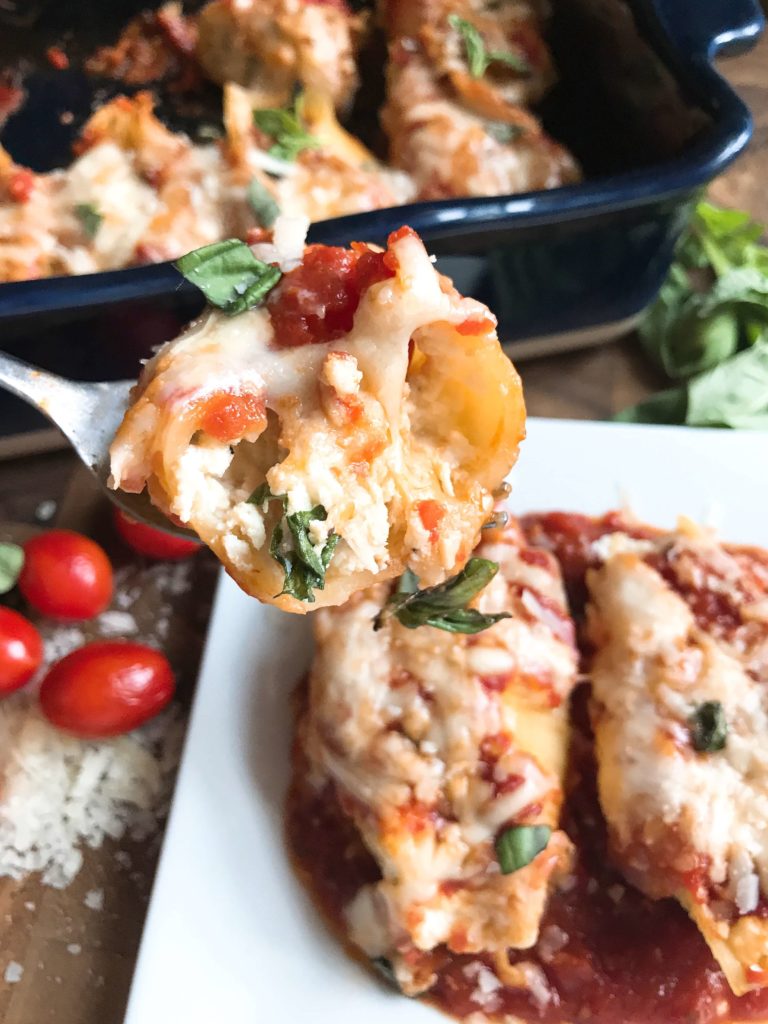 These Chicken Caprese Stuffed Shells are filled with chicken, tomatoes, basil, and cheese for a fun twist on a classic Italian recipe!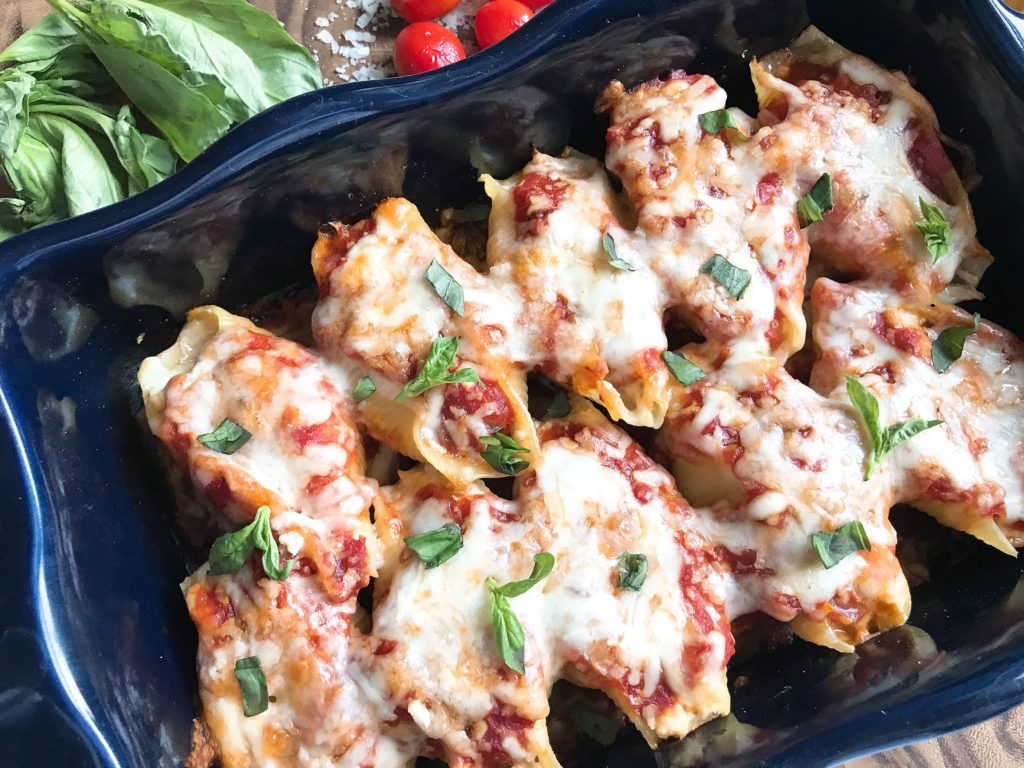 This post contains affiliate links.
I am a sucker for Italian food.  It is one of my favorite things and there are so many amazing Italian recipes that I love.  I wanted to take a heavier Italian dish of stuffed shells and bring some bright and fresh flavors to it with the classic caprese ingredients of basil, mozzarella, and cherry tomatoes.  My mom LOVES caprese flavors so I have been having a lot of fun finding new ways to use those classic ingredients.  The cheese mixture is also combined with some shredded chicken for a fun and delicious dinner that will make these Chicken Caprese Stuffed Shells part of your regular recipe rotation.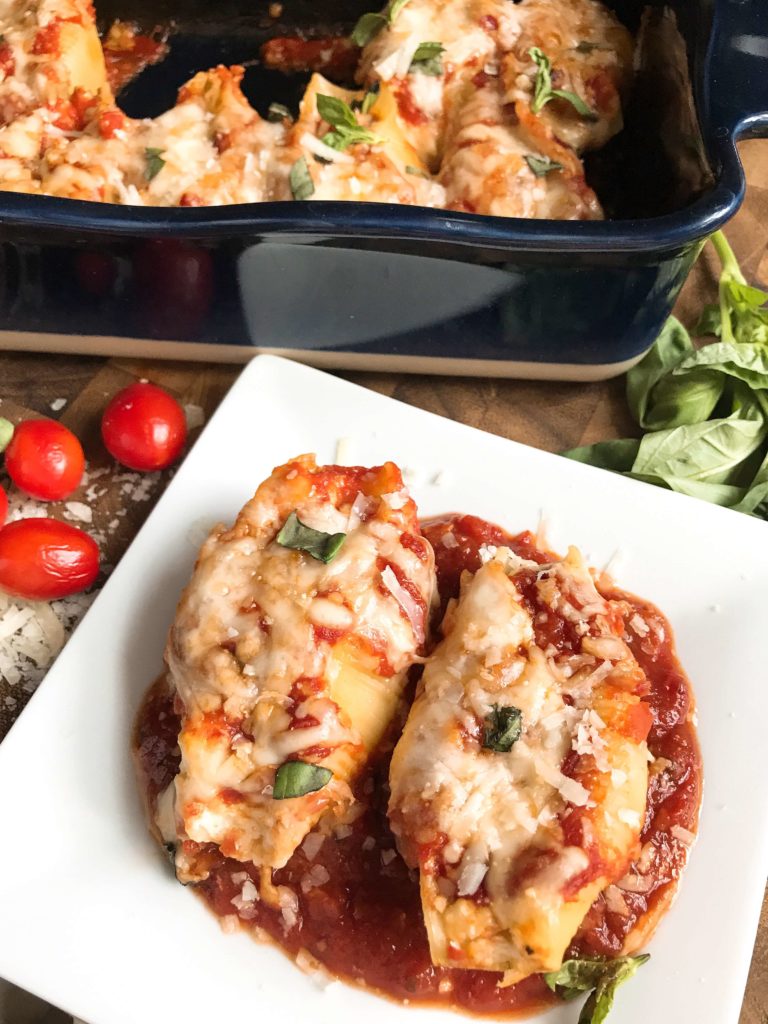 I love to use my Simple Marinara Sauce for this recipe but use anything you like or have.  These shells are also a great freezer meal to make in advance for those nights when you just want to pop something quick and easy in the oven.  I double up the recipe and put the shells into separate foil containers that are freezer and oven friendly just for this purpose.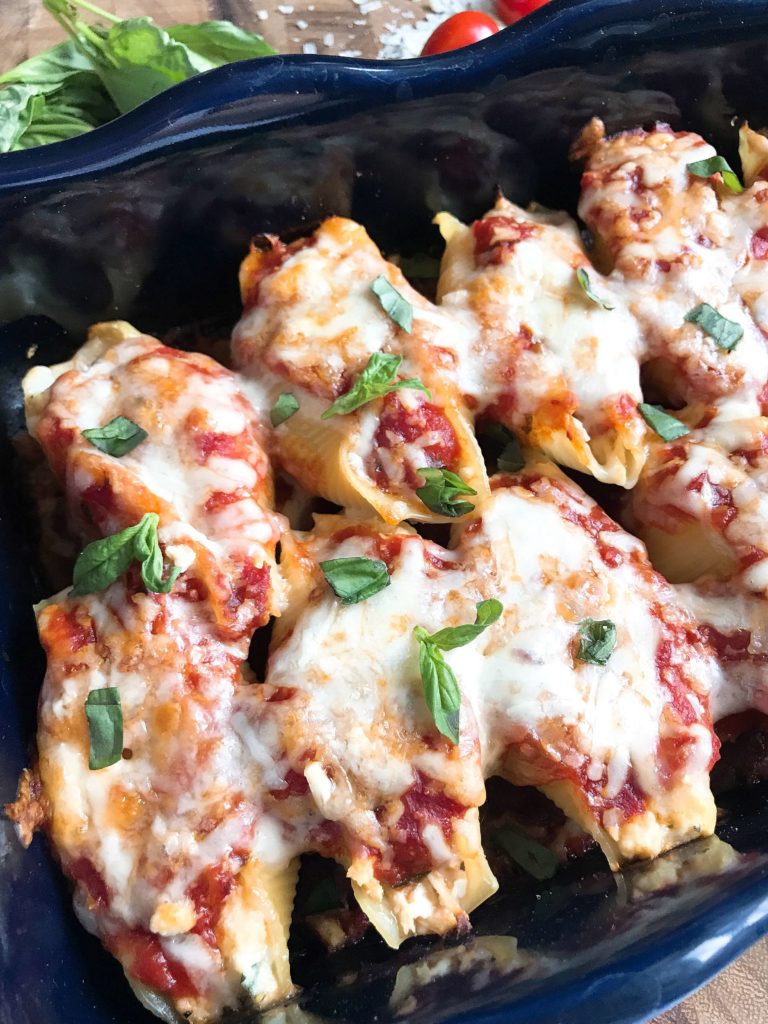 To make these Chicken Caprese Stuffed Shells, combine the cheese mixture, cherry tomatoes, fresh basil, and chicken together.  Stuff the shells as full as you want them.  Put them in a baking dish, open side up, and smother with your favorite sauce, some more mozzarella, and Parmesan cheese.  Putting them in open side up lets some of the sauce bake into the cheese for an oh-so-good taste.  Bake them at 375 F until the cheese is melted and the top is starting to turn golden, approximately 20 minutes.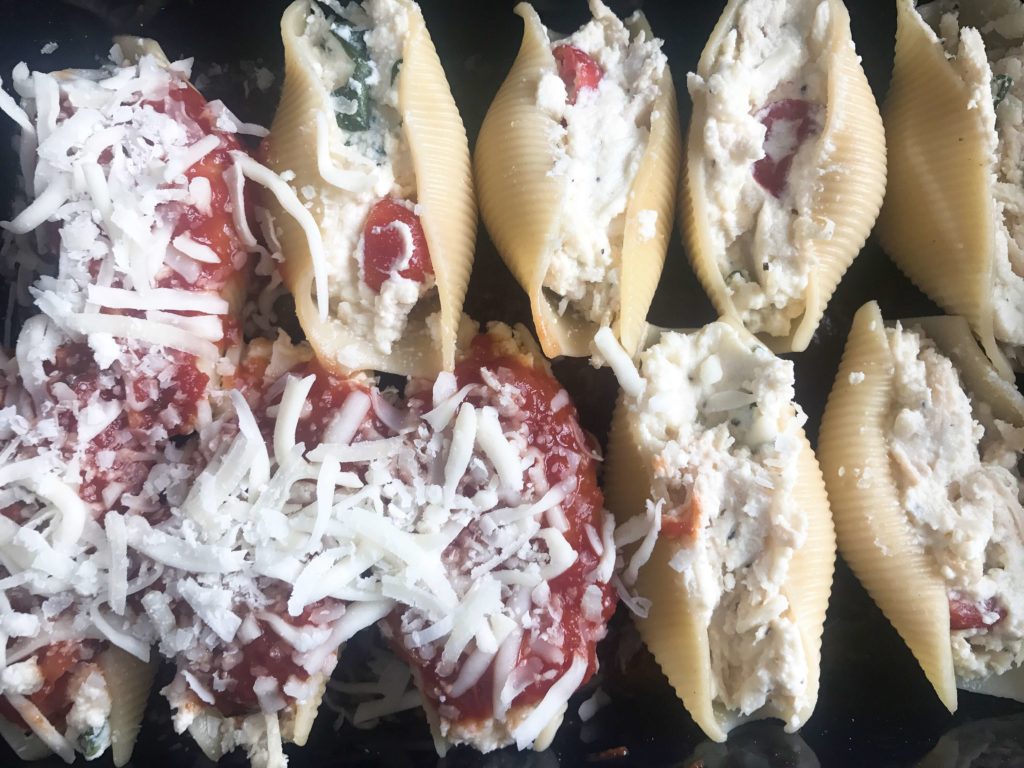 These Chicken Caprese Stuffed Shells are so fun with the fresh caprese flavors.  What are your favorite ingredients to put in a stuffed shell?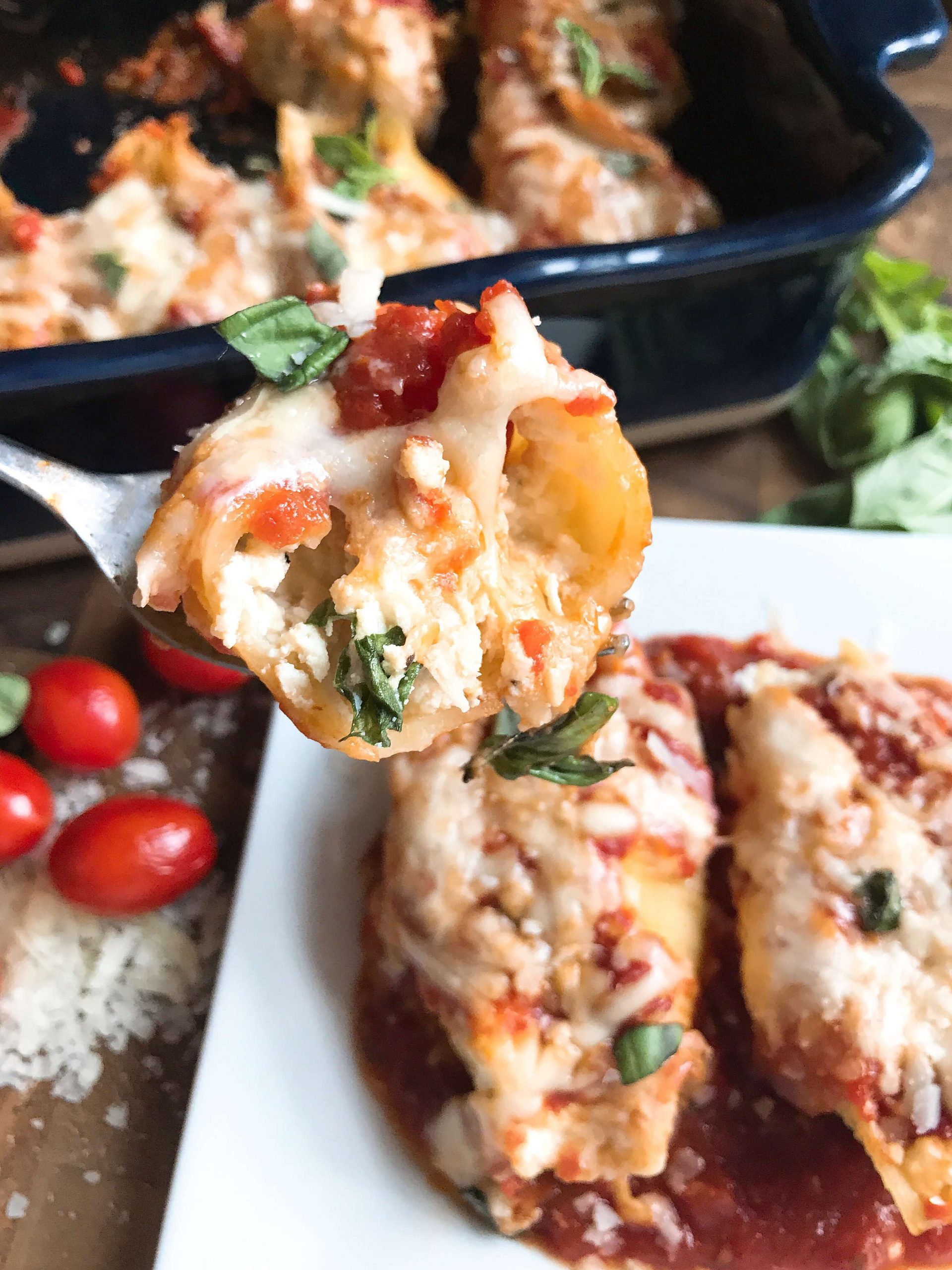 Instructions
Cook the chicken and make the sauce if not already done.

Heat a large pot of water until boiling. Cook the jumbo shells until al dente as per package direction, approximately 10 minutes. Drain and set aside.

While the shells are cooking, make the cheese mixture by combining all of the ingredients.

Shred or dice the chicken. Add the chicken to the cheese mixture and stir to combine. Add additional chicken if desired. Set aside.

Heat the oven to 375 F.

Place a little of your sauce in the bottom of your baking dish to cover. Using a spoon, scoop approximately 1.5-2 Tablespoons of the chicken and cheese mixture into each shell. Place the shell in the baking dish, open side up.

Repeat with the remaining cheese mixture and shells.

Cover the shells with the Simple Marinara Sauce, 3/4 cup mozzarella, and 1/4 cup Parmesan cheese. Bake at 375 F until the cheese is melted and starting to brown on top, approximately 20 minutes.

Garnish with additional fresh basil if desired and serve immediately.
Notes
I love to use my Simple Marinara Sauce for this recipe but use anything you like or have.

For a meat heavy dish, use more chicken as desired.

The exact number of shells will vary based on how much you stuff them and how much chicken you use.

By