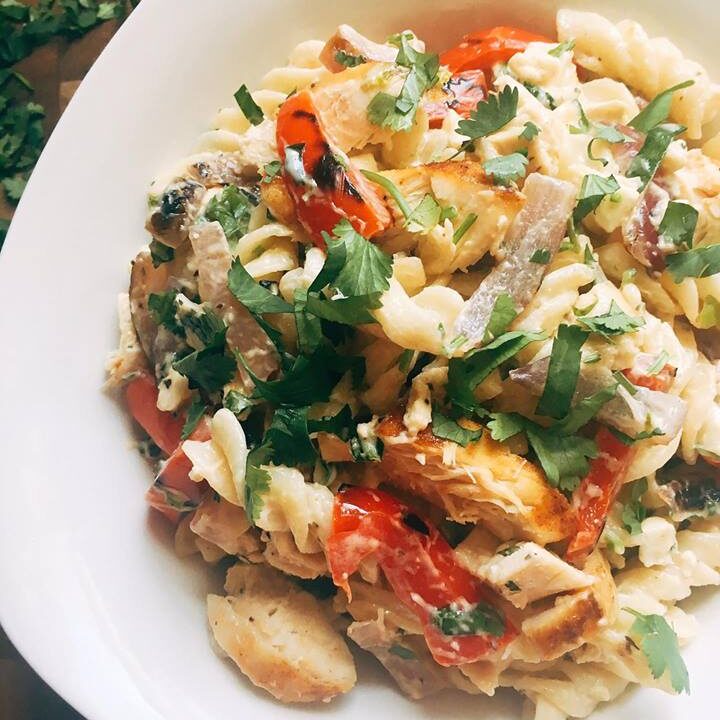 Lately I have been on a kick of combining different flavors and dishes together.  This Chicken Fajita Pasta Salad is one of my recent experiments gone well!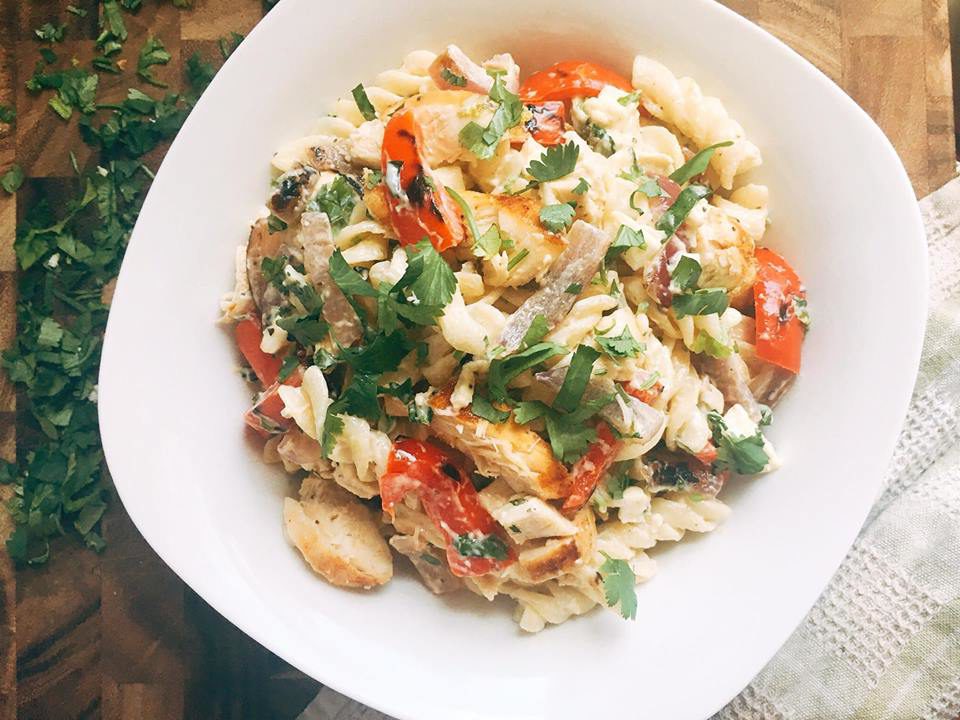 My Citrus Chicken Fajitas are one of the most commonly asked for meals when I am cooking for others.  I figured if they are SO popular, I might as well try out some new things with the same flavors!  If you happen to have some leftover chicken and veggies from the fajitas, you are already half way to having this pasta dish!  Talk about a great way to re-purpose leftovers 🙂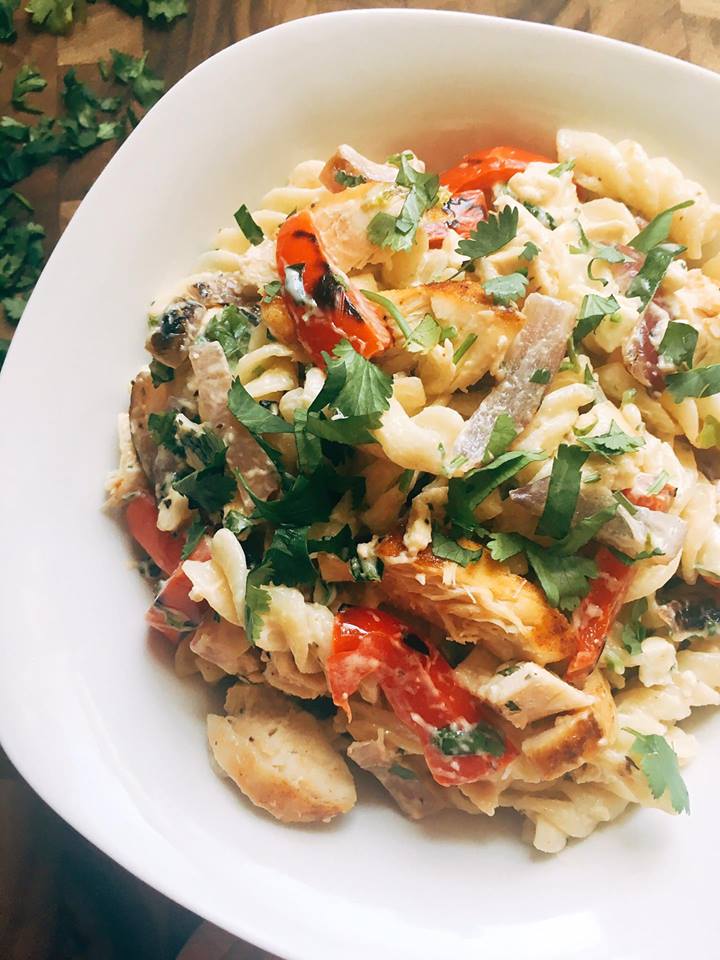 I must admit, I was a little skeptical at first that this would work out. I am typically confident of my experiments, but I was a little worried this time.  Adding pasta to the fajita mixture seemed a little…odd.  So when I had the hubby try it out, I was fully expecting an "eh…" BUT he actually liked it!
So naturally, as I do with many new recipes (especially those I am skeptical about), I brought this to a cookout party to subject our friends to my newest experiment.  Experimenting on our friends and family may not always turn out well, but I need test subjects!  They are pretty good sports and cooperate (MOST of the time), putting up with my wild ideas.  They all confirmed that it was GOOD!  Another experiment gone well 🙂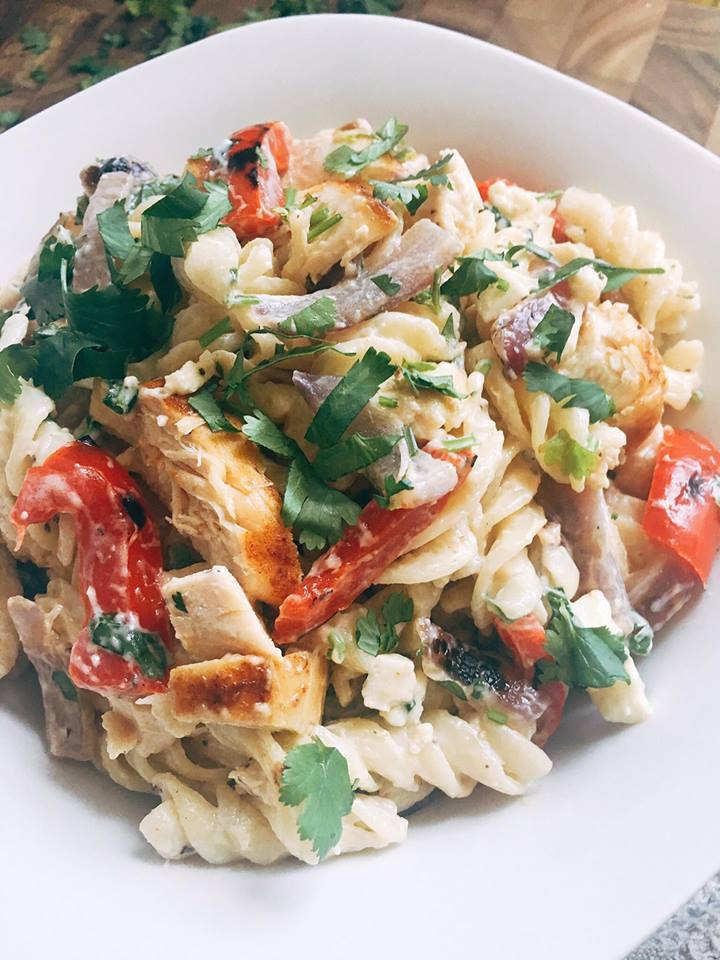 This pasta has a cream sauce however it is lightly dressed.  For a saucier pasta, double the sauce ingredients.  This Chicken Fajita Pasta Salad would also be great with steak or shrimp!  Just use the same flavor components when cooking your protein of choice.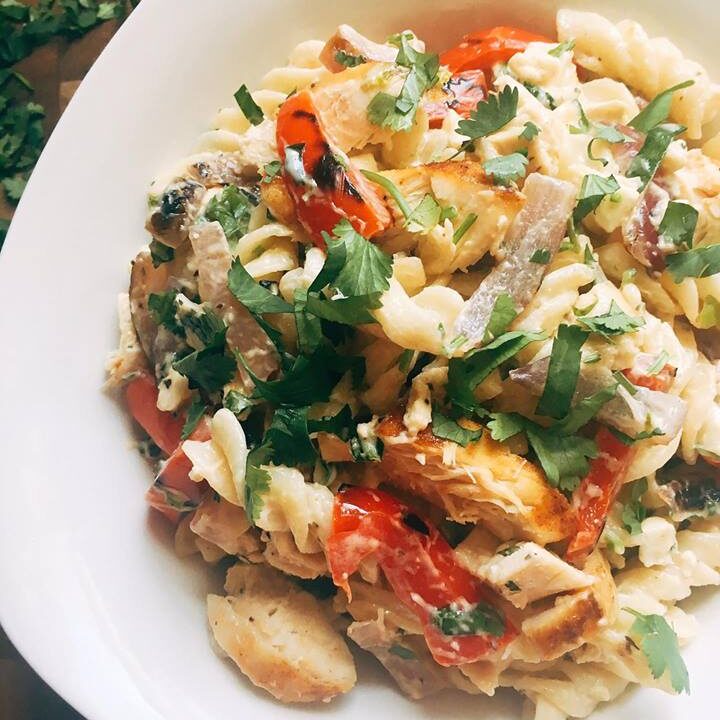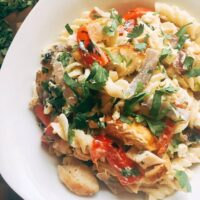 Instructions
Place chicken in a baking dish. Squeeze 1/2 of the lime over the chicken. Drizzle chicken with olive oil. Sprinkle on a little salt and 1 tsp of the cumin. Bake at 350 until cooked fully through (time will depend on size and cut of chicken). Remove from oven and let cool.

While the chicken is cooking, cook the pasta in salted water until al dente. Drain and place in a large tupperware. Drizzle with a little olive oil (to prevent it from sticking) and toss to coat. Place in refrigerator to cool.

Also while the chicken is cooking, heat a large skillet over medium heat. Add 1/2 Tbsp olive oil to the pan. Sautee the onion and bell pepper until soft, approximately 5 minutes. Remove from heat and let cool to room temperature.

In a small bowl, make the sauce. Mix together the mayonnaise, sour cream, cilantro, chili powder, the other 1/2 of the lime juiced, 1/2 tsp cumin, and a pinch of salt and pepper. Stir to combine and season to taste.

Cut or shred the chicken into bite sized pieces.

In the large tupperware or a large bowl, combine the chicken pieces, chilled pasta, onion and pepper mixture, and the sauce. Toss to coat. Depending on the shape of the pasta, you may need to add more sauce to get the consistency you want as shapes with more edges and holes will require more sauce.

Chill until ready to serve.
By