A quick and easy indulgent dessert, this Chocolate Espresso Tart is ready in just 30 minutes. A soft cocoa cookie shell is filled with a coffee cream cheese, Nutella chocolate hazelnut spread, chocolate espresso beans, and chocolate chips. #chocolateespresso #chocolatedesserts #fastdesserts #tartrecipes #chocolaterecipes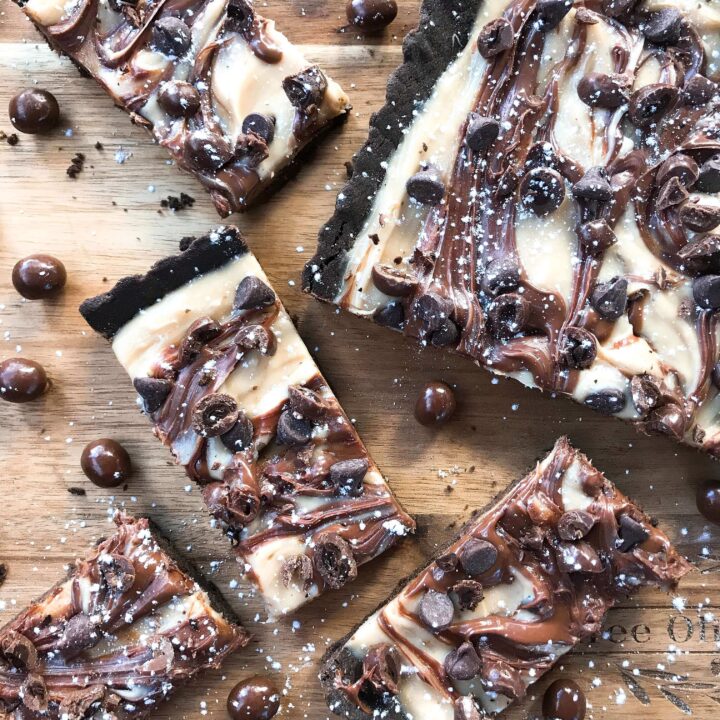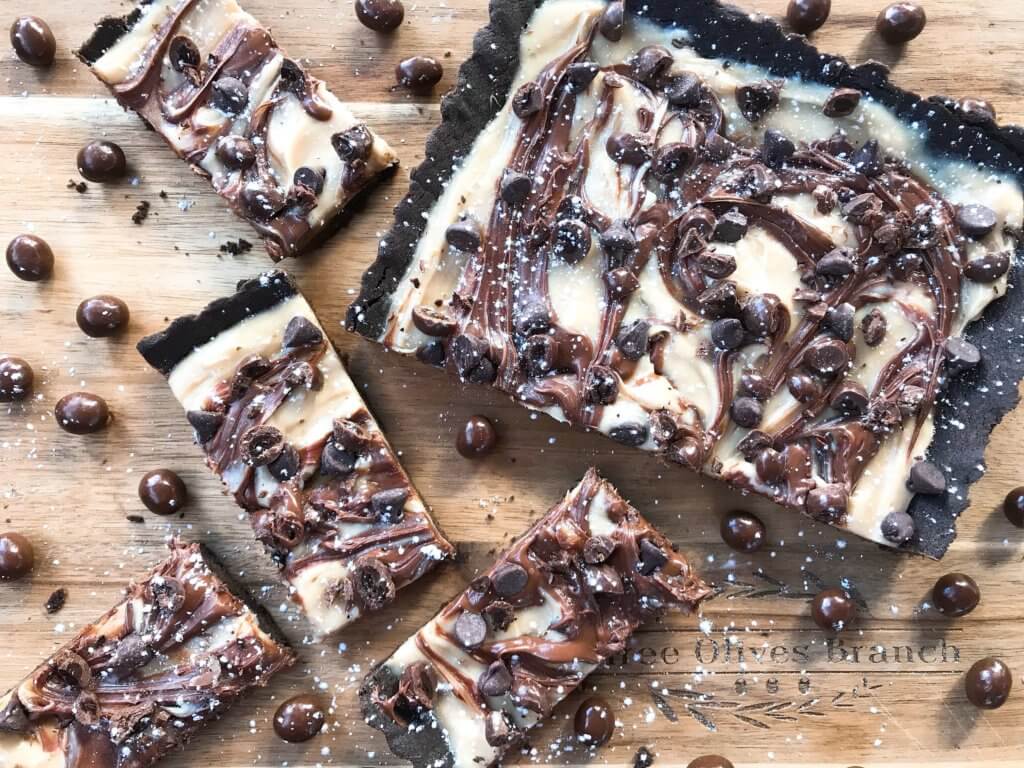 A quick and simple Chocolate Espresso Tart for a rich and indulgent dessert. A soft cocoa cookie crust is filled with coffee infused cream cheese, topped with chocolate hazelnut spread, chopped chocolate covered espresso beans, and chocolate chips.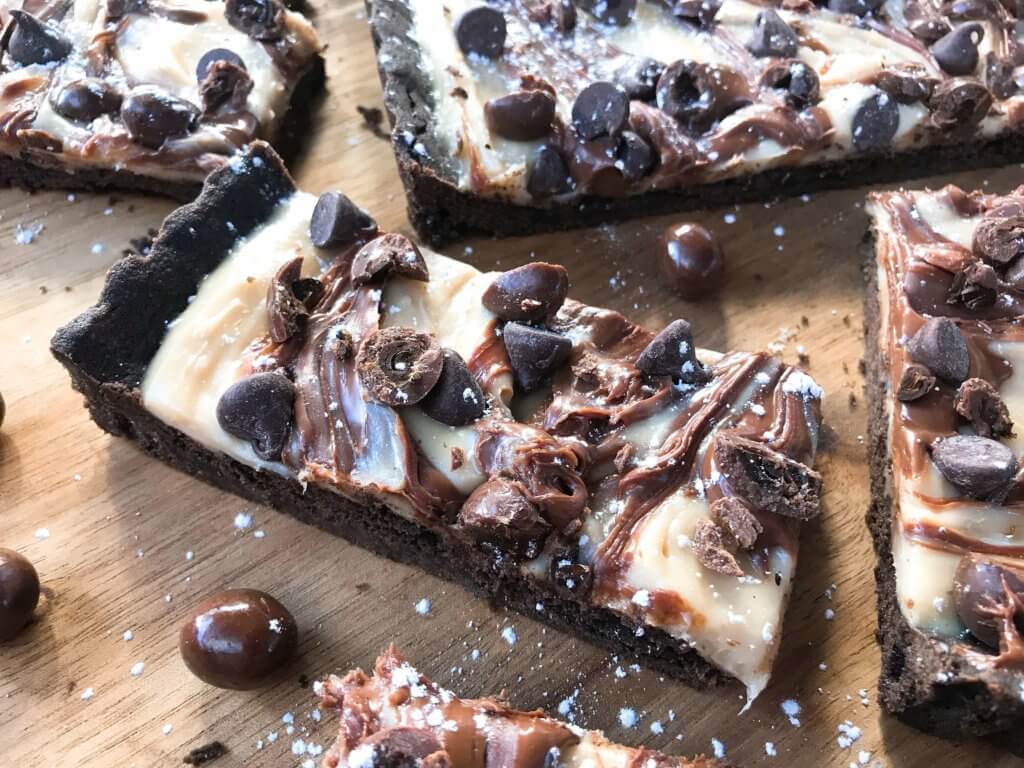 This post contains affiliate links.
I have been a fan of Kahlúa Cream Cheese Pie from Marie Callender's since I was a kid. All the locations around me have closed, so it is always a treat when I stumble upon one when traveling for work. You can bet I bring a pie home with me! This Chocolate Espresso Tart tastes so incredibly similar to that pie, something I was not actively trying to do. But now I am on a quest to recreate that pie, since I have gotten so close! Be on the lookout for that copycat recipe!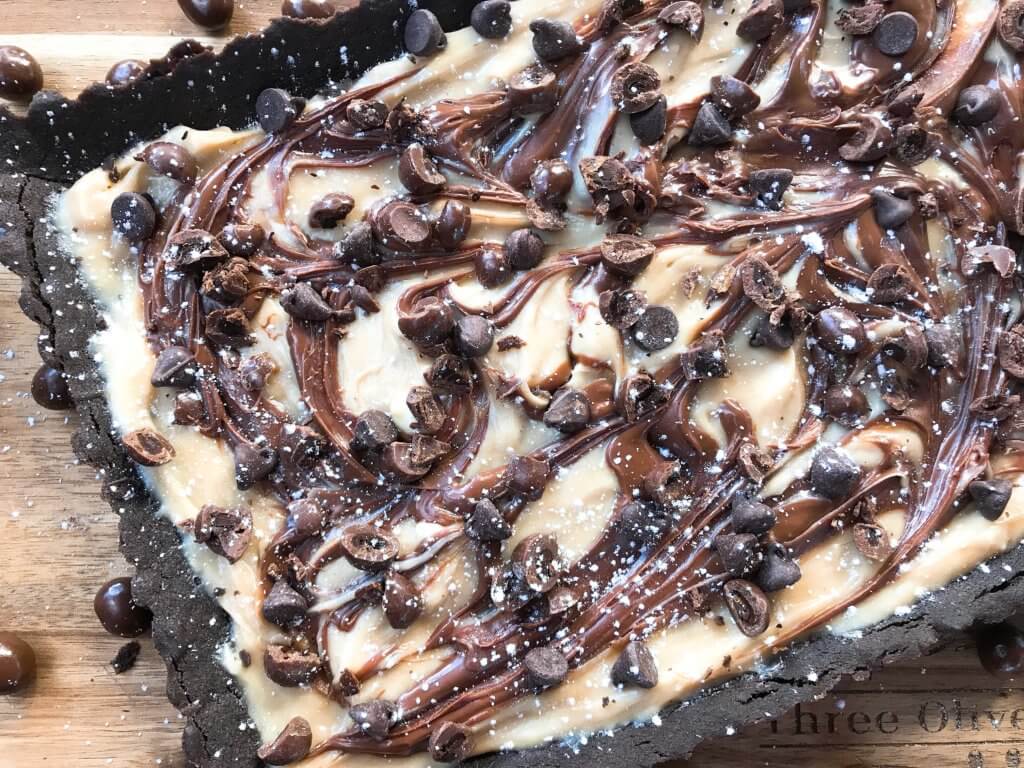 I am a pie and tart girl. And I will take them over cake any day. I love to take a simple tart base recipe and have been experimenting with fun and new flavors. Cranberry and orange are such a great flavor combination, and I love to use them especially during the holiday season. Both fruits bring just enough sweetness balanced by a little tartness, it is just perfect! And I am a huge citrus fan so anything with a tangy, fresh citrus taste is delicious. I also like a good amount of filling, so I like to double the filling portion of the recipe below. This is especially helpful if you use the larger tart shells like 12″ rounds.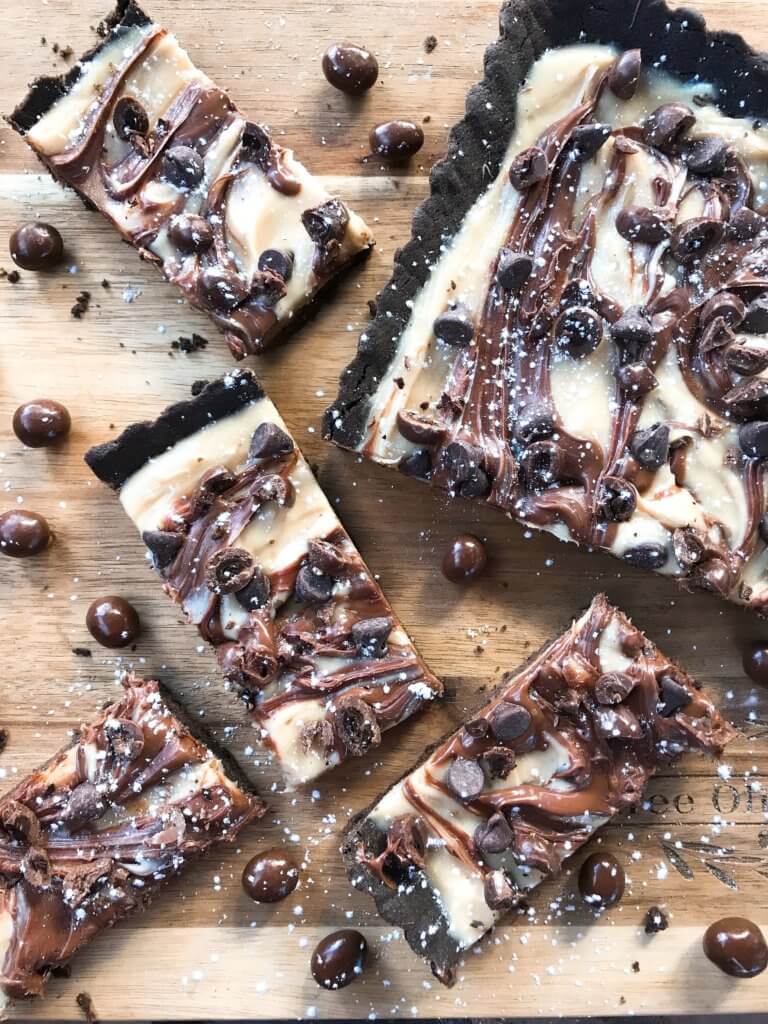 This Chocolate Espresso Tart is definitely rich where a small piece will go a long way. You can find chocolate espresso beans or coffee beans at your local store (I find mine in the bulk bins) but you can also buy them online here! If you would prefer to skip the chocolate covered espresso or coffee beans, you can just use more chocolate chips instead. It holds over well in the refrigerator, too, so it is great to make in advance. I love to use a rectangle tart pan which you can find here! Square, long skinny rectangles, or the traditional circle pan shapes also work.
Find more holiday recipe inspiration here and dessert recipes here!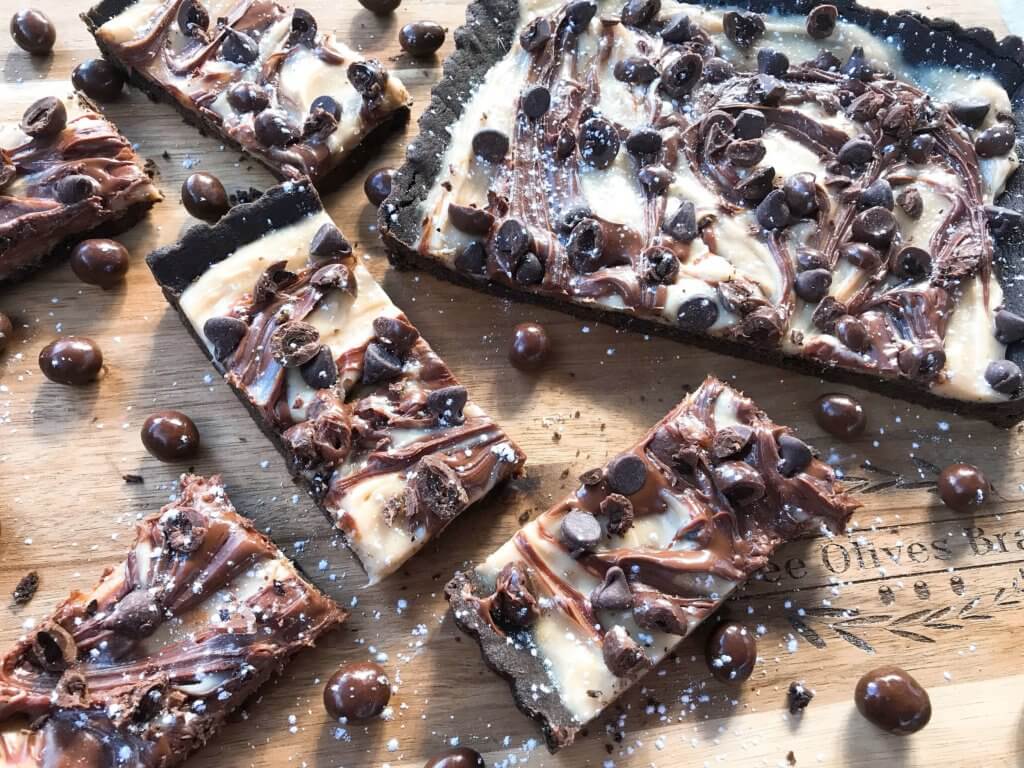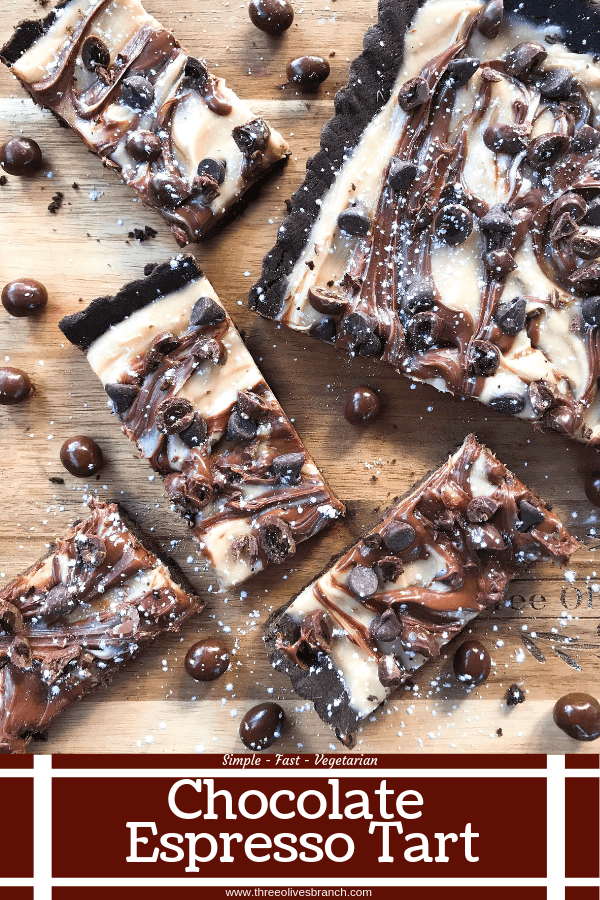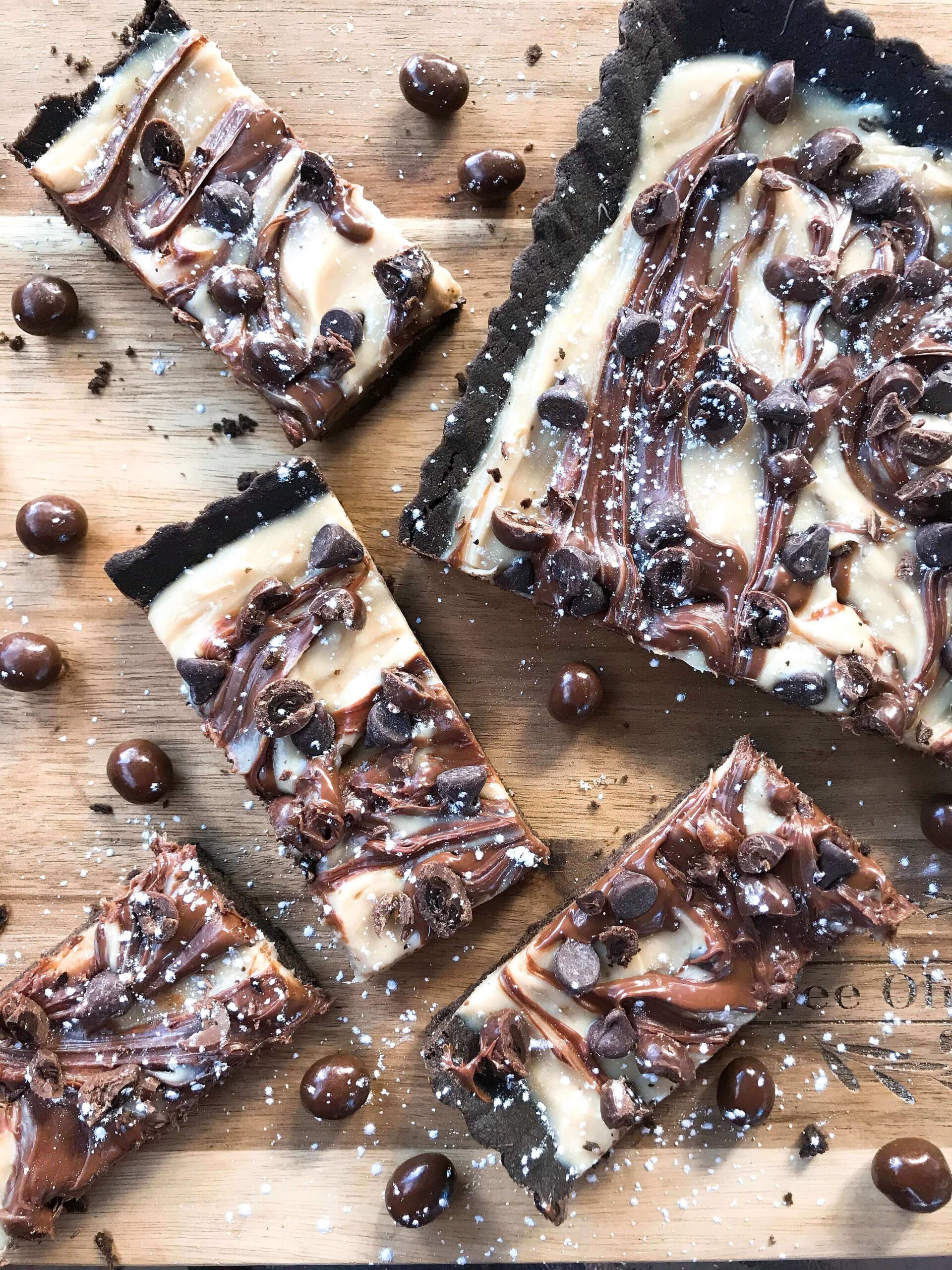 Ingredients
Topping
1/4

cup

chocolate covered espresso beans

chopped (or coffee beans, optional)

1/4

cup

chocolate chips

1/4

cup

chocolate hazelnut spread

(such as Nutella)
Instructions
Preheat oven to 350F.

Using a food processor, combine the powdered flour, sugar, cocoa powder, and butter. Blend just until the mixture forms a ball.

Press the dough into the sides and bottom of a 9-10 inch tart pan. Pat to make the crust even.

Bake the crust until it is just cooked through, approximately 10 minutes. You can test it with a toothpick like a cake. Remove from oven and set aside to cool.

Make the filling by adding the cream cheese, sugar, vanilla, and instant coffee in a small bowl. Beat until smooth.

When the crust is cooled, spoon the cream cheese mixture into the tart shell and spread out evenly. It is important that the crust is cool so that the filling does not melt from the heat.

Spoon the chocolate hazelnut spread into spoonfuls across the cream cheese mixture. Hold a spatula or butter knife vertically in the filling and gently drag it through the cream cheese, creating a swirl effect.

Decorate with the chocolate chips and chopped chocolate espresso beans. Chill until ready to serve.
Notes
If you cannot find chocolate espresso or coffee beans, or prefer not to use them, just use more chocolate chips!

You can find chocolate espresso beans at your local store (I find mine in the bulk bins) but you can also buy them online here!

You can also mix some of the chocolate chips or chocolate espresso beans into the cream cheese mixture itself.

You do NOT need to put the instant coffee granules in water, you can just add them straight to the cream cheese.  The moisture will let the coffee dissolve.

Double the filling portion of the recipe if you want a filling-heavy tart.

I love to use a rectangle tart pan which you can find here!  Square, long skinny rectangles, or the traditional circle pan shapes also work.

Pie tart pans vary in size, typically 9-12 inches.  You can use any sized pan that you have, but the crust will be either thicker or thinner and cook time of the crust will vary slightly.

By