Christmas Grinch Fudge is a fast microwave fudge without marshmallow fluff, making it vegetarian. Green white chocolate is topped with red heart sprinkles to celebrate How the Grinch Stole Christmas. #christmasfudge #grinchrecipes #microwavefudge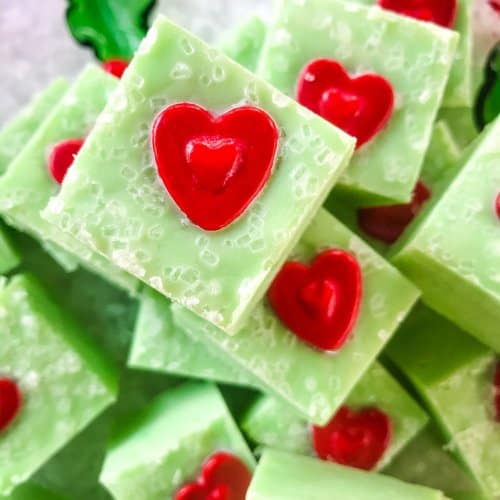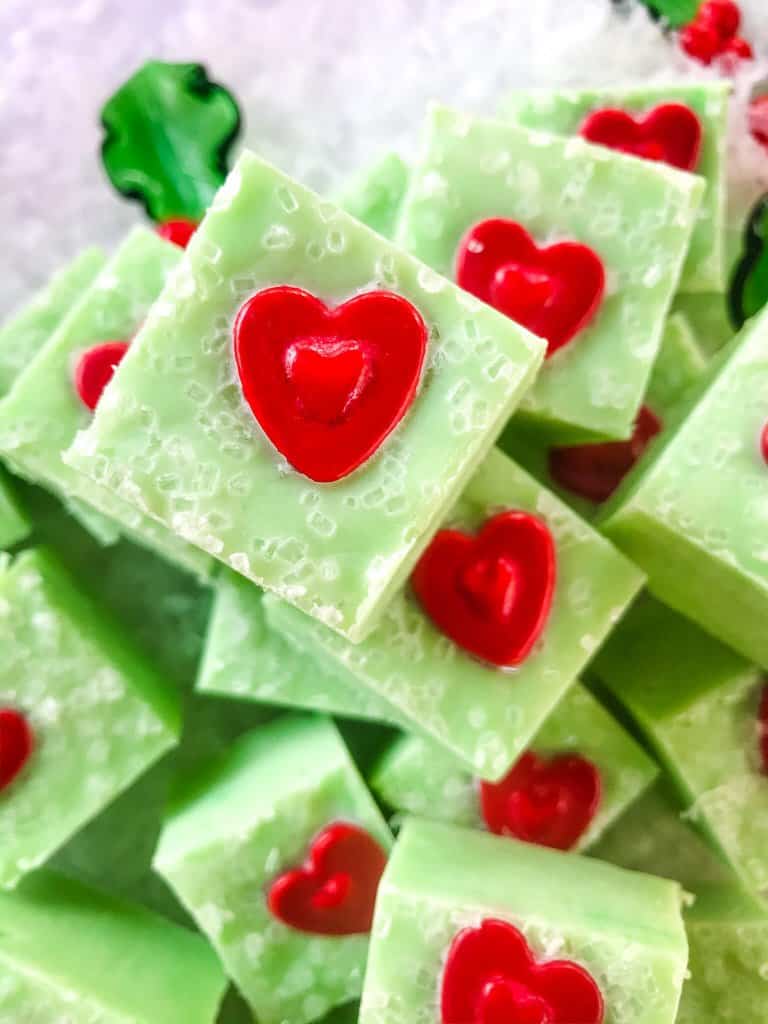 This Christmas Grinch Fudge is inspired by the holiday classic! A simple white chocolate fudge turned green with red heart sprinkles.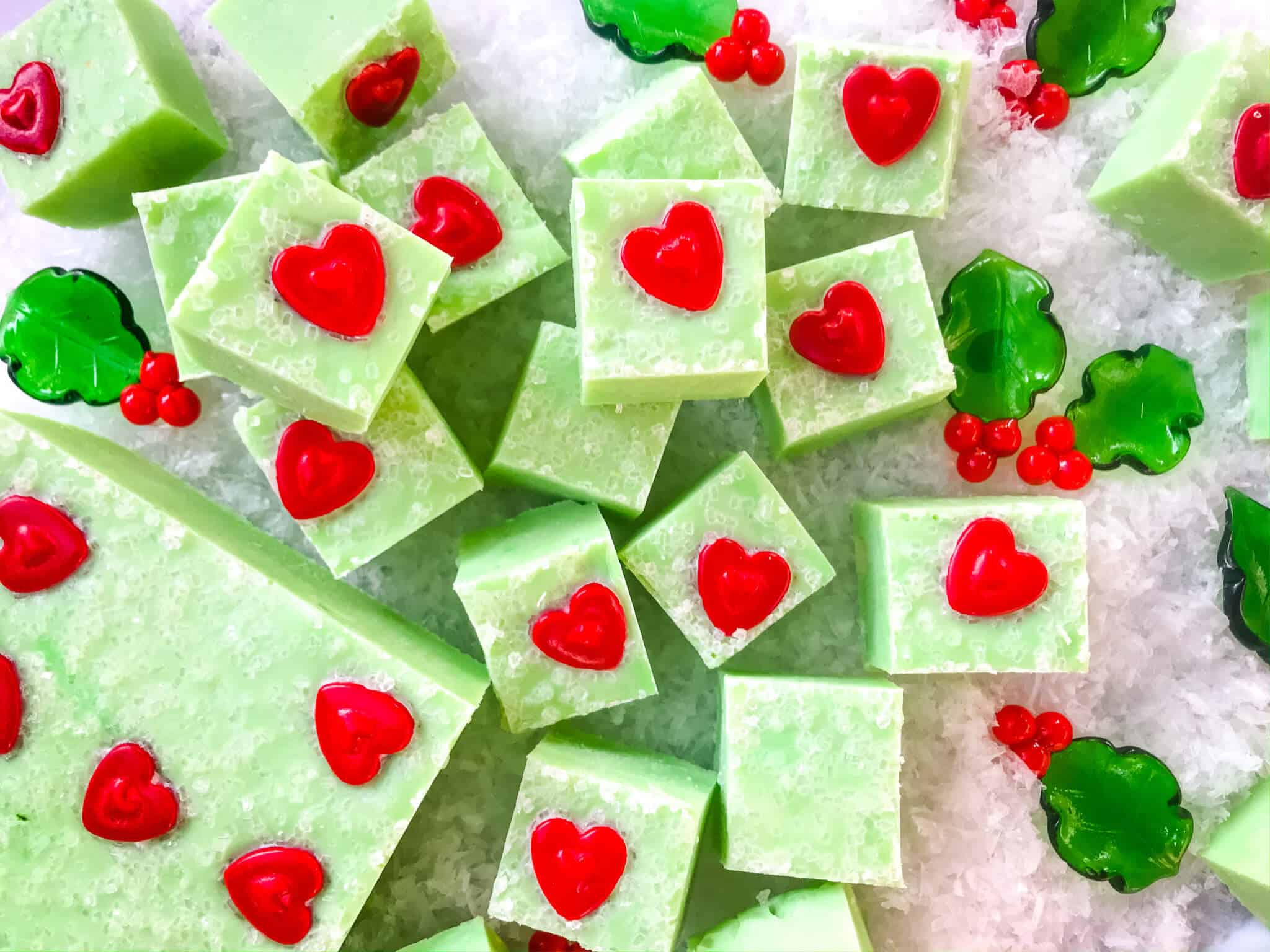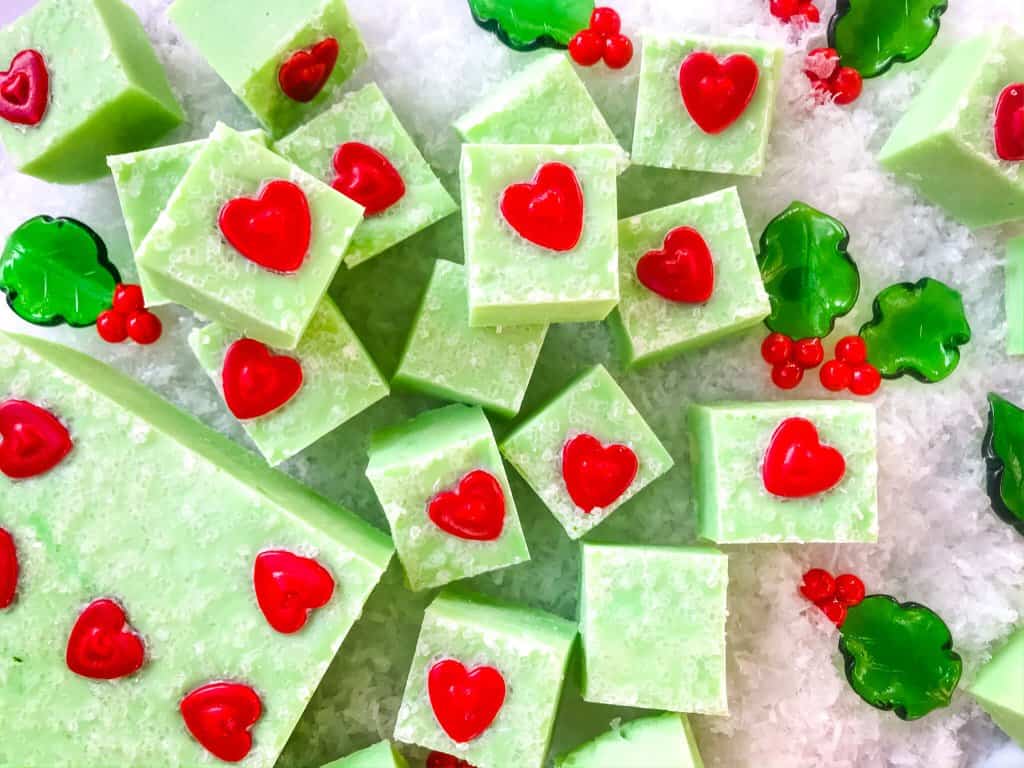 This post contains affiliate links.
One of my mom's favorite Christmas movies is How the Grinch Stole Christmas, Making a simple fudge to honor the movie seemed like the perfect idea!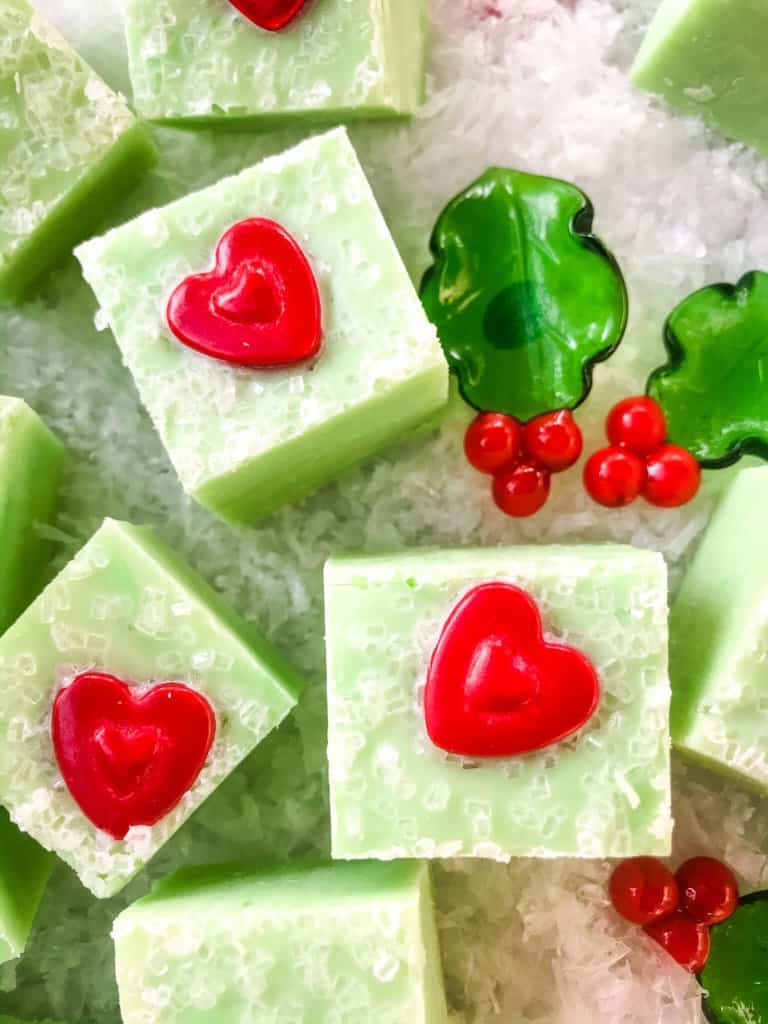 A lot of fudge, especially white chocolate fudge, tends to have marshmallow fluff. This one does NOT which makes it vegetarian, but a little more dense than normal.
I love making fudge for the holidays and cookie swaps because (1) they are SO fast and (2) they are no-bake! Some fudge requires heating sugars on the stove and trying to reach specific temperatures, but I find microwave fudge is just as delicious and MUCH simpler. Just heat ingredients for a short time in the microwave and you are ready. Microwave fudge is so incredibly simple and easy! Get more of our fudge recipes here!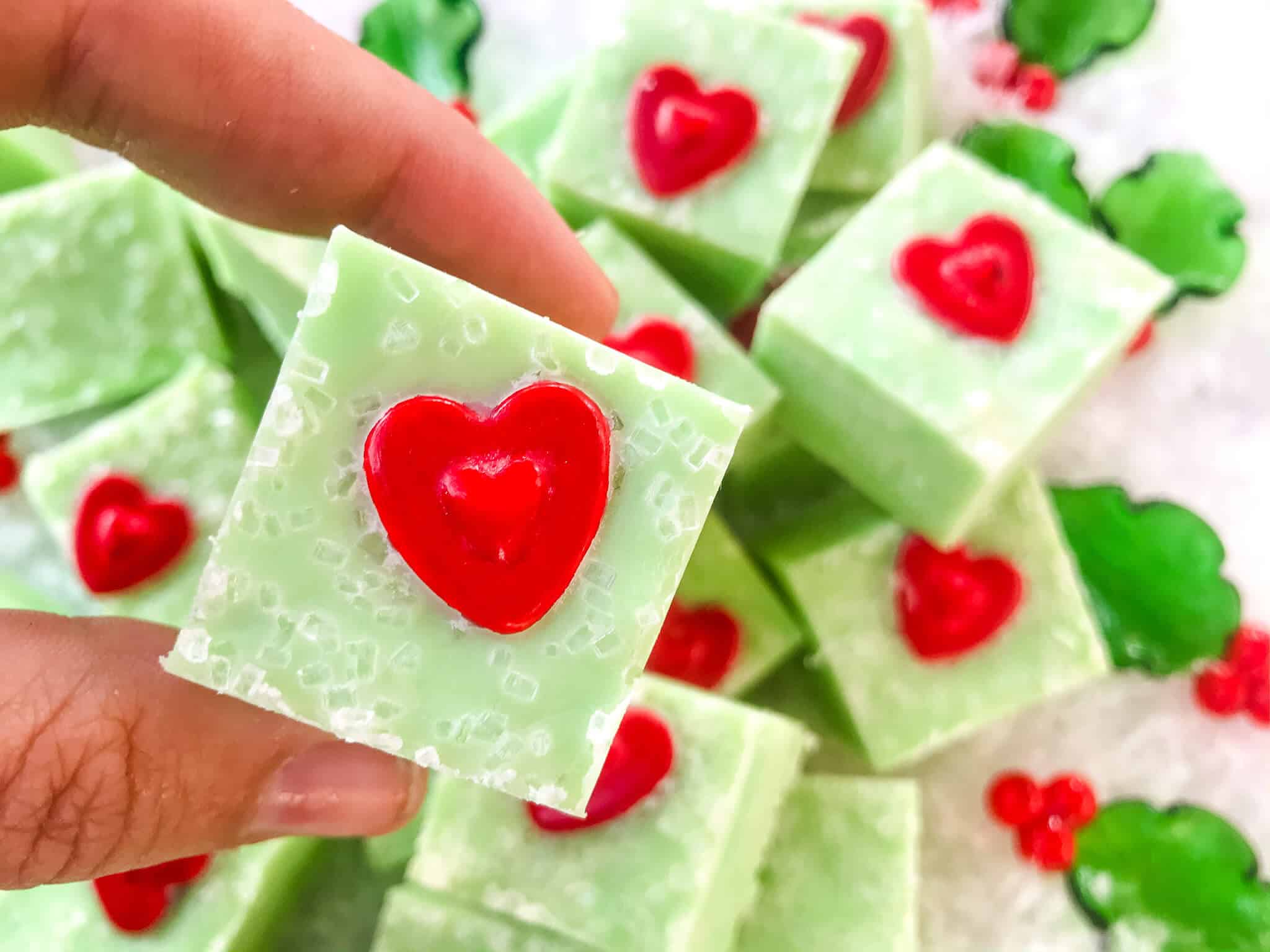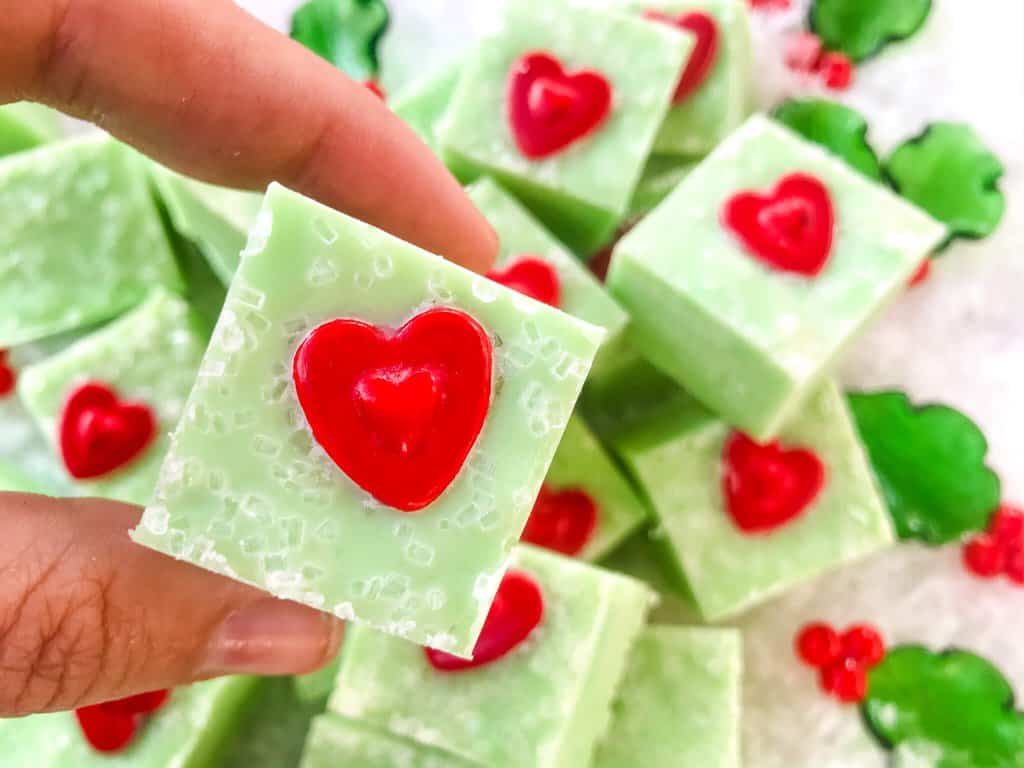 It only takes a few minutes to make the fudge before you let it set to harden! Many fudges require cooking sugars over a stove to certain temperatures, and while the end product is amazing, I love a quick and simple fudge like this one! All made in the microwave. Unfortunately white chocolate is notorious for being difficult to melt (so frustrating!). A little trick I learned is that if chocolates in general seize, you can add a little oil and keep stirring, and it almost always goes back to a melted state. So weird, I know, but it works.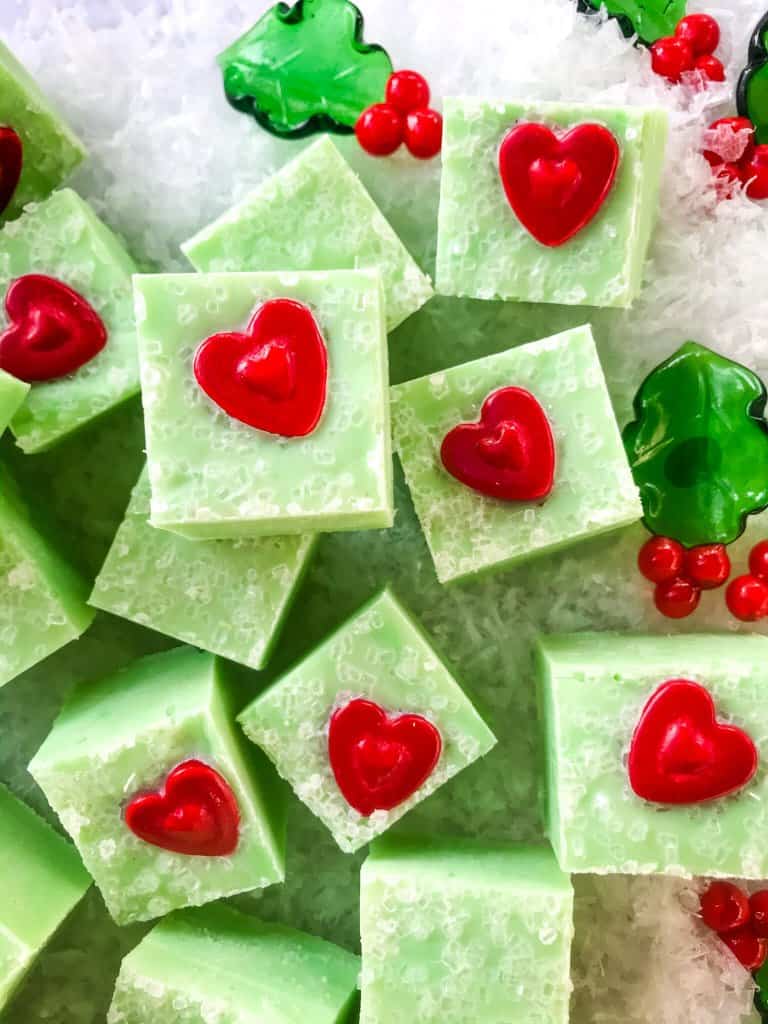 You can use any heart sprinkles. The ones I used are by Wilton from Michael's. Here is a great online option! I left a few fudge squares without the hearts, just use as many or as few as you would like. I also like to top off the microwave fudge with a little white sparkling sugar sprinkles for some extra sparkle.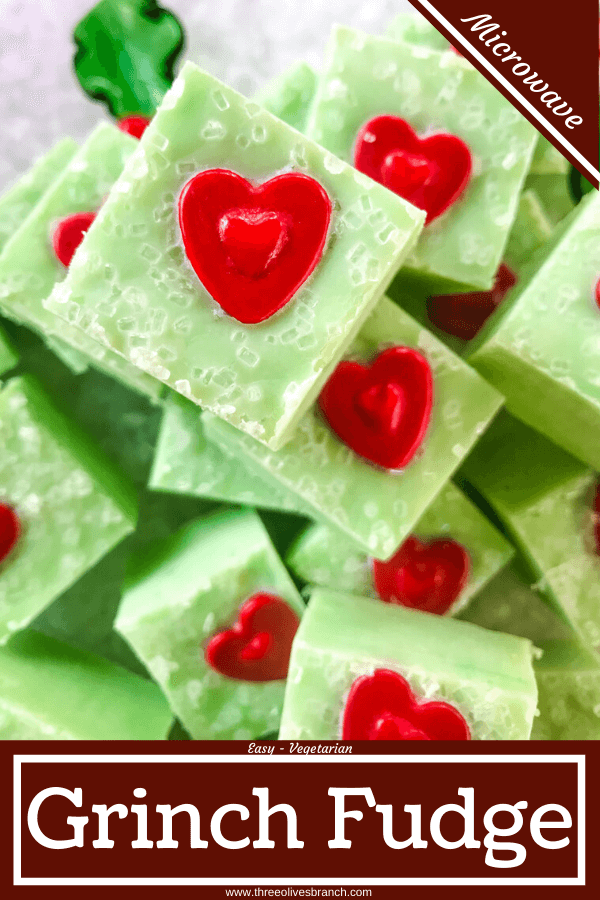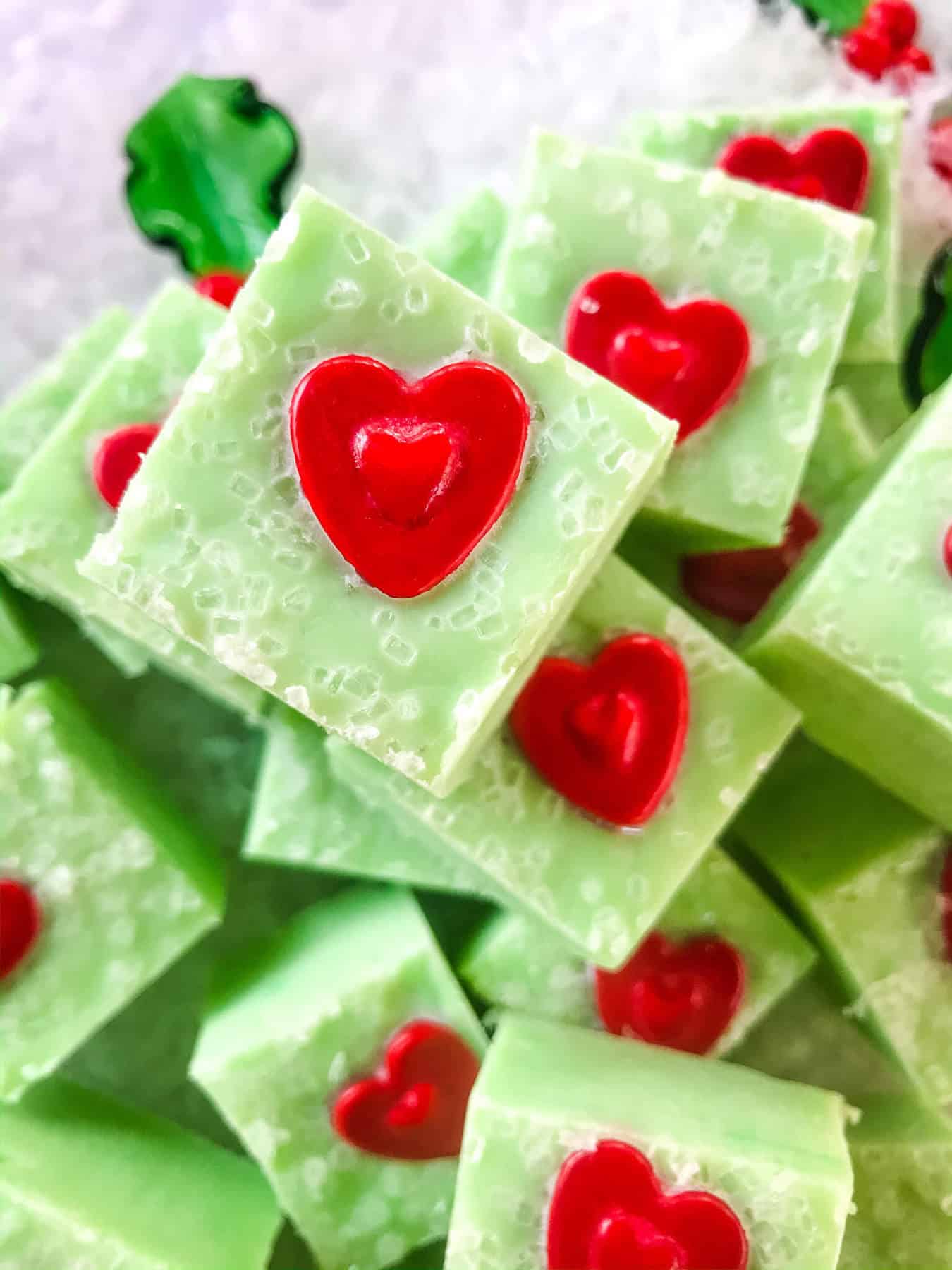 Instructions
Line a 9 x 9 baking dish with aluminum foil. Set aside.

Put the sweetened condensed milk and white chocolate in a medium microwave safe bowl.

Heat in the microwave in 30 second intervals, stirring between each heating, until the chocolate is melted.

Immediately add the vanilla extract, salt, and 4 drops of green food coloring. Stir to combine. Add more green food coloring until you get your desired shade. The color lightens just a little when dry.

Pour the chocolate mixture into the lined baking dish.

Thinking about how many pieces you are going to cut, press the heart sprinkles into the top of the fudge. 36 pieces means a 6 by 6 grid. Either eyeball it or make light, faint lines in the top first that you will follow to cut later to know where to put the sprinkles. Finish by sprinkling with the sparkling sugar sprinkles, or other sprinkles, if using.

Let the fudge harden before cutting.
Notes
Trouble shooting: White chocolate can be difficult to melt properly.  If it starts to seize or get stiff and grainy after melting, add just a little oil and stir until the consistency comes back.
Nutrition
Calories:

138

kcal

|

Carbohydrates:

17

g

|

Protein:

2

g

|

Fat:

7

g

|

Saturated Fat:

4

g

|

Cholesterol:

8

mg

|

Sodium:

39

mg

|

Potassium:

95

mg

|

Fiber:

1

g

|

Sugar:

17

g

|

Vitamin A:

35

IU

|

Vitamin C:

1

mg

|

Calcium:

69

mg

|

Iron:

1

mg

By