Warm spices and apples enhance this cranberry sauce. A perfect side for Thanksgiving or any holiday!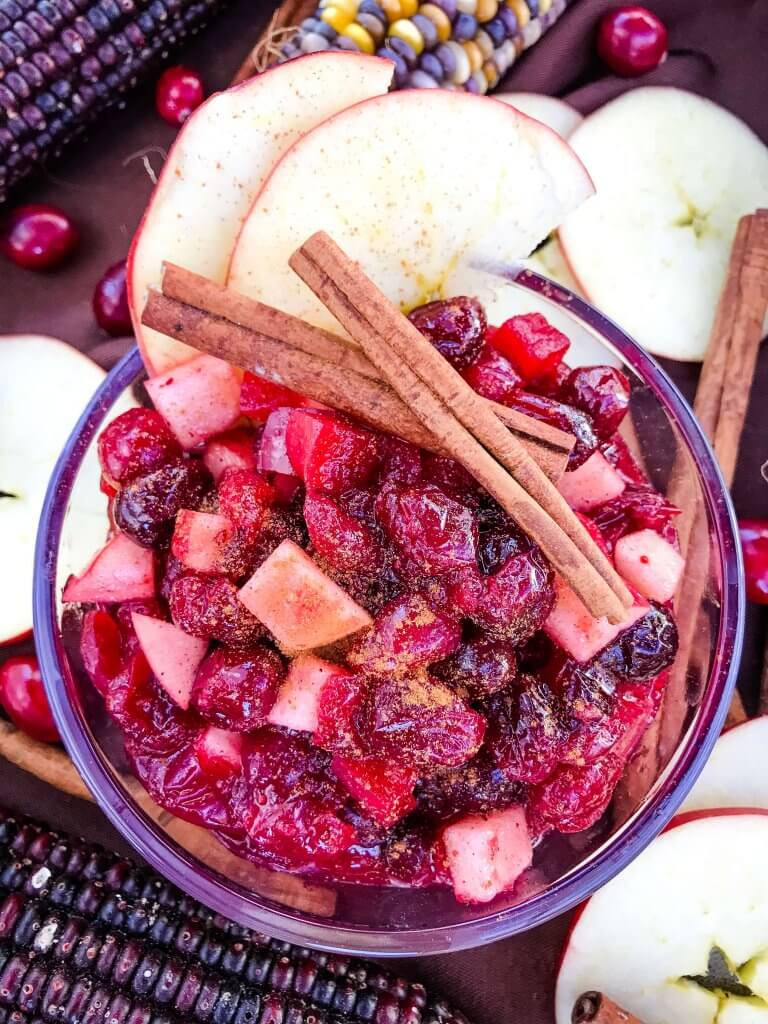 This homemade Cinnamon Apple Cranberry Sauce is simple to make as a perfect side for your Thanksgiving or holiday dinner!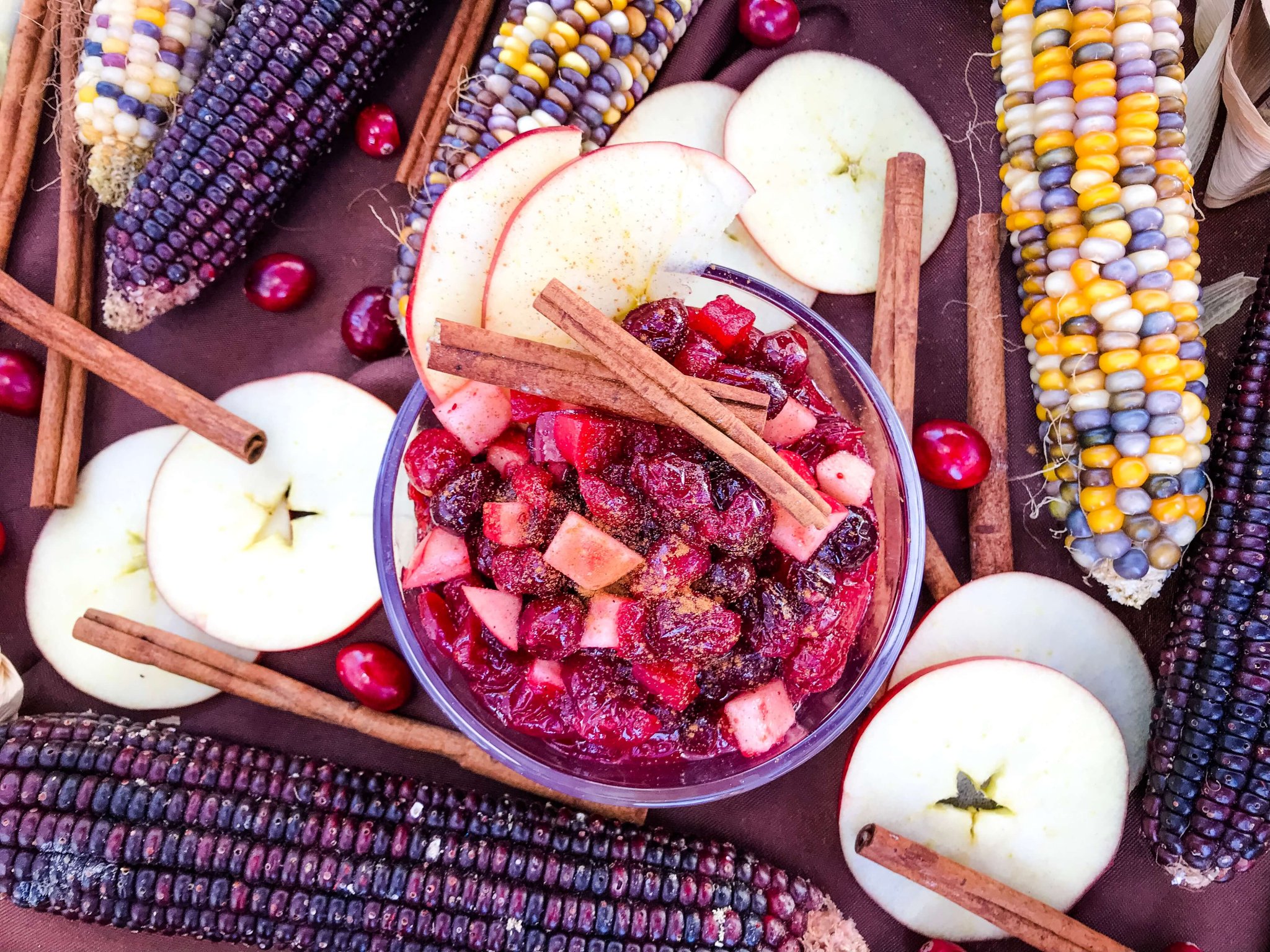 This post contains affiliate links.
There is quite the debate between canned and fresh cranberry sauce for the holidays. Personally, I feel like they are completely different things and we serve both. What I love about a homemade cranberry sauce is that there is texture from the berry pieces and a lot of flavor options! Every year I make at least one version of cranberry sauce.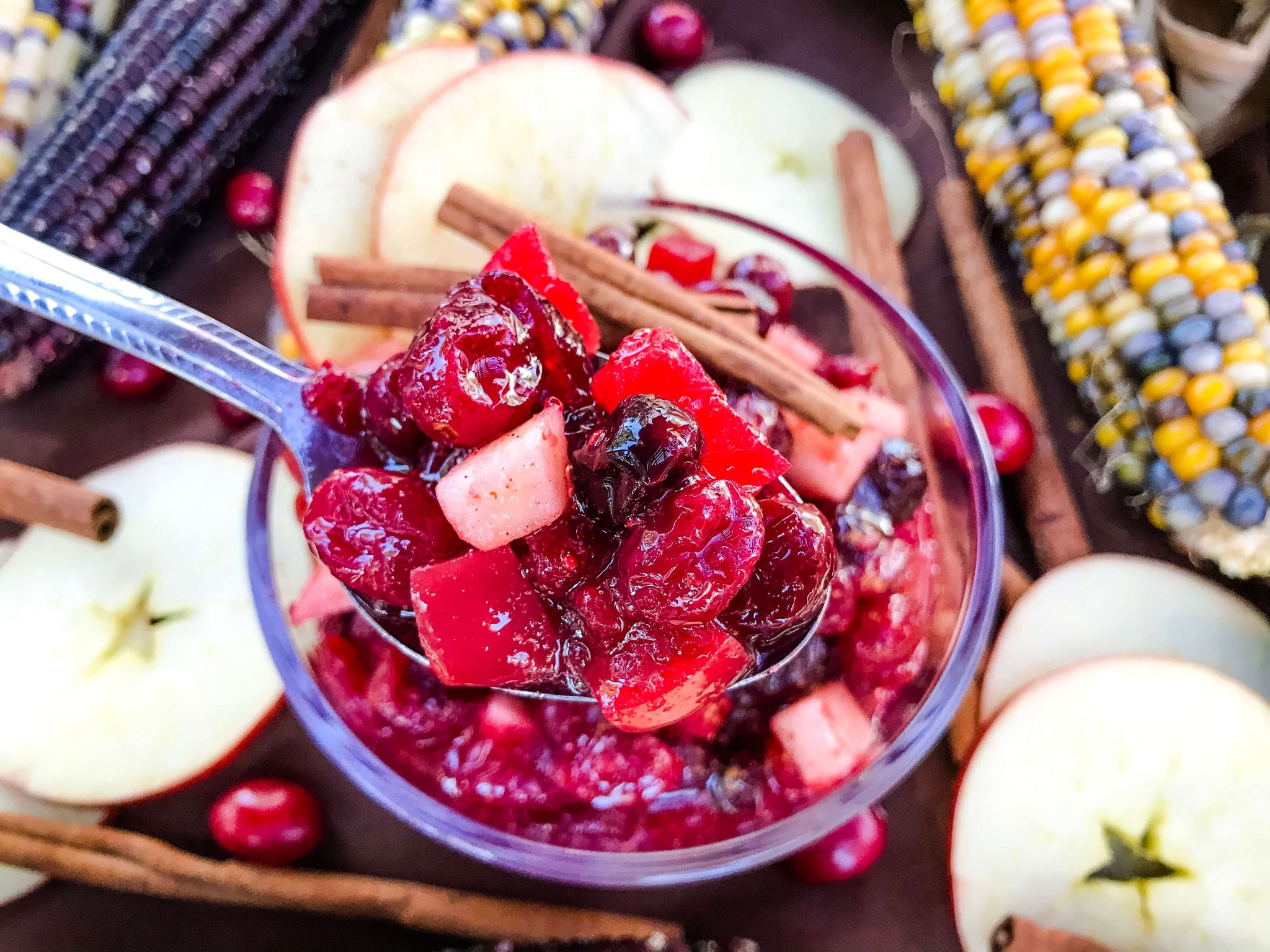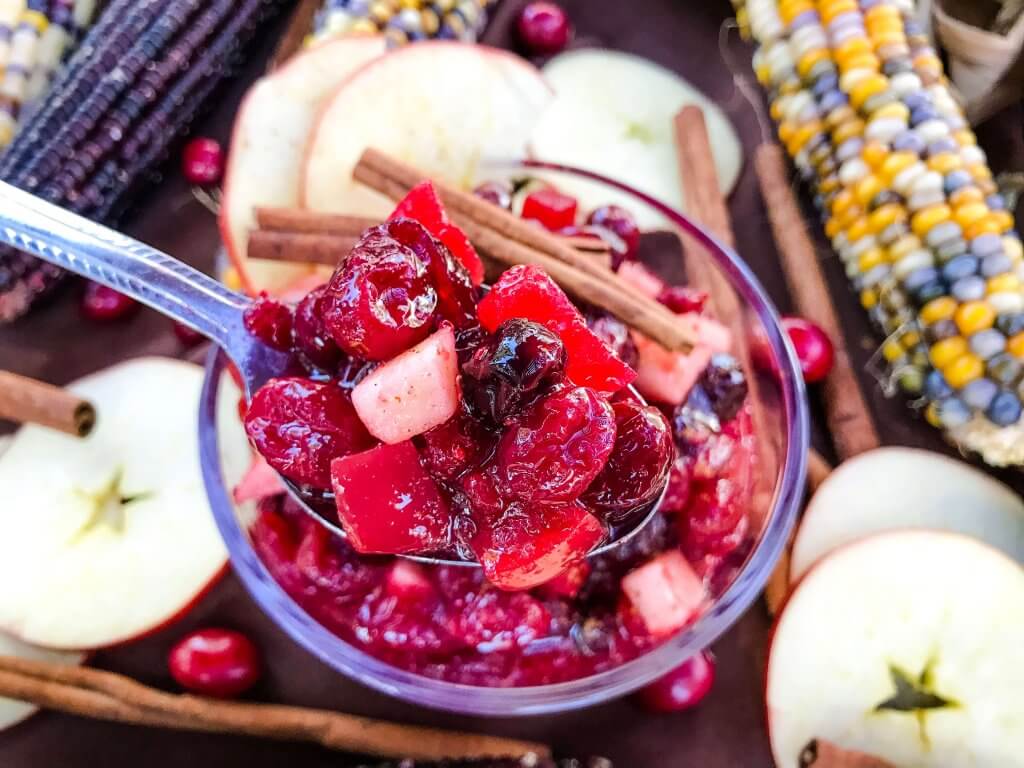 When I made this Cinnamon Apple Cranberry Sauce, I was told if Christmas tasted like something, this would be it. The apple is subtle, because after all this is a cranberry sauce, but you can amp up the sauce with more apple pieces or juice if desired. Making a sauce with cinnamon and apple sounded like a perfect way to inject some holiday flavors. You can find more cranberry sauce recipes here!Use a zester (microplane) like this one to zest the orange.This tool also comes in handy for cheese or chocolate grating!
This sauce is also vegan, dairy free, allergy free, and gluten free (gf), making it a perfect fit for any guests with dietary restrictions. This batch is typically enough to serve 8-10 people, unless you have some serious cranberry sauce lovers! I typically make a double batch (or more) to make sure I have leftovers! Find more of our holiday recipes and leftover recipe ideas here!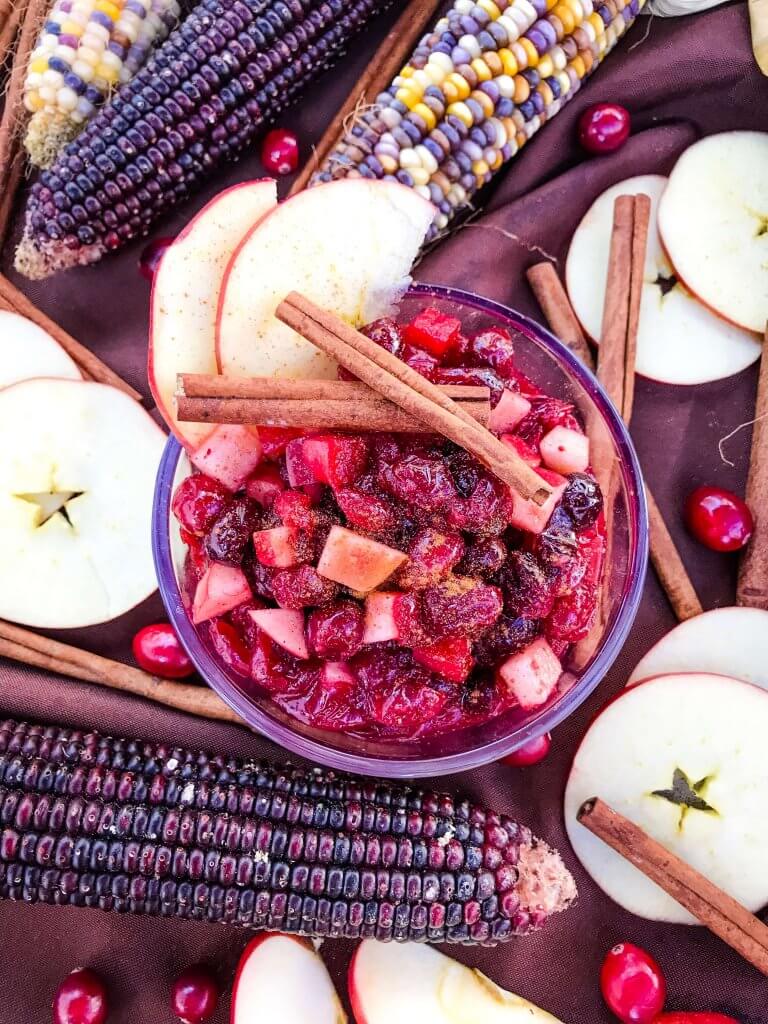 Even though the sauce is fast and easy, I still make it the day before the holiday so it is one last thing that I have to do the day of. The apples soften when cooked and are a similar texture to the berries. But if you want crunchier apples, add them instead either after cooking (before cooling) or mixed in right before serving. Regardless, you will love this flavor combination!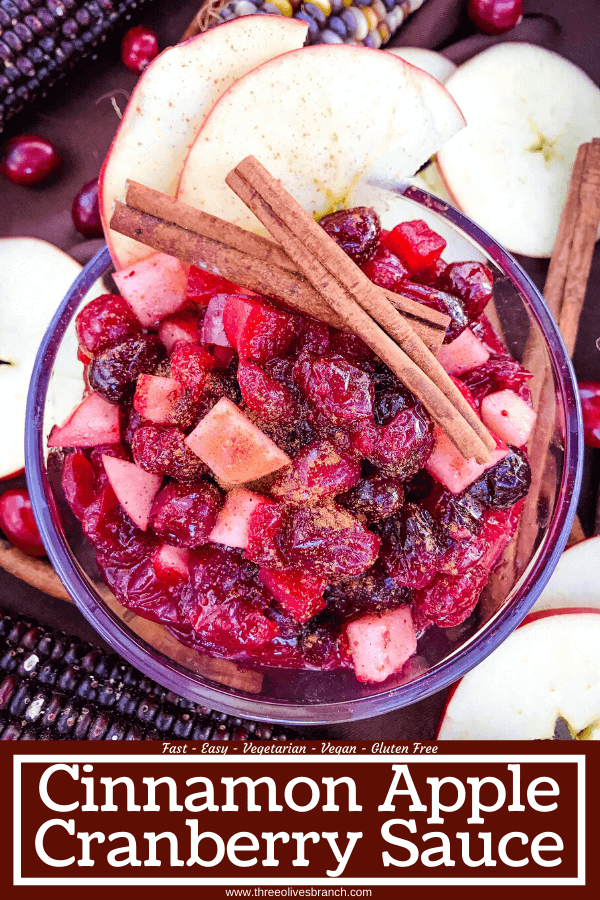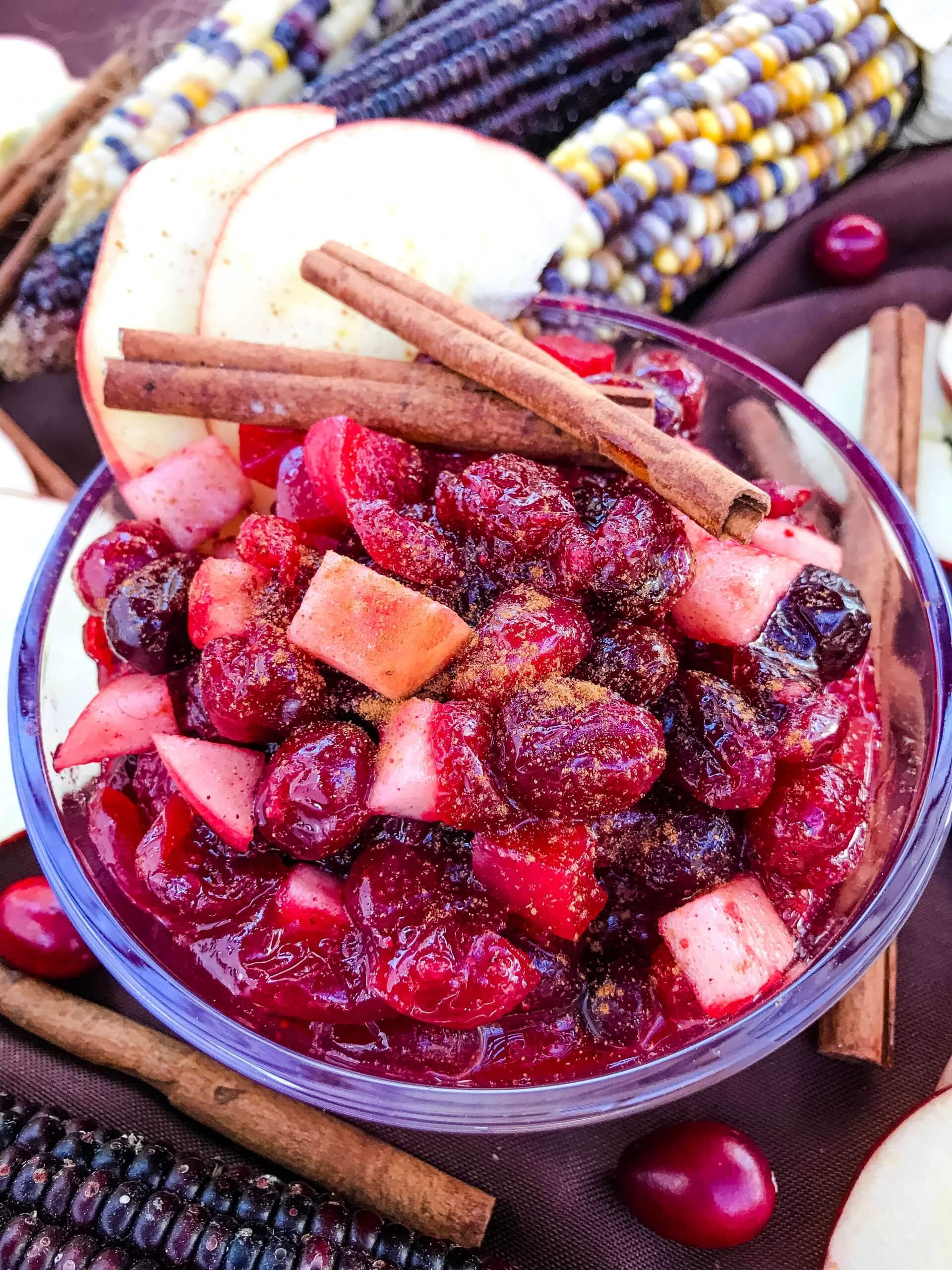 Instructions
In a small sauce pot, heat the apple cider at a simmer over medium heat until reduced by half, approximately 5-8 minutes. (If not simmering, turn up to medium high heat and watch carefully).

Add the cranberries, diced apple, and sugar. Stir to combine. Heat over medium heat until it returns to a boil. (Use more apple if desired).

Reduce heat to low. Add the cinnamon, allspice, and nutmeg. Stir to combine.

Simmer and cook for 5 to 7 minutes. Some cranberries will remain whole and some will burst.

Add the zest of half an orange, and the juice of half an orange (or a full tangerine). Stir. If needed, add a little water or cider to loosen the sauce if desired. Season to taste with more of any spice or sugar as desired.

Cool the sauce until ready to serve. The sauce will continue to thicken as it chills.
Notes
This makes approximately 1 1/4 cups, enough for 8-10 people.
You can also use frozen cranberries.
To make a sweeter sauce, increase the sugar to 3/4 cup.
Use a zester (microplane) like this one to zest the orange. This tool also comes in handy for cheese or chocolate grating!
Easy make this sauce a day or two in advance to free up time for cooking the day-of!
For more of an apple flavor, increase the apple amount to a full apple.  Add some apple after cooking if you want crispier apple pieces.
Nutrition
Calories:

89

kcal

|

Carbohydrates:

23

g

|

Protein:

1

g

|

Fat:

1

g

|

Saturated Fat:

1

g

|

Sodium:

2

mg

|

Potassium:

87

mg

|

Fiber:

2

g

|

Sugar:

19

g

|

Vitamin A:

40

IU

|

Vitamin C:

10

mg

|

Calcium:

8

mg

|

Iron:

1

mg

By