Inspired by the restaurant dish, this simple fresh tomato pasta is fast and easy!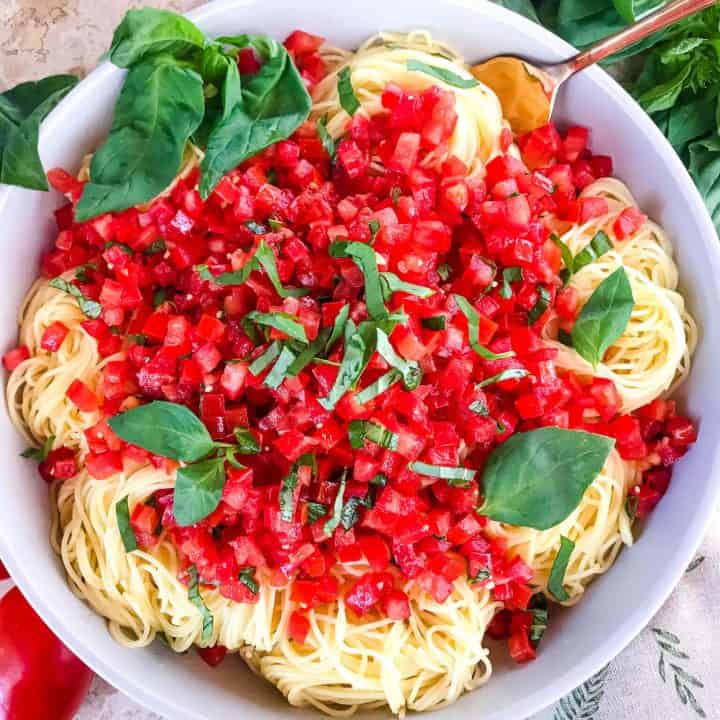 This Copycat Olive Garden Capellini Pomodoro is full of fresh flavors! Fresh diced tomatoes and basil with a thin, angel hair pasta.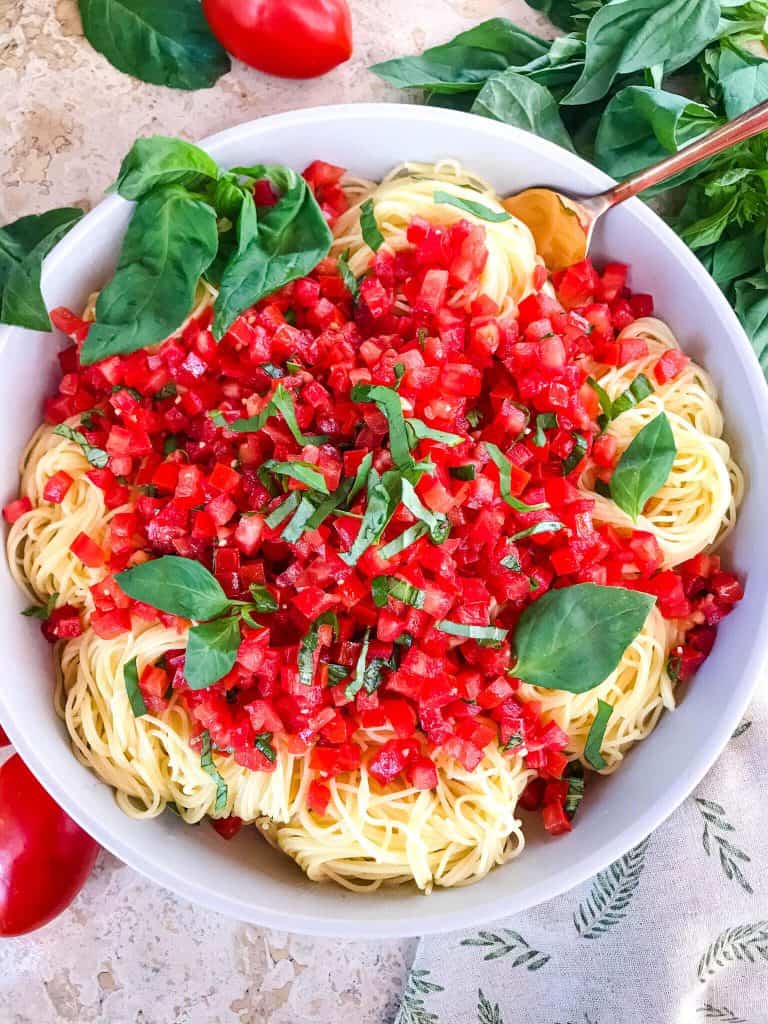 This post contains affiliate links.
Now all restaurants rotate items on their menu, and unfortunately that means many favorites are lost. One of my all time favorites at Olive Garden was the Steak Gorgonzola Alfredo, which luckily I was able to recreate at home and has become one of the top few recipes on my site to date. Another lost gem is this Copycat Olive Garden Capellini Pomodoro. "Pomodoro" means "tomato" in Italian, which is a perfect name for this dish with its abundance of fresh, sweet tomatoes.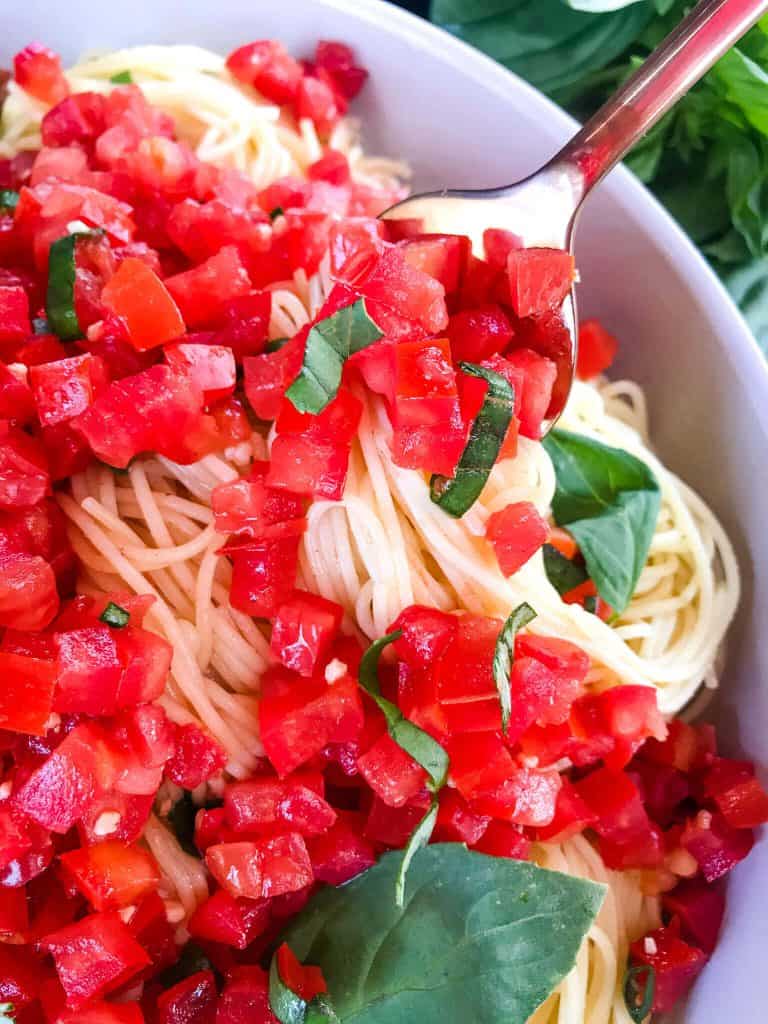 A tomato basil pasta just SCREAMS summer to me, and is one of my favorite ways to use fresh, ripe, peak season tomatoes. I love to make this simple pasta all summer long, and any time I can get some great tomatoes on hand. I prefer to use a Roma tomato because they have a lot of flesh and minimal seeds/guts (which you do not use, so less waste) but any tomato will do. Cherry tomatoes or grape tomatoes are also a great option! Chopping two pounds of tomatoes can be tedious, so one of my FAVORITE tricks is using a chopper like this one! Just slice the tomatoes into rounds, like you would for a burger, remove the seeds, and lay the slices in a chopper.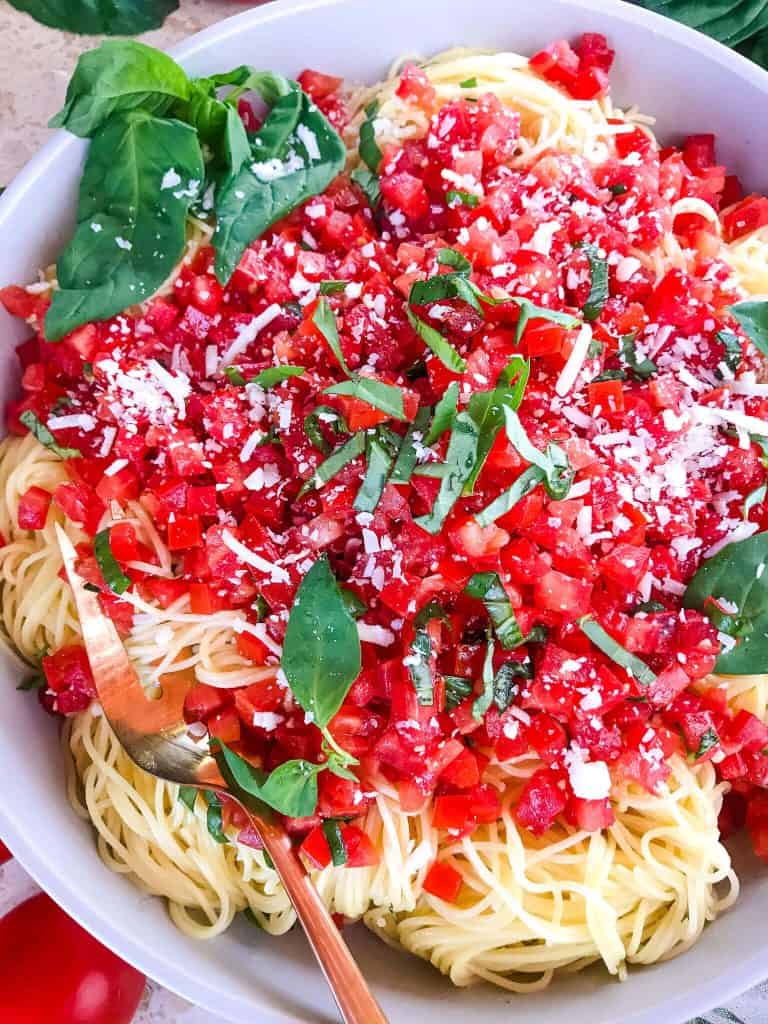 The Olive Garden fresh tomato pasta was very simple and easy to make, just like so many great Italian recipes. Fresh diced tomatoes are mixed with fresh basil, some seasoning, and a little sauce and then poured over a thin, angel hair pasta (or thin spaghetti). The sauce in the diced tomatoes was very faint – they added just enough to make it more than chopped tomatoes, but not so much that it became a saucy pasta. Any marinara you like is great here but if you do not have marinara on hand, you can use tomato sauce and just add extra seasonings and spices.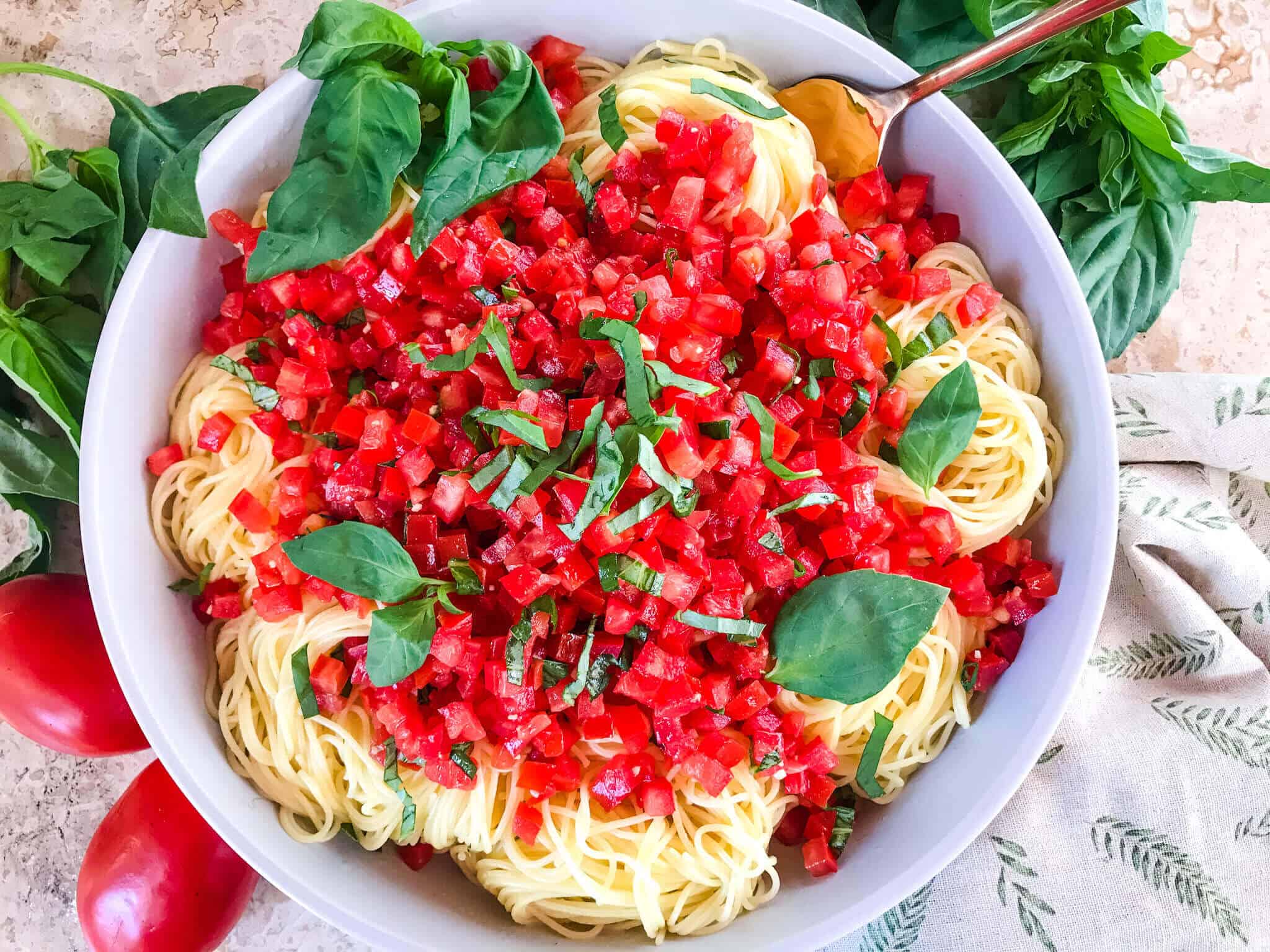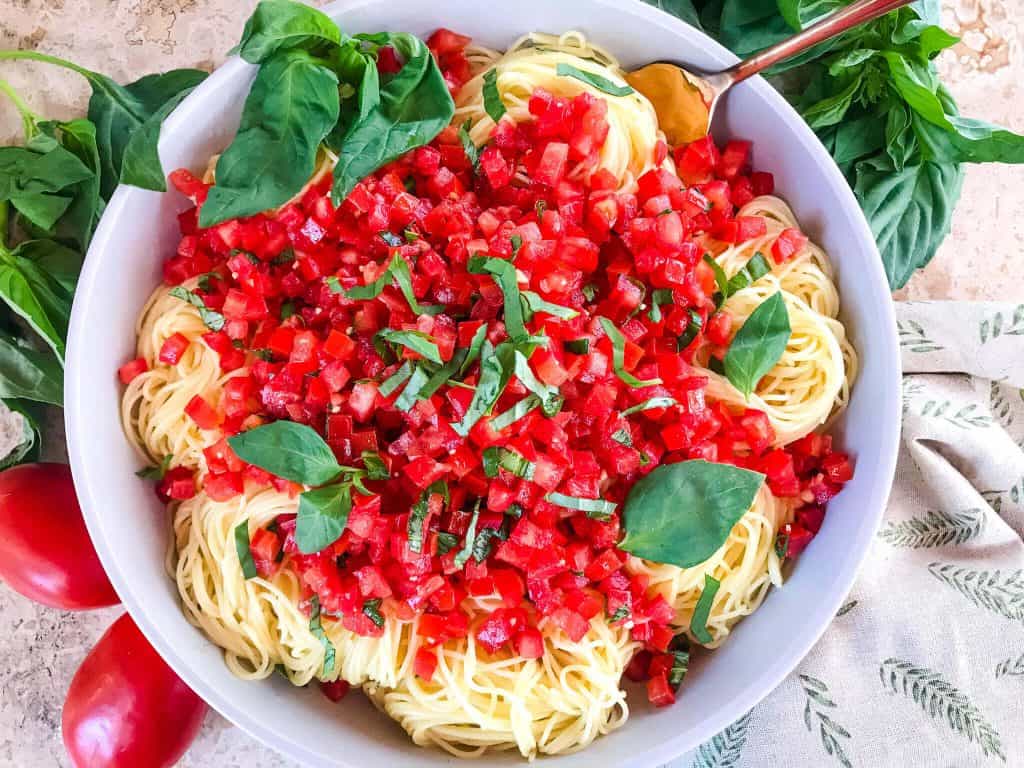 The Copycat Olive Garden Capellini Pomodoro itself is vegan. But I love to top it with some fresh Parmesan cheese. You can also add any veggies or meat that you would like, such as our simple Light Balsamic Chicken.
There are quite strong opinions out there about angel hair pasta (also known as capellini). I, personally, love it. Different pasta shapes bring different flavors and textures in my mind, so I love to use different pastas for different recipes with a purpose. And I think it is perfect for this fresh tomato basil pasta.
Now THE secret to this pomodoro pasta is the little marinara and balsamic! Something about the balsamic enhances the sweetness and tartness of the tomatoes, and pulls everything together. It is not so string that you would taste it, but you would know if it was missing. Play around with the ratios for your preferred taste preference, but this recipe will get you off to a great start as a very close replication of Copycat Olive Garden Capellini Pomodoro.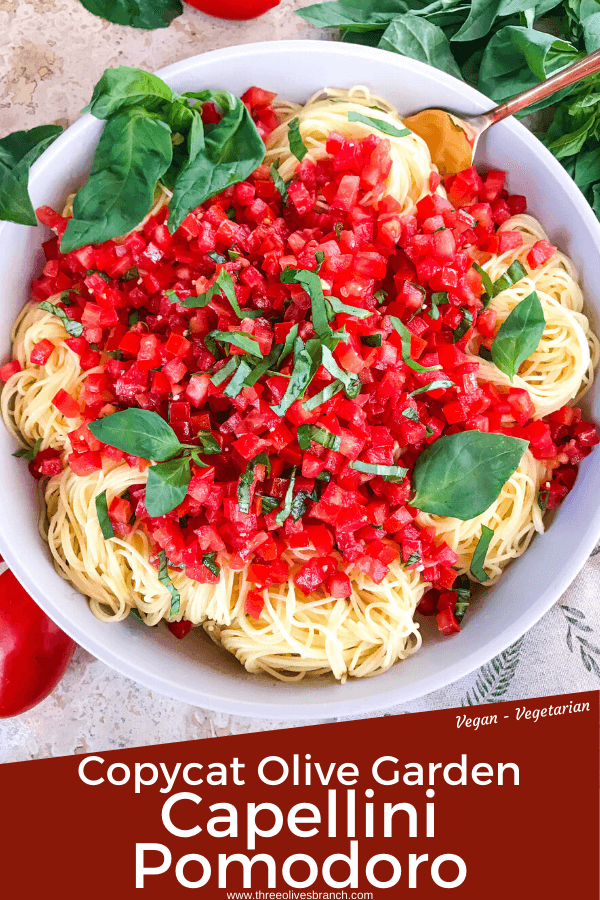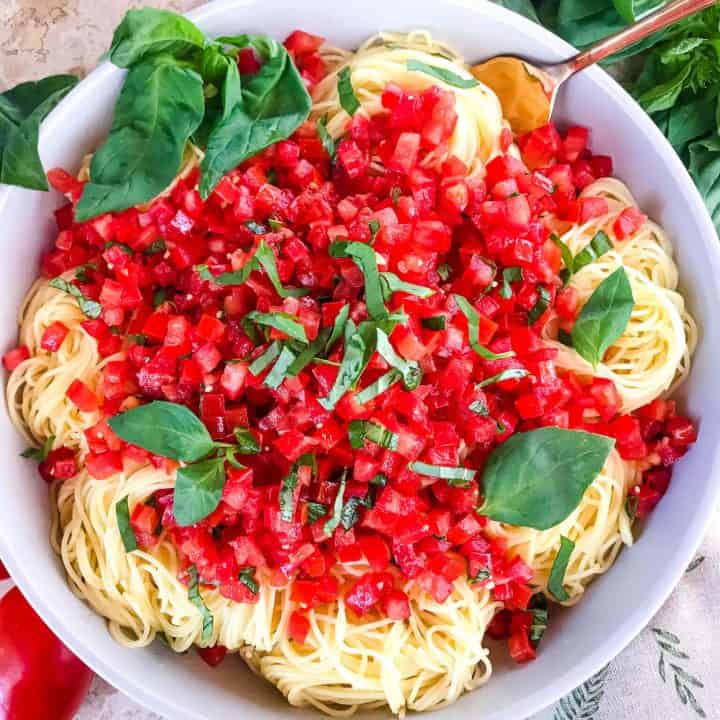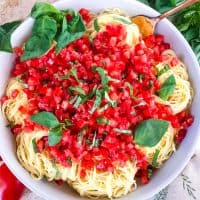 Copycat Olive Garden Capellini Pomodoro
Inspired by the restaurant dish, this simple fresh tomato pasta is fast and easy!
Print
Pin
Rate
Equipment
Vegetable chopper (optional, see notes for link)
Ingredients
1

pound

angel hair pasta

(capellini, thin spaghetti)

2

pounds

roma tomatoes

1/3

cup

fresh basil leaves

(approximately 15 leaves)

1

Tablespoon

balsamic vinegar

1

Tablespoon

olive oil

1

garlic clove

minced

1/2

teaspoon

salt

1/2

cup

tomato sauce

(or marinara) more or less as desired
Instructions
Cook the pasta in a large pot of salted, boiling water as per package directions until al dente. Drain and set aside.

While the pasta is cooking, make the bruschetta mixture. Finely dice the tomatoes, discarding the seeds and insides. (I like to use a chopping tool to make this go much faster! See note).

Combine the tomatoes with the balsamic, olive oil, garlic, and salt. Add the tomato sauce or marinara. Toss to combine and season to taste. (If using a plain tomato sauce, you may need to add extra salt, garlic, and basil than you would using a marinara).

Once the pasta is drained, quickly heat the tomato bruschetta mixture in the same pot until just warm, approximately 3-5 minutes (or, you can leave it cold if desired). Do not cook too long as the goal is just to warm, not to break down the tomatoes. Remove from heat and stir in the basil.

When ready to serve, scoop the tomato mixture on top of the pasta. Garnish with more fresh basil and Parmesan if desired. Serve.
Notes
The tomato bruschetta mixture can easily be made in advance.
It is very important to season your pasta as there is no thick sauce. Use salt in your pasta water, oil once drained, and/or lemon as desired.
I like roma tomatoes because they have a high outer tomato flesh to inner seed ratio, which means less of the tomato is thrown out. Cherry tomatoes or grape tomatoes also work well.
I personally love to use EXTRA basil and balsamic. Adjust the ingredients and seasonings to your preference!
Marinara is best, but tomato sauce works too! Just season more if using tomato sauce as noted in instructions. Add more or less of the marinara/sauce as desired. Olive Garden used little sauce.
Tip: Use a chopper like this one to make chopping the tomatoes easier and MUCH faster! If you hand chop, this may take longer than 30 minutes.
Nutrition
Calories:

505

kcal

|

Carbohydrates:

96

g

|

Protein:

17

g

|

Fat:

6

g

|

Saturated Fat:

1

g

|

Sodium:

471

mg

|

Potassium:

892

mg

|

Fiber:

7

g

|

Sugar:

11

g

|

Vitamin A:

2127

IU

|

Vitamin C:

34

mg

|

Calcium:

54

mg

|

Iron:

2

mg

By