Homemade cinnamon rolls flavored with a ginger dough, dried cranberries, and crystallized candy ginger.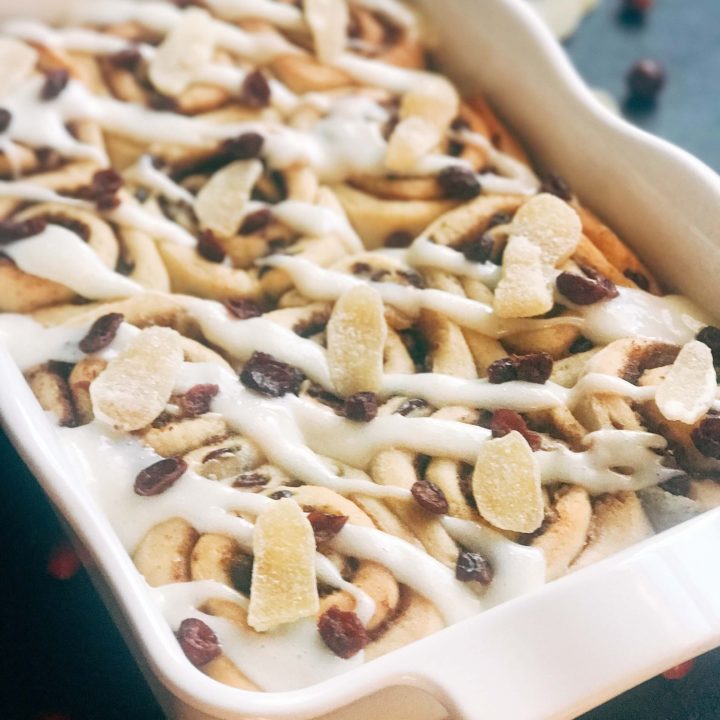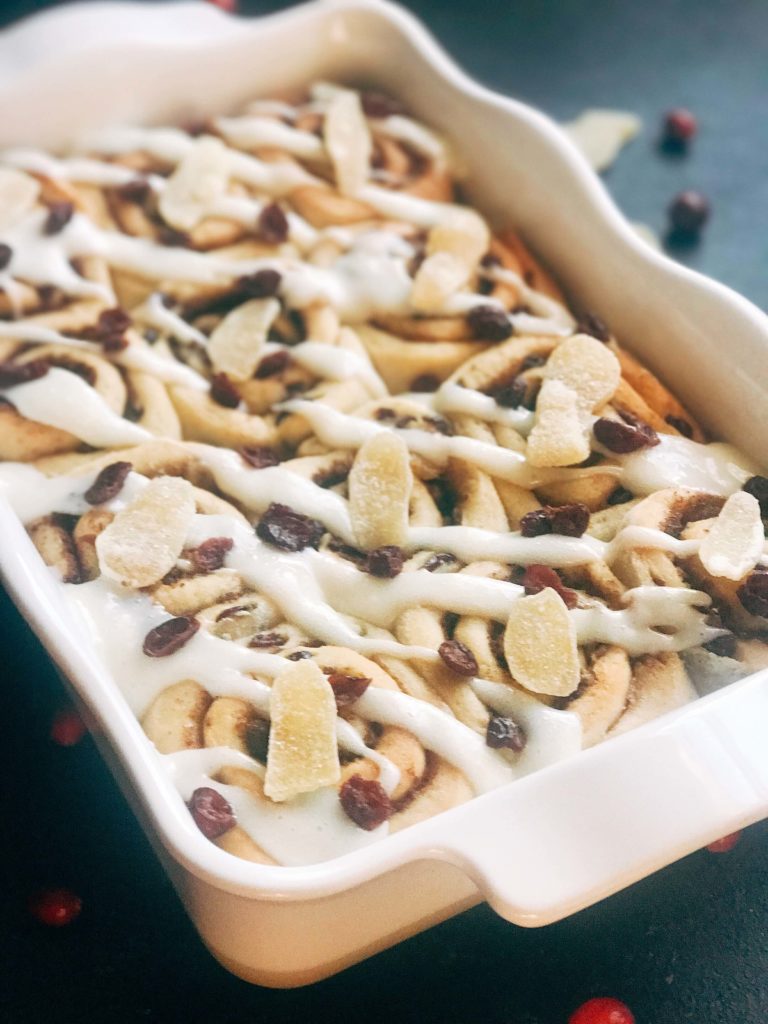 Cranberry Ginger Cinnamon Rolls are a delicious breakfast treat using crystallized or candied ginger with dried cranberries in a cinnamon roll. A great way to celebrate the holidays or a special breakfast.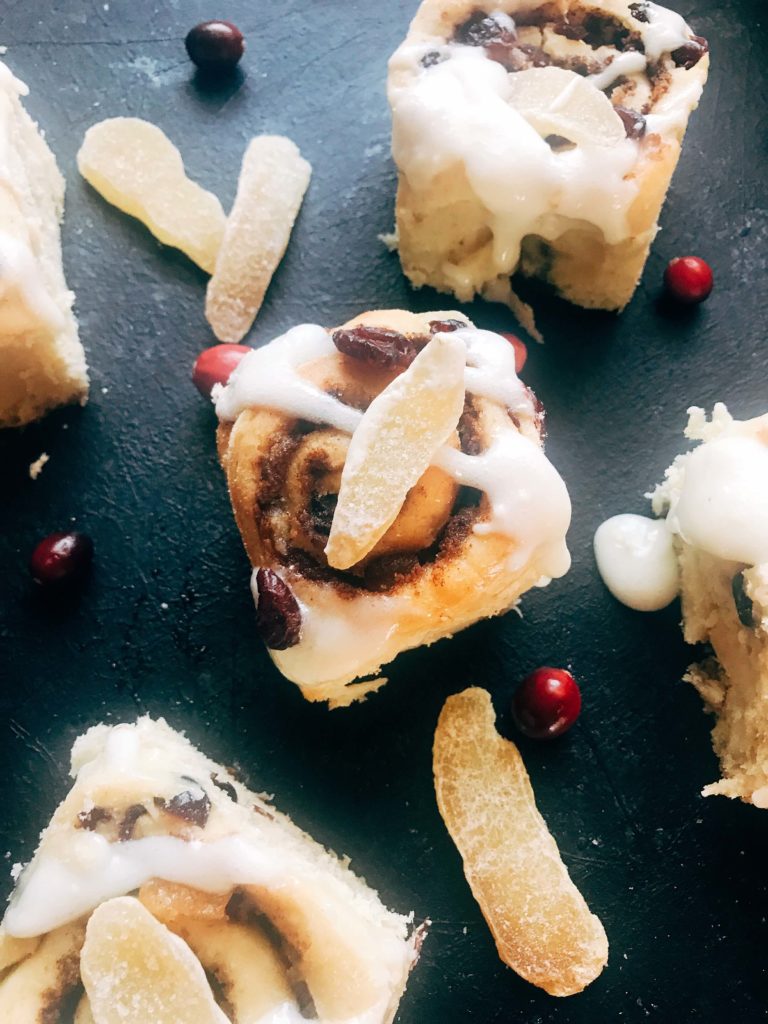 This post contains affiliate links.
I had every intention of posting this Cranberry Ginger Cinnamon Rolls recipe during the holiday season, because cranberries + ginger = Christmas in my book. But….that did not happen. The holidays were crazy this year, more than usual. I did finally manage to make them just in time for Christmas (but not in time to post them) and they are AMAZING. Seriously one of my absolute favorite rolls, probably only second to the classic and traditional cinnamon roll. And even though these have a heavy holiday vibe to them, I will absolutely be making them all year!
These rolls are very similar to the traditional version, but I added some ground ginger and dried cranberries into the dough. This way there is cranberry and ginger flavor all throughout! There is also crystallized ginger and dried cranberries sprinkled in with the filling.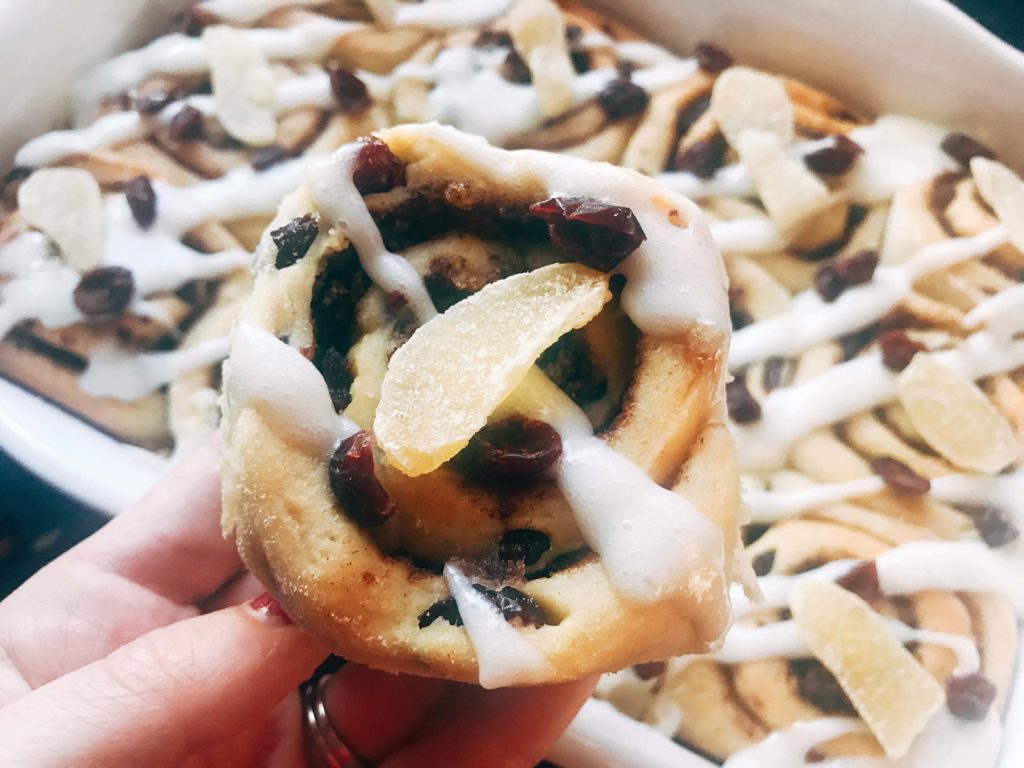 I am not really a breakfast person. Give me leftovers or dinner food in the morning and I am good to go. But homemade cinnamon rolls are something that I will absolutely eat any morning. We have a tradition in our house that I make at least one version of cinnamon rolls for every holiday. Homemade cinnamon rolls do take some time to make, but they are completely worth it. The trick with these is making them the day or night before. This way, you do not have to wake up in the middle of the night to get these going.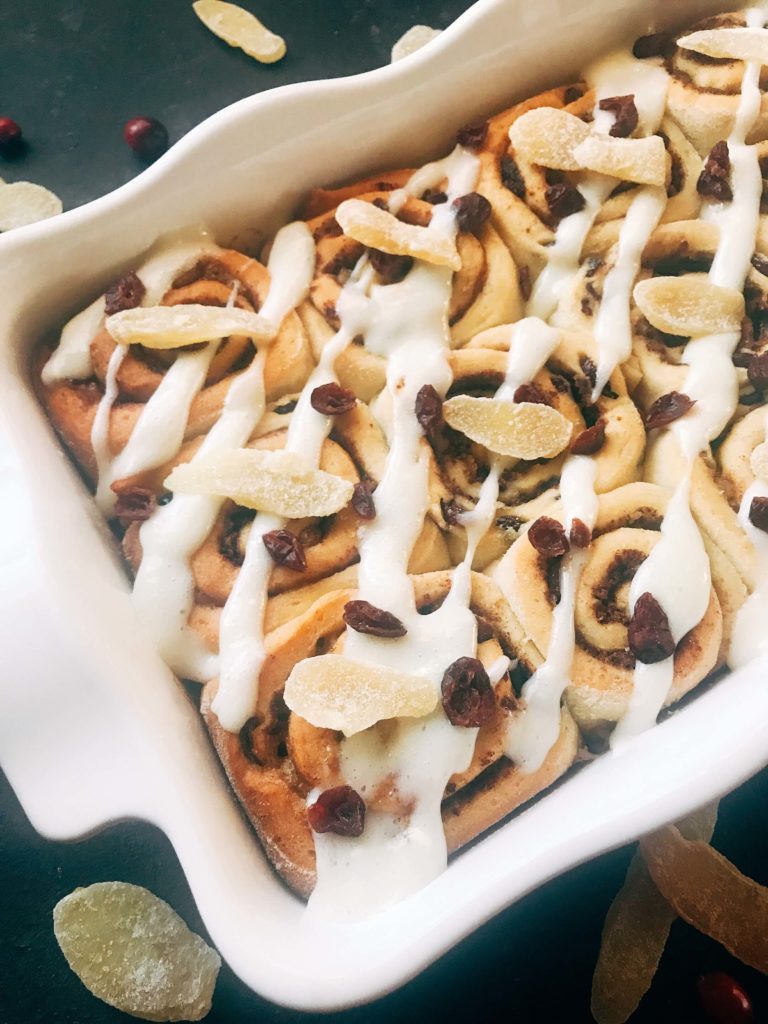 I love making different flavors of cinnamon and sweet rolls, so I have a lot for you to choose from! Find all of our cinnamon and sweet rolls here!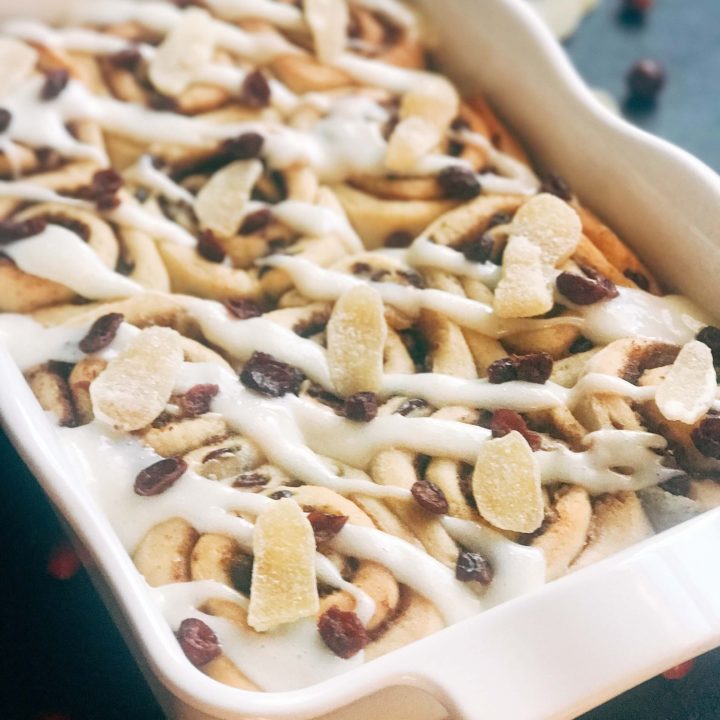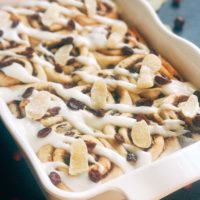 Cranberry Ginger Cinnamon Rolls
Homemade cinnamon rolls flavored with a ginger dough, dried cranberries, and crystallized candy ginger.
Print
Pin
Rate
Instructions
Scald your milk by heating 3/4 cup of milk over medium high heat in a skillet. Once the milk is simmering, turn the heat off. You should have approximately 1/2 cup left. Measure out the 1/2 cup milk and discard the rest. (The goal is to make the milk not cold. Heating breaks down proteins that prohibit yeast growth. Most milks are pasteurized and ready to use as is, but avoid using cold milk as it will harden the butter and make the rise difficult.)

In a small bowl, dissolve yeast in 1/2 cup warm water as per package directions for the correct temperature to ensure that you keep your yeast alive (typically between 100-110F).

In a large bowl, mix the 1/2 cup milk, sugar, melted butter, salt, egg, and 1 Tablespoon of the dried ground ginger. Add two cups of the flour and mix to combine.

Add in the yeast. Add additional flour, 1/2 cup at a time, until the dough is easy to handle (the amount of flour that you need will vary).

Roll the dough out onto a lightly floured surface and knead for 5 to 10 minutes. (You can knead in a stand mixer as well at speed 1 or 2 as per mixer instructions. I have found a stand mixer takes longer). The dough is ready when you can stretch it thinly to see light through it without it breaking, and the dough bounces back when you press it with your finger. Add the dried cranberries and knead briefly to incorporate into the dough.

Place the dough into a greased bowl (you can use 1-2 tsp of vegetable oil to coat the bowl you mixed everything in). Cover bowl with saran wrap and then a kitchen towel. Let sit until the dough has doubled in size, approximately 60-90 minutes.

When dough has doubled in size, punch it down. Then put it back on a floured surface and using a rolling pin, roll the dough into a rectangle approximately 15x9 inches.

Spread the 4 Tablespoons of melted butter on top of the dough. Mix the cinnamon with the brown sugar and sprinkle the mixture over the butter. Sprinkle the diced crystallized ginger and dried cranberries over the cinnamon. Use more or less to taste and based on how far your dough was rolled.

From the long edge, tightly roll the dough all the way to the other long edge and pinch dough together to seal.

Using a serrated knife, cut the log in half. (The serrated knife will help prevent the dough from flattening when cutting). Then cut each half into half again so that you have four equal pieces. Lining up two pieces at a time, cut each into three rolls so that you have a total of 12 rolls.

Coat the bottom of your 9x13" baking dish with some additional melted butter and sugar to coat. Place the cinnamon roll slices close together (four rows of three) in the dish and let them rise until the dough has doubled again, approximately 45 minutes. (If you are making these the night before, once the rolls have doubled in size, cover them in plastic wrap and place them in the refrigerator. In the morning, pull them out to warm to room temperature before baking).

Preheat the oven to 350F. Once the rolls have doubled in size, place them in the oven and bake for about 30 minutes or until they are starting to brown.

While the rolls are baking, prepare the icing. Whisk the cream cheese in a stand mixer until creamy. Add the milk and whisk in until combined. (It is best if the milk is not too cold as it can cause the cream cheese to clump up. Warm the milk slightly to avoid this in the microwave for approximately 15 seconds). Add the powdered sugar and whisk until smooth. Add more powdered sugar if needed to reach your desired consistency.

When the rolls are done, let them cool slightly and then top with the icing. Top with additional dried cranberries or crystallized ginger if desired. Serve warm.
Notes
Make these rolls the day before for a quick breakfast.  Just heat each roll for a approximately 15 seconds in the microwave for a warm treat.

I get my candied ginger from the bulk bins at my local grocery store or you can get it online.

By