A seasonal breakfast or brunch item perfect for the holidays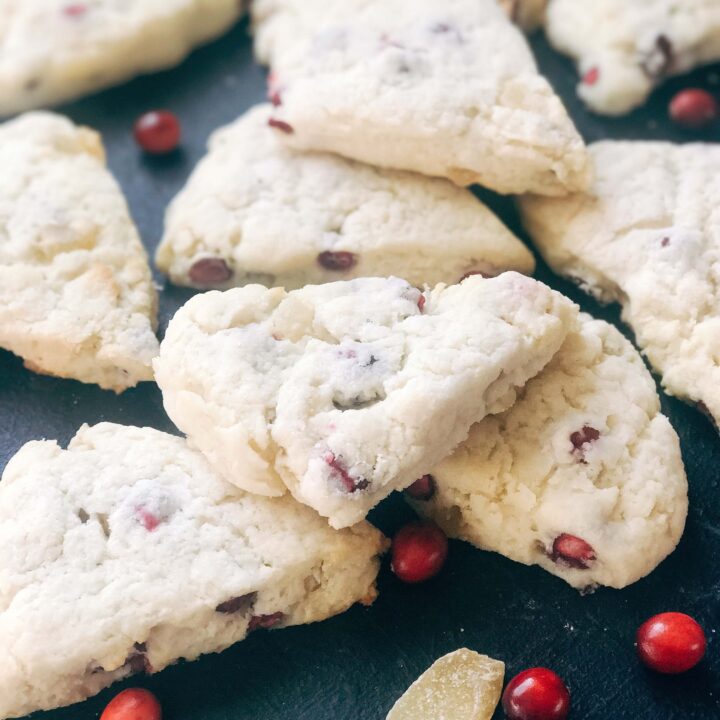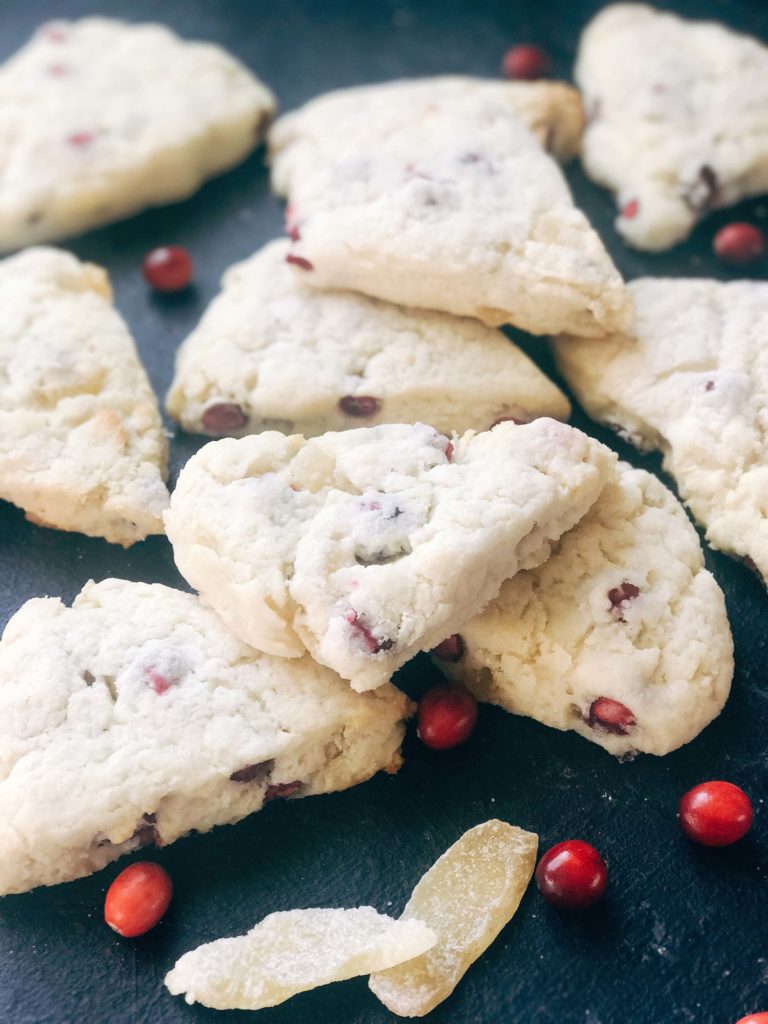 Cranberry is a classic holiday flavor, whether Thanksgiving or Christmas or anything in between, and these Cranberry Ginger Scones are a perfect way to celebrate the season.  Fresh (or frozen) cranberries are mixed with crystallized ginger in a classic scone for a delicious seasonal breakfast or brunch.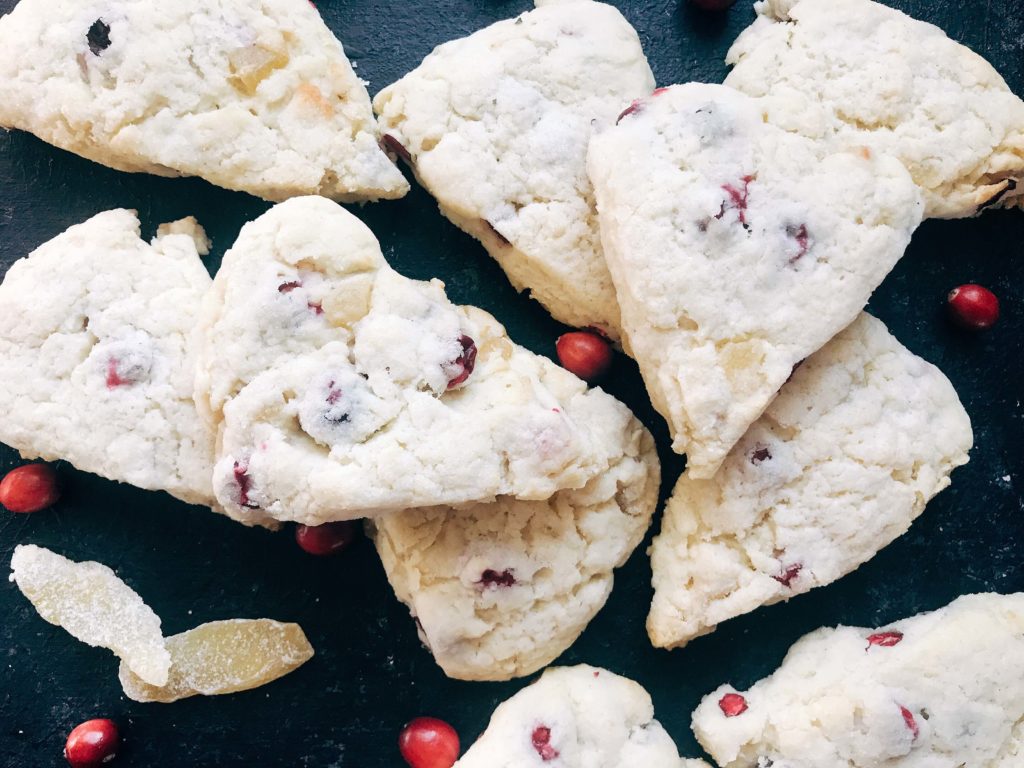 This post contains affiliate links.
I have a scone recipe that I love and have made several variations of.  I grabbed it off of the internet a while ago, and cannot remember where it came from, but it has been the base of many scone recipes.  During the holidays, I crave cranberry flavored foods but I tend to prefer a tart or tangy cranberry over really sweet.  These Cranberry Ginger Scones use crystallized ginger for a little spice and punch in a sweet scone for a breakfast or brunch item that is not too sweet.  Want a lighter ginger flavor?  Reduce the crystallized ginger to 1/4 cup instead for just a hint.
Have you ever had crystallized ginger? it is strips and pieces of ginger that have been coated in sugar so you get a great sweet and slightly spicy flavor.  You can find crystallized ginger here or at your local grocery store.  I get mine from a local specialty market in the bulk bin section.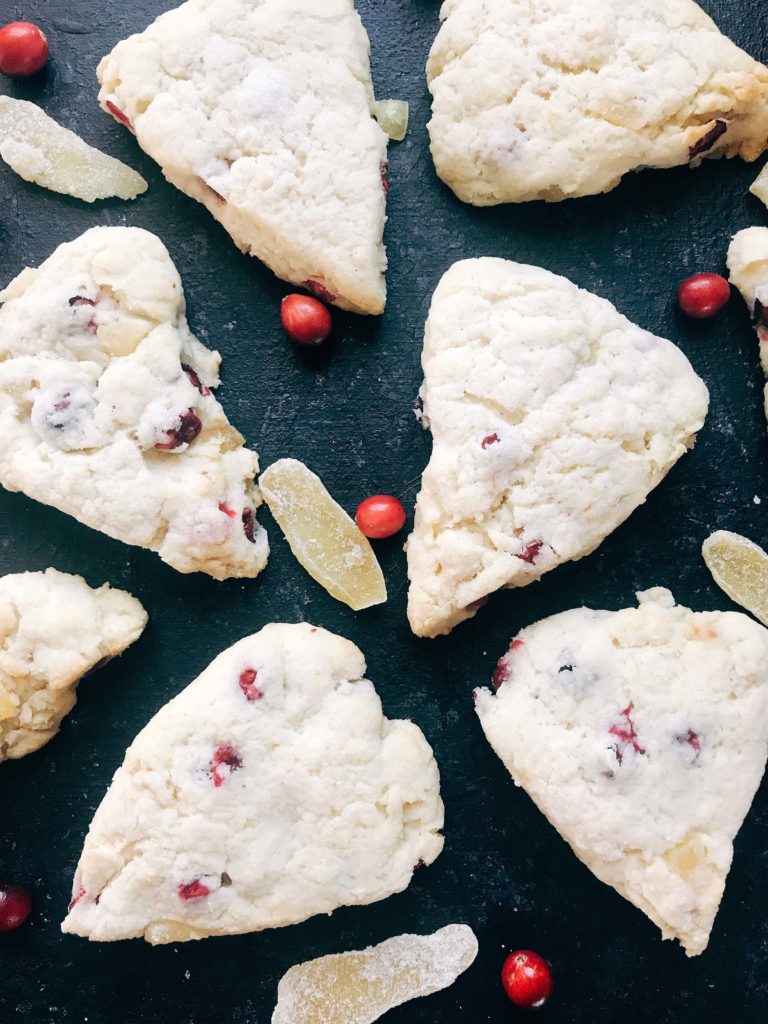 And one of my absolute favorite things about this Cranberry Ginger Scones recipe is that it freezes beautifully!  Freeze the scones individually before baking and then place them in a large resealable plastic bag with baking instructions written on the bag.  Then simply pop one, two, or however many you need in the oven for a fast and simple breakfast!  I have not been able to taste a difference when they are frozen or not, so it is a perfect breakfast to make ahead when family is coming for the holidays.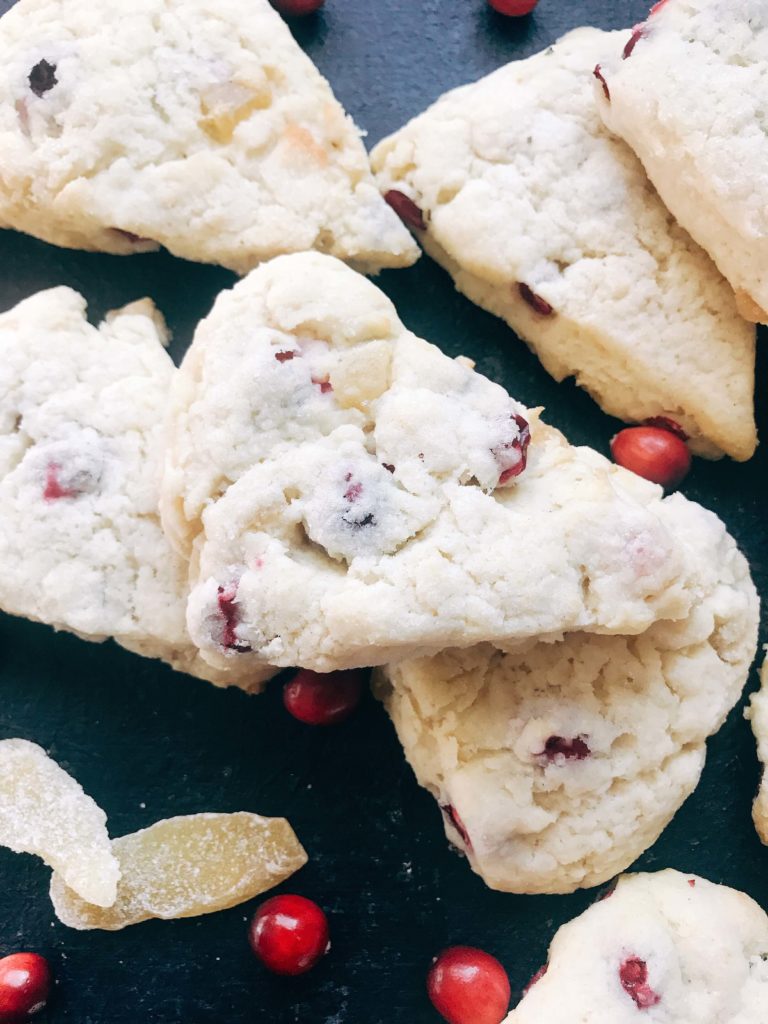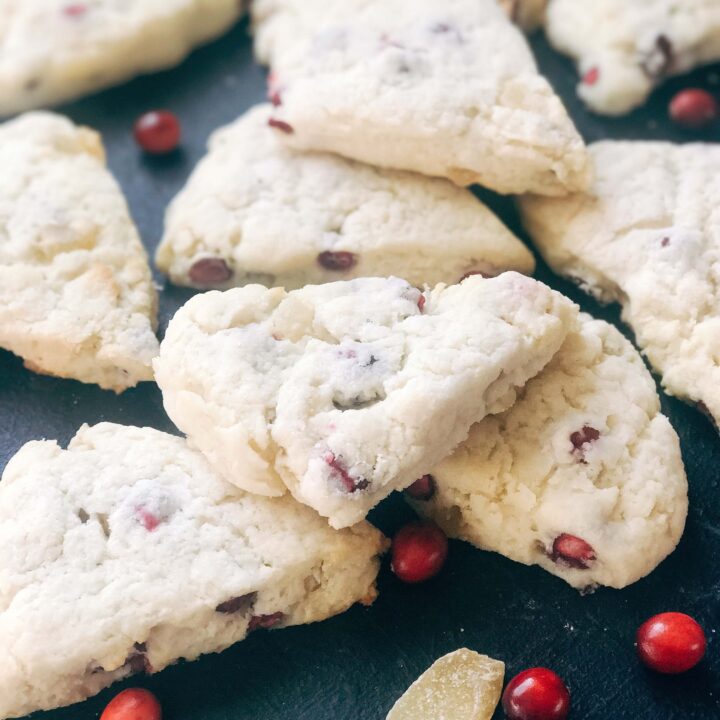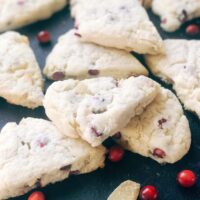 Instructions
Preheat oven to 375F.

In a large bowl, mix together the flour, granulated sugar, baking powder, salt, cranberries, and crystallized ginger.

Add the heavy cream and mix until incorporated. The dough will be stiff and sticky.

Place half of the dough onto a cutting board and press into a disc that is approximately 7-8 inches wide and 1 inch thick.

Use a knife to cut the dough into 8 scones. (Cut into quarters, then each quarter in half).

Transfer the scones to a parchment or silicone baking mat lined baking sheet. Coat with melted butter and sprinkle with additional sugar. Repeat steps 4-6 with the second half of the dough.

Bake the scones approximately 20-25 minutes until lightly golden brown. Remove from the oven and serve immediately.
Notes
You can use frozen cranberries by adding them straight into the dough still frozen.  Or you can let them thaw, drain off the extra liquid, and then add them in.  Frozen fruit, whether thawed or not, tends to bleed the color so you will have red streaks in the dough, but works just fine.

Cut your crystallized (candied) ginger into preferred chunk size for when you bite into a piece.  For a lighter ginger flavor, reduce to 1/4 cup and cut into smaller pieces.

These scones can be easily frozen.  Line them on parchment paper or a silicone baking sheet before cooking (through step 6) and freeze.  Place them in a large resealable bag and pull out how many you want at a time.  I write on the bag "375F, 20 minutes" as a simple reminder of how to cook them.  They may take a few minutes longer to cook than normal as they are starting frozen.  There is no need to thaw them first, which makes it a perfect make-ahead breakfast or brunch item.

By