A simple and hearty side dish or salad, perfect for a BBQ or grilling.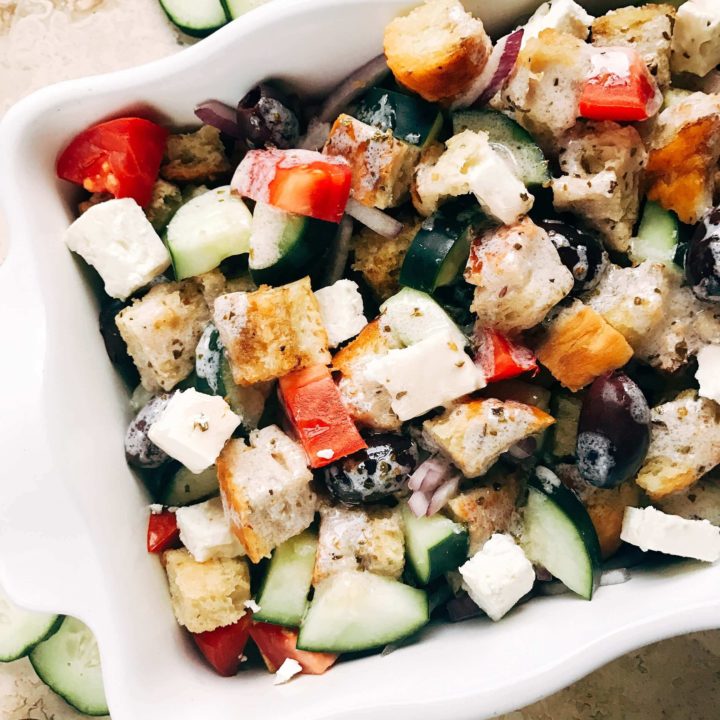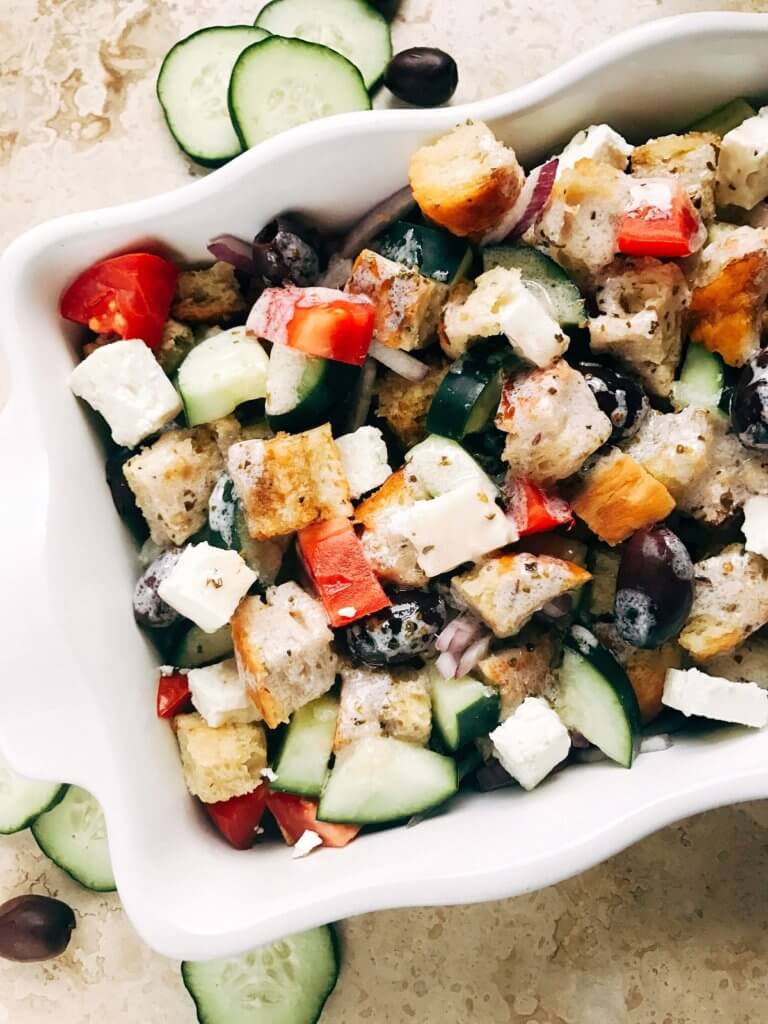 Carbs and veggies are literally two of my favorite things.  You can find me with a big bowl of this Creamy Greek Panzanella Salad out on the deck.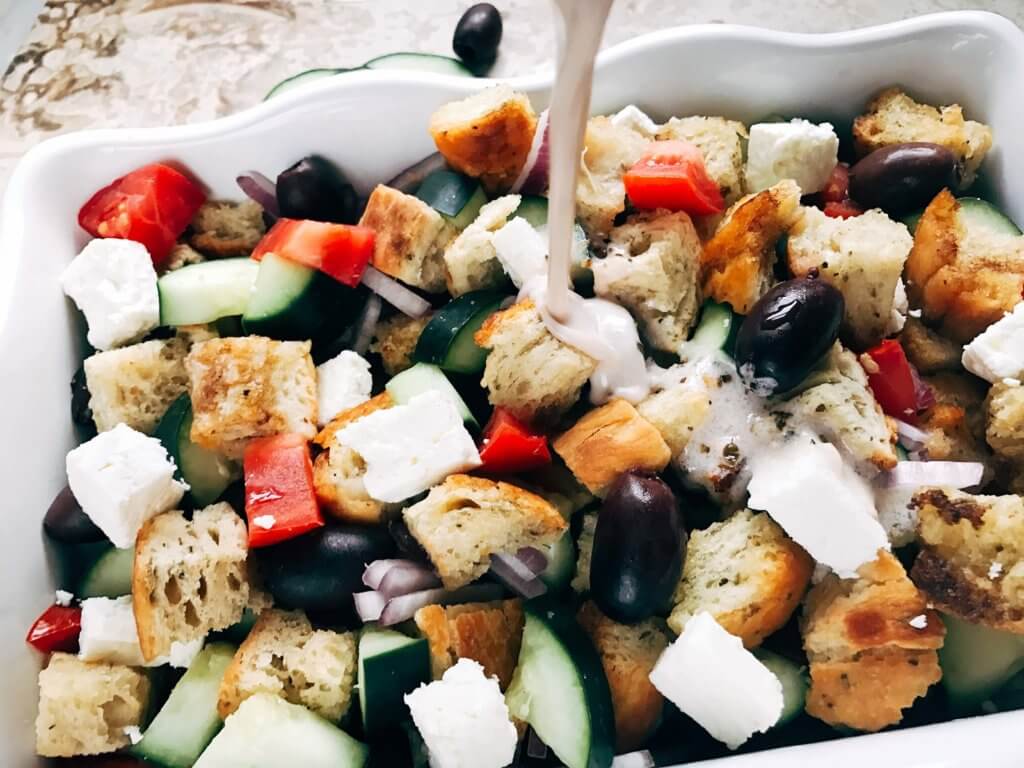 This post contains affiliate links.
Panzanella is a salad from Italy, specifically Tuscany, that is made with stale bread and tomatoes.  Essentially it is like what my husband's normal salads look like: a pile of croutons with a few veggies mixed in.
Even though it hails from Italy, when I was living there in college you did not see it too often in restaurants.  But when you did find one, it was normally very special!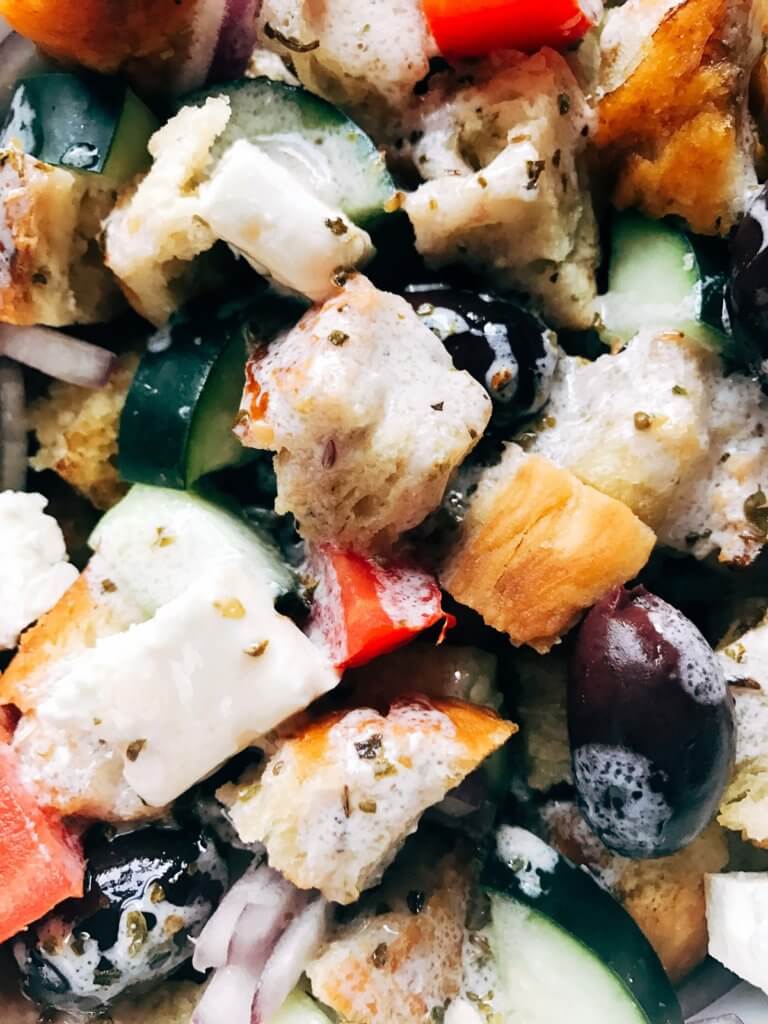 If you have been to this site before, you might have noticed that I tend to combine different flavors, recipes, and ideas into new combinations.  So here is another one!  The panzanella salad is combined with the Greek salad and topped off with a creamy, Greek yogurt vinaigrette.  Yummers.  It is incredibly simple to make and a BEAUTY that will grab the attention of everyone at your grill-out.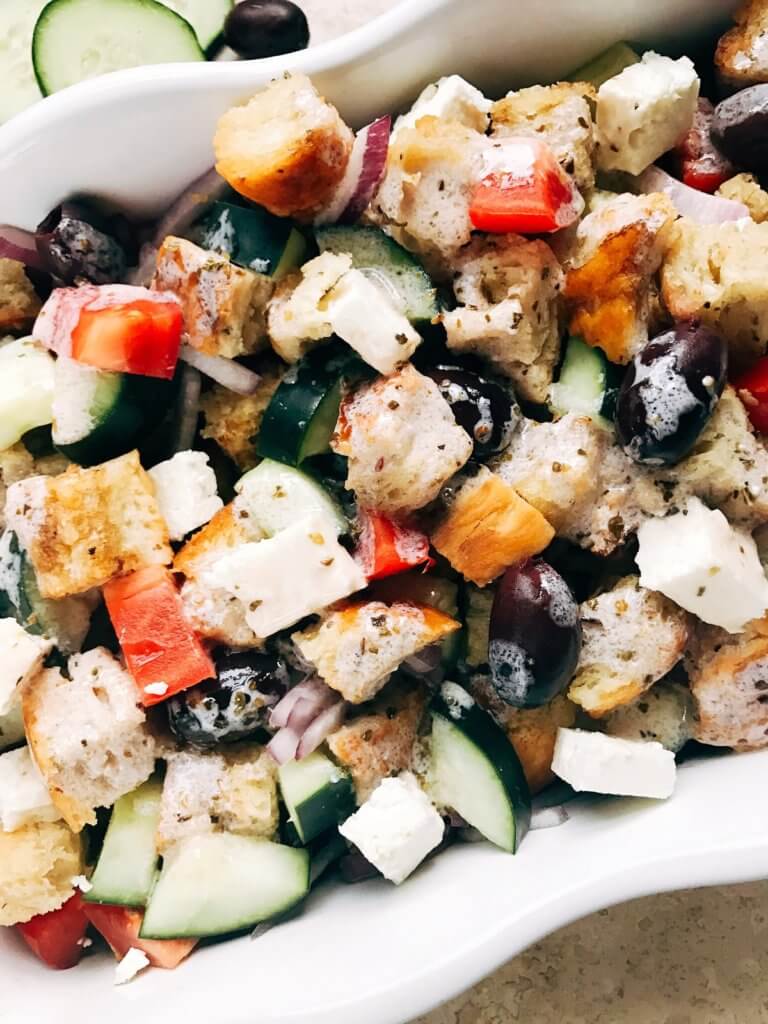 One of those weekends when I was living in Italy, we went to Greece and I absolutely fell in LOVE with Greek salads.  Big chunks of simple and fresh vegetables was all I needed.  There is something about simple, fresh flavors that make so many European foods amazing.  In this Creamy Greek Panzanella Salad I use kalamata olives, feta cheese (of course), tomatoes, red onion, and cucumber to get the full Greek salad spectrum.  Use whatever you like!  And don't all of those colors just look amazing next to that golden bread? <3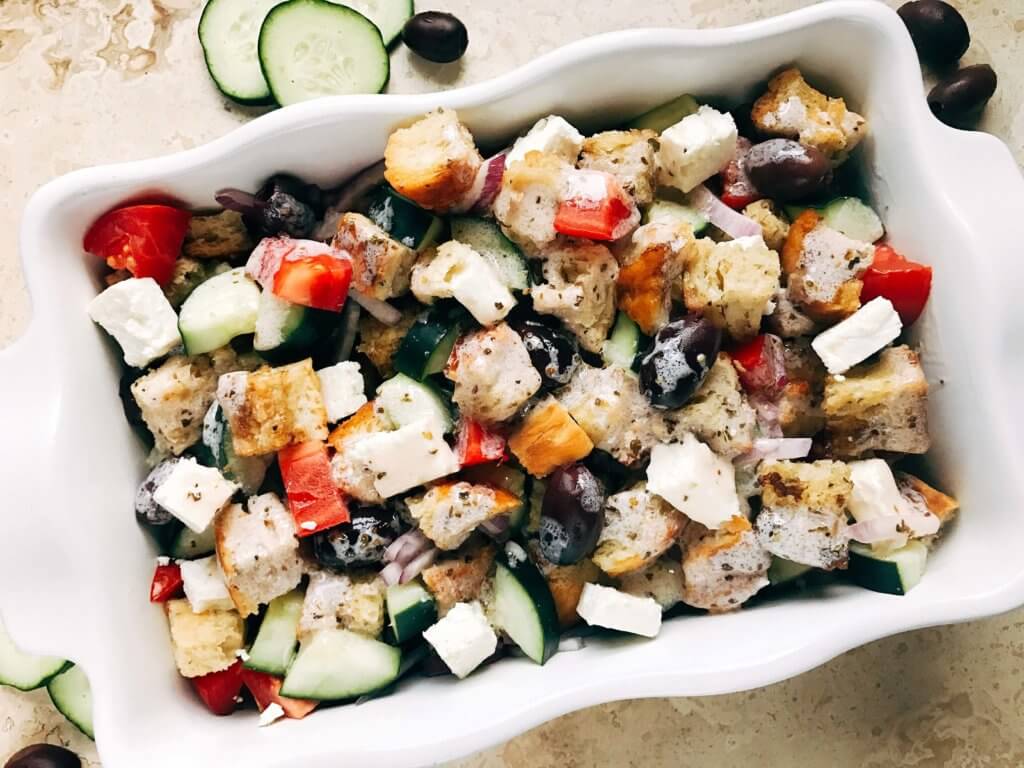 This salad is perfect as a side dish for a summer gathering like grilling or a BBQ.  It is fresh and bright while still holding some substance (thanks, bread and cheese!) and goes with just about anything.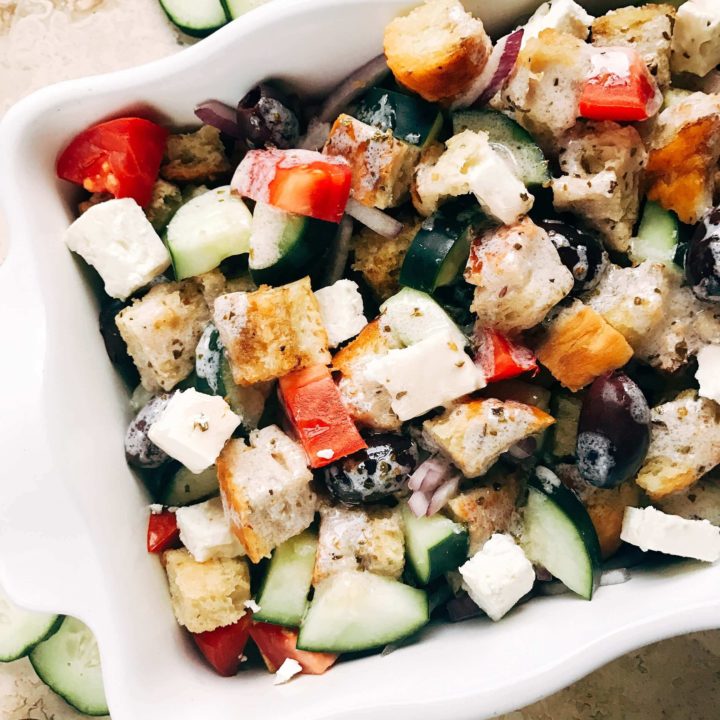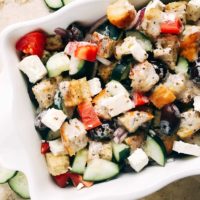 Creamy Greek Panzanella Salad
A simple and hearty side dish or salad, perfect for a BBQ or grilling.
Print
Pin
Rate
Ingredients
Salad
6

cups

hearty bread, cubed

(approx 1 lb total)(see note)

salt

1/2

cucumber

1/2

cup

tomatoes

(approx 2 tomatoes)

1/3

cup

red onion

thinly sliced

1/3

cup

kalamata olives

(I used whole, pitted)

3

oz

feta cheese

cut into 1/2" cubes
Instructions
Preheat oven to 300F.

Cut the bread into approximately 1" cubes and spread on a baking sheet. Drizzle the bread with olive oil and a little salt.

Bake the bread until the cubes are just crunchy but do not squish or bend. They should not be as hard as croutons. The time this takes will depend on how dry/dense your bread already is (for me it typically takes 20-30 minutes). Set aside to cool to room temperature.

While the bread is baking, prepare the mix-ins. Cut the cucumber and tomatoes into 1/2" chunks and place in a large bowl.

Thinly slice the red onion and place in the large bowl with the cucumber and tomatoes. Add the kalamata olives (you can use either whole or sliced).

Cut the feta cheese into 1/2" cubes or use crumbles and add to the vegetables.

In a small bowl, prepare the dressing by combining all of the ingredients. Whisk together and salt to taste.

When the bread is done and cooled to room temperature, add the bread to the vegetables bowl and toss to combine.

Pour the dressing over the salad and toss to coat. Let the dressing sit on the salad ideally for 30 minutes in the refrigerator before serving so that it starts to soak into the bread. It will not make the bread soggy.
Notes
Make it vegan by skipping the Greek yogurt.

Ideally you want to use a denser bread for this salad, something more rustic with less air.  The weight of the bread will vary based on exactly which one you use, but you want to aim for 6 cups in volume regardless.

By