A one-pot chicken skillet dinner served in a creamy Parmesan sauce with spinach and artichokes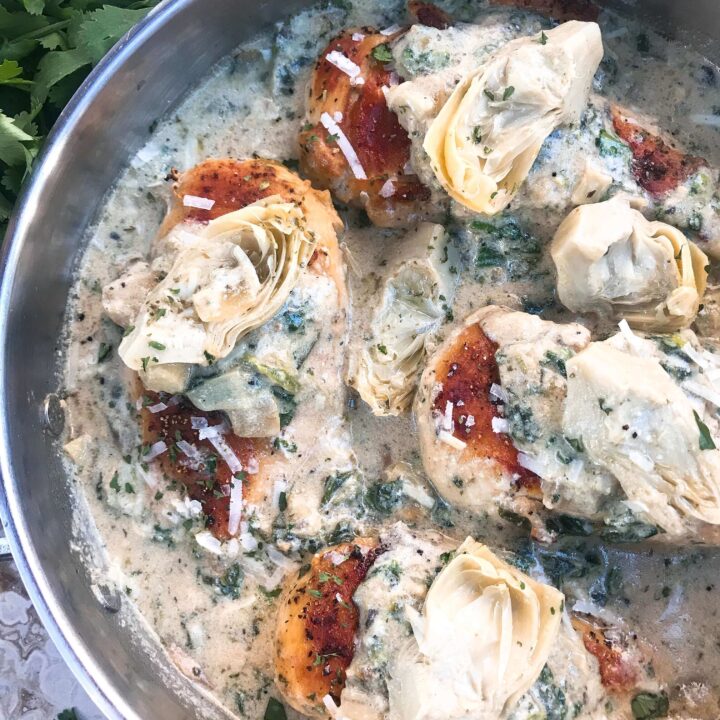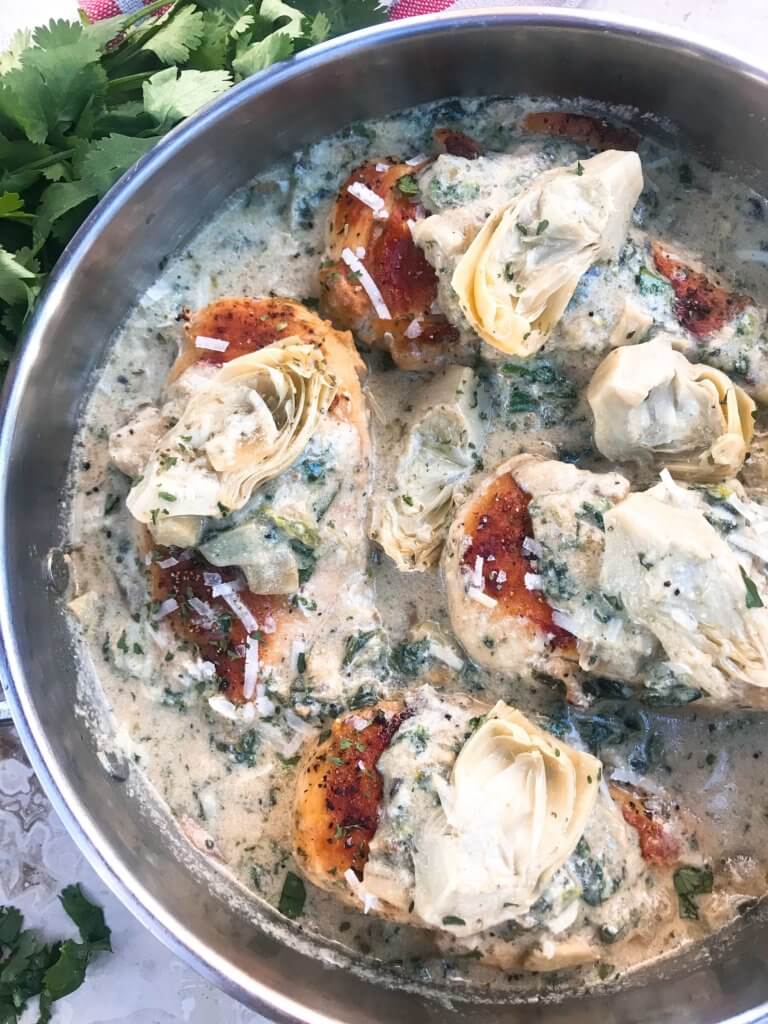 This one-pot Creamy Skillet Spinach Artichoke Chicken is ready in just 30 minutes, perfect for those busy nights. Chicken is seared in a pan and served up with a creamy Parmesan sauce, finished with spinach and artichokes.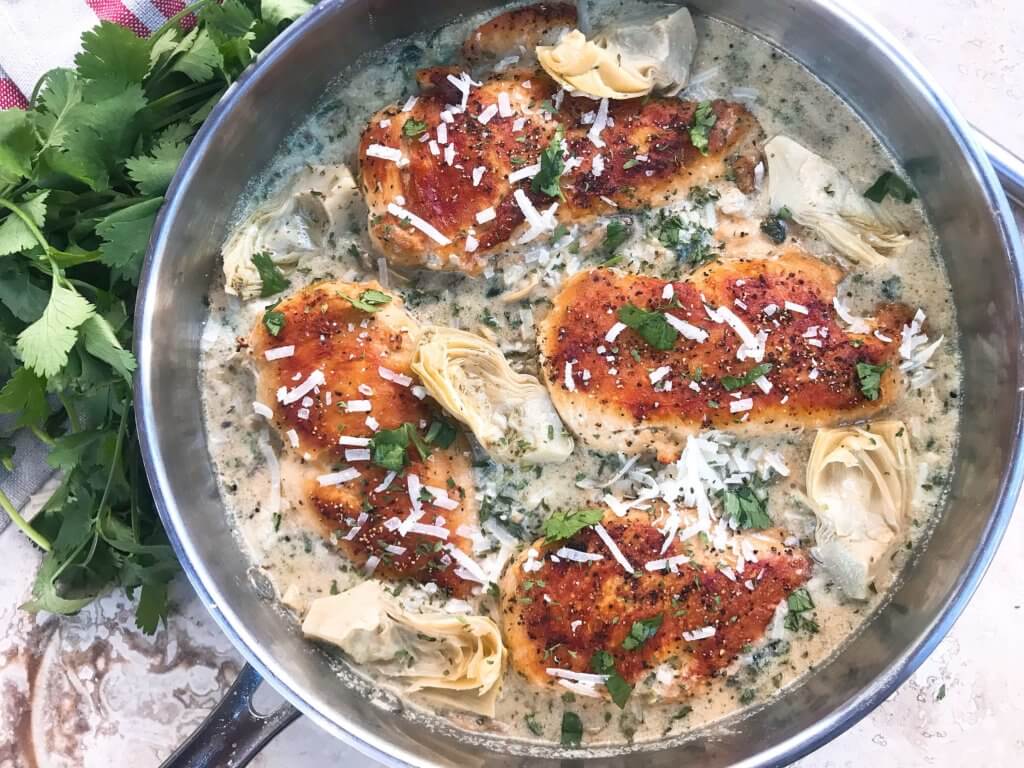 This post contains affiliate links.
Spinach artichoke dip has become one of my favorite appetizers lately after finding a recipe that I LOVE. I have been using those same great flavors in new and inventive ways to get my fix of it whenever I can. You can find all of our spinach and artichoke dip inspired recipes here!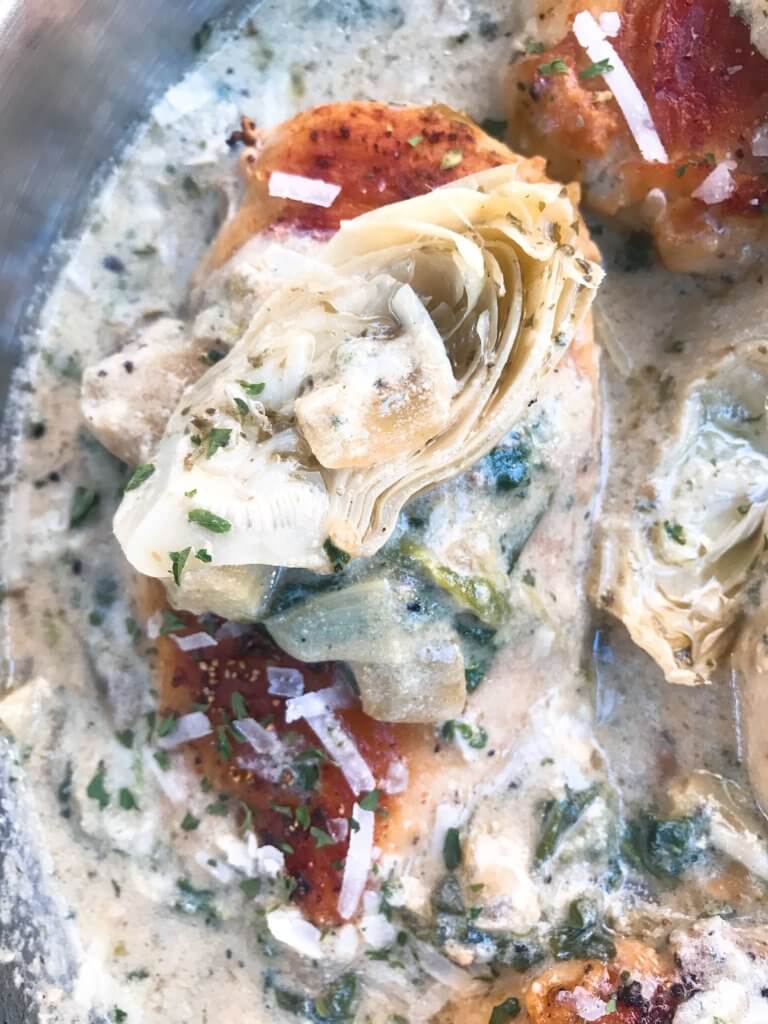 Creamy Skillet Spinach Artichoke Chicken is gluten free and full of flavor. Easily adjust to your preferred taste preference with more or less of the spinach and artichoke. Personally, I love the tang of the artichoke so I add more! When I was little, my grandparents grew artichokes at their home in San Francisco and I always loved checking out the plants, searching for little baby artichokes.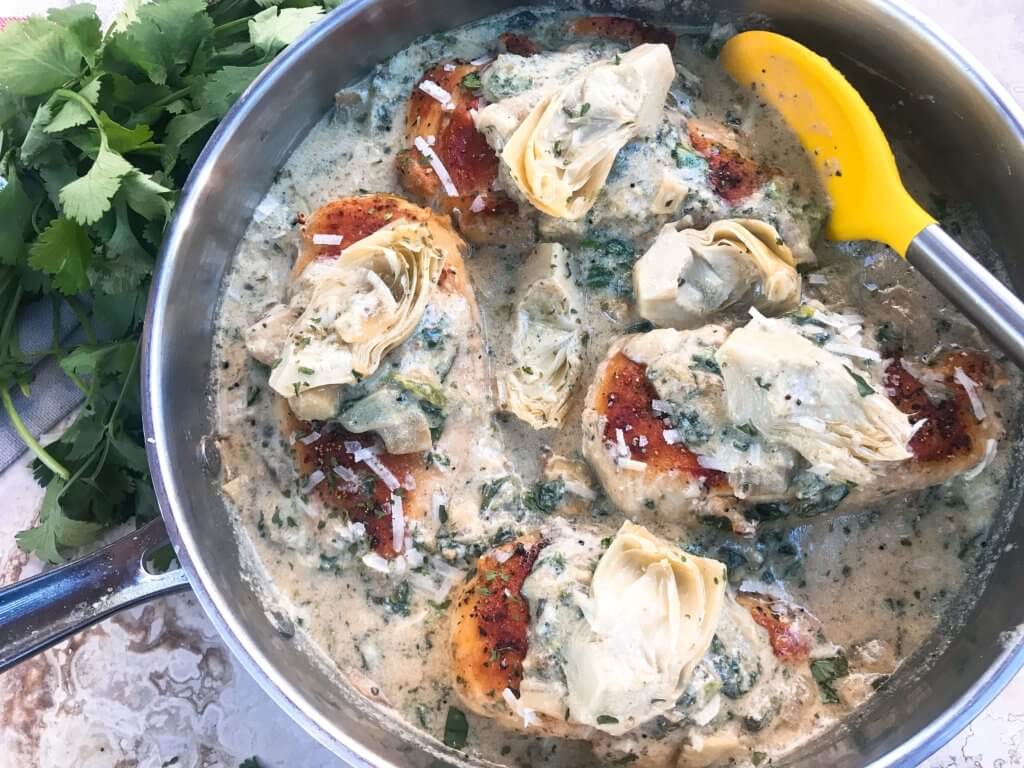 This one-pot meal means easy clean up. Serve it over mashed potatoes, pasta, or vegetables. I love sauce in general, so I like to increase the amount of sauce in this recipe. Especially if pouring it over something like pasta where it needs to spread!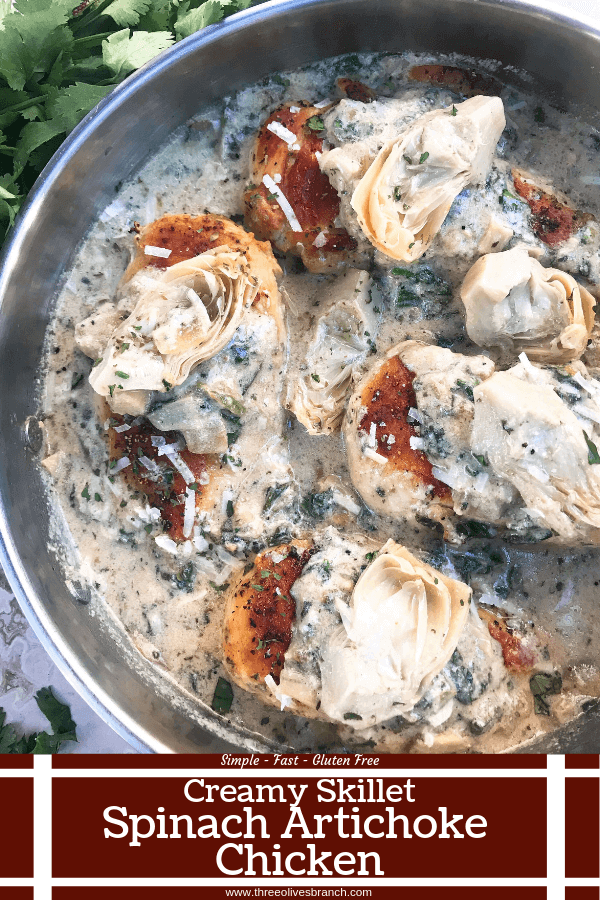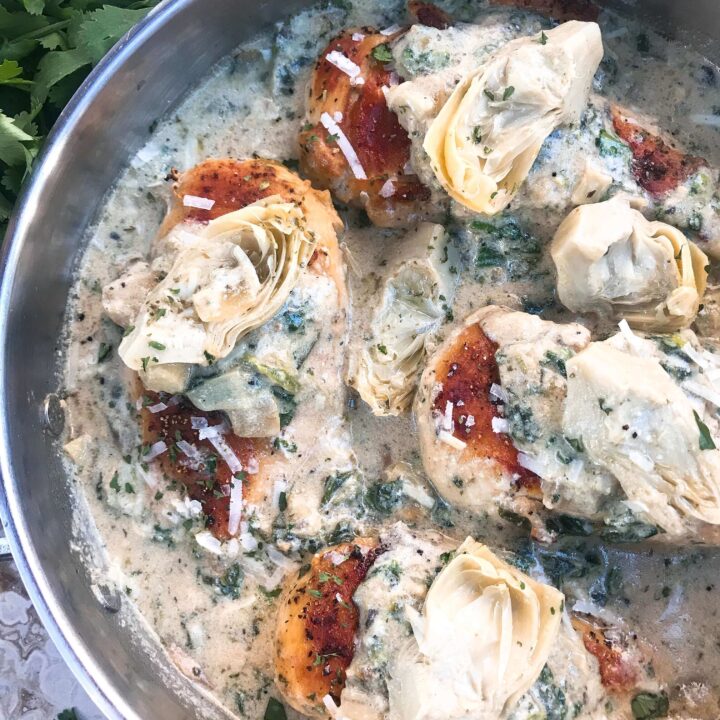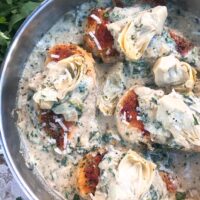 Creamy Skillet Spinach Artichoke Chicken
A one-pot chicken skillet dinner served in a creamy Parmesan sauce with spinach and artichokes
Print
Pin
Rate
Instructions
Preheat a large, deep skillet or shallow pot over medium high heat.

Season both sides of the chicken with salt and pepper.

Add the oil. When the oil is hot, add the chicken. Cook until golden brown, approximately 5-7 minutes. If too hot, reduce the heat.

Flip the chicken over and cook an additional 5 minutes until golden brown and also cooked all the way through. Add a little more oil if needed. If your chicken is browning too fast, reduce the heat to slow browning but continue cooking the chicken. The chicken is done when it is 165F in the thickest part.

Remove the chicken from the pan and set aside. Leave approximately 1 Tablespoon of oil in the skillet. Add the butter to the same pan you cooked the chicken in over medium heat and let the butter melt.

Add the onion and cook until translucent, approximately 3 minutes. Add the garlic, stir, and cook for 30 seconds until fragrant.

Add the white wine to the onions. Cook until reduced by half, approximately 2 minutes.

Mix the cornstarch with 1 Tablespoon of water and stir to combine. Add the cornstarch to the onion mixture. Also add the milk, spinach, chopped artichoke hearts, 1/4 teaspoon salt, and 1/4 teaspoon black pepper. Stir and cook until the sauce thickens, approximately 5 minutes.

Remove the sauce from the heat. Add the Parmesan cheese and cream cheese and stir until melted. At this point, season the sauce to taste with salt and black pepper.

Put the chicken back in the sauce to heat through and coat with the sauce, if desired. Serve over pasta or with vegetables.
Notes
If your sauce is too thick, add some water, stock, or milk.  If too thin at any point, continue to cook over medium heat to thicken.

Use any white wine that you enjoy drinking, but stay away from anything sweet.  I like to use Chardonnay, Sauvignon Blanc, or Pinot Grigio.

By