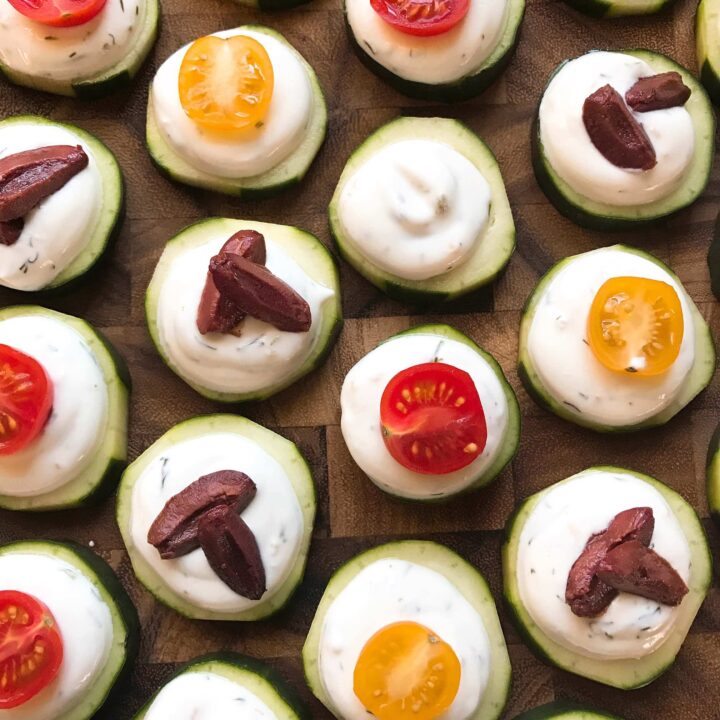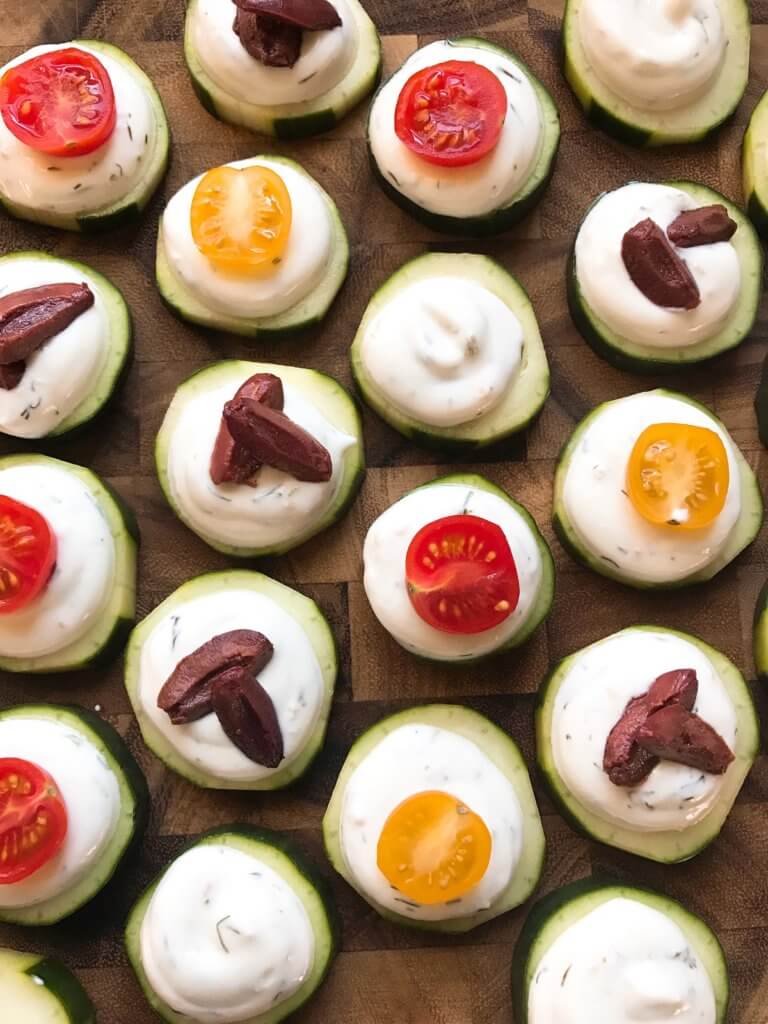 How cute are these?!? These Cucumber Tzatziki Bites are just beautiful to look at!  All of the bright colors just pop.  The traditional tzatziki flavors are combined for a fun snack or appetizer.  You can bet they will disappear quickly, my husband just about inhaled these once I was done holding him back when taking pictures.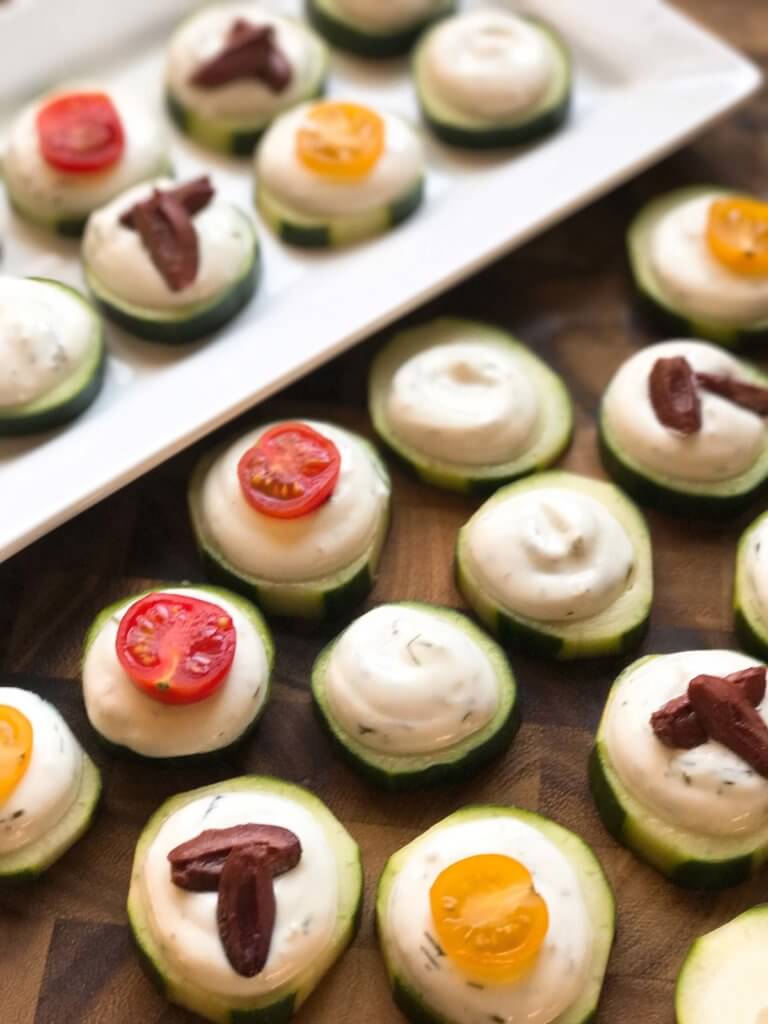 I also love making these for gatherings like football homegating and parties. Cucumber Tzatziki Bites are so incredibly simple to make and provide a light, healthy option to snack on.  Don't get me wrong, I love my potato skins and such, but having a fresh snack helps to break up the heaviness of other dishes.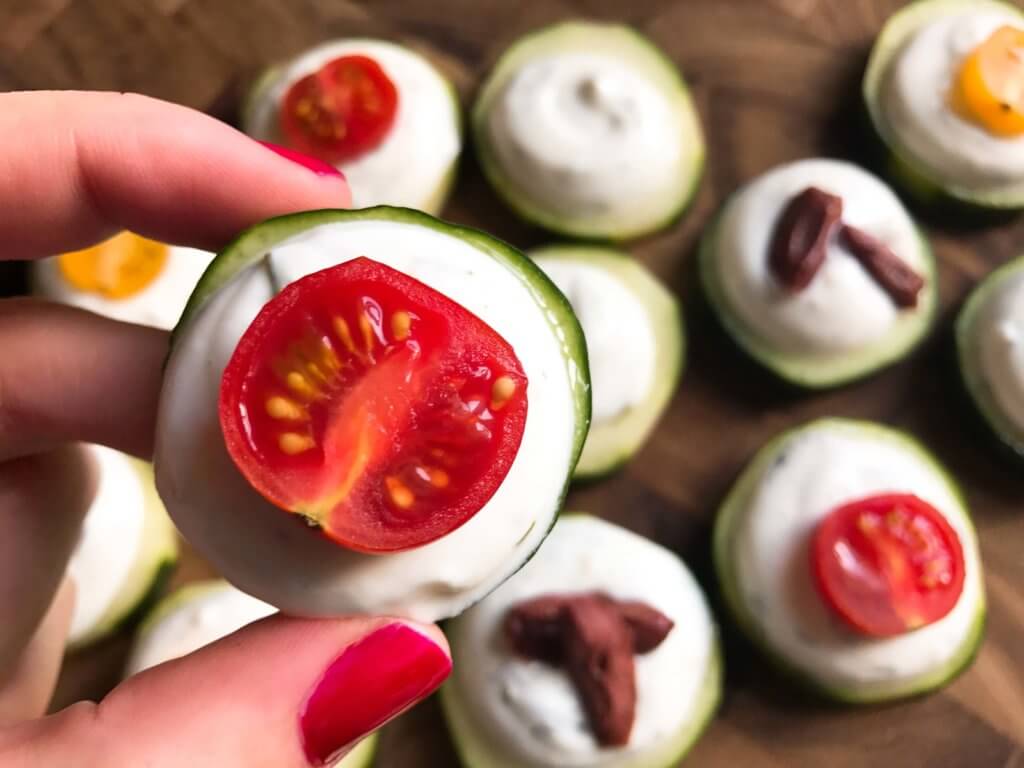 I was not always a yogurt or cucumber fan, but a trip to Greece changed that.  You can find Greek salads and tzatziki everywhere there, so I became hooked!  The fresh, bold flavors are just so perfect together.  Now I am using those ingredients in new ways, such as this Greek Tzatziki Quesadilla, Greek Pasta Salad, and Greek Tzatziki Hummus.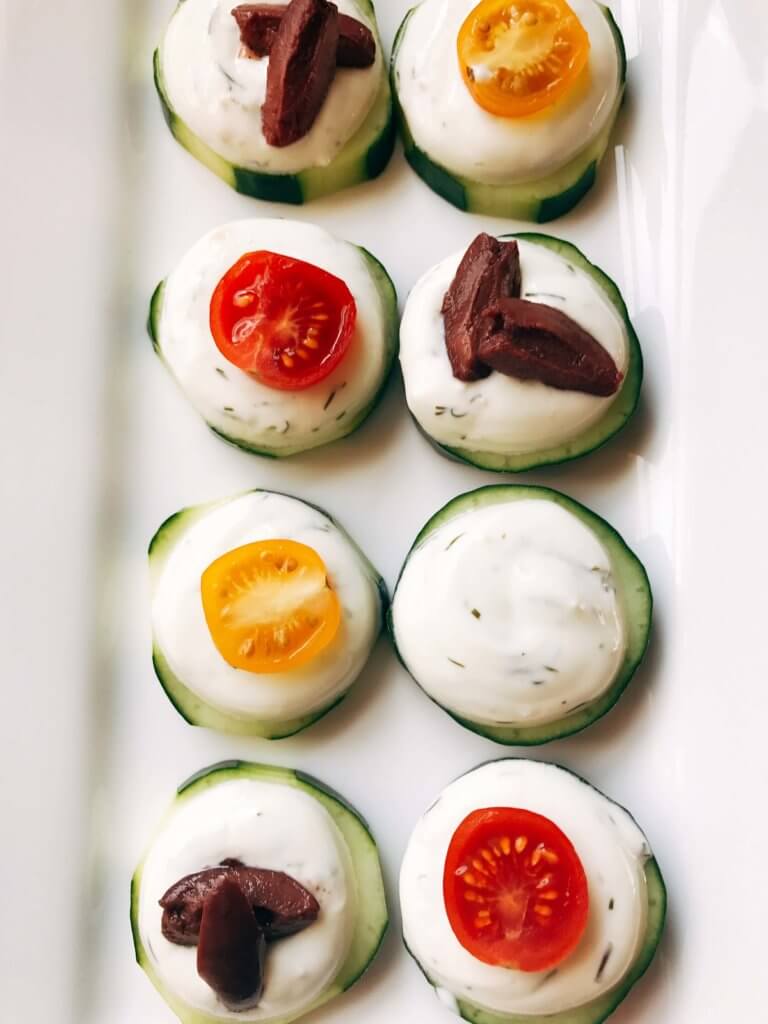 Getting 30 pieces from one cucumber may sound like a lot of little bites, but you may want to make more.  These little beauties literally disappear like you never made them in the first place.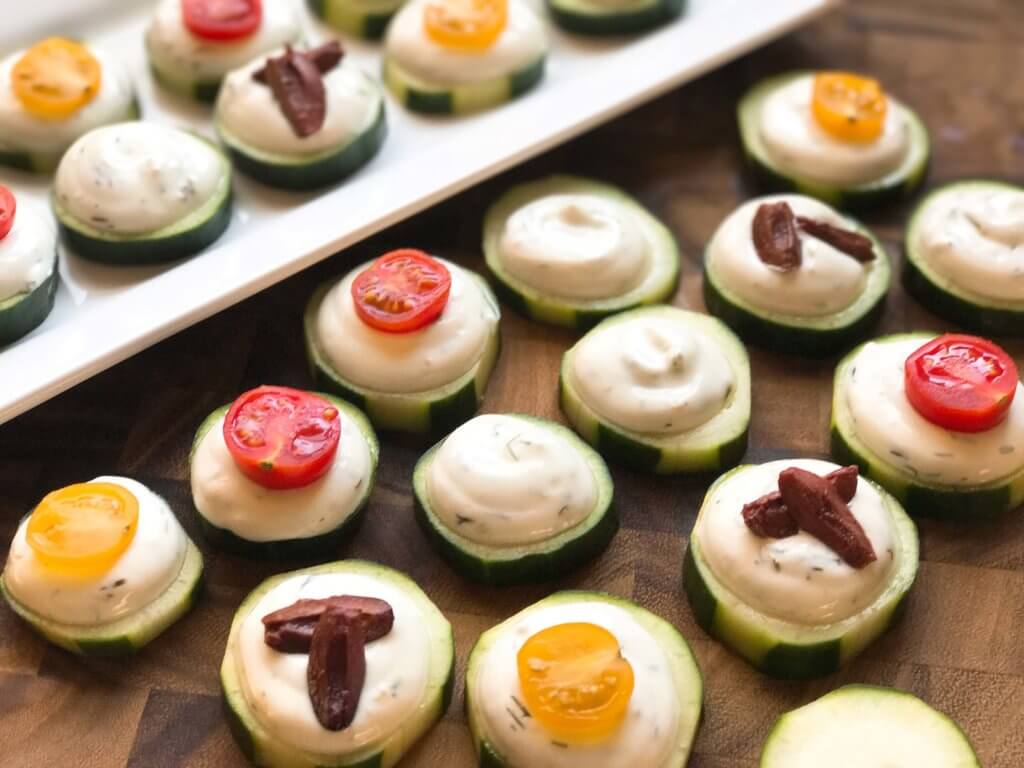 See those fun little stripes on the sides of some Cucumber Tzatziki Bites?  You can get this effect by using a peeler down the length of the cucumber before you slice it.  Just a little detail!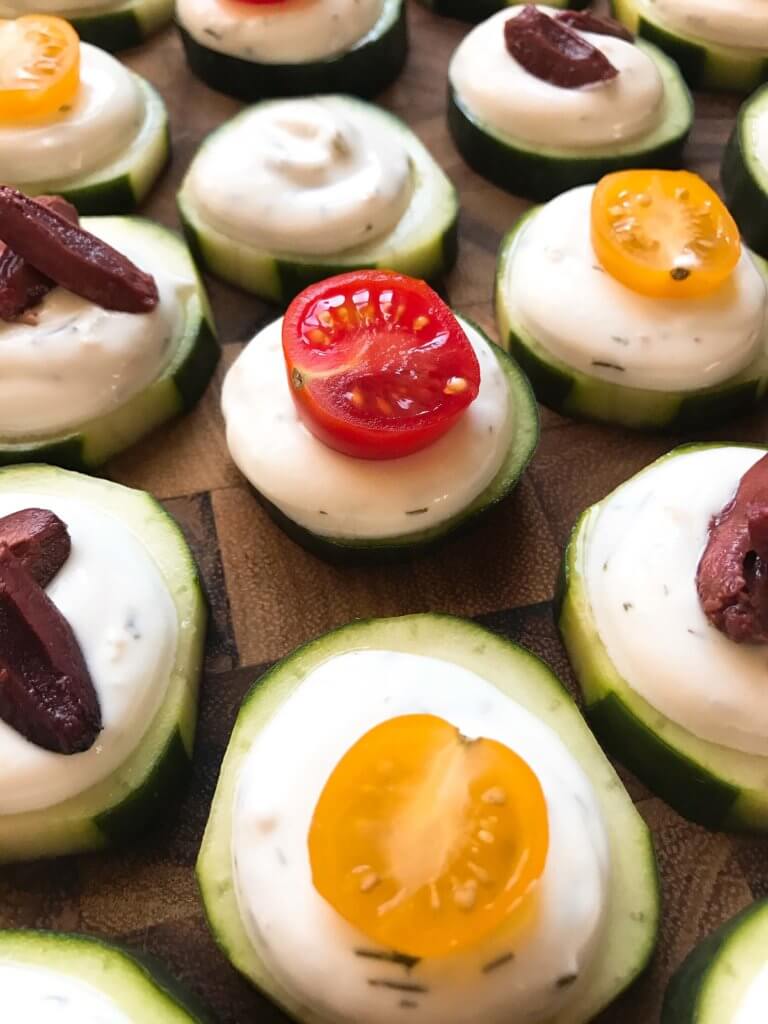 What are your favorite healthy snacks to bring to a football game or party?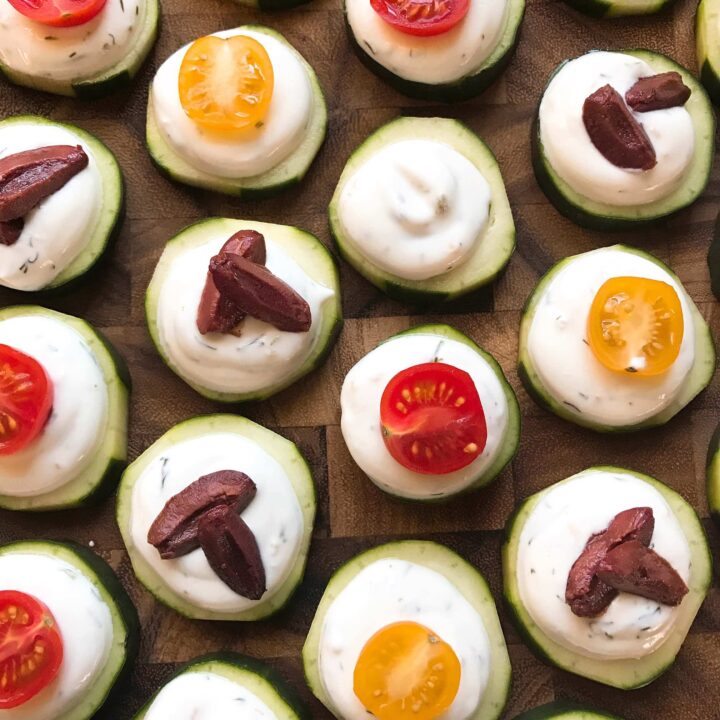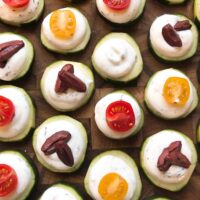 Instructions
In a small bowl, combine the yogurt, dill, garlic, lemon, and salt. Mix to combine. Season to taste with additional lemon, salt, or dill as desired. Cover and chill in the refrigerator until ready to serve.

Trim the ends off of the cucumber. Cut into approximately 1/4" slices. The exact size of the cucumber will determine how many slices you get. One 8" cucumber will yield approximately 30 slices.

When ready to serve, lay out the cucumber slices on a cutting board or platter.

Place the yogurt mixture in a ziploc bag and cut off a bottom corner for an opening that is approximately 1/4" wide (you can also use a pastry bag for this).

Squeeze the yogurt mixture on each cucumber slice as if you are frosting a cupcake. The yogurt mixture will be a little thin and more likely to drip. You can turn your bag upside down to help prevent dripping between each slice.

After the yogurt is on each cucumber, garnish with slices of cherry tomatoes, kalamata olives, or feta cheese as desired. Serve chilled.
Notes
Getting through a bunch of a fresh herb can be difficult, so I like to use the tubes of fresh herbs that you can find in the herb section of a grocery store.  You can also substitute for dry dill, just reduce to 1/2 tsp.

By