Classic Denver Omelette ingredients in a frittata! Perfect way to use up leftover ham.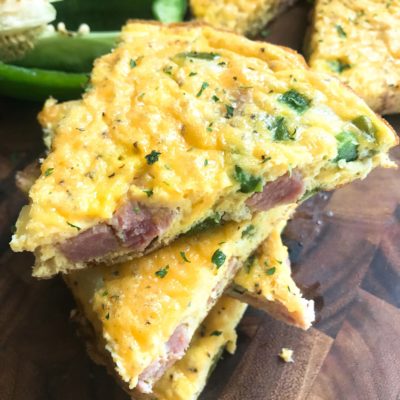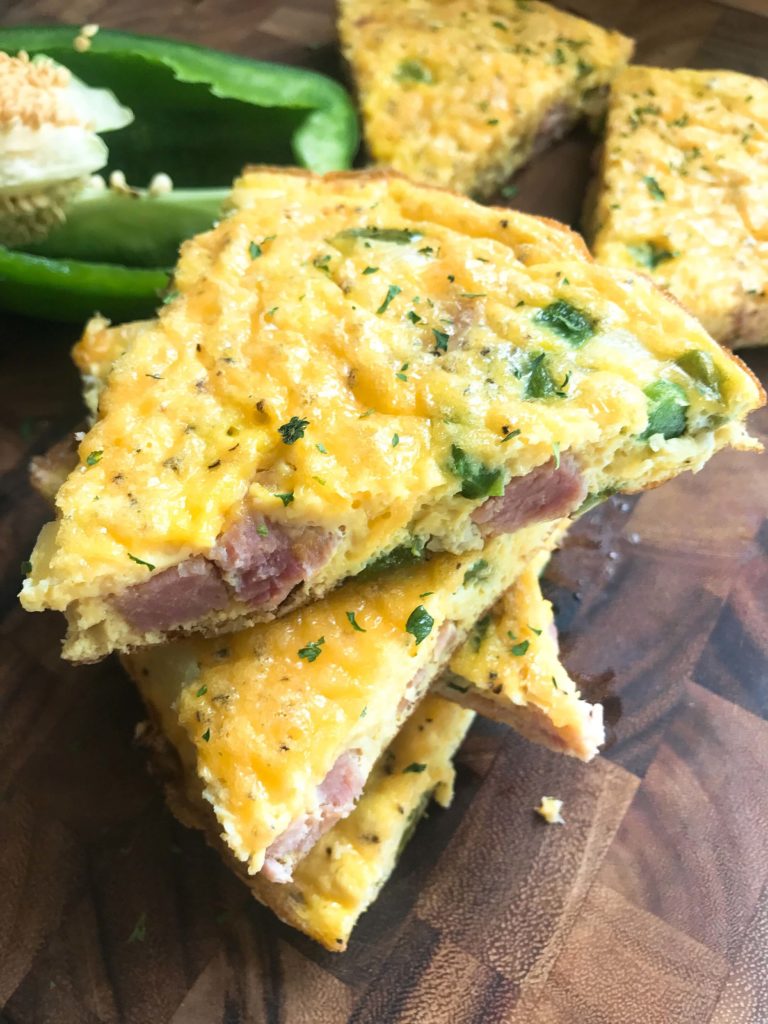 Do something a little different for breakfast or brunch!  This Denver Frittata is made with ham, green bell pepper, onion, and cheddar cheese for a twist on the Denver Omelette classic.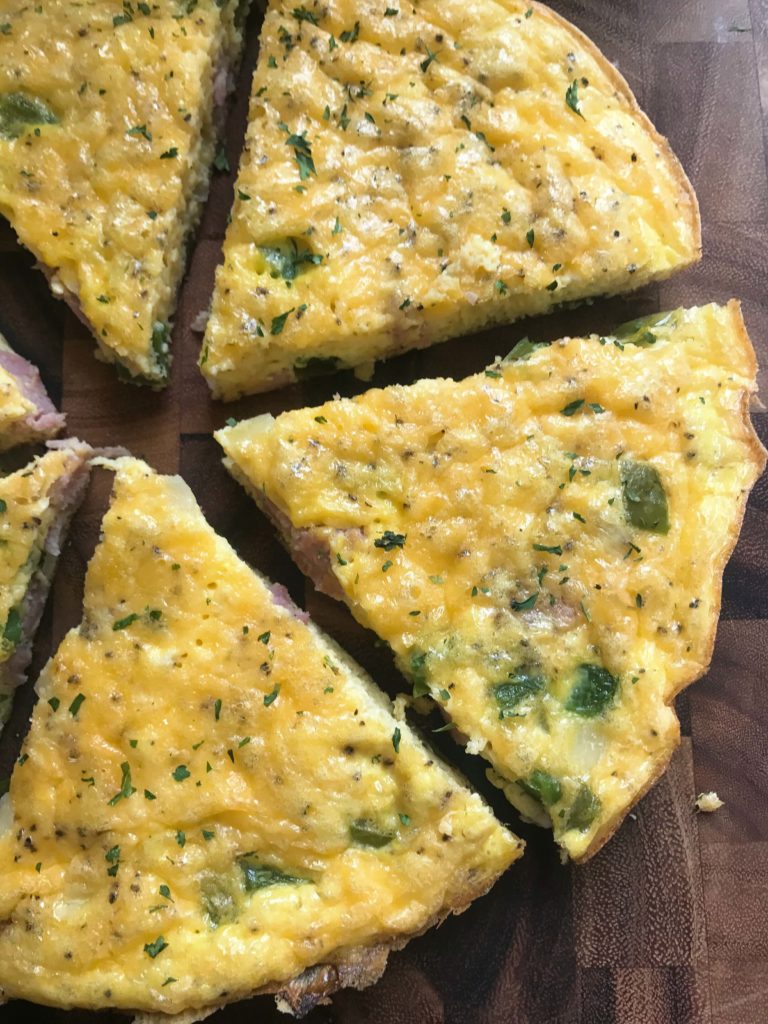 This post contains affiliate links.
It seems like no one really knows how the Denver Omelette came to get its name.  I live in Denver, and it is not like we eat a lot of ham and bell pepper, so that's definitely not it.  It is also sometimes called a Western Omelette, and made with ham, bell pepper, onion, and cheese.  These same ingredients make up this Denver Frittata!
If I am making breakfast, I want to use a recipe that is fast and simple.  You can bet I am not giving up sleep in order to get breakfast out early with a recipe that takes a long time to cook unless it is a holiday.  A frittata is very similar to an omelette, just with the ingredients mixed throughout and it is flat.  If you are serving breakfast and looking for something easy but elevated, frittatas are a perfect way to go!  They are unique without requiring a lot of effort or time.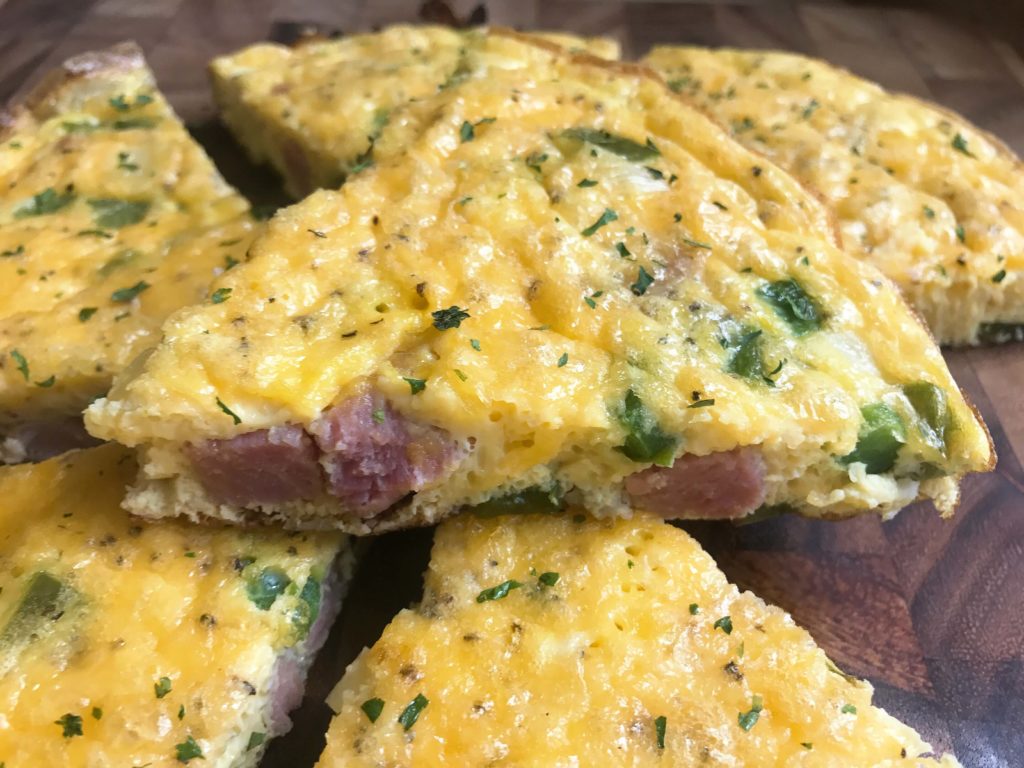 This Denver Frittata is also a perfect recipe for doing something different when you are in a leftover ham rut from the holidays.  Sometimes there are only so many sandwiches and soups you can make before you just want something different!  Use that leftover Easter, Christmas, or holiday ham in this gluten free (gf) frittata.
You can easily make a larger frittata for a larger crowd by doubling the ingredients.  It can still all be cooked in the same skillet as a thicker omelette or in a large dish.  This will take longer to cook but is still just as easy.
Find more of our frittata recipes here!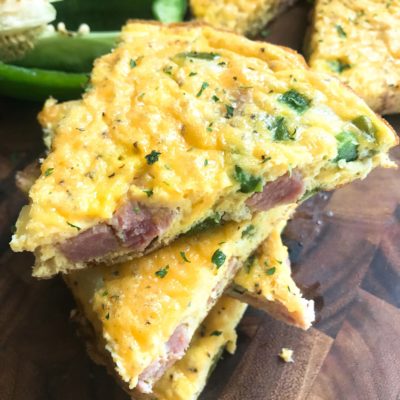 Denver Frittata
Classic Denver Omelette ingredients in a frittata! Perfect way to use up leftover ham.
Print
Pin
Rate
Instructions
Heat the oven to 350F.

Heat an oven-safe large (10 inches) non-stick skillet on the stove over medium heat.

While the skillet is heating, prepare your ingredients. Dice your ham into 1/2 inch pieces. Finely dice your onion and bell pepper.

Add the oil to the hot skillet. Add the onion and bell pepper and cook until just tender, approximately 3-5 minutes.

While the vegetables are sauteeing, in a medium bowl whisk together the eggs, cheddar cheese, salt, and black pepper.

When the vegetables are ready, add the ham and stir to evenly distribute with the vegetables. Add the egg mixture to the skillet. Stir very lightly. Let the egg mixture sit and cook on the stove until the edges are just set, approximately 5 minutes.

Turn the stove off and place the skillet in the oven. Let the frittata cook until it is cooked through and dry to the touch on top, approximately 10-13 minutes.

Use a rubber spatula to loosen the frittata and either slide out or flip onto a plate. Serve immediately.
Notes
The smaller the skillet, the thicker your frittata will be and the longer it will need to cook.  The larger the skillet, the thinner the frittata and the faster it cooks.  I use a 10 inch skillet for this recipe.

A non-stick skillet is best, but you can also use a cast iron skillet.  The egg tends to stick more in cast iron, making it difficult to flip out if you choose to do so.

By