This post has been compensated by Collective Bias, Inc. and its advertiser. All opinions are mine alone. This post was sponsored by Starbucks as part of an Influencer Activation. I received compensation and complimentary products to facilitate my review. #StarbucksCaffeLatte #MyStarbucksatHome #CollectiveBias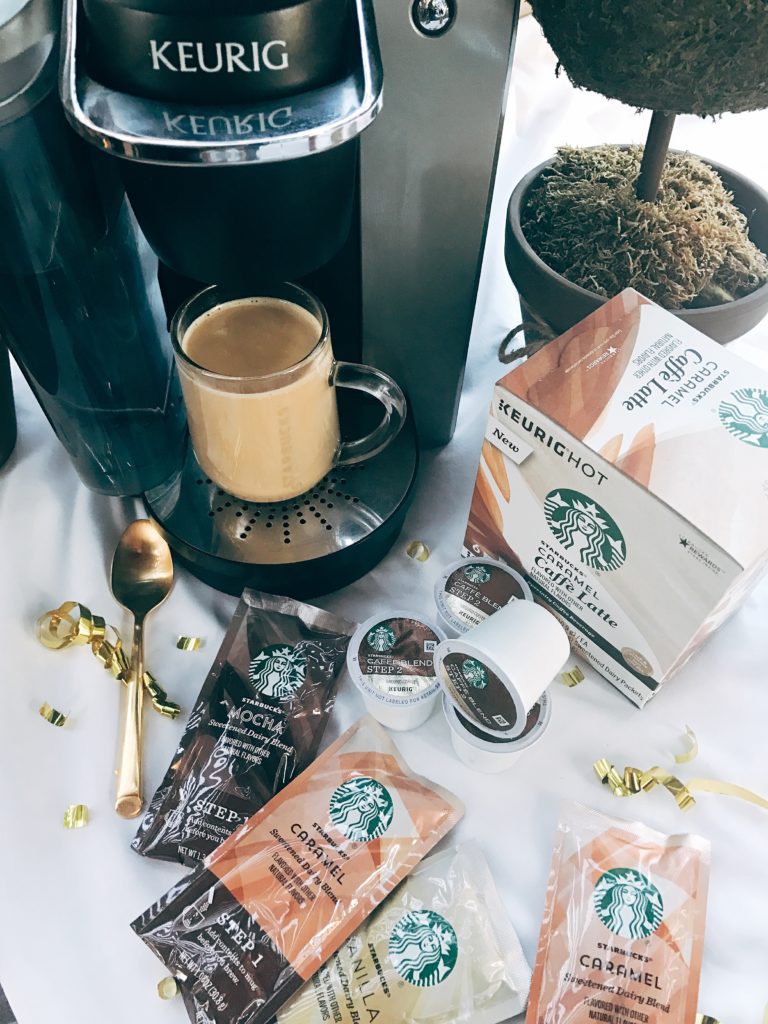 Hosting a bridal shower is an honor, but a lot of work!  There is a lot to worry about, plan, and make.  By using these tips, you can make the shower easier to host without sacrificing style or quality.  Below are five of my favorite tips for How to Easily Host a Bridal Shower, or any other event.
Borrow Items that fit the Theme from Friends and Family
The theme for this event was brunch, something the bride loves!  Work on finding items that fits the theme around your house and at the homes of others.  We took a vintage spin on this brunch so we incorporated some family antique silver platters for the food.  I hung keys from ribbons over the coffee station that I had on hand from another bridal shower, and some flower decorations from a friend.
Get creative!  Walk around the house and think of each item individually and how it could fit into your theme.  Where would it go?  What would you do with it?  Sometimes it is easy to overlook an item because of the way it is staged or positioned in the house, which changes your perception of it.  So make sure that you are looking at the item and not the house itself.
Another great idea here is holiday decorations.  Think holiday lights, statues, and other decor.  Odds are you have some holiday decorations that are rather neutral in theme that can be used for the party!
2. Capitalize on Free Printables
Free printables are a lifesaver for parties!  The first printable you probably think of for a bridal shower is games.  If your bride wants games, you can easily find some that are quick to print off.  The key to printables is that you want to make it easy on yourself while saving some money.
I also love to find signs or banners that are printable as well!  Much cheaper than buying at the store, and you can enlist your co-hosts or friends to help with cutting them out.  If you need signs stationed around the event, such as for presents or to explain anything, print off your signs and place them in a picture frame!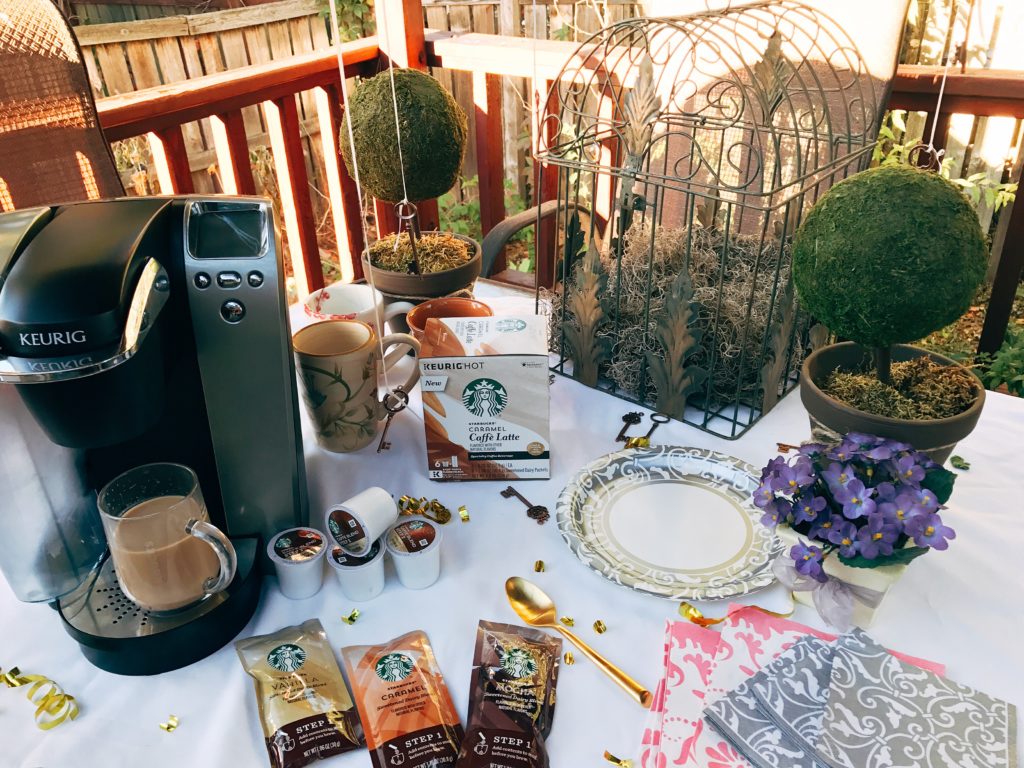 3. Avoid Renting Things
I always want to go overboard and make things perfectly fit my vision but sometimes that leads to costly ideas.  Avoid renting any items by being creative with what you have!  Sheets can easily double for tablecloths (as I did here – that is a bed sheet!).  You can throw some pillows on the floor for padded seating.  If you are outside, think about rocks, stumps, ledges, walls, etc. that are natural seating!
Need some extra silverware or plates?  If you want to avoid paper, you can borrow sets from friends or family that are cohesive with yours.  The mixture gives it an eclectic feel!
4. Use Your Surroundings
Decorations are one of the biggest costs in hosting a party, whether it is a shower or wedding itself.  Capitalize on the location that you are hosting and use what is around you!  For this event, we did brunch on the patio, so I capitalized on the flowers, plants, and trees that were outside.
Think about the design of the building, architecture, and how you can enhance it by adding a few items to the picture.  Odds are you have an amazing location that does not need a lot of work, which means you are saving time and money!
5. Make DIY stations
Having food and drinks for a party can be stressful and require a lot of work!  One of my favorite tricks is to make at least one station where guests are in charge of their own food or drink.  This cuts down on the amount of time that you have to prep and the overall workload going into the party.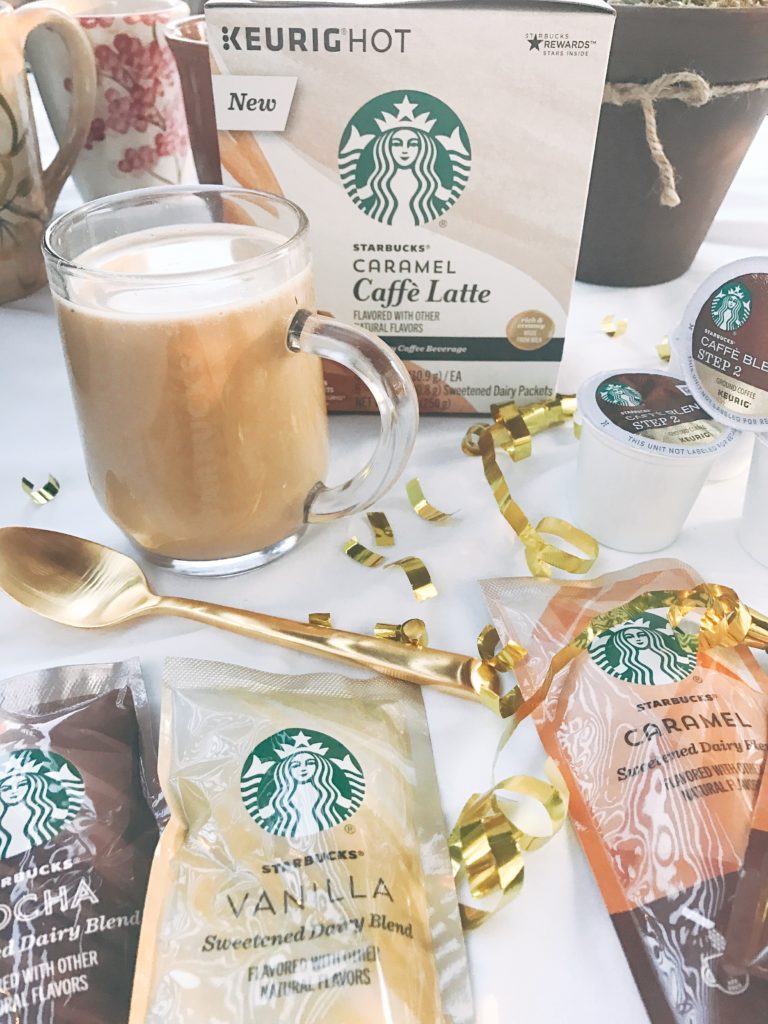 A perfect example of this is having a Make Your Own Coffee Station!  I love to use these new Starbucks® Caffè Latte K-Cup® pods for parties like this.  They are made from milk with no artificial flavors and come in three great flavors! (Vanilla, Mocha, and Caramel).  They also have two seasonal flavors: Pumpkin Spice and Peppermint Mocha which are available for a limited time.  And you can find them at your local grocery store!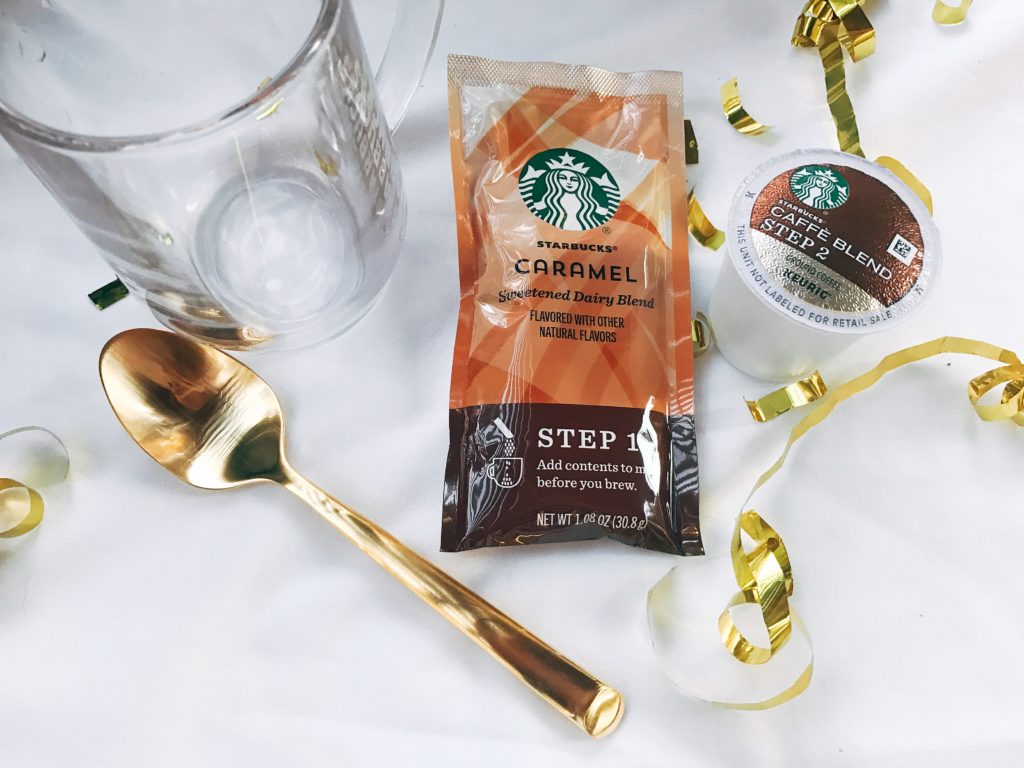 These Starbucks® Caffè Latte K-Cup® pods are perfect because they require minimal setup and allow your guests to make the perfect personalized drink.  To make the drinks, it is just a two-step process.  Step 1 is to pour the flavor packet into the mug.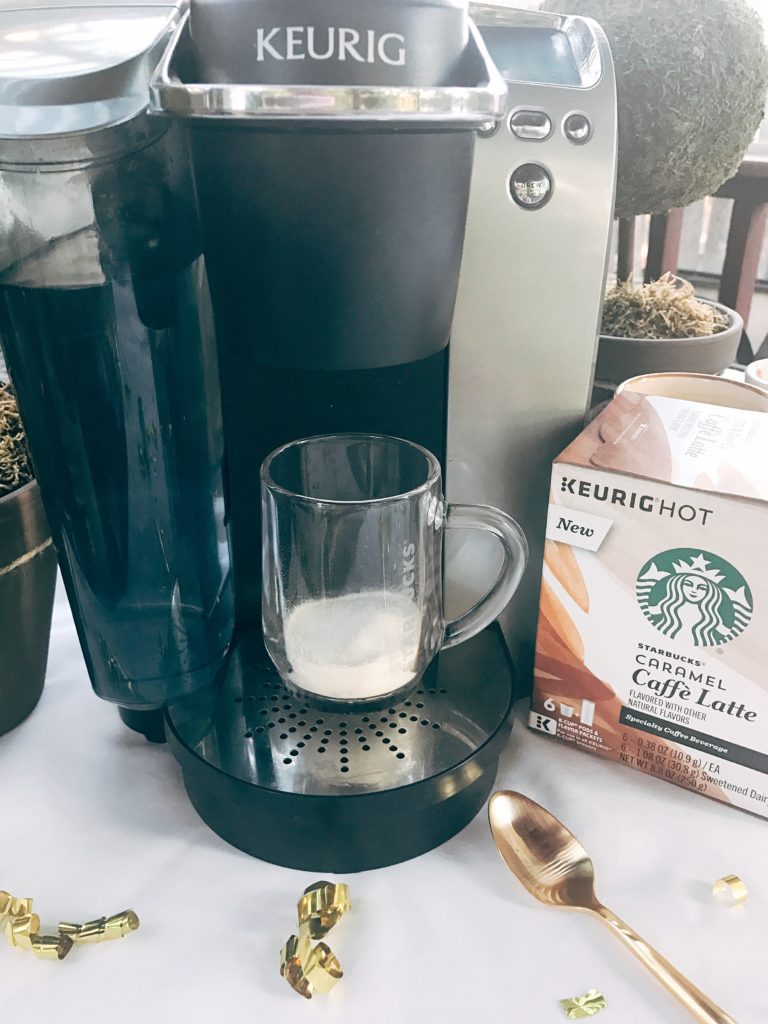 Step 2 is to brew the Starbucks® Caffè Latte K-Cup® pod in the Keurig® brewer.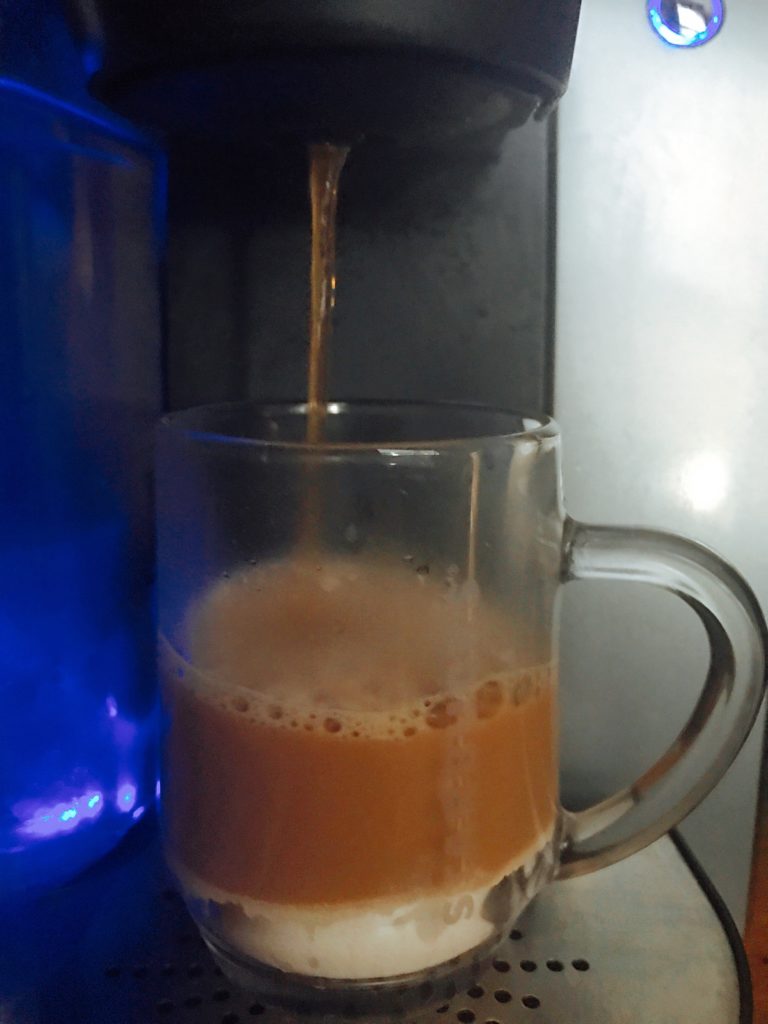 Stir and enjoy!  Easy!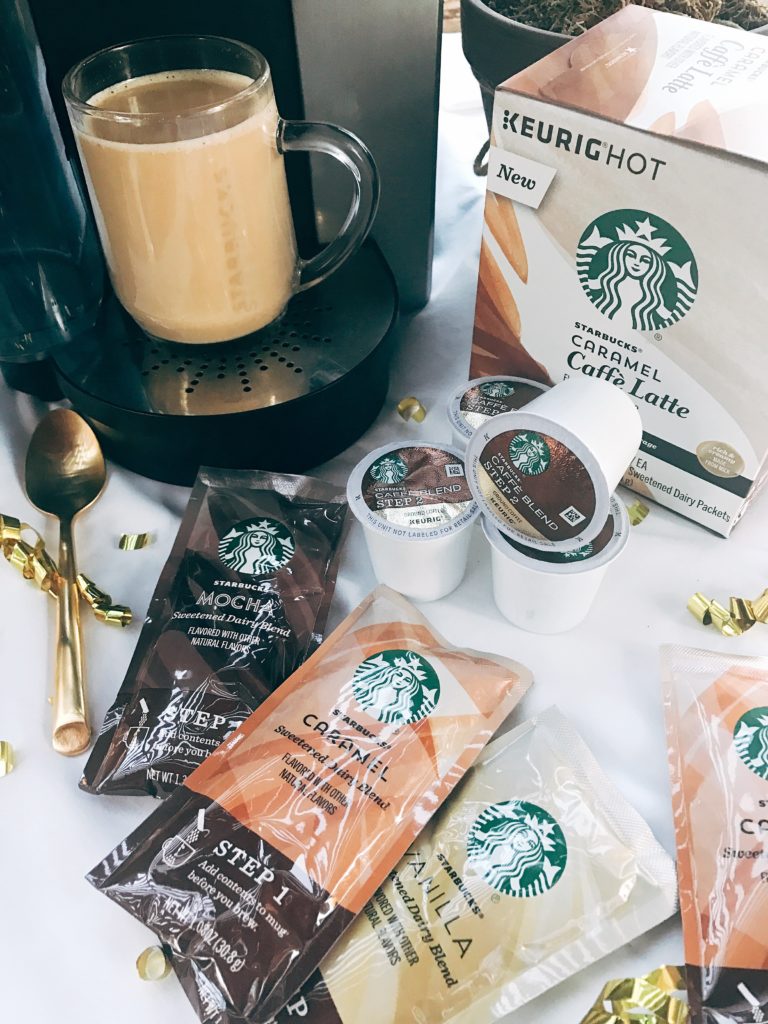 ---
Those are my tips for How to Easily Host a Bridal Shower!  Do you have any other tips or ideas not listed here?

2016 Starbucks® Corporation. All rights reserved. Keurig, Keurig HOT, K-Cup and the K logo are trademarks of Keurig Green Mountain, Inc., used with permission.

By