Eggnog Coffee Cake is an easy Christmas breakfast or brunch recipe. Eggnog cake is topped with a cinnamon nutmeg walnut streusel.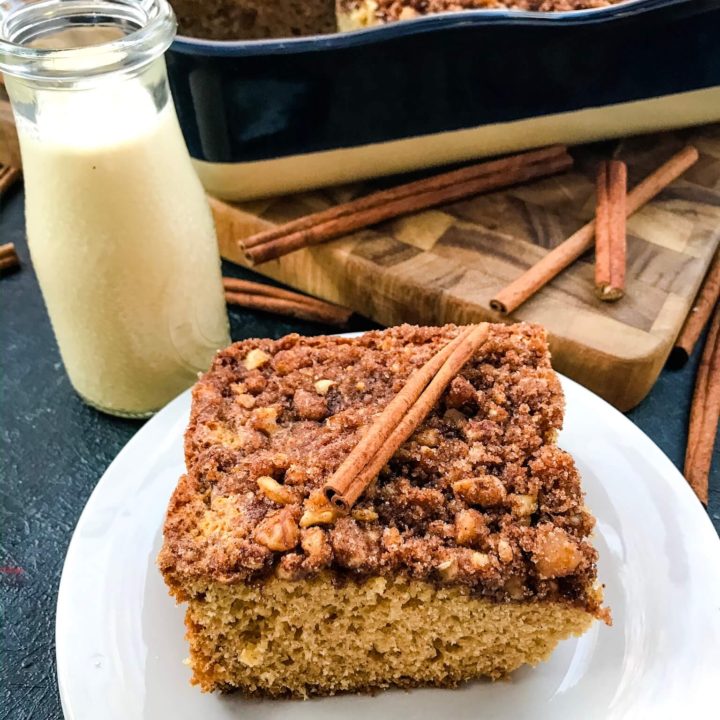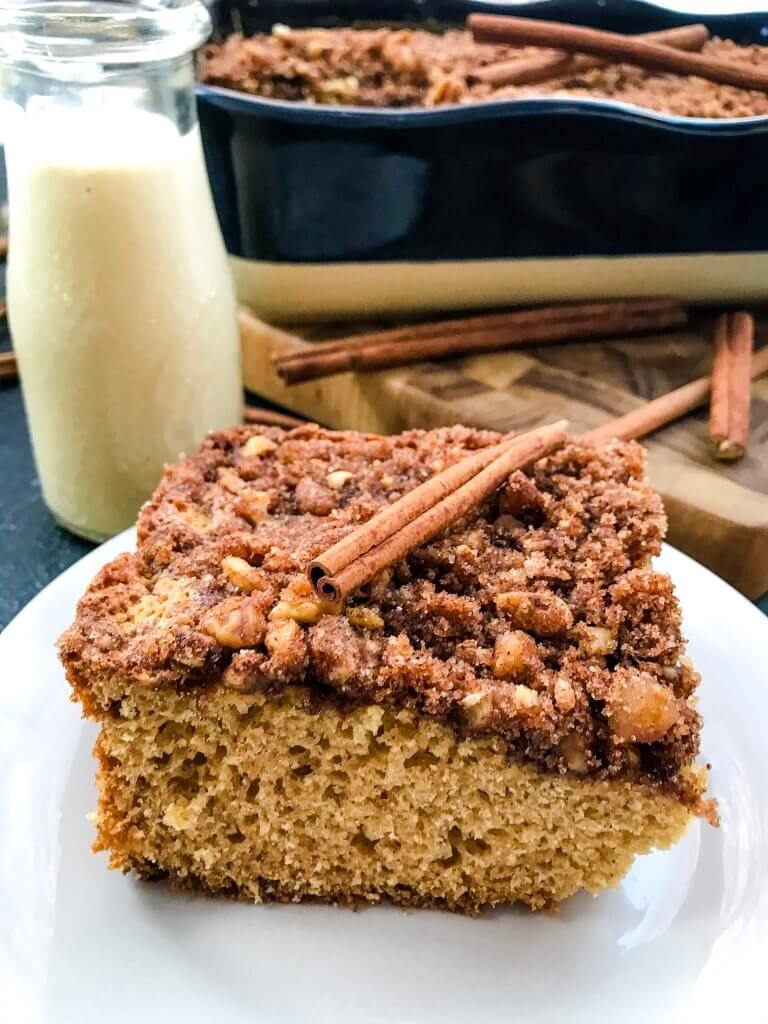 This Eggnog Coffee Cake is great for breakfast, brunch, or even dessert! An eggnog flavored cake is topped with an eggnog spiced cinnamon streusel for a crumbly, delicious topping.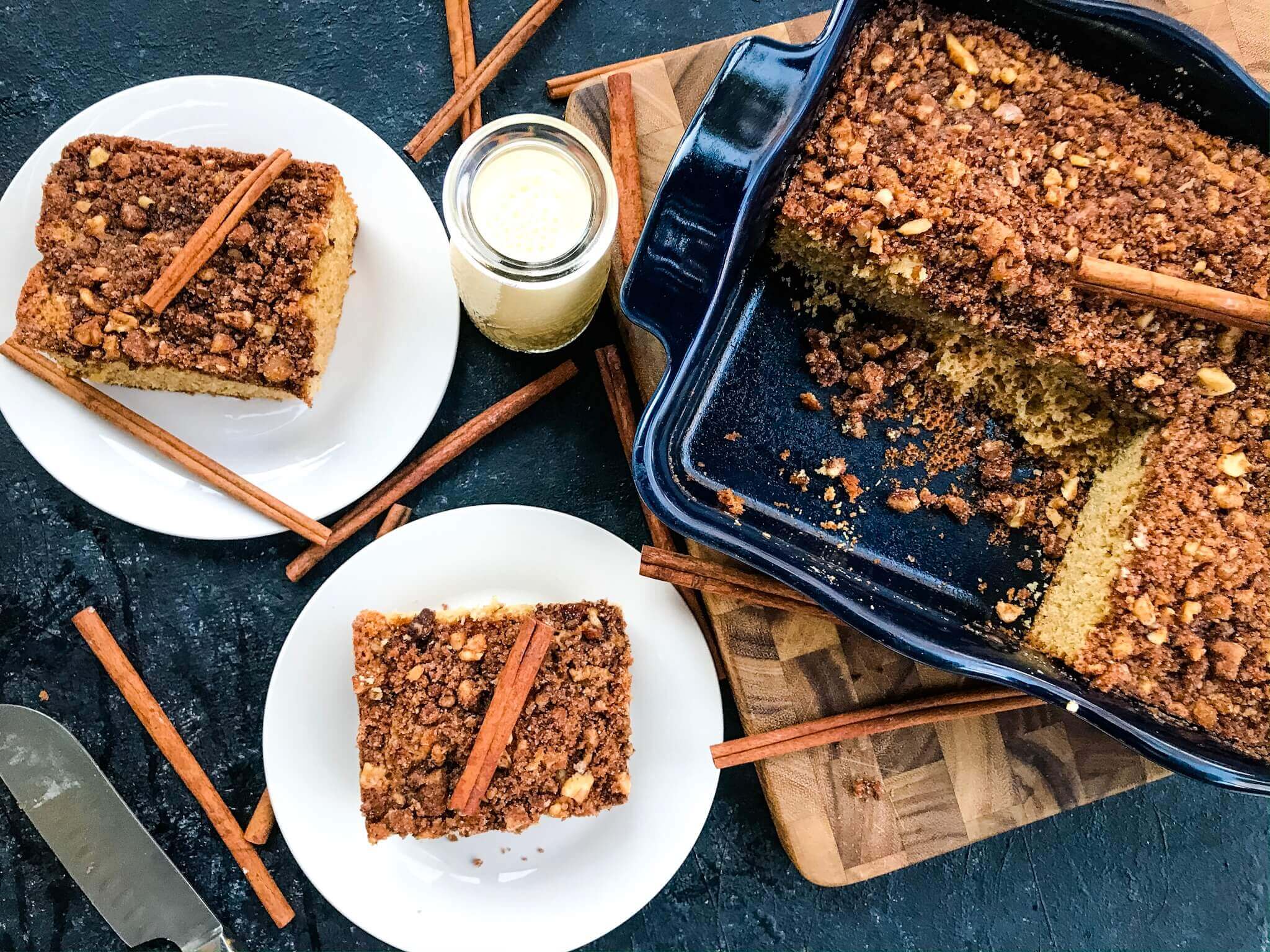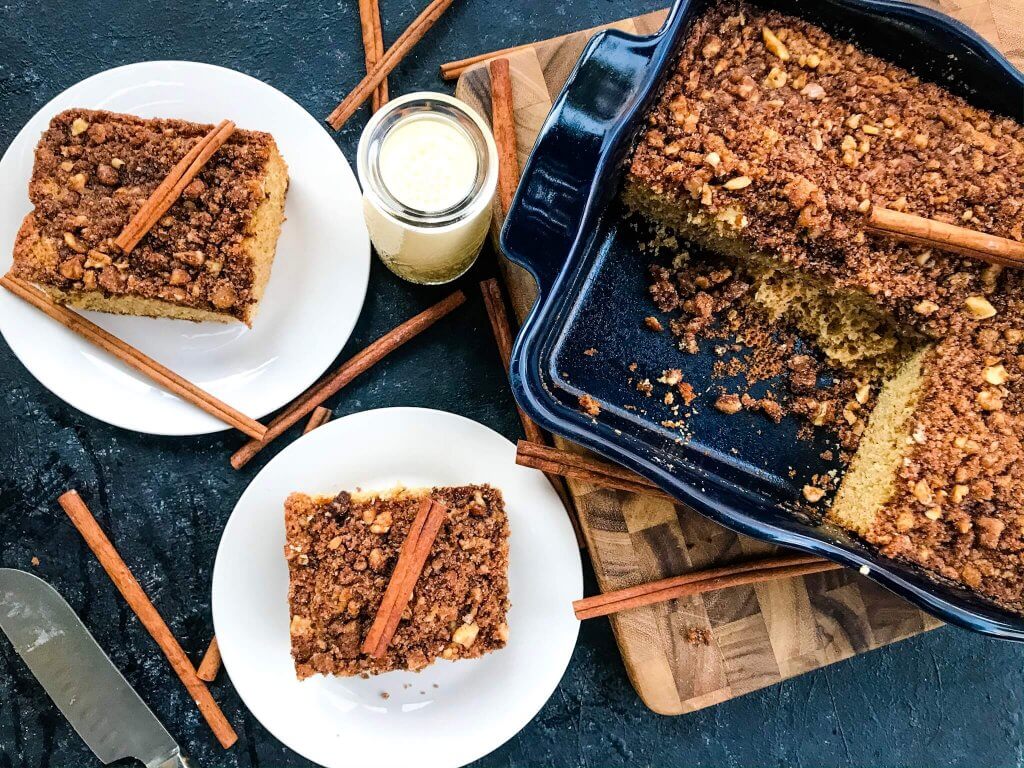 This post contains affiliate links.
I have never been a huge breakfast person as dinner has always been my favorite meal. Growing up, one breakfast that I always loved was coffee cake. Something about the cinnamon flavor, crunchy and gooey streusel, and not too sweet cake made it special. So I was surprised when growing up and living on my own I was finding people that had never heard of coffee cake. But Eggnog Coffee Cake is not just a breakfast food. It is also great as a dessert or general snack.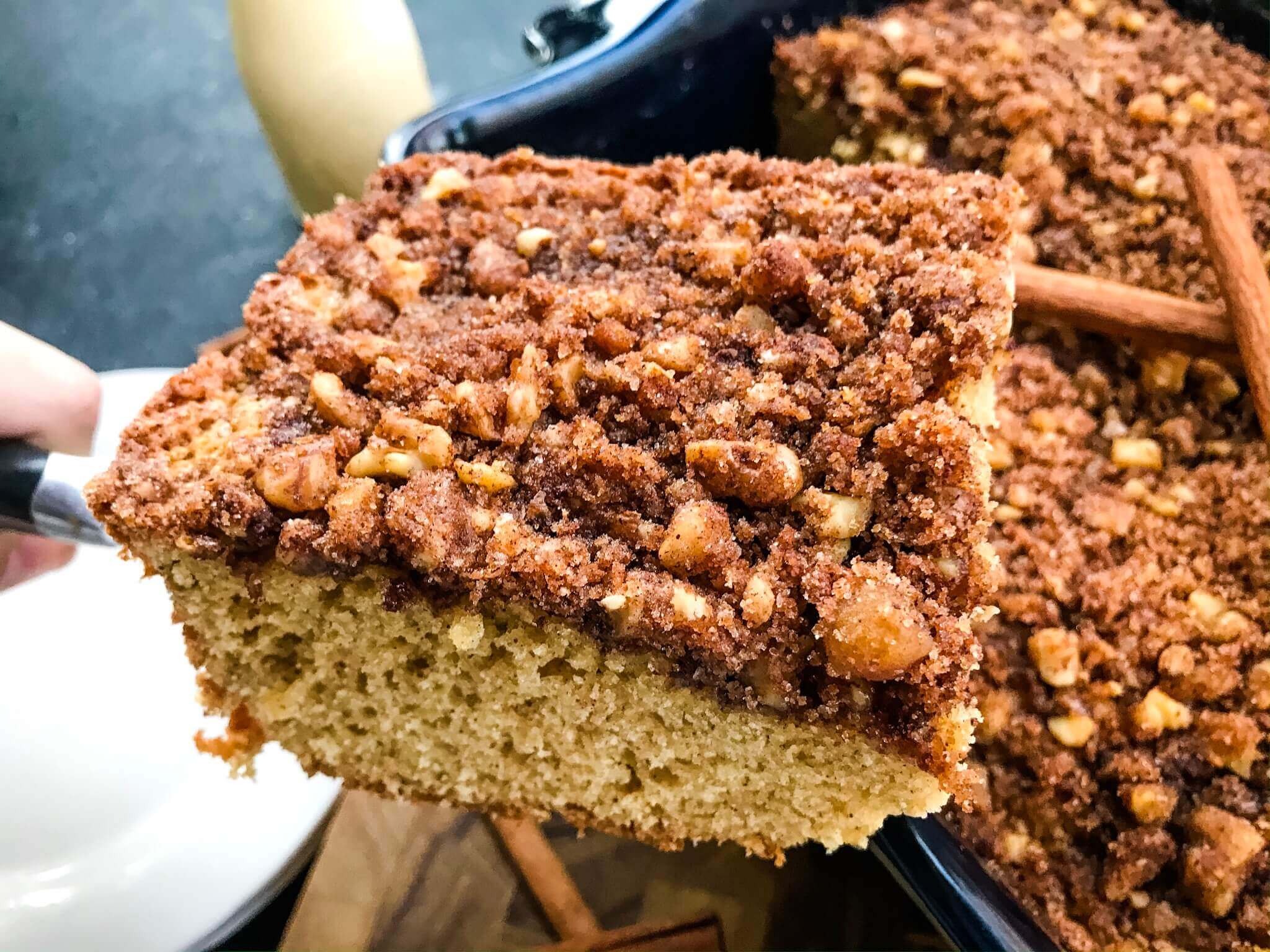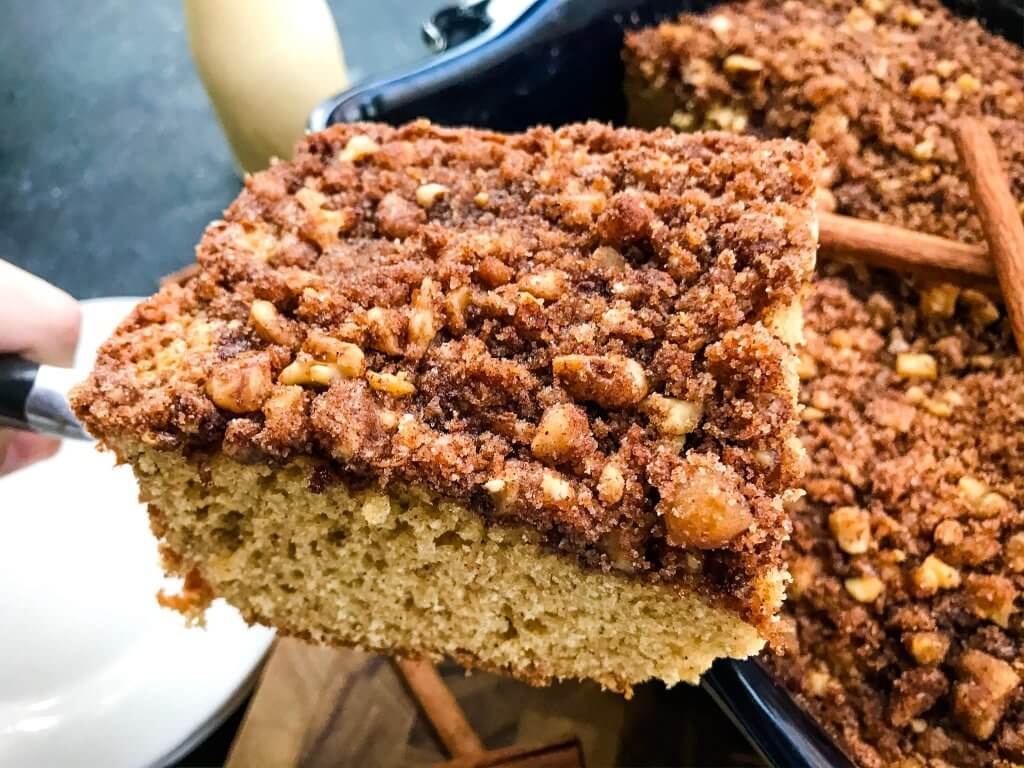 Trying to find it as a boxed mix like when I was a kid has proven almost impossible, so getting my hands on a homemade version that holds up to my memories was exciting. And of course, because it is me, I am now on a quest to make different flavor variations like this Eggnog Coffee Cake.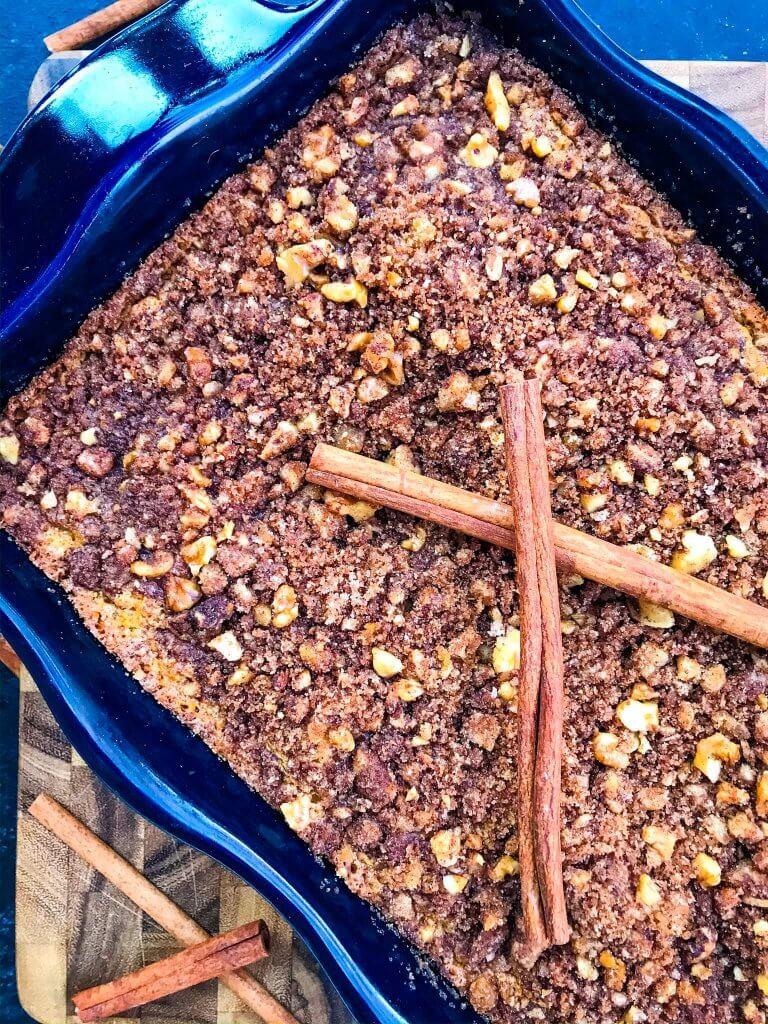 At first, when you get the batter in the pan, it looks very shallow. Like it is not going to be a big, thick cake. But it rises a LOT! If you want to have a layer of streusel running through the middle, like I loved from my childhood, double up the streusel recipe. Then pour half the batter into the dish (which will feel like practically nothing – just get the bottom covered) and top with a layer of streusel before adding the rest of the batter on top. Then another streusel layer. At first I thought using walnuts was a little strange and they would be too crunchy, but they are not! Chop them (no need to make the chop super fine) and they almost soften and disappear into the streusel on the cake. They provide a great texture without too much crunch as the nuts are not obvious.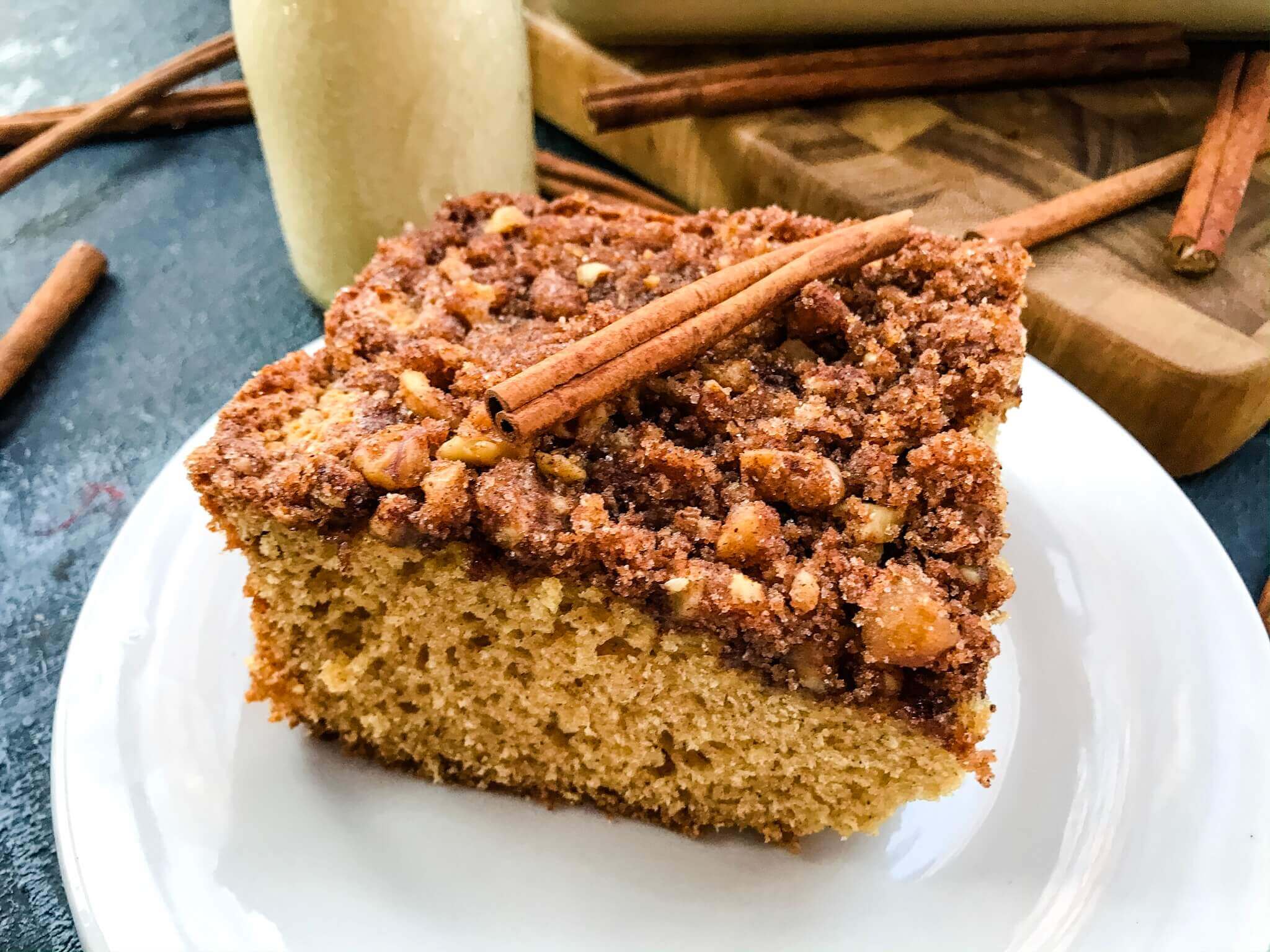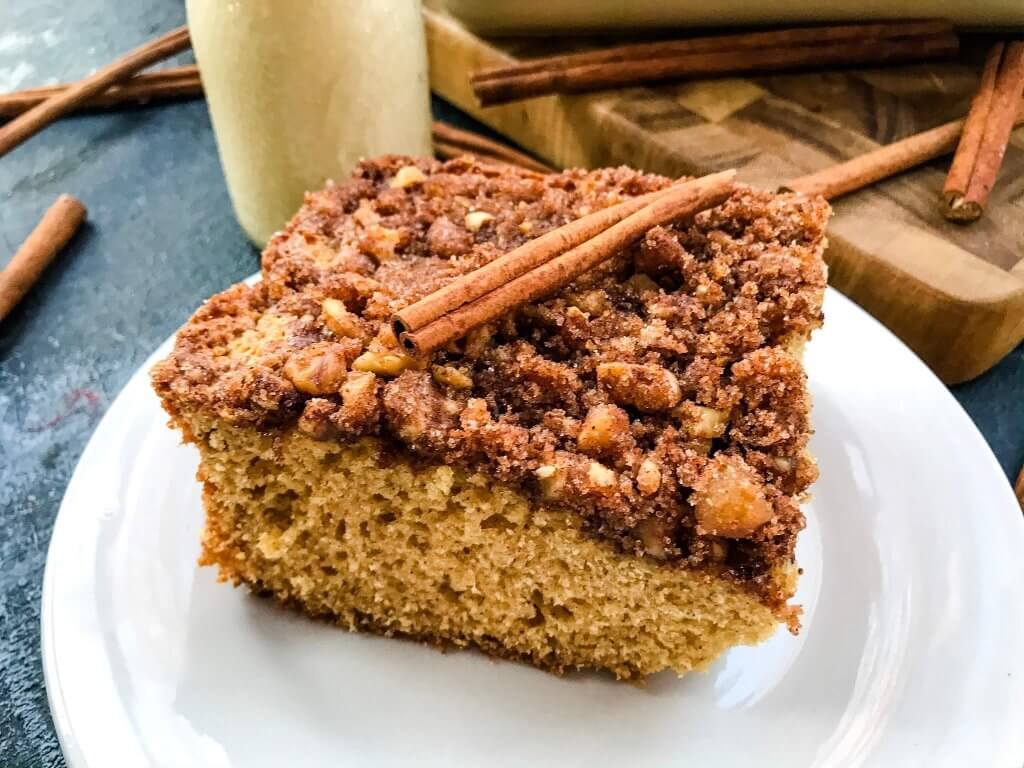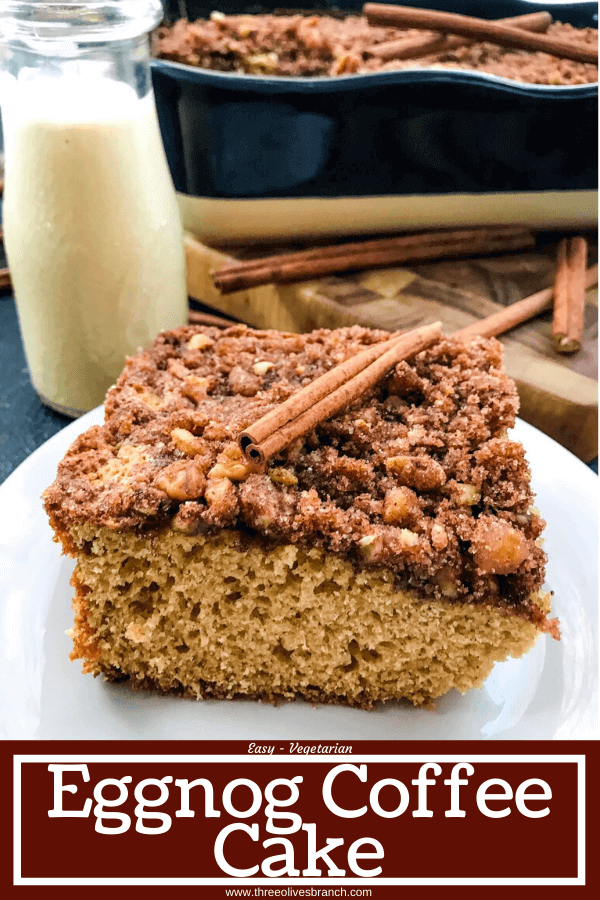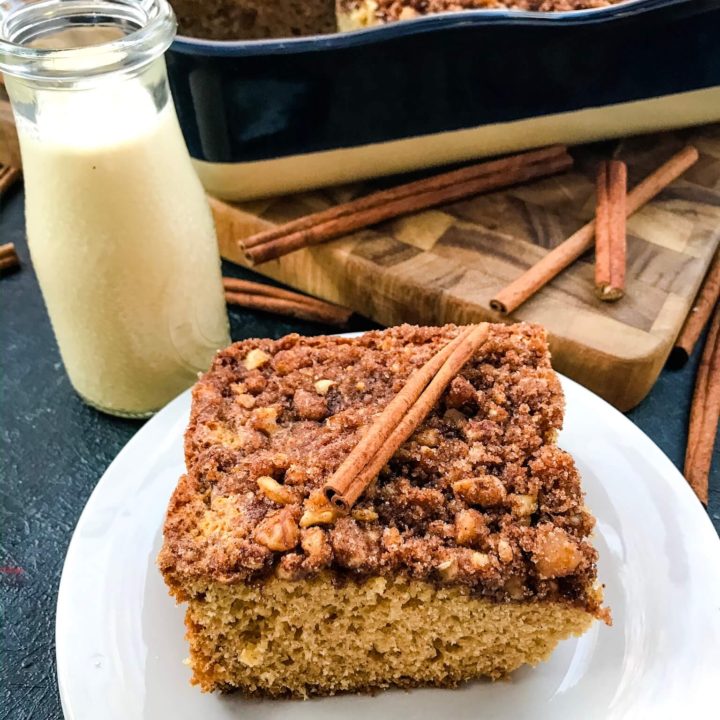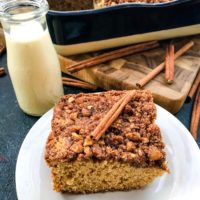 Eggnog Coffee Cake
Eggnog Coffee Cake is an easy Christmas breakfast or brunch recipe. Eggnog cake is topped with a cinnamon nutmeg walnut streusel.
Print
Pin
Rate
Instructions
Preheat oven to 350F with the oven rack in the middle position.

Make the topping by mixing the topping ingredients together in a medium bowl until it resembles wet sand. Set aside.

Generously spray a 9 by 13 inch baking dish with nonstick spray.

In a large bowl, mix together the flour, baking powder, baking soda, cinnamon, nutmeg, and salt. Stir to combine.

In a medium bowl, whisk together the eggnog, brown sugar, granulated sugar, eggs, and melted butter until combined.

Fold the eggnog mixture into the flour mixture and stir until the batter is combined.

Spread the batter into the prepared baking dish. Sprinkle the streusel mixture across the top of the batter.

Bake until the top is golden brown and cooked through (a toothpick inserted in the center should come out with just a few crumbs), approximately 40-45 minutes. Let rest 15 minutes before cutting and serving.
Nutrition
Calories:

723

kcal

|

Carbohydrates:

114

g

|

Protein:

13

g

|

Fat:

26

g

|

Saturated Fat:

10

g

|

Cholesterol:

142

mg

|

Sodium:

285

mg

|

Potassium:

436

mg

|

Fiber:

3

g

|

Sugar:

74

g

|

Vitamin A:

579

IU

|

Vitamin C:

1

mg

|

Calcium:

216

mg

|

Iron:

4

mg

By