It is that time of year again…American football is about to start!  And with football comes fantasy drafting.  Get your league off to a great start with a Fantasy Football Draft Party!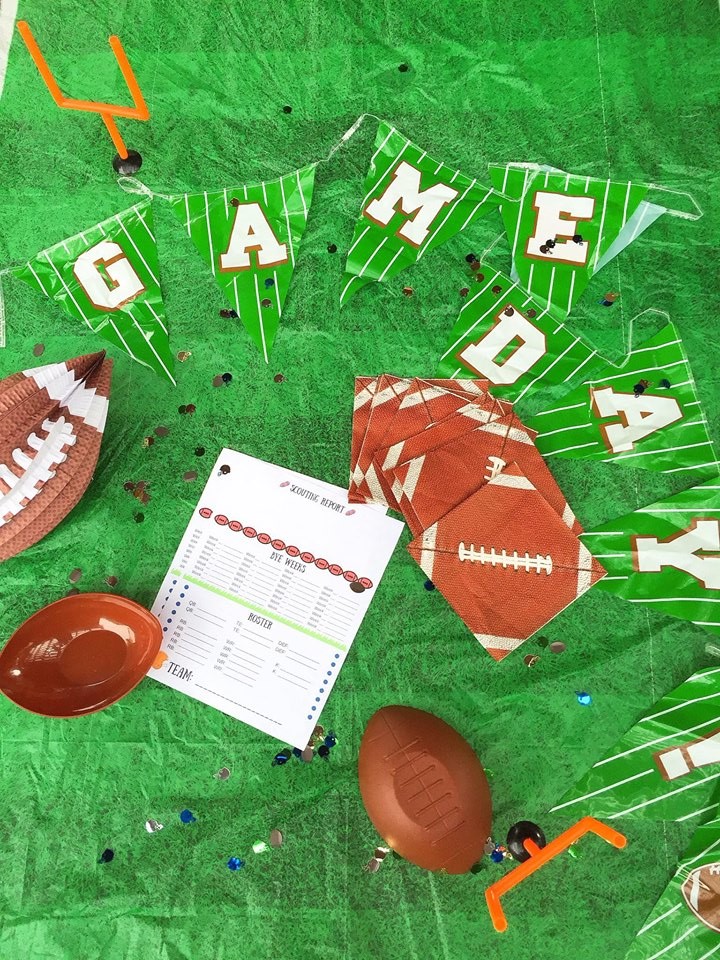 Every year, our league gets together and has a kickoff party.  You can be sure that there is plenty of trash talking and bragging as everyone works their way through the rounds.  It is best to have as many people as possible all in the same room for the draft.  It is just not as exciting when done over the chat room box!
You want your draft party to be festive and energizing!  I love to set up a table or counter with decor and food.  This year, we went for a field theme!  I grabbed some great options from the local dollar store and threw in a few things that I already had laying around.
Decorations
The decorations included:
Table cloth that was designed for football (plain green or your favorite team color would also work great here!)
Football confetti
Pennant banner
Football toys (soft football and a finger football game!)
Football bowls
Paper accordion football
*Tip* Anything football related whether in theme or colors are great here!  Some of these things like the toys you can find in the kid toy section more so than the party section, so think creatively at the store!
As this is a Fantasy Football Draft Party, you want to be sure to include all the essentials!  Make sure you have plenty of pens, a drafting worksheet, and name tents.  Keep reading to learn more about these items and what they are for!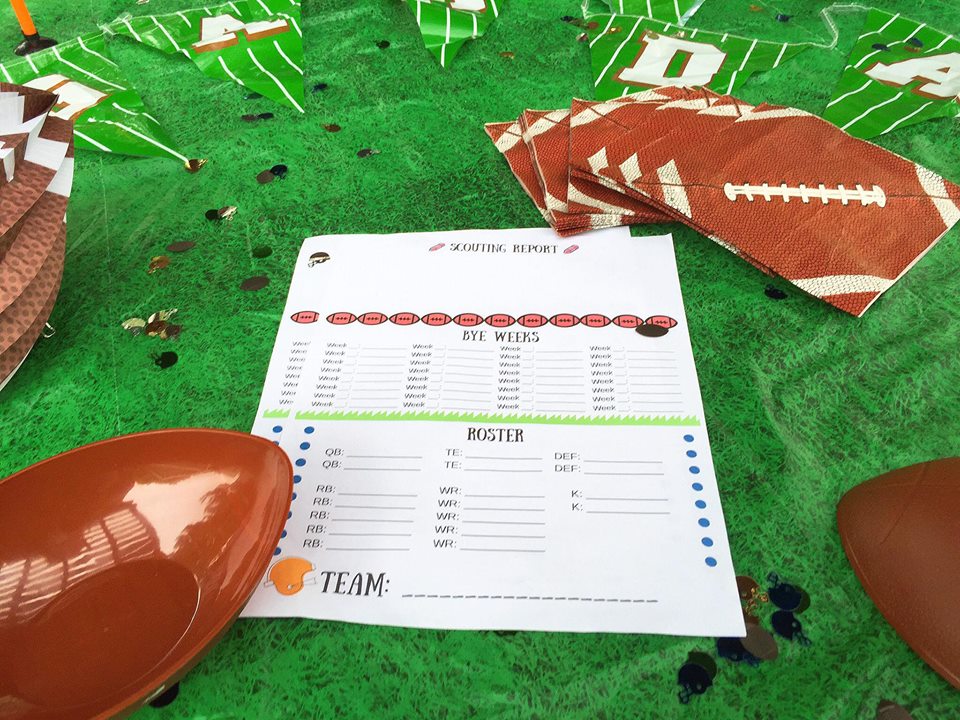 Printables
One of the most important parts of drafting is making sure that you have correct notes and a system to keep track of what you are doing.  You can use this FREE PRINTABLE of a drafting worksheet (link at bottom)!  Now, not all leagues are the same and there are a lot of different rules, but these resources should fit most of your needs.
The Scouting Report is designed to write down notes on what you would like to do and what others are doing.  You can fold town the top part if you wish so that no one else can see your notes.
The Bye Week section is where you write down the week number and team that has a bye.  VERY important so that you do not end up with both of your quarterbacks out on the same week (this may or may not have happened to me before).
And most importantly, the Roster.  Now all leagues are different with how many people you pick, the positions, if you have a flex, etc. but this sheet should give you at least most of the options that you need when selecting.  It is also a good idea to write down the bye week number next to the name as a reminder!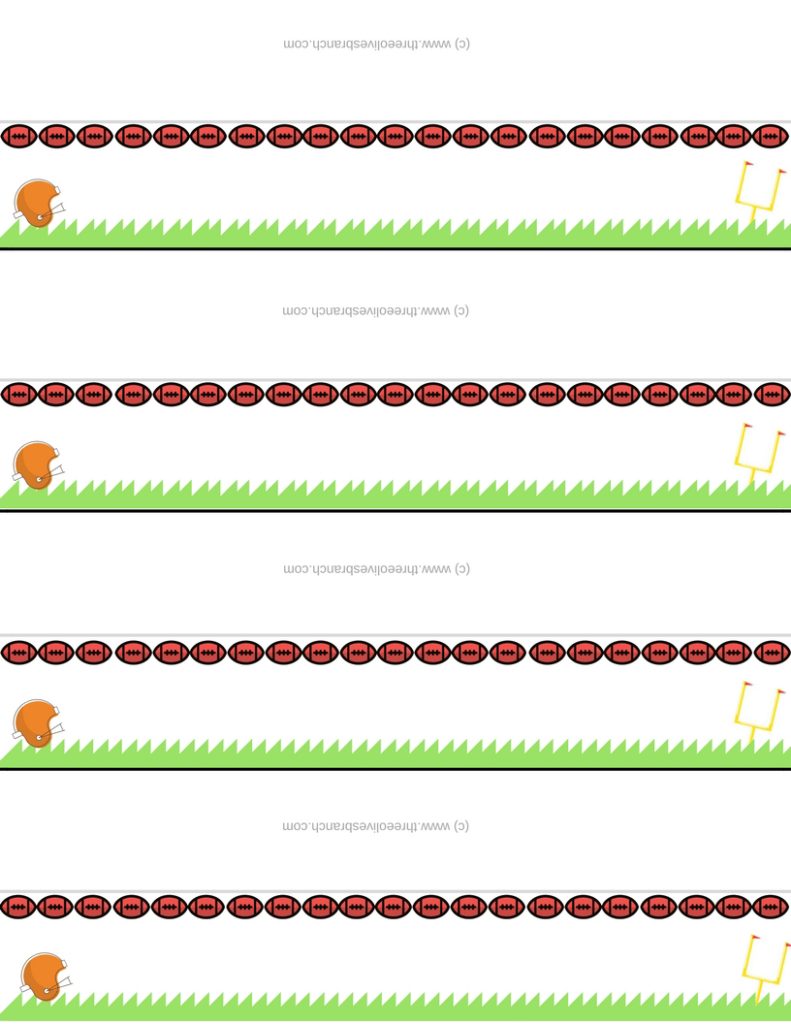 When you are all gathered around that table with your computers or mobile devices, you can use the name cards to show some team spirit!  Grab a name tent from our FREE PRINTABLE and write your team name, then prop it up in front of your station to show off your pride like they do in the "real" drafts.  (Link for this printable is also at the bottom).
Food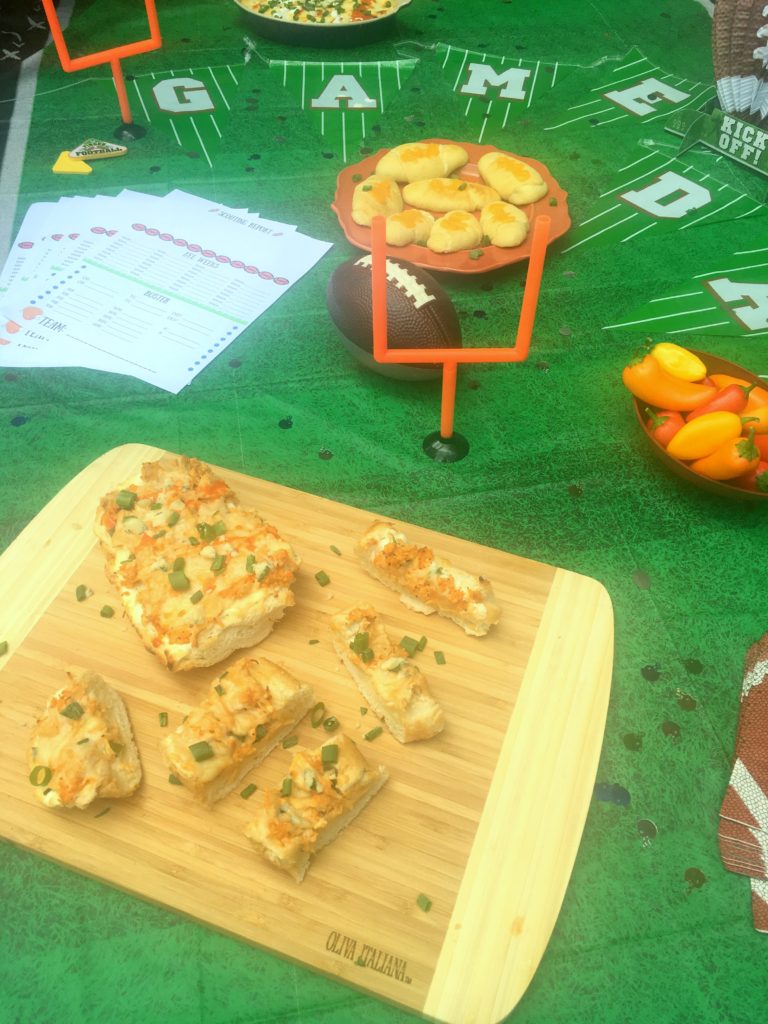 Any football gathering is not complete without a wide selection of food.  Click on this link for a list of Game Day foods!
Do you and your friends have a Fantasy Football Draft Party?  What are your favorite traditions?
---
Want to get a FREE PRINTABLE of the Fantasy Football Draft Worksheet?  
Click here!
And to get the FREE PRINTABLE of the team name cards,  

Click here!

Make sure that you subscribe to this site to stay in the know about new content and more printables, tutorials, and recipes like these!  We only send out a few emails each month, so we will not spam you and you can unsubscribe at any time.  You can find the subscription sign up at the top of the page and in the right column!

 Make sure you check out our Game Day recipe collection as well!

By