Frozen Strawberry Banana Dog Treats are an easy homemade dog treat. These DIY dog treats are full of strawberries, banana, yogurt, and honey. A great cold fruit summer treat!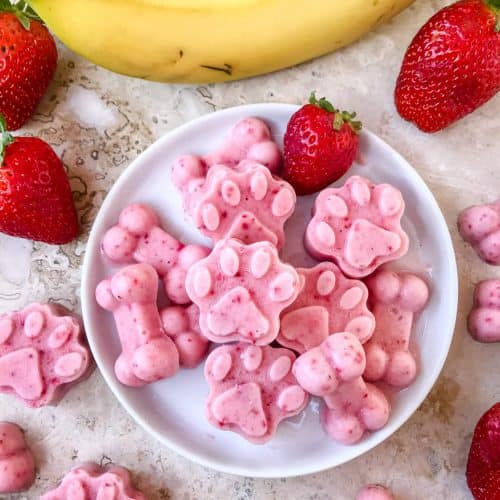 These Frozen Strawberry Banana Dog Treats are easy homemade dog treats perfect for the summer!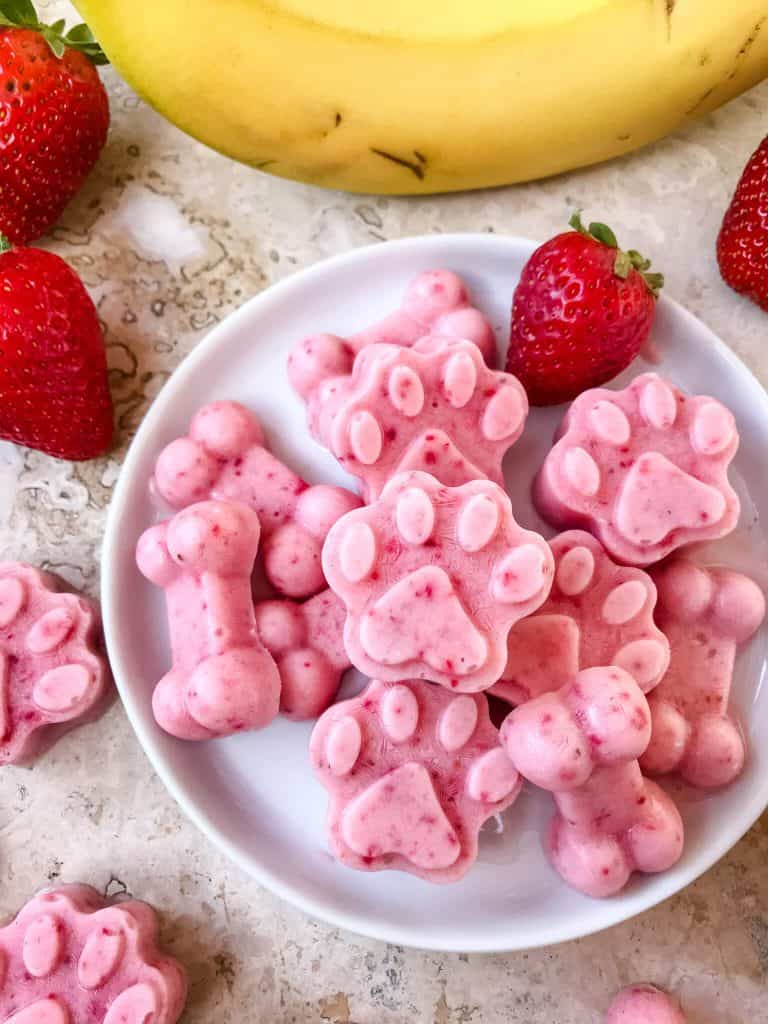 This post contains affiliate links.
Frozen Dog Treats
I love making simple and easy DIY homemade dog treats for my puppy! And these frozen dog treats for summer are a great warm weather snack!
And with simple and fresh ingredients, humans can eat these as well! My nephew loves to find them in the freezer every time he comes over.
While these treats can be considered healthy, please note I am not a vet or any other trained professional. Please contact your vet for more information about what is safe and appropriate for your pet. Find more of our dog treat recipes here!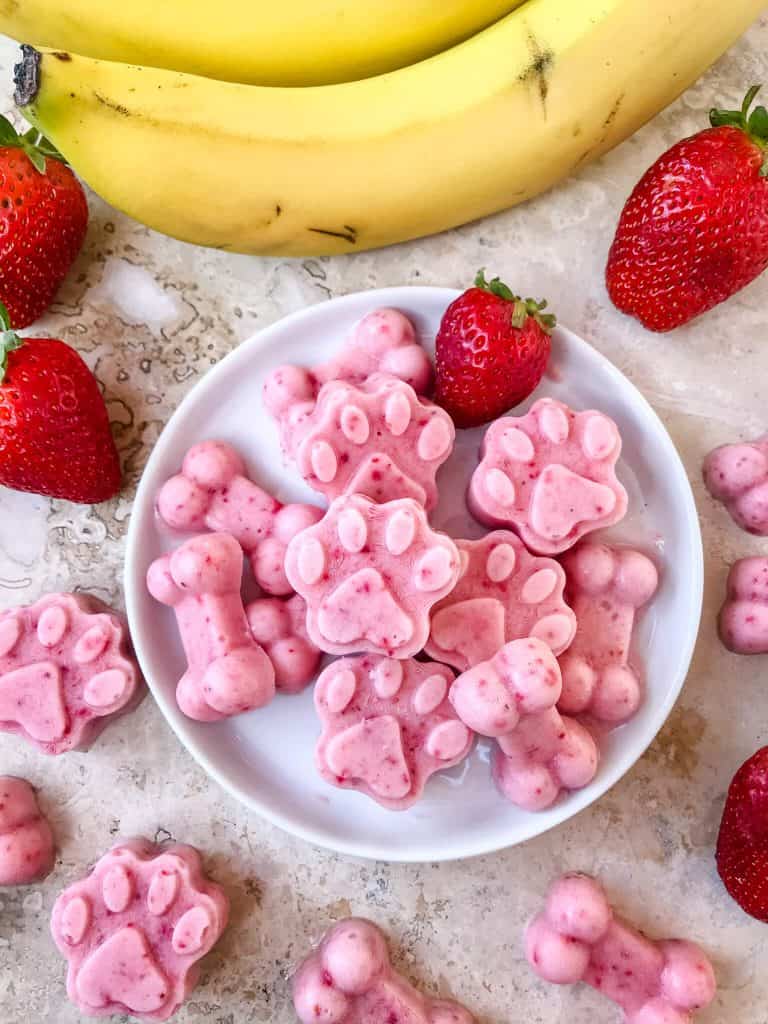 Ingredients
Here is what you need to make these treats:
Strawberries
Banana
Plain Greek Yogurt
Honey
Water
The strawberries and banana can be either fresh or already frozen.
Bone and Paw Silicone Mold
This is the dog silicone mold that I used for these Frozen Strawberry Dog Treats. It comes with one paw shaped and one bone shaped mold.
I can fill both molds twice with this recipe for a large number of treats!
You could also use any ice cube or silicone mold that you have. And since the banana dog treats are made of quality ingredients, you can feel good giving them to your puppy.
These Frozen Strawberry Banana Dog Treats melt decently fast, but the dogs tend to eat them even faster! I love making DIY dog treats because they are SO easy and the dogs love them so much! And using healthier ingredients that are low on calories means I don't worry as much about my puppy being overfed 🙂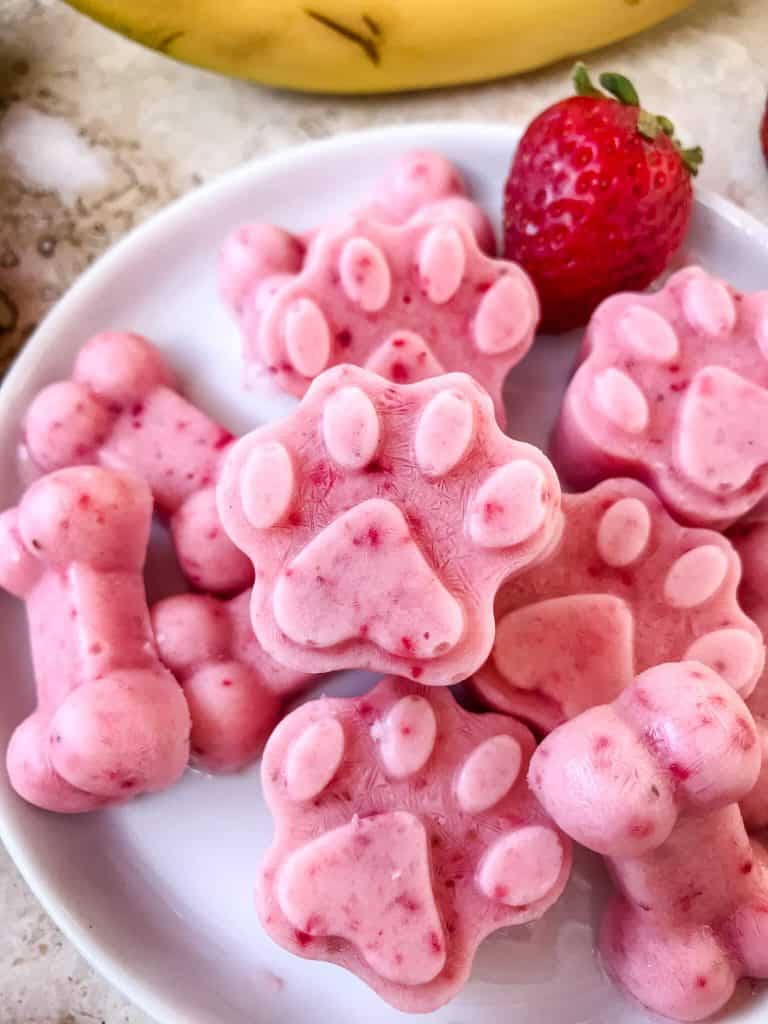 How to Make Homemade Frozen Dog Treats
It is so simple and fast to make these!
Put your molds on a baking sheet or something hard that is easy to move.
Blend all of the ingredients together, and fill each mold section. You can also use ice cube trays if desired!
Freeze them until hard and store the treats in a sealable bag in the freezer. That is it!
How Long to Frozen Dog Treats Last in the Freezer?
You can keep these treats in the freezer for two months, if they last that long!
My parents have two Golden Retrievers who are obsessed with ice and frozen green beans. So I have been testing out my frozen treats with them and this one has gotten one of the best reactions!
They seemed to really enjoy the fresh flavors in frozen form and acted more excited than normal about eating them! I hope your dogs love them just as much!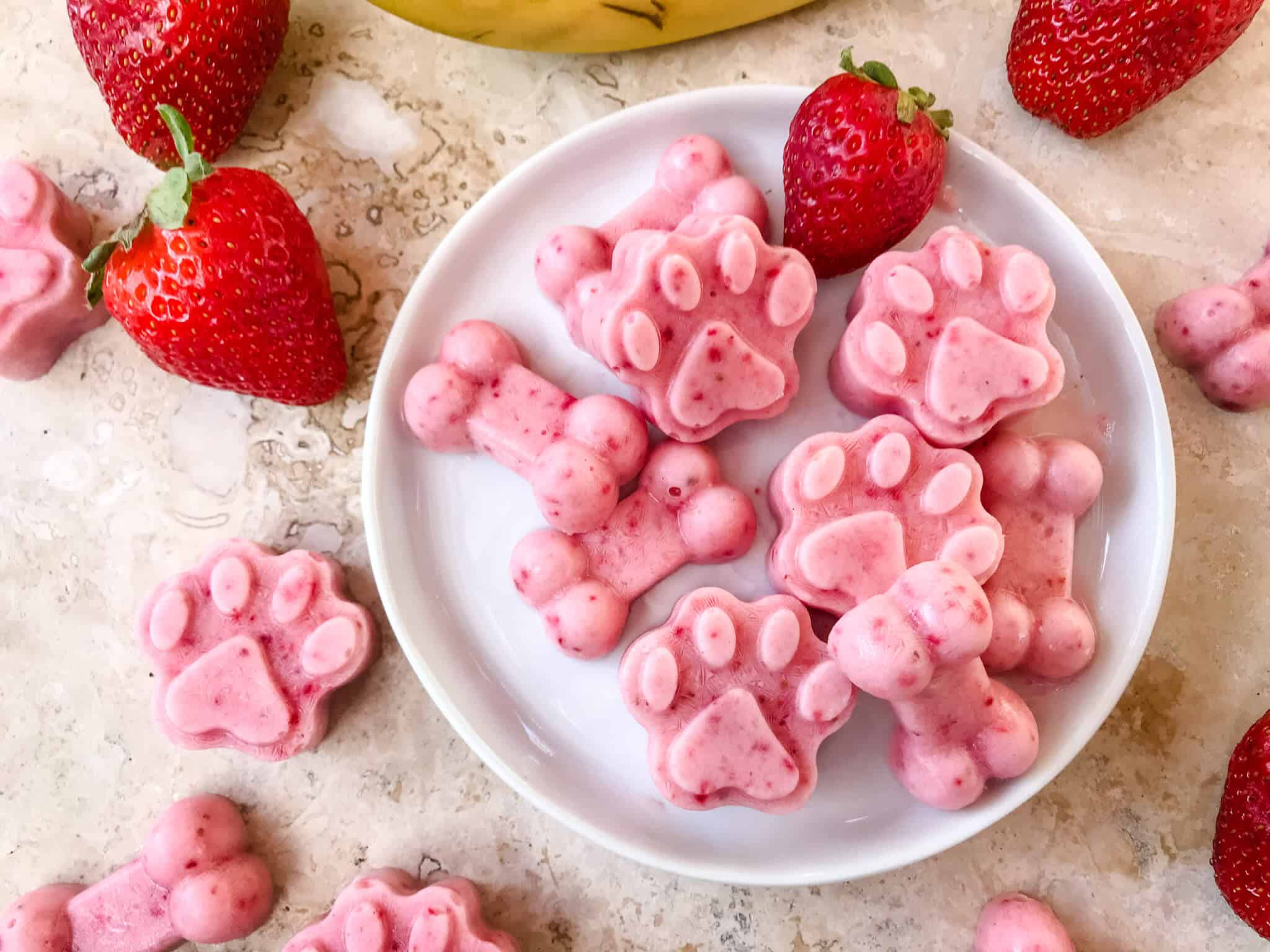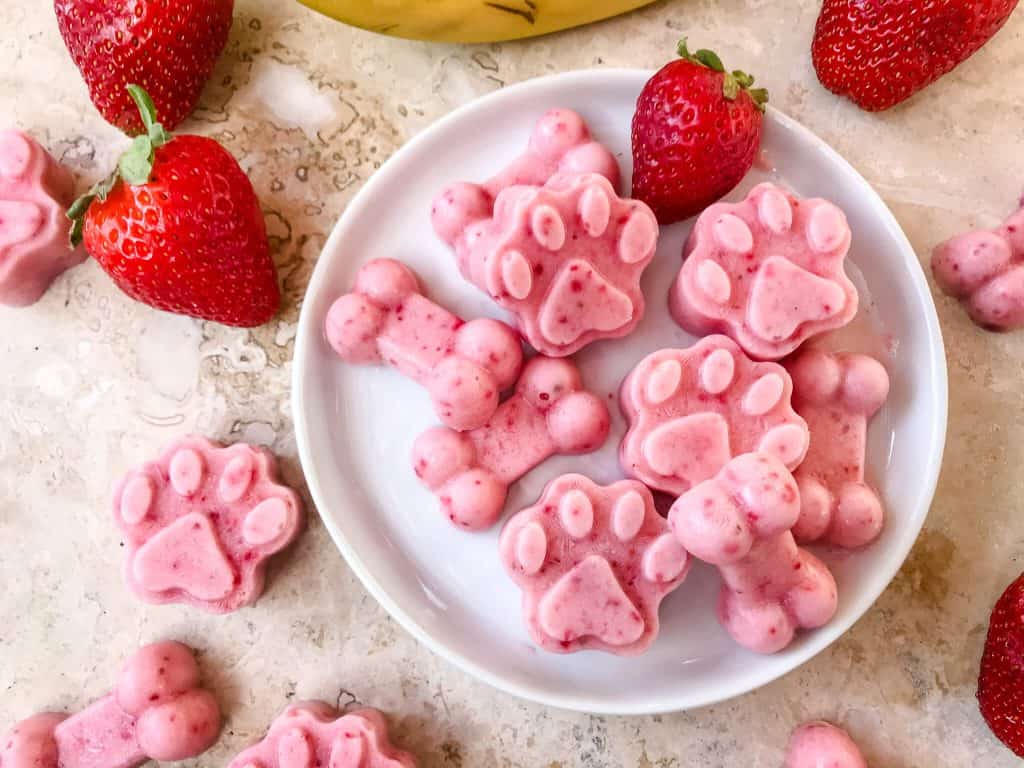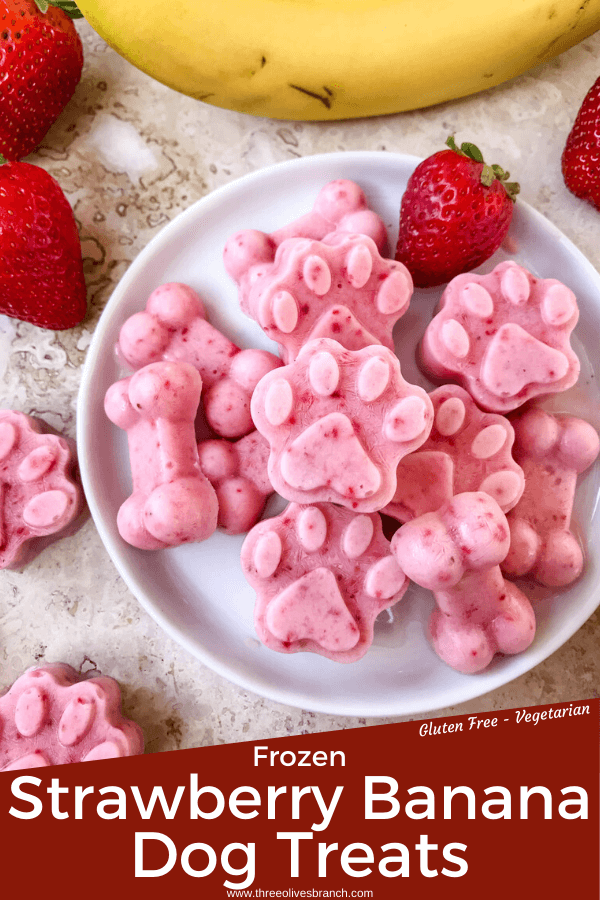 Instructions
Prepare your silicone mold by laying it on a small baking sheet or something else that is stiff for easy transfer to the refrigerator.

Put all of the ingredients into a blender and blend until combined, approximately 2 minutes.

Pour the mixture into the molds.

Transfer the treats to the freezer (approximately 30 minutes) until set.

Pop the dog treats out of the mold and store in the freezer in a container or bag.
Notes
This is the dog silicone mold I used for this recipe. It comes with one bone shape (smaller) and one paw shape (larger). You can use any mold size and shape as preferred, however it will change the total number of treats you make in one batch. 
This batch is enough to fill both molds twice for a total of 56 treats. 
You can easily use already frozen strawberries or bananas, or fresh.
Nutrition
Calories:

8

kcal

|

Carbohydrates:

2

g

|

Protein:

1

g

|

Fat:

1

g

|

Saturated Fat:

1

g

|

Cholesterol:

1

mg

|

Sodium:

1

mg

|

Potassium:

20

mg

|

Fiber:

1

g

|

Sugar:

1

g

|

Vitamin A:

1

IU

|

Vitamin C:

3

mg

|

Calcium:

5

mg

|

Iron:

1

mg

By